25 Cheap Recipes is a collection of easy, practical alternatives to fast or prepared foods that won't break the bank!
These easy lunch and dinner ideas are budget-friendly, using pantry-based ingredients and ideal for busy or budget-minded families and/or college students.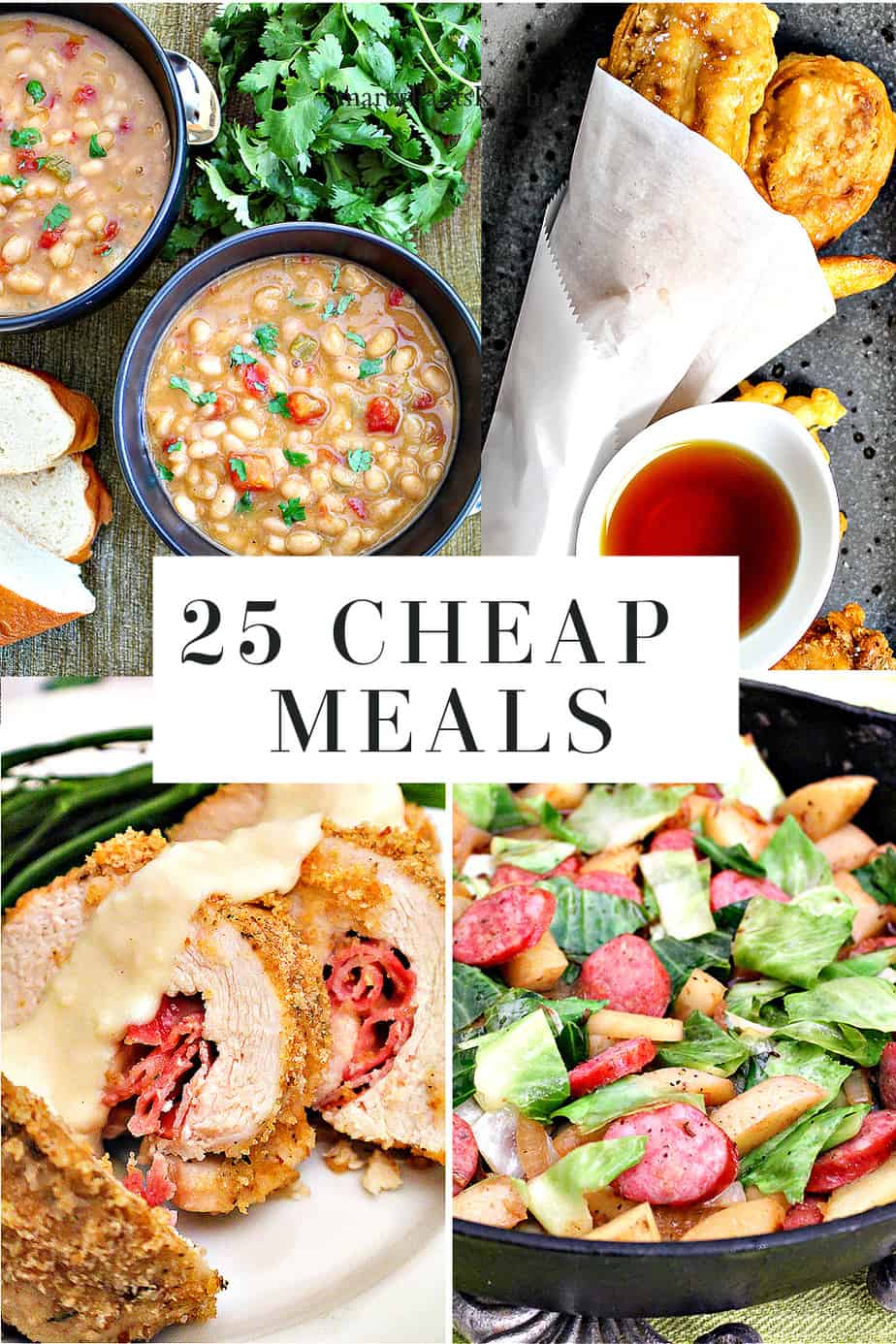 This collection of 25 Cheap Recipes is perfect for anyone who is short on time, budget-minded or just learning to cook! Once you have the kitchen essentials, these recipes can come together in no time!
Jump to:
Pantry essentials
Stock the pantry and fridge with essentials and worry about the budget no more! You'll have every ingredient you need to make quick, healthy pantry meals.
Spice Rack: essential spices and dried herbs make everything taste better
Canned Goods: tuna, beans, fruit, tomatoes, chiles
Nuts/Grains/Beans: rice, quinoa, couscous, barley, pasta, crackers, bread, cereal, peanuts, dried beans
Condiments: mustard, mayo, salsa, pickles, olives, peanut butter, oil and vinegars, sauces (soy, teriyaki)
Refrigerator essentials
Fresh or frozen, it always helps to have a quick back-up in the fridge:
Fruits, berries, smoothies
Juices
Salad Dressings
Jelly and Jams
Lettuce
Cheese
Lunch meat
Tortillas or flatbread
Freezer essentials
Groud beef
Chicken
Shrimp
Pork chops
Substitutions
Here's a list of common ingredient substitutions if you find yourself out of a certain ingredient!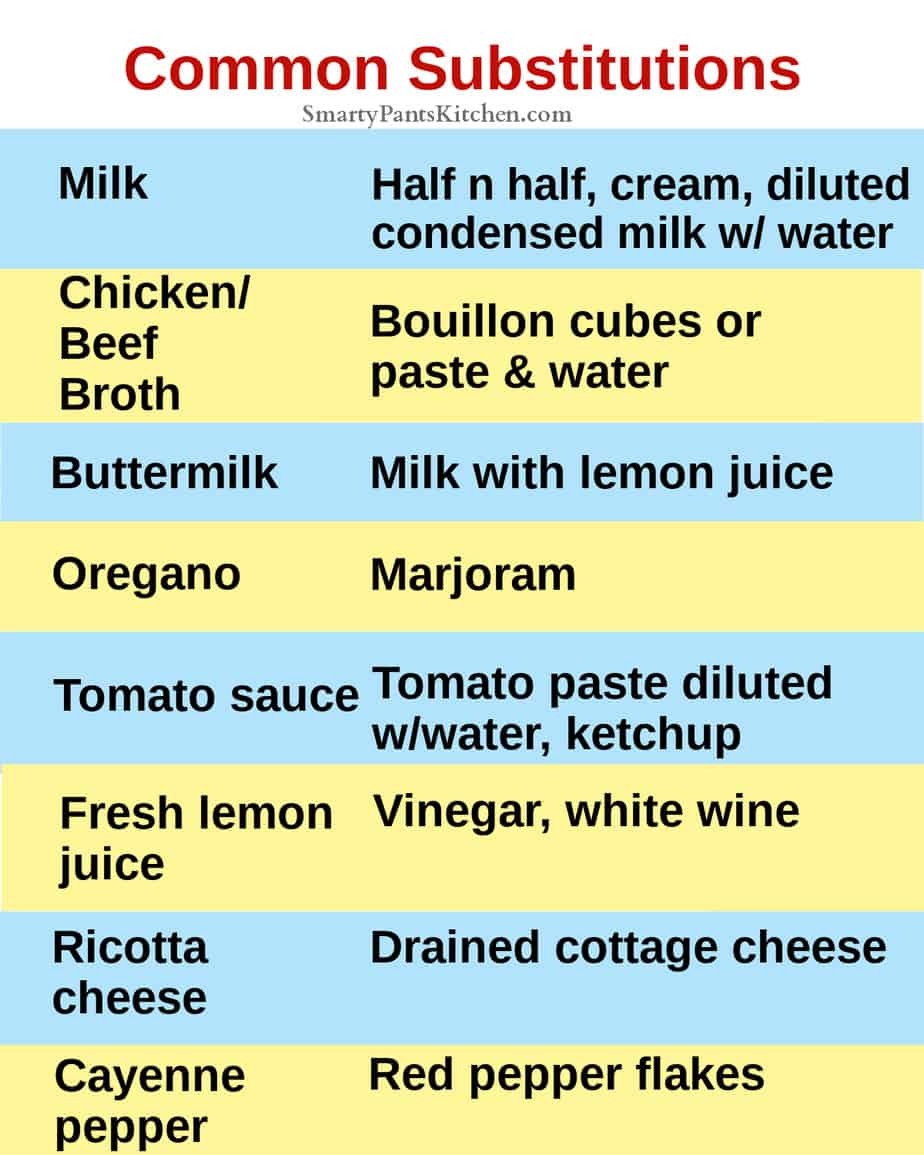 25 Cheap Recipes
Dinner on a budget doesn't mean you can't eat healthy. Here are 25 cheap recipes, some that require no cooking and others that are stove top.
Many of these are "one-pot-meals" perfect for beginner level cooks and college students!
Cooking from scratch requires a little more time, but it's healthier and more affordable than processed foods.
Homemade Sloppy Joe
Better than canned "Manwich™" and just as fast!
Southwestern Navy Bean Soup
Use canned navy beans to make this recipe lickety-split!
Organic Broccoli Cheese Soup
Use fresh or frozen organic broccoli! Ready in minutes! And made with REAL cheese...No Velveeta™!
Tortellini Pasta Salad
Make this quick pasta dinner with any pasta if you don't have tortellini.
Pasta Carbonara with Ricotta Cheese
A creamy spin on traditional Pasta Carbonara.
Classic Egg Salad
Nothing healthier and quicker than a good ole' egg salad sandwich!
Pinto Beans and Rice
Rice and beans is a complete protein. If you were stranded on an island and this is all you had, you'd still be healthy!
Deviled Ham Spread
Good with crackers, celery or as a sandwich.
Philly Cheesesteak
Beef strips, peppers, onions and cheese. Quick and easy!
Cowboy Skillet Supper
Straight-from-the-pantry-dinner.
Texas Chili
Chili doesn't take long...about 30-minutes from start to finish! The "secret ingredient" is what makes it so good!
"No-Cream" Creamy White Bean Soup
Use canned white beans; no milk or cream required!
Slow Cooker Mexican Chicken
Adobo seasoned chicken cooked in the slow cooker can serve as the base for lunch and dinner all week. Tacos, tostadas, burritos, salad - the options are endless!
Slow Cooker Country Ribs
Throw these on in the morning then make some 5-minute cheese grits and call it dinner!
Vermicelli Pasta Salad
Make this on the weekend and nibble on it all week; great as a light lunch, dinner or snack!
Classic Pimento Cheese
A Southern staple, we put this on white bread or serve it as a dip!
Mexican Shrimp Cocktail
Use fresh or frozen shrimp and enjoy this light South-of-the-Border "cocktail" as an appetizer or light lunch or dinner!
Chicken and Dumplings
No rolling out dough for this classic recipe. The secret "dumpling" recipe is what makes this a quick dinner!
Salmon Croquettes (Salmon Patties)
Another Southern staple - use canned salmon.
Black Bean Soup
Drain and rinse canned black beans, then season them in a rich broth and serve over rice or as a soup!
Chicken Pot Pie
For a quicker recipe, stop and get a deli roasted chicken for this recipe!
Smothered Okra and Tomatoes
Quick and healthy side dish, or serve over rice and call it dinner!
Restaurant-Quality Fried Catfish
Fried catfish is ready in 8-minutes! Need I say more?
Southern Cornbread Dressing
Make a big batch of this and serve it with roasted chicken, turkey or smoked ham.
Homemade Vegetable Soup
You simply cannot go wrong by having healthy vegetable soup on hand. Make a batch and freeze it!
Most of these budget-friendly meals can be stored in the refrigerator for up to three days.
Related topics:
Remember, just because you're in a hurry or on a budget doesn't mean you have to sacrifice flavor or quality! Start a Supper Club or host a Potluck dinner once a month!
Got Comments or Questions? Scroll down and leave me a message! I Love to Hear from You!! See you in the kitchen!