This easy Homemade Sloppy Joe recipe is a great weeknight dinner for the whole family and it's ready in minutes! Made with simple ingredients you probably have in your kitchen right now!
This hot, meaty sandwich recipe has all natural ingredients, as opposed to canned Sloppy Joe sauce...no additives, preservatives or high-fructose-corn-syrup.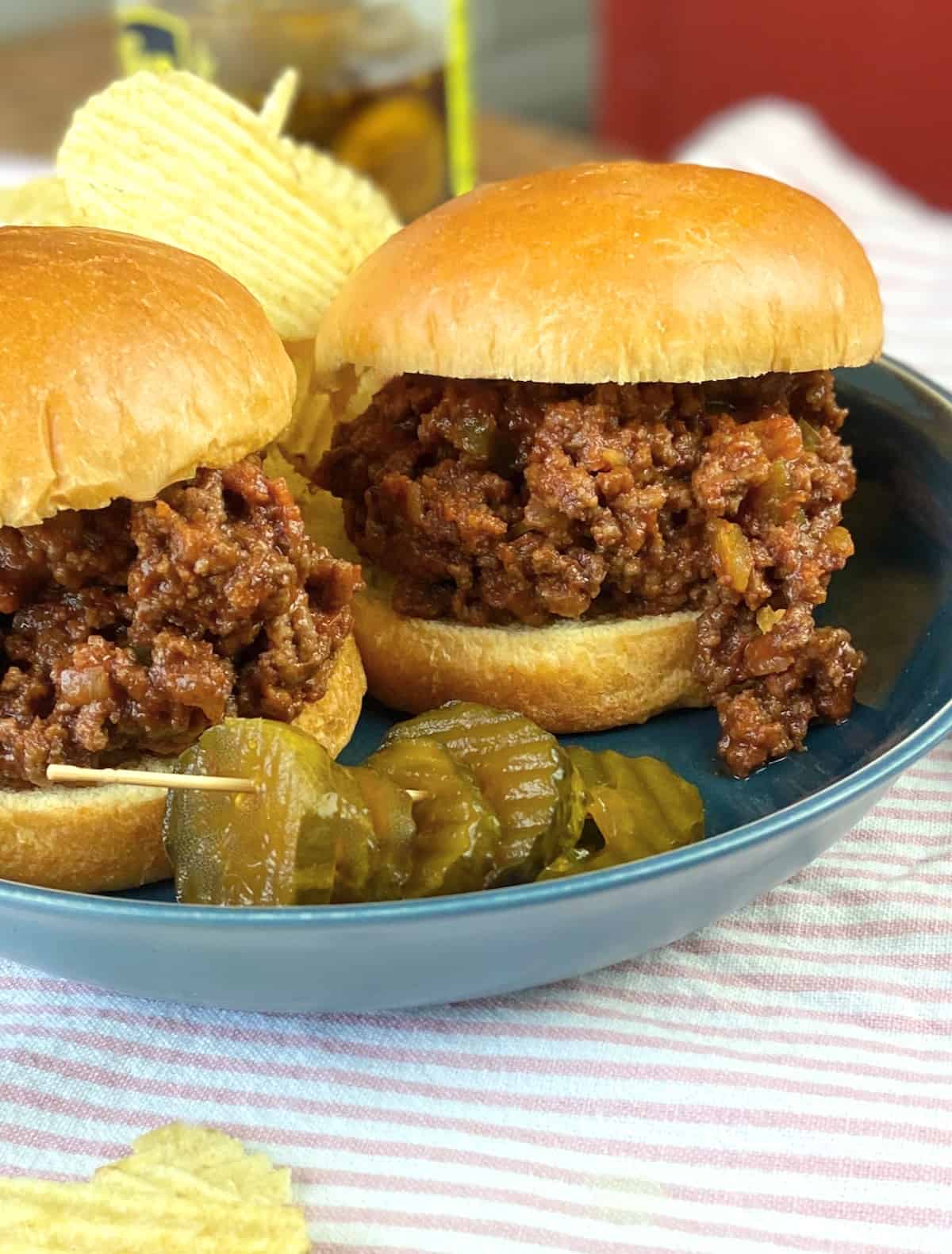 Before you open a can of "Manwich™" Sloppy Joe sauce, try this Homemade Sloppy Joe recipe! It's a life-saver and you can feel good about serving your family a "healthy" Sloppy Joe!
Jump to:
Who knew?
These loose meat sandwiches originated in the Midwest. It is believed the original Sloppy Joe recipe was invented in the 30's by a cook named...(you got it!) Joe, who worked in a cafe in Sioux City, Iowa.
Classic Sloppy Joes go by many names: in Iowa, it's known as a "Maid-Rite" or "Tavern", and in the upper Midwest and Dakotas, it's known as a "slushburger" or "spoonburger."
In any case, the ingredients of homemade sloppy joes are pretty simple and all you do is slap the messy, loose meat mixture on hamburger buns and go!
I recall the original sloppy joes were served in the school cafeteria just about every Friday for school lunches - but that was back when the lunch ladies actually cooked from scratch and didn't use canned stuff!
This is a classic and easy recipe every home cook should have in their back pocket!
Why this recipe works
This homemade sloppy jo pairs great with a side of creamy coleslaw, potato chips, crispy french fries and ketchup, Maple Baked Beans or tater tots! Not the healthiest combination, but it makes a good quick meal for the whole family, especially on busy weeknights! This version is so much better than the Manwich recipe!
Quick and easy - the total time is quick - ready in 35-minutes!
Simple ingredients - you probably have all the ingredients in your pantry - ground beef, tomato sauce, green pepper, brown sugar, dried mustard, Worcestershire sauce!
No additives, preservatives and no high fructose corn syrup
Affordable - this is an easy way to stretch a pound of ground beef- it goes a long way when you make this messy sandwich!
This made from scratch recipe is my Grandmother Lucille's...an old-fashioned Sloppy Joe recipe I found in a Piggly Wiggly bread bag. I don't know if this is "Joe's" original recipe or not, but this recipe makes the best sloppy joes!
Ingredients for Sloppy Joe sauce
Ground beef, yellow or white onion, green bell pepper, tomato sauce, brown sugar (light or dark brown sugar), dried mustard, Worcestershire sauce, garlic powder, paprika (optional) and a little bit of oil for browning the meat.
Season to taste with a little salt and ground black pepper. You'll also need some kind of a bun - hamburger bun, Brioche bun or serve it open-face over a piece of toast!
I use a sweet yellow onion and light brown sugar.
If you don't have tomato sauce, use a cup ketchup or a little tomato paste and dilute it with water
No onion? No problem! Substitute with onion powder, to taste
Out of dried mustard? Use yellow mustard, dijon mustard, or a little apple cider vinegar - just enough to give the sloppy sauce a little "tang"
How to make it
See the recipe card below for the full recipe, ingredient measurements and step by step instructions
This seasoned ground beef mess-of-a-sandwich is pretty easy to make; the secret's in the sweet and savory meat sauce!
Brown ground beef in a large skillet on medium heat with a little oil until the meat is no longer pink
Drain grease from cooked beef in a colander (don't rinse it) and add it back to the skillet (if you use lean ground beef, you may not have to drain the ground meat)
Add chopped onions and chopped green bell peppers to beef; cook for 3 minutes
Add remaining ingredients and allow to simmer uncovered and on low heat until the mixture thickens
Taste for salt and pepper
Put it on a hamburger bun and call it dinner!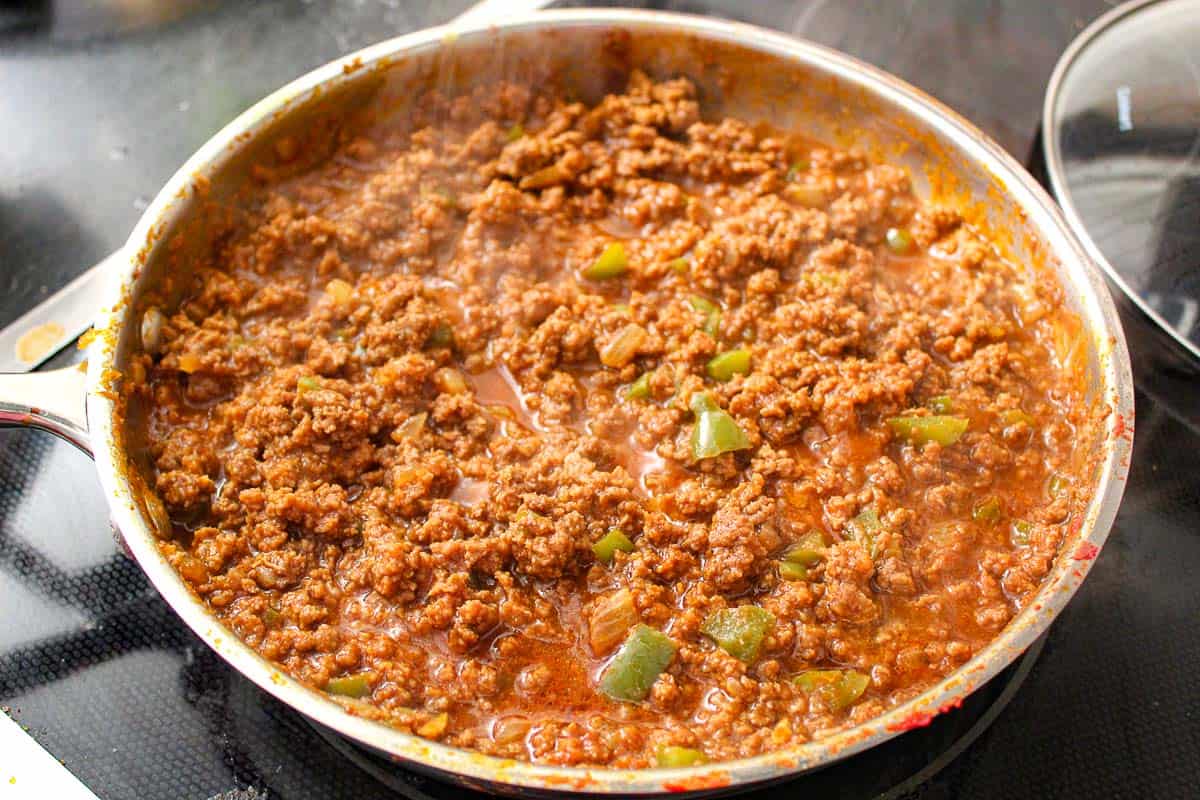 We usually serve these easy Sloppy Joes on hamburger or Brioche buns, but you can use a soft roll, like a hoagie roll if you like.
Sometimes I serve these homemade sloppy joe's with tater tots or crunchy potato chips and a dill pickle.
Recipe FAQ
How much meat per bun?
About 4-ounces, or ½ a cup of meat sauce is plenty... remember, they're called "Sloppy Joes" for a reason... so the sauce will run out a bit, but that's what makes it so yummy.
Can I substitute ground turkey for ground beef?
Ground turkey is an excellent and leaner substitute for ground beef; however, if you use ground turkey, you may need to increase the broth by adding a little more tomato sauce in order to ensure a truly "sloppy" experience!
Storage and reheating
The best way to reheat the sloppy joe tomato sauce is on the stove. If you reheat using a microwave, be sure to use a microwave-safe container and cover it with a paper towel to avoid splatters.
The sauce may thicken a little upon refrigeration and/or freezing, and you might have to add a little water to the saucepan.
Variations
You can change or add seasonings to suit your taste buds! Add a teaspoon cayenne pepper or chili powder to the sloppy joe meat for a more spicy version
Serve homemade sloppy joe sauce over hot dogs or a baked potato
Use leftover sloppy joe mixture as a pasta sauce or serve over cooked rice!
Mix in some BBQ sauce for a slightly different spin or, if you want it a little sweeter, add a little brown sugar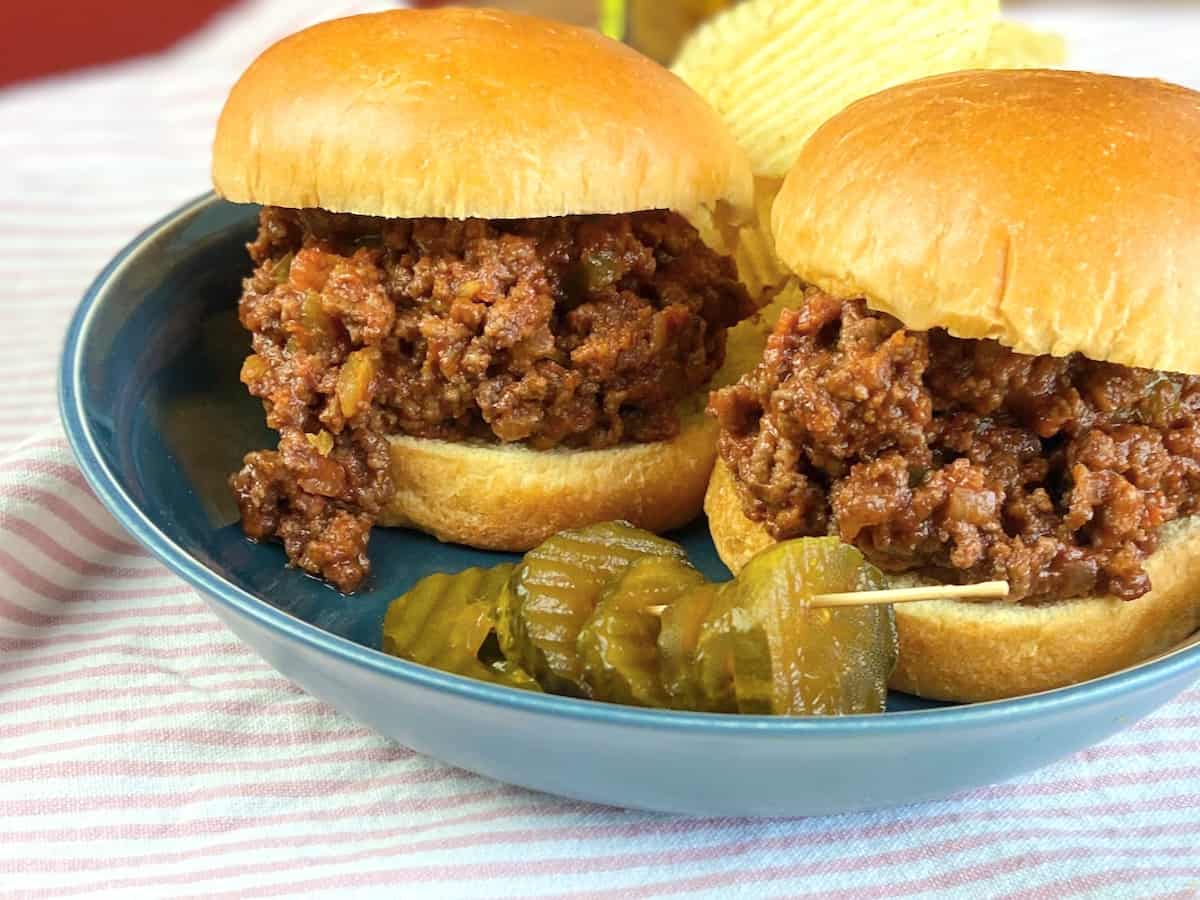 This classic homemade Sloppy Joe recipe is one of the best ways to get dinner on the dinner table fast. It doesn't take a long time to make and is perfect for the busy cook! I hope you enjoy my Grandma's recipe and I hope it turns out to be one of your family favorites, too!
Related recipes
📋 Recipe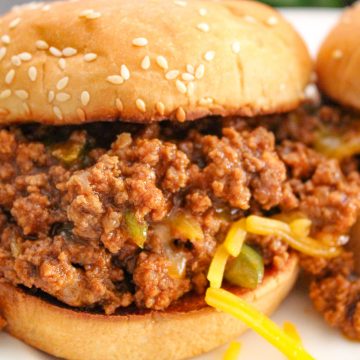 Ingredients
2

lbs.

ground beef

cooked and drained

½

cup

choppped onion

¼

cup

chopped green bell pepper

2

tablespoons

oil

3

tablespoons

Worcestershire sauce

16

ounces

tomato sauce

2

teaspoons

ground mustard

½

teaspoon

garlic powder

2

teaspoons

paprika (optional)

smokey, not sweet

½

cup

brown sugar

salt and pepper to taste

8

burger buns

tablespoon

butter

, for buns

4

oz.

cheese

optional
Instructions
Meat Sauce
In a large skillet on medium heat, add oil; add ground beef and cook until its no longer pink; drain and add back to skillet; add onions and bell peppers; cook till tender (about 10 minutes)

2 lbs. ground beef,

½ cup choppped onion,

¼ cup chopped green bell pepper,

2 tablespoons oil

Add remaining ingredients: tomato sauce, Worcestershire sauce, mustard, paprika and brown sugar; combine well

3 tablespoons Worcestershire sauce,

16 ounces tomato sauce,

2 teaspoons ground mustard,

2 teaspoons paprika (optional),

½ cup brown sugar

Turn heat to medium-low allow to cook for 15 minutes, until sauce thickens

Taste for salt and pepper and adjust seasonings accordingly

Once buns are browned, place beef mixture on buns and top with cheese (optional)

8 burger buns,

4 oz. cheese
Bread Instructions
Turn on oven to 500ºF, or broil setting

8 burger buns,

tablespoon butter

Lightly butter buns and place on baking sheet cut side-up; place under broiler for 3-5 minutes

Once buns are lightly toasted, remove from oven and set aside
Notes
Drain ground beef in colander after cooking; don't rinse
Nutrition Estimate
Serving:
1
sandwich
Calories:
546
kcal
Carbohydrates:
33
g
Protein:
29
g
Fat:
33
g
Saturated Fat:
12
g
Cholesterol:
95
mg
Sodium:
770
mg
Potassium:
705
mg
Fiber:
2
g
Sugar:
11
g
Vitamin A:
740
IU
Vitamin C:
13
mg
Calcium:
221
mg
Iron:
5
mg