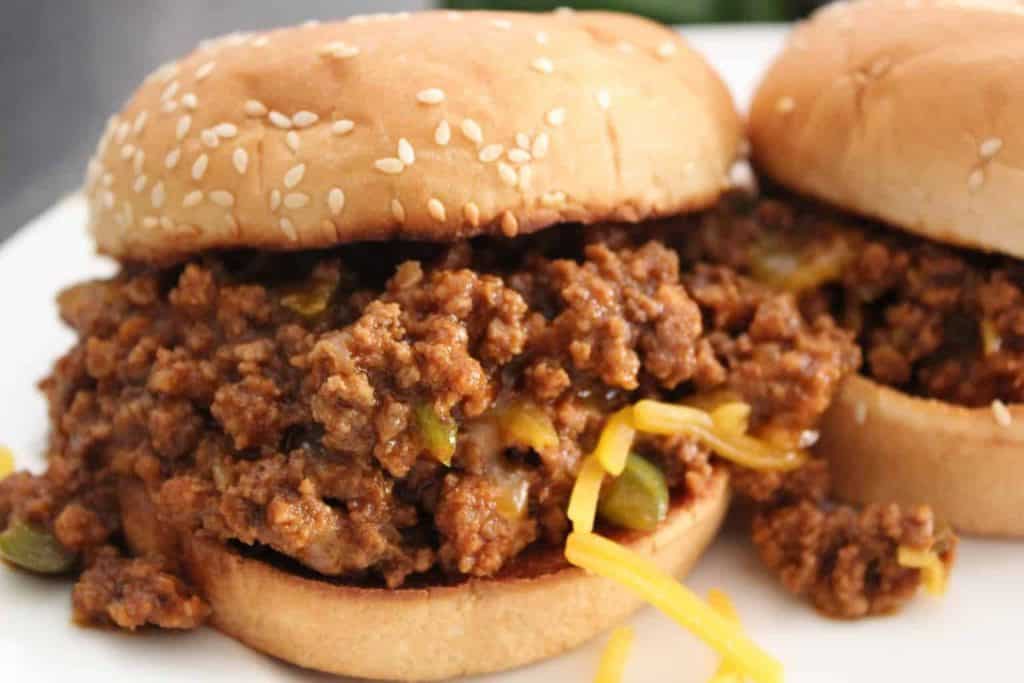 Homemade Sloppy Joe's are an easy, filling quick dinner for any weeknight!
Homemade Sloppy Joe's are a great weeknight dinner for a family of two or ten! This recipe has all natural ingredients, as opposed to The Canned Sloppy Joe sauce…no additives, preservatives or high-fructose-corn-syrup.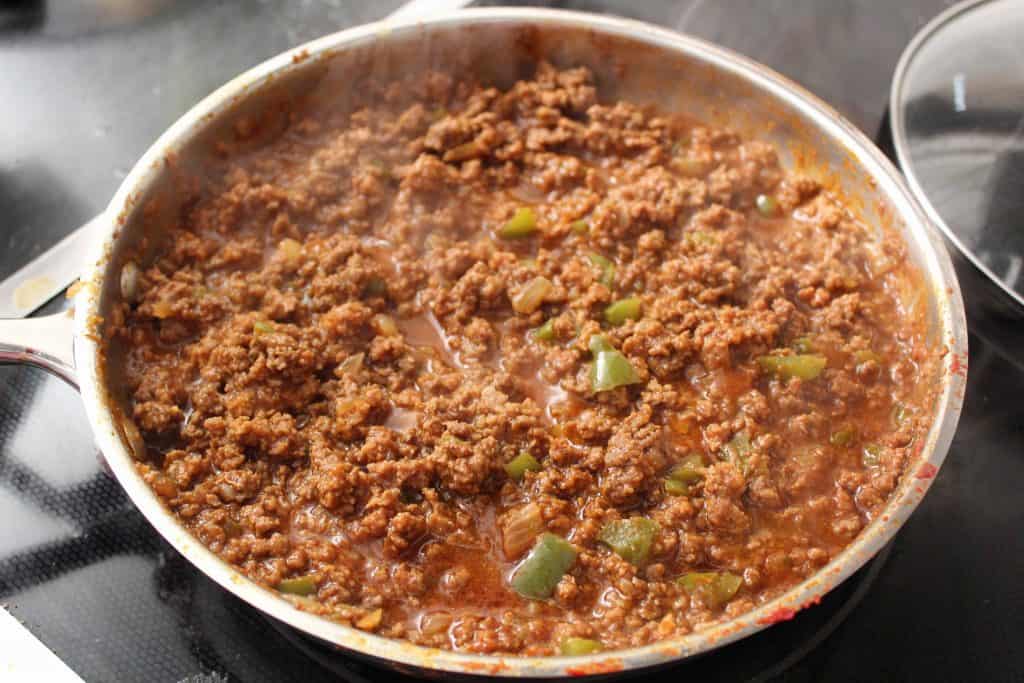 First, you'll saute onions and bell peppers in a bit of olive oil. At the same time, brown ground beef in another skillet. Drain the ground beef in a colander and add it to the onion/pepper mixture.
Next, add seasonings, broth, spices to the mixture and allow it to cook a bit–so the flavors can meld together. Do a taste test for salt and pepper. Put a lid on it, on low heat and warm your buns!
How Much Meat Do I Use Per Bun foe Homemade Sloppy Joe's?
Generally speaking, about 4 oz., or 1/2 a cup of meat sauce is plenty… remember, they're called "sloppy joe's" for a reason… so the sauce will run out a bit, but that's what makes it so yummy.
Can I Substitute Ground Turkey for Ground Beef?
Yes! Ground turkey is a leaner meat, so you may need to increase your broth in order to ensure a truly "sloppy" experience!
Can I Make the Meat Sauce In Advance?
Absolutely! Make it, freeze it in a safe container, then reheat on the stove top or microwave. If you reheat using a microwave, be sure to use microwave -safe containers.
How Could I Make This Vegan?
An excellent choice for vegans is Jackfruit. Jackfruit will naturally absorb the seasonings you mix it with, like mushrooms. Which reminds me, you could make this Sloppy Joe mix using the ingredients in my Veggie Burger.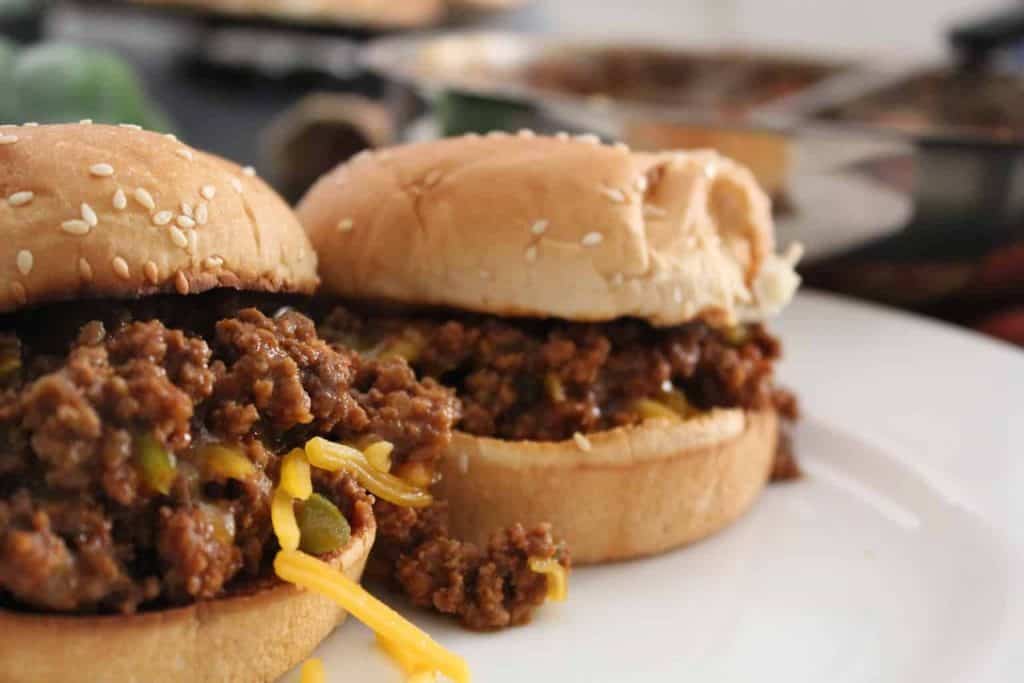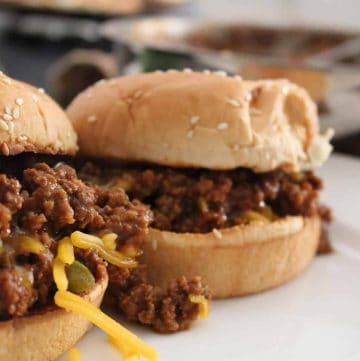 Homemade Sloppy Joe
My grandmother's recipe from 100 years ago still holds strong. Simple ingredients from your pantry and some ground meat can create a meal!
Keyword:
Sloppy Joe Recipe
Ingredients
2

lbs.

ground beef

cooked and drained

1/2

medium

onion

chopped

1/2

green bell pepper

chopped

3

tablespoons

oil

3

tablespoons

Worcestershire sauce

12

oz.

beef broth

1

small can

tomato paste

2

teaspoons

ground mustard

2

teaspoons

paprika

smokey, not sweet

3

tablespoons

brown sugar

salt and pepper to taste

8

burger buns

4

oz.

cheese

optional
Instructions
Meat Sauce
In a large skillet on medium heat, add 1 tablespoon oil; add onions and bell peppers; cook till tender (about 10 minutes)

In a second skillet, on medium high heat, brown ground beef; make sure beef is not pink AT ALL;

Once beef is browned, drain it in a colander and add it to the onions/bell peppers

Add broth, tomato paste, Worcestershire sauce, paprika and mustard

Combine well; if necessary, add more broth or water

Turn heat to medium and cover; allow to cook for 15 minutes, until flavors have married

Taste for salt and pepper and adjust seasonings accordingly

Once buns are browned, place beef mixture on buns and top with cheese (optional)
Bread Instructions
Turn on oven to 500ºF, or broil setting

Lightly butter buns and place on baking sheet under broiler

Once buns are lightly toasted, remove from oven and set aside
0