Learn how to make Southern Cream Gravy from scratch with 3-ingredients and in 5-minutes!
Some folks call this "country gravy," "white gravy," "pepper gravy" or "milk gravy," but no matter what you call it, it's simple to make!
Southerner's use cream gravy with chicken, chicken fried steak, biscuits, pork chops and even on scrambled eggs!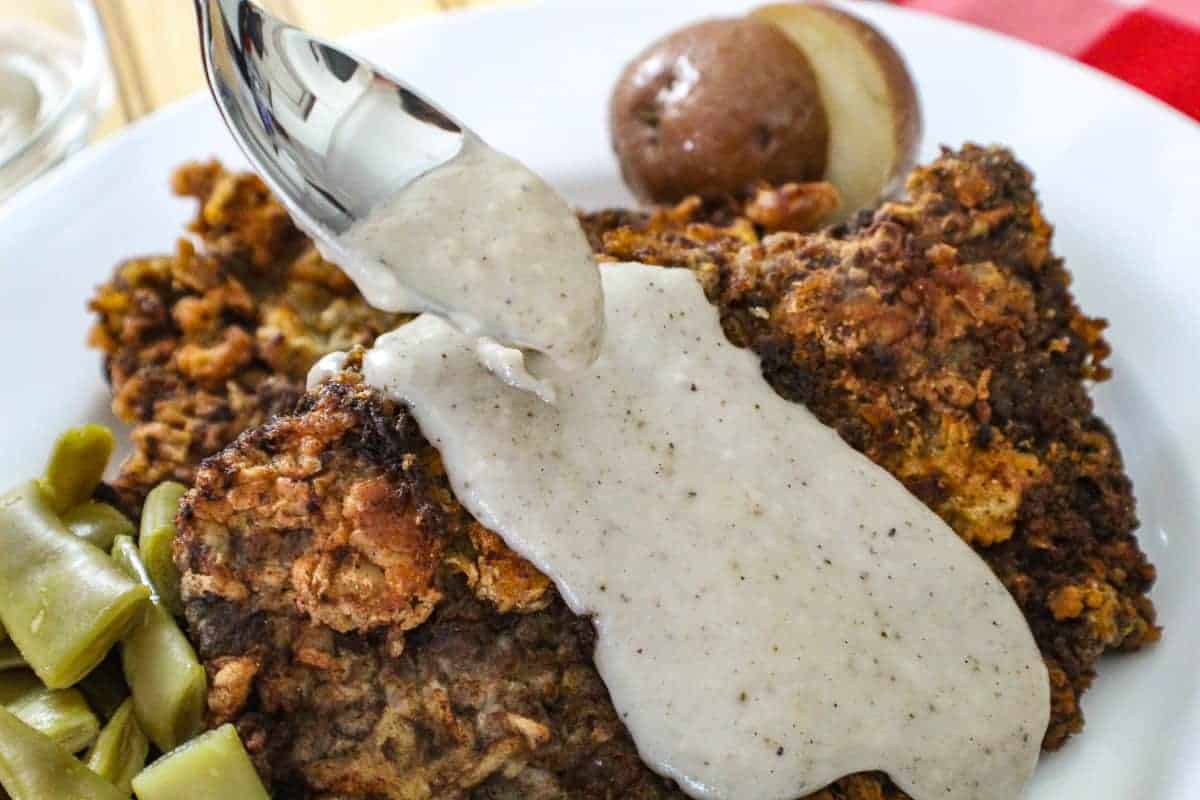 There's nothing better than homemade country gravy on a warm biscuit, over chicken fried steak, mashed potatoes or on a fried pork chop.
Homemade cream gravy isn't something we eat every day, but when we do, we make it from scratch. Those packages like Pioneer™ Cream Gravy mix are loaded with additives, preservatives and colorants.
I mean, really...do we need DISODIUM GUANYLATE AND INOSINATE in our food? I don't think so.
And homemade is so much better than the cream gravy at Texas Roadhouse™!
Jump to:
Difference between brown gravy and cream gravy
Cream gravy consists of a roux (equal parts fat and flour) and dairy (typically milk), where a brown gravy consists of a roux, beef broth (from cooked beef), and may or may not include dairy.
You'll find brown gravy served with Southern dishes like Beef Tips and Gravy or sometimes included as a sauce for meatloaf.
Why you'll love this recipe!
All-natural ingredients- no additives, colorants, fillers or "flavor enhancers"
Quick and easy - you can have sausage, bacon or cream gravy in about 5-minutes!
Simple ingredients - all you need is fat, flour and milk; then season it with salt and pepper
Flavorful - the best gravy from scratch is seasoned with bacon or sausage fat, salt and pepper; nothing fancy
This is one of those scratch recipes you learn to make over time-- it's all about the balance between the ingredients and the temperature of the stove and the constant whisking motion.
The secret is the roux - a combination of equal parts fat and flour. The fat used in white gravy is typically bacon grease, reserved after frying some bacon.
Then a little all-purpose flour is whisked in and stirred constantly, then milk is added gradually until your cream gravy reaches the right consistency.
What you'll need:
Fat - which can be bacon grease, sausage grease, butter or oil; most Southerners use bacon or sausage for their gravy
Flour - use all-purpose
Milk - for the best flavor, us 2% or whole
Salt & Pepper - generally speaking, most Southern cooks add salt to taste and a generous amount of ground black pepper...that's why it's often called "pepper cream gravy."
How to make it:
Heat a skillet on medium heat; get the milk out of the fridge and let it sit a few minutes
Add fat and let it get warm; then sprinkle in an equal amount of flour
Whisk together constantly
Add milk; keep whisking; if it starts to clump, turn the heat up
Continue to cook 4-minutes adding more milk along the way
Season with salt and a generous amount of black pepper
Yield/Calories/Carbs
This recipe makes one cup of homemade cream gravy. It's highly unlikely someone would consume one cup, so let's look at the calories and carbs for ½ cup.
Granted, homemade gravy is not something you eat every day because it is high in calories and carbs! A ½ cup of gravy is about 415 calories and 20 grams of carbohydrates...if you're counting.
How to make cream gravy without fat drippings
If you don't have any fat dripping from cooked sausage or bacon, you can use butter. I recommend using unsalted butter and remember, you'll use equal parts of butter and flour.
If you use ½ stick of butter (which is 4 tablespoons), then whisk in 4 tablespoons of flour.
Expert tips for making perfect Southern Cream Gravy
Always start with equal amounts of fat and flour
Make sure the milk is not too cold - let it sit out a few minutes before you add it to the hot roux
Start with medium heat and increase it if you need to after you've added the milk.
Flour thickens at low heat...so, adjust your skillet heat accordingly
Add milk in ½ cup increments until you get the desired consistency
If you add too much milk at once, you run the risk of having a watery, thin gravy; in this case, you'll have to add more flour
Use a wire whisk to remove lumps
Keep an eye on the stove- if the heat is too high, you'll burn the flour, in which case you have to start over (don't ask me how I know this)
Once the gravy starts to thicken, turn the heat down and add a little more milk or lift the saucepan off the heat
Season with a teaspoon of salt for starters; combine, taste, then add a generous amount of black pepper
Substitutions for milk
No milk? No problem...
Substitute milk with half-n-half, light cream or heavy cream (also known as heavy whipping cream) - note that any of these will make the gravy slightly sweeter than when using straight milk
You can also use powdered milk or a 50/50 blend of water and evaporated milk (you may have to use more flour)
Make in advance and reheating
White cream gravy thickens as it cools. If you make it ahead of time or if you need to reheat it, you will have to add a little more milk. For best results, reheat in a saucepan, not the microwave.
Troubleshooting homemade Southern cream gravy
Too salty - yes, this happens frequently; the best way to remedy over-salted gravy is to add a little water or, add more milk and flour. Do this by adding ½ cup milk first, whisk, then add ¼ cup flour; keep adding milk and flour until the flavor is balanced and the consistency is right
Too thick - add more milk and increase the heat on the stove a little
Too thin- add more flour and decrease the heat on the stove
Too bland - add more salt and pepper
Clumpy - if your homemade gravy starts to look like glue, use a wire whisk and add milk - whisking constantly- and turn the heat up a little
Flour thickens at low heat...so, adjust your skillet heat accordingly
Serve homemade country cream gravy with chicken fried steak, mashed potatoes, eggs or over warm biscuits! It also pairs well with fried chicken and pork chops!
Related recipes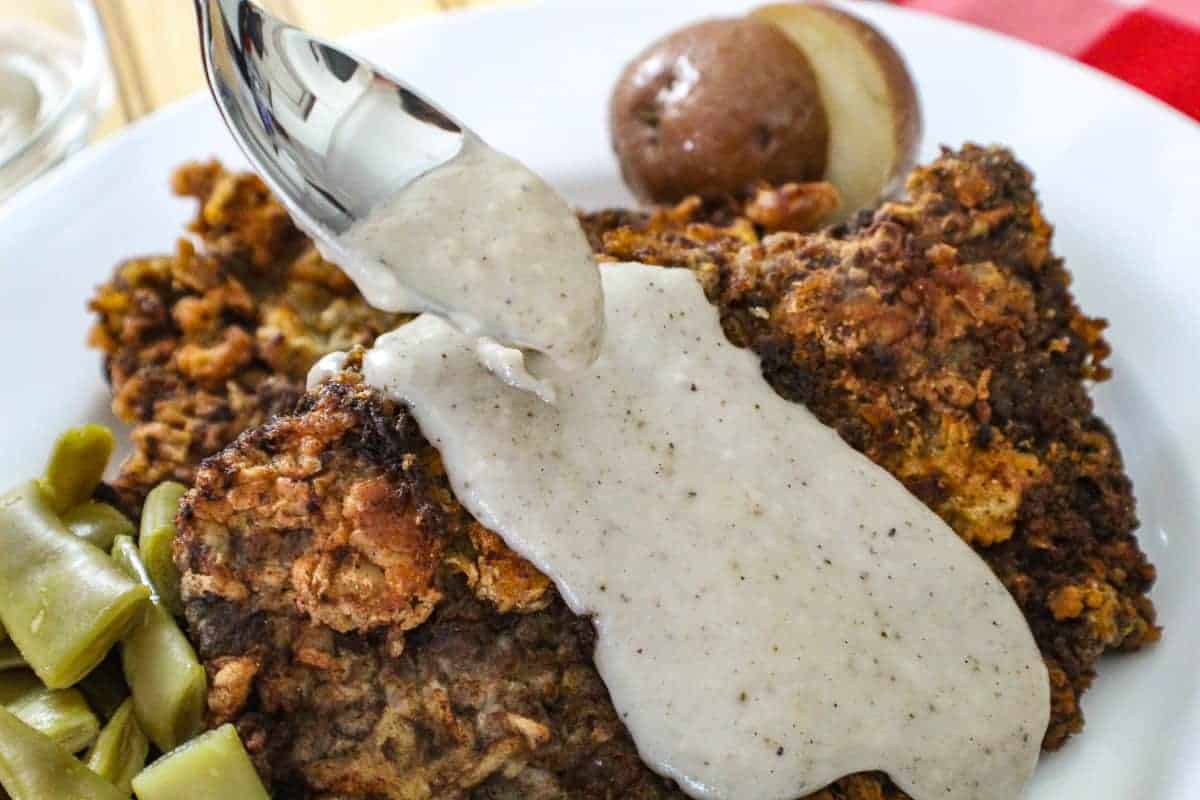 Southern Cream Gravy is an easy recipe that takes a little practice, but once you get the hang of it, you'll know exactly how to make perfect cream gravy every time!
♥ If you make this recipe, please scroll down and leave a comment and rating below! Thank you!
📋 Recipe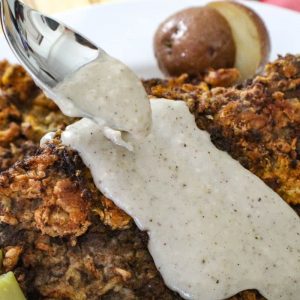 Southern Cream Gravy Recipe
White cream gravy made with fat, flour and milk. A Southern favorite!
Print
Rate
Equipment
Cast iron skillet

Wire whisk
Ingredients
¼

cup

oil

, bacon or sausage grease, butter or vegetable oil

¼

cup

flour

, all-purpose

1½

cups

milk

, 2% or whole

salt and pepper

, to taste
Instructions
Add oil and wait till it gets warm (about 1 minute)

Sprinkle in flour; whisk for 30-seconds

Add milk in ½ cup increments while continually whisking

Taste for seasonings; add salt & pepper; serve
Notes
Let the milk sit out a few minutes before you make the roux; if you add really cold milk to hot roux, it clumps
Can I use heavy cream instead of milk?
You can substitute milk with half-n-half, light cream or heavy cream
Cream will make the gravy slightly sweeter than milk
Troubleshooting homemade gravy:
Too salty - yes, this happens frequently; the best way to remedy over-salted gravy is to add a little water or add more milk and flour. Do this by adding ½ cup milk first, whisk, then add ¼ cup flour; keep adding milk and flour until the flavor is balanced and the consistency is right
Too thick - add more milk
Too thin- add more flour
Too bland - add more salt and pepper
Clumpy - if your homemade gravy starts to look like glue, use a wire whisk and add milk - whisking constantly
Nutrition Estimate
Serving:
1
cup
Calories:
832
kcal
Carbohydrates:
41
g
Protein:
15
g
Fat:
68
g
Saturated Fat:
11
g
Cholesterol:
37
mg
Sodium:
158
mg
Potassium:
483
mg
Fiber:
1
g
Sugar:
19
g
Vitamin A:
593
IU
Calcium:
414
mg
Iron:
1
mg