No need to travel to Philadelphia to get a homemade Philly Cheesesteak Sandwich!
This deliciously tender beef sandwich is easy to make and tastes better than one you'd find in a restaurant!
With only a few simple ingredients, you'll definitely feel like you're in The City of Brotherly Love!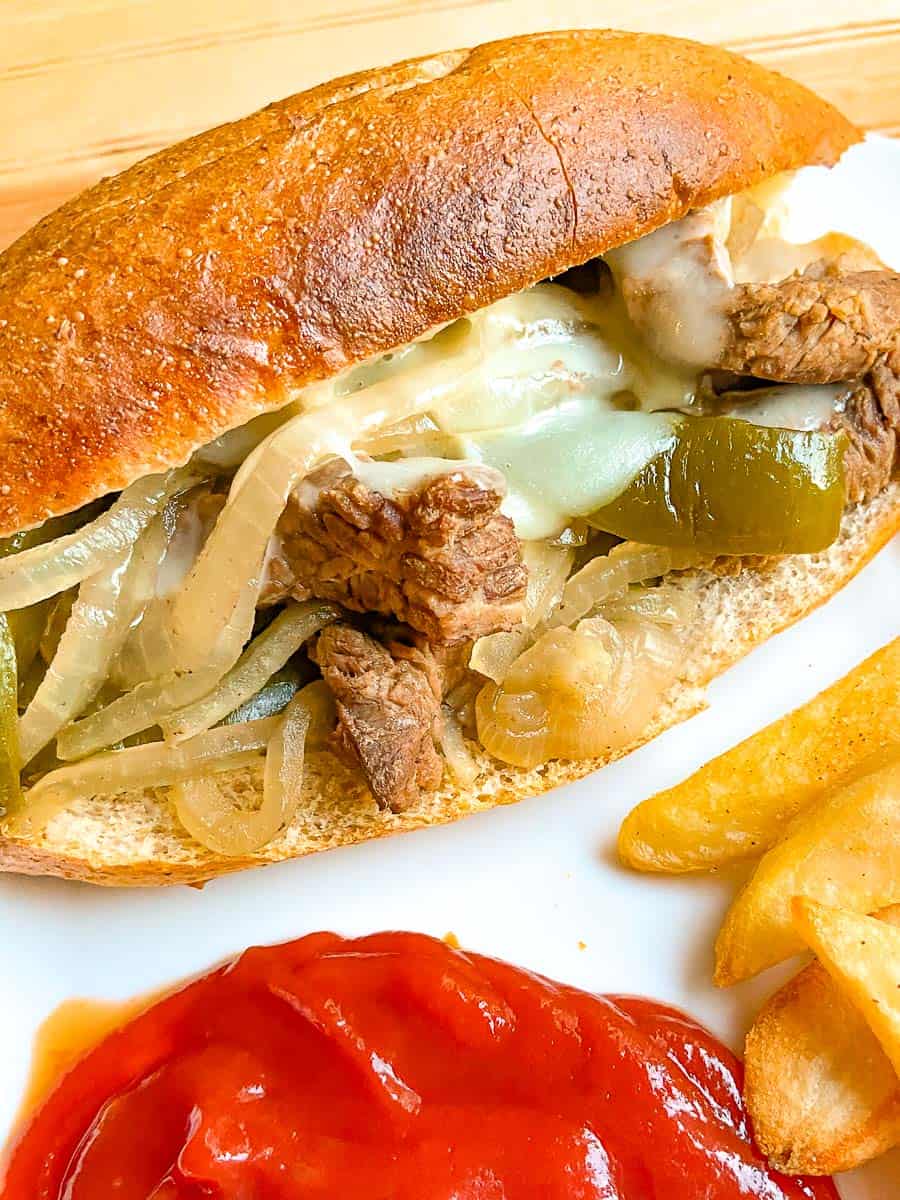 One of the best Philly Cheesesteak sandwiches I"ve had was at The Foggy Rock in Blowing Rock, North Carolina. Man oh man, their steak sandwich is rockin-good!
After I got home, I had to make my own and I must say, it turned out delicious!
By the way, nobody in Philly calls it a "Philly Cheesesteak Sandwich"--they just say "cheesesteak "...who knew?
Jump to:
Why you'll love this:
Stove top or slow-cooker...your choice
Filling- savory meat, onions and peppers on a soft bun
Affordable- sliced beef goes a long way! Perfect for big groups!
In Philly, this beef sammy is served with Herr's Potato Chips, but if you want a little variety, try a side of Maple Baked Beans or Eggplant Fries!
Here's what you'll need:

Thinly sliced beef, onions, bell peppers, beef broth, Worcestershire sauce, cheese and buns
What cut of beef to use:
Most sandwiches are made with either strips of:
rib-eye
sirloin
skirt or flank steak
Since the meat will cook in broth, you can use just about any cut of beef. Cut it into 1" inch slices first.
How do I make a Philly Cheesesteak Sandwich?
You can make Philly cheesesteak on the stove top or in a slow cooker (the method I prefer in the summer!)
Stove Top Method: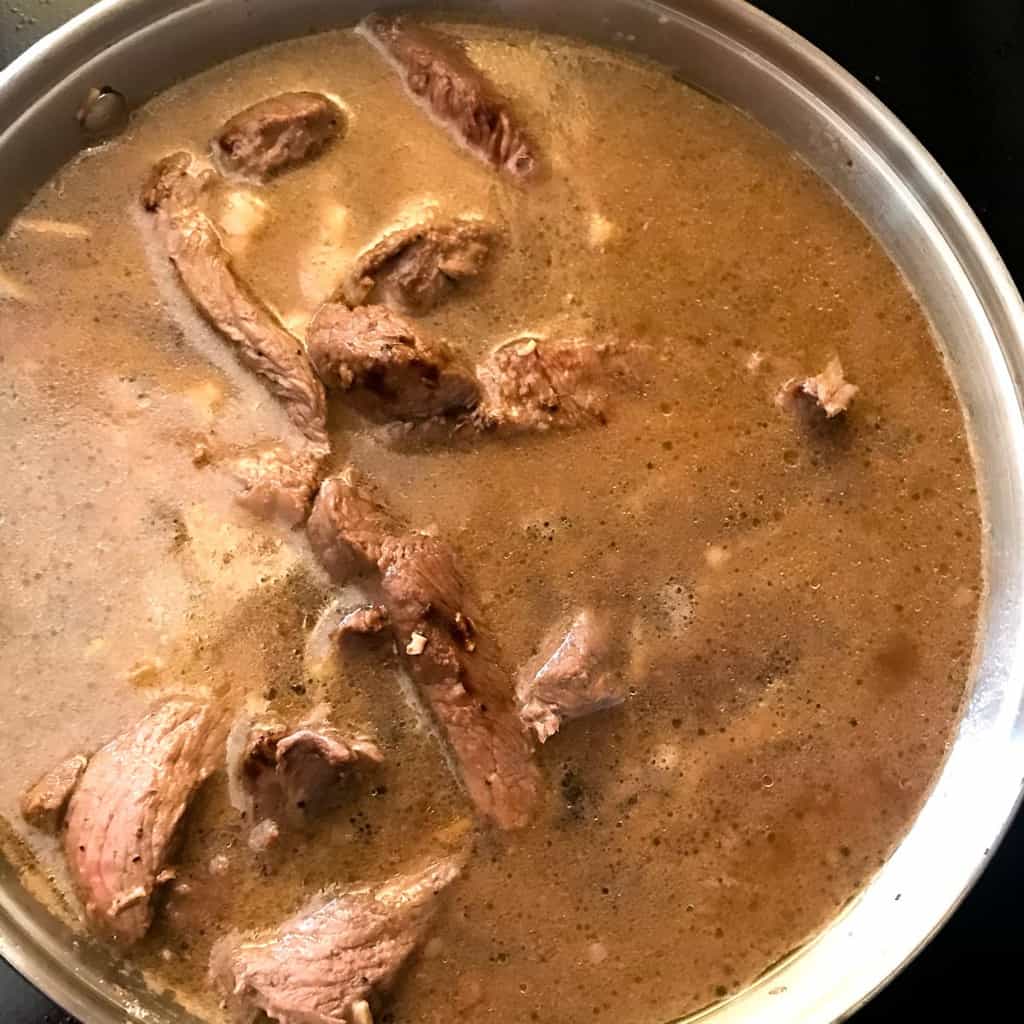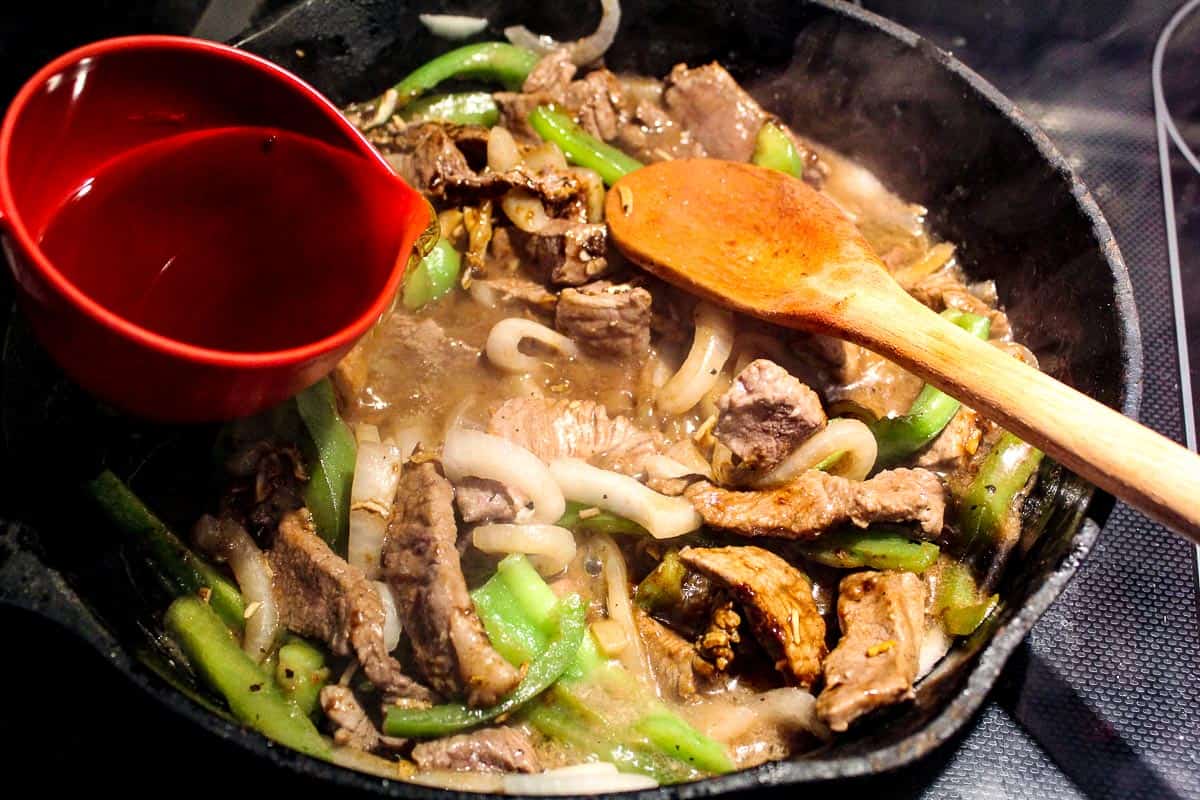 Add sliced peppers, onions and Worcestershire sauce; simmer until vegetables are tender; place on warm hoagie buns, top with cheese, broil and serve!
Slow cooker method:
Make this homemade Philly cheesesteak sandwich in the crockpot and free yourself from the kitchen!
Just add the beef, vegetables, broth and seasonings to a slow cooker ...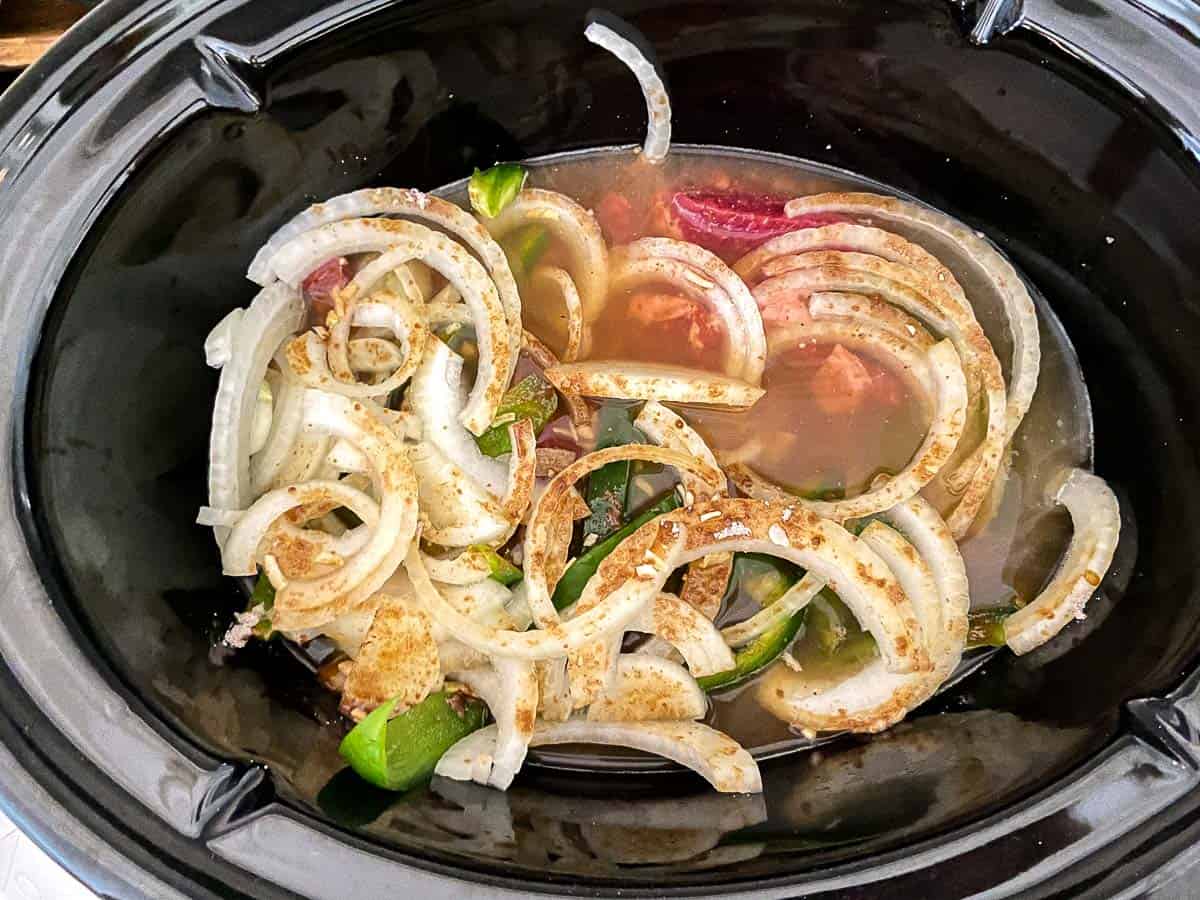 ...toss in a little Worcestershire sauce, put the lid on the you're off! Cook 3-5 hours, depending upon your crockpot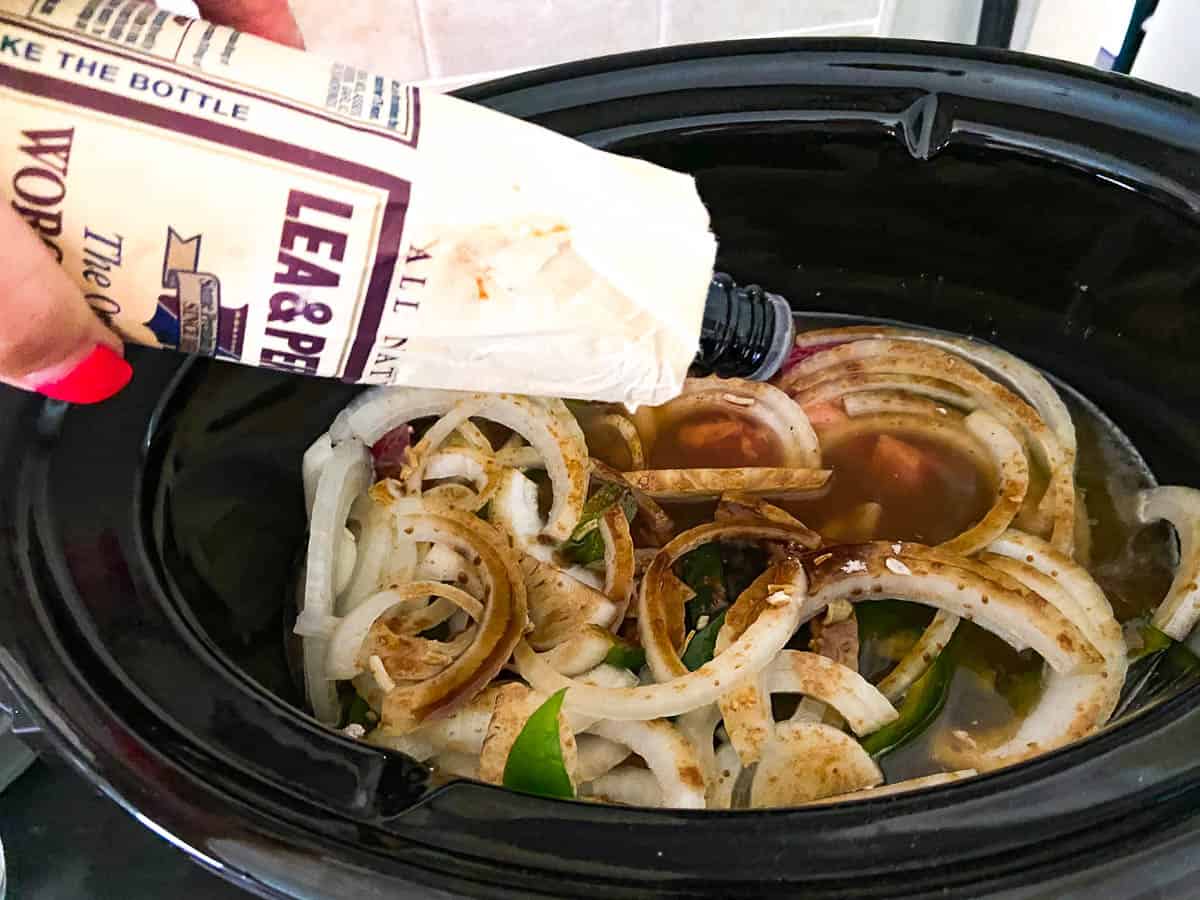 When sandwich filling is done, heat buns in foil, assemble sandwich, toss under the broiler for a few minutes to melt the cheese and enjoy!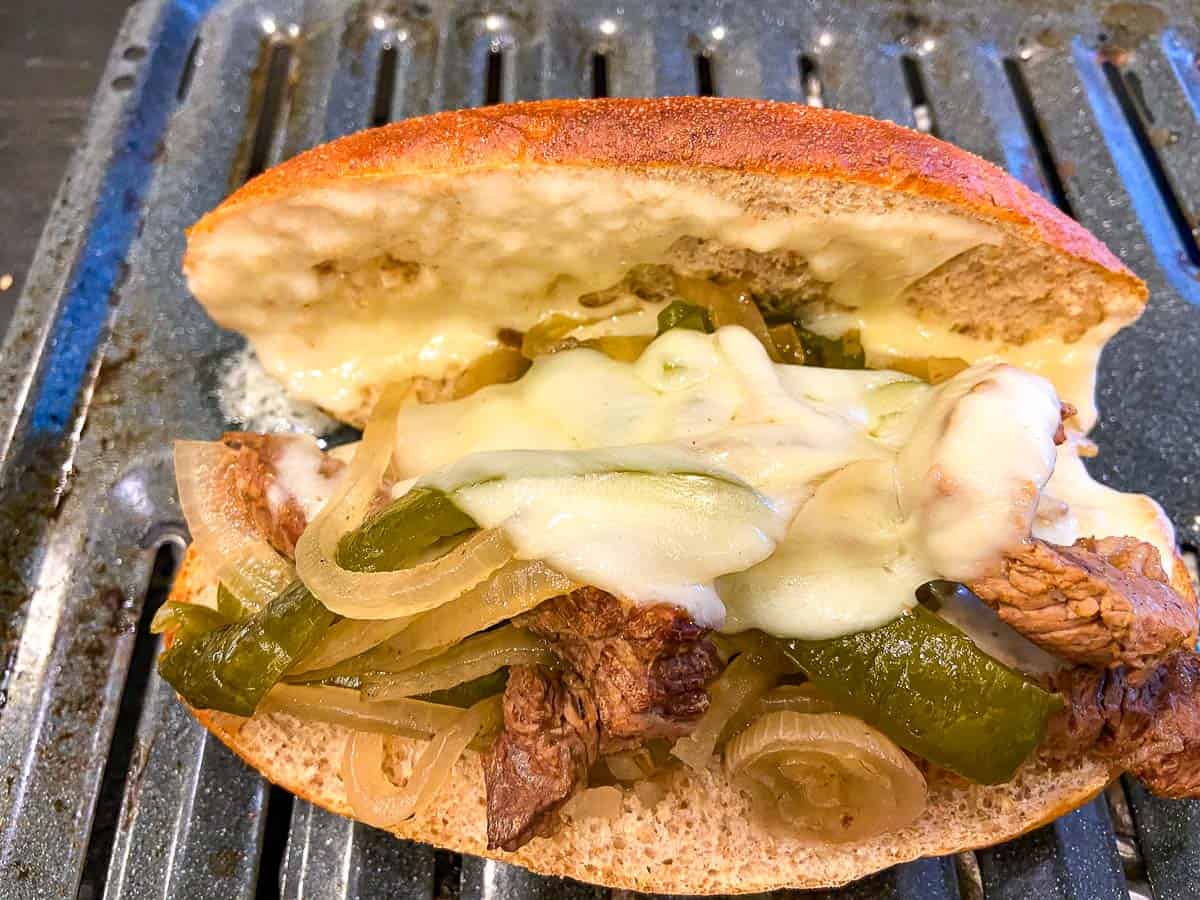 Best bread
According to my Philly friends, the choice of bread is critical to a delicious Philly Cheesesteak sandwich. The bread must be fresh, white, and warm.
Crusty or toasted breads simply don't suffice, as authentic Philly sandwiches use soft bread-not toasted.
A hoagie bun is the traditional choice of bread, but you can use any thick, white bread.
Submarine, or "hero" rolls also work great for a delicious homemade Philly cheesesteak sandwich.
Slice the buns and wrap in foil; heat them at 350ºF for about 15-minutes.
Best cheese for Philly cheesesteak
Traditional cheesesteak sandwiches use a processed yellow cheese, like CheezWhiz® or American cheese; however, if you prefer a more natural cheese, Provolone works equally well and complements the flavors of the beef, peppers and onions.
Who invented the Philly Cheesesteak?
The cheesesteak sandwich accidentally popped up in the 1930's in South Philadelphia when hot dog vendor Pat Oliverie decided to grill some beef and slap it on a small loaf of Italian bread with some onions.
A cab driver passing by caught a whiff of the delicious aroma and...the rest is history. Today, you can still get the original cheesesteak at Pat's King of Steaks...they're open 24/7!
Nobody in Philadelphia calls it a "Philly Cheesesteak," they just call it a "Cheesesteak."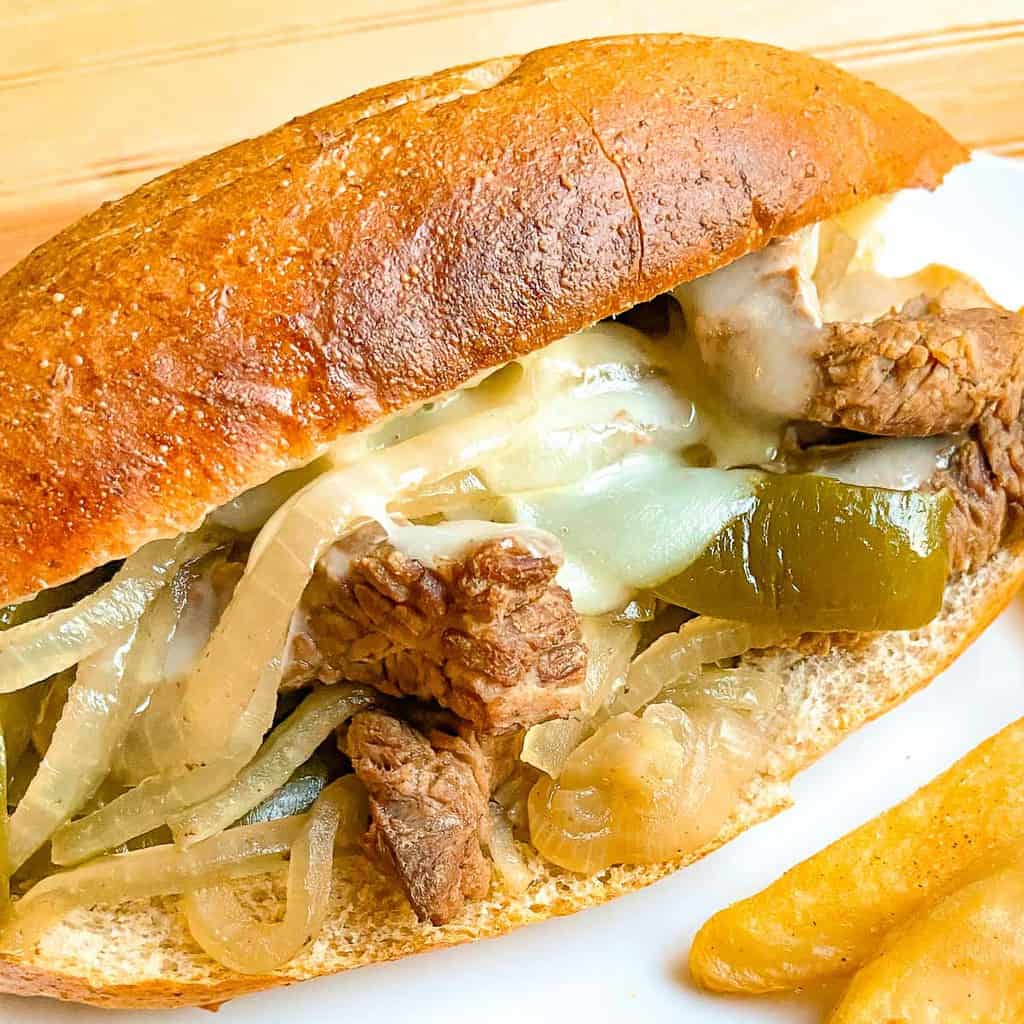 This warm, beef sandwich is a favorite at our house and I hope it will be at yours, too! Enjoy!
If you make this recipe, please scroll down and leave a comment and rating! I love to hear from you!
📋 Recipe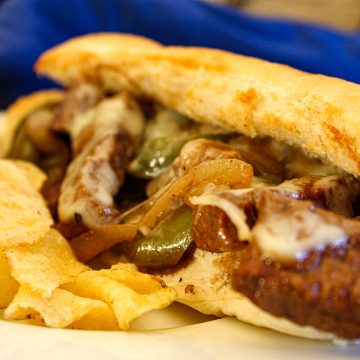 Philly Cheesesteak Recipe
Tender seasoned beef strips with caramelized onions, bell peppers and provolone.
Print
Rate
Yield:
2
hoagie sandwiches
Ingredients
1⅓

lbs

sirloin

cut into strips

½

pkg.

Beefy Onion Soup Mix

dry mix

2

cups

water or beef broth

2

tablespoons

olive oil

2

tablespoons

Worcestershire sauce

1

large

yellow onion

cut into thin strips

1

medium

green bell pepper

cut into thin strips

6

slices

provolone cheese

2

Hoagie sandwich buns
Instructions
In a large skillet, heat oil on medium heat; add beef strips and cook till lightly browned

2 tablespoons olive oil,

1⅓ lbs sirloin

Add enough broth or water to cover meat; (about 2 cups); reduce heat to medium-low;

2 cups water or beef broth

Add beefy onion soup dry mix and Worcestershire sauce; cook on low till beef is tender

½ pkg. Beefy Onion Soup Mix,

2 tablespoons Worcestershire sauce

Add sliced onions and peppers; cover and allow to cook until vegetables are tender

1 large yellow onion,

1 medium green bell pepper

Using a slotted spoon or tongs, remove the beef, peppers and onions and set aside
Sandwich Assembly and Cheese
Place hoagie buns in foil and bake for 10 minutes--until soft and warm

Slice hoagie buns lengthwise leaving one side uncut; place meat, then onions, then bell peppers. Place cheese on top.

6 slices provolone cheese

Place sandwiches under broiler just until cheese melts.

Remove from oven and enjoy!
Notes
Philly cheesesteak can also be made in a crock pot; just put all the ingredients (except for the oil) in a slow cooker; Cook on low for about 3 hours.
Nutrition Estimate
Serving:
1
cup
Calories:
976
kcal
Carbohydrates:
47
g
Protein:
92
g
Fat:
46
g
Saturated Fat:
17
g
Polyunsaturated Fat:
3
g
Monounsaturated Fat:
20
g
Cholesterol:
224
mg
Sodium:
1596
mg
Potassium:
1944
mg
Fiber:
3
g
Sugar:
11
g
Vitamin A:
737
IU
Vitamin C:
56
mg
Calcium:
564
mg
Iron:
17
mg