This old fashioned salmon patties recipe is just about as simple and easy as it gets! Some folks call these "salmon croquettes" or "salmon cakes," but no matter what you call them, they're a staple menu item in the South!
Use red or pink canned salmon and add a little onion, celery, seasonings to make a quick and easy dinner!
Perfectly seasoned and delicious, you'll love these baked or pan-fried!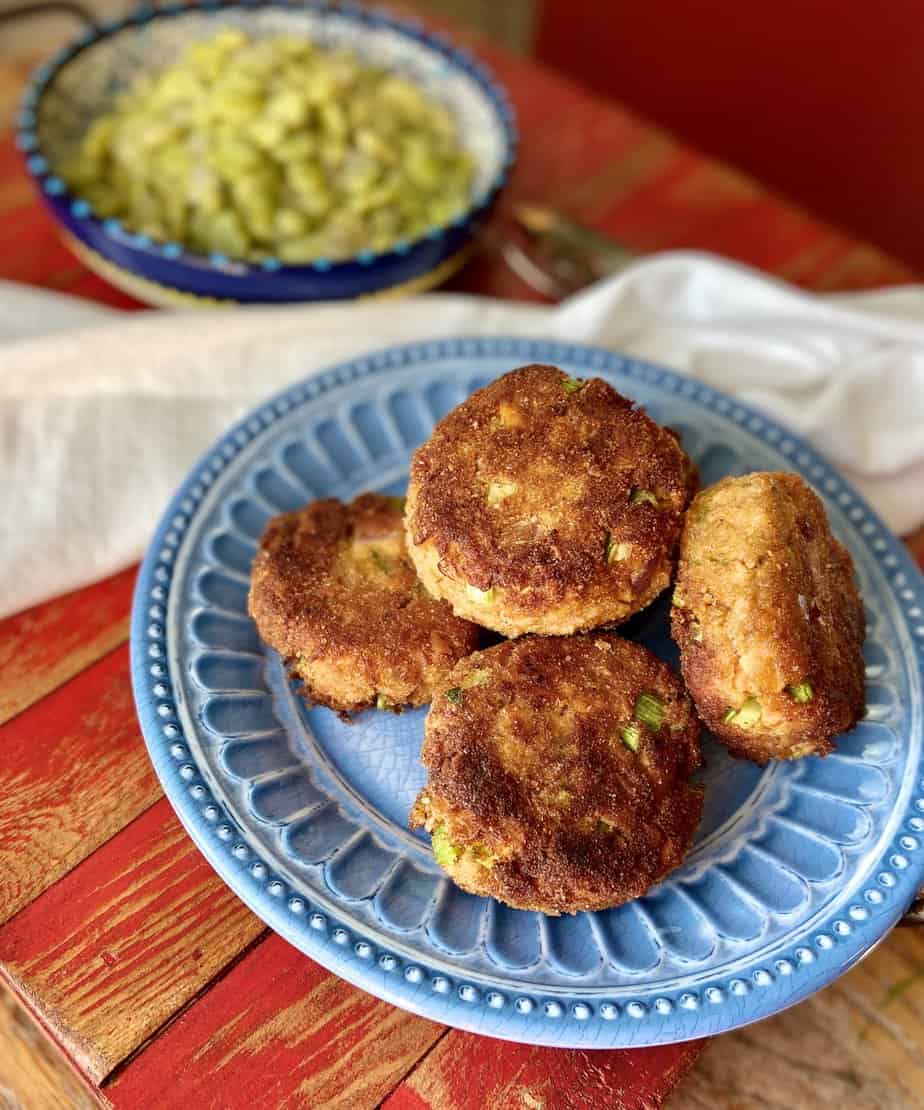 What are salmon croquettes?
Salmon croquettes, also known as "salmon patties" or "salmon cakes," are a combination of canned salmon mixed with breadcrumbs, egg and seasonings.
They can be baked or pan fried...either way, they're a staple pantry food in the South!
Why you'll love this recipe!
This salmon patty cake recipe is pretty easy to make and uses simple ingredients!
Quick and easy - ready in about 10-minutes
Healthy - tons of Omega-3 in it! Essential fatty acids are good for you!
Affordable - this pantry recipe makes about 5-6 patties and costs under $4
This classic recipe uses the pan-fried method of cooking, however, you can bake them if you prefer. See recipe notes.
I grew up eating these with ketchup but now, I like to serve them with a Remoulade sauce!
What you'll need
This easy croquette recipe calls for canned pink salmon, (or red canned salmon), red onion, celery, dill weed, Old Bay Seasoning, egg, breadcrumbs and a little vegetable oil for pan frying (you can bake them if you want: see recipe card below for details).
This recipe uses one can and yields five fish patties that are about ½ cup each.
The trick to making nice fish cakes that don't fall apart is to refrigerate them prior to cooking.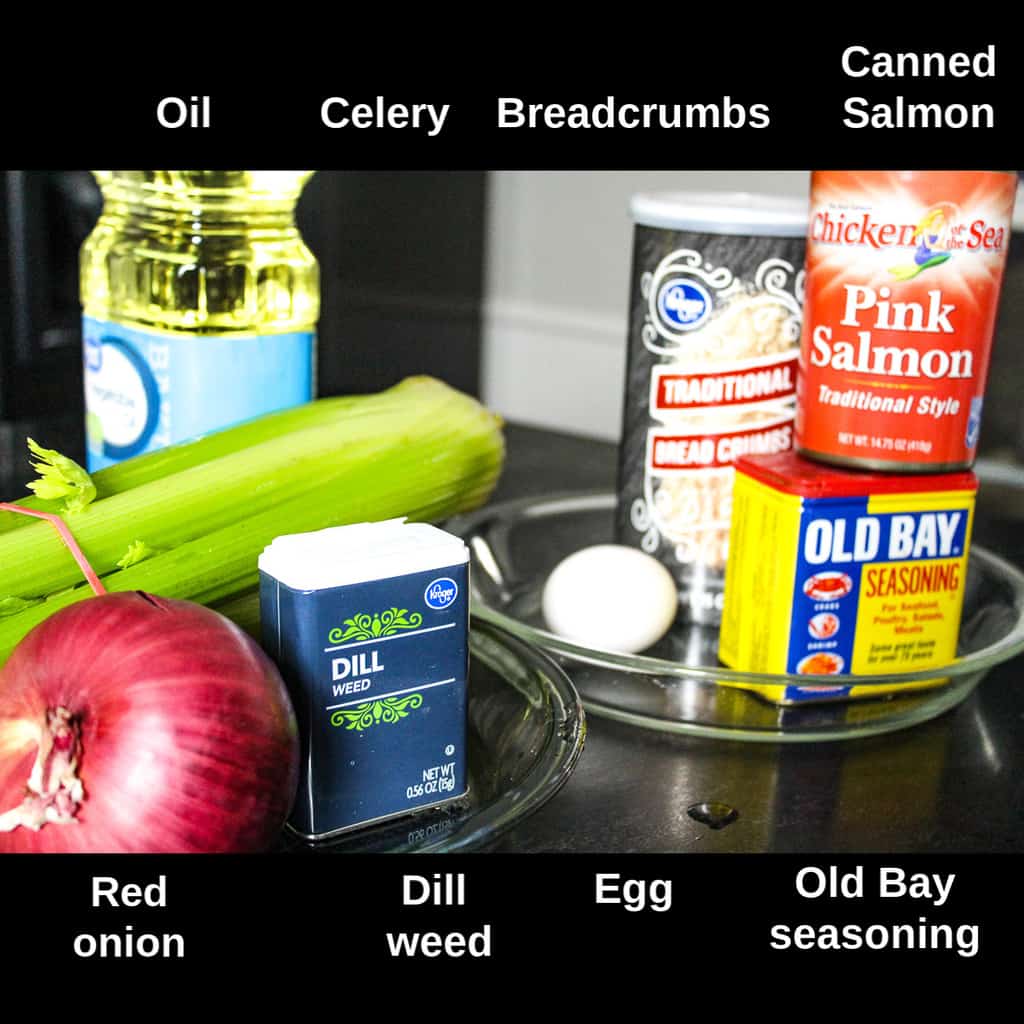 How to debone canned salmon
First, you'll need to debone the fish...here's how:
Drain any liquid from the canned fish, then place the can upside down on a plate

Gently slide a sharp knife between the filets where you see a thin white bone...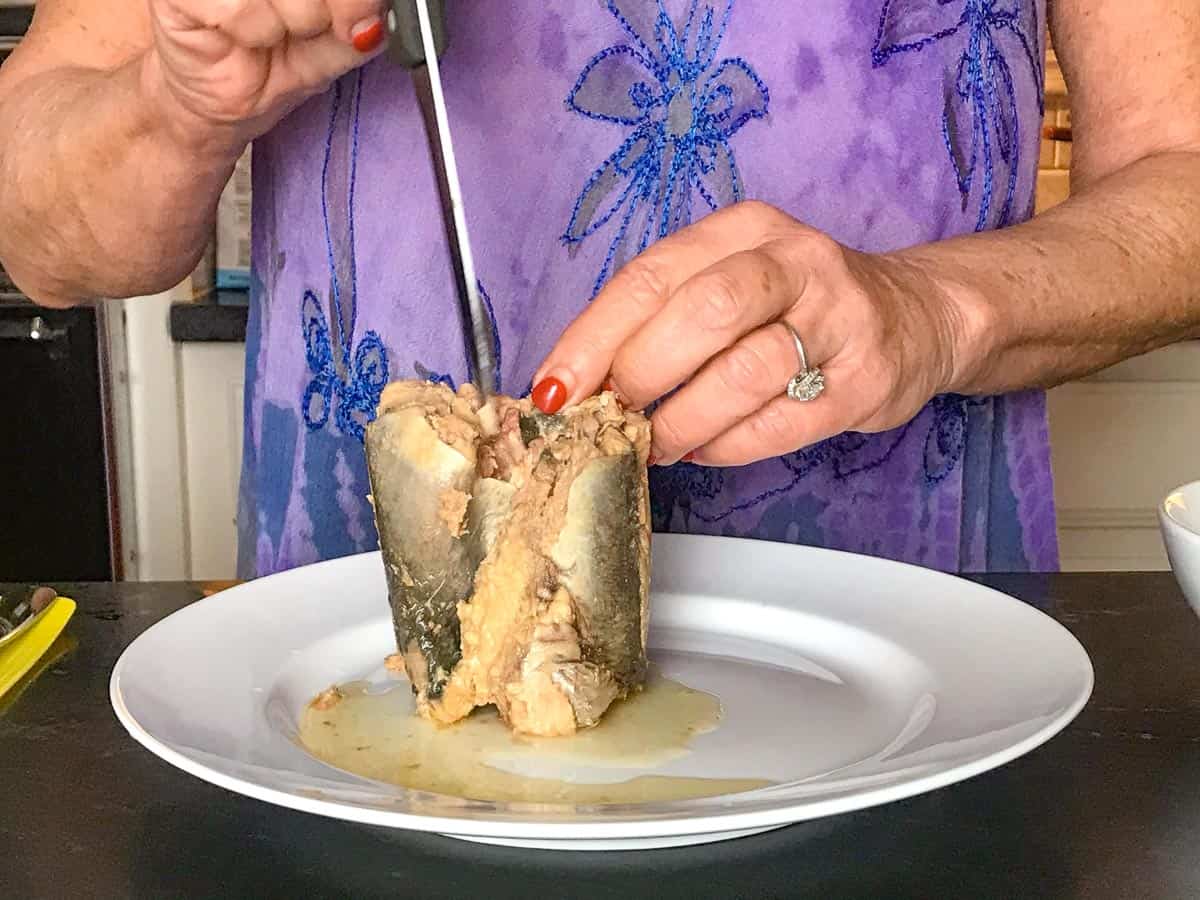 Slide a sharp knife under the spine of the bone and gently remove it; use knife tip to remove remaining bones; scrape away any fish skin and discard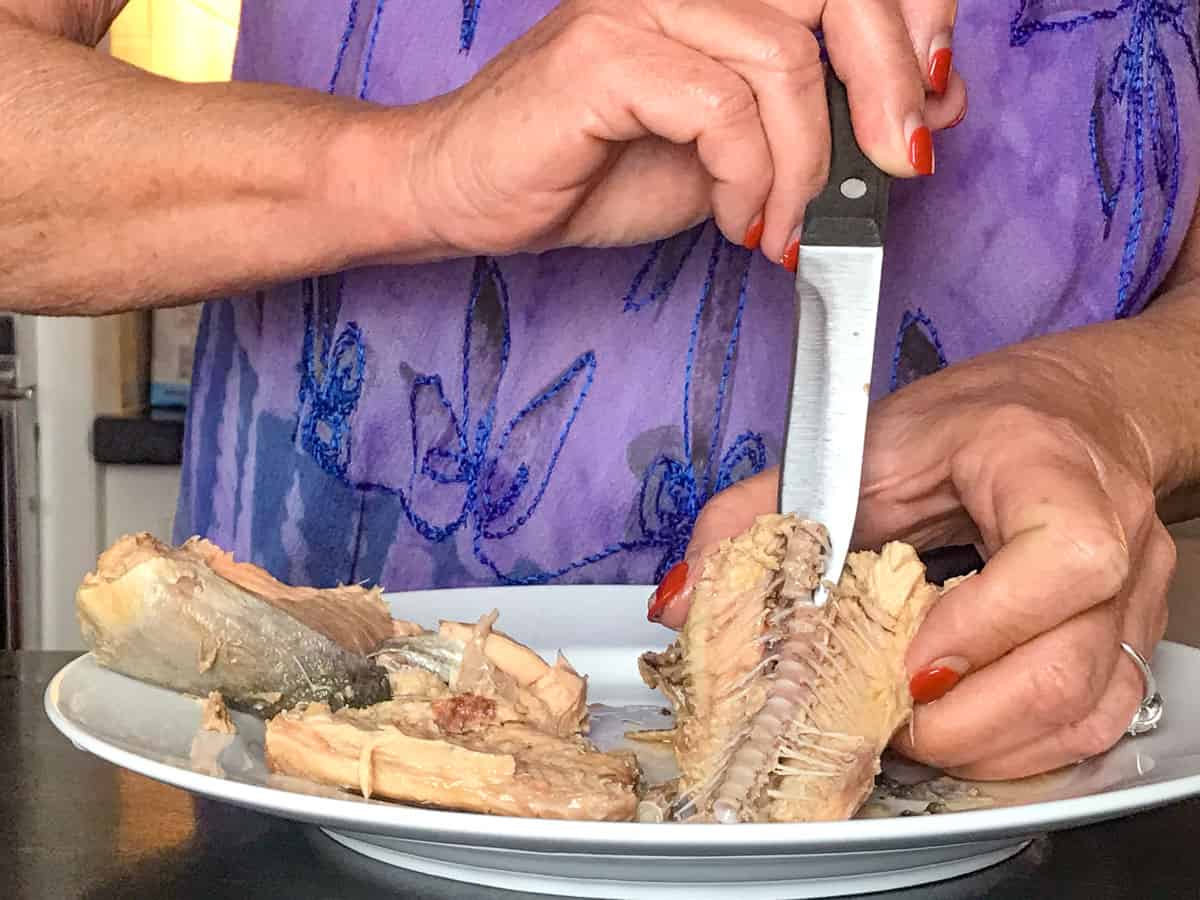 How to make salmon patties
The secret to making these fish cakes so they won't fall apart is to have the right ratio of ingredients. In this easy recipe, the egg to breadcrumbs ratio is 2 eggs to ½ cup breadcrumbs.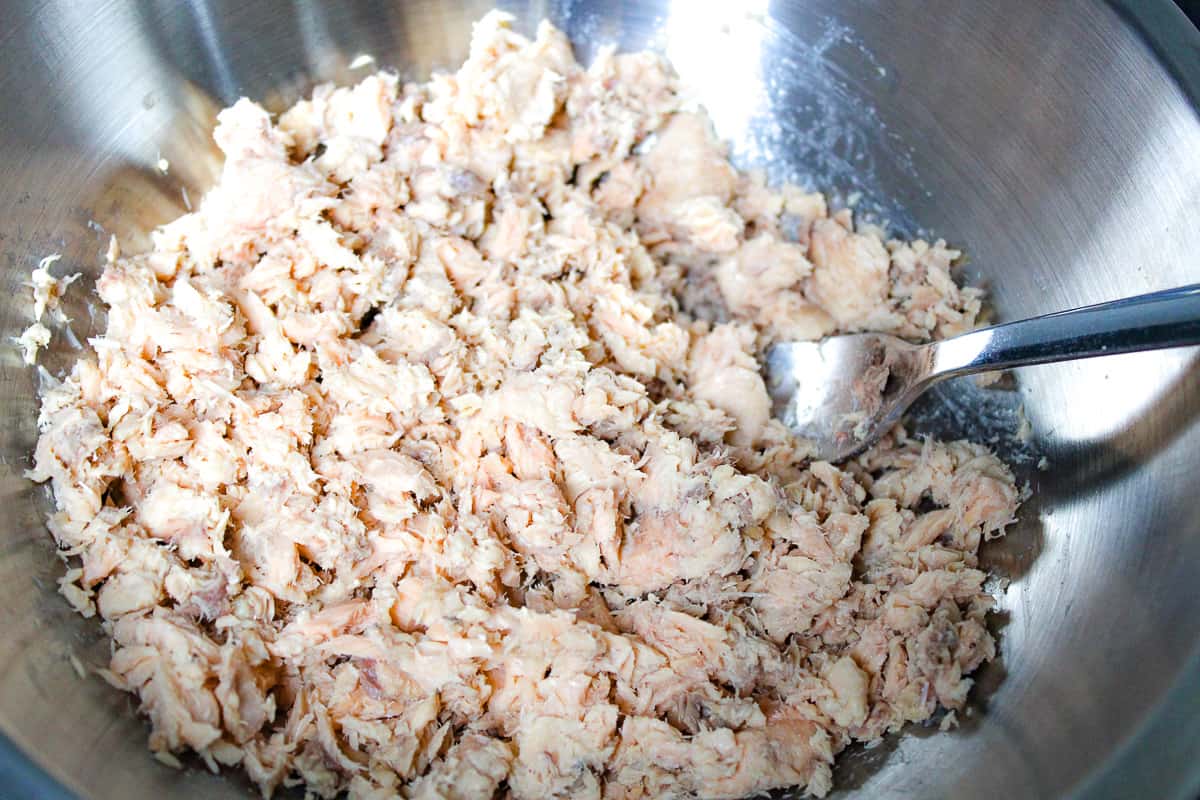 After you've deboned it, place it in a large mixing bowl and fluff with a fork.
Add remaining ingredients : chopped celery, chopped red onion, Old Bay seasonings, dill weed, a lightly beaten egg and breadcrumbs. Combine well and form the mixture into ⅓ - ¼ cup size balls, then flatten, lightly dust with breadcrumbs and refrigerate for at least 15 minutes.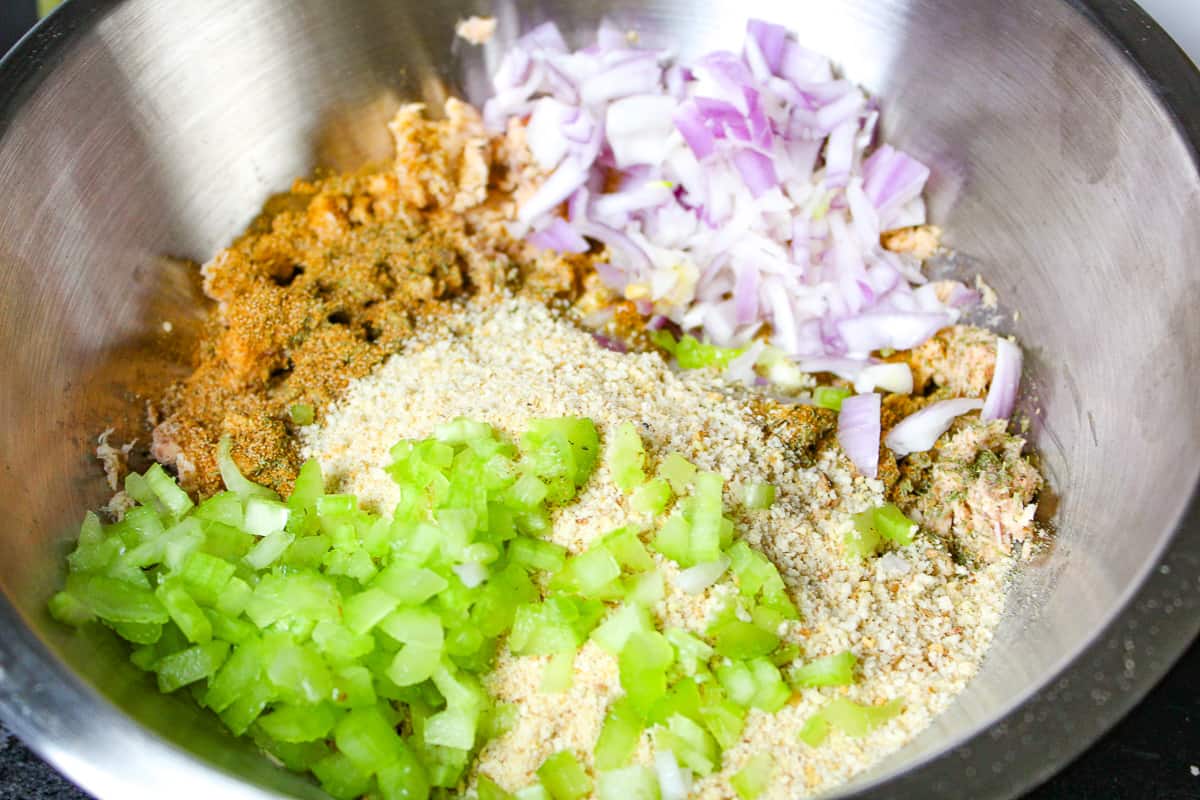 Refrigerating helps them set up, or firm up a bit so they won't fall apart when you place them in the skillet with the hot oil.
How to cook Salmon Croquettes
I grew up eating these pan fried, but if you're trying to eat a little healthier, you can bake them! They still turn out nice and crunchy on the outside!
Pan-Fry Method
If you prefer pan fried patties, you'll need a little frying oil. Use any high heat oil: canola, vegetable, corn or peanut oil.) Olive oil is not recommended because it can't tolerate high heat.
In a heavy bottom skillet (I recommend a cast iron skillet), over medium heat, add enough oil to reach the middle of the patty. (This amount will vary depending upon how big your skillet is and how thick your patties are.)
Heat the oil to around 300ºF - 325ºF. I recommend using a meat thermometer to ensure accuracy. Why? If the oil isn't hot enough, the cake will fall apart in the frying pan.
Once the oil is hot enough, place the cold patty in a single layer in the skillet. Do not crowd the skillet - you will have to work in batches
Cook for about 3-minutes on each side; drain on paper towel and serve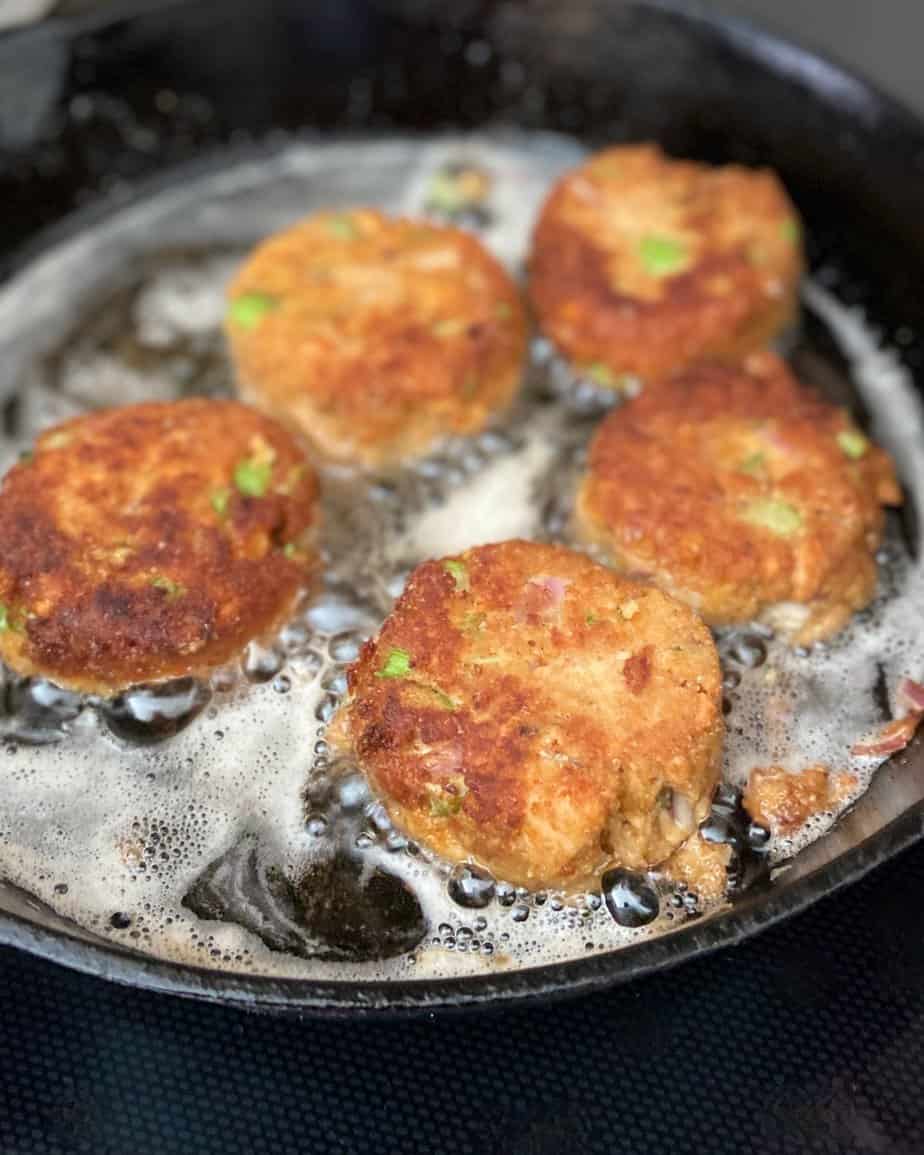 Baking Method
Place patties on a parchment lined baking sheet that has been lightly sprayed with cooking oil
(Do not do a final "dusting of breadcrumbs" if you're baking these
Bake at 400ºF for 15-25 minutes or until crispy golden brown
Recipe tips
Use canned salmon - you can use either pink or red salmon. Fresh is too precious to use for this recipe!
Canned fish contains tiny bones. Use the tip of a sharp knife to gently slide these out as best you can. Most often, these tiny bones are soft and flexible and go unnoticed in a cooked patty. If you can't get every single fish bone out, don't worry! These tiny white membranes soften during the cooking time; it's highly unlikely anyone will choke on one.
Chill the fish cakes for at least 15-minutes to prevent them from falling apart
Don't flip them more than once
Use an oil that is tolerant of high heat, like canola, corn or vegetable oil. Do not use olive oil (it cannot tolerate high heat)
Use a meat thermometer to ensure the oil is around 312ºF
Patties should reach an internal temperature of 145ºF
The first batch of croquettes will be a little bit lighter in color than subsequent batches. This is due to the oil being used more than once. If the darker color patty bothers you, start each new batch with fresh oil.
Want to add a little spice? Add a teaspoon of Cajun or Creole seasoning to the mixture!
FAQ
How do I keep salmon patties from falling apart?
4 ways to keep your salmon patties from falling apart:
Use the right ratio of egg to breadcrumbs.
Refrigerate the salmon patties before cooking.
Make sure the oil is hot enough.
Don't flip the salmon patties more than once.
What's the difference between pink and red salmon?
Both are cold water fish found in the Pacific Ocean. Red, or "sockeye salmon" has a bit of a stronger flavor and is more expensive than the pink.
Are croquettes gluten-free?
Salmon croquettes require some kind of grain to help the egg bind the ingredients together. Typically, the grain is plain (unseasoned) bread or Panko crumbs.
Can I use fresh dill instead of dried dill?
Yes! If you prefer to use fresh dill, you'll need to increase the amount slightly. Why? Dried herbs are stronger than fresh. Generally speaking, 1 tablespoon of dried herbs is equivalent to 3 teaspoons of fresh herbs.
Storage and reheating
If you have any leftover salmon cakes, you can store them in an airtight container in the refrigerator for up to 3-5 days. To reheat, I've found the best results when I place the patties in aluminum foil and place them on a baking sheet in a 300-325° F degree oven for about 20 minutes. You can also microwave these for a few minutes on low.
Variations
You can easily put a different spin on your old fashioned salmon patties! Just swap out a few simple ingredients:
Use green onion or white onion instead of red onion
Out of fresh celery stalks? Add ½ teaspoon or so of celery seed to the salmon mixture
Don't have breadcrumbs? Crush up some saltine crackers or Ritz crackers
Want spicy Cajun salmon croquettes? Add in a teaspoon Creole or Cajun seasoning, or a dash of Louisiana Hot Sauce.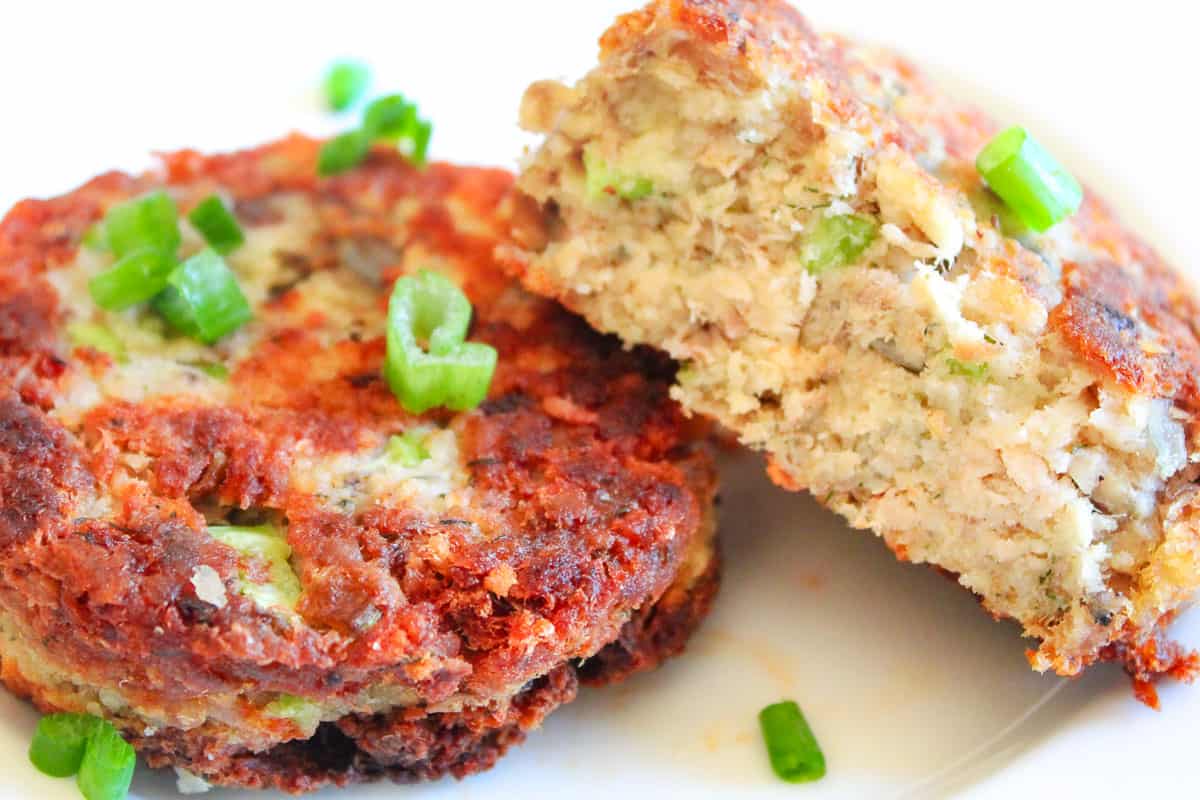 I usually get 5-6 salmon croquettes out of a 14-ounce can of salmon. It really depends upon how big you make the patties. The smaller they are, the quicker they cook!
I think you'll like this simple old fashioned salmon patty recipe! It's quick and a perfect meal when you need to get dinner on the table fast! Enjoy this family favorite!
Related recipes
If you make this recipe, please scroll down and leave a rating and comment. I love to hear from you! Thank you!
📋 Recipe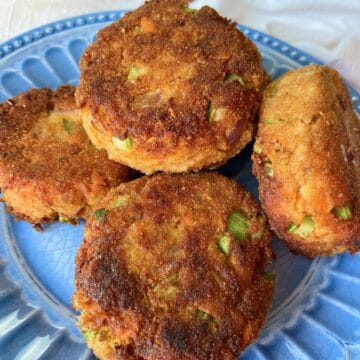 Old Fashioned Salmon Patties Recipe
Classic Southern Salmon Patties recipe with canned salmon, celery and red onion.
Print
Rate
Ingredients
Salmon Croquettes
14

ounces

pink salmon

(14.75 oz. can)

½

tablespoon

Old Bay Seasoning

½

cup

oil (see recipe notes)

(vegetable, corn, canola)

1

teaspoon

dill

(dried); double the amount if using fresh

½

cup

bread crumbs (plus a little more for final dusting) see recipe notes

( or panko crumbs; or crumbled saltines)

2

tablespoons

celery

finely chopped (about one large stalk)

3

tablespoons

red onion

finely chopped

2

whole

eggs

lightly beaten

¼

teaspoon

salt

¼

teaspoon

pepper
Instructions
Make the Croquettes
Drain liquid from canned salmon

Place salmon on saucer and gently remove skin and bones

Place salmon in medium bowl and fluff with fork

Lightly beat eggs; pour into bowl with salmon

Add remaining ingredients; combine well

½ tablespoon Old Bay Seasoning,

1 teaspoon dill,

½ cup bread crumbs (plus a little more for final dusting) see recipe notes,

2 tablespoons celery,

3 tablespoons red onion,

¼ teaspoon salt,

¼ teaspoon pepper,

2 whole eggs

Using a ½ cup measuring cup; place salmon into measuring cup, pat down till firm; gently remove patty from cup

Once all patties are formed, roll each patty lightly in breadcrumbs, place in refrigerator for at least 15 minutes (this step is optional, but I recommend it if your pan frying; skip this step the final breadcrumb coating if your baking them)

Heat cast iron skillet with enough oil to reach the middle of the patty; you want the oil to be about 316-325 degrees; hot, but not too hot

½ cup oil (see recipe notes)

Using a spatula, place salmon patties in hot oil; turn heat down to medium

Cook salmon patties about 3-4 minutes per side or until they are golden brown; carefully flip the cakes and continue to cook another 3-4 minutes; remove from pan

Place on paper towel to drain

Serve with remoulade sauce (see recipe notes)
Notes
This recipe makes about five ½-cup portions of salmon croquettes; you can make them smaller by using ¼ cup measuring cup if you like them smaller
Breadcrumbs:
Use ½ cup for the patty mixture; if you want, you can pour a little breadcrumbs onto a plate and lightly dust each formed patty before refrigerating. This makes an extra crunchy exterior, but it it totally optional. I recommend a final dusting for pan fried but NOT for baked patties.
Oil:
The amount of oil will depend upon the size of your skillet and the number of salmon croquettes you are making. Use enough oil to come up to the middle of the salmon cake.
Pan-Fried:
The amount of oil in this recipe is based on a 12" cast iron skillet; if you use a smaller skillet, you might not need as much oil; you want about ½ inch of oil in the skillet

If you use a smaller skillet, cook the salmon croquettes in batches
Baked:
Place chilled salmon patties on a parchment lined baking sheet
Bake @400ºF for 15-25 minutes, or until croquettes are warm in the center (time may vary due to oven)
Remoulade sauce recipe
Note: this Remoulade sauce recipe makes about 3-4 cups, so if you're just making a few salmon patties, you might wanna half the Remoulade sauce recipe.
Nutrition Estimate
Serving:
1
patty
Calories:
137
kcal
Carbohydrates:
9
g
Protein:
10
g
Fat:
7
g
Saturated Fat:
1
g
Cholesterol:
29
mg
Sodium:
681
mg
Potassium:
164
mg
Fiber:
1
g
Sugar:
1
g
Vitamin A:
79
IU
Vitamin C:
1
mg
Calcium:
127
mg
Iron:
1
mg