This basic quiche recipe works every time! Made with all-natural ingredients (eggs, heavy cream and cheese), you can use this recipe as a foundation to make any kind and size of quiche you like!
Just keep the basic quiche recipe ingredient proportions the same and add whatever meats, proteins or vegetables you like!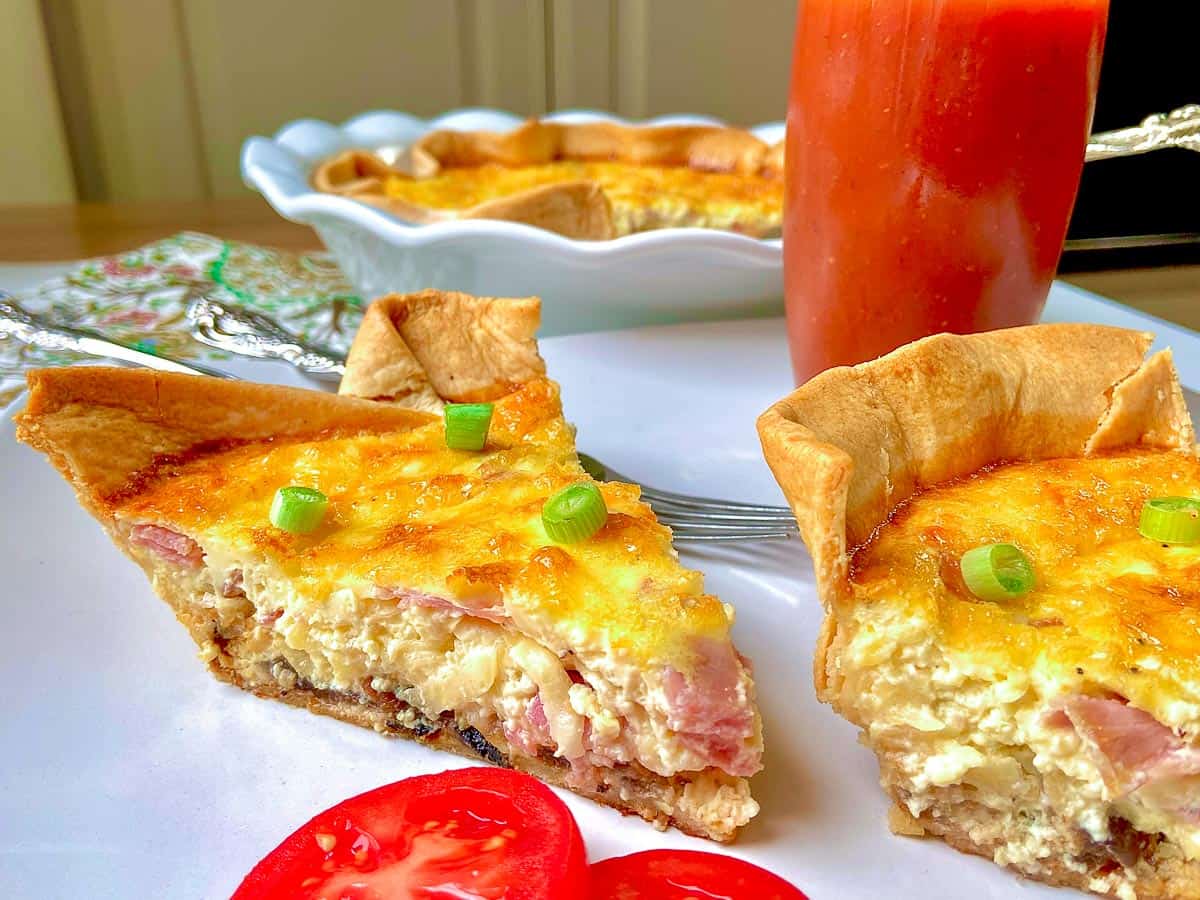 Why this recipe works
After many experiments, I've found that the true success of a beautiful and delicious quiche recipe depends upon the ratio of eggs to dairy AND the size (volume) of the baking dish. Scroll down to see exact ingredient measurements for the specific type of baking dish that you'll bake the quiche.
What you'll need
The perfect basic quiche is light, fluffy and cheesy, so it's important to keep the egg/dairy/cheese ratio the same no matter what type of quiche you're making. First, you'll need a 9" inch glass pie plate or tart pan, a little all-purpose flour, a handful of dry beans (for blind-baking the pie shell) or pie weights
One refrigerated pie crust- if you're feeling extra ambitious, you can make your own homemade pie crust
3 large eggs
1 ½ cups heavy cream- you might find this at the grocery store labeled "heavy whipping cream" or "heavy whipped cream"
4-6 ounces of cheese- for best results, buy a block of cheese and shred it yourself. Why? Pre-shredded cheeses have an anti-coagulating coating on them that doesn't melt as well as block cheese. Swiss cheese is most common, however Gruyere and cheddar work, too!
Protein or vegetables: (optional) use ½ cup - 1 cup of cooked, chopped bacon, ground sausage, diced ham, chopped mushrooms, diced onions or green onions, broccoli or seafood.
Foolproof basic quiche

recipe

This savory egg custard is not hard to make, but if you're like me, you've found a million recipes and they all have varied amount of dairy and eggs, not to mention a myriad of different sized pie plates.

Here, we're getting to the basics of quiche making. Once you learn the secrets, your next egg custard will be perfect every time, no matter what you put in it!

First, heat oven to 350°F and thaw the pie dough at room temperature.On a clean counter, sprinkle a little flour and roll out the pie dough, you may need to use a rolling pin to make the dough fit a 9"inch pie pan. If you have a little extra dough on the edges, that's ok; just use some kitchen shears and trim the crust to fit your plate

Place a cup of dried beans or pie weights in the pie shell; bake uncovered on the middle rack for 20 minutes or until the shell is firm and lightly golden brown. Allow to cool at room temperature while you make the basic quiche filling.

In a large mixing bowl, combine whole eggs, heavy cream, shredded cheese and any chopped or diced cooked meats and/or raw vegetables.

Pour the egg mixture into the cool pie shell; place pie shell on a rimmed baking sheet (in case it spills over) and place on the middle rack. Generally, the bake time is around 50 minutes, until the center is a little jiggly; use a wooden toothpick to test the center for doneness. For best results, let the baked egg custard rest for 5-10 minutes before slicing.
Recipe tips
Double check the size of your baking dish! If you're using a deep dish pie plate, you'll want to increase the amount of ingredients (See chart below)
When you unroll the refrigerated pie dough, if it cracks, use a little cold water and press the torn area back together with your fingers
Invest the few minutes extra time to blind bake the crust
Keep the ratio of eggs, dairy and cheese as indicated in the recipe below
Add up to 1 ½ cups of additional ingredients
Place the quiche pan on a rimmed baking sheet in case it spills over the edge while baking
Allow quiche to cool a little before slicing
For a pretty slice, use a super sharp knife and wipe the blade clean in between each slice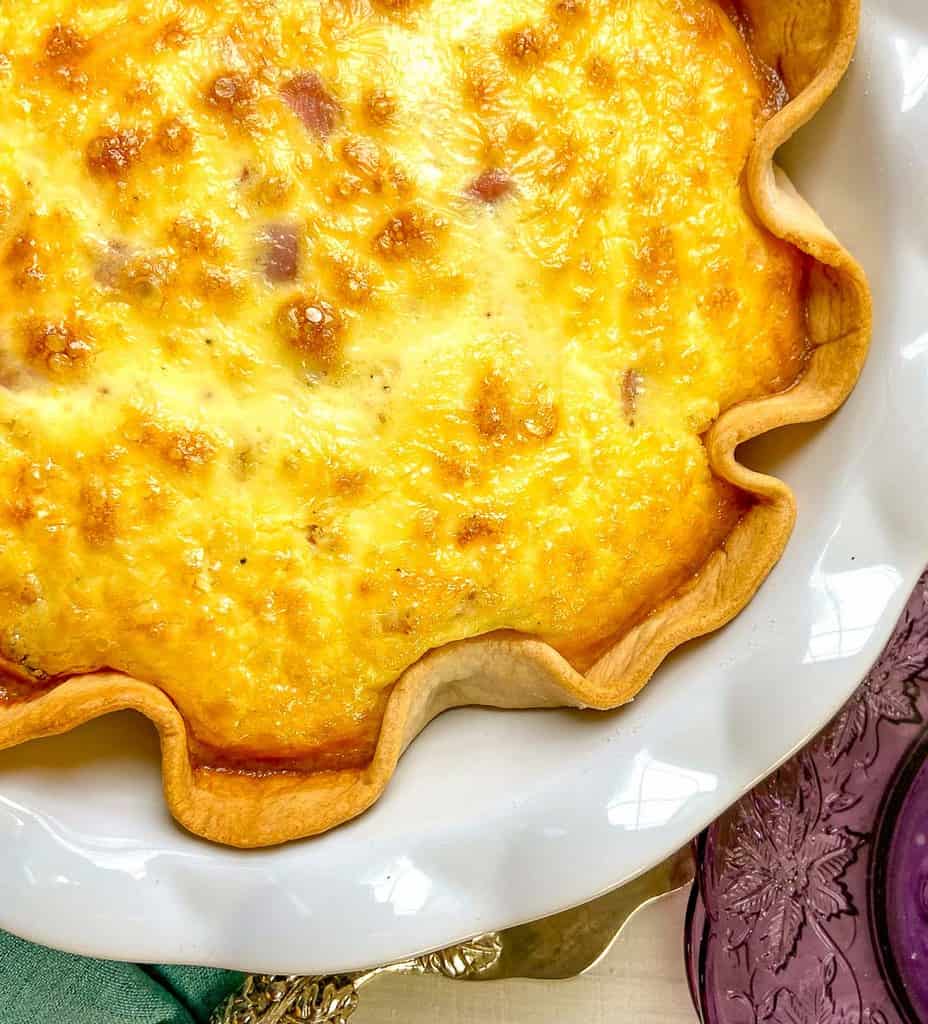 This basic quiche recipe is super quick and easy to make!
Variations for basic filling ingredients
In the US, probably the most famous restaurant chain known for its quiche is the French inspired La Madeleine restaurant. They offer two popular classic quiche recipes: Quiche Lorraine and Quiche Florentine. Use this classic and basic quiche recipe and add the following ingredients:
Quiche Lorraine - Ham quiche or bacon quiche: add ½ cup of cooked, cubed bacon and shredded Swiss cheese
Quiche Florentine - Spinach quiche recipe: add 1 cup of fresh, chopped spinach and Gruyere cheese
Mushroom and Caramelized Onion Quiche - Add ½ cup caramelized onions and ½ cup chopped mushrooms, Swiss cheese
Broccoli Quiche - add 1 cup finely chopped broccoli, cheddar cheese
Denver Quiche - add 1 cup of chopped ham, ½ cup diced bell peppers and Parmesan cheese
This easy quiche recipe can be adapted to your liking! Feel free to add fresh herbs or dry ingredients like garlic powder, garlic salt or onion powder. Serve with a crisp green salad and you've got a delicious, classic breakfast quiche, a light lunch or dinner.
FAQ
What is Quiche?
A classic quiche, pronounced "kēsh," is a baked French tart that consists of savory ingredients including eggs, cheese, cream and meat, seafood or vegetables with a flaky pie crust.
It is most commonly served as a breakfast or brunch dish, but works great for dinner, too! You'll find a basic quiche is easy to make - and there are many variations you can make with this recipe!
What's the difference between a quiche and a frittata?
Both are baked egg dishes that contain savory meats or vegetables, usually a dairy product (heavy cream) and cheese. Quiche is French-derived and typically contains a fluffy pie crust. A Frittata is an Italian quiche (or lack of a better explanation) and does not have a crust. It's basically a crustless quiche that is started on the stovetop, then transferred to a hot oven to complete the cooking process.
The secret to a fluffy basic quiche!
It's all about the size (volume) of the baking dish. Pretty simple, huh?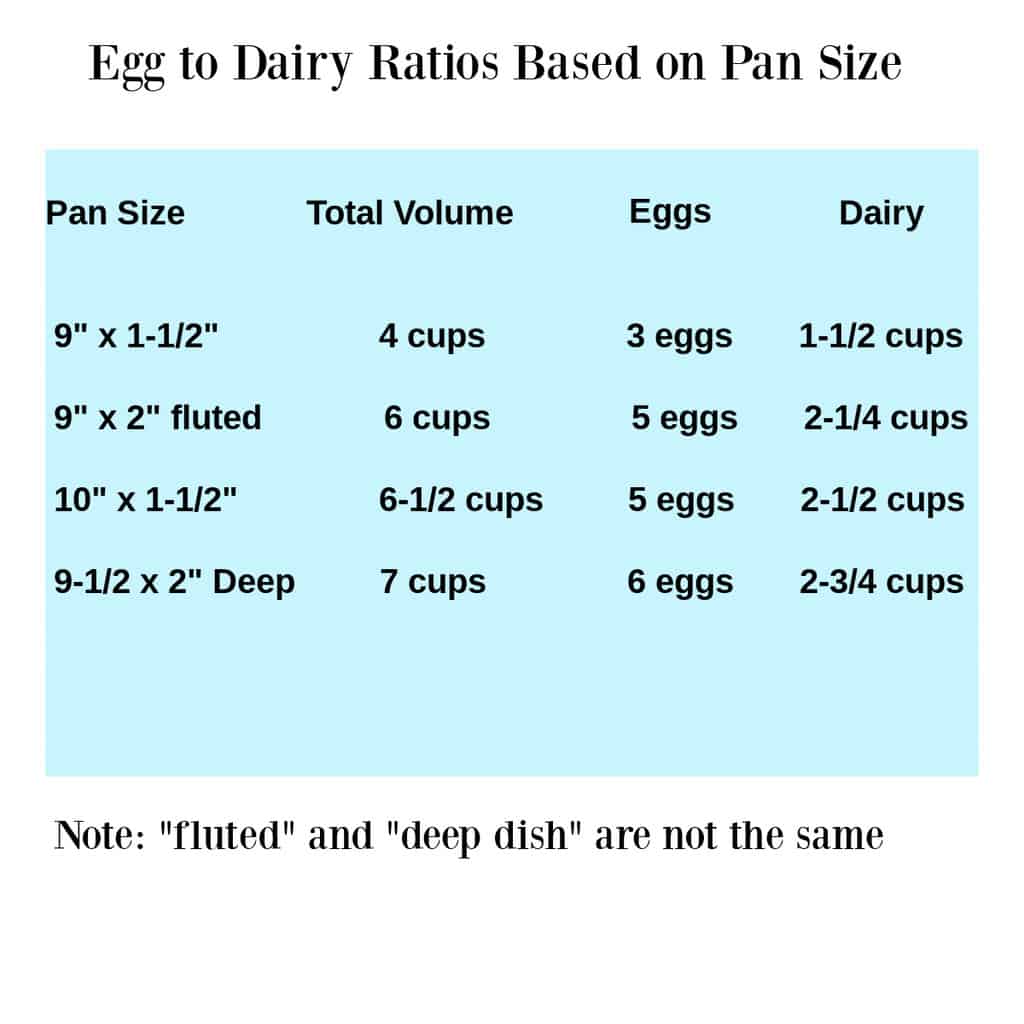 Size of eggs
Generally speaking, when a recipe calls for "an egg," it is referring to a large egg. Unless otherwise noted, use large brown or white eggs. Brown and white eggs taste the same.
Size of baking dish
The size and volume of the baking pan are important because you don't want to have the egg custard boil over, but you also don't want it to look puny...Before you begin, measure your baking pan and its volume. If you're not sure, The Baking Pan is an excellent resource.
Most recipes call for a 9" or 10" pie pan. A 9"-inch pie plate has a total volume of 4 cups. A 10"-inch pie pan has a volume of 6½cups.
A 9½" X 2" inch Deep Dish Pyrex Pie pan has a volume of 7 cups. You can see how the ingredients for a 9"-inch pan would not be enough to fill up a deep dish pie pan.
It is not necessary to oil and/or flour a pie pan when making basic quiche.
Egg-to-Dairy ratio
In culinary circles, the Golden Rule of Thumb is: 1 egg per every half-cup dairy.
Keep in mind "dairy" includes cream, heavy cream, milk, half-n-half, sour cream and creme fraiche. "Dairy" does not include the cheese.
The ratio doesn't change if you use a larger baking dish, but the amounts of egg/dairy/cheese do change.
Amount of protein/vegetables
I recommend about a half-cup to one cup of diced meat or vegetables to this easy quiche recipe. You want the protein or vegetable to complement the creamy, cheesy quiche--not be the star of the dish.
Amount of cheese
The amount of cheese is a personal preference, however, most standard 9"-inch quiche recipes use at least 4-ounces of shredded cheese. Four ounces of shredded cheese produces one cup of cheese, and that's usually plenty to include in this size quiche. Popular cheese for quiche? Shredded Swiss cheese, Gruyere cheese, sharp cheddar or tangy goat cheese.
Pie crust
This basic quiche recipe uses a refrigerated pie crust - the kind you roll out. You can use a premade pie crust as well. Whether you use a homemade or premade pie crust, you'll want to blind bake it first before adding the egg mixture. Blind-baking the pie crust results in the best, flaky crust and prevents a soggy crust.
"Blind baking" means you're basically baking a pie crust with nothing in it. The beans help weight the crust down so it won't puff up and no, the beans won't burn.
How to Blind Bake a Pie Crust
The best quiche has a light, fluffly crust and the best way to achieve that is to blind bake the pie dough. Here's how:
Roll thawed dough into glass pie plate; add dried beans and bake on middle rack at 350°F for 20-25 minutes or until lightly golden brown; remove from oven; once pie shell cools, remove dried beans
Slicing and serving
The trickiest part of serving quiche is cutting it so the crust doesn't fall apart. This is done by using an extremely sharp knife and by allowing the quiche to cool slightly.
For best slicing results, after the quiche is done, let it sit at room temperature for about 15-minutes.
Place the tip of the knife into the center and, using only the tip, drag it toward you. Clean the knife, and repeat (making a triangle slice.)
Slide the tip of the knife under the side of the crust and shimmy the knife under the slice and serve
Storage and reheating
An egg dish will last safely up to three days in the refrigerator when properly covered with aluminum foil or plastic wrap. If you have just a few pieces leftover, place them in an airtight container. To reheat, either place on low in the microwave or, cover with foil and bake in the oven at 300ºF degrees for about 15-minutes.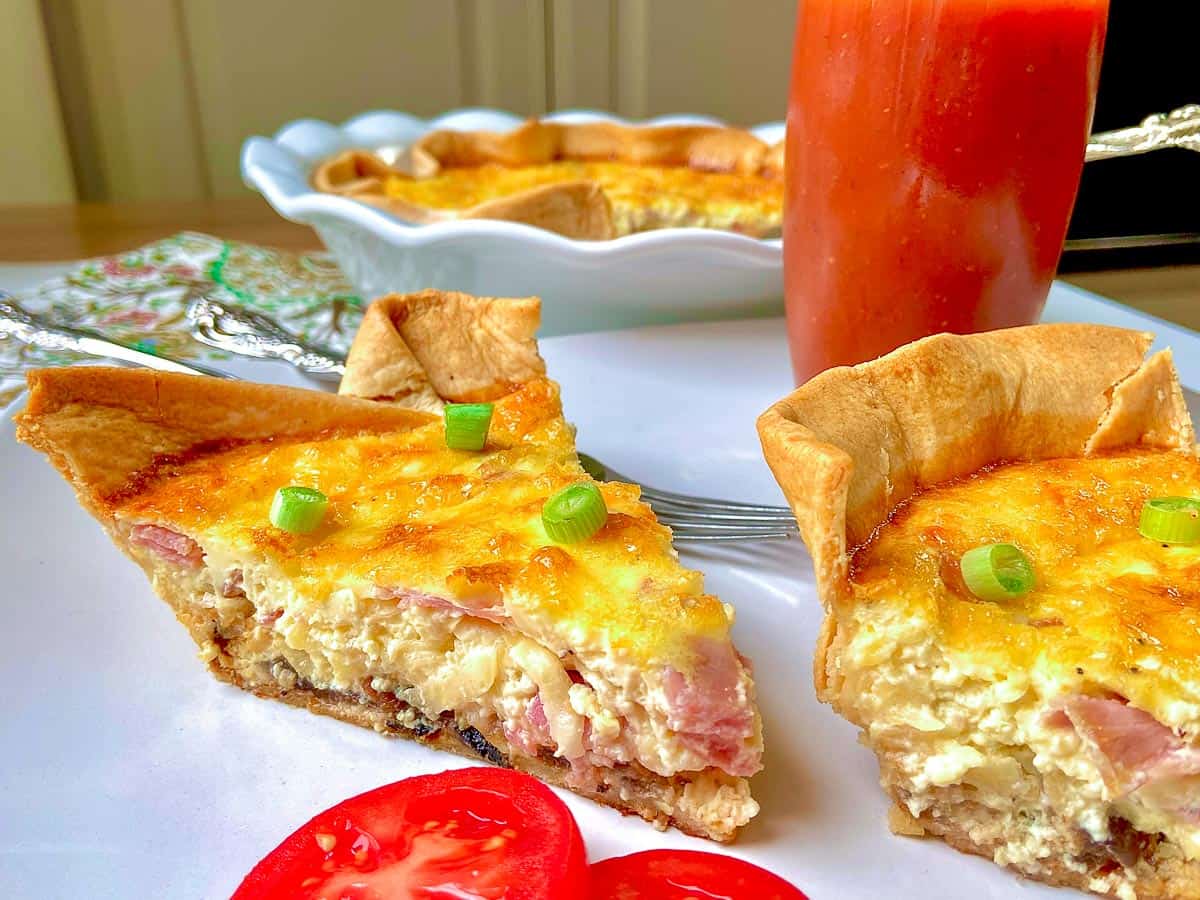 If you stick to the basic quiche recipe ratios, you'll have a delicious egg pie every time-no matter what ingredients you add!
Related recipes
📋 Recipe
Basic Quiche Recipe
A French classic, this basic quiche recipe can be used to make any type of quiche you want!
Print
Rate
Equipment
9" inch glass pie plate

(see recipe notes below for pie plate volumes)
Ingredients
1

pie crust

, refrigerated, roll-out dough (See Recipe Notes)

5

tablespoons

all-purpose flour

, for rolling out crust (optional)

1

cup

dried beans (any kind) or pie weights

, to weight pie for blind baking

3

whole

large eggs

1½

cups

heavy cream

See Recipe Notes

4

ounces

cheese

, shredded (See Recipe Notes)

½

teaspoon

salt

¼

teaspoon

black pepper

1½

cups

chopped meat and vegetables(optional)

See Recipe Notes
Instructions
Prep
Thaw a roll of pie dough at room temperature; chop any proteins or vegetables and set aside
Blind Bake the Crust
Preheat oven to 350ºF; set rack in middle setting

Sprinkle flour on countertop and roll out pie dough to ¼" thick (you don't have to do this if you're using a 9"inch pie pan; if you're using a bigger pan, you will need to do this)

5 tablespoons all-purpose flour

Place dough in baking dish; trim or crimp edges

Add dried beans to pie dish (you can use pie weights if you have them)

1 cup dried beans (any kind) or pie weights

Bake 25-30 minutes, until edges are lightly golden; remove and allow to cool at room temperature (do not turn the oven off yet:)

Once the pie plate is cool, remove the beans
Make the Quiche Filling
In a large mixing bowl, whisk eggs; add heavy whipping cream, and shredded cheese. Add in any diced meat/onions/veggies and combine well; season with salt and pepper

3 whole large eggs,

1½ cups heavy cream,

4 ounces cheese,

½ teaspoon salt,

¼ teaspoon black pepper,

1½ cups chopped meat and vegetables(optional)

Pour egg mixture into cooled pie shell; place on rimmed baking rack and bake, uncovered on the middle rack at 350ºF for 50-minutes, or until center is done (test for doneness with a toothpick)

Allow to cool for 15-minutes; then, using a serrated knife, slice and serve
Notes
Pie Dough
I use Pillsbury refrigerated roll-out pie dough. It comes with two sheets to a box. One sheet of dough usually unrolls just enough to cover a 9"inch pie pan; however, if you're using a deep dish pie plate, you may need to roll the dough out a little to "stretch" it so it will fill a deep dish and still cover the rim of the pie plate. In this case, you'll want to sprinkle a little flour on the counter to roll the dough.
Cheese
I use 4 ounces of shredded cheese; however, you can use up to 6 ounces of cheese.
Heavy Cream
This means heavy cream or heavy whipping cream from the dairy aisle- it does not mean "whipped cream" like a whipped topping or Cool Whip.
Additional seasonings
Depending upon what you use for the filling (ham, bacon, onions, broccoli, etc.), you might want to add ½ teaspoon of onion powder or garlic powder...your call based on your quiche filling and palate.
Additional ingredients
This recipe for a 9"inch quiche can easily hold up to a total of 1 ½ cups of chopped meat or veggies. If you're using a bigger baking pan, you can add a little more, but I wouldn't exceed 2 cups.
Adjustments for Pan Size
Pie plate refers to a normal 1½ inch deep, 9"inch pie pan; deep dish and fluted do not have the same volumes, therefore the ingredients vary.
If you're using a classic 9" inch glass pie plate, use 3 eggs and 1½ cups of cream (total volume: 4 cups)
If you're using a 9" x 2" inch fluted plate, use 5 eggs and 2¼ cups of cream (total volume: 6 cups)
If you're using a 10" x 1½"inch pie plate, use 5 eggs and 2½ cups of cream (total volume: 6½ cups)
If you're using a 9½ x 2" Deep Dish, use 6 eggs and 2 and ¾ cups of cream (total volume: 7 cups)
Nutrition Estimate
Serving:
1
slice
Calories:
324
kcal
Carbohydrates:
16
g
Protein:
6
g
Fat:
27
g
Saturated Fat:
15
g
Polyunsaturated Fat:
2
g
Monounsaturated Fat:
8
g
Cholesterol:
66
mg
Sodium:
338
mg
Potassium:
80
mg
Fiber:
1
g
Sugar:
1
g
Vitamin A:
801
IU
Vitamin C:
0.3
mg
Calcium:
135
mg
Iron:
1
mg