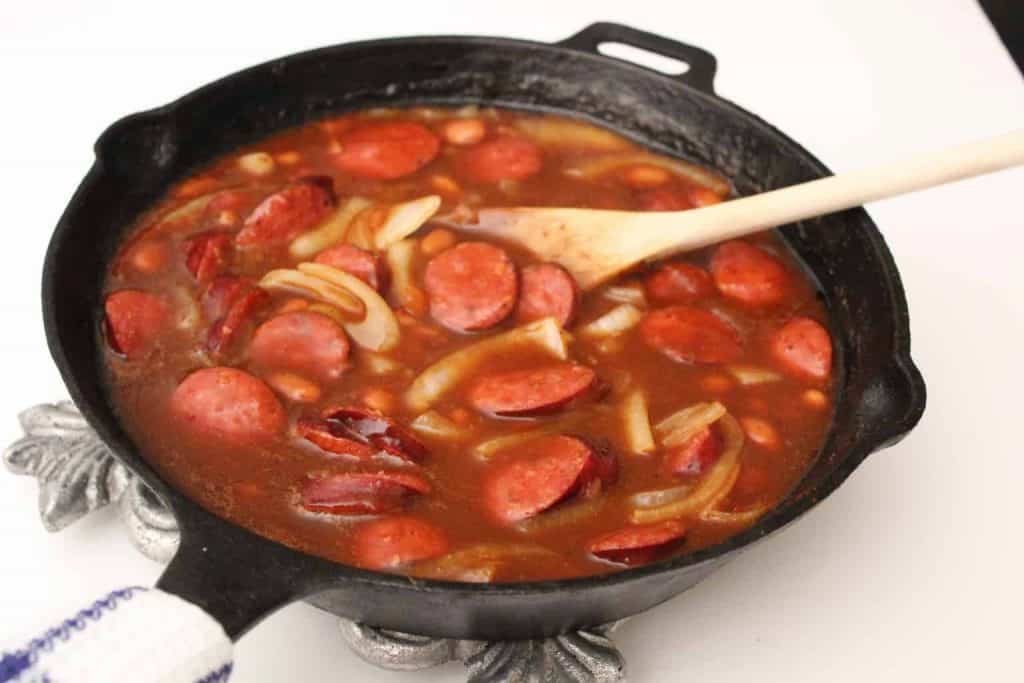 Cowboy Skillet Supper is an easy, weeknight meal you can throw together in less than 30 minutes!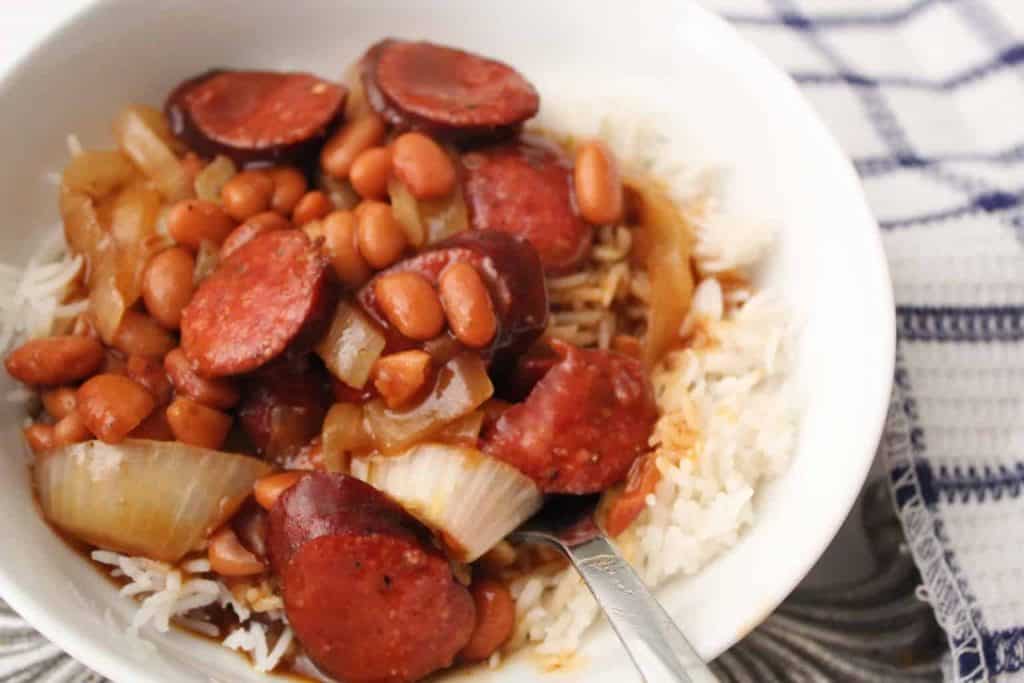 Cowboy Skillet Supper is a sweet and smoky combination of beef sausage, onions, and pinto beans cooked together and served over rice or noodles.
When you're too tired to create a culinary masterpiece, this Cowboy Skillet Supper is your saving grace! It's super easy and quick to make, has really nice flavor and texture, and hushes those growling stomachs!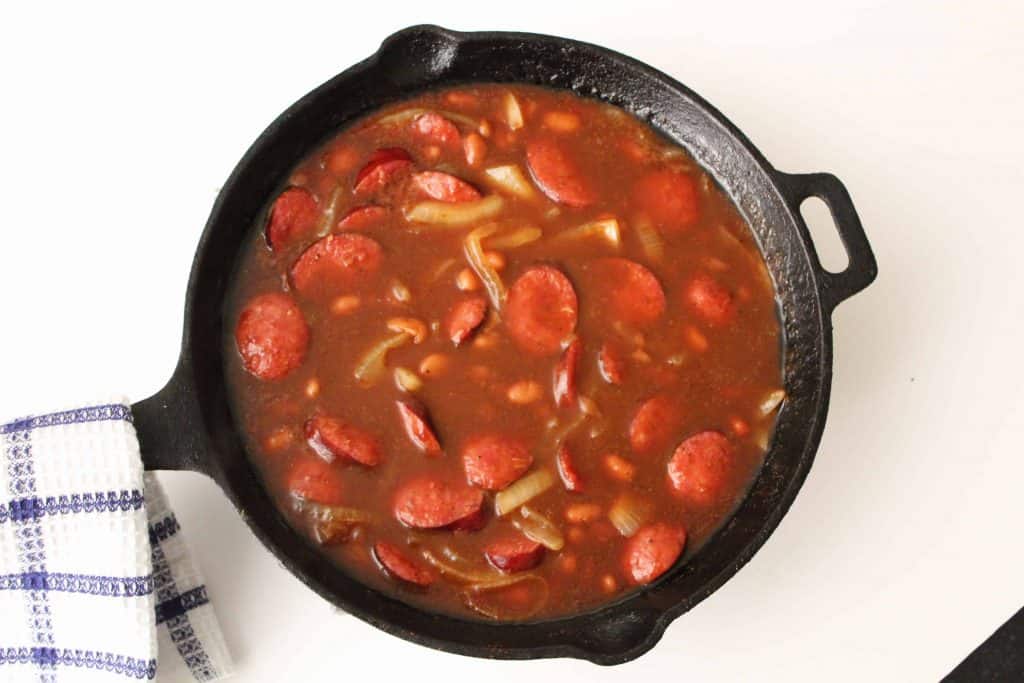 Start by sauteing onions in a little oil, then add bite-sized all-beef sausage, a can of pinto beans, some seasonings and you're done!
Do I Have to Use Beef Sausage in the Cowboy Skillet Supper?
No. You can use any kind of sausage you prefer. If you want to reduce fat content, I suggest using turkey sausage.
What Kinds of Beans Can I Use?
I've tried making this recipe several ways, and I find that pinto beans taste best; however, you might want to try black beans or even Ranch Style® Beans.
Ranch Style beans are prepared canned beans that are in a tomato/paprika sauce. If you use these canned beans, no need to rinse them, just pour in the sauce, too!
If you use canned pinto or black beans, rinse and drain them first to remove any additives or preservatives.
How Can I Make This Dish Vegetarian or Vegan?
A great way to convert this recipe to vegan/vegetarian is to use canned jackfruit instead of meat. Simply rinse the jackfruit, then add it to the onions. Jackfruit absorbs flavors like mushrooms, so after you've added the jackfruit to the skillet, pour in your favorite barbecue sauce and let it cook for about 15 minutes (on low heat) so the jackfruit has ample time to absorb the flavors.
Click here to learn more about jackfruit!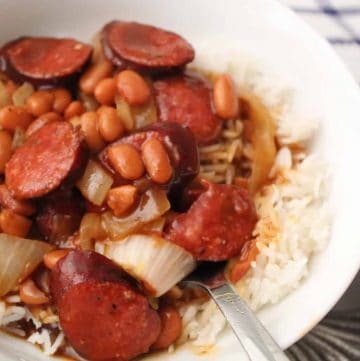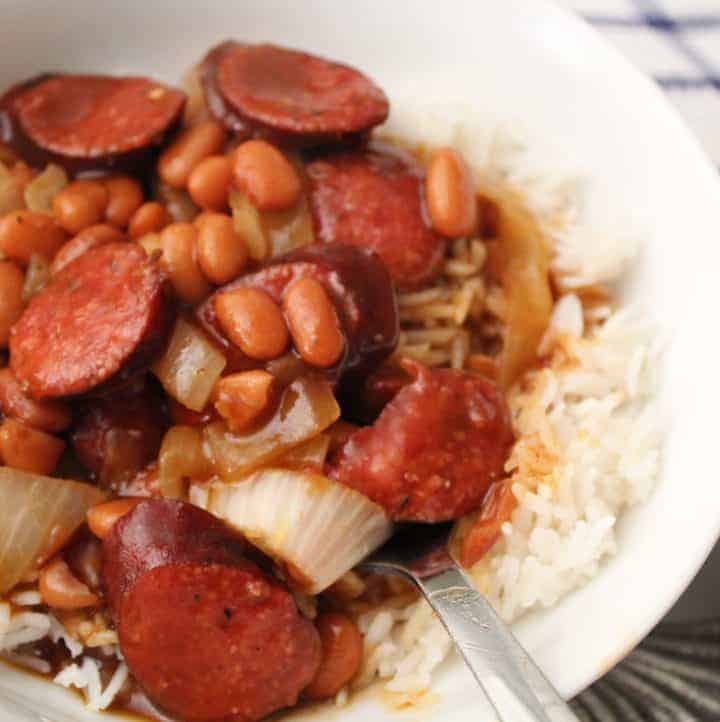 Cowboy Skillet Supper
Sauteed onions, nestled in a smoky barbecue sauce with sausage and pinto beans. Perfect for a busy school or work week!
Servings
:
4
good sized servings
Ingredients
1

lb

all-beef smoked sausage

link

1/2

medium

yellow onion

sliced

1

can

pinto beans

rinsed and drained

2

tablespoons

smoky paprika

1 1/2

cups

sweet and smoky barbecue sauce

2

cups

cooked rice or noodles

2

tablespoons

oil
Instructions
Add oil to cast-iron skillet and bring to medium low heat

Add onions to hot oil and cook until tender

Rinse and drain pinto beans; slice sausage into bite sized pieces

Add sliced sausage and beans to onions

Add barbecue sauce to skillet and stir well; add paprika;

Allow to cook for 20 minutes, or until sausage and beans are heated thoroughly

Serve over prepared rice or noodles
Recipe Notes
Vegetarian Version: use jackfruit instead of meat

Add jackfruit to onions, then add barbecue sauce and let cook for about 10 minutes; then add beans and continue to cook till beans are warm
You might want to serve this Cowboy Skillet Supper with a warm batch of homemade cornbread!
0