This classic Southern Meatloaf with Tomato Sauce recipe is the ultimate comfort-food and a family favorite! This recipe guarantees your homemade meatloaf will never be soggy!
Made with savory ground beef, seasoned with onion, bell pepper, garlic powder and Worcestershire sauce, finished with a sweet and savory tomato sauce glaze on top
All-natural ingredients, easy to make and no packaged seasoning mix!
Whenever I find myself craving some good ole' "ultimate comfort food," this is one of my go-to recipes, besides Mom's Pot Roast! I usually serve this with Southern green beans and new potatoes, pinto beans and rice, collard greens, green bean casserole or homemade macaroni and cheese!
The combination of these things reminds me of when I was a kid without a care in the world! Especially when I follow it up with a slice of Classic Buttermilk Pie - yum!!!
Why this meatloaf recipe works
This is the best meatloaf recipe because it never results in a soggy or oily meatloaf; this traditional meatloaf recipe without milk or Ritz crackers and it is still delicious!
The type of pan you use, as well as the ratio of eggs to breadcrumbs in the meat mixture is what makes this recipe work perfectly every time ! The ratio is roughly: 2 parts ground beef, 1 part breadcrumbs, 2 eggs per pound of beef. This ratio makes this classic dish hold up well to slicing.
The chopped onion and bell pepper add bulk to the meatloaf, resulting in a deliciously seasoned meatloaf that is tender, yet firm enough to slice with a knife.
Easy to make and easy clean-up! One mixing bowl and one baking pan
Easy to make tomato-based brown sugar glaze adds the finishing touch to the top of the loaf
Jump to:
Ingredients and seasonings for classic Southern meatloaf
This easy dinner comes together in no time and doesn't require a meatloaf pan or stand mixer. This is one dish the whole family loves and it makes a great leftover meatloaf sandwich!
Meatloaf ingredients and seasonings
Ground beef- for best results, I recommend using a lean ground beef, either 80/20 or 73/27% fat
Bread crumbs-I use traditional ground bread crumbs, but if you don't have those, you can use crushed saltine crackers or Panko crumbs
Yellow onion- a little chopped yellow onion, plain yellow onion or sweet yellow onion
Bell pepper - I use a chopped green peppers for this classic meatloaf recipe
Eggs- lightly beaten
Dry mustard powder
Garlic powder
Worcestershire sauce
Salt & ground black pepper
Tomato sauce ingredients and seasonings
Simple, old-fashioned ingredients for that sweet and tangy glaze! In a small bowl, combine ketchup, dry mustard, Worcestershire, brown sugar, salt.
Type of pan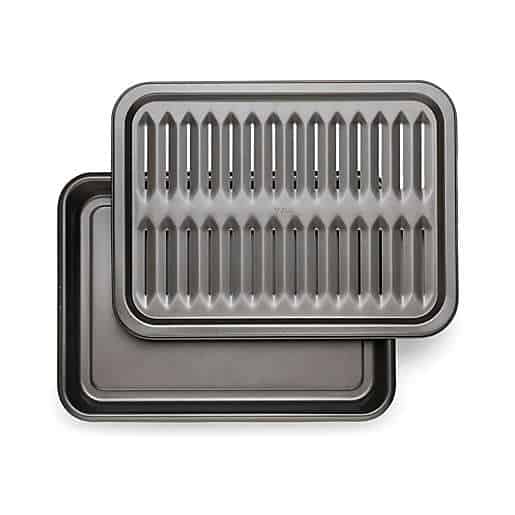 For a no-fail recipe every time and juicy meatloaf that isn't soggy and doesn't fall apart, you'll want to bake the meatloaf on a broiler pan. It's a two-part pan that has a removable slotted top and a solid pan underneath
If you don't have a broiler pan, you can place a footed wire cooling rack in a baking dish
I do not recommend using a loaf pan or a baking dish because the oil from the beef drips down into the pan, which causes the meatloaf to sit in oil and get soggy on the bottom.
How to make it
In a large mixing bowl, combine chopped onion and bell pepper with ground beef; add lightly beaten eggs, breadcrumbs, seasonings and form into a loaf shape; the best way to mix together this easy meatloaf recipe is to use your clean hands!
Once well combined, form the meat into a loaf shape
Place the meatloaf on a lightly oiled broiler pan that has slits in it; this allows the juices from the meat to go into the broiler pan instead of puddling in a loaf pan.
Place uncovered meatloaf, on the middle rack of a 350°F preheated oven and bake until the internal temperature reaches 150-155°F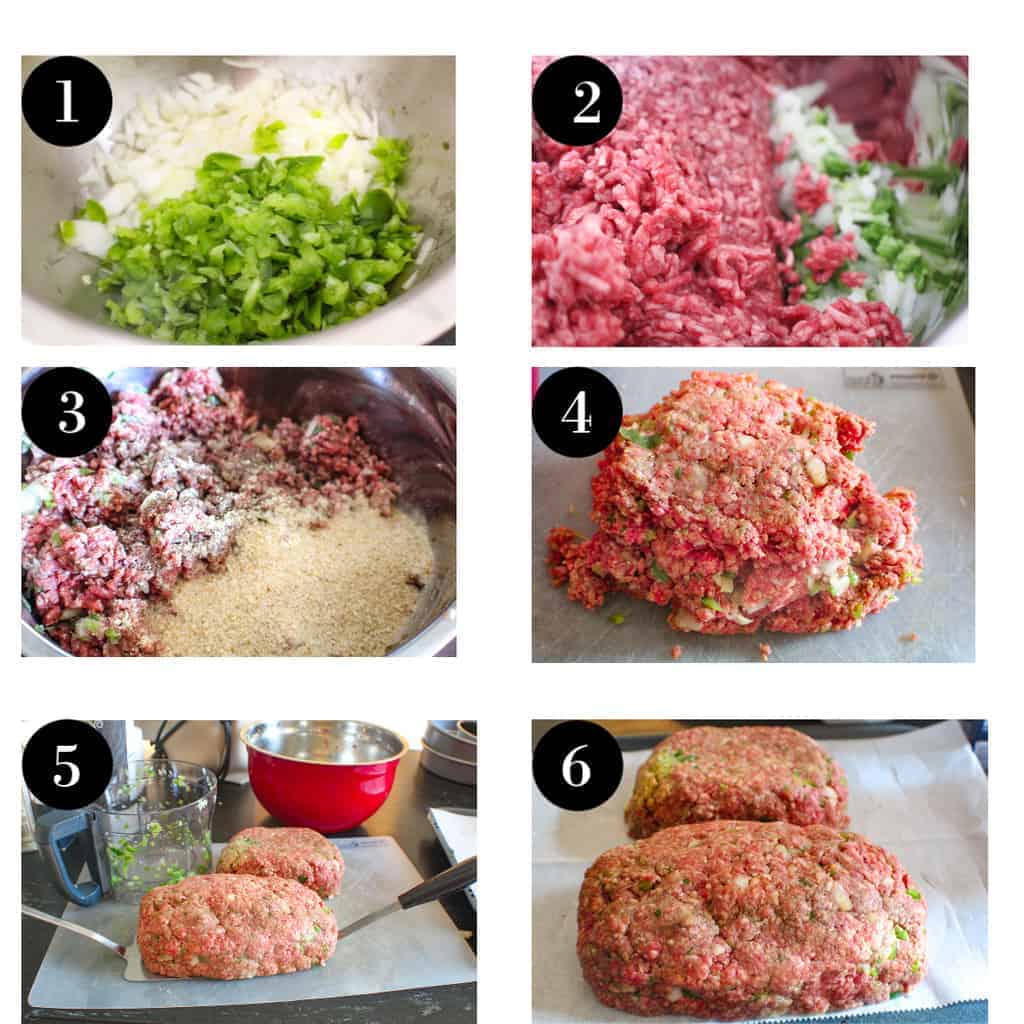 Make the sauce while meatloaf cooks. In a medium mixing bowl, add the ketchup, Worcestershire sauce, brown sugar and salt and combine well
Once the meatloaf reaches 150ºF, spoon a little of the tomato sauce over the top of the meatloaf and return to oven; bake 10-15 more minutes, until the sauce thickens, and the meat thermometer reads an internal temperature of 160ºF.
Let it rest for about 5 minutes at room temperature, then slice with a sharp knife or a serrated knife and serve; top with more of that delicious brown sugar tomato glaze and enjoy!
Expert tips
Use a broiler pan or a baking pan with a wire rack in it. The whole objective is to get the meatloaf up off of the bottom of the baking dish. This ensures it won't be soggy.
Don't over mix the beef mixture; combine it well (using your clean hands) then shape it into a loaf form.
Best grade of beef to use
Ground beef is available in varying degrees of fat content. Use any grade you like, because the way you're going to cook the meatloaf, - on a broiler pan- I guarantee you there won't be any oily residue on the meatloaf.
How to keep meatloaf from getting soggy
A loaf pan is not necessary to make a homemade classic meatloaf. In fact, cooking meatloaf in a loaf pan results in a soggy meatloaf because the oils have nowhere to go. If you use this method, you will not have a soggy meatloaf.
Just throw the meatloaf mixture out on the counter and shape it into a log. Then place it on a broiler pan with slits on top and a pan underneath to catch the oil.
You can use a loaf pan, but I find the oily residue from the meat sits in the pan right next to the meat and the ground beef loaf turns out a bit soggy.
What kind of bread crumbs? Traditional or Panko?
You can use either! I usually use plain seasoned traditional bread crumbs because they're finer. If you don't have either, crunch up a sleeve of saltines real fine and use them.
Can I freeze meatloaf?
It's always nice to have a prepared meatloaf in the freezer, especially when you don't feel like cooking!
The best way is to freeze a cooked meatloaf - cook the meatloaf but don't put any sauce on it; allow it to cool after baking, wrap the whole meatloaf in plastic wrap, then again in aluminum foil. Don't slice it and place in freezer for up to 3 months.
When ready to heat, thaw the frozen meatloaf in the refrigerator; remove the aluminum foil and let it thaw in the refrigerator while its wrapped in plastic wrap
Once thawed, remove the plastic wrap, lightly cover meat with foil and bake on a lightly oiled broiler pan at 325°F or 350ºF till the center reaches 150ºF.
Remove it from the oven, add the tomato sauce mixture, then put it back in the oven for 15 minutes or so, until the tomato sauce thickens and forms a glaze, and the internal temperature of the meatloaf is 160ºF.
I do not recommend freezing raw meatloaf due to the uncooked eggs. Eggs don't freeze very well and the texture and structure of the classic meatloaf changes.
Best way to reheat meatloaf and tomato sauce
In the South, we rarely have any leftover good meatloaf from our family dinner, but if we do, the best way to reheat homemade meatloaf is in the microwave. Place a slice of the beef mixture on a microwaveable plate and lightly cover with a paper towel. Reheat until the center is warm.
If you have leftover tomato glaze, place it in a small microwaveable bowl and lightly cover with a paper towel. Heat on low for a few seconds; stir; heat again, then top your flavorful meatloaf with as much sauce as you like!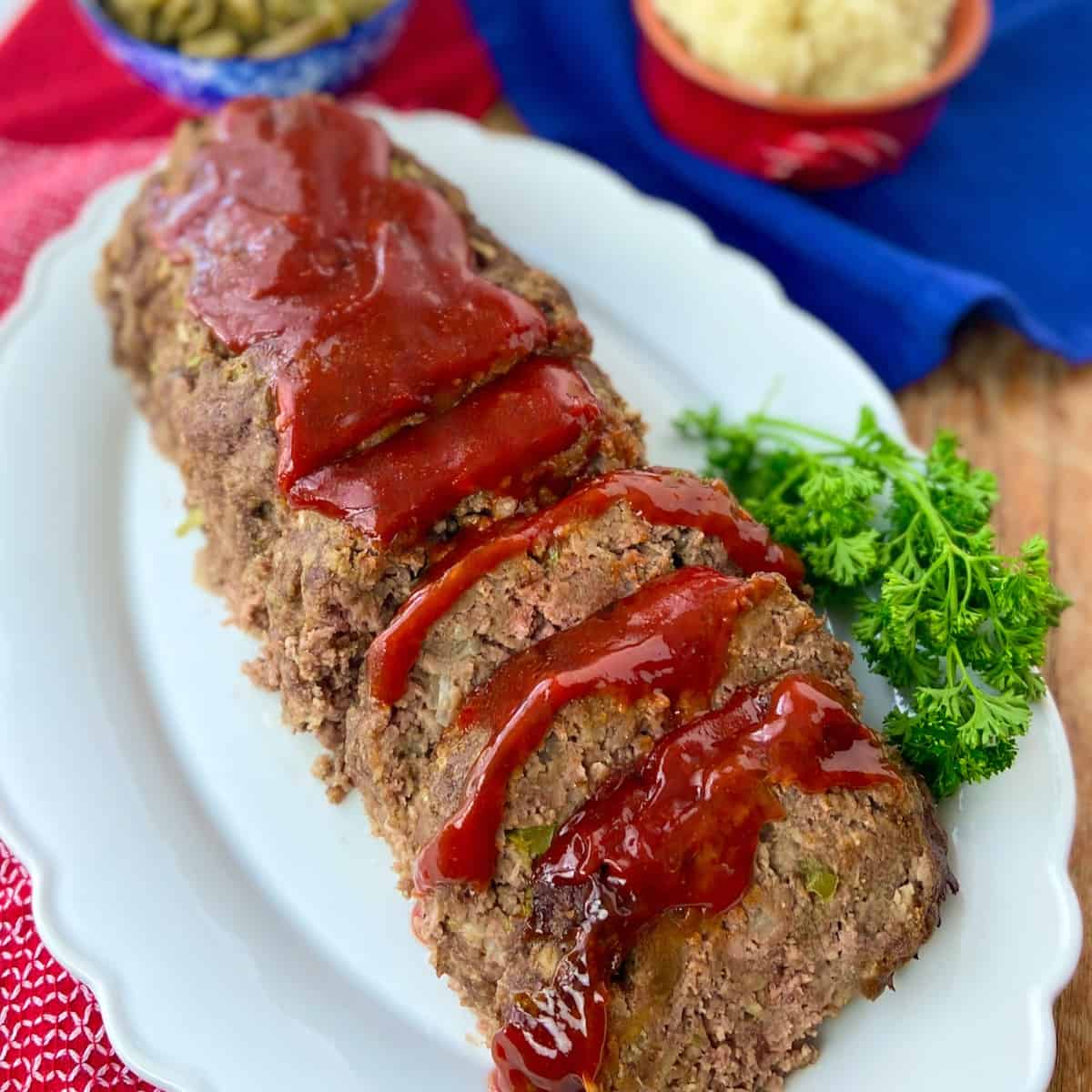 Serve this classic meatloaf with tomato sauce with a side of mashed potatoes and green beans! If you have any leftover, which I never do, you can always make a mean meatloaf sandwich!
Related recipes
♥ If you make this recipe, please leave a comment and rating below. Thank you!
📋 Recipe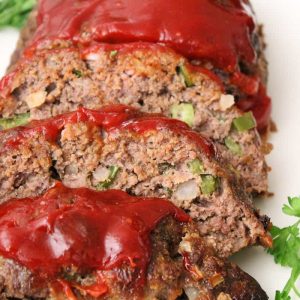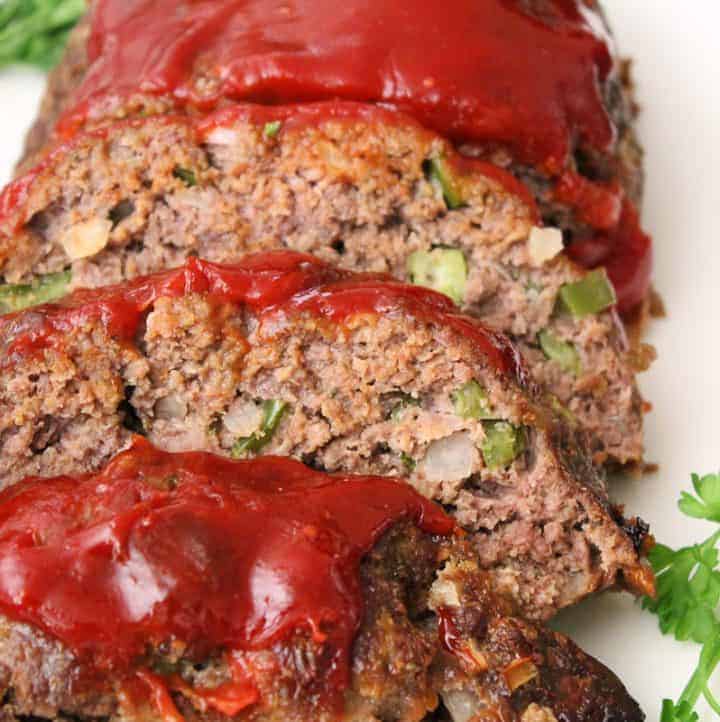 Classic Southern Meatloaf with Tomato Sauce
Classic meatloaf seasoned with onions, bell peppers and a sweet & tangy tomato sauce.
Print
Rate
Ingredients
Meatloaf Ingredients
2½

lb.

ground beef

, 80/20 or 73/27

¾

cup

chopped yellow onions

¾

cup

chopped green bell peppers

1½

cups

bread crumbs

.seasoned or not seasoned; traditional or Panko

2

whole

eggs

, lightly beaten

3

tablespoons

Worcestershire sauce

1

tablespoon

dry mustard

1

teaspoon

garlic powder

1

teaspoon

salt

½

teaspoon

black pepper

spray oil

for broiler pan
Sauce Ingredients
3

cups

ketchup

⅓

cup

brown sugar

1

teaspoon

dry mustard

2

tablespoons

Worcestershire sauce
Instructions
Combine sauce ingredients in a medium bowl and set aside

3 cups ketchup,

⅓ cup brown sugar,

1 teaspoon dry mustard,

2 tablespoons Worcestershire sauce

Lightly spray broiler pan; set aside

Lightly beat eggs in a bowl; set aside

Combine all meatloaf ingredients into big bowl; with clean hands, mix ingredients until combined; do NOT overwork the meat

2½ lb. ground beef,

¾ cup chopped yellow onions,

¾ cup chopped green bell peppers,

1½ cups bread crumbs,

2 whole eggs,

3 tablespoons Worcestershire sauce,

1 tablespoon dry mustard,

1 teaspoon salt,

½ teaspoon black pepper,

1 teaspoon garlic powder

Place beef mixture onto counter and shape into a rectangular loaf

Place on lightly oiled broiling pan and bake uncovered for 30-45 minutes, or until meat has reached 150° internal temperature

After it has reached 150ºF, remove from oven, pour some tomato sauce over the top and return to oven

Bake until internal temperature reaches 160ºF and tomato sauce is thickened

Remove from oven; allow meatloaf to sit for a few minutes, then slice and serve
Notes
The tomato sauce:
This makes more than enough to coat the top, but I always double the recipe because everyone wants to drizzle more over their slice of meatloaf.
Make the sauce first and set it aside
The onion and bell pepper will be slightly crunchy; if you don't like any crunchy texture, saute them in a skillet, then drain them and pat dry with a paper towel before adding them to the beef mixture
Pour sauce over the top when the internal temperature of the loaf is about 150ºF; then, put it back in the oven for about 15 minutes until the sauce thickens and the internal temperature is 160ºF
Allow meatloaf to rest about 5 minutes before slicing
Nutrition Estimate
Serving:
1
slice
Calories:
593
kcal
Carbohydrates:
51
g
Protein:
29
g
Fat:
30
g
Saturated Fat:
11
g
Cholesterol:
102
mg
Sodium:
1458
mg
Potassium:
849
mg
Fiber:
2
g
Sugar:
32
g
Vitamin A:
513
IU
Vitamin C:
17
mg
Calcium:
101
mg
Iron:
5
mg