A light Italian dish that serves as a great snack or appetizer, the best Bruschetta is made from simple ingredients:  fresh tomatoes, olive oil, garlic salt and pepper. Serve on toasted rounds of French bread or as a fresh topping on your favorite fish!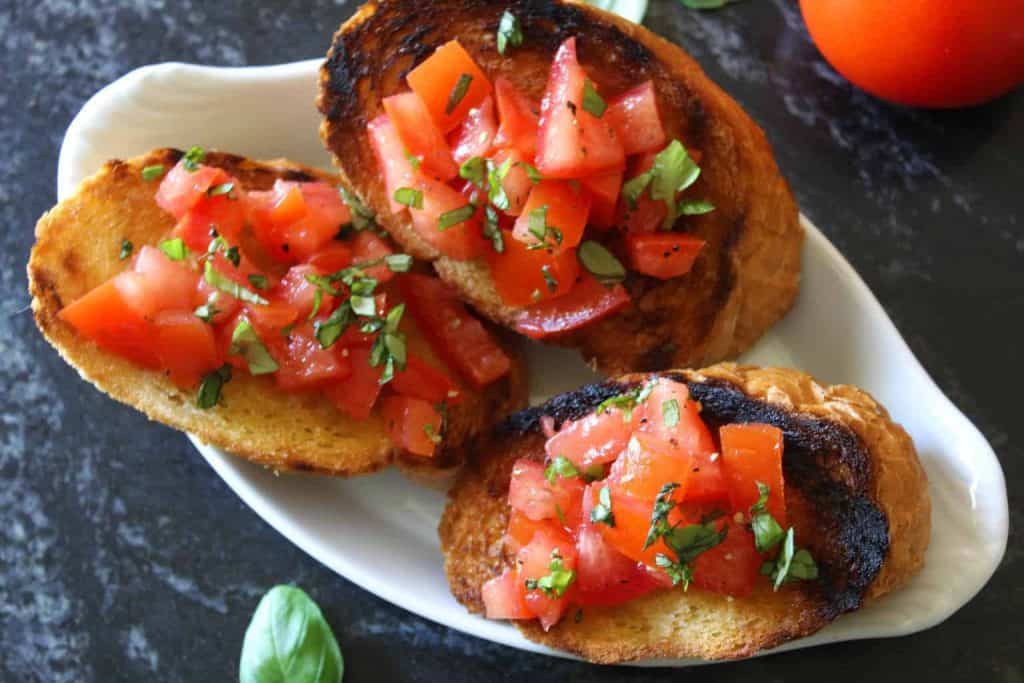 Originally, in Italy, Bruschetta was considered a "poor man's" food because the ingredients were simple and plentiful. It was served to farmers and field workers as a quick snack. Since, the concept of Bruschetta has evolved into many variations, but the basic elements are still simple and fresh.
What Kind of Tomatoes Should I Use for Authentic Italian Bruschetta?
The Italians really have more points than Americans when it comes to tomatoes because they have ample access to delicious, sweet San Marzano  tomatoes. In the States, unless you grow your own tomatoes, you've probably never had a "real" tomato–at least not from the grocery store.
First favorite is a homegrown or "farmer's market" tomato; I like Jacksonville tomatoes the best!
Next, the best choice is an heirloom tomato. Unfortunately, they are very expensive.
The third option is a vine-ripened tomato which is similar to a homegrown tomato, but not as sweet.
Finally, the Roma tomatoes are a last option. They are much smaller than vine-ripened, so if you use Roma tomatoes, buy more than indicated in the recipe.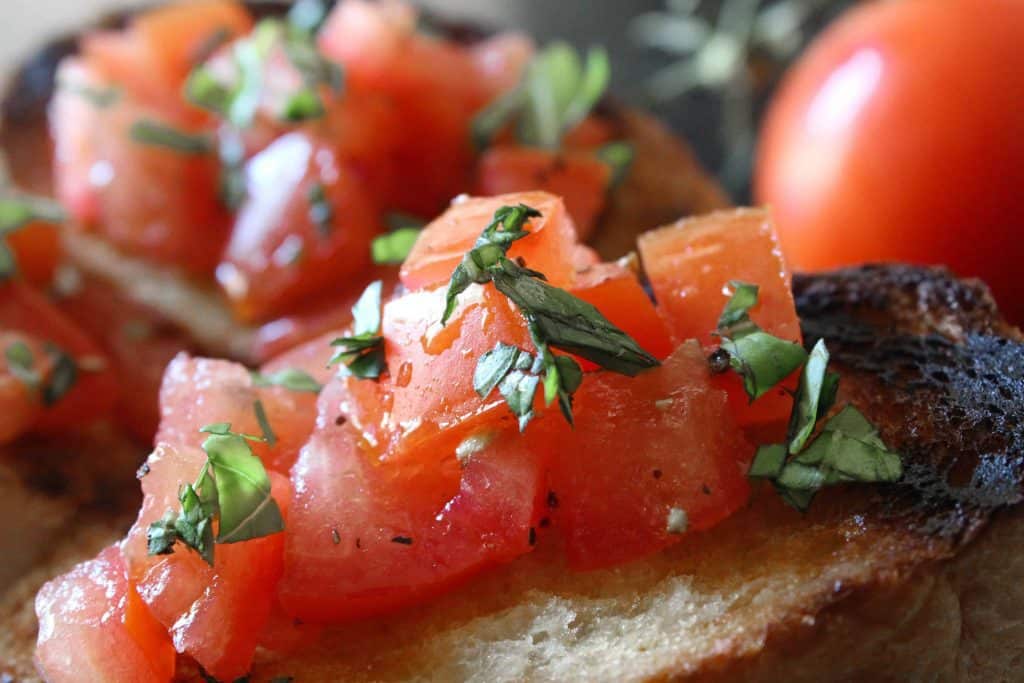 I'm a native Texan, so I have access to delicious Jacksonville tomatoes. The small East Texas town is known as "The Tomato Capital of the World" due to it's large, delicious tomatoes. The East Texas climate and rich red soil give these tomatoes a distinct and undeniably delicious flavor! The flavor is second-to-none and, if you cannot get to Italy, this is your next best bet.
Where to Order Jacksonville Tomatoes
What Type of Olive Oil Should I Use?
Outside of the type of tomato, the next critical ingredient is the olive oil. High-quality olive oil is the second secret to delicious Bruschetta. Use a high quality olive oil, preferably an import that is certified by the Italian government. (A stamp or seal of authenticity is usually on the label or jar.) High-quality olive oils actually have flavor, whereas the brands in the grocery stores are bland and lacking in flavor.
Unfortunately, national and store brands do not do this recipe justice. There are some high quality California olive oils that offer a little more flavor and depth. The California Olive Ranch offers a variety of olive oils that would do well in this recipe.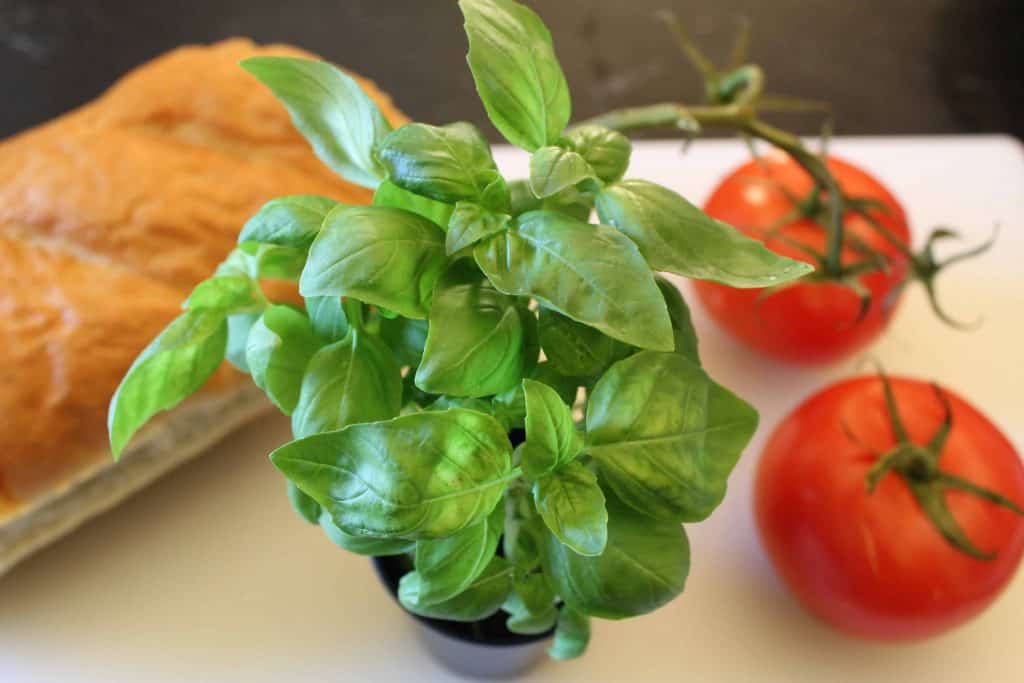 What Type of Bread Works Best for Bruschetta?
Any type of rustic loaf bread works great! Now, there are Italian, French and Sourdough loaves available in full or mini size. If you don't have time to grill or toast the bread, you can buy pre-made, toasted crostini rounds. Most grocers carry them in the deli department.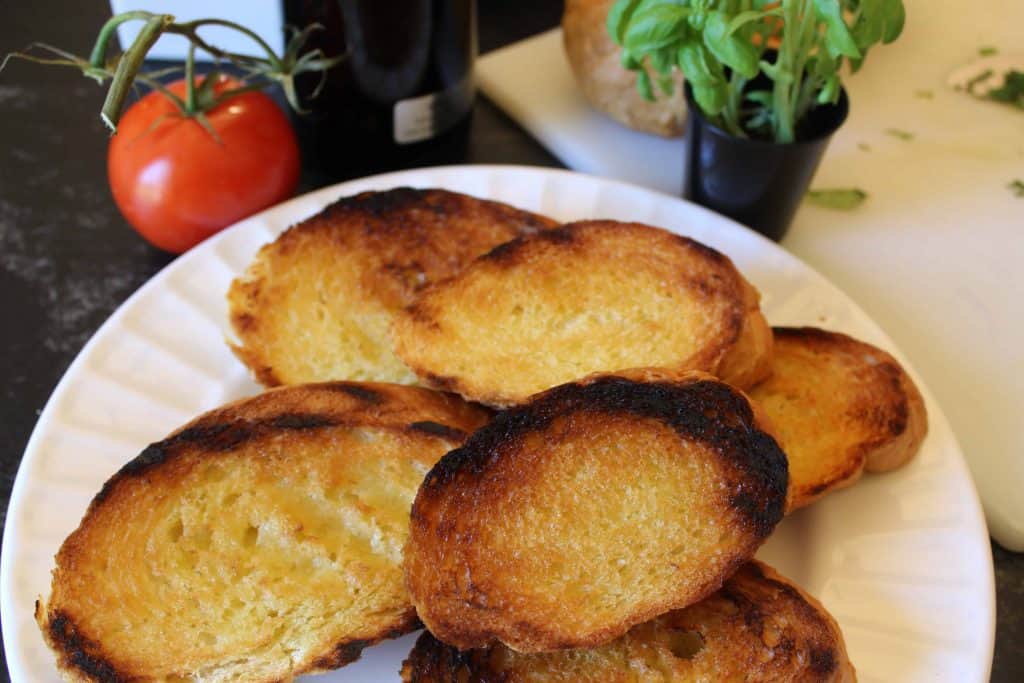 Best Way to Seed a Tomato
Authentic Bruschetta relies on fresh, seeded tomatoes, but seeding a tomato can be tricky. I've tried slicing them and using a spoon to scoop out the pulp, but the best way is to use your hands! Cut the tomato in half, then just scoop out the seeds and pulp with your mighty little fingers! This is the quickest, easiest way I know to seed a tomato:)
Another fun Italian appetizer is Caprese Salad! Super quick, easy and delicious!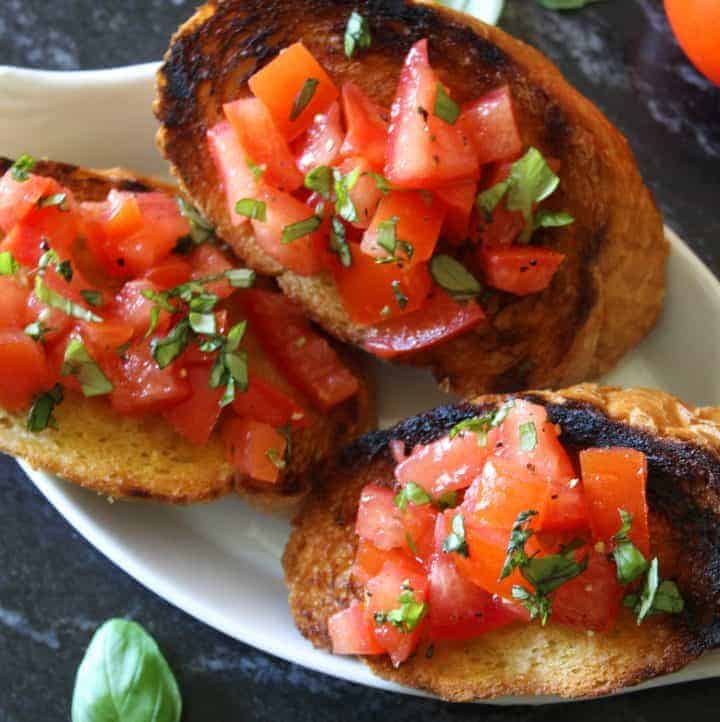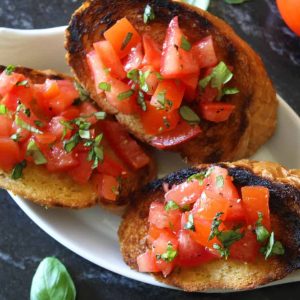 Authentic Bruschetta Recipe
Print
Pin
Rate
Servings:
12
1/2 inch slices of a whole french bread loaf
Ingredients
6

large

vine ripe tomatoes

or 8-10 Roma tomatoes (2½-3 cups chopped tomatoes)

¼

cup

high quality olive oil

some to drizzle on the tomatoes and the remainder for the bread

1

clove

garlic

cut

1

loaf

Italian bread

(see Recipe Notes)

3-4

tablespoons

fresh basil

finely chopped

1

teaspoon

salt

½

teaspoons

black pepper
Instructions
Slice tomatoes in half and remove seeds

Dice tomatoes and place in medium size bowl; add salt and pepper

Drizzle olive oil over tomatoes (don't use all of the oil for the tomatoes; reserve some for the bread)

Combine well; cover and let sit

Meanwhile, slice the bread and drizzle each slice with olive oil on one side only

Preheat grill (or oven) to 375ºF

If using a grill, place oiled side down on the grill and cook until you begin to see grill marks on the bread; turn the bread slices over and toast the other side for 1-2minutes; if using the oven, place the bread slices oiled side up; toast until the tops turn light golden brown; flip the bread and cook for another 1-2 minutes.

Rub cut garlic onto the oiled side of each slice of bread

Top with tomatoes; garnish with fresh basil and serve
Notes
Peeling and seeding tomatoes:
Leave the skin on; cut the tomato in half; cut the core out; using your finger or a spoon, remove and discard seeds
If you do not have fresh garlic, use a garlic-infused olive oil or add a little minced garlic to the tomatoes.

The recipe proportions are for a full-sized loaf of Italian bread; not a small round "crostini" type bread