You're not gonna believe how easy, quick and delicious this is! Three simple ingredients create an appetizer you'll be proud to serve! Who knew something so simple could be so good?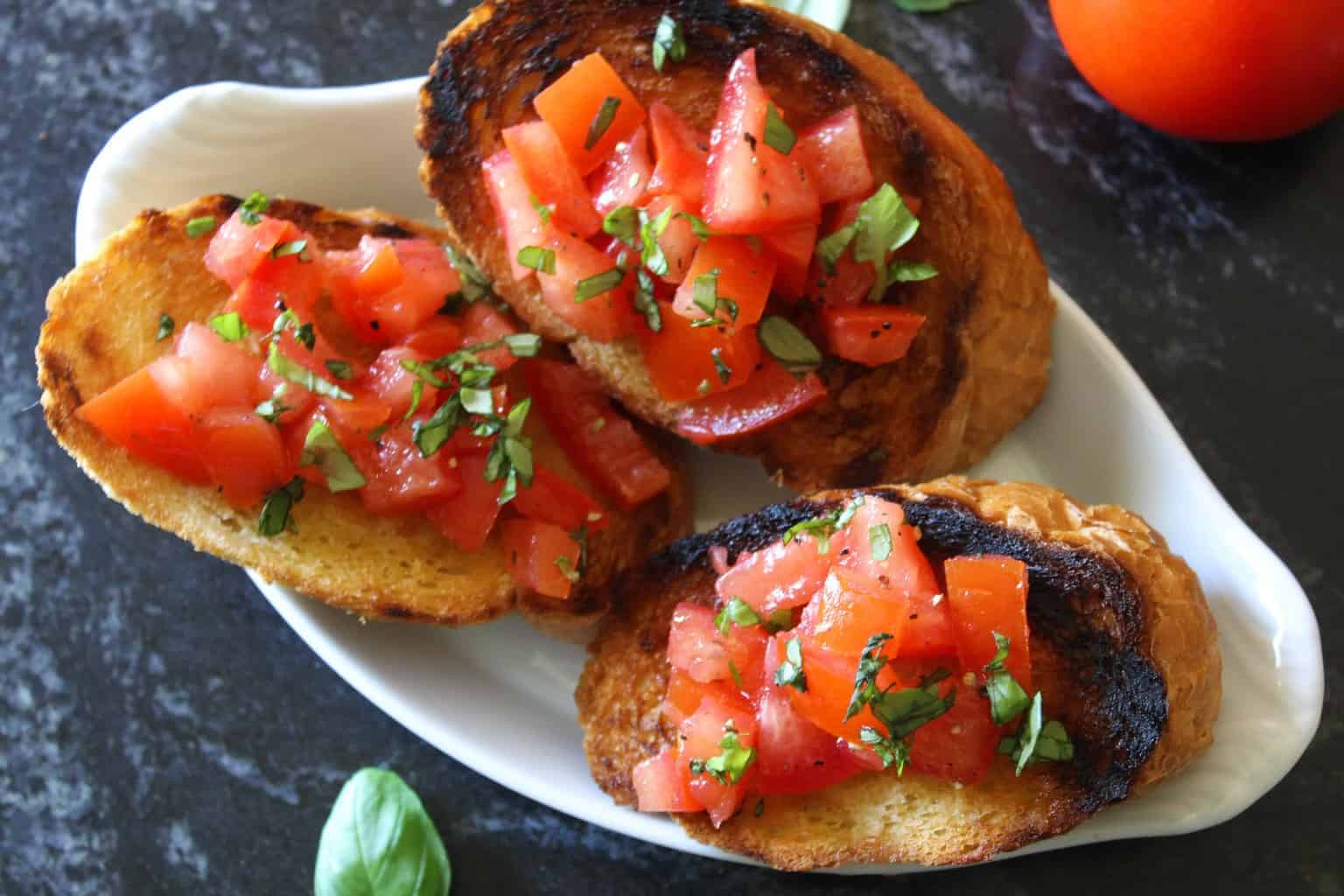 If you're looking for an easy summer recipe, then look no further! This simple bruschetta appetizer is perfect when tomatoes are ripe and the sun makes it too hot to cook!
Why you'll love this recipe:
Bruschetta is simple, flavorful and filling
It's hardly a recipe at all! Just combine tomatoes with oil and seasonings and you're done!
It's a great way to use an over abundance of fresh tomatoes
Versatile and an excellent garnish for eggs, fish or tacos!
You only need a few simple ingredients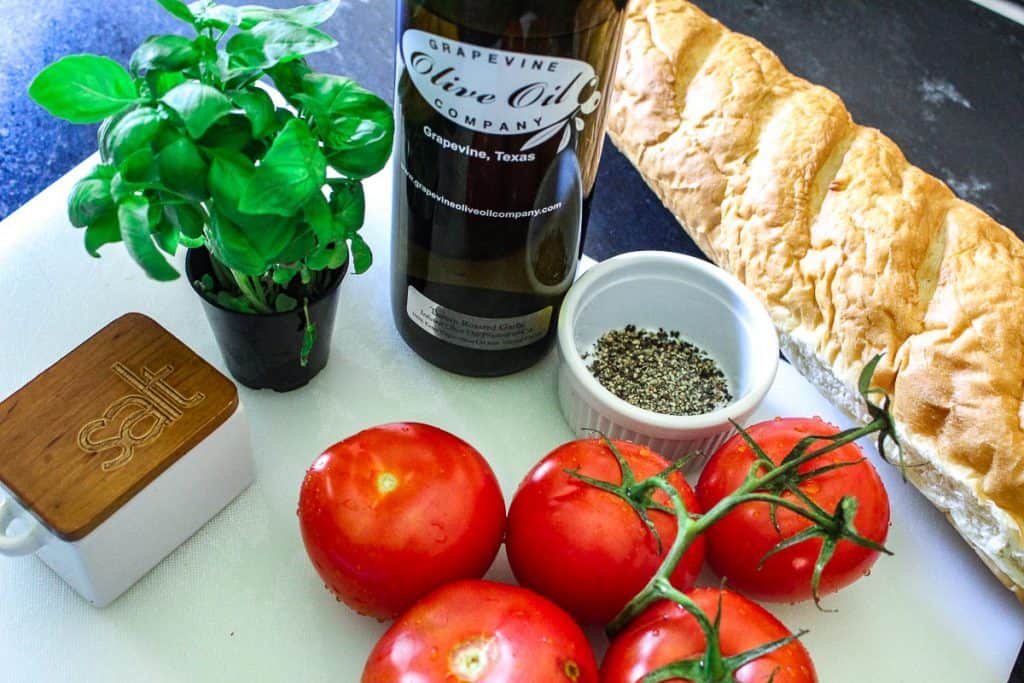 How to make it
Prepare the tomato mixture first, then slice and toast the bread. Use a slotted spoon and place a little onto toast and serve! You'll need 2½-3 cups of diced tomato. You can make the bruschetta topping in advance (up to three days.)
Best way to seed a tomato
I've tried slicing them and using a spoon to scoop out the pulp, but the best and quickest way is to use your hands! Cut the tomato in half; remove the core, then cut into quarters. Use your thumb to "scoop" the pulp and remove with your mighty little fingers!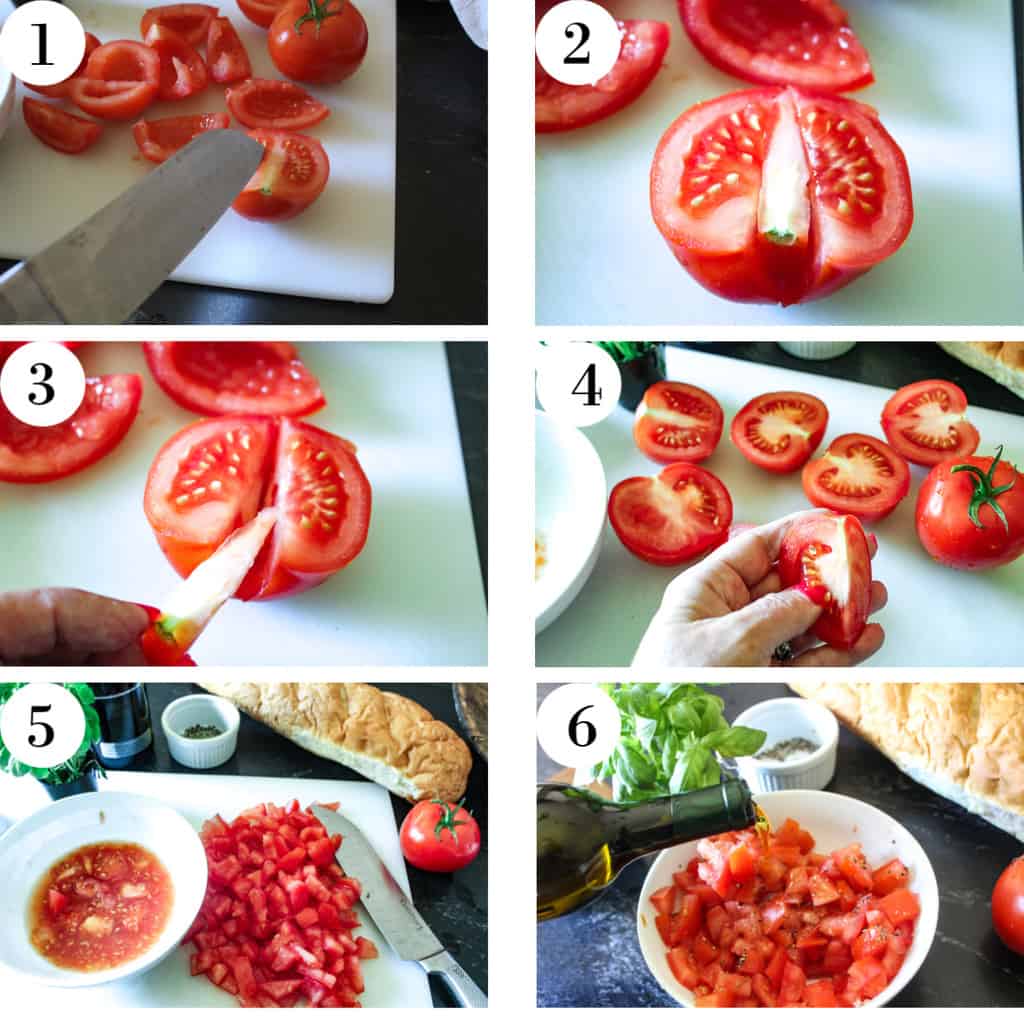 After you seed and dice the tomatoes, season lightly with salt and pepper, then drizzle a little of the olive oil; combine well, cover and refrigerate for 10-20 minutes. Meanwhile, prepare the toast rounds.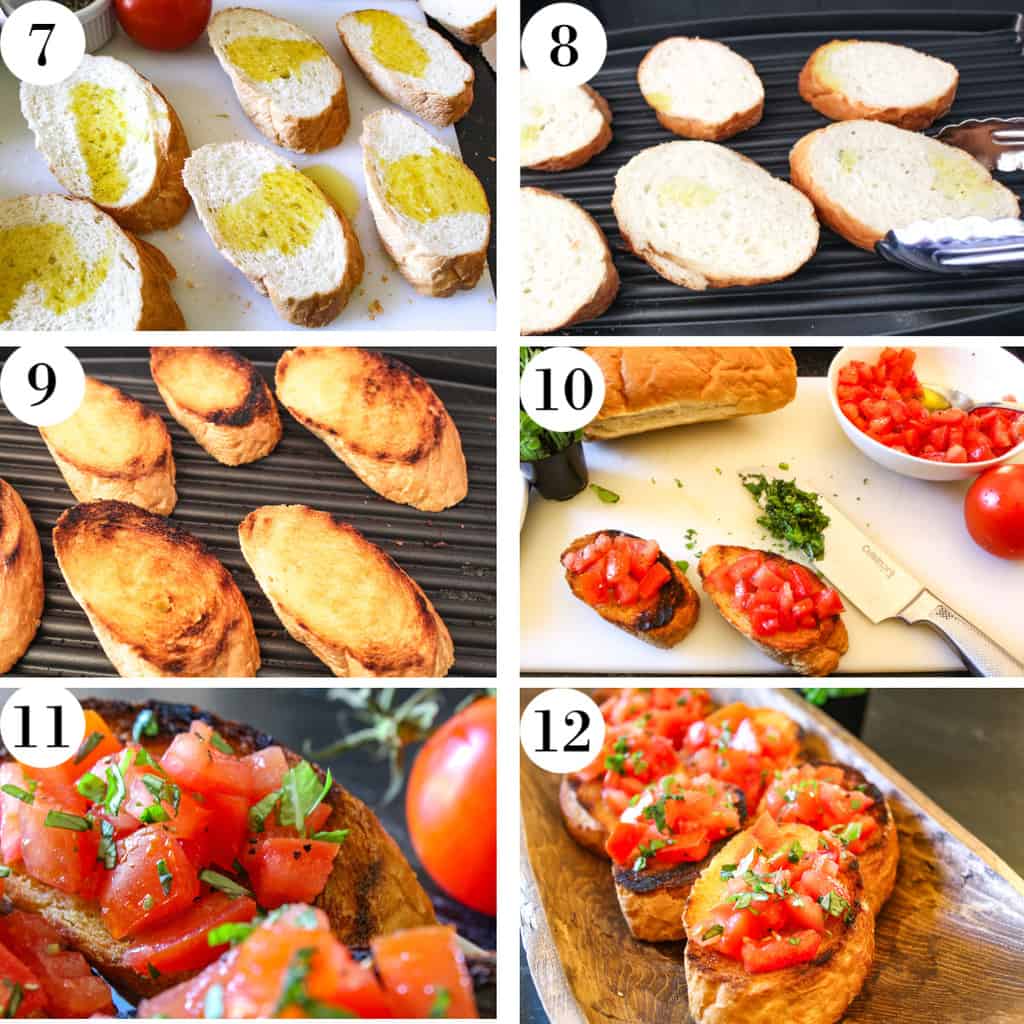 How to serve it
Season the tomatoes with salt, pepper and olive oil and let them sit in the fridge for 10-20 minutes.
When you're ready to serve, remove from the fridge and let sit until they get to room temperature.
Toast the bread in the oven or grill; rub a clove or two of cut raw garlic onto each warm bread slice
Use a slotted spoon and scoop out a little of the mixture and place on top of the toasted bread
Garnish with chopped basil and serve
FAQ's and tips
What kind of tomatoes should I use?
In the States, unless you grow your own, you've probably never had a "real" tomato--at least not from the grocery store.
First favorite is a homegrown or "farmer's market" tomato; I like Jacksonville tomatoes the best!
Next, the best choice is an heirloom. Unfortunately, they are very expensive.
The third option is a vine-ripened which is similar to a homegrown tomato, but not as sweet.
Finally, the Roma are a last option. They are much smaller than vine-ripened, so if you use Roma tomatoes, buy more than indicated in the recipe
Living in Texas, I have access to delicious Jacksonville tomatoes. This small East Texas town is known as "The Tomato Capital of the World" due to it's large--wait...HUGE, delicious fruits. The East Texas climate and rich red soil provides a distinct and undeniably delicious flavor! These babies are HUGE--9" in diameter and the flavor is second-to-none! If you cannot get to Italy, this is your next best bet.
How to order Jacksonville Tomatoes
If you can't get to East Texas anytime between May and the first freeze, just call David at The Tomato Shed in Jacksonville and he'll send you some of local ta'maters! Tell him I sent ya!
What type of olive oil should I use?
A high-quality olive oil is the second secret to delicious Bruschetta because quality oils actually have flavor, whereas the brands in the grocery stores are often bland and lack flavor.
The California Olive Ranch offers a variety of olive oils and you can usually find this brand in the grocery store.
The Grapevine Olive Oil Company, located on Main Street in Grapevine, Texas, offers a wide range of excellent quality oils and vinegars. I love their Taste of Tuscany flavored oil and they offer shipping, too!
Dried or fresh basil?
The success of this recipe also relies on fresh basil. You don't have to grow your own basil or buy a basil plant, you can use packaged fresh basil which is usually found in the produce department of your grocery store.
Simply chiffonade a few leaves of basil and sprinkle over the tomato/olive oil mixture after you've placed it on the toasted bread. The bright green color of the herb contrasts with the red and looks absolutely stunning!
What type of bread should I use?
Any type of rustic loaf bread works great -- Italian, French or Sourdough! If you don't have time to grill or toast the bread, you can buy pre-made, toasted crostini rounds usually found in the deli department.
Serving suggestions
Use bruschetta as a side or topping for scrambled eggs, baked fish or in tacos!
Related Recipes:
If you're looking for more quick and easy snack or appetizers, you might like these: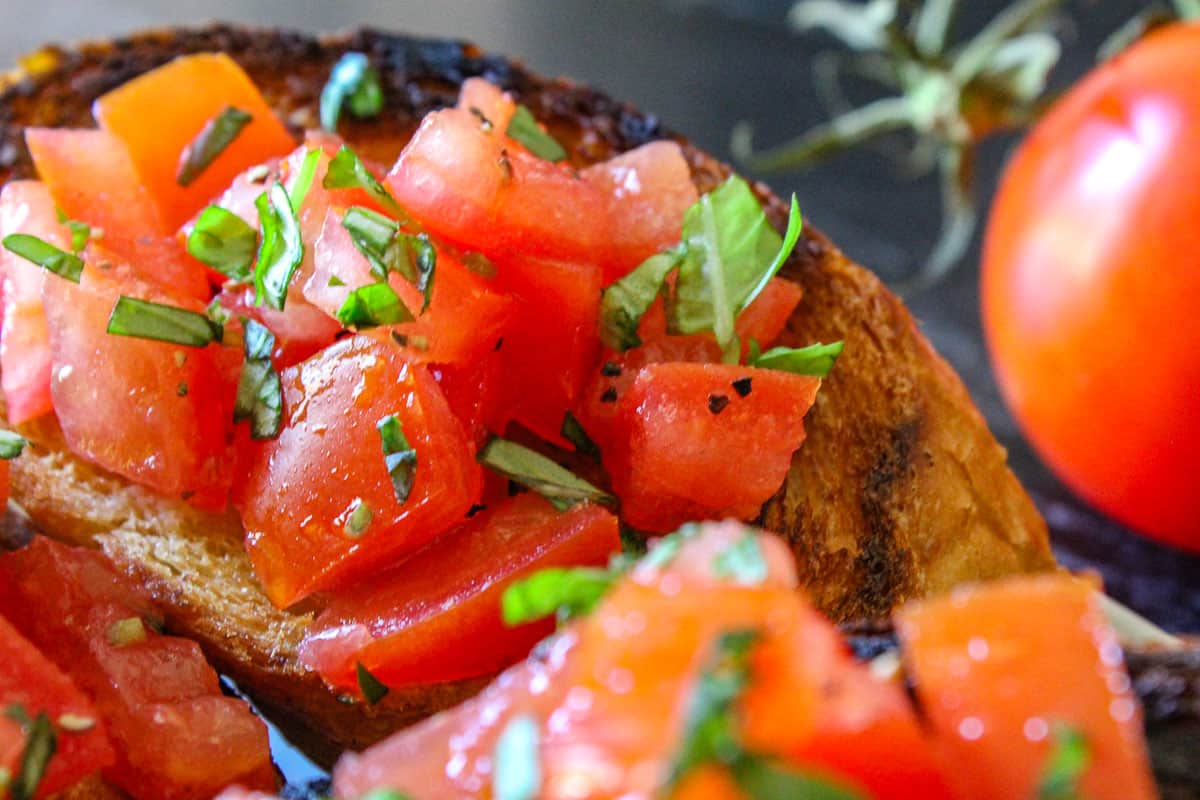 ♥ If you make this recipe, please leave a comment and give it a star rating! I always love to hear from you!
📋 Recipe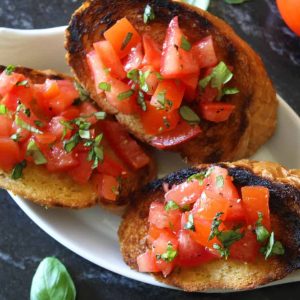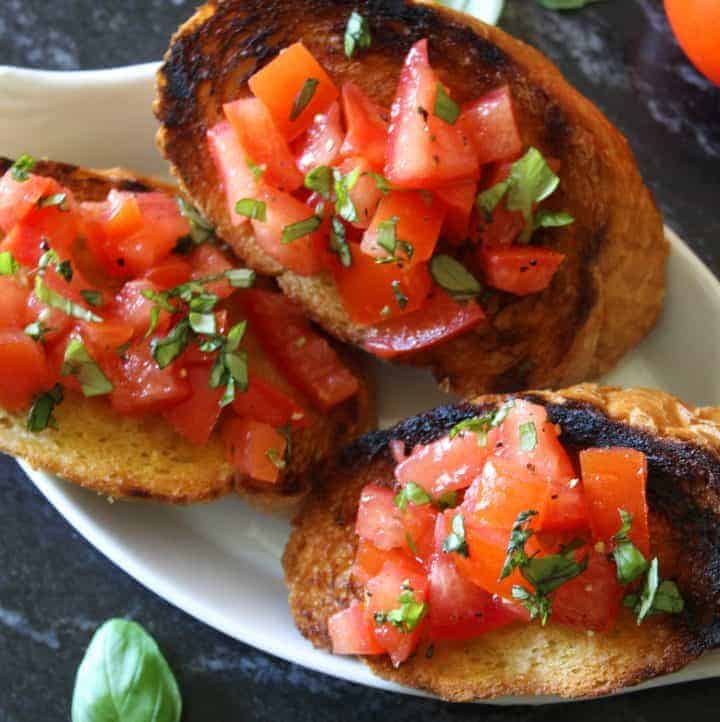 Authentic Bruschetta Recipe
Delicious ripe tomatos nestled in olive oil and basil served on garlic infused toasted bread.
Print
Rate
Yield:
12
½ inch slices of a whole french bread loaf
Ingredients
6

large

vine ripe tomatoes

(2½-3 cupsdiced tomatoes) - See Recipe Notes½

¼

cup

high-quality extra-virgin olive oil

some to drizzle on the tomatoes and the remainder for the bread

1

clove

garlic

cut

1

loaf

Italian bread

(see Recipe Notes)

3-4

tablespoons

fresh basil

finely chopped

1

teaspoon

salt

½

teaspoons

black pepper
Instructions
Slice tomatoes in half and remove seeds

Dice tomatoes and place in medium size bowl; add salt and pepper

Drizzle olive oil over tomatoes (don't use all of the oil for the tomatoes; reserve some for the bread)

Combine well; cover and refrigerate for 20 minutes

Meanwhile, slice the bread and drizzle each slice with olive oil on one side only

Preheat grill (or oven) to 375ºF

Place oiled side of bread down on the grill or baking sheet and toast for 3-4 minutes (or until lightly golden brown); flip toasts and cook another 1-2 minutes;

Once both sides of bread are toasted, rub cut garlic onto the oiled side of each slice of bread

Top with tomatoes; garnish with fresh basil and serve
Notes
Tomatoes:
This recipe calls for 2 ½-3 cups of diced tomatoes. If you're using HUGE Jacksonville tomatoes, use 3-4; homegrown or vine-ripened use 6-8 large; Roma use 10-12. Heirlooms come in so many different sizes it's hard to recommend how many. Use the size to determine about how many you'll need.
Peeling and seeding tomatoes:
Leave the skin on; cut the tomato in half; cut the core out; using your finger or a spoon, remove and discard seeds
Chop tomatoes into fine pieces (about ¼ inch squares)
Basil:
I do not recommend adding basil to the tomato mixture; it turns black and isn't very appealing. Instead, add it right before you serve, as a garnish on top of the tomatoes!
Garlic:
If you do not have fresh garlic, use a garlic-infused olive oil or add a teaspoon of minced garlic to the tomatoes. Remember, the idea here is to taste the tomato--with a hint of garlic and basil.
Bread:
The recipe proportions are for a full-sized loaf of Italian bread; not a small round "crostini" type bread
If you purchase "pre-toasted" crostini rounds, you may want to warm them in the oven first. Just place them on a baking sheet and cover with foil. Bake at 300ºF until rounds are warm. Rub the cut-side of a clove of garlic over each of the warm bread rounds, then top with tomato mixture.
Serving Suggestions:
This appetizer is best served when the toasted bread is slightly warm and the tomatoes are room temperature.
Serve bruschetta as a light topping for your favorite eggs, fish, or add to nachos or tacos.
Nutrition Estimate
Serving:
12
½ inch slices
Calories:
50
kcal
Be sure to sign up for the newsletter and receive a FREE gift!!!