This is one of the easiest, and most delicious braised Dutch oven short rib recipes you're gonna come across. The unique flavor combination of the braising liquid consists of Maple syrup and Sriracha, which give a mild sweet-and-spicy flavor to the ribs. There's a little bit of sweet heat on these tender braised ribs and they are easy peasy with one-pan-clean-up!
I usually serve these slow cooker ribs over a bed of smoked Gouda grits, so I've included the grit recipe in the recipe card below.
Why this recipe works
You can use any type of rib you like in this recipe; I recommend boneless beef short ribs, but you can use spare ribs, baby back ribs, boneless pork ribs, bone-in pork ribs or bone-in beef ribs.
Braised short ribs can be made on the stovetop in a Dutch oven on the stovetop or baked in the oven, or in a slow cooker.
One pan dinner - Easy-to-make and easy-clean up so there's not a lot of meal prep and hard work involved
You determine the cooking method: slow cooker or Dutch oven works best. We wanna cook these delicious short ribs low and slow!
Hearty, flavorful and delicious: the flavor combination is unbelievable!
Jump to:
Here's what you'll need
You can make these country-style ribs in a slow cooker or a cast iron dutch oven-the secret to these delicious short ribs is the braising method, which is cooking the meat in a liquid at a low temperature - we're talking a low slow cooking process.
This short ribs recipe uses beef or pork short ribs, maple syrup, beef broth or beef stock, Sriracha chili sauce, barbeque sauce of your choice, dried marjoram or dried oregano, onion powder, garlic powder, and tomato paste. Add a teaspoon of salt and a little ground black pepper to the braising liquid.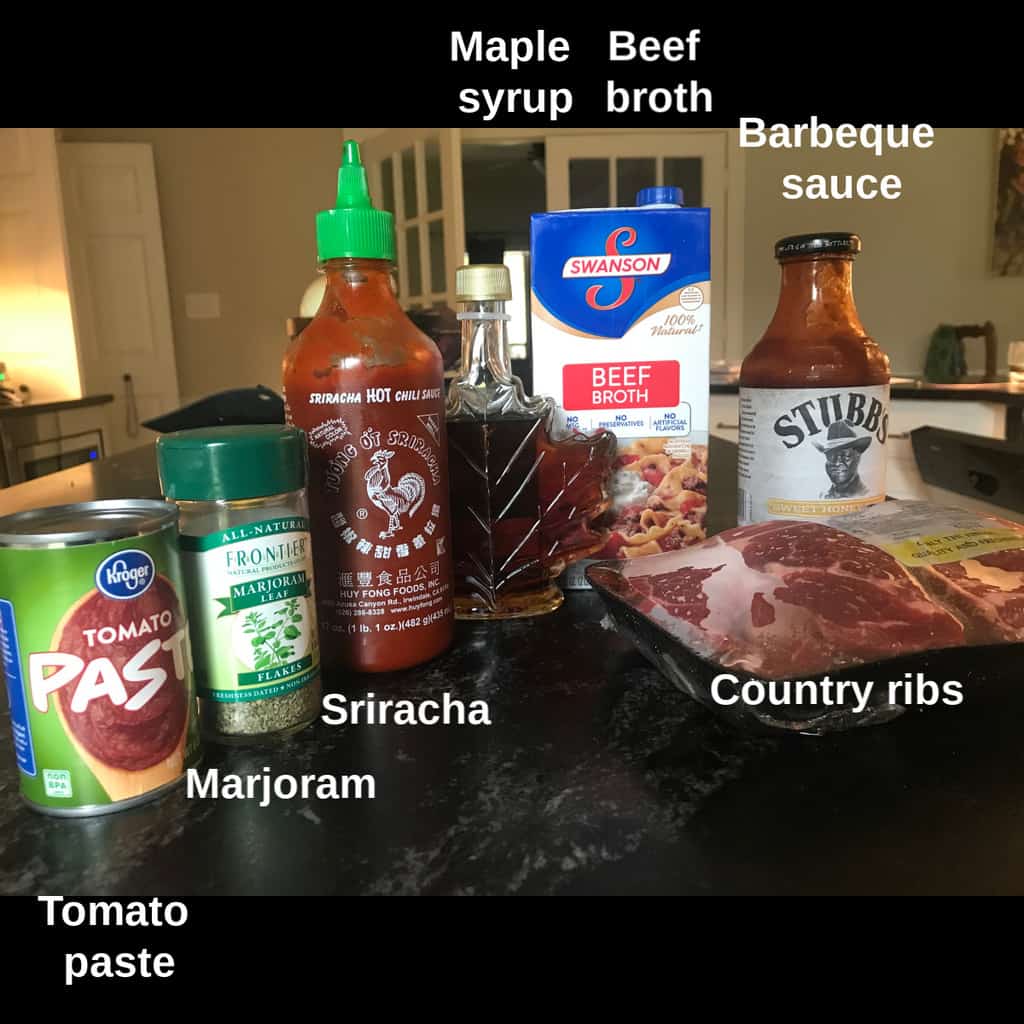 If you don't have maple syrup, substitute with ½ cup of brown sugar.
How to make braised ribs
We're talking mouth-watering, tender and delicious ribs with just a few simple ingredients! The sweet heat braising liquid intensifies and permeates the ribs through the slow cooking method, resulting in tender restaurant-quality ribs.
Pat the ribs with paper towels and lightly salt; set aside
In a large bowl, combine the braising liquid ingredients and only one cup of beef broth;
Place the ribs in a single layer in the bottom of the pan; pour the braising liquid over the ribs. Make sure you have enough liquid to cover the ribs. You want the liquid to cover the ribs, so you may have to add a little more beef broth; (the actual amount of beef broth you'll need depends upon the size of Dutch oven or slow cooker you're using)
Cook covered about 4-6 hours until the ribs are tender. Note: cooking times will vary depending upon which type of cooking vessel you use.
Recipe tips
For best results, (and the best way to ensure tender ribs) is to use enough braising liquid, cook on low heat in a slow cooker or large Dutch oven- either cooking method works beautifully!
If you want a "rib" presentation on your plate, use tongs and gently remove the ribs and plate it; if you're serving a larger group, cut the ribs into bite-sized pieces then plate
8 ribs feeds 2-3 people, depending upon whom you're feeding! At our house, I serve these sweet heat country ribs with maple baked beans and potato cakes, and it's just enough for the three of us.
If you're in a quandary about how many packages to buy, buy two; you can always reheat or shred the rib meat and make sandwiches...plus that, most men I know will eat at least 3 of these meaty ribs!
What to serve with braised country ribs
I usually serve these with smoked Gouda grits and so I've included that in the recipe card below. Other side dishes are scalloped or creamy mashed potatoes, macaroni and cheese, sweet potatoes, potato cakes or coleslaw.
Another favorite side dish is fried okra, sauteed yellow squash with onions or mashed potatoes.
FAQ
What's a short rib?
Short ribs are a cut of beef or pork rib meat that comes from the chuck, or shoulder area of the pig or cow. Sometimes they include the "bone", (which is technically the shoulder blade) or they're boneless. Short ribs (or country ribs) are generally tough cuts of meat due to the tough connective tissue.
Is a country rib the same as a short rib?
Different grocers often label short ribs as "country" style ribs as Boneless Country Style, Country Style or Chuck Ribs. You may also come across "flanken style" ribs or "english style short ribs" in the grocery store.
The primary difference between short ribs and flanken or english ribs is in the cut. You can use these kinds of rib cuts, too...the important thing to get it ribs that have short sections of bone, if you decide to use bone - in ribs. You can use boneless ribs, but the rib bone itself gives the sweet and savory liquid a nice flavor.
What is Sriracha sauce?
Sriracha sauce, also known as "rooster sauce" is a hot chili sauce supposedly developed in Sri Racha, Thailand. It is a red pepper sauce that ranks between 1,000-2,500 SHU (Scoville Heat Units) on the Scoville Heat Index. To give you an idea of the degree of heat, Tabasco sauce ranks on the SHU between 2,500-5,000 on the Scoville index.
You'll usually find Sriracha sauce on the International or Asian aisle at your grocery store; however if you cannot find Sriracha sauce, substitute with a comparable hot sauce.
Do I need to brown the ribs first?
No. It is not necessary to brown short ribs before braising. Typically, you brown meats that are already tender to trap in the moisture; however, since short ribs are not a tender cut, browning them first won't do any good.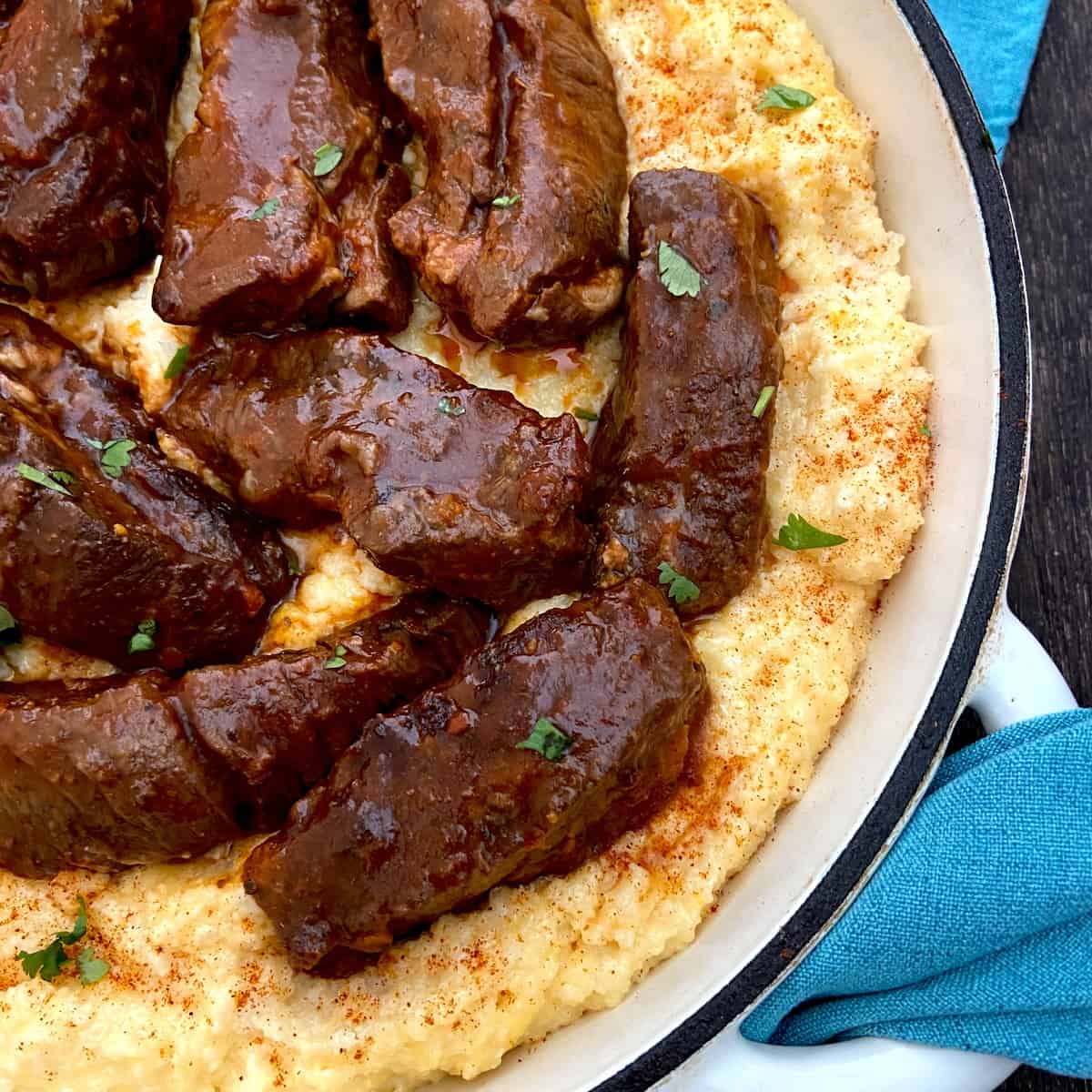 Braised Dutch Oven short ribs can be cooked on the stove top, in the oven or in a slow cooker. It's a great way to enjoy restaurant-quality, bone-tender, finger lickin' barbecue ribs when it's too hot to grill or when you just need a big dose of comfort food
Related recipes
If you make this recipe, please leave a rating and comment below! I love to hear from you!
📋 Recipe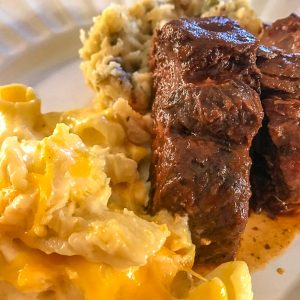 Braised Dutch Oven Short Ribs
Meaty short ribs braised in a savory broth with hints of sweet and spicy from maple syrup, barbecue sauce and sriracha, served over Gouda grits.
Print
Rate
Ingredients
Braising Liquid
3

lbs.

short ribs

4

cups

beef stock

or beef broth; See Recipe Notes - Beef Broth

3

tablespoons

Sriracha sauce

also known as rooster sauce

1

cup

barbecue sauce

use your favorite kind

3

oz.

tomato paste

½

cup

maple syrup

See Recipe Notes - Substitutions

1

tablespoon

marjoram

See Recipe Notes- Substitutions

1

teaspoon each

garlic powder and onion powder

(optional)
Gouda Grits
1

cup

grits

1

cup

heavy cream

6

oz.

Gouda cheese

shredded

¼

teaspoon

garlic powder (optional)

salt and pepper
Instructions
Whisk all ingredients together in slow cooker or Dutch oven

4 cups beef stock,

3 tablespoons Sriracha sauce,

1 cup barbecue sauce,

3 oz. tomato paste,

½ cup maple syrup,

1 tablespoon marjoram,

1 teaspoon each garlic powder and onion powder

Place ribs into baking dish in a single layer; cover and cook on low heat for 4-6 hours (make sure the ribs are almost totally covered with liquid) See recipe notes below
Grit Preparation (makes 4 servings)
Shred cheese and set aside

Bring 2 cups of water to boil

Add 1 cup quick cooking grits (not instant grits) to boiling water

Add 1 cup of cream to grits; combine well

Add shredded Gouda cheese; stir well; season to taste with salt and pepper; reduce heat to simmer and cover until ready to serve

6 oz. Gouda cheese,

salt and pepper
Notes
Short ribs
You can use beef or pork, bone-in or boneless ribs...your call and your budget.
This recipe is based on 3 lbs. of boneless country ribs, which is about 8 ribs. If you use more ribs, add more broth--enough to cover the ribs in the cooker.
Beef Broth
The amount of broth will be based upon the size of baking dish you're using. Use enough broth to cover the ribs by at least ½".
Substitutions
No maple syrup? Use table syrup or brown sugar in the same amount as indicated in the recipe
No Marjoram? Use dried oregano
A note about the nutritional estimate: the software I use to calculate calories, etc., doesn't divide the sauce ingredients into proportions relative to the number of ribs, nor does it calculate portion size of grits.
Nutrition Estimate
Serving:
1
cup
Calories:
685
kcal
Carbohydrates:
49
g
Protein:
43
g
Fat:
35
g
Saturated Fat:
18
g
Polyunsaturated Fat:
1
g
Monounsaturated Fat:
12
g
Cholesterol:
158
mg
Sodium:
1114
mg
Potassium:
1157
mg
Fiber:
1
g
Sugar:
27
g
Vitamin A:
869
IU
Vitamin C:
6
mg
Calcium:
235
mg
Iron:
5
mg