This recipe is an easy way to dress-up traditional Pasta Carbonara!
Add a creamy ricotta mixture to warm pasta, creating a semi-rich, flavorful creamy, cheese sauce.
A quick, delicious pasta dish that is ready in less than 20-minutes!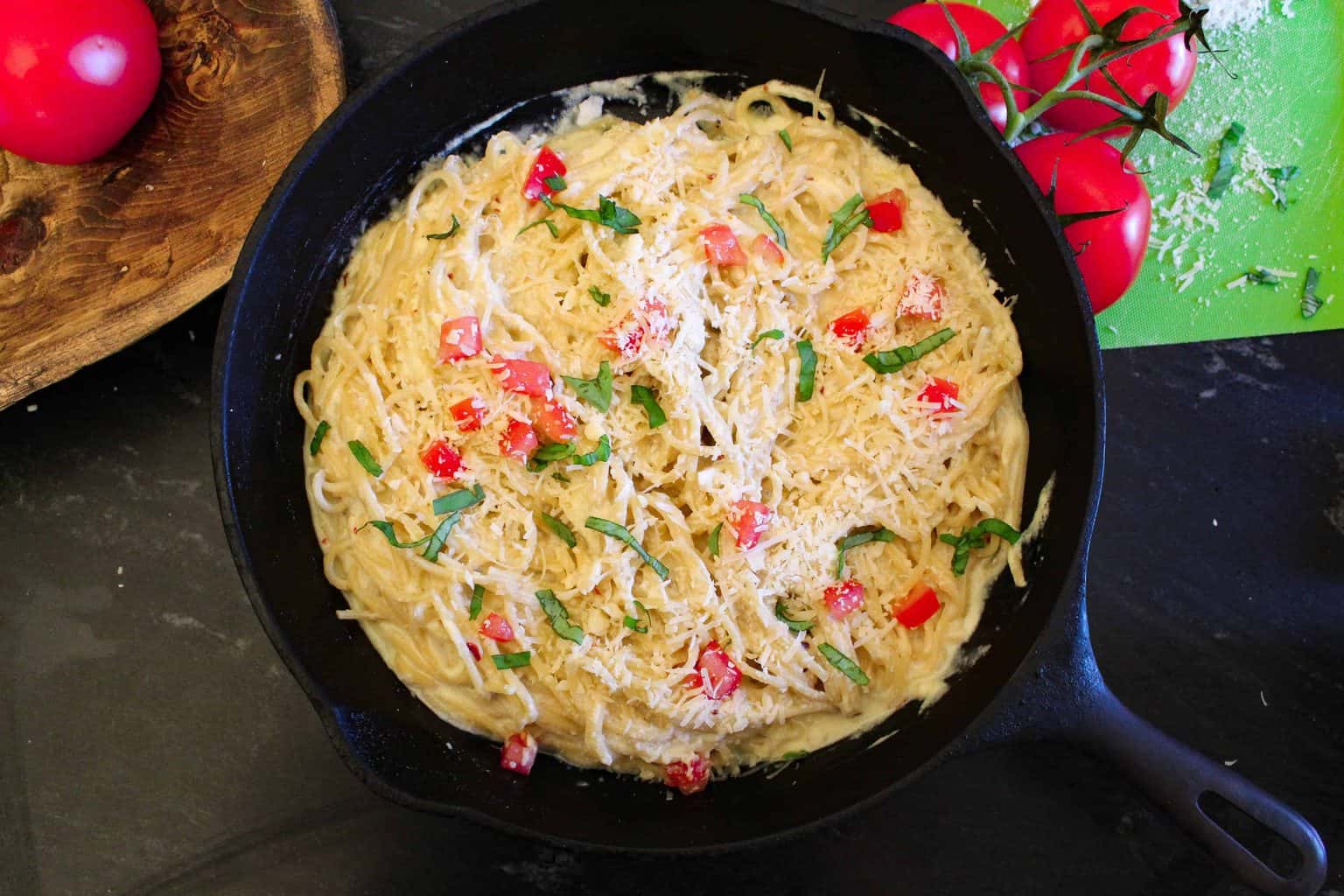 What you'll need:
Spaghetti, ricotta and parmesan cheese, eggs, oil, tomato and basil for garnish
How to make it:
This dish is easy to make in three simple steps:
Cook the pasta in boiling water
In a large bowl, combine Ricotta, Parmesan, egg and seasonings; temper this mixture with some warm pasta water
Using tongs, transfer cooked noodles to a large skillet; add cheese mixture and a little more water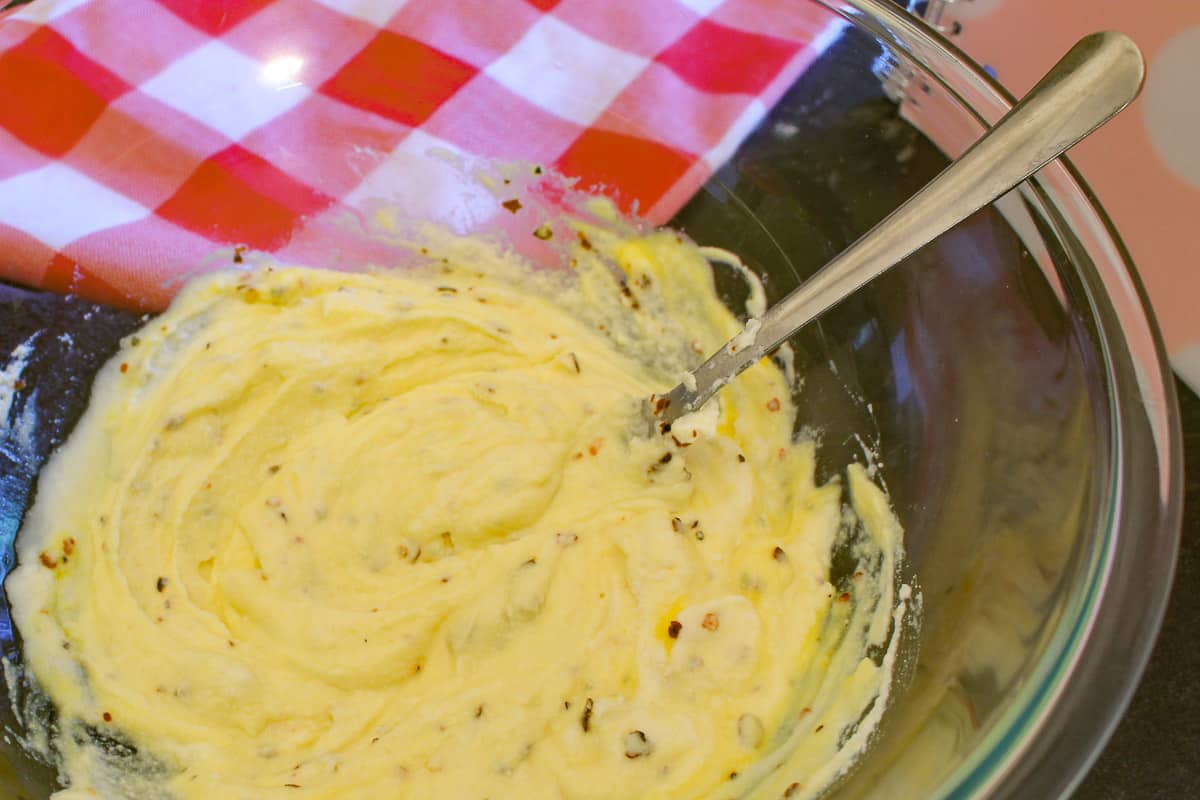 This quick and easy pasta dinner is a life-saver on a busy weeknight. I usually serve it with homemade Caesar salad and warm garlic bread.
What is Pasta Carbonara?
Carbonara refers to an Italian dish with a few simple, yet flavorful ingredients including Parmesan cheese, eggs and black pepper.
The eggs are not cooked, but tossed in the warm pasta. Traditional carbonara recipes do not include cream or cream cheese.
Does carbonara use raw eggs?
Traditional preparation combines raw eggs with cheese and pepper.
This recipe tempers the egg/cheese combination with warm pasta water, so the raw eggs cook slightly.
How to avoid scrambled eggs in carbonara
The best way to avoid scrambled eggs in your carbonara dish is to temper the eggs first with a few tablespoons of warm pasta water.
This brings the temperature of the raw eggs to a point where they can be incorporated into the hot pasta without cooking.
Substitutions for raw eggs in carbonara
If you prefer not to use raw eggs, use a pasteurized egg product, usually found in the dairy section.
What is Ricotta cheese?
Ricotta is a fresh, unripened cheese from cows, sheep or goats; it's the "whey" part of a cheese...remember "Little Miss Muffet sat on a tuffet eating her curds and whey?"
Well, ricotta cheese is the whey part of the cheese-making process and cottage cheese is the "curds" part of the process.
In Spain, Ricotta is "Requesón" and in Portugal, it's "Requeijao."
Can I substitute cottage cheese?
Cottage cheese acts as a good substitute for ricotta in Pasta Carbonara with Ricotta.
However, cottage cheese has more liquid than ricotta, so drain the liquid prior to incorporating it into the recipe.
Use a fine strainer or cheesecloth to drain cottage cheese before adding it to the recipe.
Using fresh basil? Read this
If you're using fresh basil, do not cut it in advance. It will turn black. Add fresh basil as a garnish right before you serve.
Storage and reheating:
Keep leftovers in the refrigerator for up to 3 days. To reheat, use microwave, stovetop or oven.
You may have to add a little water when reheating. Freezing is not recommended due to the eggs.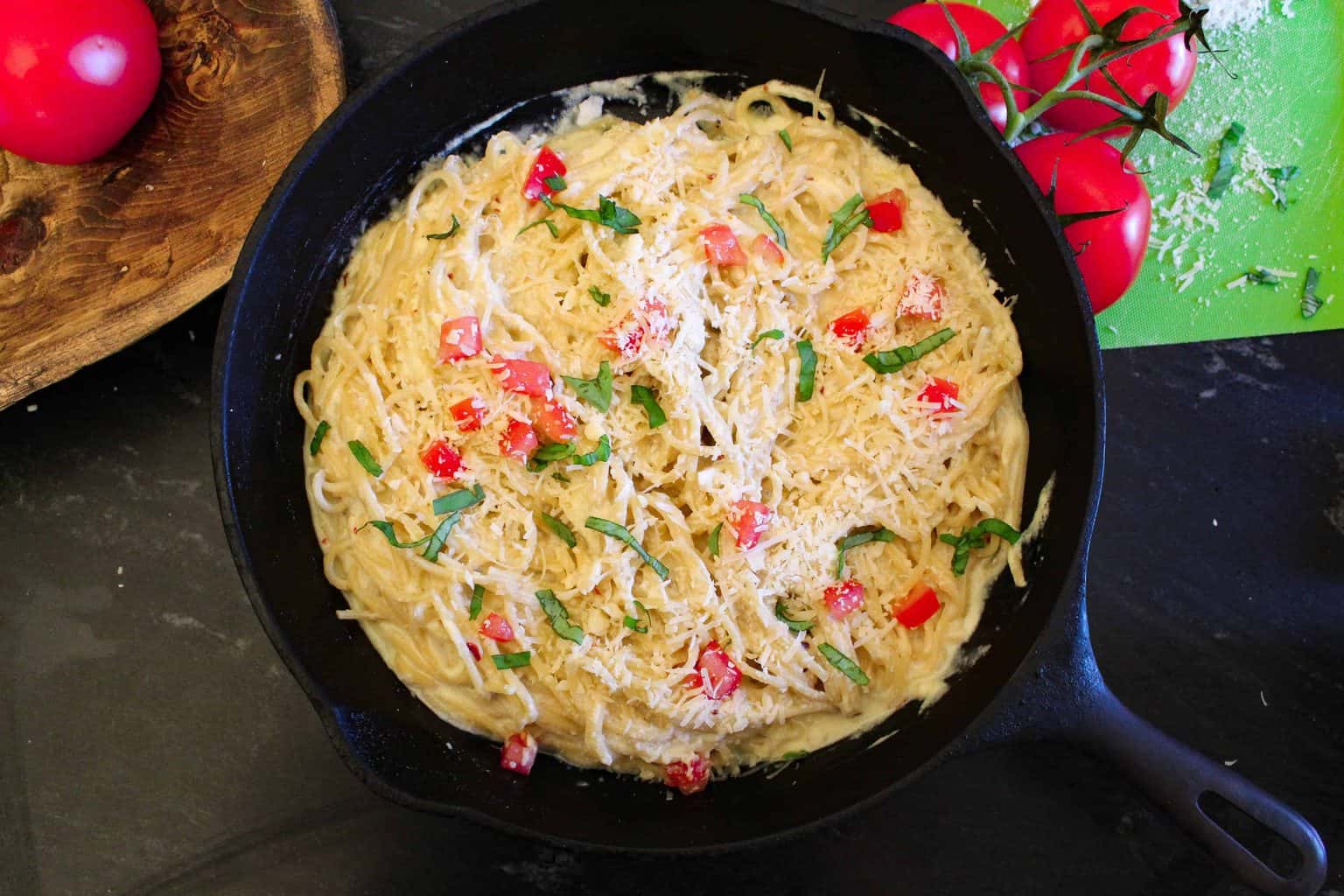 Serve creamy Pasta Carbonara with Ricotta cheese with a fresh green salad and warm Italian bread.
Related recipes:
📋 Recipe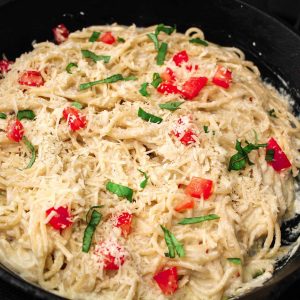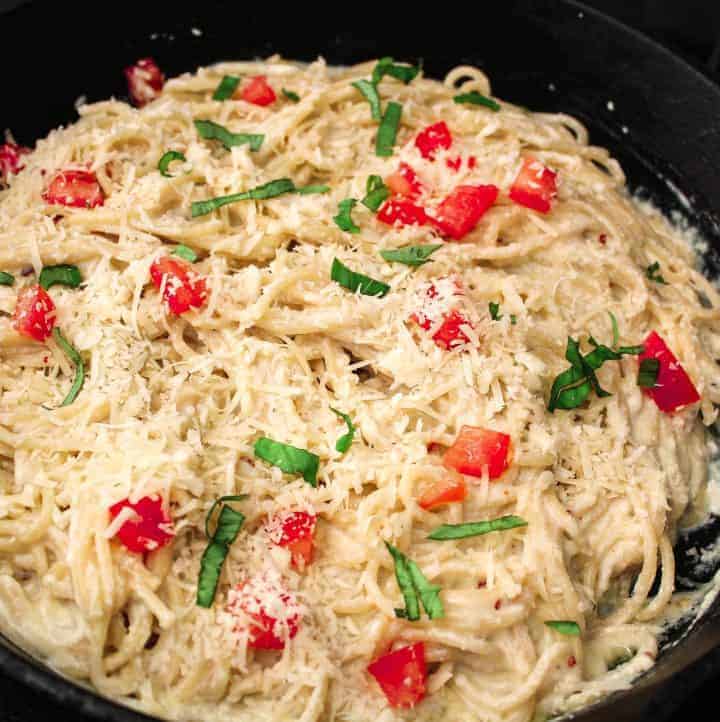 Pasta Carbonara with Ricotta Cheese
Italian pasta nestled in a creamy sauce of Ricotta and Parmesan cheese, eggs and black pepper, topped with fresh tomato and basil.


Print
Rate
Ingredients
6

cups

water

1

lb.

pasta

spaghetti, linguine, fettuccine

15

oz

ricotta cheese

whole fat; not skim

2

whole

eggs

, lightly beaten

1

cup

Parmigiana Reggiano cheese

, fresh, grated

½

teaspoon

salt

1

tablespoon

fresh ground black pepper

¼

cup

tomato

, diced (as garnish); optional

2

tablespoons

fresh basil

(as garnish)

2

tablespoons

high quality olive oil

(optional) to drizzle over finished dish
Instructions
Prep
Shred fresh Parmigiana Reggiano cheese; set aside

Dice tomatoes (optional); set aside

Lightly beat eggs; set aside
Make the Pasta Carbonara
Bring large stockpot of water to boil; add pasta; cook approximately 8-9 minutes per pound of of pasta; while this is cooking, make ricotta mixture

6 cups water,

1 lb. pasta

In a large bowl, combine Ricotta, Parmigiana-Reggiano cheese, eggs, salt and pepper

15 oz ricotta cheese,

2 whole eggs,

1 cup Parmigiana Reggiano cheese,

½ teaspoon salt,

1 tablespoon fresh ground black pepper

Add 2 tablespoons of the warm pasta water to the egg/cheese mixture; combine well

Using tongs, transfer pasta directly from boiling pot to a large skillet (on medium heat)

Pour Parmesan/Ricotta mixture to skillet; combine well by tossing with tongs

Add more pasta water if needed

Once pasta is well-coated with cheese mixture, plate, garnish with fresh diced tomatoes and fresh basil; garnish with additional Parmesan if desired

¼ cup tomato,

2 tablespoons fresh basil

Drizzle with olive oil and serve

2 tablespoons high quality olive oil
Notes
Adjust the thickness/thinness of the cheese sauce by adding more reserved pasta water, or by adding more cheese.

Do Not cut the fresh basil in advance; it will turn black; do this at the last minute, right before you serve it
Nutrition Estimate
Serving:
1
cup
Calories:
772
kcal
Carbohydrates:
90
g
Protein:
36
g
Fat:
29
g
Saturated Fat:
14
g
Cholesterol:
73
mg
Sodium:
789
mg
Potassium:
430
mg
Fiber:
4
g
Sugar:
4
g
Vitamin A:
799
IU
Vitamin C:
1
mg
Calcium:
547
mg
Iron:
2
mg