Throw away the blue and white tub of imitation and make your own homemade Whipped Cream!
It's unbelievably easy and fast made with 3-simple ingredients and requires no fancy tools! Homemade whipped cream contains no additives, preservatives or colorants, so it's a little healthier and a great substitute for Cool Whip™.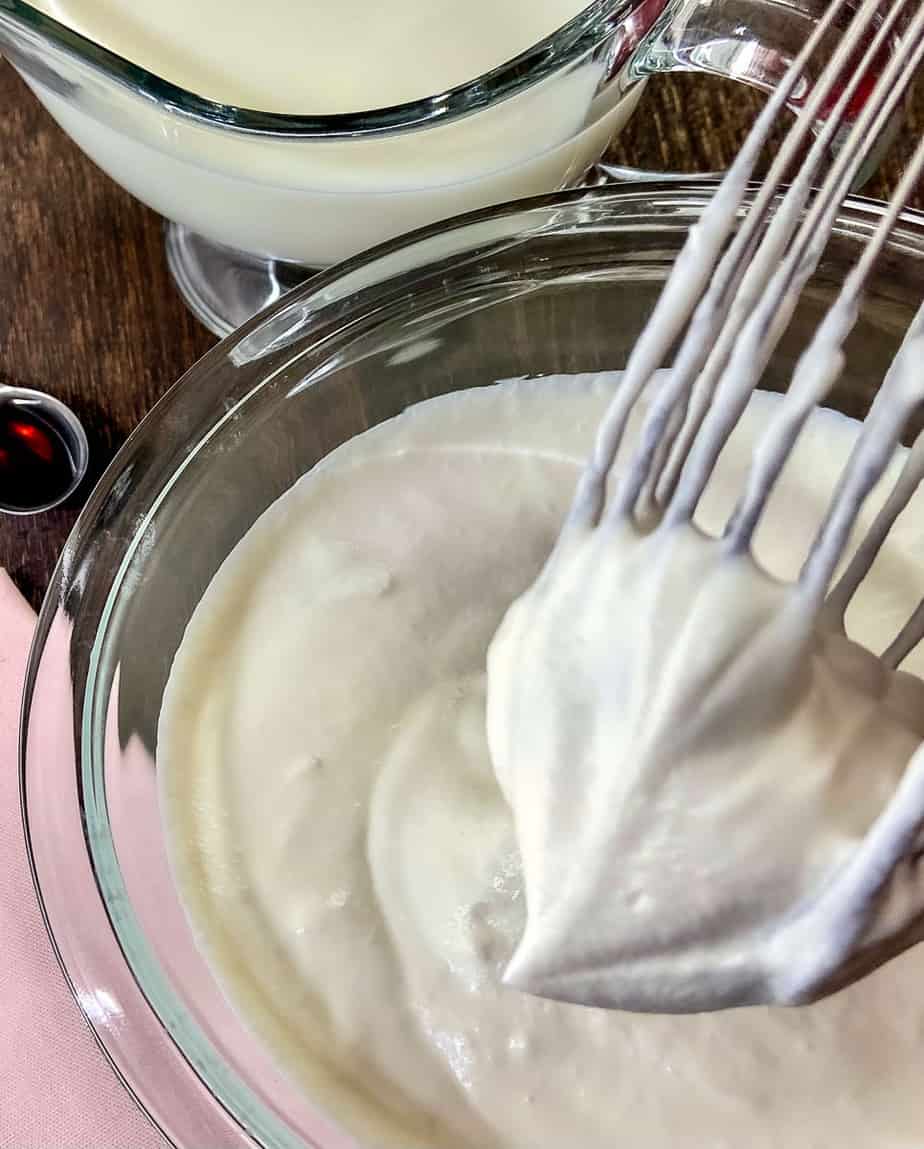 You'll love the all-natural, rich and creamy flavor of homemade versus "plastic" whipped cream from a tub or squeeze jar.
In fact, it's ready in 7 minutes...literally, folks...7 minutes! I use this recipe for my No-Bake Coconut Cream pie.
Why this recipe works
First of all, it's all natural. There's no additives, preservatives or ingredients you can't pronounce.
Second, it's quick and easy. Requires only 3 ingredients.
Finally...it's deliciously dreamy and can be smade ahead and stored for later consumption on your favorite pie!
Whipped cream is often referred to as "Chantilly Whipped Cream" due to the inclusion of vanilla.
You only need 3 ingredients for homemade whipped cream
Granulated sugar (white sugar), heavy cream, and a little vanilla extract - that's it! Use a stand or hand mixer for best results.

Here's how you make it
Making a light and fluffy whipped cream topping for your favorite dessert takes only a few minutes! You'll need a high speed hand mixer (or stand mixer), a cold wire whisk and a cold glass ormetal mixing bowl.
For best results (and the secret to restaurant-quality whipped cream) is to use cold metal or glass mixing bowl, cold wire whisk and cold cream.
Place metal mixing bowl and metal or wire whisk attachment in freezer for 15 - 20 minutes. After the bowl and whisk are really cold, remove from freezer
Use a stand or hand mixer with a whisk attachment
Add sugar, vanilla and cold cream to cold mixing bowl
Turn mixer to the low setting and gradually go to the high setting; set a stopwatch and keep an eye on it
Mix on high for 6 minutes, whisking constantly
At the 6-7-minute mark, test for stiff peaks; if not quite stiff enough, whisk a minute more but do not overwhisk!
When it's fluffy and forms a stiff peak, it's done!
Why use cold cream, a cold mixing bowl and wire whisk?
Cold cream, a cold bowl and a cold wire whisk are essential to a fluffy whipped cream.
This chilled environment allows the fat molecules in the cream to trap air, which makes the whipped cream fluffy.
Use a cold glass or metal mixing bowl and a cold metal or wire whisk; Place these in the freezer for about 10-15 minutes before you start to make the whipped cream
Do NOT use a plastic mixing bowl or plastic whisk. Plastics inevitably absorb oils and, if there's any oil in the mixing bowl or whisk, the cream won't fluff. Oil is heavier than air, so the result is a mess.
The cream does not need to go in the freezer; just make sure it's chilled in the fridge before you use it
What kind of cream do I use?
This is the #1 question I hear from beginner-level cooks. And it's not a stupid question at all! You see, there's a lot of different types out there.
The different types you find in the grocery store are combinations of milkfat solids and milk. The name of the "cream" depends upon the percentage of milkfat in the product.
The higher the percentage of milkfat, the quicker and fluffier it turns out.
Ideally, you want to buy "heavy cream" or "heavy whipping cream" which has 38-40% fat; "light whipping cream" (30% fat) will work, it will just take longer to reach the stiff peak stage.
If you want to speed up the whipping process, use heavy whipping cream and add 1 teaspoon of lemon juice per cup of whipped cream.
Keep in mind, the cream must be cold. Not frozen, but cold from the refrigerator.
Can I make homemade whipped cream with half and half?
Half n half does not produce a fluffy whipped cream due to it's low fat content. You really need to use "heavy cream" or "heavy whipping cream."
Now, let's consider sugar options.
Do I use granulated or powdered sugar?
You can use either granulated or powdered sugar. The sugar adds sweetness to the homemade whipped cream and serves as a stabilizing agent which is necessary in order to create stiff peaks.
Powdered sugar, also known as icing or 10X sugar, is pulverized granualted sugar with a little cornstarch.
Once granulated sugar has been whipped into a powder, cornstarch is added to the sugar serve as a stabilizing agent.
Granulated sugar by itself is already a stabilizing agent. So, you can use either one interchangeably in this recipe.
What is a "stiff peak"?
Whether you're making homemade whipped cream or making a meringue from egg whites, you need to know how to identify when your mixture has reached the "stiff peak" stage.
A stiff peak is when the air has been whipped out and the mixture becomes more dense; dense enough to stand on its own.
A stiff peak will stick straight-out from the whisk, without bending or drooping.
How long can I store it?
Homemade whipped cream will last about one week in the fridge. Just be sure to cover it well.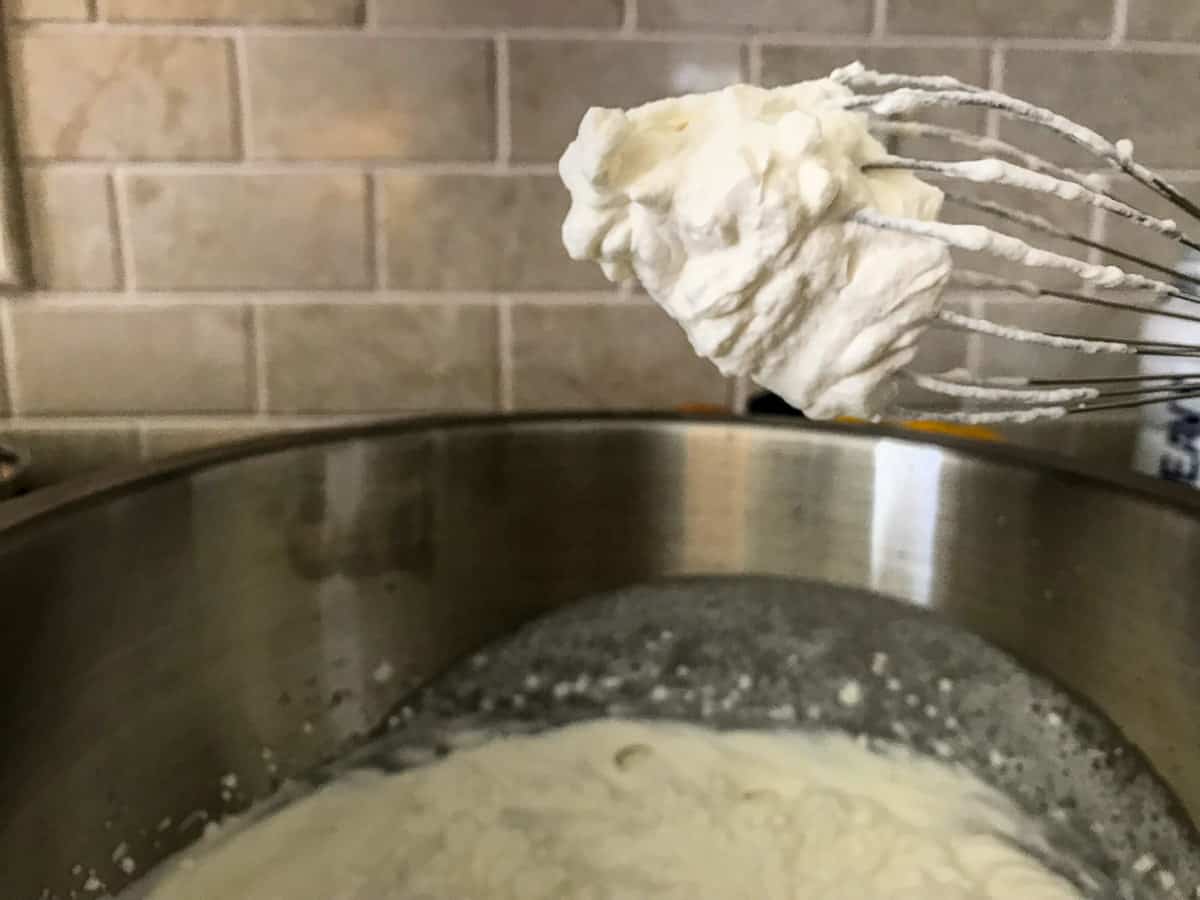 One of the best things about making your own is: no high fructose corn syrup, hydrogenated vegetable oil, corn syrup, xantham gum or polysorbate! It's all-natural.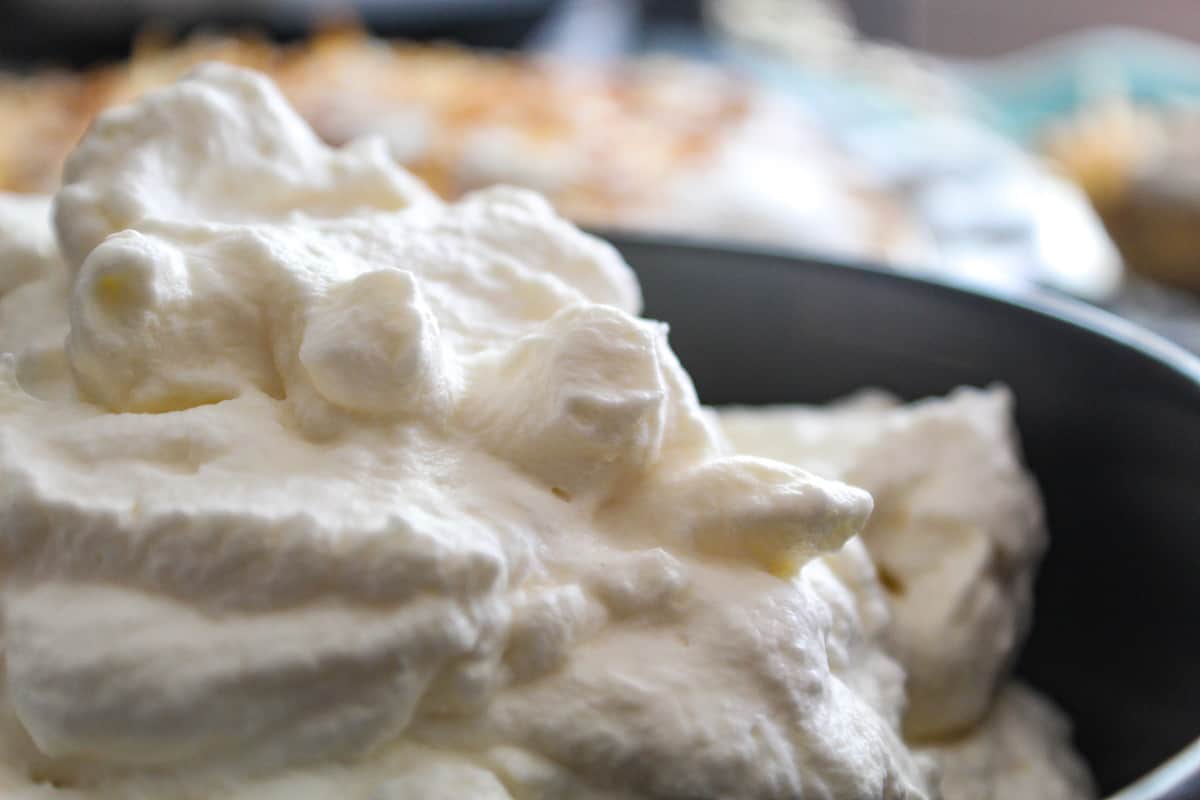 If you want to make homemade this in advance, it will last 3-5 days in the refrigerator, lightly covered with plastic wrap.
Troubleshooting Homemade Whipped Cream
Problem: taking forever to get fluffy = utensils and cream aren't cold enough
Problem: breaking apart into clumps = you've whisked it too long; start over
Problem: it's runny = cream isn't cold enough or, you used a plastic bowl/whisk and there was oil residue on either
Problem: not sweet enough = add a tablespoon of sugar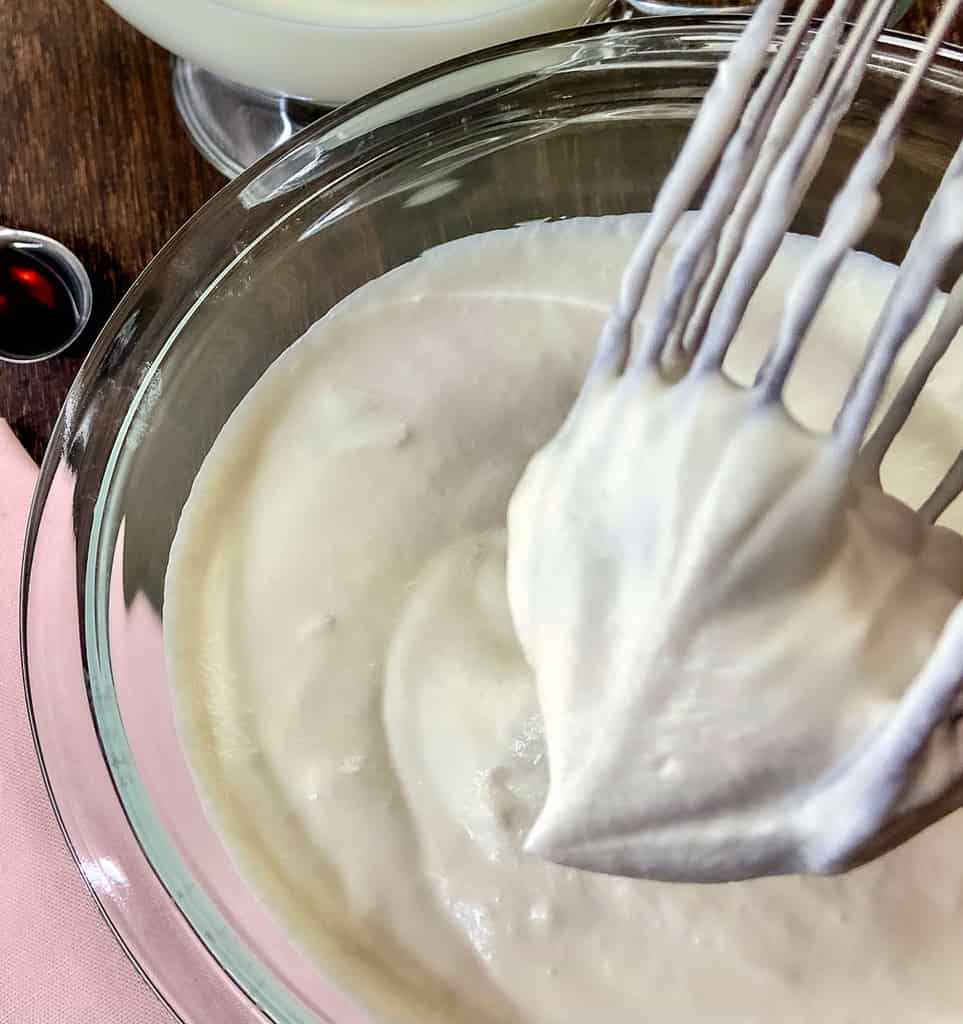 Homemade whipped cream is perfect as a topping for pies or in hot chocolate! If something homemade can be this good, why would you ever buy imitation again?
Related Recipes
📋 Recipe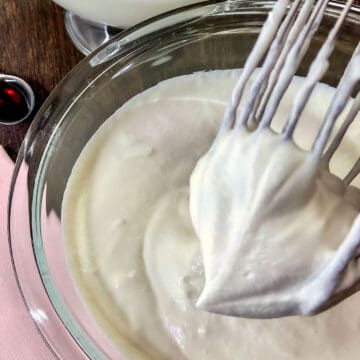 Homemade Whipped Cream
All natural homemade whipped cream with no additives, preservatives or high fructose corn syrup.
Print
Rate
Equipment
Metal mixing bowl

Wire whisk

Electric mixer

Stopwatch
Ingredients
1

cup

heavy cream

2

tablespoons

sugar

1

teaspoon

vanilla extract
Instructions
Prep
Place mixing bowl and wire whisk in freezer for 15-20 minutes
Make the Whipped Cream
Add sugar, vanilla and cold cream to cold mixing bowl

2 tablespoons sugar,

1 teaspoon vanilla extract,

1 cup heavy cream

Start mixer on low speed and increase to high

Move whisk in circles to incorporate all of the cream and whisk on high for 6 minutes

After whisking for 6-7 minutes, check for stiff peaks; if not quite stiff, resume whisking one more minute (See Recipe Notes)
Notes
You MUST put the glass or metal mixing bowl AND the wire whisk in the freezer for 15-20 minutes first. Do NOT use plastic bowls or whisks.
After about 3 minutes, you'll begin to see the cream forming ribbons...keep mixing
At the 5-6 minute mark, the volume will noticeably increase...keep mixing
At 7 minutes, check for stiff peaks; if peaks aren't quite stiff, whip another minute
Do not whip cream more than 8 minutes or you run the risk of it clumping
If you double the recipe, you will have to whisk the cream a little longer, but usually no more than 10 minutes
How to check for stiff peaks
Whisk on high the turn mixer to off, leaving whisk in the whipped cream
Pull the mixing whisk straight up out of the cream
If the cream stands at a point (a stiff peak) it's done; if not, whisk another minute or so and check again
Nutrition Estimate
Serving:
1
cup
Calories:
231
kcal
Carbohydrates:
8
g
Protein:
1
g
Fat:
22
g
Saturated Fat:
14
g
Cholesterol:
82
mg
Sodium:
23
mg
Potassium:
45
mg
Sugar:
6
g
Vitamin A:
875
IU
Vitamin C:
1
mg
Calcium:
39
mg
If you make this recipe, scroll down and leave a comment and rating! I love to hear from you!