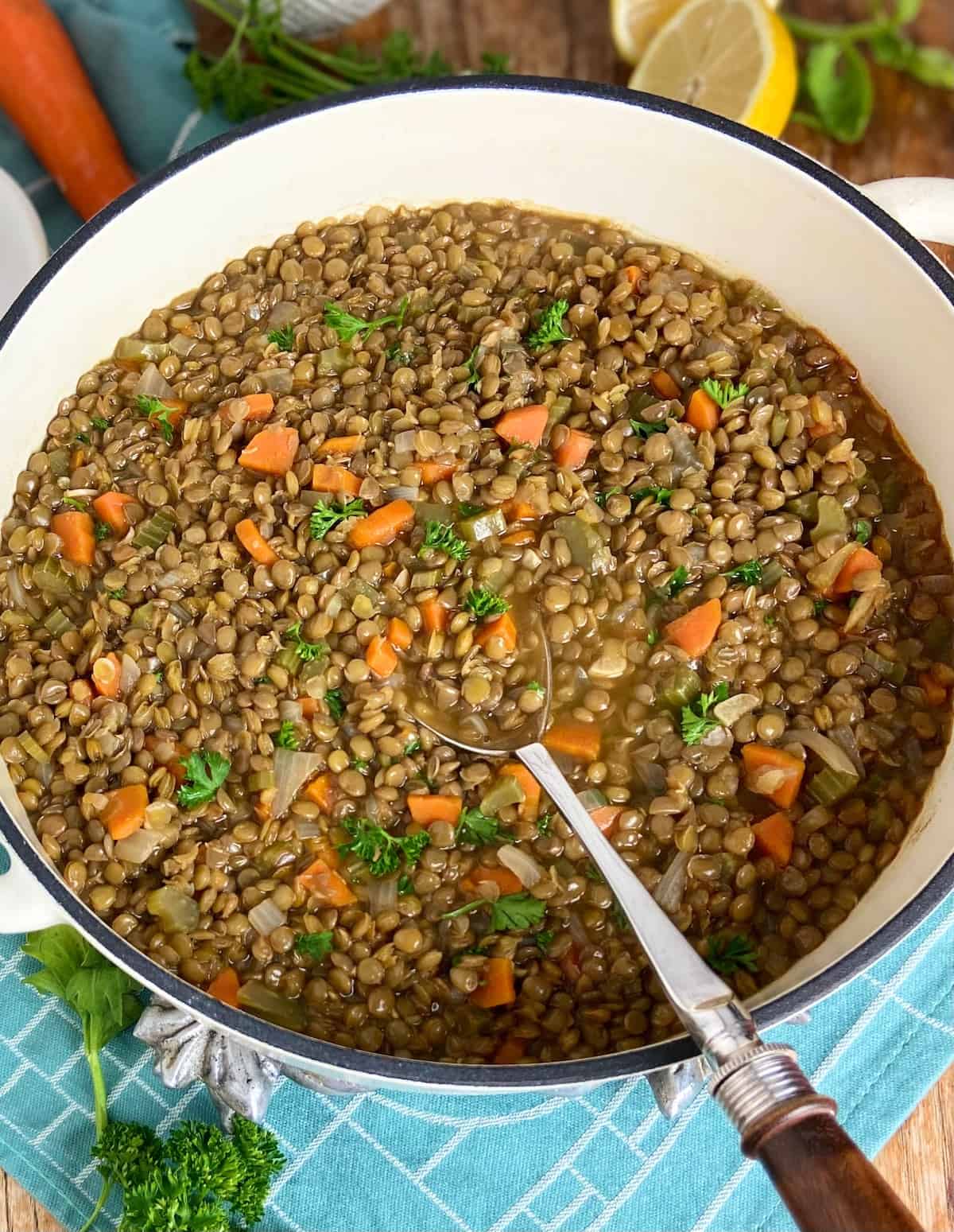 You'll love this easy vegetarian Lentil Soup! It's ready in about 30-40 minutes, requires no soaking, and has a delicious flavor with tons of vitamins and nutrients!
Lentils are naturally low-fat and cholesterol-free, so if you're tired of "creamy" soups, make this light and healthy soup in about 30-minutes!
This light, hearty soup is perfect anytime of the year, but it's particularly good in the middle of the winter, when you've had too many creamy soups and need to push back on the fat.
Jump to:
What's a lentil?
A lentil is a legume (in the same family as beans and peas.) They are lens shaped beans that grow in pods, are naturally high in protein and low in fat and cholesterol. Unlike pinto or kidney beans, they do not require soaking and are often found in soups and salads or served as a side dish.
There are several lentil varieties: brown, red, green and yellow
This recipe uses brown lentils, which have a mild, earthy flavor and are the most common. Red lentils, commonly found in curries, are the sweetest tasting. Curry lentil soup is typically made with red lentils. Green lentils have a bit more peppery flavo and require more cooking time.
Yellow lentils (aka split peas) are used frequently in Indian dishes (you may find them packaged as "golden" or "yellow split peas." Even though split peas and lentils come from the same plant family, they are different.
You'll most often find dried brown lentils on the rice and bean aisle in the grocery store.
Why this recipe works
Quick and easy - lentils don't require soaking and they cook pretty quickly; this stove top method makes a delicious Mediterranean lentil soup and you don't need a pressure cooker or slow cooker
Heart healthy - Lentils are legumes, which are naturally vegan, low-fat, low-cholesterol, low-fat, gluten-free and a good source of iron, folic acid and vitamin B
Affordable - this hearty and easy recipe makes about 8 cups for less than $10
Flavorful - the carrots, bay leaves and spices give this healthy dinner entree a delicious flavor! A little sweetness from the carrots with a nice savory addition from the bay leaves, cumin, coriander and garlic make this a delicious brown lentil soup!
Being from the South, I usually serve this with homemade cornbread but if you're looking for a more authentic Mediterranean flair, try serving this with warm pita bread or warm Naan.
One cup of dried lentils yields about 2 ½ cups of cooked, so keep this in mind if you're cooking for two or twenty!
Here's what you'll need
The basic ingredients for this nutritious soup are relatively simple!
Olive oil - I recommend using a high quality extra virgin olive oil for best results
Brown lentils - no need to soak them; just give 'em a good rinse first
Yellow onion - finely chopped onion
Celery - a few ribs of finely chopped celery
Carrots - 2 large or 3 medium sized carrots
Garlic - 1 large or 2 medium cloves, chopped
Vegetable broth - a few cups vegetable broth for vegetarians; you can use chicken broth if you're not vegetarian
Ground cumin powder
Ground coriander powder
Ground paprika
Bay leaves
Fresh parsley - I use curly parsley, but you can use flat leaf in this lentil soup recipe
Lime juice - a hint of acidity brightens the flavor of this easy lentil soup recipe; if you don't have lime juice, lemon juice works!
Salt and black pepper to taste

Here's how to make it
This is an overview of how to make this easy Mediterranean lentil soup. For exact ingredients and instruction, see the Recipe Card below.
In a large stockpot or Dutch oven, add olive oil to pan and bring to medium heat; Add chopped onion, celery and carrots and saute for 5 minutes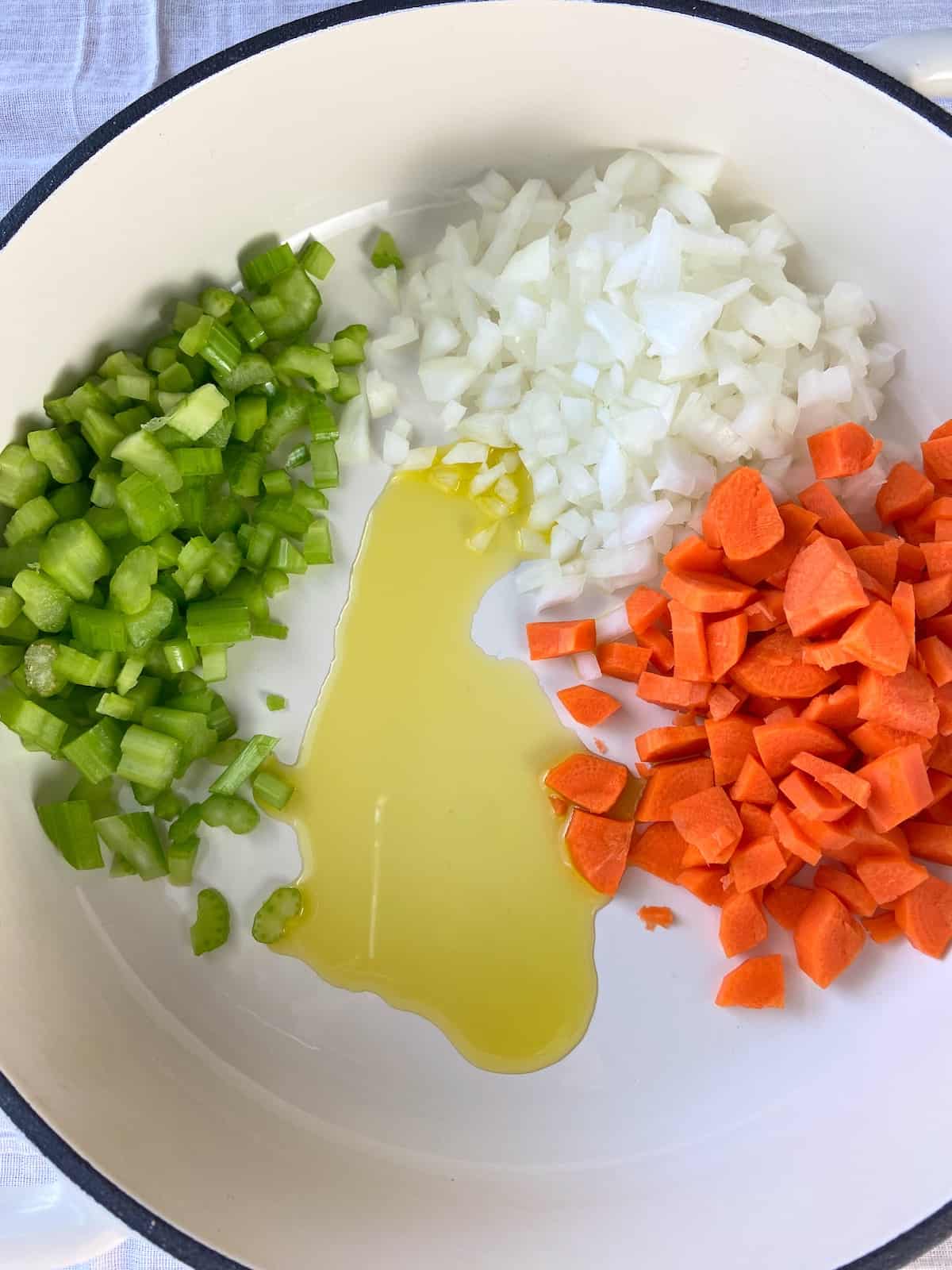 Add broth, garlic, spices and bay leaf; Bring the soup to a boil so the carrots will get tender. Once they're semi-soft, turn the heat to medium-heat and add the lentils. Cook for 25-30 minutes and serve with a squeeze of fresh lime juice and garnish with fresh chopped flat parsley!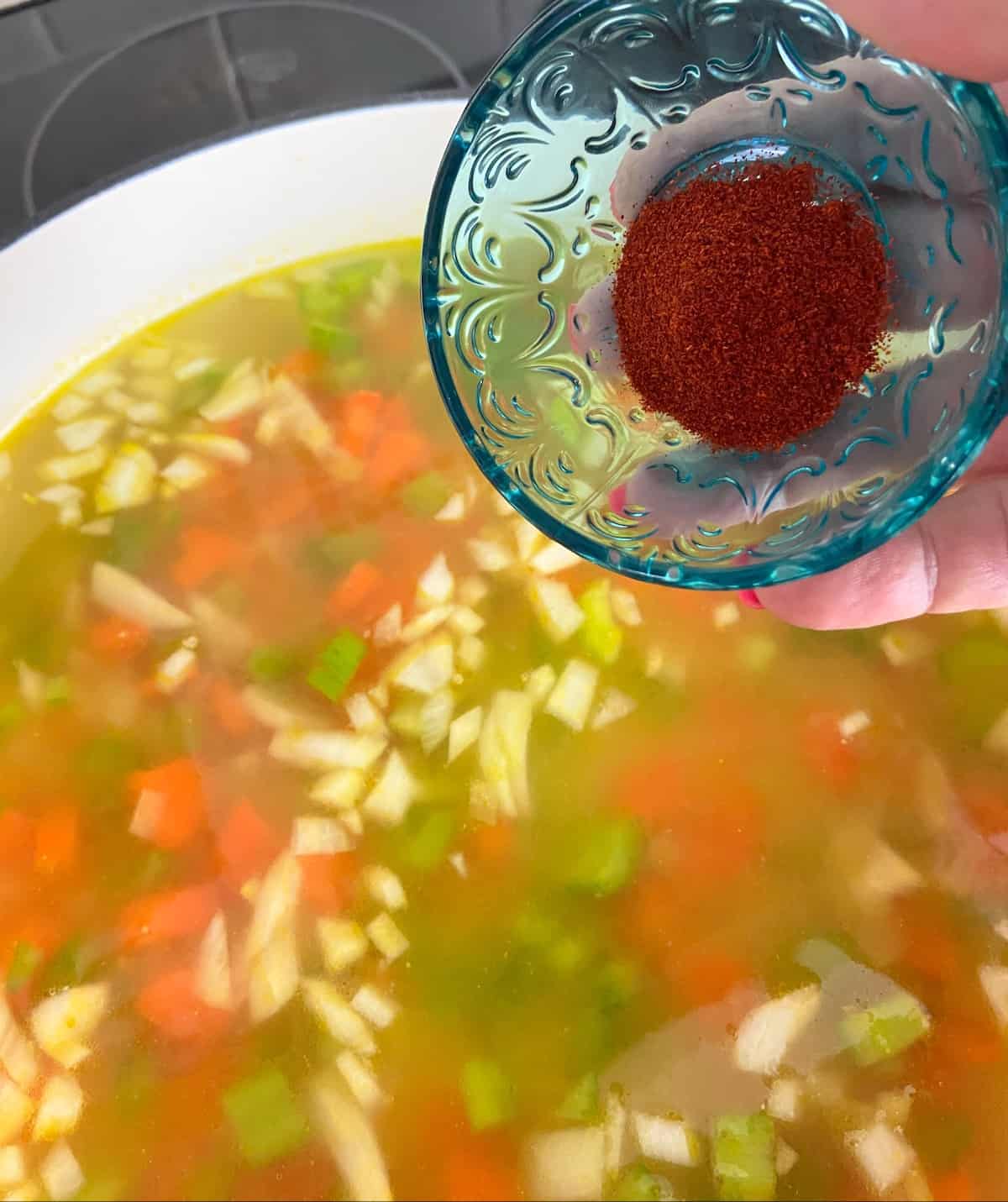 One cup of dried lentils yields about 2 ½ cups cooked.
Recipe Tips
You may need to add a little water or broth during the cooking process as lentils absorb liquid. This applies to both stovetop and slow cooker methods.
If you want a creamier Mediterranean lentil soup, use an immersion blender and give the soup a few quick pulses!
Recipe FAQ
What color lentils do I use?
There are various types of lentils: brown, red and green. This recipe uses brown lentils, which have a mild flavor and are most common.
Red lentils, commonly found in curries, are the sweetest tasting. Green ones are a bit more peppery and require more cooking time. Brown ones are the most common, particularly in American grocery stores.
Can I make lentil soup in a slow cooker?
If you want to make this recipe in a slow cooker, use green lentils. They work best in slow cookers and salads because they tend to hold their shape.

Keep in mind, green lentils have a bit of peppery flavor to them which will change the flavor profile of this Mediterranean lentils soup recipe, so you may need to adjust your seasonings and add a pinch of sugar to the soup. Brown and red lentils do not work well in slow cookers-they turn to mush.
Reheating and storage
If you have any easy vegetarian soup leftover, store in the refrigerator in an airtight container up to 3 days or in the freezer for up to 3 months. Lentil soup thickens upon storage; you may need to add more water or broth when reheating. Reheat on stovetop for best results.
What to serve with lentil soup
You can serve this easy lentil soup as an appetizer, side dish or entrée. Since I'm from the South, I usually just serve it with a side of homemade cornbread.
If you're looking for a more Mediterranean flair, try serving this with warm pita bread or warm Naan bread.
It also pairs well with fish - salmon, pan fried trout, baked tilapia or salmon croquettes ! If you're looking for a light meal, try this Mediterranean lentil soup with a slice of Spinach Feta pie (Spanakopita)!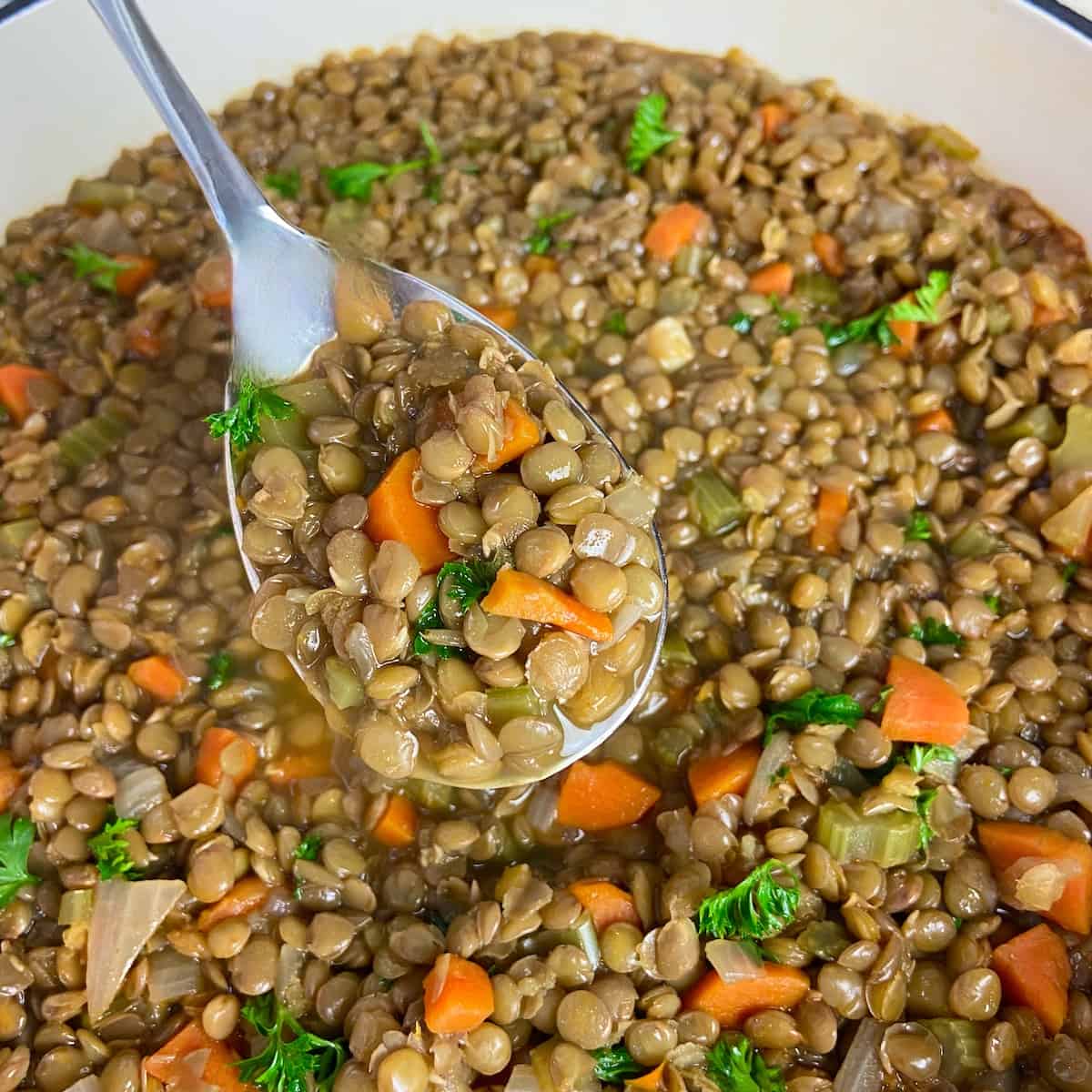 This easy vegetarian Mediterranean lentil soup is a quick and easy, not to mention healthy dinner you can serve to your whole family on any busy weeknight.
Related recipes
If you make this recipe, please leave a rating and comment below! I love to hear from you!
📋 Recipe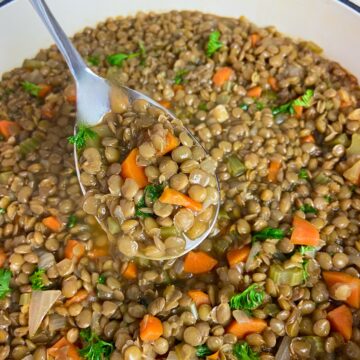 Easy Vegetarian Mediterranean Lentil Soup
Brown lentils seasoned in a flavorful broth with celery, onions and carrots
Print
Rate
Ingredients
1½

cups

brown dried lentils

, rinsed

2

tablespoons

olive oil

1

cup

chopped yellow onion

1

cup

chopped carrots

about 2-3 large carrots)

½

cup

chopped celery (about 2 stalks)

(about 2 stalks)

1

teaspoon

finely chopped fresh garlic

5

cups

broth

,chicken or vegetable; (See Recipe Notes)

1½

teaspoons

ground cumin powder

1½

teaspoons

ground coriander powder

1½

teaspoons

ground paprika

3

dried bay leaves

¼

cup

finely chopped fresh parsley

1

tablespoon

fresh lemon or lime juice

salt and black pepper to taste

(see recipe notes)
Instructions
In a dutch oven, add oil, onion, carrot and celery; cook on medium-high until onions are translucent (5-8 minutes)

1 cup chopped yellow onion,

1 cup chopped carrots,

2 tablespoons olive oil,

½ cup chopped celery (about 2 stalks)

Add chopped garlic and cook for 1 minute

1 teaspoon finely chopped fresh garlic

Add broth, cumin, coriander and paprika and bay leaves bring to boil; cook 10-15 minutes, or until carrots are tender

5 cups broth,

1½ teaspoons ground cumin powder,

1½ teaspoons ground coriander powder,

3 dried bay leaves,

1½ teaspoons ground paprika

Reduce heat to low; add lentils; cover and let simmer about 25 minutes, till lentils are tender; check for the liquid level; you may have to add more broth or water because lentils absorb liquid

1½ cups brown dried lentils

Once lentils are tender, remove bay leaves; add in fresh chopped parsley; give it a good stir; add lemon or lime juice; give it a good stir; taste for salt and pepper

¼ cup finely chopped fresh parsley,

salt and black pepper to taste,

1 tablespoon fresh lemon or lime juice
Notes
Lentils do not need to be soaked--just rinsed prior to adding them to the liquid
Lentils absorb liquid, so check on them occasionally; you may need to add more broth or water
If you want to heighten the nutrition of lentil soup, add 3 cups of chopped kale or fresh spinach about 5 minutes before serving
Add salt and pepper to taste after you've added the lemon or lime juice
Nutrition Estimate
Serving:
1
cup
Calories:
247
kcal
Carbohydrates:
39
g
Protein:
14
g
Fat:
4
g
Saturated Fat:
1
g
Sodium:
489
mg
Potassium:
842
mg
Fiber:
17
g
Sugar:
7
g
Vitamin A:
6461
IU
Vitamin C:
19
mg
Calcium:
54
mg
Iron:
4
mg