Southern Fried Catfish is easy to make and this restaurant-quality recipe won't disappoint! You'll love this 3-step recipe and it's ready in less than 20-minutes!
Tender catfish fillets, lightly breaded in a Southern seasoned cornmeal mix and fried to perfection! Nice and crispy on the outside and fluffy and flavorful on the inside.
There's no need to go out to dinner when you can make restaurant-quality fried catfish at home!
Tartar sauce recipe included!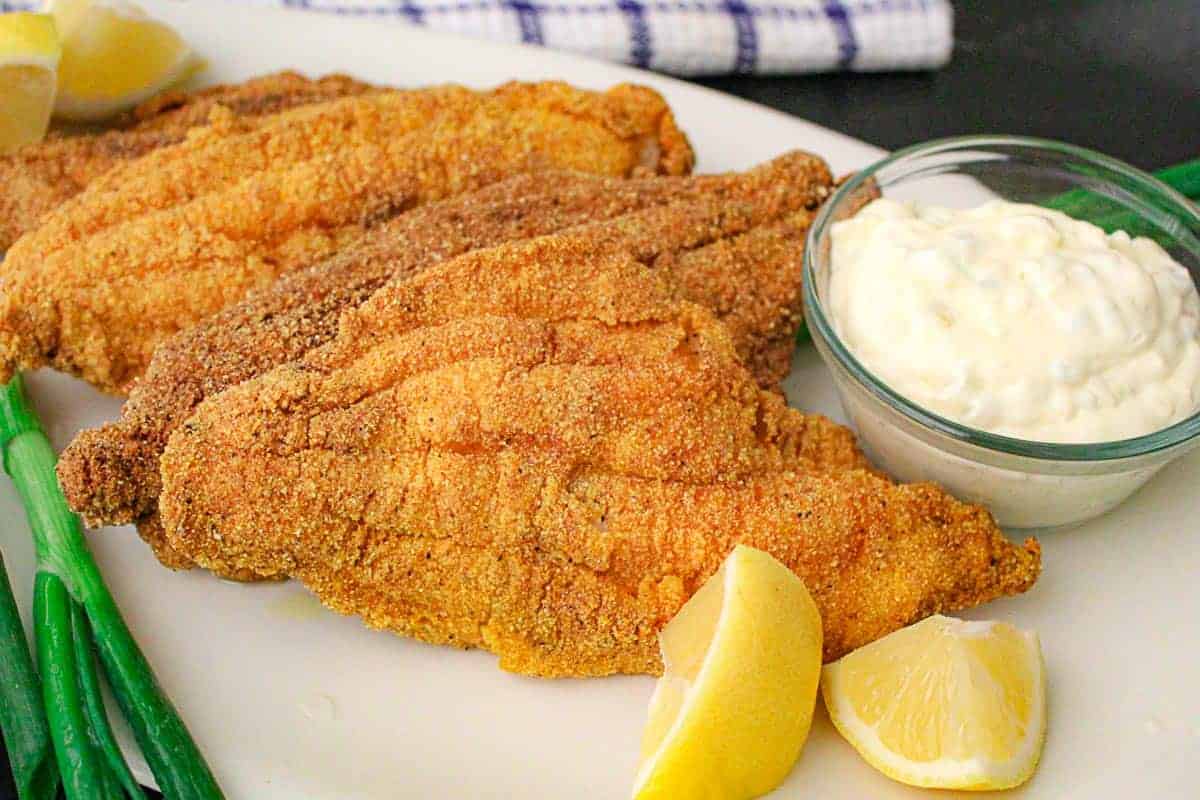 Why you'll love this recipe!
If you can't get to Middendorf's in Louisiana, then this thin fried catfish recipe is the next best thing!
Crispy and flavorful - this recipe has a great flavor and the cornmeal coating turns out crunchy and delicious!
Quick - each fillet only takes about 5-minutes to fry
Restaurant quality fried catfish fillets that actually have flavor
Gluten-free - this Southern catfish recipe contains no flour and no eggs!
Tartar sauce recipe included - whip this up while the fish is soaking
I like to serve this with a side of homemade collard greens, Creamy Creole Coleslaw or a bowl of Pinto Beans and Rice!
Thawing catfish
If you don't have fresh catfish, use frozen. Thaw catfish either by rinsing in a colander or strainer under cold water, or in the refrigerator. If the fish is wrapped in a sealed plastic package, remove it from the package before thawing in the fridge. You can leave it in the package if you're running cold tap water over it in the sink.
Batter and seasonings
Catfish fillets, buttermilk, cornmeal, frying oil, cayenne pepper, salt and pepper. Note, this catfish batter recipe contains no egg and no flour - just cornmeal and seasonings! How simple is that?
Here's how to make it
Simple, 3-step recipe that's proven time and time again to work! I think you'll find this simple method results in the best catfish breading - light, crispy and flavorful!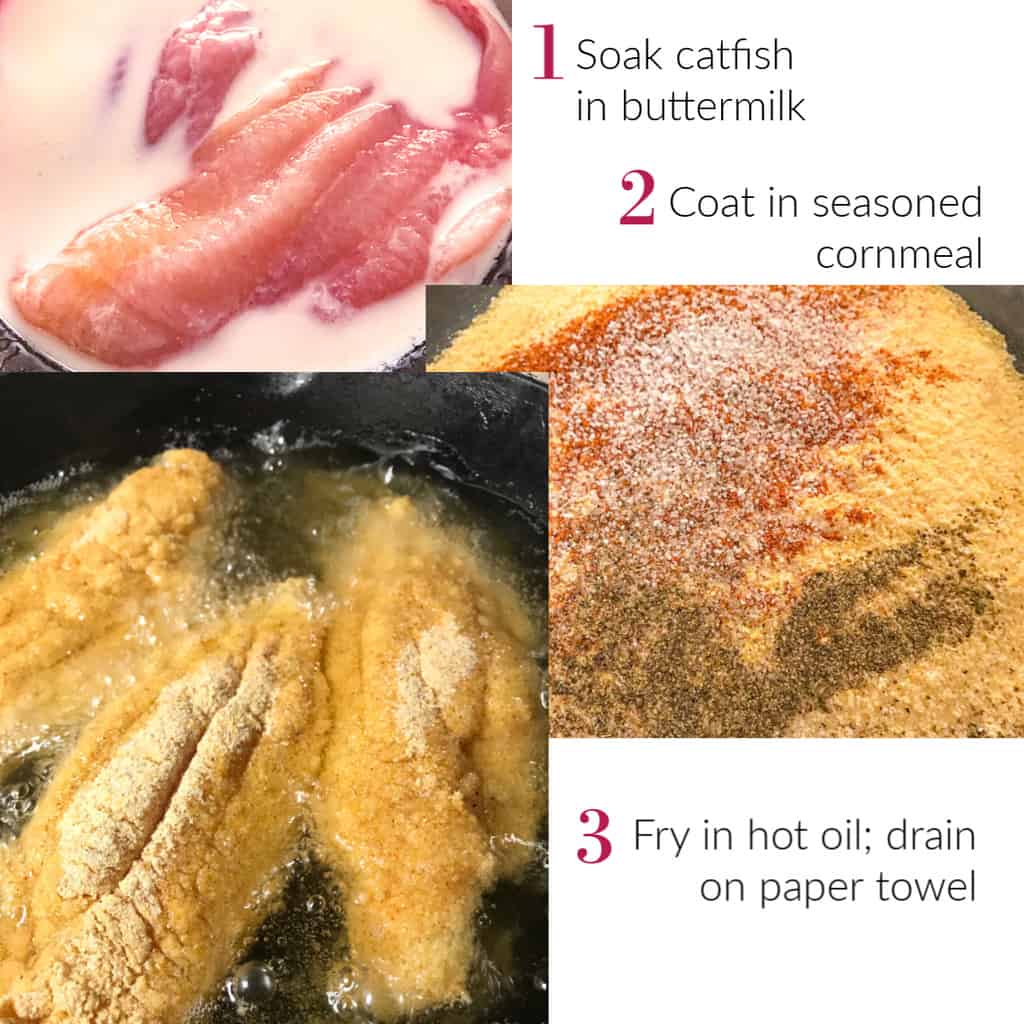 If you thought making Southern Fried Catfish was an all-day event, you are wrong! I use a 10"inch cast-iron skillet and cook two fillets at a time.
The process takes about 15-20 minutes!
Expert Tips
Frying fish isn't hard, but requires a little practice and expertise. Here are tips to help your catfish turn out superb!
Type of frying pan
I recommend using a cast-iron skillet or a tall stock pot or Dutch oven so when you flip the catfish fillet, it doesn't splatter all over.
Type of oil
This is important and key to this recipe. Use a high-heat oil: either canola, vegetable, walnut, grapeseed or peanut.
Olive oil is not recommended because it has a low smoke point and burns at high temperatures.
Temperature
This is the most common challenge for homemade fried fish. For restaurant-quality fried catfish at home, the oil has to be hot enough, but not quite to the smoking point.
Restaurants fry at 350ºF, but that's too hot for me, so at home, I fry fish around 312-325ºF
The best way to determine if it's hot enough for frying is to use a good thermometer
Another good way to determine if it's is hot enough (or too hot) is to sprinkle a little cornmeal in it. If it sizzles, it's hot enough. If it doesn't sizzle, raise the temperature and re-test.
Catfish frying tips and how to keep the batter from falling off
Fry the catfish fillets in batches, usually one or two fillets at a time.
Once the fillet is placed in the pan DON'T TOUCH IT for at least 3 minutes. As tempting as it may be to turn it--don't. Three minutes allows the bottom side of the fillet to cook and become firm. Once the bottom is a light golden brown, flip the fillet.
After flipping the fillet, let it cook for another 3 minutes... again, DON'T TOUCH IT.
Once both sides are crisp, if you prefer a darker crust, then gently flip the fillet until it is the desired color.
Place cooked fillets on a paper towel to drain, then place them in a 200ºF oven uncovered. (When covered with foil, they get mushy and all your patience is in vain.)
The first batch always turns out lighter than the others because the oil is fresh. If the darker color bother you, start over with new oil for each batch
Why do I need to soak the catfish in buttermilk?
Soaking fish in buttermilk is a method for minimizing the "fishy" smell. Catfish are bottom-feeders, meaning they swim on the bottom of the lake or reservoir floor.
It is believed that soaking the fillet in buttermilk reduces the "muddy" flavor...there's a bit of controversy about this, but it is recommended for this recipe.
Make in advance and reheating
Wrap the cooked and cooled catfish fillets in foil and refrigerate. Make sure the fillets are cooled before wrapping them in the foil, otherwise, they'll get soggy in the fridge.
When you're ready to serve, remove the foil and place fillets on baking sheet in a 450ºF oven for about 15-minutes.
Storage
Wrap in foil and store for up to 3 days in the refrigerator. Freezing is not recommended.
Variations
If you're not in the mood for a full blown Southern Fried Catfish dinner, then cut the fish into bite sized pieces and make catfish nuggets! These are great for a quick snack or appetizer!
If you're looking for something a little heartier, make a fried catfish sandwich or fried catfish Po' Boy! Just get a hoagie bun, add a little Louisiana remoulade sauce or tartar sauce, some lettuce and a fried catfish fillet!
What sides to serve with fried catfish dinner
Coleslaw always goes well, as does Smothered Okra and Tomatoes, Maple Baked Beans, Pinto Beans and Rice and a heapin' bowl of Southern collard greens!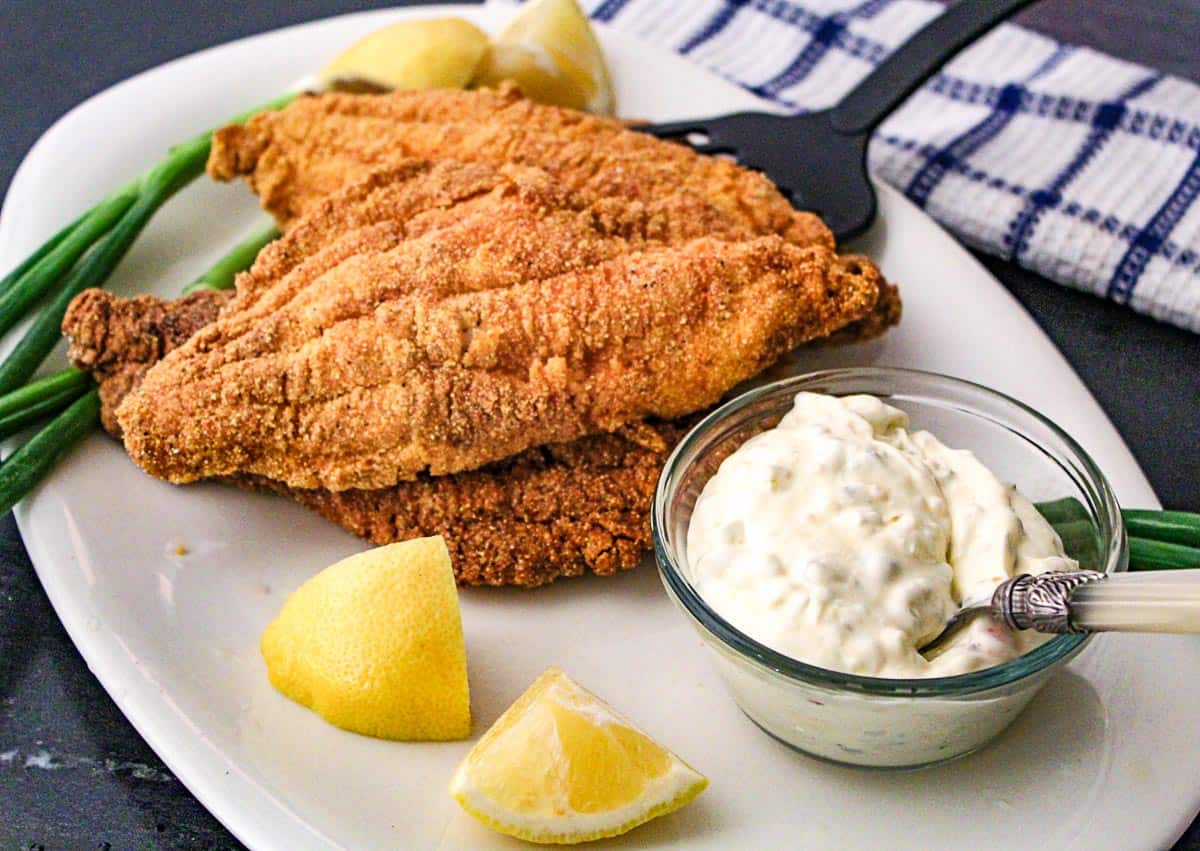 Serve restaurant-quality, thin fried catfish individually or on a platter! Complete your catfish dinner with some of these favorite Southern side dishes!
More Southern recipes:
Serve fried catfish with any of these delicious dishes!
If you make this recipe, please scroll down and leave a rating and comment! I love to hear from you!
📋 Recipe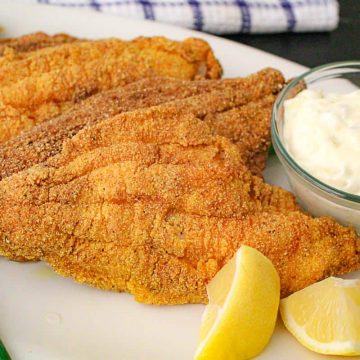 Restaurant-Quality Fried Catfish
Catfish fried in a tasty cornmeal batter, served with homemade tartar sauce.
Print
Rate
Ingredients
Catfish Coating Ingredients
4

fillets

catfish

a little over a pound, total

1½

cups

oil

vegetable, canola or peanut (you may need more or less; depends on how deep your skillet is) See Recipe Notes

2

cups

cornmeal

yellow, not self-rising

1

cup

buttermilk

1

tablespoon

cayenne pepper

(red pepper, ground)

1

teaspoon

salt

1

teaspoon

black pepper
Tartar Sauce Ingredients
1

cup

mayonnaise

2½

tablespoons

relish

, (dill or sweet); squeezed in a paper towel

¼

teaspoon

onion powder

¼

teaspoon

garlic powder

¼

teaspoon

sugar

¼

teaspoon

salt

1

teaspoon

vinegar

or lemon
Instructions
Catfish Fillet Preparation
Pat fillets with paper towel

Place fish in a large baking dish or plastic storage bag, pour in buttermilk; coat well; allow to sit for 10-minutes in refrigerator

Meanwhile, make tartar sauce; After the tartar sauce is made, coat and cook the fish
Coating Preparation
In a large bowl, add cornmeal, salt, pepper and cayenne; stir with fork till blended

2 cups cornmeal,

1 teaspoon salt,

1 teaspoon black pepper,

1 tablespoon cayenne pepper

Using a cast-iron, or heavy bottom skillet, pour oil into skillet and heat to medium;

While oil is heating, take a fillet directly from the buttermilk and place it in the cornmeal; pat the cornmeal on the fillet; coat it all over, twice; repeat with remaining fillets

Check your skillet; the oil needs to be around 312 - 350ºF; you can sprinkle a few pieces of cornmeal in the oil to see if it sizzles; if it does sizzle, the oil is ready

Cooking in batches of two fillets, place them in the hot oil; DO NOT MOVE THE FILLETS until they've cooked for 2 ½ - 3 minutes on one side

After 2 ½ -3 minutes, use tongs and flip the fish over and cook for an additional 3 minutes

Use a thermometer to measure internal temperature; it should be 145ºF

Remove fillets from oil and place on a paper towel

Repeat until all fillets are cooked and drained

Plate fillets and serve with lemon and tartar sauce
Tartar Sauce Preparation
In a small bowl, combine all ingredients; refrigerate until ready to serve

1 cup mayonnaise,

2½ tablespoons relish,

¼ teaspoon onion powder,

¼ teaspoon garlic powder,

¼ teaspoon sugar,

¼ teaspoon salt,

1 teaspoon vinegar
Notes
If using frozen catfish, thaw fish first by rinsing in cold water in a colander or allowing to thaw in the refrigerator

Use a heavy-duty skillet (cast-iron) or Dutch oven

The amount of oil depends upon the size of your skillet; you want about 2" inches of oil

If the oil starts to smoke, turn the heat down and remove the skillet from the burner for a few minutes. After the heat has been reduced, put the skillet back on the burner. Keep an eye on the oil.

Do not move the catfish fillets for the first 3-minutes; if you do, the coating will fall apart. Just stand there and watch...and wait

When flipping the fillets, use tongs or a spider

Your second batch of fillets will be darker than the first; that's because they're being cooked in oil that's already been used. If this really bugs you, throw out the first batch of oil and start over.

Use a thermometer; internal temperature should be 145ºF
Don't have buttermilk?
Make your own! Add 1 tablespoon fresh lemon juice to 1 cup of plain milk. Stir it and let it sit for a few minutes at room temperature. Now you have buttermilk!
Nutrition Estimate
Serving:
1
fillet
Calories:
1469
kcal
Carbohydrates:
65
g
Protein:
11
g
Fat:
131
g
Saturated Fat:
15
g
Polyunsaturated Fat:
51
g
Monounsaturated Fat:
61
g
Trans Fat:
1
g
Cholesterol:
27
mg
Sodium:
1252
mg
Potassium:
403
mg
Fiber:
8
g
Sugar:
6
g
Vitamin A:
604
IU
Vitamin C:
2
mg
Calcium:
84
mg
Iron:
3
mg