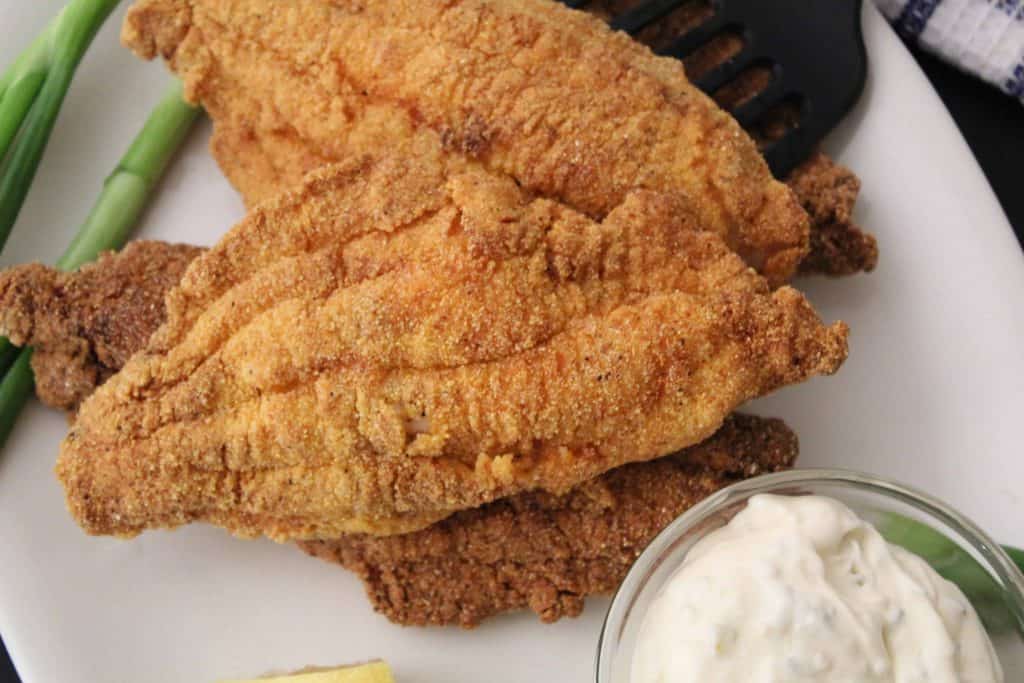 Fried Catfish and Homemade Tartar Sauce
I've been making fried catfish ever since I learned to cook, and I'm not really sure when that was exactly…let's just say I've used this recipe a million times and it always turns out perfect!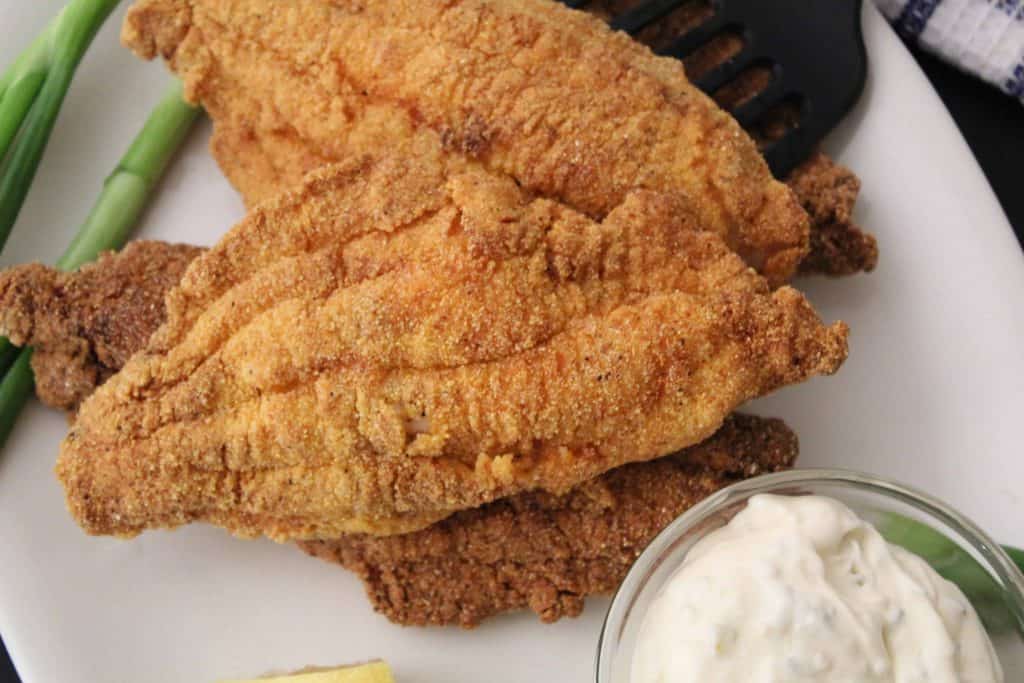 The trickiest thing about frying catfish is the oil. It has to be hot enough, but not to the smoking point. Also, the type of oil used is important. Back when, everyone used Crisco® shortening to fry fish, chicken, and chicken fried steak. Now we know that shortening has those horribly dangerous trans fats, so we opt for a different oil, preferably olive, grapeseed or peanut.
For frying, olive oil is not an option because it has a lower smoke point and will go up in flames quickly. You want to use a vegetable, grapeseed or peanut oil–these have higher smoke points and will allow you to get the oil hot enough, but not too hot.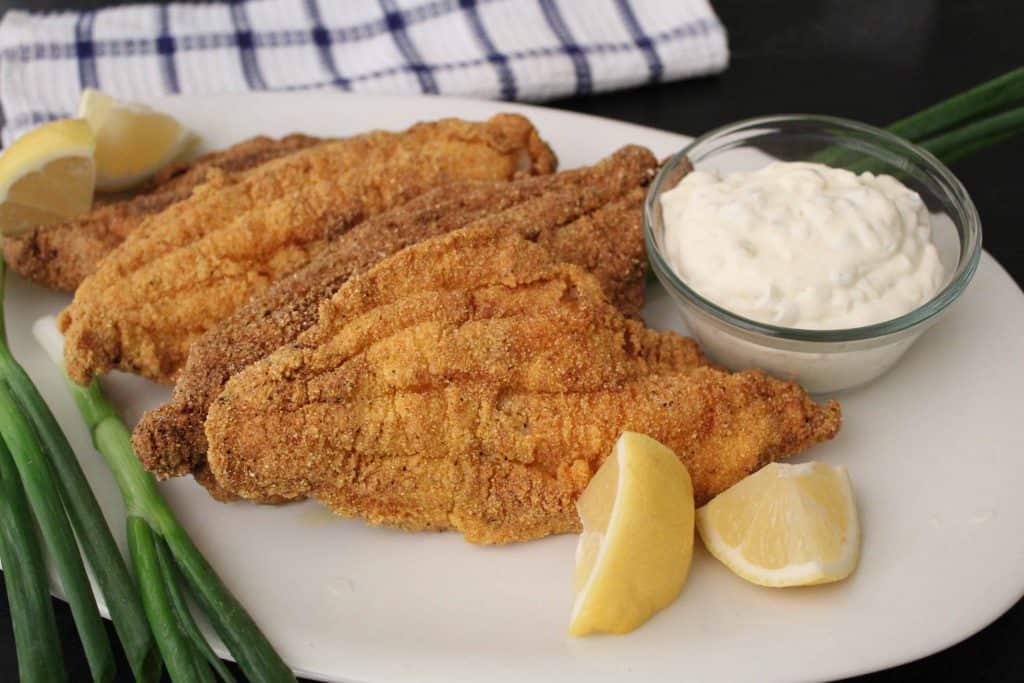 Cook the filets in batches because there's not a home skillet big enough to cook more than two or three at a time. The first batch always turns out lighter than the others because the oil is new. If the darker filets bother you, start over with new oil for each batch.
Isn't Fried Food Bad For You?
Yes. But it's all in moderation. If you consume fried foods on a daily basis, go ahead and write out your will; however, if it's a "once in a while" occasion, go ahead and live life to the fullest!
Does Catfish Contain Mercury?
Almost all seafood contains mercury, however, catfish is relatively low on the mercury scale. Moderation is a key word for this recipe.
Why Do I Need to Soak the Catfish in Buttermilk?
Soaking fish in buttermilk is a method for minimizing the "fishy" smell. Catfish are bottom-feeders, meaning they swim on the bottom of the lake or reservoir floor. It is believed that soaking the filet in buttermilk reduces the "muddy" flavor…there's a bit of controversy about this, but I do it anyway because I always have done it this way.
Can I Make Fried Catfish in Advance?
Yes, but it won't be as good.  Wrap the fried filets in foil and refrigerate them. When you're ready to serve them, place the  filets in the oven about 400ºF. I wouldn't try it if I were you…just sayin'
Can I Substitute Anything for Mayonnaise in the Tartar Sauce?
No. Tartar sauce is a mayonnaise based sauce and that's not a good question. You might try using some clarified butter with lemon in lieu of tartar sauce.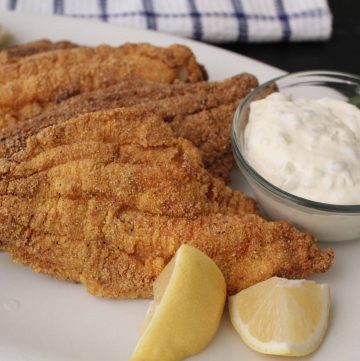 Restaurant Style Fried Catfish
Catfish fried in a tasty cornmeal batter, served with homemade tartar sauce.
Ingredients
Catfish Coating Ingredients
4

filets

catfish

a little over a pound, total

1 - 1/2

cups

oil

vegetable, canola or peanut

2

cups

cornmeal

yellow

1

cup

buttermilk

1

tablespoon

cayenne pepper

(red pepper, ground)

1

teaspoon

salt

1

teaspoon

black pepper
Tartar Sauce Ingredients
1

cup

mayonnaise

1

tablespoon

sweet relish

squeezed in a paper towel

1

tablespoon

dill relish

squeezed in a paper towel

1/2

teaspoon

vinegar

or lemon

pinch of salt
Instructions
Catfish Filet Preparation
Pat filets with paper towel

In a large baking dish, pour 1/2 cup buttermilk

Place filets in buttermilk; coat each side then, lightly season filets with salt and pepper

Refrigerate filets for about 15 minutes

Meanwhile, make tartar sauce

After the tartar sauce is made, coat and cook the fish



Tartar Sauce Preparation
In a small bowl, combine mayonnaise, dill and sweet relish, salt and vinegar; refrigerate until ready to serve
Coating Preparation
In a large bowl, add cornmeal, salt, pepper and cayenne; stir with fork till blended

Using a cast-iron, or heavy bottom skillet, pour oil into skillet and heat to medium;

While oil is heating, take a filet directly from the buttermilk and place it in the cornmeal; pat the cornmeal on the filet; coat it all over, twice; repeat with remaining filets

Check your skillet; the oil needs to be around 250ºF; you can sprinkle a few pieces of cornmeal in the oil to see if it sizzles; if it does sizzle, the oil is ready

Cooking in batches of two filets, place them in the hot oil; DO NOT MOVE THE FILETS until they've cooked for 2 1/2 minutes on one side

After 2 1/2 minutes, using tongs, turn the filets over and cook for an additional 3 minutes

Remove filets from oil and place on a paper towel

Repeat until all filets are cooked and drained

Plate filets and serve with lemon and tartar sauce
Recipe Notes
The trickiest thing about frying catfish is the oil. First, you need a heavy-duty skillet; I recommend a cast-iron.

If your oil starts to smoke, turn the heat down and remove the skillet from the burner for a few minutes. After the heat has been reduced, put the skillet back on the burner. Keep an eye on the oil.

Pour enough oil into the skillet so that it's about an inch full; the actual amount will depend upon the size of your skillet.

Do not move the catfish filets for the first 2 1/2 minutes; if you do, the coating will fall apart. Just stand there and watch...and wait

When flipping the filets, you can use tongs or a fork; I do not recommend using a spatula because it's too hard to get the filet on the spatula and flip it when the other filet is in the skillet--it's too crowded in that pan already!

Your second batch of filets will be darker than the first; that's because they're being cooked in oil that's already been used. If this really bugs you, throw out the first batch of oil and start over.
You might want to serve your Fried Catfish with some homemade Killer Baked Beans!
0