There's nothing better on a chilly night than a big bowl of authentic Texas Chili and if you've never had or made chili, this is The Chili Recipe for you. Make it as spicy or mild as you like!  The secret ingredient is included in the recipe….if you're lucky enough to have leftovers, try Chili Spaghetti Pie!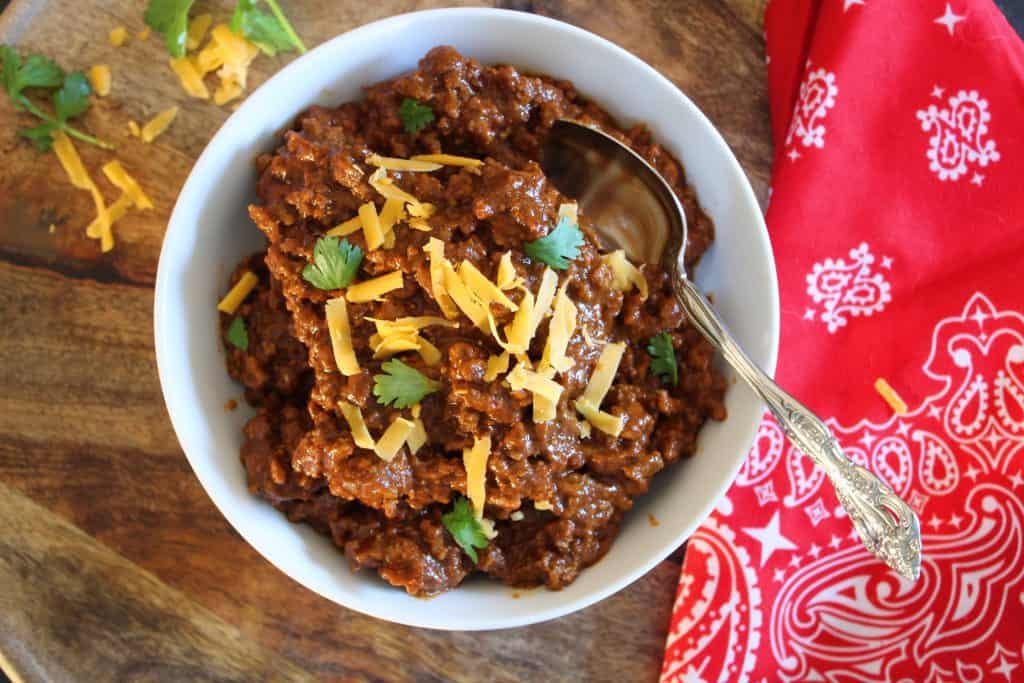 This authentic Texas chili recipe has not been to Terlingua, but it has been around for 25 years and works every time! While Texans may be known for "larger than life" hats, hairdo's, belt-buckles and trucks, its also known for its love of homemade chili. In fact, Texas has its own Chili Society, The Terlingua Chili Cook-Off, which happens every November in the ghost town of Terlingua, Texas just west of Austin and north of Laredo–almost on the border of Texas and Mexico.
The superbowl of Chili cook-offs was formed in 1967 and has steadily grown each year. Now, the three day event includes not only a chili cook-off, but live music, artisan booths and more! And with the 2018 attendance in excess of 10,000 people, if you plan on attending next year's competition you'll want to find nearby lodging in advance.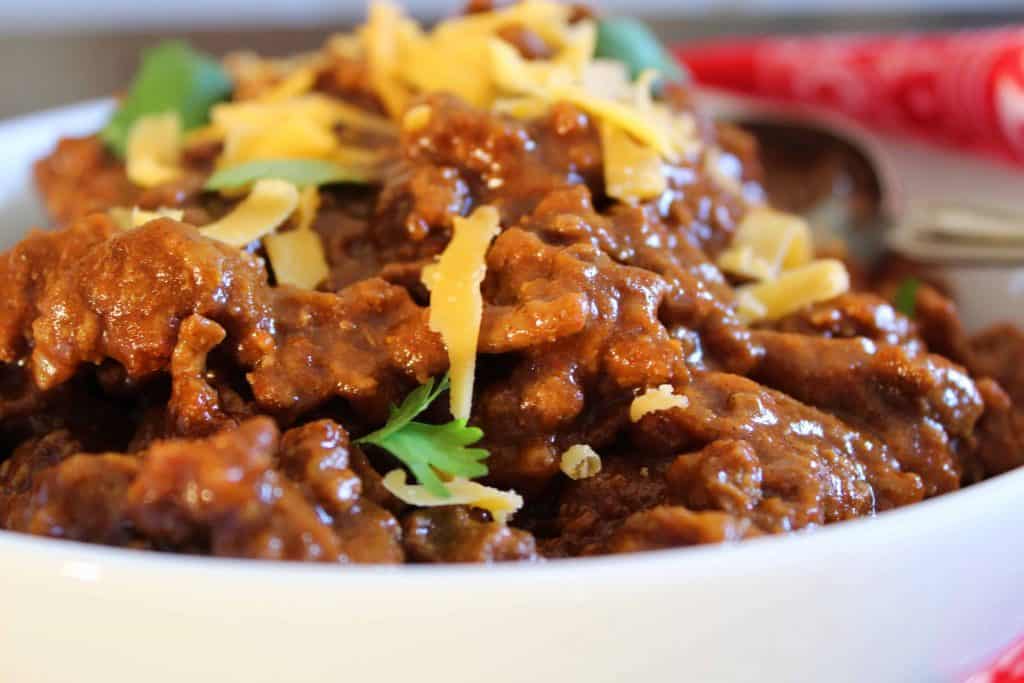 What Type of Beef Should I Use for Chili?
Ground beef, 80/20, 70/30 or 90/10. In case you're wondering, 80/20 means the beef has 20% fat and 80% lean meat. If you use a high fat meat, cook it, then shake it in a colander to drain off the excess oil; DO NOT RINSE IT. A little bit of fat reserve enhances the flavor of the chili. If you prefer a lean chili, use 90/10 ground beef, ground sirloin or ground turkey.
Beans or No Beans?
Ugh. This question beats every Texas cook down. Some are adamant that chili has no beans, others include it. Here's the deal: beans add fiber to the dish and fiber is a good thing. It's really up to you. True Texas Chili does not have beans. If you elect to add canned pinto, kidney or black beans, be sure to rinse them first. The brine in canned beans impacts the texture and flavor of this recipe.
What Other Ingredients Can I Add to my Chili?
Some add Rotel® tomatoes (stewed tomatoes and green chiles), bell peppers, jalapenos or drained canned corn! The important thing is that you get the initial flavor down…then doctor it up.
What Can I Make With Any Leftovers?
With this recipe, chances are you won't have much leftover! Make soft chili-cheese taco with crispy iceberg lettuce and salsa, or make Chili Spaghetti Pie! Another favorite re-do is to make chili-mac: Cook some macaroni noodles; drain and coat with butter; place noodles in a baking dish. Pour chili over noodles, top with cheese, bake till cheese melts, and call it dinner!
How Can I Thicken this Chili Recipe?
There are two ways to make the chili thicker. One uses cornstarch. The other uses Masa flour. First, let's define "slurry." A slurry is a mixture of a powdered ingredient and water in equal measure. For instance, if you want to use cornstarch to thicken the chili, stir 2 tablespoons of cornstarch into 2 tablespoons of water. Mix it well, then add it to the chili. This slurry will not impact the flavor.
Masa flour is a finely ground corn flour. Make a slurry by adding 2 tablespoons of Masa flour to 2 tablespoons of water. Mix it well, then add it to the chili. Masa flour will impact the flavor of the chili, resulting in a slightly corn/grainy flavor, almost like a corn tortilla flavor.
Either method will increase the thickness of the chili. Additionally, you may want to make some cornbread to go with this dish!
If Your True Texas Chili is Too Spicy…
Some folks cannot tolerate the spicy heat of homemade Texas Chili…in that case, offer them a dollop of sour cream to put in their bowl of homemade chili.
Wanna Make Frito Pie? 
Frito Pie is a Southern Dish that consists of chili and Fritos brand corn chips! Just serve up a handful of corn chips alongside your big bowl of Texas Chili–mix it all up and dig in!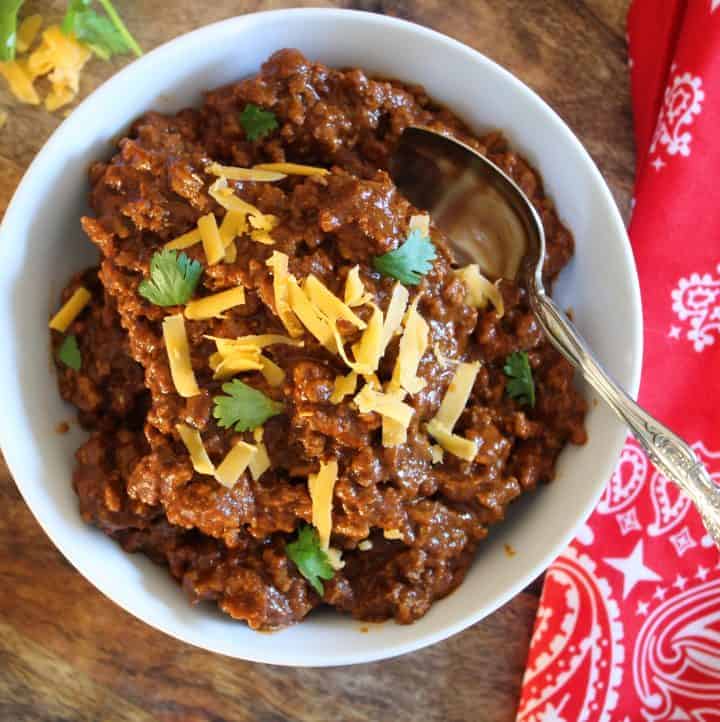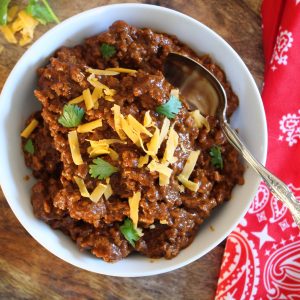 True Texas Chili
Chili the right way! Flavorful, easy to make and never enough! Make a big batch of True Texas Chili for your family and friends!
Print
Pin
Rate
Ingredients
2-3

lbs.

ground beef

1

medium

yellow onion

chopped

1

10 oz.

can of tomato sauce

1

small can

diced green chiles

1

28 oz.

can of red enchilada sauce

1

tablespoon

ground paprika

smokey

3

tablespoons

ground cumin

3-6

tablespoons

ground chili powder

start with 3; add more after chili has rested

1/2

teaspoon

cayenne pepper

1

package

Sazon Goya (Coriander and Annatto seasoning)

1

tablespoon

oil

salt and pepper to taste
Instructions
In a large Dutch oven, add oil and onions and cook on medium high heat, until onions are tender

Add beef to onions and cook until beef is browned all the way through

Drain mixture and put back into Dutch oven

Add tomato sauce, green chiles, enchilada sauce and dry seasonings

*Add water if you  prefer a thinner consistency

Allow to cook on medium heat for at least 20 minutes

Add salt and pepper to taste

Turn off burner and cover chili; let stand for 30 minutes or so for the flavor to marry

After chili rests for awhile, heat it back up and re-taste it; this is when you can add more cumin or chile powder.
Notes
If you prefer a hotter version of Texas Chili, add more chili powder
If the chili is too spicy for you, add a dollop of sour cream on top, or a lot of cheese