There's nothing better than a big bowl of homemade authentic Texas Chili! In fact, chili is The Official State Dish of Texas and the secret ingredient in this recipe is what makes this Texas chili one of The Best Chili recipes! Make it as spicy or mild as you like!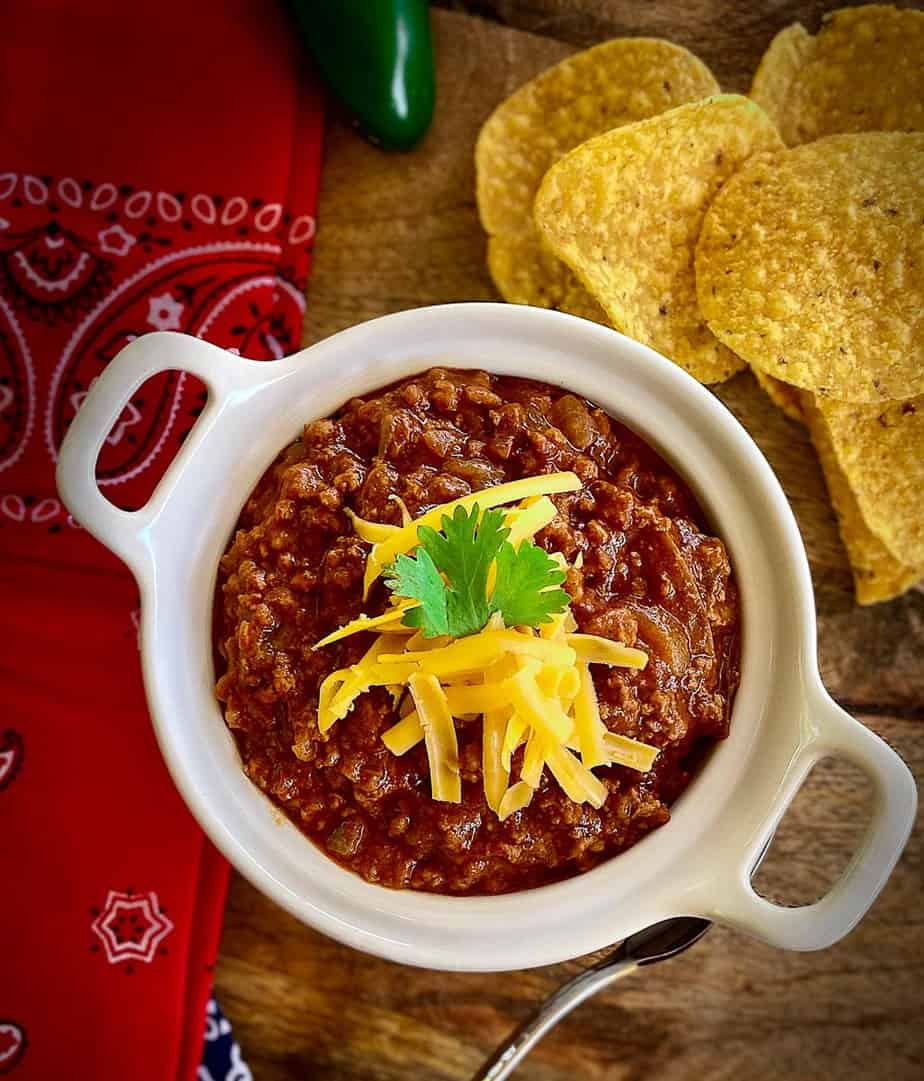 This native Texan has been making chili for 25 years, and even though it has never been a winner of the infamous Terlingua chili cook-off, it's still a really good chili recipe that you can enjoy immediately or the next day! We eat this year-round, so you don't necessarily have to wait for chilly weather to enjoy a great bowl of chili!
The made from scratch recipe is much better than store brands like Hormel™, Wolf Brand Chili, Wick Fowler's™, Frank Tolbert's™ or Carroll Shelby's™ Chili Mix.
This Texas chili recipe is one of my top 10 recipes. I had a woman from California tell me it was her "go-to-chili-recipe" for which I am grateful.
Did you know that Chili has been the Official State Dish of Texas since 1977? Yep! Then Governor Dolph Briscoe proclaimed that "a bowl of red" was worthy of this title.
Jump to:
Why this recipe works
The beauty of this hearty Texas chili is that you don't have to roast, peel or grind any chile pepper, add any masa harina or cook it in a slow cooker!
Quick and Easy - this big pot of chili it can be ready in 30-40-minutes!
Full of flavor - the secret ingredient is what makes this authentic Texas chili. The mexican seasoning Sazon Goya adds a bit of depth to the flavor of the dish.
Make it as mild or spicy as you like and if you have any leftovers, make Tamale Pie!
Perfect for leftovers - make burritos, tacos, tostadas, frito pie or a taco salad...it's especially good with tamales!
The difference between "Texas chili" and chile con carne is that chili can be made with other proteins like chicken, pork or turkey. Chile con carne is made with beef.
Here's what you'll need
The primary ingredients in a good Texas beef chili are simple. See the recipe card below and recipe notes for more information.
Ground beef (I use ground chuck): I can't make a small batch of chili, so I usually use 2-3 pounds of ground beef
One large onion (I prefer sweet yellow onions)- you'll need about one cup of chopped onions
Vegetable oil (maybe) - if you have a little oil leftover from the browned beef, then you won't need any additional oil
Chopped green chile peppers- I use one small 7 ounce can; you can add more or omit if you like
Tomato sauce (optional), a small can (10 ounces)
Red enchilada sauce, mild or spicy- I use a large 28 ounce can per 3 pounds of beef
Ground cumin
Ground chili powder-light or dark
Smoked paprika
Sazon Goya Coriander & Annatto seasoning- this is what makes really good Texas chili
Cayenne pepper (optional),
Salt and ground black pepper- to taste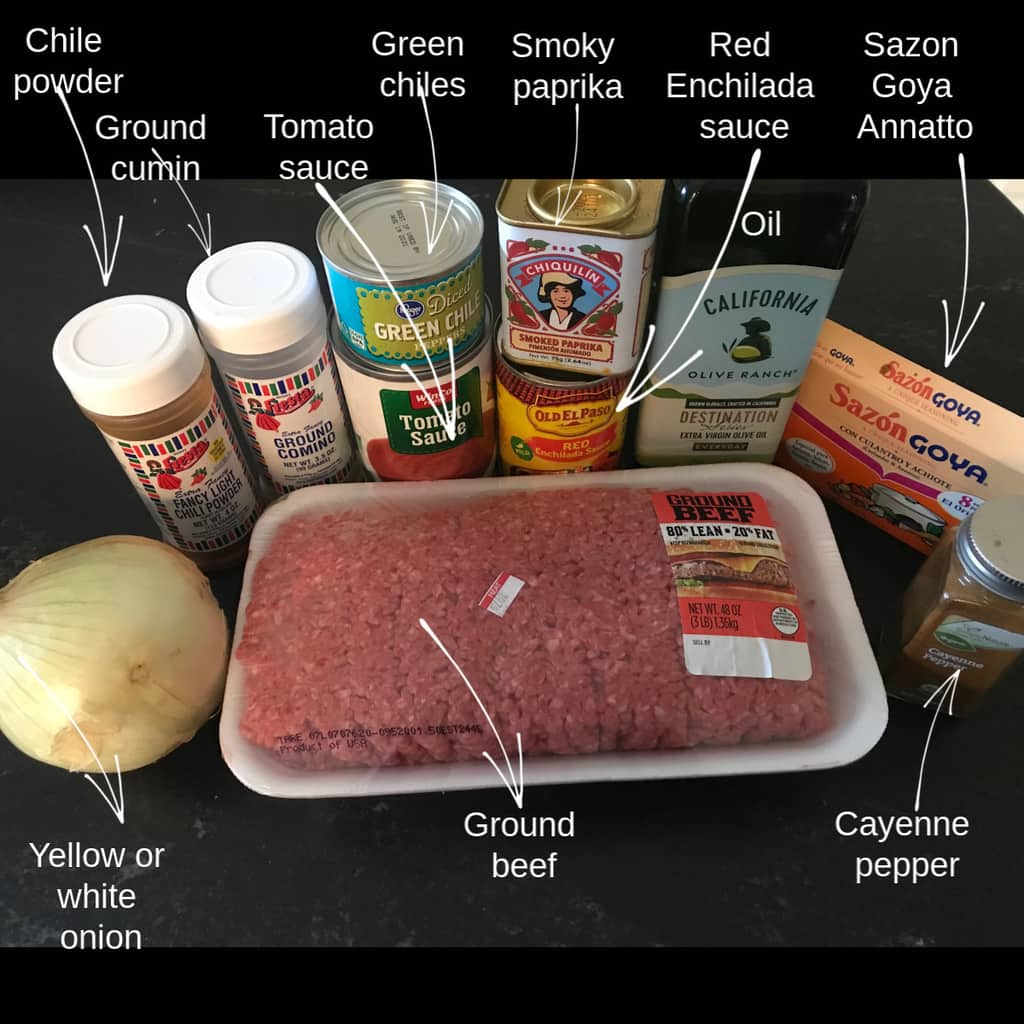 How to make Texas chili
In a large stockpot or large Dutch oven, on medium high heat, add a tablespoon of oil, chopped onions and beef. Cook until the beef is brown and the onions are tender.
For best results, use a wooden spoon to break the meat up into little pieces; drain and return to stockpot. Do not rinse the beef and onion mixture. If there's any browned bits of beef in the bottom of the pot, leave 'em in there! This adds flavor to this Texas style chili.
Lower the heat to medium and add tomato sauce (optional), diced green chiles, red enchilada sauce and dry seasonings: cumin, chile powder, smoked paprika, cumin and the secret ingredient--Sazon Goya seasoning.
For best results, you want to keep it at a low heat and simmer for at least 30 minutes; however, if you're short on time, this is ready in about 30-40 minutes.
Season to taste with a little salt and black pepper.
Since this doesn't take long to make, there's really no need for a slow cooker or Instant Pot - the stovetop method works best!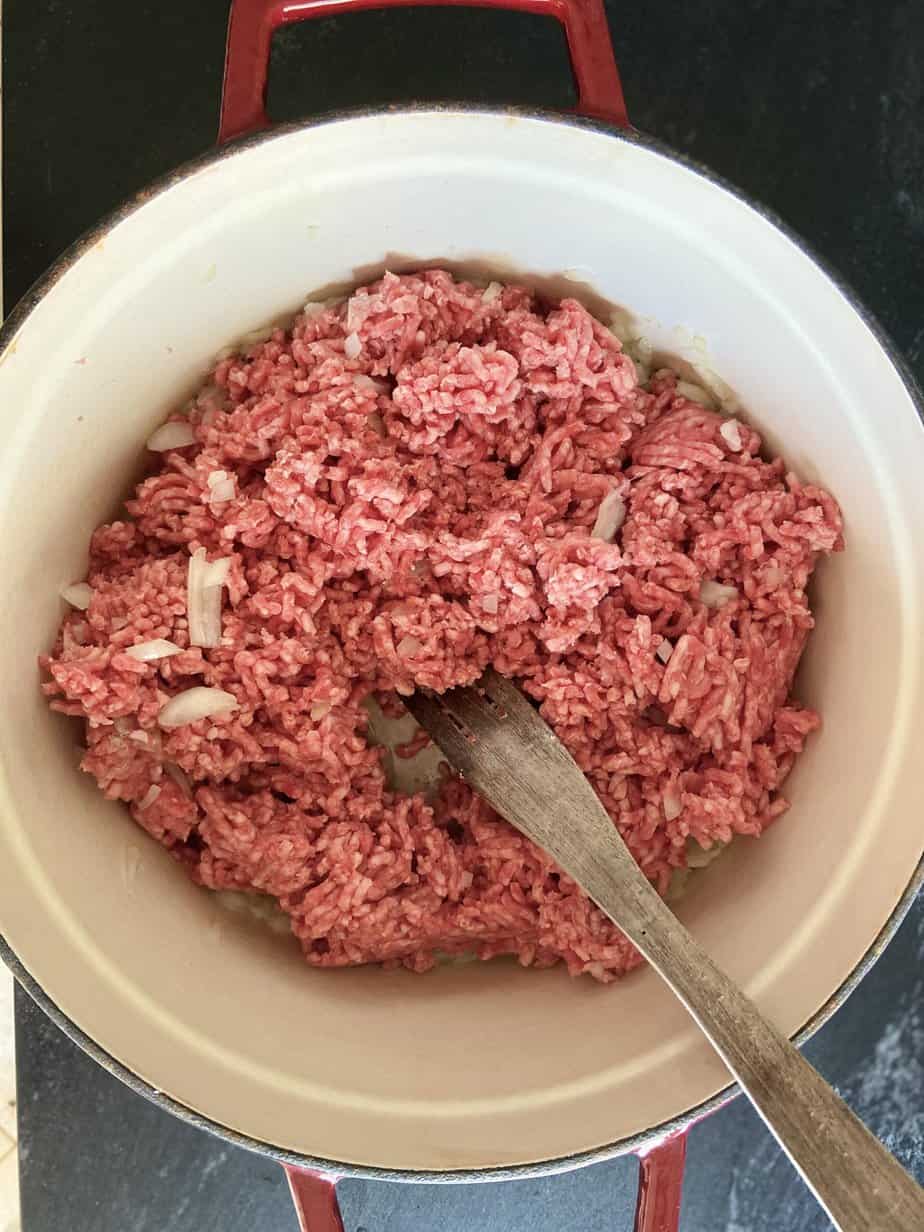 Break the ground beef up into small pieces with a wooden spoon. Lower heat and add tomato sauce, diced green chiles, red enchilada sauce and dry seasonings: cumin, chile powder, paprika, cumin and the secret ingredient--Sazon Goya seasoning.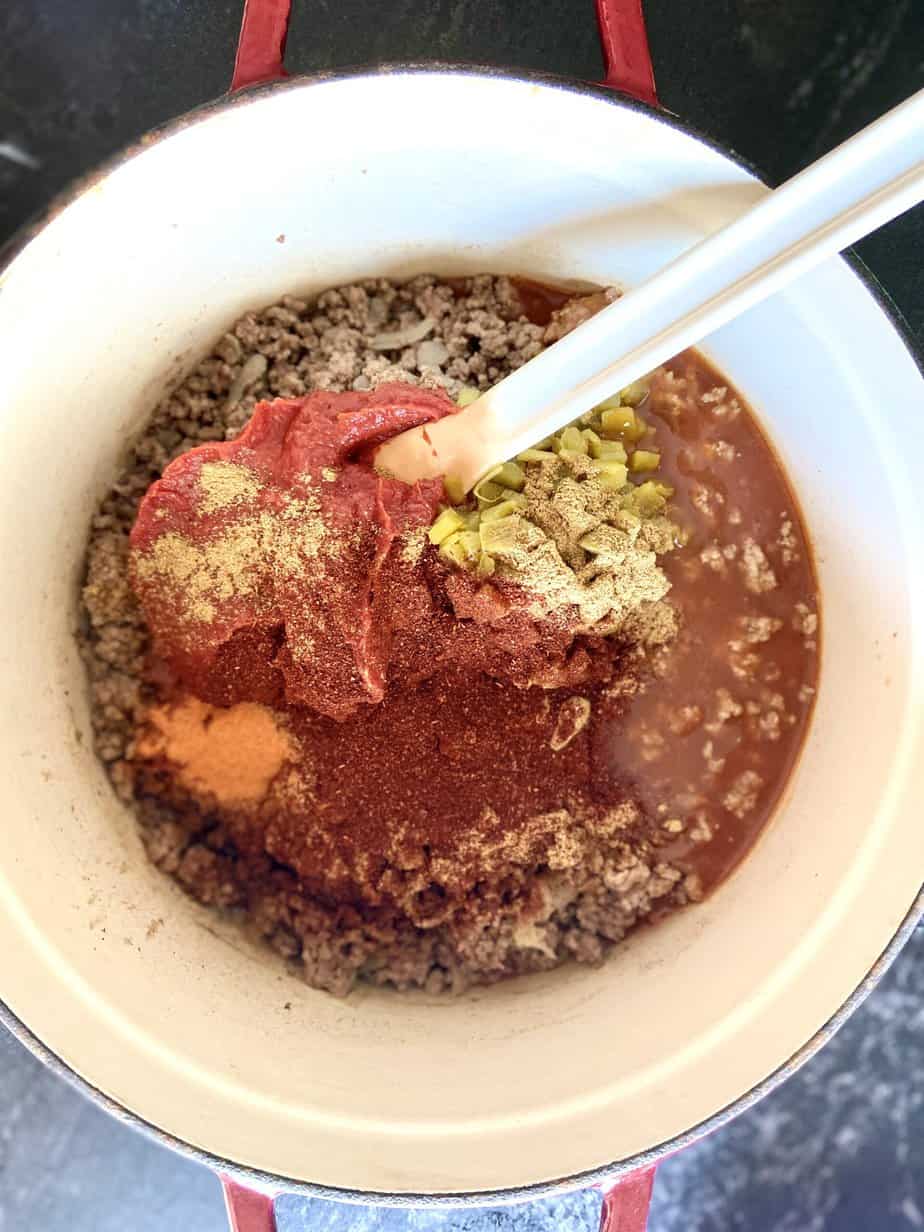 FAQ
Does Texas chili have beans in it?
Beans add fiber to the dish and fiber is a good thing. It's really up to you. True Texas Chili does not have beans.
If you're a fan of beans, you can used canned pinto, kidney or black beans, be sure to rinse them first. The brine in canned beans impacts the texture and flavor.
What grade of beef do I use?
Ground beef is the preferred meat for chili in the Lone Star State. It's labeled: 80/20, 70/30 or 90/10. I do not recommend using beef stew meat.
If you prefer a leaner version, use 90/10 ground beef. No matter what grade beef you use, you'll still need to drain off the excess oil; DO NOT RINSE IT.
What makes Texas Chili different ?
It is believed that William Gebhardt of San Antonio, Texas first developed the Lone Star recipe back in 1894. There are many variations and different recipes for Texas chili, but the original recipe had no beans or tomato products, and relied on dark chile powder.
The flavor is deep and rich, almost a deep red in color with a hint of heat from the powder. That's why it's often called "a bowl of red"!
If you've been in and around Texas long enough, you'll recall the original Chili's restaurant used to offer "a bowl of red" on their original menu
What's the difference between chili and chili con carne?
In Texas, these terms are often used interchangeably. Chili con carne means "chili with beef." "Chili" can refer to turkey chili, chicken chili, or chili without meat.
In Tex-Mex lingo, if you go to a Mexican or Tex-Mex restaurant you can order enchiladas topped with "chile con carne" but if you order a cup of "chili"-they won't know what you're talking about.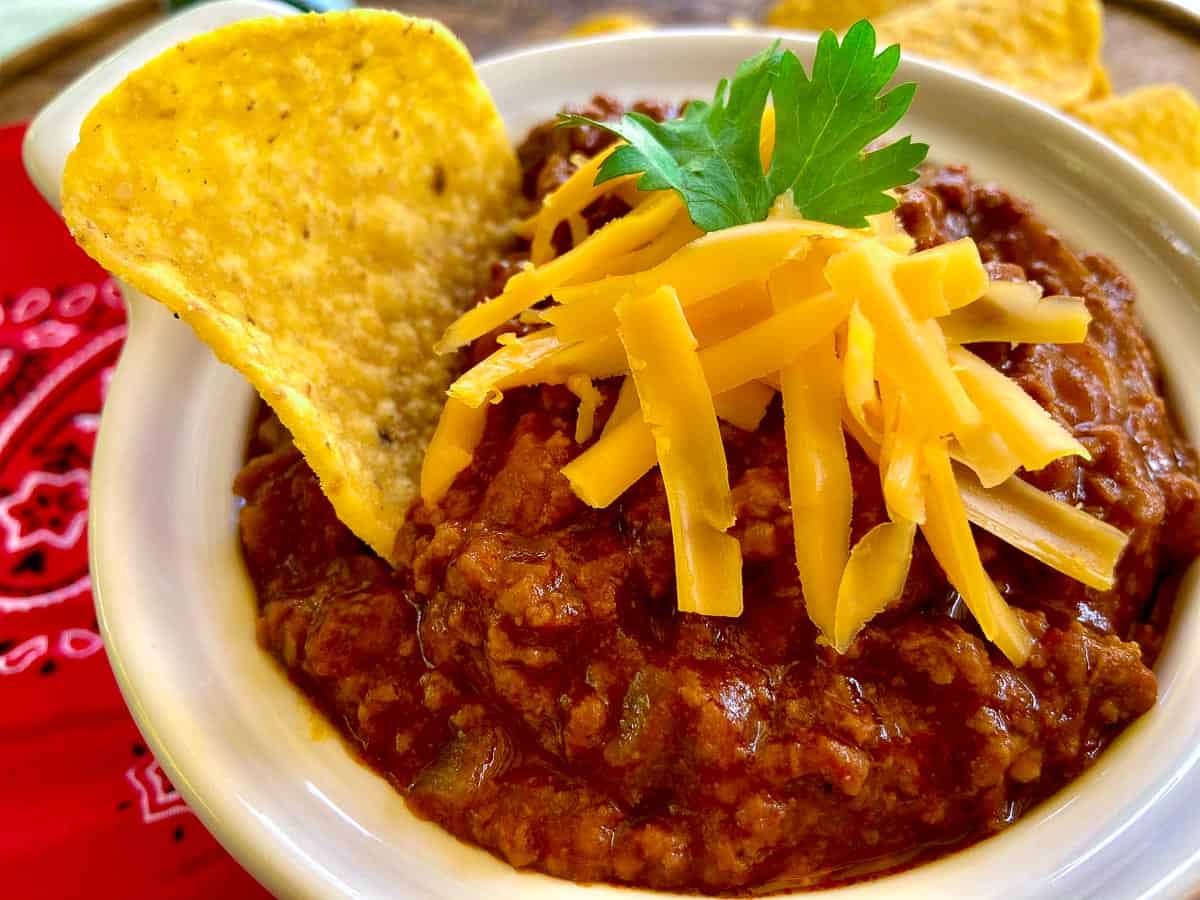 This is a regional dish and you'll find all different types of recipes out there! There's Cincinnati-style, (think Skyline chili) that is a tad sweeter and thinner than Texas-style chili and is typically served over spaghetti pasta; then there's New Mexico's Carne Adovada, which is red like the Texas version, but is made with pork.
Recipe tips
Want it thicker?
Thicken with a slurry of cornstarch or flour. Note that after you add a thickening slurry, you may need to adjust the seasonings.
How to make a slurry:
In a measuring cup, combine 2 tablespoons of cornstarch, all-purpose flour or Masa flour with one cup of water. Mix well, then add it to the cooked chili. This slurry will thicken the meat mixture and may slightly impact the flavor, so you may have to adjust the seasonings after you thicken it.
Want it thinner?
If you prefer a thinner version of Texas Chili, just add a little hot water, beef broth or beef stock. Again, you may have to adjust the seasonings after you thin it.
Want more spice?
If you like spice, add more smoked paprika, chile powder and/or cayenne pepper.
Too spicy?
Chile powder and cayenne add some heat to this dish and smoked paprika give it that delicious smoky flavor. If your guest cannot tolerate the spicy heat of homemade Texas Chili, offer them a dollop of sour cream to put in their bowl-the dairy offsets the heat.
Serving suggestions
Serve your Texas chili topped with your favorite toppings! Chopped onions, shredded cheddar cheese, chopped jalapeño pepper, crushed corn chips, hot sauce or sour cream!
You can also serve this as a side dish to enchiladas, tamales, chile rellenos or carne asada! Don't forget the crisp corn tortilla chips and salsa!
Serve at tailgate parties- you can serve it in small bowls and set up a toppings bar with all the fixins: shredded cheddar cheese, chopped jalapenos, fresh cilantro, Fritos corn chip, tortilla chips, homemade cornbread, sliced avocado, chopped green onions (or red onions), queso cheese sauce and more!
Make Frito™ pie by adding in some corn chips and shredded cheddar cheese - this is a Texas favorite you'll find at the Texas State Fair or any Texas high school Friday night football game!
Serve this with your favorite hot dog - nothing like a good ole' Texas chili dog!
Feel free to drizzle a cup over your tamales
Variations and substitutions
One of the best things about this Texas chili recipe is that it's versatile and there are many different ways to personalize your homemade version:
Add Rotel® tomatoes (stewed tomatoes and green chiles); original, hot or fire roasted
Chop and saute a green bell pepper with the onion
Want it more spicy? Throw in a few slices of jalapeno chile peppers or ancho chiles
Add a can of drained corn
I also like to make chili tacos - soft flour tortilla with chili, lettuce and cheese, or top a hot dog with a big dollop!
If you're missing an ingredient look here
No tomato sauce? Use a can of tomato paste and water or beef broth or
Add a can of diced tomatoes, or
Don't add any tomatoes! Chili without tomatoes is just fine
No onion? Use onion powder or minced onion
No Sazon Goya? Crumble up some corn tortillas and cook them with the onions and beef
Storage and reheating
Homemade Texas chili can be stored in an airtight container in the refrigerator for 3-5 days. When ready to reheat, allow it to come to room temperature and either heat it on the stovetop or in the microwave.
(Chili may thicken upon refrigeration, so you may have to add a little water or beef broth to it)
You can freeze it in a freezer container for up to 6 months. When ready to serve, allow it to come to thaw in the refrigerator, then reheat it on the stove or microwave.
Related recipes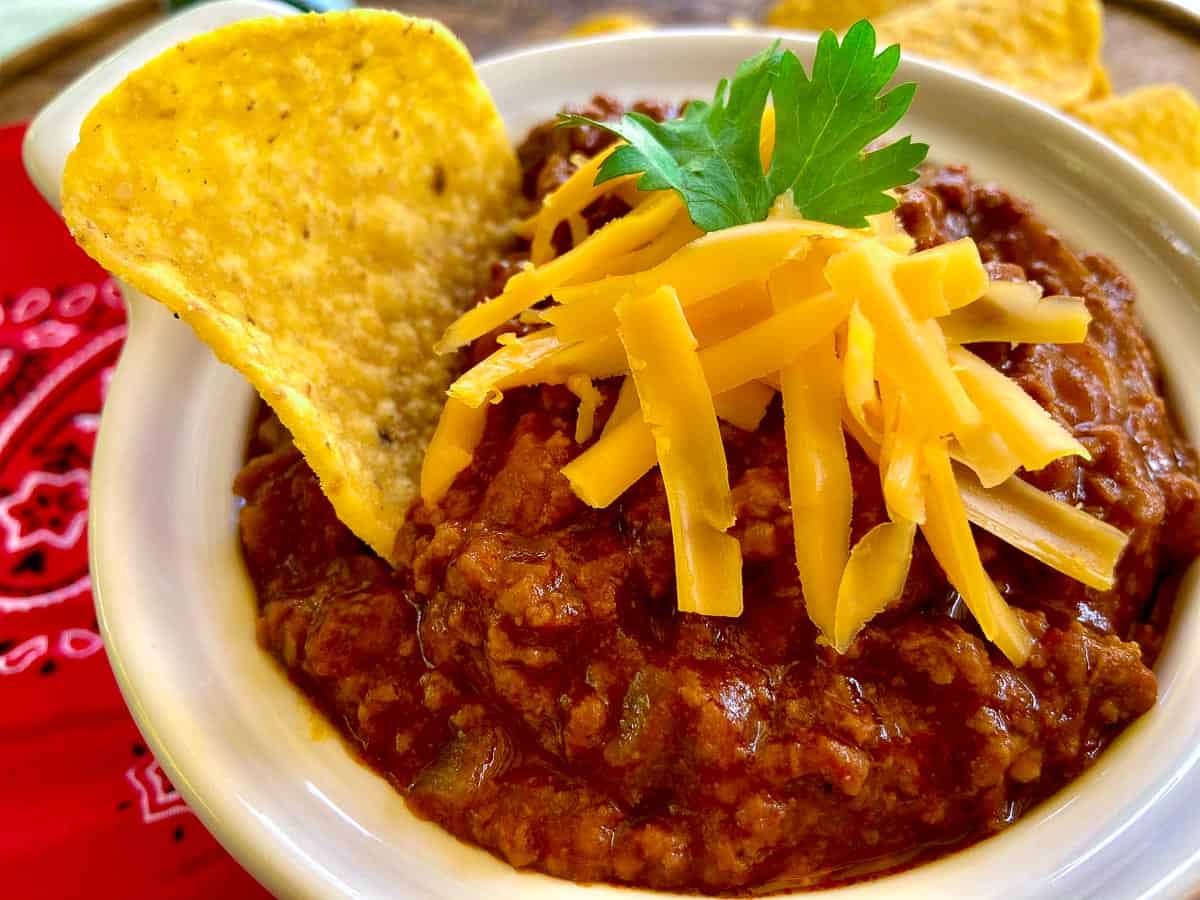 This Texas chili recipe doesn't take forever to make and will be a favorite in your kitchen for a long time!
And if you come to Texas, don't be surprised to find this or Frito Pie being served at the football concession stand of your local high school! That's how crazy Texans are about our chili!
♥ If you make this recipe, please leave a comment and rating! I love to hear from you!
📋 Recipe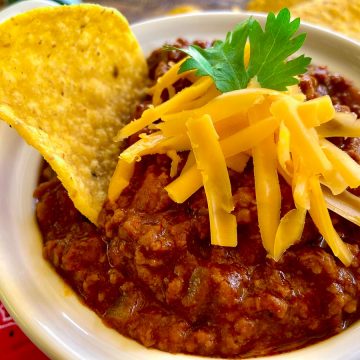 Texas Chili Recipe
Texas chili recipe featuring seasoned ground beef nestled in a savory broth of Mexican seasonings: chili powder, cumin, smoked paprika, onions and cayenne pepper!
Print
Rate
Ingredients
3

lbs.

ground beef

1

tablespoon

oil (See Recipe Notes)

, vegetable or canola

1

cup

chopped yellow onion

10

ounces

tomato sauce (optional)

7

ounces

diced green chiles

28

ounces

red enchilada sauce (See Recipe Notes)

mild or spicy

1

tablespoon

ground paprika

smoky

3

tablespoons

ground cumin

3-6

tablespoons

ground chili powder

start with 3; add more after chili has rested

1

package

Sazon Goya (Coriander and Annatto seasoning)

See recipe notes (about 1½ teaspoons)

½

teaspoon

cayenne pepper

(optional)

salt and pepper to taste
Instructions
In a large Dutch oven, add oil and onions and cook on medium high heat, until onions are tender (See recipe notes about oil)

1 tablespoon oil (See Recipe Notes),

1 cup chopped yellow onion

Add beef to onions and cook until beef is browned all the way through

Drain mixture and put back into Dutch oven

Add dry seasonings, tomato sauce(optional), green chiles, enchilada sauce and combine well

10 ounces tomato sauce (optional),

7 ounces diced green chiles,

28 ounces red enchilada sauce (See Recipe Notes),

3 tablespoons ground cumin,

3-6 tablespoons ground chili powder,

1 package Sazon Goya (Coriander and Annatto seasoning),

½ teaspoon cayenne pepper,

1 tablespoon ground paprika

Allow to cook on medium heat for at least 10 minutes (for best results, cover and allow to simmer for at least 30-minutes)

*Add water or beef broth if you prefer a thinner consistency

Add salt and pepper to taste

Serve and garnish with cheese, sour cream, avocado
Notes
Oil:
If you use a high-fat content ground beef (80/20 or 70/30), you may not need to add any oil to the stockpot after browning the beef; you'll need a little bit of oil to saute the onions in (maybe 1 tablespoon of oil), so if your browned beef produces more than a tablespoon, pour the excess oil into a jar or can.
Tomato sauce/tomato paste:
Authentic Tex-Mex chili does not have any tomato products in the recipe; however, if you want to add a little, then by all means, do so!
Red Enchilada Sauce:
This is on the Mexican food aisle in the grocery store. There's a few different brands and sometimes they have "mild", "medium" and "spicy". I usually use Old El Paso mild red enchilada sauce.
If you prefer a hotter version of Texas Chili, add more chili powder and/or cayenne pepper
If the chili is too spicy for you, add a dollop of sour cream on top, or cheese
If you prefer a thinner consistency, add water or beef broth
Use leftover chili to make Chili Spaghetti Pie
Sazon Goya Seasoning
You'll find this on the Mexican food aisle at your grocery store, usually near the Goya brand products (beans, salsas, etc.)
I buy a box that has 8 small packets in it; I use one package, which equates to one and a half teaspoons.
Nutrition Estimate
Serving:
1
cup
Calories:
529
kcal
Carbohydrates:
16
g
Protein:
33
g
Fat:
37
g
Saturated Fat:
13
g
Polyunsaturated Fat:
2
g
Monounsaturated Fat:
16
g
Trans Fat:
2
g
Cholesterol:
121
mg
Sodium:
1313
mg
Potassium:
755
mg
Fiber:
5
g
Sugar:
9
g
Vitamin A:
2248
IU
Vitamin C:
15
mg
Calcium:
82
mg
Iron:
7
mg