Mexican shrimp cocktail, or "coctel de camarones", is a popular and refreshing Mexican appetizer that consists of shrimp, avocado and cilantro swimming in a spicy (or mild) tomato broth.
Quick, easy, healthy and delicious!
South island breeze, the sound of the ocean, and a light lunch of Mexican Shrimp Cocktail...ahhh.
This zesty Mexican appetizer is a staple menu item in Southern parts of the US because it's so light and refreshing in the heat of the summer!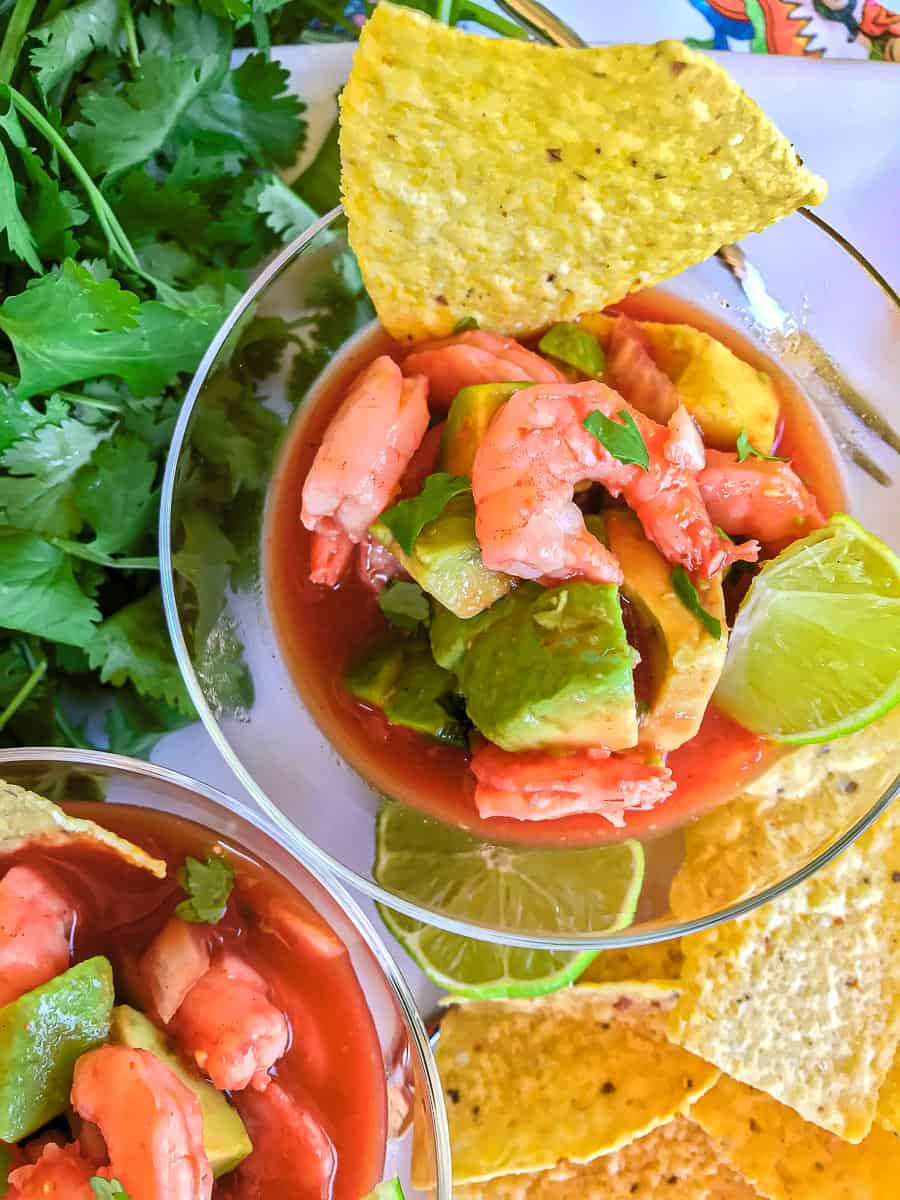 Why you'll love this recipe!
Quick and Easy - takes 5 minutes to cook or use frozen cooked shrimp
Light and flavorful - make the tomato base as mild or spicy as you like
Versatile - serve this as an appetizer or side dish to your favorite Mexican food!
Here's what you'll need:
The ingredients are simple! For best results, use fresh boiled shrimp in this Mexican appetizer.
The tomato base is usually seasoned with salt, pepper and perhaps a dash of pepper sauce or Tabasco.
Other ingredients are: chopped white onion, avocado, jalapeno and cilantro with a dash of lime and Cajun or Creole seasoning.
How to make Coctel de Camarones (Mexican Shrimp Cocktail)
Chill serving bowls in fridge for best results
Boil shrimp in seasoned water; remove and chill for 15 minutes (you can skip this step and use frozen cooked shrimp)
Pour tomato juice into large bowl; add shrimp, onion, avocado, lime juice, sugar, water, cilantro and a chopped fresh jalapeno (optional)
Divide shrimp and avocado evenly among serving glasses
Pour tomato juice into glasses
Season with salt, pepper or pepper sauce and serve chilled
FAQ's:
How much shrimp per serving?
The amount is a personal preference and it also depends on the size of the serving bowl or glass.
I usually allow about ½ cup of juice, 4-6 big shrimp (or 8 smaller ones) and about two tablespoons of chopped avocado per glass.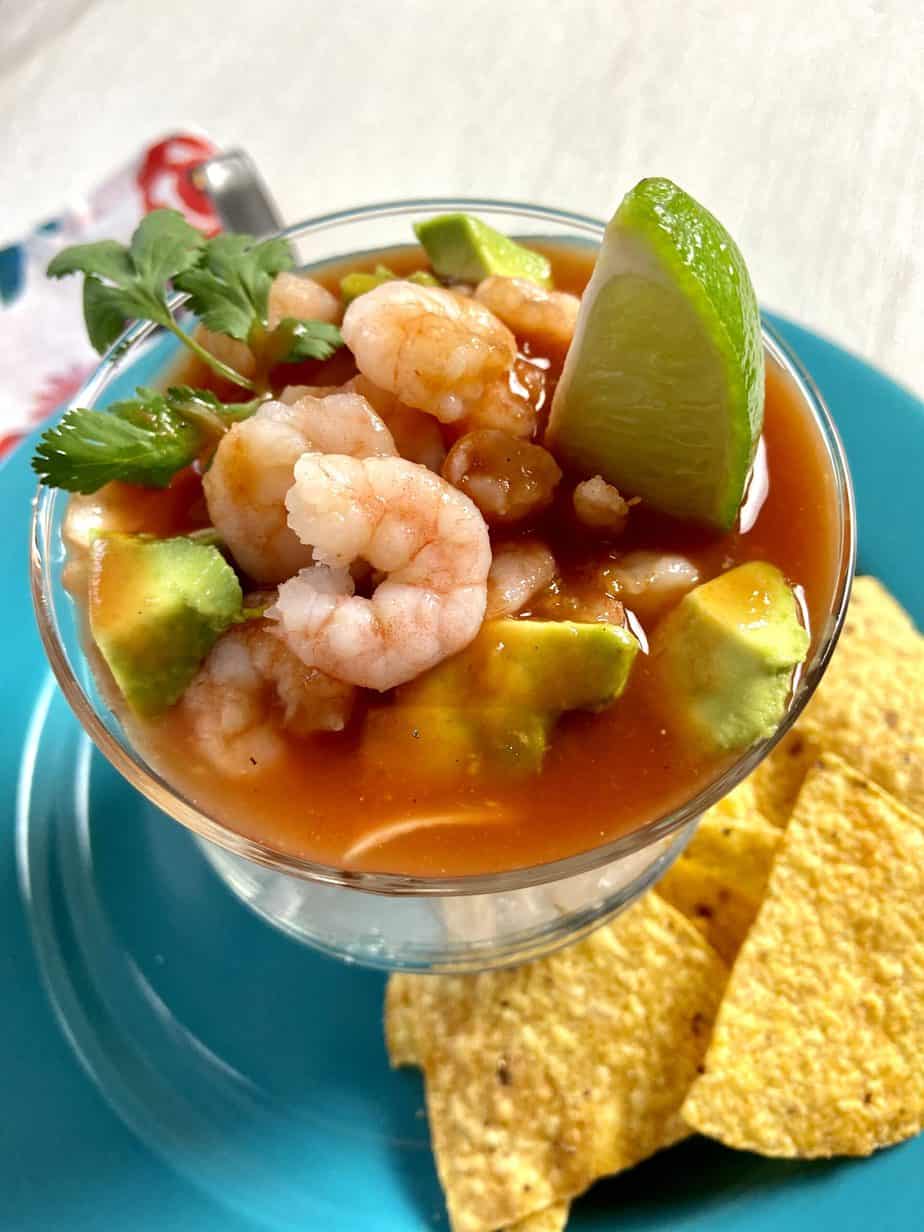 Does Mexican Shrimp Cocktail contain alcohol?
Even though this recipe is referred to as a "cocktail," it typically does not contain alcohol.
I suppose you could add a splash of vodka to the recipe, making a Bloody Mary type cocktail, but traditionally this South of the Border Mexican appetizer has no booze in it.
What is the tomato base?
You can use whatever tomato mixture you prefer. Some like 100% juice, while others prefer a vegetable juice-blend.
Other ideas include using a Bloody Mary mixer of your preference, or even combining a little Clamato™ juice.
What is Clamato™ juice?
Clamato juice is a tomato cocktail drink that is a combination of tomato and clam juice. It has a slightly salty, clam flavor to it; it's not strong, but if you don't like clams, you can omit it from the recipe.
Can I use frozen shrimp?
Use frozen raw or cooked shrimp. If you use frozen raw, boil them and season with a semi-spicy seasoning mix, such as a Creole or Cajun.
If you use frozen cooked shrimp, rinse and season with a little Creole or Cajun seasoning - (this is optional)
Do the avocados need to be ripe?
Select an avocado that is not quite ripe. Since you'll dice the avocado, a "less than ripe" avocado works great because it holds up well in the acidic juice.
Here's how to dice an avocado
Cut the avocado in half; use a sharp knife and score it; scoop diced pieces out with a big spoon!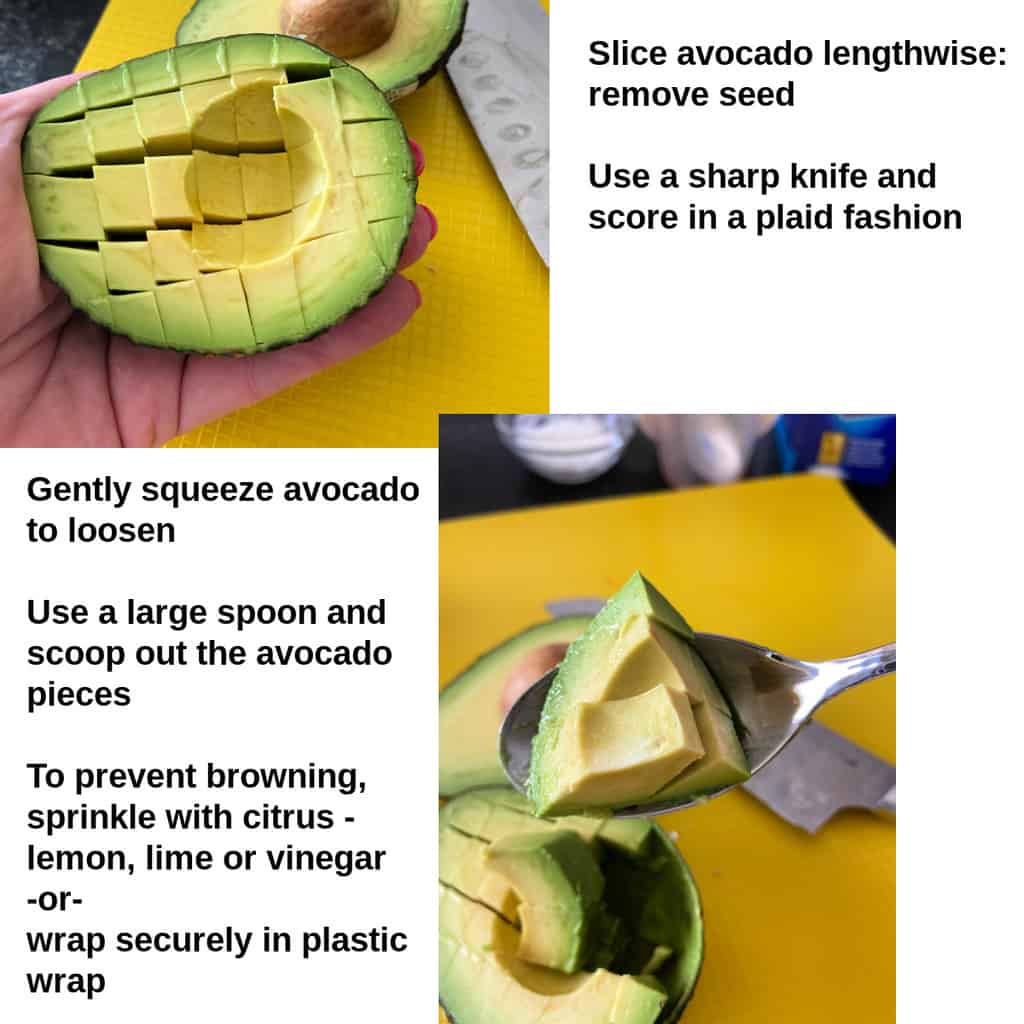 What kind of serving bowl or glass should I use?
Often, in Mexican restaurants, you'll find this filling Mexican cocktail served in a big beer goblets or beer mug.
If you don't have either of these, you can use a parfait dish or a large drinking glass. The serving vessel can be anything really, just make sure it's chilled!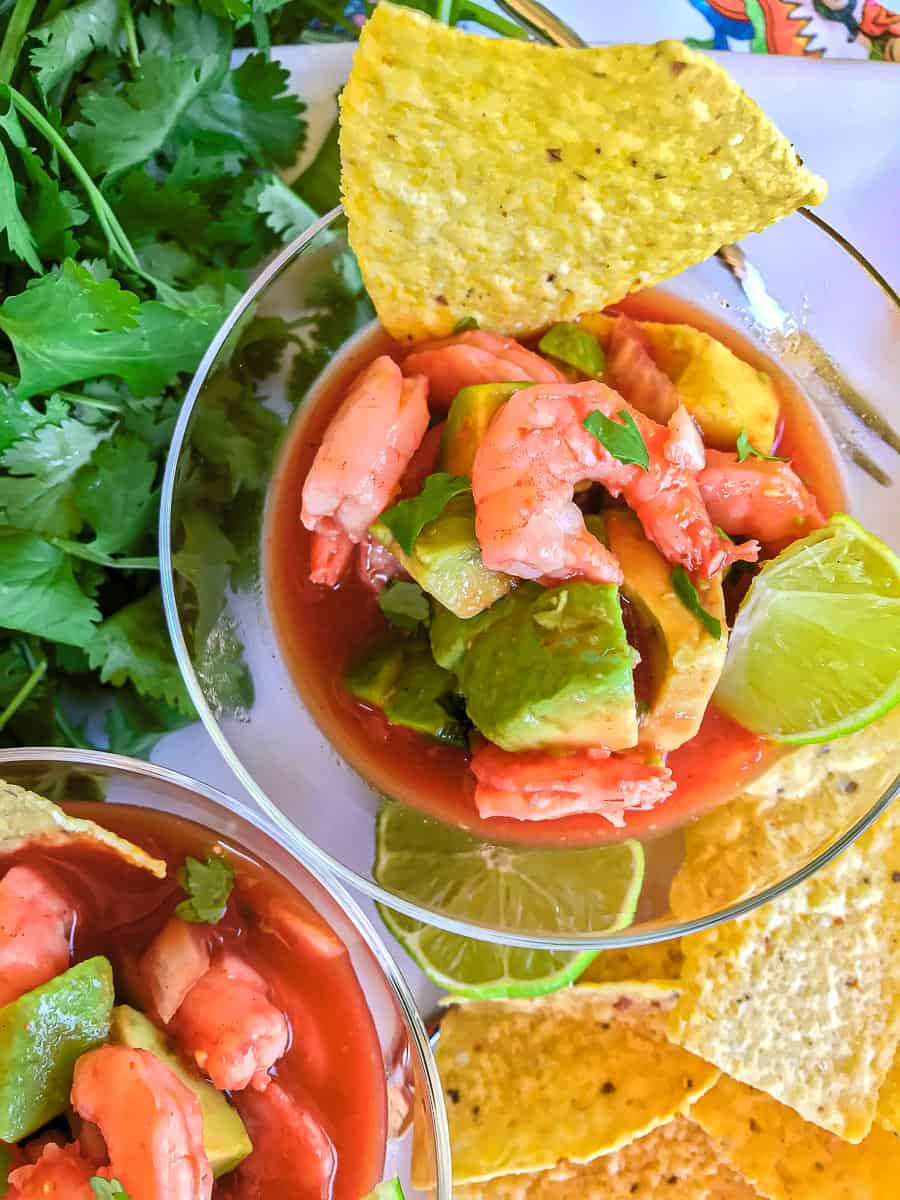 Mexican Shrimp Cocktail pairs beautifully with enchiladas, tamales, fajitas or chips and guacamole!
More Mexican recipes
📋 Recipe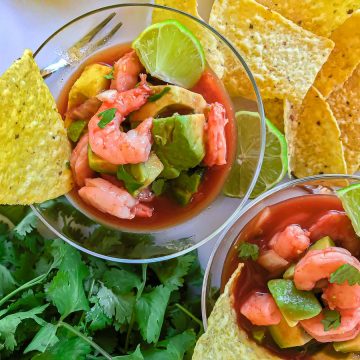 Mexican Shrimp Cocktail
Seasoned shrimp in a spicy tomato-based juice with fresh avocado, lime, cilantro, onions and jalapeno!
Print
Rate
Ingredients
3

cups

tomato juice

See Recipe Notes

½

cup

Clamato juice

See Recipe Notes

¼

cup

sugar

¼

cup

water

1

lb.

shrimp

cooked; See Recipe Notes

3

large

Roma tomatoes

peeled, diced and seeded

2

large

avocados

chopped

1

tablespoon

lime juice

4

tablespoons

white onion

finely chopped

1

large

jalapeno

finely chopped (optional)

1

bunch

cilantro

(you'll use about ¼ of the bunch)
Instructions
Cook, peel and devein shrimp; drain, cover and refrigerate for 5 minutes (See recipe notes)

Chop cilantro, onion, tomato and jalapeno (optional)

Pour tomato juice, sugar, water, Clamato and lime juice into large bowl; add chopped tomatoes, onion and avocado

Season tomato mixture to your liking: add salt, pepper, Tabasco or pepper sauce now

Refrigerate for 15 minutes

Divide shrimp evenly into serving glasses; pour tomato mixture into each glass; spoon and pour tomato mixture over shrimp

Garnish with a squeeze of lime and more cilantro if you like; serve chilled
Notes
Tomato Juice Mixture
Tomato juice can be straight tomato juice, or a combination of juices, like vegetable juice and Clamato, or a spicy Bloody Mary mixer. Mix your tomato juice to your preference--you can always add:

salt, pepper, Tabasco, or another type of pepper sauce

The amount of tomato juice per serving is a personal preference. I prefer more shrimp and goodies than juice, so this recipe allows for about ½ cup tomato juice per serving
Shrimp
Fresh is best, but frozen is second best.
If you use raw frozen, you'll need to cook them first
If you use cooked frozen, rinse in colander refrigerate them
How to cook fresh or frozen shrimp
Bring a large pot of water to boil
Add in 2 tablespoons of Creole seasoning (optional)
Add shrimp to water; cook 5-8 minutes until they are pink/orange
Refrigerate until cool
Peel shells and tails; place in tomato mixture; resume recipe
Nutrition Estimate
Serving:
0.5
cup
Calories:
255
kcal
Carbohydrates:
24
g
Protein:
18
g
Fat:
11
g
Saturated Fat:
2
g
Cholesterol:
191
mg
Sodium:
679
mg
Potassium:
780
mg
Fiber:
6
g
Sugar:
15
g
Vitamin A:
1049
IU
Vitamin C:
42
mg
Calcium:
138
mg
Iron:
3
mg