Mexican shrimp cocktail, or "coctel de camarones", is a refreshing appetizer that consists of shrimp, avocado and cilantro swimming in a spicy (or mild) tomato broth. There are many variations of this recipe, including those that use V8 juice, Bloody Mary Mix and/or Clamato juice as the basis for this delicious tomato-infused dish!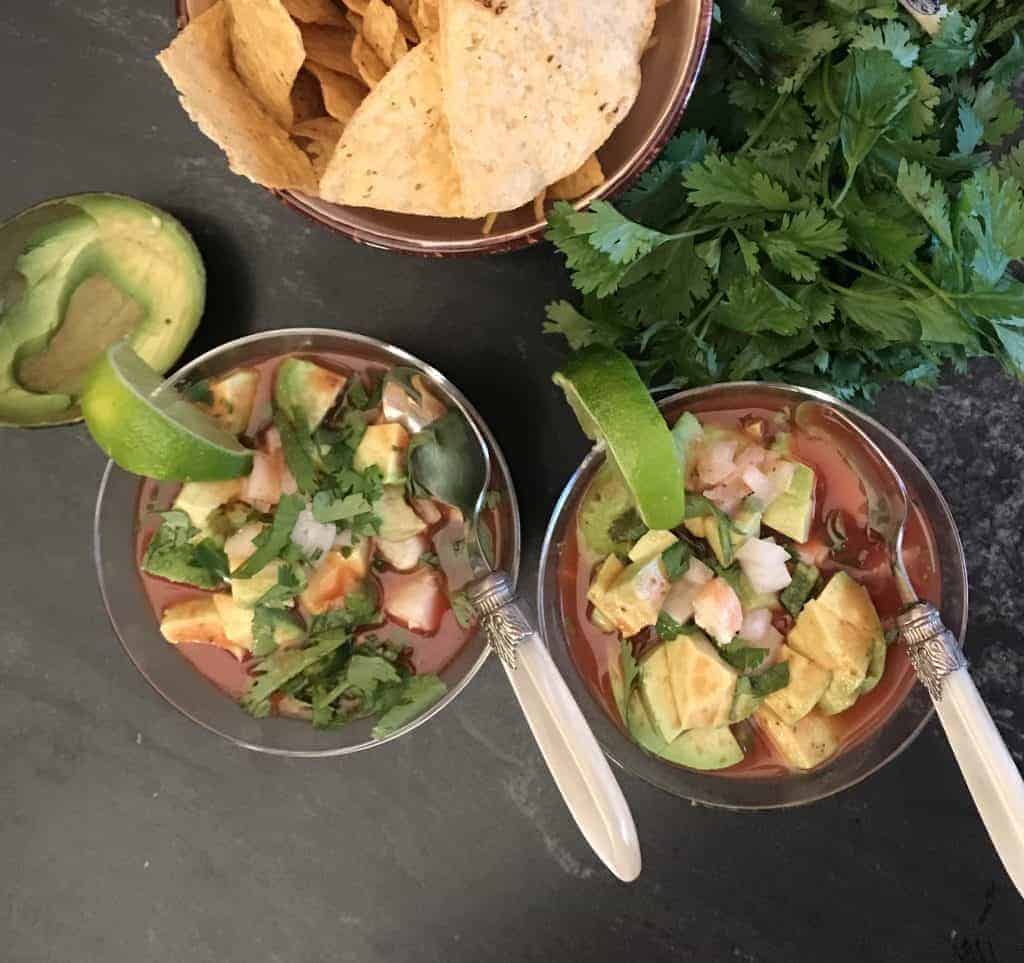 Mexican Shrimp Cocktail
Southern island breeze, the sound of the ocean, and a light lunch of Mexican Shrimp Cocktail…ahhh. This zesty Mexican appetizer is a staple menu item in Southern parts of the US.
It's light, yet filling and serves as an appetizer or an entree! It's usually accompanied with a side of crispy corn tortilla chips because some versions of this shrimp cocktail are loaded with shrimp and avocado!
Ingredients
The ingredients are simple! For best results, use fresh boiled shrimp in this mexican appetizer. The tomato base is usually tomato juice seasoned with salt, pepper and perhaps a dash of pepper sauce or Tabasco. This recipe includes: seasoned boiled shrimp, chopped white onion, avocado, jalapeno and cilantro with a dash of lime and Cajun or Creole seasoning.
How Much Shrimp Per Serving?
The amount of shrimp and tomato juice is a personal preference and it also depends on the size of the serving bowl or glass. I usually all about 1/2 cup of tomato juice, 4-6 shrimp and about two tablespoons of chopped avocado per glass.
How to Make Coctal de Camarones (Mexican Shrimp Cocktail)
Chill serving bowls in fridge or freezer for best results
Boil shrimp is seasoned water; remove and chill shrimp for 15 minutes
Chop onion, avocado, jalapeno peppers and cilantro
Season tomato juice or V8 to your liking
Pour tomato juice into serving cups, add shrimp, onion, avocado, peppers; garnish with ciltantro and serve!
Does Shrimp Cocktail Contain Alcohol?
Typically, Mexican Shrimp Cocktail does not contain alcohol. I suppose you could add a splash of vodka to the tomato juice, making a Bloody Mary type cocktail, but traditionally this mexican appetizer has no booze in it.
What is The Tomato Base?
You can use whatever tomato juice you prefer. Some like straight tomato juice, some prefer a vegetable juice-blend. Other ideas include using a Bloody Mary mixer of your preference, or even combining a little Clamato juice.
Can I Use Frozen Shrimp?
Frozen raw shrimp works fine in Mexican Shrimp Cocktail. The important thing is to boil the shrimp and season with a semi-spicy seasoning mix, such as a Creole or Cajun. This gives the shrimp some beautiful flavor and, after you boil them, let them sit in the seasoned water (off the heat), then refrigerate. The result is delicious!
Do the Avocados Need to be Ripe?
Select an avocado that is not quite ripe. Since you'll dice the avocado, a "less than ripe" avocado works great because it holds up well in the tomato juice.
What Kind of Serving Bowl or Glass Should I Use?
Often, in Mexican restaurants, you'll find this filling shrimp cocktail served in big beer goblets or beer mugs. If you don't have either of these, you can use a parfait dish or a large drinking glass. The serving vessel can be anything really, just make sure it's chilled!
Serving Suggestions
This easy shrimp appetizer pairs well with just about any Mexican cuisine! Try serving it with tortilla chips and queso, or as a starter to Vegetarian Poblano Enchiladas!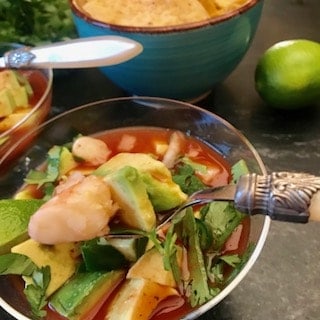 Mexican Shrimp Cocktail
Seasoned shrimp in a spicy tomato-based juice with fresh avocado, lime, cilantro, onions and jalapeno!
Print
Pin
Rate
Chill Shrimp and Tomato Juice:
30
minutes
Servings:
4
6 oz. servings
Ingredients
2-4

cup

tomato juice mixture, chilled

See Recipe Notes

1

lb.

raw Gulf shrimp, cooked

See Recipe Notes

2

large

avocados

1/2 avocado per serving

1

large

jalapeno

finely chopped

4

tablespoons

white onion

finely chopped

4

tablespoons

Creole or Cajun seasioning

2-3

fresh

limes
Instructions
Chill four serving glasses in the freezer

Fill a large stock pot with water and add Creole or Cajun seasoning; bring to boil

Once water is boiling, reduce heat to medium and add raw shrimp with shells on

Allow shrimp to cook for 5-8 minutes; they should be bring pinkish/orange color

Remove stockpot from heat and allow shrimp to sit in seasoned water for 10 minutes

Using a slotted spoon, remove shrimp and place in large bowl; cover and refrigerate for 20 minutes

Meanwhile, prepare tomato base mixture according to taste preference; refrigerate for 20 minutes

Chop cilantro, onion and jalapeno and divide into fourths
Presentation
Using 1/2 avocado per serving, dice avocado and place into chilled serving dish

Remove shrimp from fridge and peel; either keep shrimp whole or dice shrimp; place shrimp in serving dish

Add cilantro, onion, and jalapeno

Squeeze lime juice over entire mixture; garnish with tortilla chips and serve
Notes
Tomato juice can be straight tomato juice, or a combination of juices, like vegetable juice and Clamato, or a spicy Bloody Mary mixer. Mix your tomato juice to your flavoring--you can always add:

salt, pepper, Tabasco, or another type of hot sauce

The amount of tomato juice per serving is a personal preference. I prefer more shrimp and goodies than juice, so this recipe allows for about 1/2 cup tomato juice per serving.
Shrimp: Fresh is best, but frozen is second best. You can either purchase small salad-style shrimp or larger ones. It depends on your budget and if you want to serve whole shrimp in each serving or chopped shrimp.
Looking for a Traditional Cocktail Sauce?