Stewed Tomatoes and Okra is a Southern-staple-side dish and this recipe holds true to the past! Fresh tomatoes, simmered with onions, bay leaves and okra! Serve with Fried Catfish or Chicken Piccata!
Okra has quite a history, yet many aren't aware of the vegetable or how to cook it! It is believed to have originated in Ethiopia and moved north, south, east and west. I suppose by the time it hit America, the original preparation had disintegrated, so, as Southerners do, we just boiled it.
Many a Southern kid can remember grandma's and great grandma's boiled okra; it was a slimey, gooey part of our dinner and we hated it. Here's a recipe to serve okra that isn't "ooey-gooey-slimey"!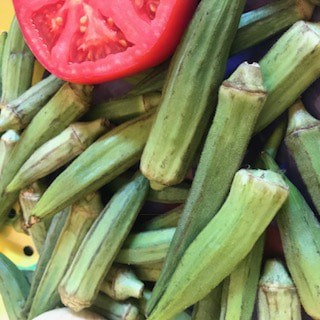 How to Make Stewed Tomatoes and Okra
First, rinse and pat dry the okra. Then season it heavily with salt and let it sit for 15 minutes. (The salt absorbs some of the okra's moisture.)
While the okra is resting  in salt, prepare the tomatoes, onions and garlic. A note about the tomatoes–
Once you've got the tomatoes, onions and garlic at the desired consistency (which you want a bit watery due to the okra's natural thickening properties), add the okra. Stir it, cover it and turn down the heat. Let the stewed tomatoes and okra simmer on high for about 15-20 minutes, then serve.
"If you buy grocery store tomatoes you're going to have to add a pinch of sugar to the recipe. If you buy fresh tomatoes, like from a Farmer's Market, you won't have to add sugar…it's all about the soil. If I can't find fresh, home-grown tomatoes, use canned San Marzano tomatoes. "
Can I Substitute With Frozen Okra?
Absolutely! Just rinse the frozen okra, pat it dry and apply salt to okra. Let it sit for about 15 minutes.
Can I Use Canned Tomatoes?
Yes, but if you use "normal" canned tomatoes, you'll want to add a pinch of sugar to them. If you use San Marzano tomatoes, no additional sugar is needed. See Recipe Notes.
Ironically, Mother Nature made okra not only healthy, but a thickening agent as well! This is exactly why it is used in Louisiana Gumbo Recipes.
Stewed Tomatoes and Okra pair well with Fried Catfish or  Classic Meatloaf !
Stewed Tomatoes and Okra
A Southern Classic-stewed tomatoes and okra with a hint of garlic. Always a family favorite!
Print
Pin
Rate
Servings:
4
1/2 cup servings
Ingredients
2

lbs.

tomatoes

peeled, seeded, chopped

1-2

lbs.

okra

rinsed, dried, cut

2

tablespoons

oil

1

medium

yellow onion

chopped

1

tablespoon

garlic

minced

1

cup

water or vegetable broth

1

bay leaf

½

teaspoon

sugar

* see recipe notes

½

teaspoon

salt

1

tablespoon

ground black pepper
Instructions
Heat oil in skillet on medium-high heat

Add onion and saute until translucent

Add garlic and allow to cook for about 3 minutes

Add tomatoes and bay leaf; cook tomatoes until the liquid is absorbed - about 10 minutes

Add water (or broth) to tomatoes and continue to cook on medium heat

Add okra to tomato/onion mixture; reduce heat and cover

Cook for 15 minutes, until okra is tender

Remove bay leaf and taste for seasonings; serve immediately
Notes
If you're using store-bought or canned tomatoes, plan on adding sugar to balance the acidity
If you're using canned San Marzano tomatoes, no sugar is necessary (read about San Marzano tomatoes here)