Vermicelli Summer Salad is the best dish you can have while lounging by the pool, dreaming of being on the Amalfi coast.
Vermicelli is a thin pasta, smaller than spaghetti but larger than capellini. This recipe is a spin-off of a fabulous pasta salad my friend Deb makes. She is an excellent cook and hostess extraordinaire ! The secret to getting this seemingly simple pasta dish to rock is: you must marinate the pasta overnight.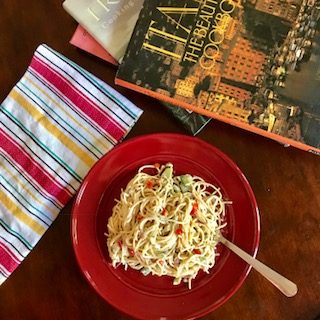 Isn't Vermicelli a Rice Noodle?
There are two types of Vermicelli noodles: the Italian, which is made with semolina flour, eggs and salt (and is used in this recipe) and the Asian variety, which uses rice flour instead of a semolina flour. If you wanted to prepare this dish gluten-free, you would use rice Vermicelli noodles.
Why Do I Have to Let the Noodles Sit Overnight?
The marination process of the noodles is key to the flavor of this dish. Without the overnight marinading of the noodles, this recipe would just taste like noodles with vegetables. The seasoned salt, lemon juice and olive oil turn the noodles into Rock-star noodles!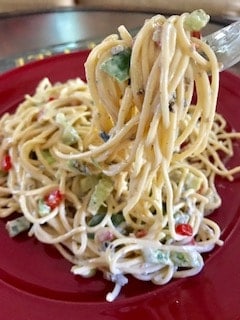 If you want to jazz this recipe up a bit, add in boiled shrimp to the pasta, then marinate both overnight. This recipe calls for mayonnaise, so you wouldn't want to let it sit outside or on the table for more than two hours.
My friend, Deb, served this at a summer gather and it was the talk of the table…well, among other dishes. She really is a fabulous hostess, cook and funny, to boot! Now, she adds 3 tablespoons of "Accent" to the initial marinade.
I don't use that because it's MSG, which I avoid for personal and health reasons. If I eat MSG, my eyes swell-up like a toad and I'm bed-ridden for at least a day.  I do think the MSG helps retain a bright colorful pasta, but if you use a high-quality olive oil, your pasta should retain a bright color.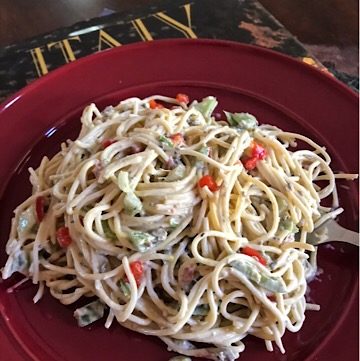 Vermicelli Summer Salad
Light pasta dish that is over the top in flavor, texture and deliciousness! Great dish for a party or a big crowd!!
Course:
Entree, Lunch, Main Course
Keyword:
vermicelli pasta, vermicelli pasta salad
Ingredients
Basic Pasta
12

oz

Vermicelli Pasta

cook, rinse and drain

2

tablespoons

Lawry's Seasoned Salt

4

tablespoons

fresh lemon juice

4

tablespoons

olive oil
Pasta Sauce and Vegetables
2

4 oz. jars

pimentos

diced, drained

1

cup

green pepper

chopped

3/4

cup

green onions

chopped

2

4 oz. cans

black olives

chopped

1 1/2

cups

mayonnaise
Instructions
Cook pasta for 5 minutes: rinse and drain

In a large bowl, combine pasta, seasoned salt, lemon juice and olive oil; cover and refrigerate overnight

The next day, add remaining ingredients to pasta; cover and allow to refrigerate for 2 hours (minimum)
Recipe Notes
Note: this recipe calls for Vermicelli pasta--not vermicelli rice noodles. You can use any pasta you choose: spaghetti, angel hair, or a tubular pasta (macaroni, rigatoni, etc.)
This recipe works best if you make the pasta and and let it sit overnight; the next day, add the remaining ingredients, cover and store overnight-again.
If you don't have two days, just make sure the pasta (combined with the seasoned salt, lemon juice and olive oil) is refrigerated overnight. The next morning, add the other ingredients, cover and let sit in fridge until ready to serve.
 
0