This quick and easy, "No-Cream" Creamy White Bean soup is absolutely delicious and super easy to make!
The ingredients are simple, but the flavor is quite interesting!
I like to serve this white winter soup with warm bread and and a steamed artichoke!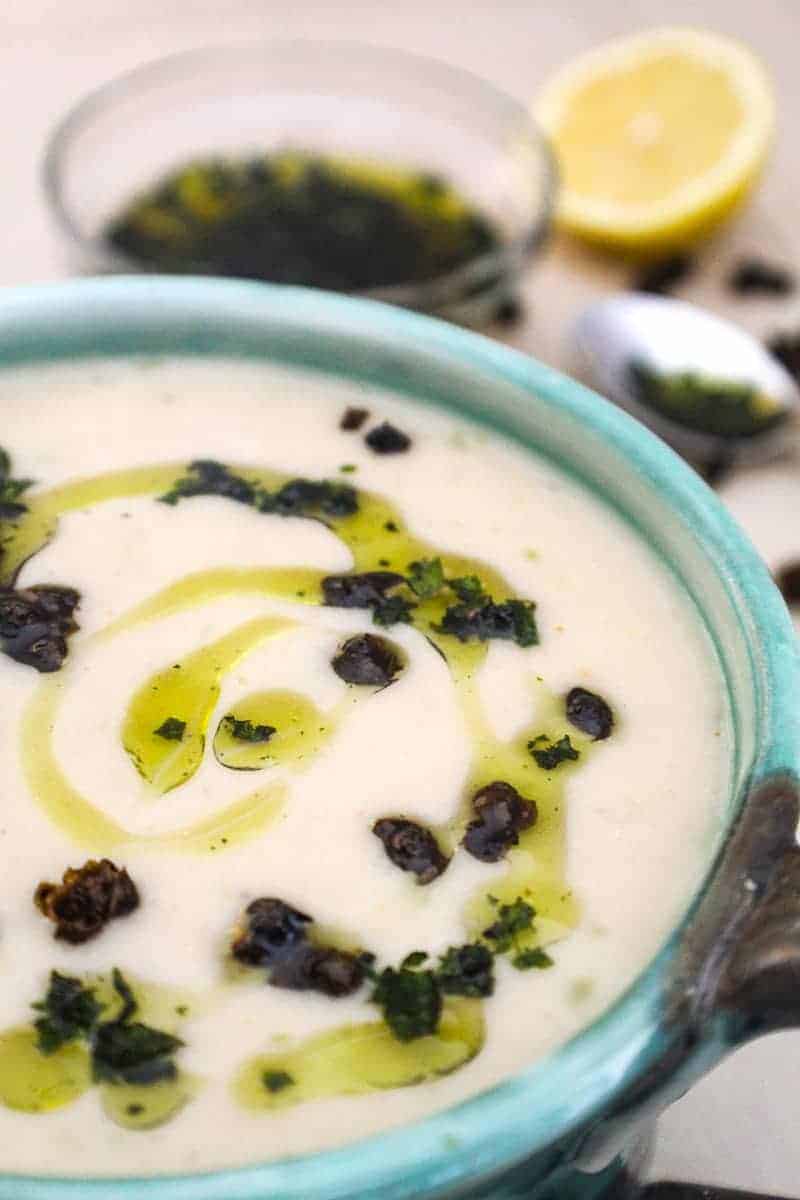 I'm always on the lookout for quick and relatively healthy meals, so when I came across this quick and easy creamy white bean soup recipe in Cook's Illustrated, I took notice.
Why this recipe works:
I slightly adapted their recipe by using less chicken broth and replacing fresh herbs with dried.
Of course, you can use fresh herbs in this recipe, just keep in mind that dried herbs are stronger than fresh.
If you use fresh herbs, you'll want to use three times the amount of dried herbs and add them at the end.
Also note, this "cream" soup contains no cream.
The creaminess of the soup is not a dairy product, but pureed canned Great Northern beans. "What?" you say?
Canned beans? Yuck! Well, I thought the same thing until I made this.
Jump to:
You'll love this recipe!
Quick and easy - use canned beans; ready in 25-minutes!
Healthy - contains no cream
Hearty and filling - full of vitamins, nutrients and fiber
The only dairy in this recipe is Parmesan cheese. If you want a "dairy-free" white bean soup, eliminate the Parmesan cheese or use a vegan substitute.
Recipe overview
Saute onion and celery: cook the beans with their liquid, then puree them into a smooth, silky consistency. Add herbs and seasonings and top with roasted capers, parsley, basil and a drizzle of lemon and olive oil!
The lemon and capers offer a distinct flavor to this soup, as does the olive oil - you use the same oil you cooked the capers in--so the flavor profile is savory, yet a bit tangy, and the pinch of cayenne pepper really rounds out the flavor!
I strongly encourage you not to eliminate these ingredients--they really add the "wow" factor to this soup, however, if you hate capers just leave them out.
Here's what you'll need:
Sometimes, the simple things in life are best, like the ingredients for this recipe! Here's what you need:
2 - 15 oz. cans of organic Great Northern White Beans
1 ½ cups of chicken broth, capers, olive oil
Butter, Parmesan cheese
Onion, celery, fresh garlic, dried thyme, dried parsley, dried basil and a lemon
Salt, pepper, cayenne pepper
*Vegan version: substitute chicken broth with vegetable broth; eliminate butter and Parmesan cheese
How to make it:
There's very little prep for this bowl of deliciousness! First, microwave the capers in a high quality extra virgin olive oil for 2-4 minutes. (Be sure to read the Recipe Notes about cooking the capers!)
Drain capers on paper towel; reserve oil; set aside
(If you don't like capers, just skip this step.)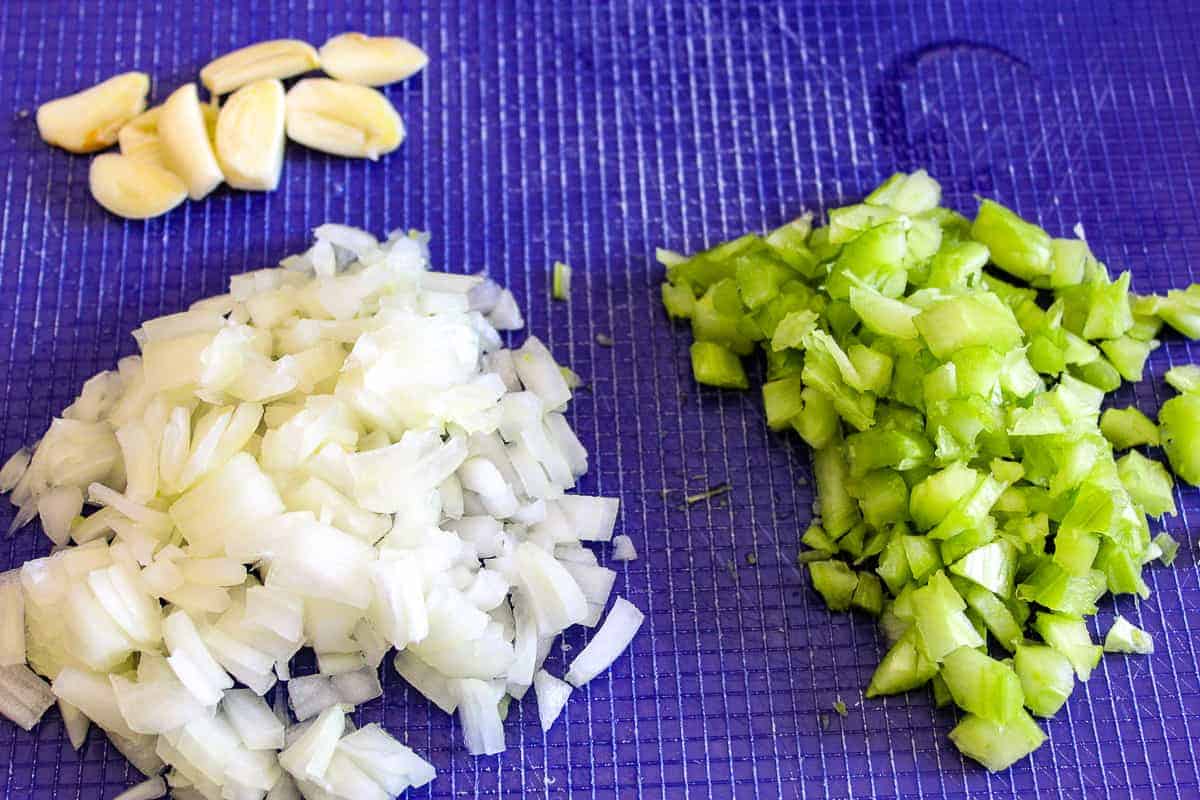 Chop onion, celery and garlic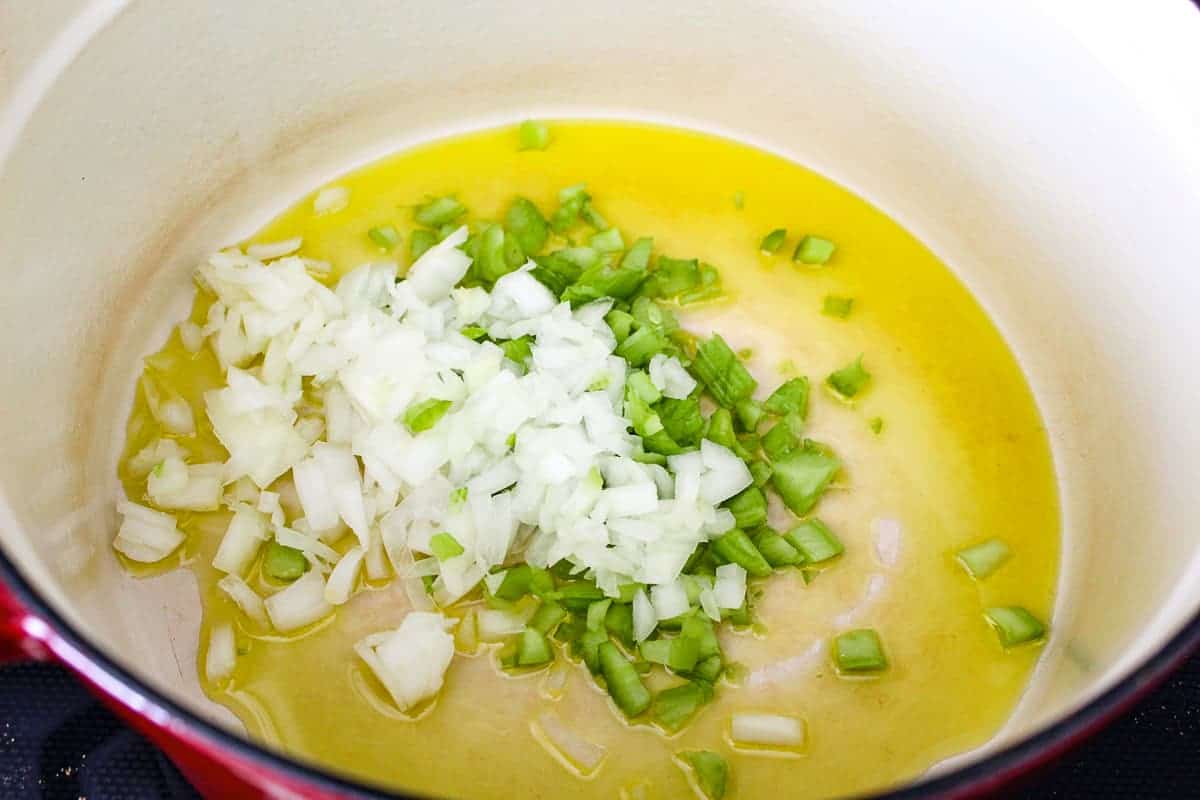 Sauté vegetables in olive oil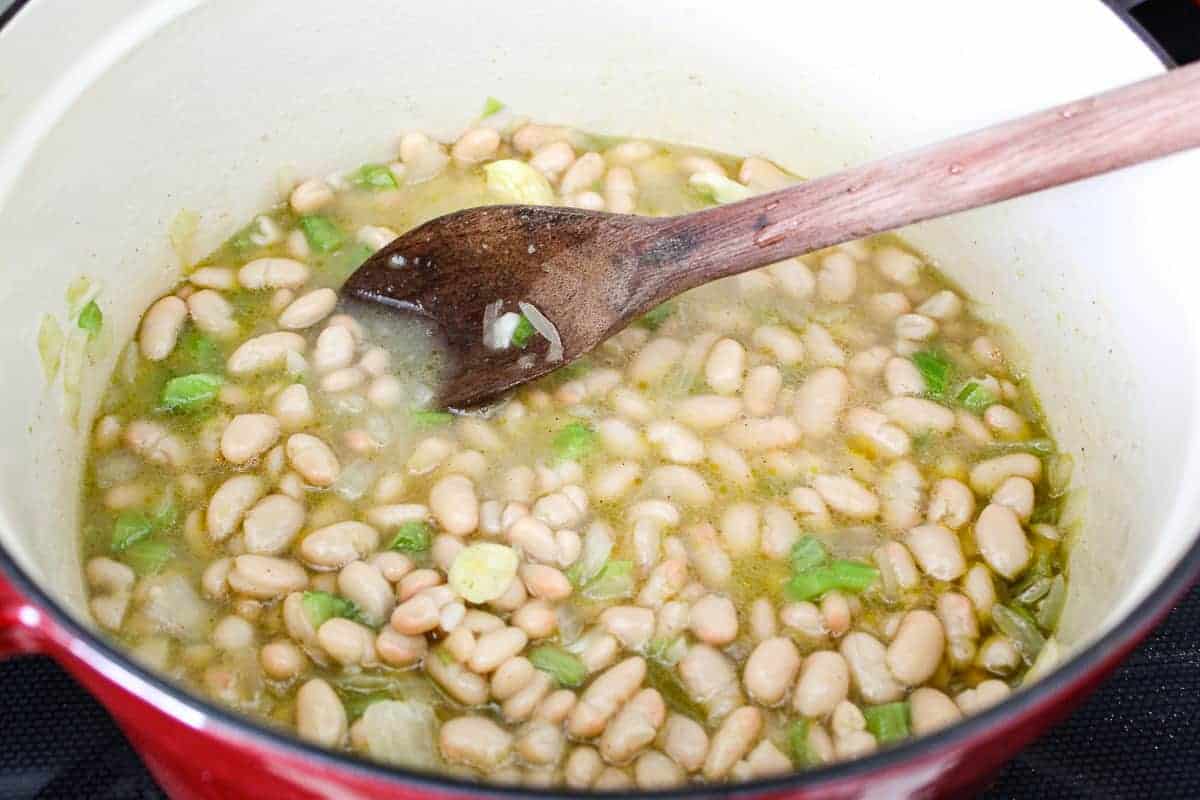 Add beans and their liquid; cook 8 minutes; transfer mixture to food processor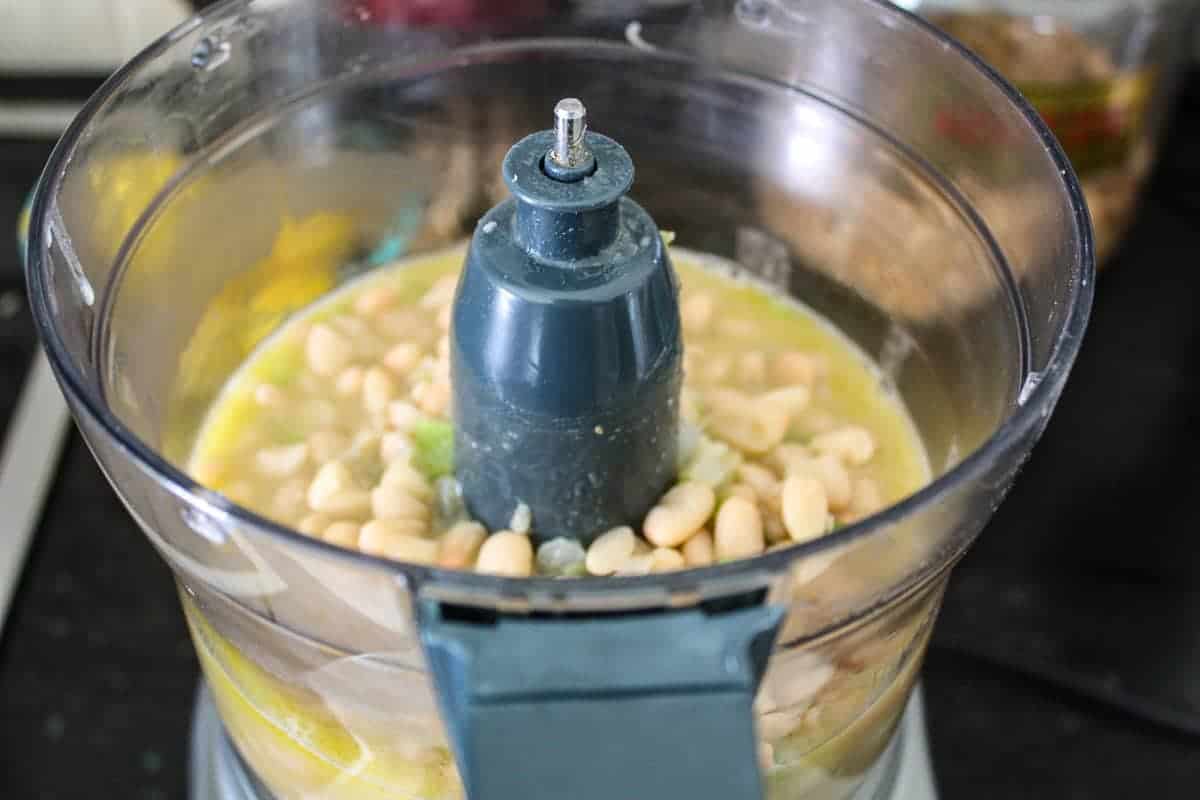 If your food processor is small, work in batches; pulse until smooth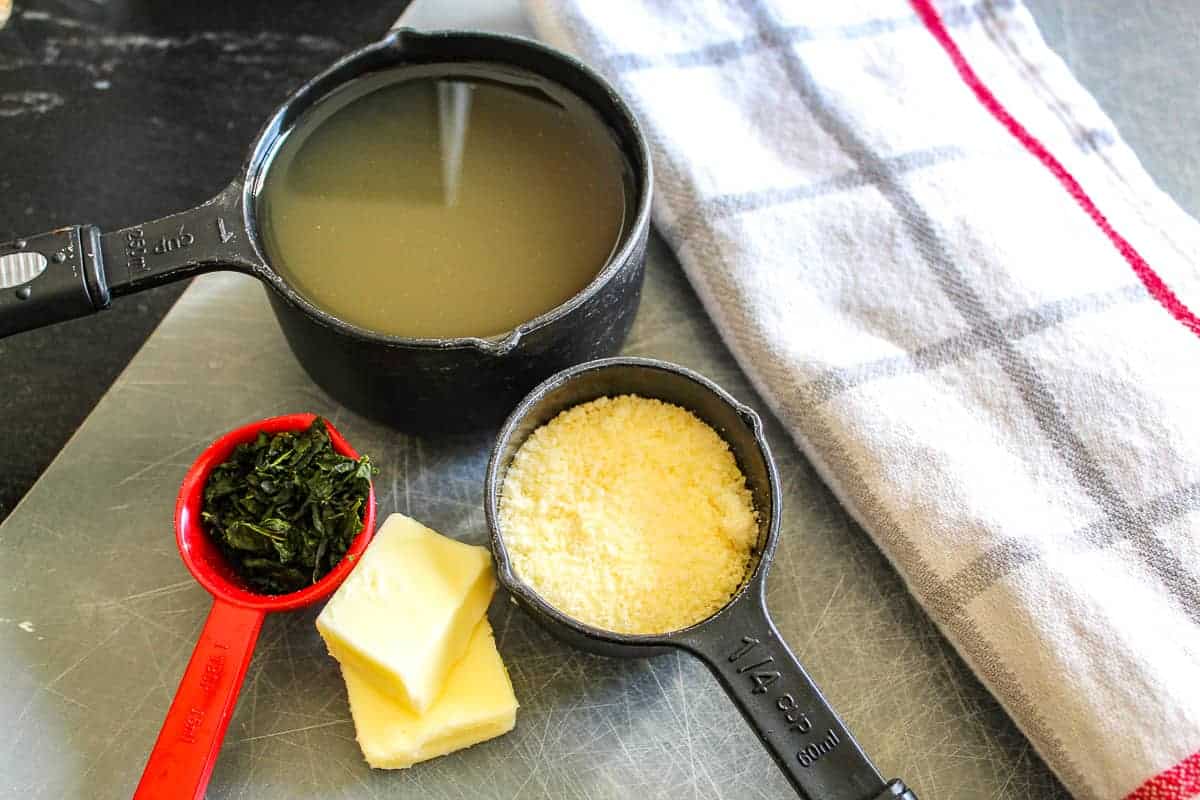 Add butter and Parmesan to food processor; pulse and return soup to stockpot; add chicken broth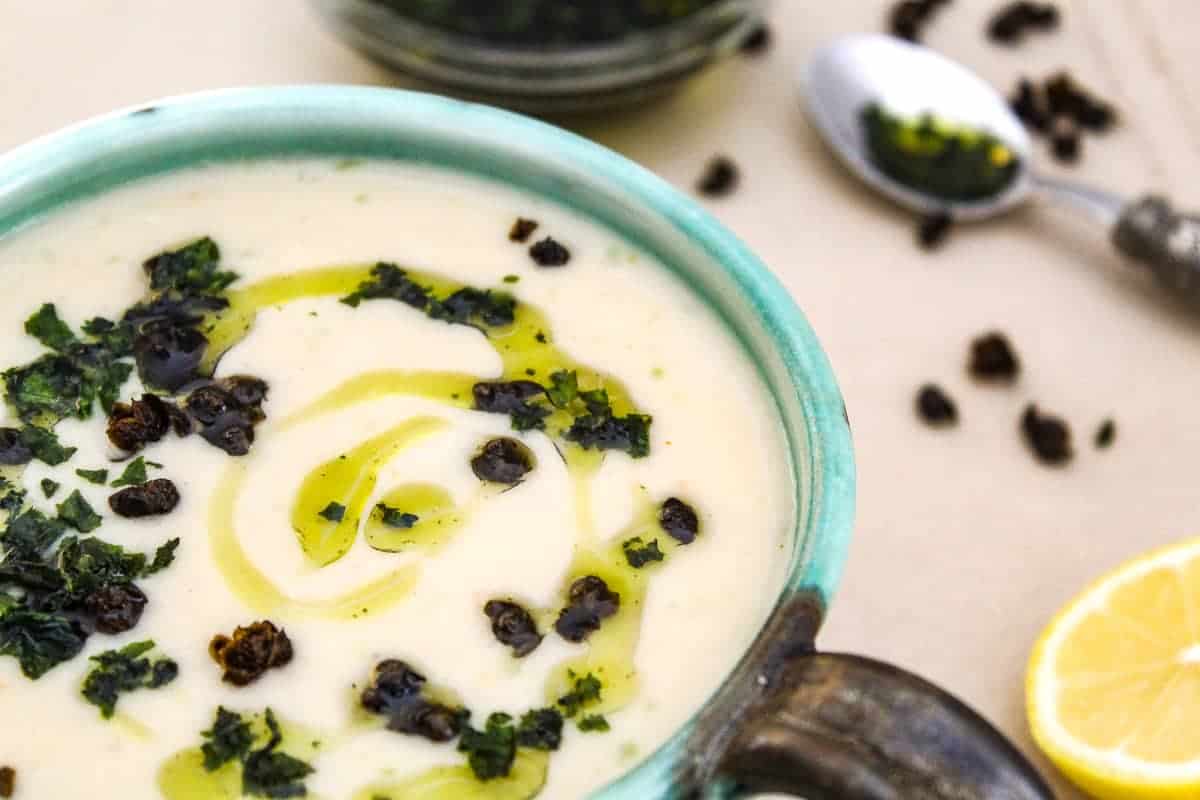 Pour soup into bowl and garnish with toasted capers, lemon, basil, parsley and a drizzle of olive oil
What's the difference between Cannellini and Great White Northern Beans?
While both varieties of legumes share similar nutritional profiles, their differences lie primarily in texture and flavor.
Cannellini, also known as white kidney beans or Italian beans, are larger, softer and have an inherent nutty flavor.
Great Northern beans are smaller with a grainy texture, and their flavor depends upon what other ingredients they're cooked in...much like mushrooms and tofu.
These two white bean varieties are often used interchangeably and yes, you can use Cannellini beans in this recipe!
How to make the soup extra creamy
There are two things you must do to ensure an extra creamy texture for this white bean soup. First, soften the beans by cooking them on the stovetop for about 8 minutes.
Then, transfer them to a blender or food processor using a slotted ladle or strainer for further refining.
If your blender or food processor is small, you may have to work in batches.
Unfortunately, a hand held emulsifier doesn't work as well as the two combined-methods above.
How to thicken no cream white bean soup:
If you prefer a thicker version, use a cornstarch slurry.
Get a one-cup measuring cup and put 2 tablespoons of cornstarch in it. Then, fill it up with water to the 1-cup mark; combine well
Turn the heat up on the soup and drizzle in the slurry, stirring constantly; once soup begins to boil, stir for about 30-seconds, then remove the pan from the heat.
The soup will continue to thicken upon resting about 5-minutes prior to serving.
Variations:
Great Northern White beans are the perfect "blank canvas" for a variety of flavorful toppings!
This version uses toasted capers, lemon, parsley and basil, but feel free to experiment with toppings on your homemade white bean soup!
Sauteed leeks and fried sage
Chopped tomatoes and bacon
Rosemary, pesto and pine nuts
Related recipes:
If you make this soup, please leave a comment and rating below! I love to hear from you!
📋 Recipe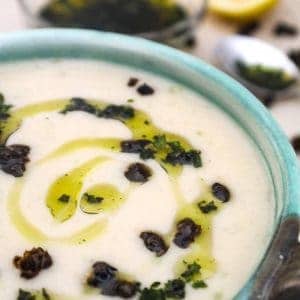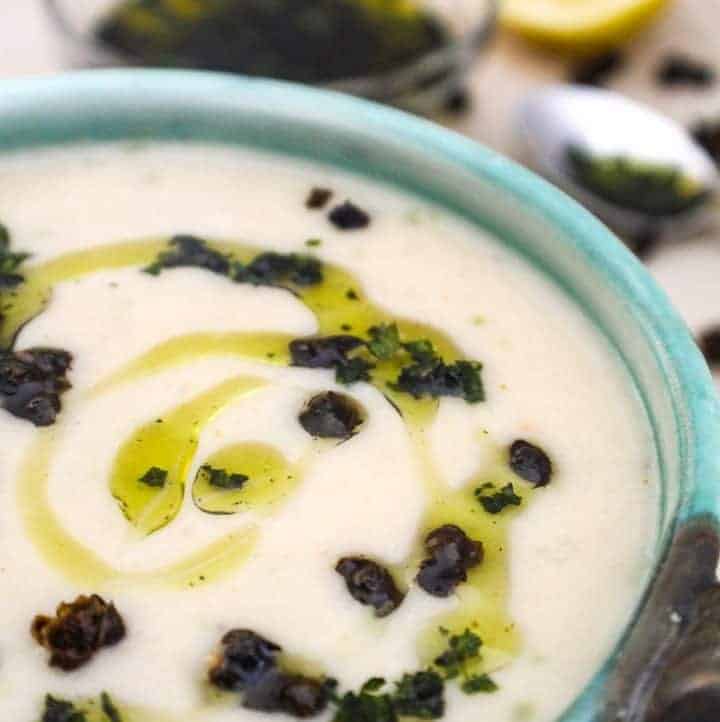 "No-Cream" Creamy White Bean Soup
Savory, silky white bean soup with accents of onion, celery, cayenne, lemon and capers
Print
Rate
Equipment
Blender or food processor

Strainer, colander or slotted spoon
Ingredients
Topping Ingredients
3.5

ounces

capers

drained; (this is one little jar of capers; a little over ¼ cup)

⅓

cup

extra virgin olive oil
Soup
30

ounces

Great Northern White Beans, canned

do not discard liquid

2

tablespoons

extra virgin olive oil

2

tablespoons

butter

, salted or unsalted

2

tablespoons

grated Parmesan cheese

1½

cups

chicken broth or stock

½

cup

yellow onion

chopped

1

stalk

celery

chopped

2

cloves

garlic

small to medium cloves; minced

lemon juice

, fresh; See Recipe Notes

½

teaspoon

dried thyme

1

pinch

cayenne pepper

1

tablespoon

dried parsley

garnish

½

tablespoon

dried basil

garnish

salt and pepper to taste

, for best results, use white ground vs black ground pepper
Instructions
Make the Topping
In a microwave bowl, add ⅓ cup olive oil and ¼ cup drained capers; cook on high for 2-4 minutes; use a slotted spoon and remove cooked capers; drain capers onto paper towel; reserve oil and set asideSee Recipe Notes

⅓ cup extra virgin olive oil,

3.5 ounces capers
Make the Soup
In a large stockpot on medium heat, add 2 tablespoons oil; add chopped onion and celery; saute for 5 minutes

2 tablespoons extra virgin olive oil,

½ cup yellow onion,

1 stalk celery

Add garlic, thyme and cayenne pepper to onion mixture; combine well

2 cloves garlic,

½ teaspoon dried thyme,

1 pinch cayenne pepper

Add canned beans and their liquid to stockpot; cook on medium heat until beans begin to break up (about 8-10 minutes)

30 ounces Great Northern White Beans, canned

Using a slotted spoon, ladle bean mixture into food processor; pulse on high for 2 minutes: (See Recipe Notes: Food Processor)

Add butter and parmesan to food processor; pulse on high for 2 minutes

2 tablespoons butter,

2 tablespoons grated Parmesan cheese

Add 1 cup of chicken broth to food processor; pulse on high for 2 minutes

1½ cups chicken broth or stock

Pour contents from the food processor back into large stockpot

Add remaining ½ cup of chicken broth and one teaspoon of lemon juice; stir and cook on medium until hot; taste for salt and pepper

salt and pepper to taste,

lemon juice

Pour soup into bowls; drizzle each bowl with a few drops of fresh lemon juice and the reserved olive oil from the microwaved capers

Sprinkle chopped parsley, basil and capers over top of soup and serve

½ tablespoon dried basil,

1 tablespoon dried parsley
Notes
Capers taste similar to olives; if you don't like capers, leave them out
Microwaving the capers in oil:
Each microwave is different. Mine is 1200W and I cooked them for 4 minutes the first time and they burned.
Second time, I cooked them 2 ½ minutes and they were perfect.
The minute you smell them, they're done!
Lemon juice
I used a little lemon in the soup and as a finishing acid. One large lemon is probably all you need, but you can add more to your liking.
Food Processor vs Immersion Blender:
If you have a small food processor, you may have to work in batches. Use a slotted spoon to ladle the bean mixture in the processor, or, use a colander and drain the bean mixture, reserving the liquid
If you don't have a food processor, at this point, remove the bean mixture from the heat and use an immersion blender. Once blended, continue with recipe.
I've found the immersion blender is more difficult to use because of the low level of bean mixture - a food processor works best.
Vegetarian Option:
Substitute vegetable broth for the chicken broth; eliminate Parmesan cheese and butter
Want it thicker?
In a one-cup measuring cup, add 2 tablespoons of cornstarch and fill cup with water; combine well and drizzle into hot soup; bring to boil for 1 minute, remove from heat and allow soup to rest 5 minutes before serving.
Nutrition Estimate
Serving:
1
cup
Calories:
437
kcal
Carbohydrates:
40
g
Protein:
14
g
Fat:
26
g
Saturated Fat:
6
g
Cholesterol:
14
mg
Sodium:
570
mg
Potassium:
858
mg
Fiber:
9
g
Sugar:
2
g
Vitamin A:
205
IU
Vitamin C:
5
mg
Calcium:
175
mg
Iron:
6
mg