Southern Chicken Fried Steak is definitely one of the "national foods of the South" and you'll find it on just about every restaurant menu south of the Mason-Dixon line! This cube-steak-family-favorite is usually served with cream gravy and a side of "I need a nap!" Granted, this fried plate of goodness is not the healthiest choice, but once in a while, it's okay to treat yourself to some homemade Chicken Fried Steak.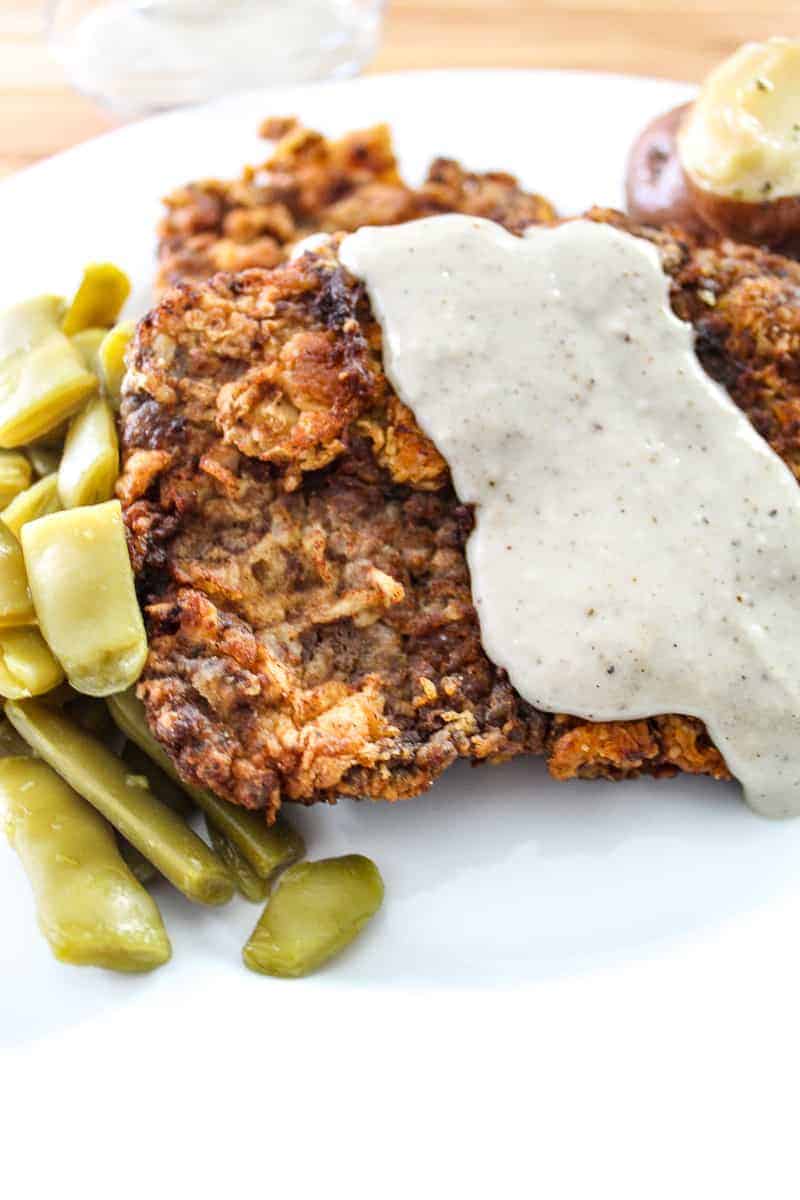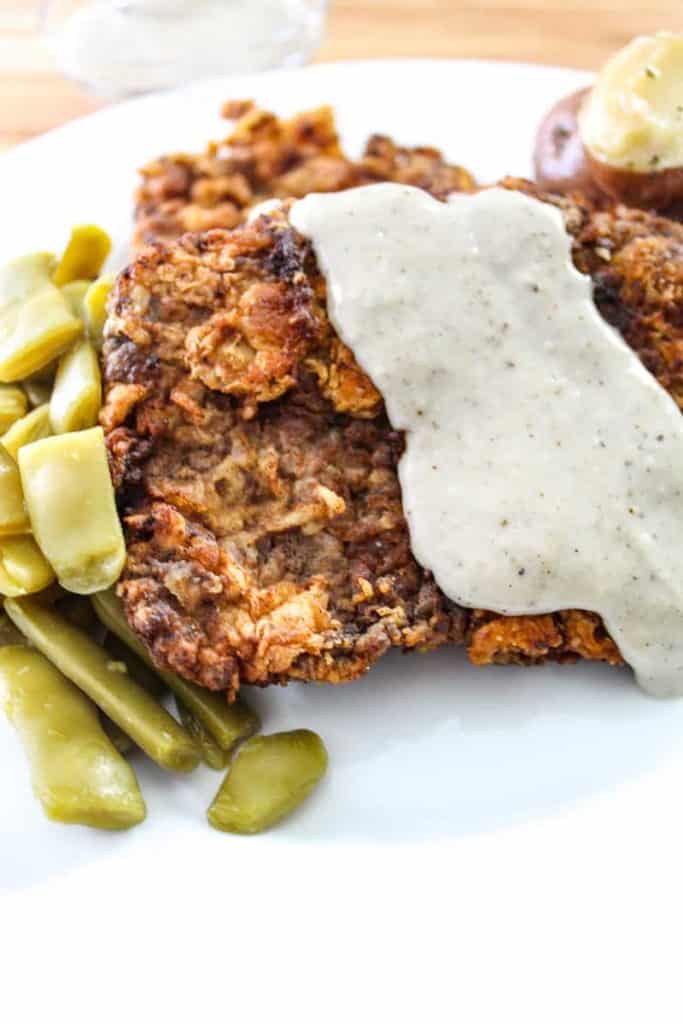 The history of Chicken Fried Steak is vague to say the least, especially since the name is confusing.  No one really knows how it came about, but there is speculation it was derived from the influx of Germans into Texas way back when.
Why is it Called "Chicken Fried" When it's Not Chicken?
Chicken Fried Steak is named "chicken fried" because it's cooked the same way as fried chicken. In this context "chicken-fried" is an adjective, describing the cooking method.
The main point is that no one cares where it came from or how it got its misleading name…the point is it's a Southern favorite and you don't have to be a chef or highly experienced cook to enjoy restaurant-quality chicken fried steak at home!
What Cut of Meat is Best for Southern Chicken Fried Steak?
Tenderized cube steak is generally used for traditional Southern Chicken Fried Steak. The cube steak is usually round steak, but in some instances, chefs will use ground rib-eye or sirloin. It is called "cube" steak because of the cube-shaped indentions in the meat from the grinder and mallet.
If you can't find tenderized cube steak in your meat department, ask them to make you some! The butcher simply runs a round steak through the tenderizer and you're ready to go!
The fried steak is basically a textured, flattened piece of round steak that is coated in batter and fried, just like you'd fry chicken.
Ingredients and Utensils for Making the Best Chicken Fried Steak with Cream Gravy
Once you master frying steak, you'll never go out to a restaurant for Chicken Fried Steak again. I promise you. Here's the equipment you need to successfully make restaurant-quality fried steak at home:
Cast-iron skillet
Tongs
Meat Thermometer
Two Pie Plates
Paper Towels
The chicken fried steak ingredients are: heat-tolerant oil, cubed steak, buttermilk (or milk), eggs, flour, salt, pepper, cayenne pepper. I prefer to use buttermilk mixed in with the eggs because the acid from the buttermilk further tenderizes the cube steak. If you don't have buttermilk, you can easily make your own or use plain milk.
How to make buttermilk:
Add the juice of one lemon to one cup of milk. Let it sit for 5 minutes and thicken. Now, you have buttermilk!
If you want to make cream gravy, you'll need: oil from the fried steak, flour, milk, salt and pepper
How to Make Chicken Fried Steak
Set the steak out on the counter for about 15 minutes
Set up dredging station with 2 pie plates: one with egg & milk; the other with seasoned flour (salt, pepper, paprika, cayenne)
Pour oil into cast-iron skillet on medium-high heat; let oil get to about 260ºF
Season steak with a little salt and even more pepper
Dredge seasoned steak in egg mixture then in the flour mixture; pat the flour down on the steak
Place coated steak in hot oil; do not move steak for 2 minutes
Check the bottom to see if it's brown; if so, flip the steak and continue to cook until the internal temperature reaches a minimum of 145ºF
Using tongs, remove fried steak and place on paper towel
Repeat process for remaining steaks

Set up a dredging station: one bowl with egg and buttermilk and a second bowl with seasoned flour

Place steak in hot oil-and don't touch it for 2 minutes!

Flip steak once it's browned on the bottom
What Type of Oil Is Best for Frying?
Back in the day, our Great Grandmothers used lard, which is a high-cholesterol fat derived from pork; then, our Grandmother's discovered "shortening", also known as Crisco™. Crisco really does fry foods the best, but now we know it's loaded with those bad trans fats and it's not good for us so, we use vegetable or canola oil. Both of these oils are high-heat tolerant, as opposed to olive oil, which will burn easily at higher temperatures.
Other high-heat tolerant oils are walnut, grapeseed and peanut oil. These oils are a bit more expensive than vegetable or canola oil, but work just as well.
How Do I Know if the Oil is Hot Enough?
Use a meat thermometer to determine the heat of the oil or, you can sprinkle a little flour in the oil. If it sizzles, the oil is hot enough; if it doesn't sizzle, continue heating the oil.
What Temperature Should I Heat the Oil for Chicken Fried Steak?
Restaurant and commercial fryers typically cook chicken fried steak at 350ºF; but this is too hot for home frying and plus that, it's just downright scary to heat up oil that hot. I find the best results are when the oil is between 260-312ºF. The steak will still fry, but it will take a bit longer than in a restaurant.
What Temperature Should the Center of the Steak Reach?
According to government guidelines, chicken fried steak should have a center, internal temperature of at least 160ºF. This is to ensure no bacteria are present.
I have found varying recommended internal temps on line. Some say a minimum of 145ºF, while others say 165ºF. I use government guidelines just to be safe.
Once you've cooked the steak about two minutes on each side, you may want to reduce the heat a bit to allow the center of the steak to cook to the desired temperature, while not overcooking the batter. The cooking time depends upon the size of the steak, but I'd say a typical sized cubed steak takes about 8 minutes to fry.
If you cut the steak into thin strips (aka Chicken Fried Steak Fingers), the interior temperature should reach 160ºF within 4-6 minutes, depending upon the temperature of the oil.
Tips for Frying Steak
Here are some fail-proof tips for making the perfect Southern Chicken Fried Steak
Let the steak rest: pull the steak out of the fridge and let it rest on the counter about 10-15 minutes before seasoning.
Set up dredging Station: Use two flat bowls (I use pie plates); set one up with eggs and milk and the other with seasoned flour.
Use the right pan: Cooking with high heat requires a heavy-bottomed frying skillet. I recommend cast-iron 100%.
Use the right oil: use a high-heat oil like vegetable, canola, peanut, grapeseed or walnut. Olive oil is not high-heat-tolerant and will burn.
Use enough oil: Depending upon the size of your skillet, you'll want to pour about 1-inch of oil in the pan.
Use tongs: I use 3 separate tongs for the process: 1 for dredging in egg/milk mixture; another tong for dredging the steak in flour and a third for flipping and removing the steak from the oil. If you don't have three tongs, use your fingers for dredging the steak in the milk mixture and flour; you'll definitely need tongs for flipping and removing the steak from the hot oil.
Don't Move the Steak: Just like frying fish, place the flour-coated meat in the hot oil and don't touch it for two minutes. Just don't. After two minutes, use the tongs to "peek" at the bottom to see if it's getting nice and brown. If it is, then flip the steak; if not, let it cook another minute.
Adjust stove heat: If you see the steak starting to burn, turn the heat down a little. You want a golden crisp fried coating on the steak–not charred.
Use an accurate meat thermometer: There's nothing worse than cutting into a chicken fried steak, only to find the center pink and stringy. The center of the steak should reach a minimum internal temperature of 145ºF. I usually cook mine to an internal temp of 160ºF.
First batch looks best: Chicken fried steaks are usually pretty big and most cast-iron skillets can hold only one at a time, which means you have to work in batches. If you find yourself in this situation, don't worry! The first steak will come out lighter than the others because the oil is fresh.
If this really bothers you, you can pour off the old oil in between batches and reheat new oil. I find this cumbersome and a waste of time. Plus that, in the meantime, my cooked chicken fried steaks are getting cold!
Drain on paper towel: Have a clean plate next to your frying pan with a few layers of paper towels. Once the steak is done, place it on the paper towel to drain.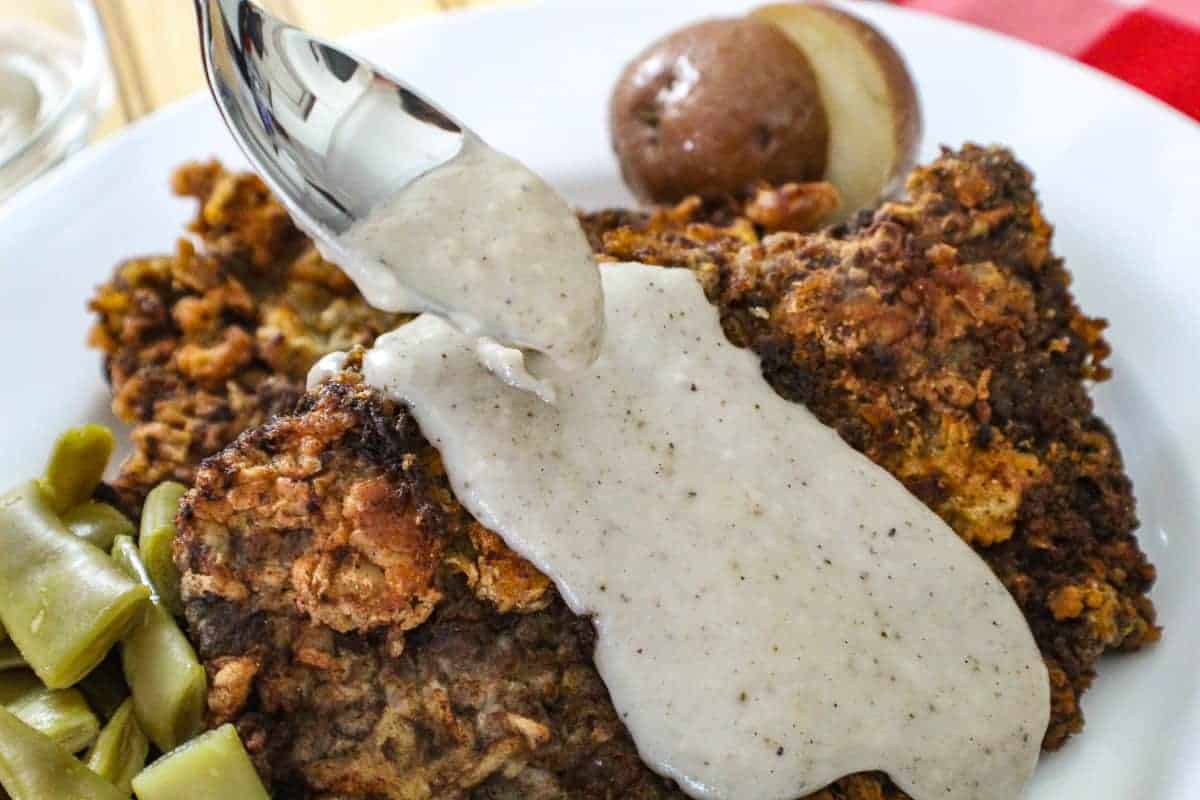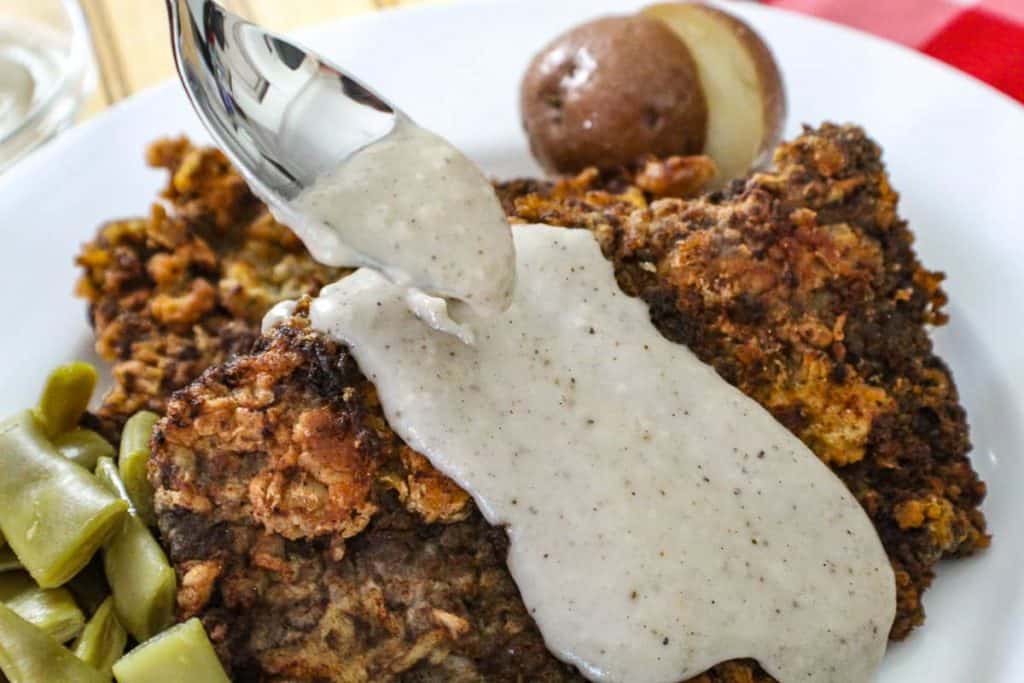 How Do I Make Cream Gravy to go with Southern Chicken Fried Steak?
Cream gravy is a must for this Southern comfort food and the secret to really good cream gravy is to use the oil from the fried steaks. Here's an overview of the process; exact measurements are in the recipe.
Set cooked Chicken Fried Steaks (or Fingers) aside in the oven at about 200ºF
Use a clean skillet (you can clean out the same skillet you cooked the steaks in, but it's really hot and so is the oil–I just use a smaller skillet for the gravy…it feels safer to me.)
On medium heat, add some of the reserved oil from the Chicken Fried Steaks; sprinkle an equal amount of flour into oil; whisk and cook for a minute
Once the two are combined, pour in part of the milk(1 cup); continue to whisk (the mixture will still be relatively lumpy – but don't panic)
Add more milk (in ½ cup increments) and continue to whisk; you will begin to see the lumps dissolve
Gradually add more milk and whisk until gravy is smooth; if gravy is still thick, add a little more milk;  if the gravy fails to thicken after about two minutes sprinkle in some more flour (a tablespoon at a time).
When the cream gravy is at the desired consistency, add a little salt and lots of pepper; taste and adjust

Looking for more Southern favorites? Try Southern Fried Catfish or Classic Meatloaf!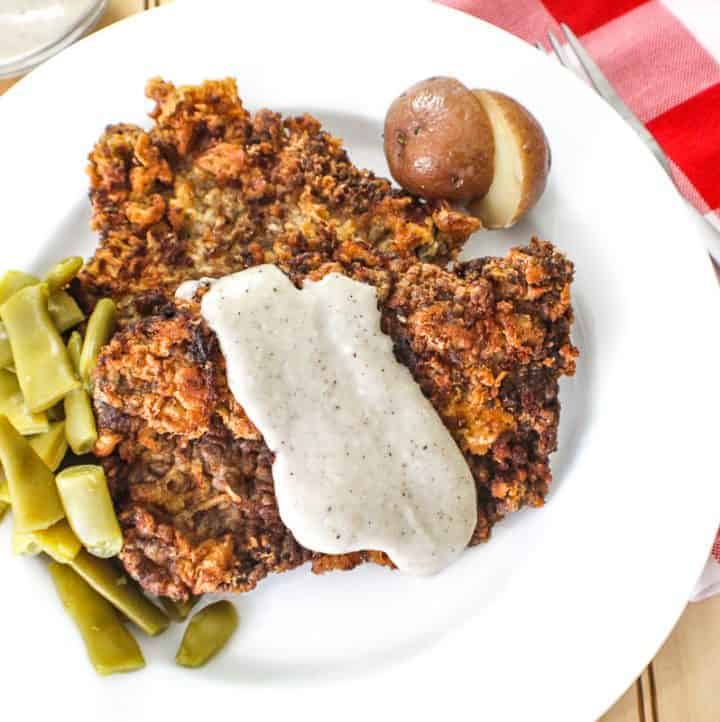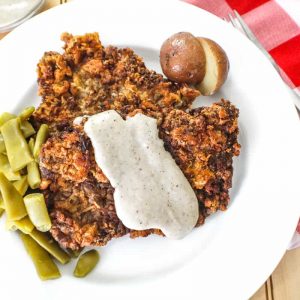 Chicken Fried Steak
Traditional Southern Chicken Fried Steak is easy and cost efficient to make! Serve with cream gravy and call it dinner!
Print
Pin
Equipment
Cast iron skillet

Tongs

Meat thermometer

Paper towels
Ingredients
Chicken Fried Steak Ingredients:
2

lbs.

cubed steak

1+

cups

oil

(not olive oil); you may need more oil, depending upon the size of your skillet (See Recipe Notes: Oil)

¾

cup

buttermilk

(or plain milk)

3

whole

eggs

lightly beaten

3

cups

flour

1

tablespoon

kosher salt

(for flour)

1

tablespoon

paprika

(for flour)

1

tablespoon

cayenne

(for flour)

1½

tablespoon

ground black pepper

(for flour)

salt and pepper

(to season steaks)
Cream Gravy Ingredients:
½

cup

oil

(reserved from fried steak)

½

cup

flour

3

cups

milk

salt and pepper to taste
Instructions
Prep:
Remove steak from fridge and let rest on counter 10-15 minutes

Set up dredging station with two bowls: One with lightly beaten egg and buttermilk; the other with flour, salt, pepper and paprika

Lightly salt and pepper both sides of cube steak; (if you want to make Chicken Fried Steak Fingers, slice the steaks into equal strips)

Dredge seasoned steak in buttermilk/egg mixture; then dredge that piece of meat in the flour mixture;

Heat heavy bottom (cast iron works best) skillet with oil; oil should be hot enough to sizzle, but not too hot or it will catch on fire
Cook The Steak:
Once meat has been coated, place steak into the hot oil; cook two minutes; after two minutes, turn the meat to the other side and cook for an additional two minutes. 

Use meat thermometer to check internal temperature; when the center reaches 160ºF, the steak is done

Place on paper towel; serve and enjoy!
Make the Gravy
Use a separate skillet for the gravy; pour ½ cup reserved frying oil into clean skillet; heat on medium

Sprinkle in equal amount of flour; whisk (mixture will be clumpy)

Add 1 cup of milk to flour mixture; continue to whisk; add another cup of milk; continue to whisk

If gravy is too thick, add final cup of milk to mixture and whisk until smooth

Add salt and a generous amount of black pepper to your liking

Serve over Chicken Fried Steak
Notes
Oil:
You need about 1"inch of oil in a cast-iron skillet. A 10" inch skillet uses 1 ½ cups of oil. Add more if using a 12" inch skillet.
If you want "chicken fingers" slice the steak into strips first, then season the strips with a little salt and pepper. Dredge strips in egg mixture, then flour, and fry.
Cream Gravy:
This recipe yields about 2 cups of gravy.