One of the "national foods of the South"-- you'll find Texas Chicken Fried Steak with Cream Gravy on just about every restaurant menu in the Lone Star State! As a native Texan, I guarantee you there's nothing better than a well-seasoned, pan fried chicken fried steak that's made-from-scratch! Here, you'll learn how to make this Southern staple like a pro!
This cube-steak-family-favorite is usually served with cream gravy and a side of "I need a nap!"

Why you'll love this recipe!
In Texas, you'll often find Chicken Fried Steak referred to as "country-fried steak." There's been a debate for centuries about the difference between the two, but at the end of the day, I say it depends upon where in Texas you're from. Texas is a huge state and the variations for this family favorite vary from East to West, as well as North to South.
Easy and fast - it doesn't take long for the tenderized steak to fry...the total time for each steak is about about 5-minutes each!
Restaurant-quality-This recipe works every time if you follow the Tips outlined below...and the flavor is delicious!
Not as messy as you think-while the steaks are frying, you can load the dredging bowls into the dishwasher...pretty easy clean-up! And you don't need a deep fryer.
Want chicken fingers? Just cut the cube steak into strips!
Here's what you need for the steak and cream gravy
The ingredients for this Texas staple are pretty simple. As for the equipment, you'll need a deep cast-iron skillet, a meat thermometer and a pair of tongs.
Cubed steak (also known as tenderized steak, tenderized top steak or tenderized sirloin steak)
Heat tolerant oil (vegetable, canola oil or peanut oil - but not olive oil)
Buttermilk (or milk)
Eggs-I use a large egg
All-purpose flour
Salt, black pepper, and a dash of cayenne pepper
Milk- 2% or whole milk
In order to get a crispy fried chicken steak that's tender on the inside, I recommend using a heavy skillet, (like a cast-iron skillet) and a reliable meat thermometer.
How to make Texas Chicken Fried Steak
See the recipe card below for exact ingredient measurements.
First things first, you want to let the cube steak sit at room temperature for about 10-minutes. Why? If you try to coat cold steak, the batter is more likely to fall off when frying the steak.
Place the steaks in a 9 x 13 baking dish and drizzle buttermilk over them; coat well; allow to sit for about 10-minutes. (Buttermilk-soaked beef turns out more tender than just soaking it in plain milk because the acid from the buttermilk softens the sinewy parts of the beef.)
Meanwhile, in a large mixing bowl or flat pie plate, combine the lightly beaten large eggs and set aside. In a second bowl, combine the flour and dry seasonings (salt, pepper, cayenne)- some folks add a little garlic powder to the flour mixture...it's up to you!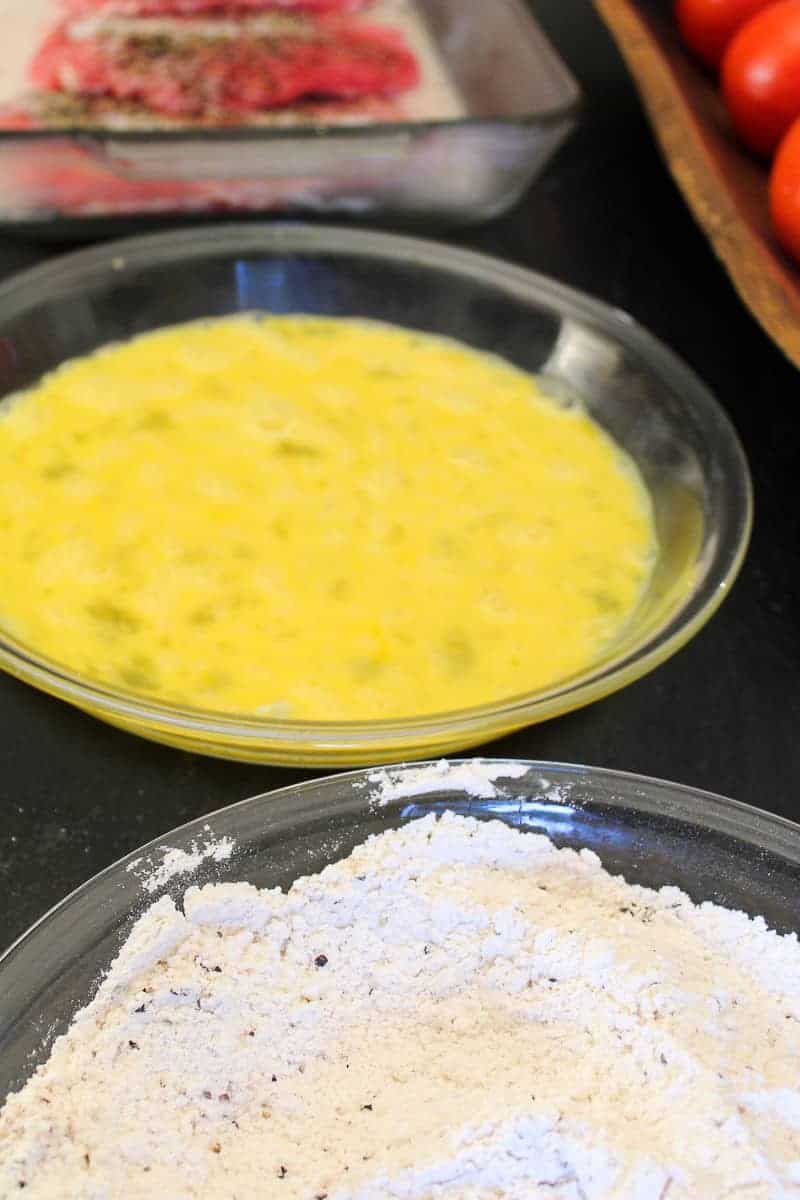 Heat a deep cast-iron skillet or a heavy skillet, on medium to medium-high heat with about 1 ½ inches of heat tolerant oil.
Once the oil gets hot, remove the steak from the buttermilk and immediately dredge it in the egg mixture, then dredge it in the seasoned flour mixture. Use the back of a spoon and press the flour mixture into the crevices of the cube steak to ensure a nice crispy coating. (If dredging steak in flour isn't your thing, you can put the seasoned flour mixture in a plastic bag, add the steaks and shake the steaks in the bag.)
Lightly shake off excess flour and place the coated beef in the hot oil.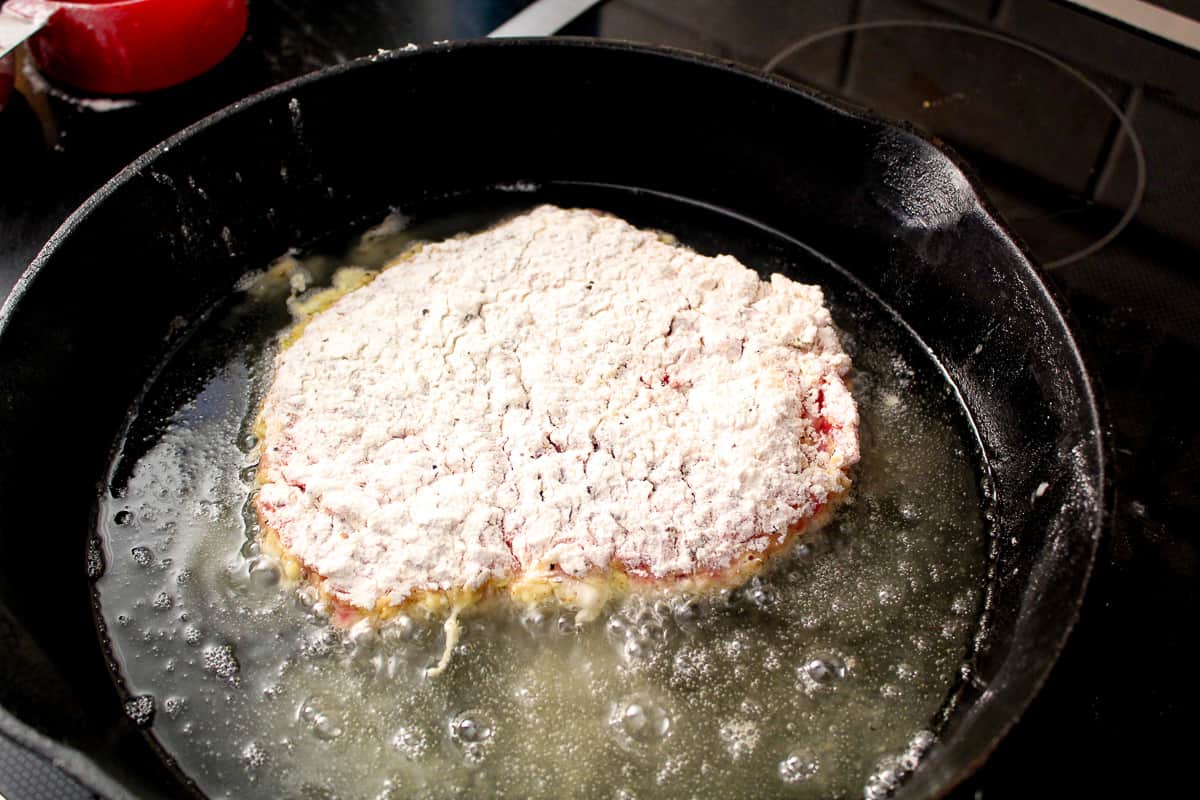 Allow the steak to cook for 3 minutes on one side, then gently flip and cook the other side until golden brown.
Remove from pan and drain on a wire rack or paper towels. Repeat process with remaining steaks. Reserve the pan drippings for the cream gravy.
How to make white cream gravy
Once your steaks are nice and crispy, place steaks (uncovered) on a baking sheet in a 200° F warm oven while you make the cream gravy.
Strain the frying grease from the skillet to remove any solid remnants and wipe the cast iron skillet with a paper towel.
Pour some of the cooking oil back into the cast iron skillet and let it get nice and hot on medium or medium-high heat (See recipe below for exact amounts)
Sprinkle in some all-purpose flour and whisk together; let this roux cook for about 3 minutes. Note: do not re-use any of the remaining flour that you dredged the steak in; use fresh all-purpose flour for the cream gravy
Gradually add in some of the milk, whisking continuously; turn heat down to low and add the remaining milk, stirring constantly to remove any lumps
Season the white gravy generously with salt and pepper; serve over a crispy golden piece of steak and enjoy!
Recipe FAQ
What cut of meat do I use for chicken fried steak?
Texas Chicken Fried Steak can be made with different cuts of meat, but the most frequently used is cube steak. It's basically a tenderized top-round steak. It usually comes in packages of two or four and the beef is thin and has criss-cross or "cubed" marks on it.
(It's also called "cubed" steak.) These marks happen after it's been put through a tenderizing machine....
If you don't see it, ask your butcher at the grocery store - he'll know...just tell him you want tenderized or "cubed" steak for Chicken Fried Steak.
What kind of oil do I use?
The best oil to fry the steak in is either vegetable oil or canola oil. Both of these oils are high-heat tolerant, as opposed to olive oil, which will burn easily at higher temperatures. Do not use olive oil.
How do I keep the breading on chicken fried steak?
This is of the most common challenges cooks encounter -the breading falls off the meat...here's how to prevent the breading from falling off your Texas chicken fried steak:
Make sure the meat is not cold; let it sit at room temperature for about 15-minutes before dredging
Soak the tenderized beef for 3-4 minutes in buttermilk
Press the batter or breading mixture into the meat using the back of a spoon
Make sure the oil is hot enough-between 260º - 312ºF
Don't flip or turn the meat for at least 2-3 minutes; let it get good and crisp on the bottom before you flip it
What's the difference between country fried steak and chicken fried steak?
These terms are often used interchangeably and it depends on where you are in the Lone Star State and who you ask!
They're actually the same thing (texturized, breaded and fried steak), but in some places, "country fried steak" is served with brown gravy and onions and "chicken fried steak" is served with cream gravy.
And then, there's the local diners in small towns that serve "country fried steak with cream gravy," so...you can see it's a matter of who you ask.
Oil temperature
Use a reliable meat thermometer to determine the heat of the oil or, you can sprinkle a little flour in the hot oil. If it sizzles, the oil is hot enough; if it doesn't sizzle, continue heating the oil.
Restaurant and commercial fryers typically cook this at 350ºF; but this is too hot for home frying and plus that, it's just downright scary to heat up oil that hot.
I find the best results are when the oil is between 260-312ºF. The steak will still fry, but it will take a bit longer than in a restaurant.
Why is my chicken fried steak tough?
If you're fried steak typically comes out tough you might consider pounding the meat into thin cutlets with a meat mallet and soaking the steak in buttermilk. The acid in buttermilk tenderizes the steak so it is fork-tender. I've used buttermilk in this recipe for years and have always had great success!
How do I know when it's done?
According to government guidelines, the internal temperature should be at least 160ºF. This is to ensure no bacteria is present.
I have found varying recommended internal temps on line. Some say a minimum of 145ºF, while others say 165ºF. I use government guidelines just to be safe
Recipe tips
Follow these fail-proof tips for the best chicken-fried steak recipe in Texas!
Let the steak rest: pull the steak out of the fridge and let it rest on the counter about 10-15 minutes before seasoning.
Set up dredging station: Use two flat bowls (I use pie plates); set one up with eggs and (butter)milk and the other with seasoned flour. Coat steak thoroughly with lightly beaten eggs first then seasoned flour.
Use the right pan: Cooking with high heat requires a heavy-bottomed large skillet. I recommend a large cast-iron. Do not overcrowd the pan; cook Texas Chicken Fried Steak in batches if you're making more than two fried steaks.
Use the right oil: use a high-heat oil like vegetable, canola, peanut, grapeseed or walnut. Olive oil is not high-heat-tolerant and will burn.
Use enough oil: Depending upon the size of your skillet, you'll want to pour about 1-inch of oil in the pan. (See recipe notes)
Use tongs: Use 3 separate tongs for the process: 1 pair of tongs for dredging in egg mixture; another for dredging the steak in flour and a third for flipping and removing the steak from the oil.
If you don't have three tongs, use your fingers for dredging the steak in the milk mixture and flour; you'll definitely need tongs for flipping and removing the steak from the hot oil.
Don't Move the Steak: Just like frying fish, place the flour-coated meat in the hot oil and don't touch it for two minutes. Just don't. After two minutes, use the tongs to "peek" at the bottom to see if it's getting nice and brown. If it is, then flip the steak; if not, let it cook another minute.
Adjust stove heat: If you see the steak starting to burn, turn the heat down a little. You want a golden crisp fried coating on the steak--not charred.
Use an accurate meat thermometer: There's nothing worse than cutting into a piece of chicken fried steak, only to find the center pink and stringy. The center of the steak should reach a minimum internal temperature of 145ºF. I usually cook mine to an internal temp of 160ºF.
First batch looks best: The steaks are usually pretty big and most cast-iron skillets can hold only one at a time, which means you have to work in batches. If you find yourself in this situation, don't worry! The first steaks will come out lighter than the others because the oil is fresh.
If this really bothers you, you can pour off the old oil in between batches and reheat new oil. I find this cumbersome and a waste of time.
Drain on paper towel: Have a clean plate next to your frying pan with a few layers of paper towels. Once the steak is done, place it on the paper towel-lined plate to drain.
How to reheat Texas Chicken Fried Steak and cream gravy
The best way to reheat it is in the oven. Place it on a parchment or foil lined baking sheet, uncovered, and bake at 325ºF for about 12-15 minutes, or until the center is warm.
Do not wrap the steaks in foil or the crust will be soggy.
As for the cream gravy store it in an airtight container in the refrigerator. When ready to reheat, place it in a saucepan on medium heat; you'll have to add a little water or milk as you reheat it because cream gravy thickens upon refrigeration.
Serving suggestions
If you're wondering what to serve with Texas Southern Chicken Fried Steak, you'll find a variety of sides! The most popular and common sides for this Texas staple are: mashed potatoes, cream gravy, green beans, fried okra, stewed okra and tomatoes, sweet creamed corn and purple hull peas.
Some folks like to serve it with steak fries, biscuits, collard greens or macaroni and cheese!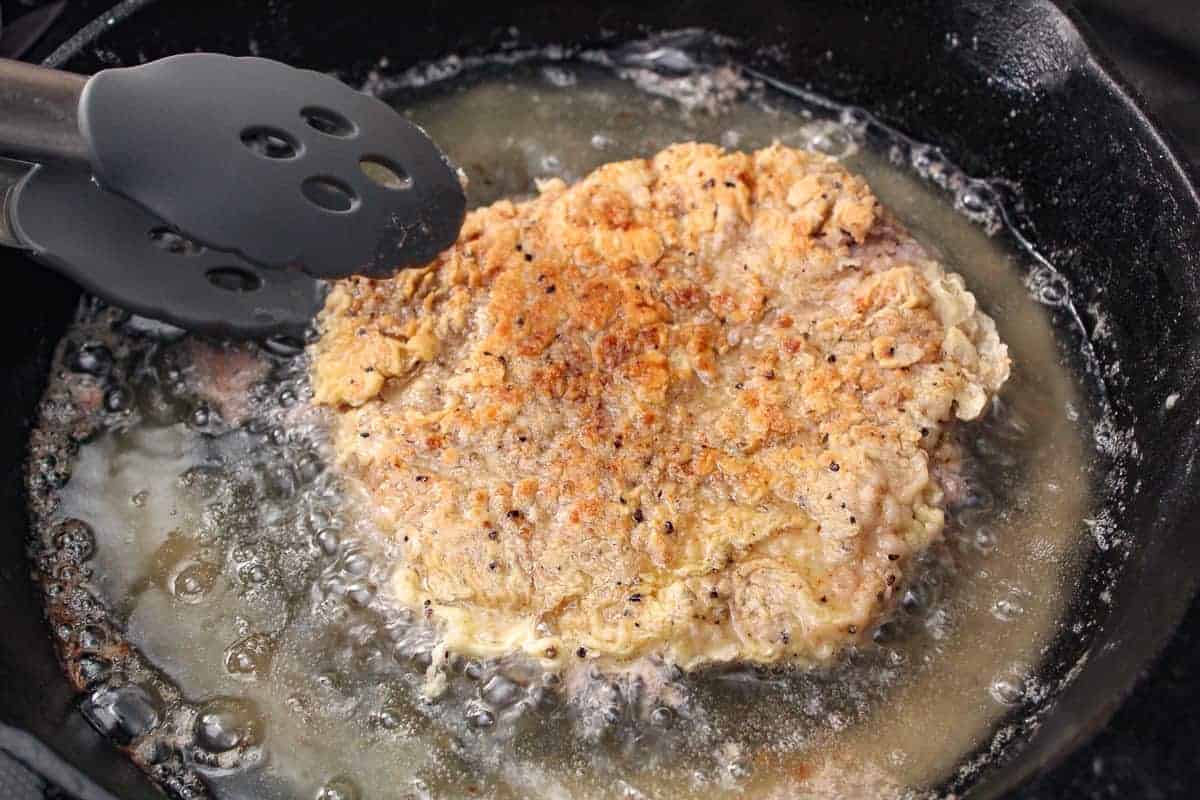 Mastering Texas Chicken Fried Steak with Cream Gravy is just about the only thing you need in order to be considered a true Texan!
More Southern recipes
If you're craving more good Southern food, you might like:
♥ If you make this recipe, please scroll down leave a comment and rating! I love to hear from you!
📋 Recipe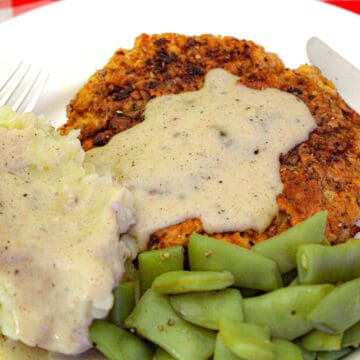 Texas Chicken Fried Steak with Cream Gravy Recipe
A classic Texas favorite, Chicken Fried Steak with Cream Gravy is made with tender cubed steak, pan-fried to a crispy golden brown and topped with white cream gravy.
Print
Rate
Equipment
Cast iron skillet

Tongs

Meat thermometer

Paper towels
Ingredients
Chicken Fried Steak Ingredients:
2

lbs.

cubed steak

1+

cups

oil, vegetable or canola

(not olive oil); you may need more oil, depending upon the size of your skillet (See Recipe Notes: Oil)

¾

cup

buttermilk

(or plain milk)

3

whole

eggs

lightly beaten

3

cups

all purpose flour

1

tablespoon

kosher salt

(for flour)

1

tablespoon

paprika

(for flour)

1

tablespoon

cayenne

(for flour)

1

tablespoon

garlic powder (optional)

1½

tablespoon

ground black pepper

(for flour)

salt and pepper

(to season steaks)
Cream Gravy Ingredients:
½

cup

oil

(reserved from fried steak)

½

cup

flour

3

cups

milk

salt and pepper to taste
Instructions
Remove steak from fridge and let rest on counter 10-15 minutes

Set up dredging station with two bowls: One with lightly beaten egg ; the other with flour, salt, pepper and paprika

3 whole eggs,

3 cups all purpose flour,

1 tablespoon kosher salt,

1 tablespoon paprika,

1 tablespoon cayenne,

1½ tablespoon ground black pepper

Lightly salt and pepper both sides of cube steak; (if you want to make Chicken Fried Steak Fingers, slice the steaks into equal strips)

Soak seasoned steak in buttermilk for 5-10 minutes then dredge the buttermilk soaked meat in the lightly beaten eggs; then dredge in the flour mixture; be sure to press flour into the crevices of the meat

Heat heavy bottom (cast iron works best) skillet with oil; oil should be hot enough to sizzle, but not too hot or it will catch on fire

1+ cups oil, vegetable or canola

Once meat has been coated in egg and flour, place steak into the hot oil; cook for 2-3 minutes; DO NOT MOVE THE STEAK; after about 2-3 minutes, turn the meat to the other side and cook for an additional 2-4 minutes.

Use meat thermometer to check internal temperature; when the center reaches 160ºF, the steak is done

Place on paper towel; salt and pepper to taste; serve and enjoy!
Make the Gravy
Strain the cooking oil you used for the steaks; (you'll use the same skillet for the gravy that you used to cook the steaks in); pour ½ cup drained, reserved frying oil into the clean skillet; heat on medium

Sprinkle in equal amount of flour; whisk (mixture will be clumpy)

Add 1 cup of milk to flour mixture; continue to whisk; add another cup of milk; continue to whisk; turn heat to medium high for about 2-minutes, then reduce to medium heat

If gravy is too thick, add final cup of milk to mixture and whisk until smooth

Add salt and a generous amount of black pepper to your liking

Serve over Chicken Fried Steak
Notes
Oil:
You need about 1"inch of oil in a cast-iron skillet. A 10" inch skillet uses 1 ½ cups of oil. Add more if using a 12" inch skillet.
Prepping the steaks:
Soak the steaks in buttermilk for about 5-10 minutes; when you get ready to dredge the steaks in the egg, don't wipe off any of the buttermilk - just go straight from the buttermilk to the egg and then to the flour
Frying the steak:
If you want "chicken fingers" slice the steak into strips first, then season the strips with a little salt and pepper. Dredge strips in egg mixture, then flour, and fry. These cook faster than whole steaks.
After you place the steak in the oil, let them cook for 2-3 minutes; DO NOT MOVE THE STEAK during those first 2-3 minutes. After, take a peek and see if the first side is golden brown; if so, flip and cook an additional 2-4 minutes.
If the first side isn't quite golden, let it cook a minute longer, then flip it.
If you're making more than 4 chicken fried steaks, you might want to refresh the oil after the first 4...some of the breading will fall off and the oil gets darker, resulting in a darker coating
Cream Gravy:
This recipe yields about 2 cups of gravy.
Use some of the oil from the fried steak to start the gravy; use the same skillet you cooked the steaks in
Here's how to make buttermilk in case you don't have any:
Add the juice of one lemon to one cup of milk. Let it sit for 5 minutes and thicken. Now, you have buttermilk!
Nutrition Estimate
Serving:
2
lbs.
Calories:
1720
kcal
Carbohydrates:
98
g
Protein:
66
g
Fat:
118
g
Saturated Fat:
21
g
Cholesterol:
189
mg
Sodium:
2011
mg
Potassium:
1274
mg
Fiber:
4
g
Sugar:
12
g
Vitamin A:
1753
IU
Vitamin C:
1
mg
Calcium:
339
mg
Iron:
10
mg