There's something about baking this homemade fresh Apple Cake that warms the soul! It's the perfect Fall dessert when apples are in season and it's super easy to make! Plus that, your house will smell amazing!
This vintage apple cake recipe is from my Grandmother Lucille. Fresh apples are the key ingredient and you only need to peel and core three big apples!
Use Honeycrisp, Fuji or Gala apples for best results.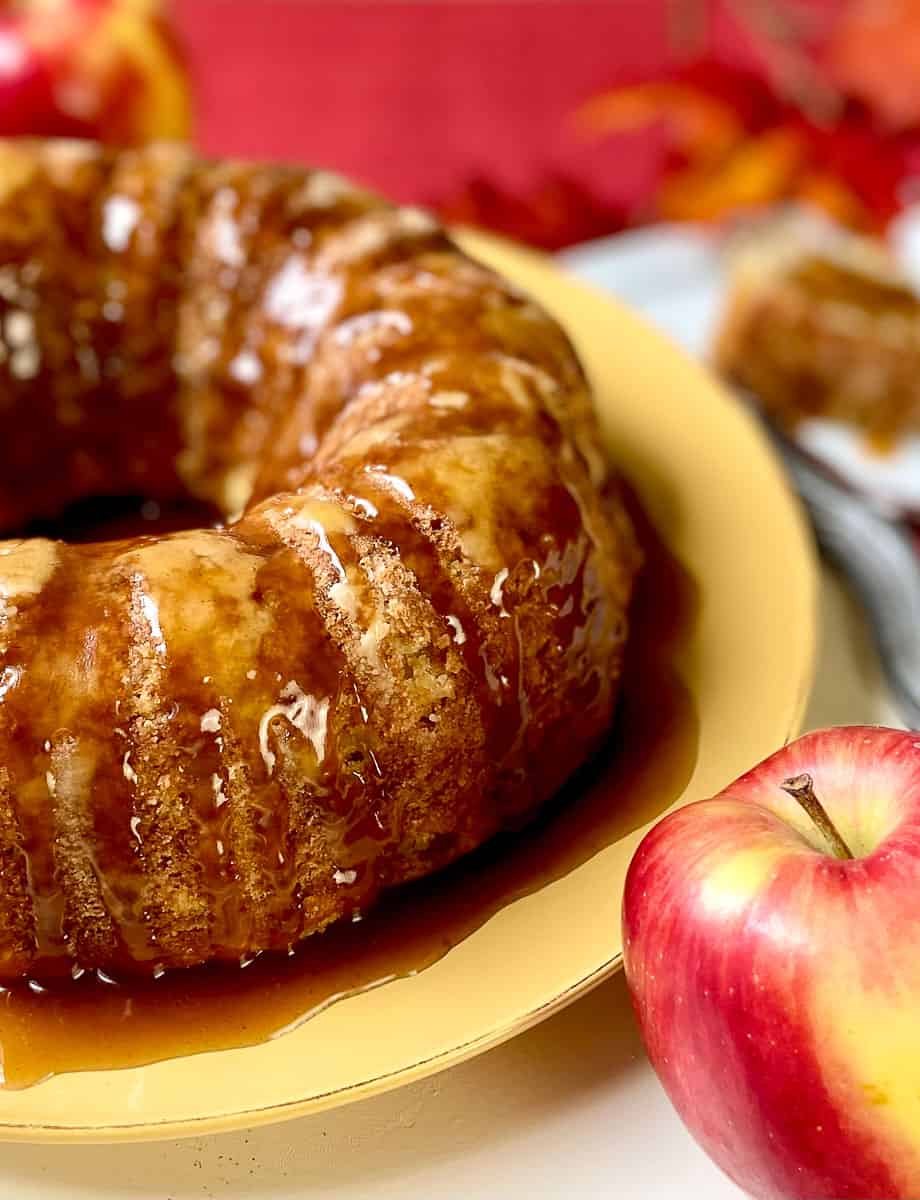 I found this vintage recipe in a Piggly Wiggly bag of recipes I inherited from my Grandmother. The first time I made it I thought, "oh dear...this batter is thick!"
But, as I continued the instructions, it turned out perfectly...I've added an Apple Butter glaze because...who doesn't like glaze?
Why you'll love this recipe!
Simple ingredients - nothing fancy or complicated! Apples, flour, sugar, eggs and a few others...and there's no butter in this apple cake recipe!
Easy - the hardest part is coring the apples, seriously! After that, it's lickity-split simple!
Flavorful - apple cake (with or without pecans or walnuts...your call) has a really nice texture and it's not too sweet; just the flavor of baked apples
What I especially like about this particular fresh apple cake recipe is that there's no cinnamon...I'm not a big fan of it and every other apple recipe has cinnamon...this is a pleasant surprise!
You can add cinnamon if you like, or use a little Apple Pie spice - it contains cinnamon, nutmeg and allspice - three warm spices that pair beautifully with apples.
Here's what you'll need
First, get an apple corer. Trust me. The rest is a breeze.
The glaze ingredients are: butter, brown sugar and Apple Pie spice.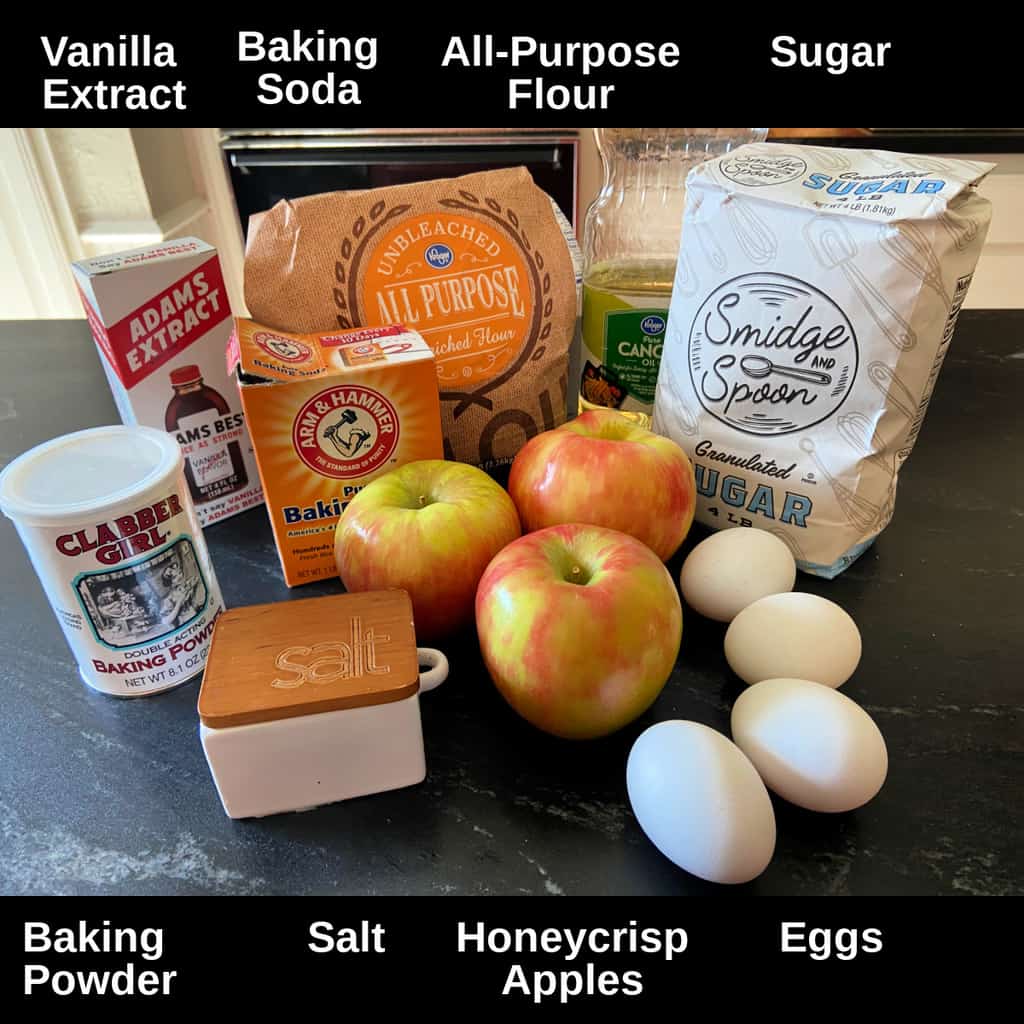 How to make it
This apple cake with fresh apples is easy to make, but this first step is critical.
This step is essential: Do Not Skip It
Core and peel the apples. Chop them into fine pieces.
Place in a bowl and sprinkle 2 cups of sugar over the diced apples; combine well; cover and refrigerate for 1-hour.
This marinating step is critical to the recipe as the sugar and apples form a liquid that thins the batter.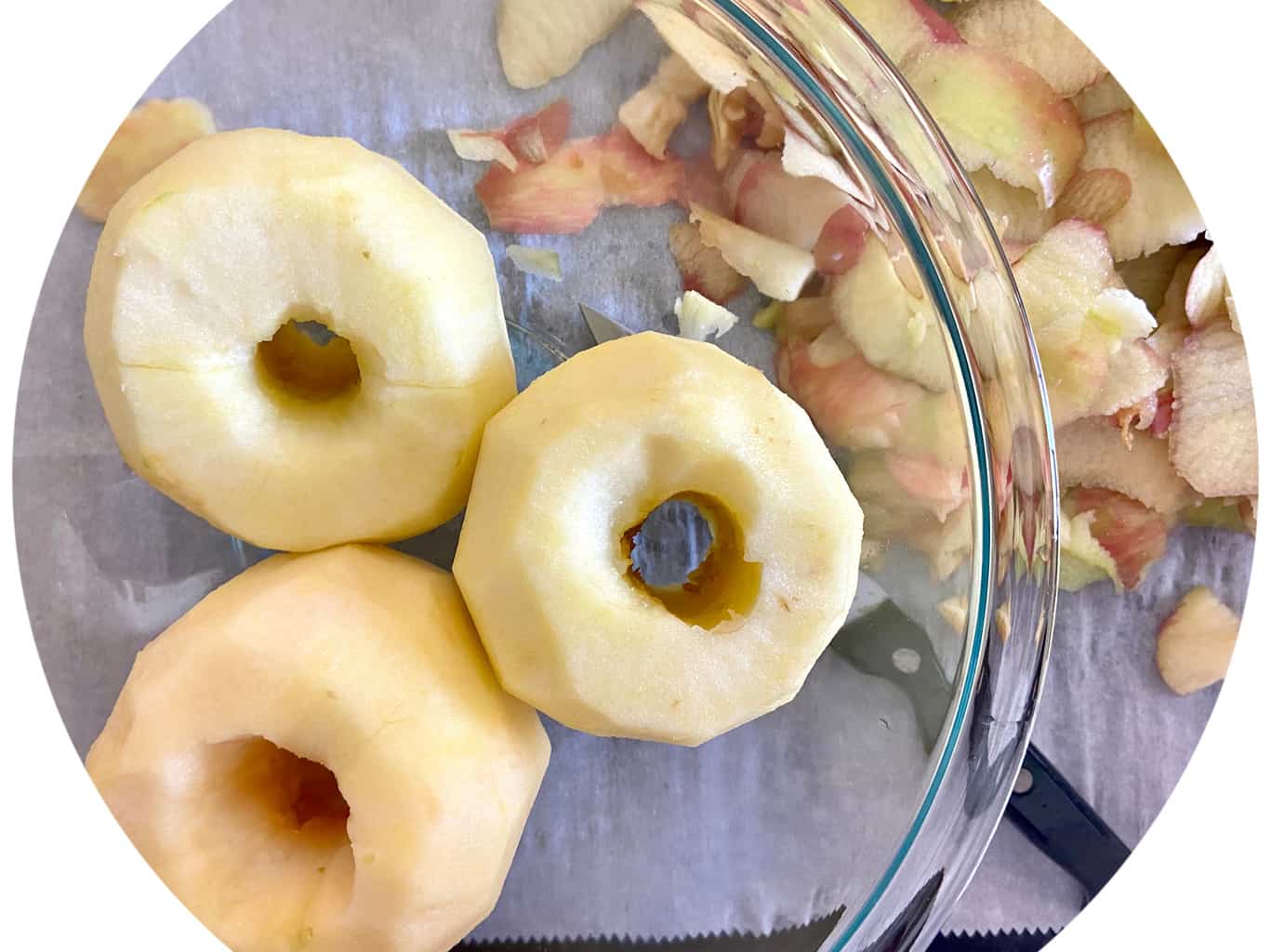 The batter is initially thick but, once you add the sugar coated apples and the liquid that forms from them, the batter thins out..... do not freak out when you first make it!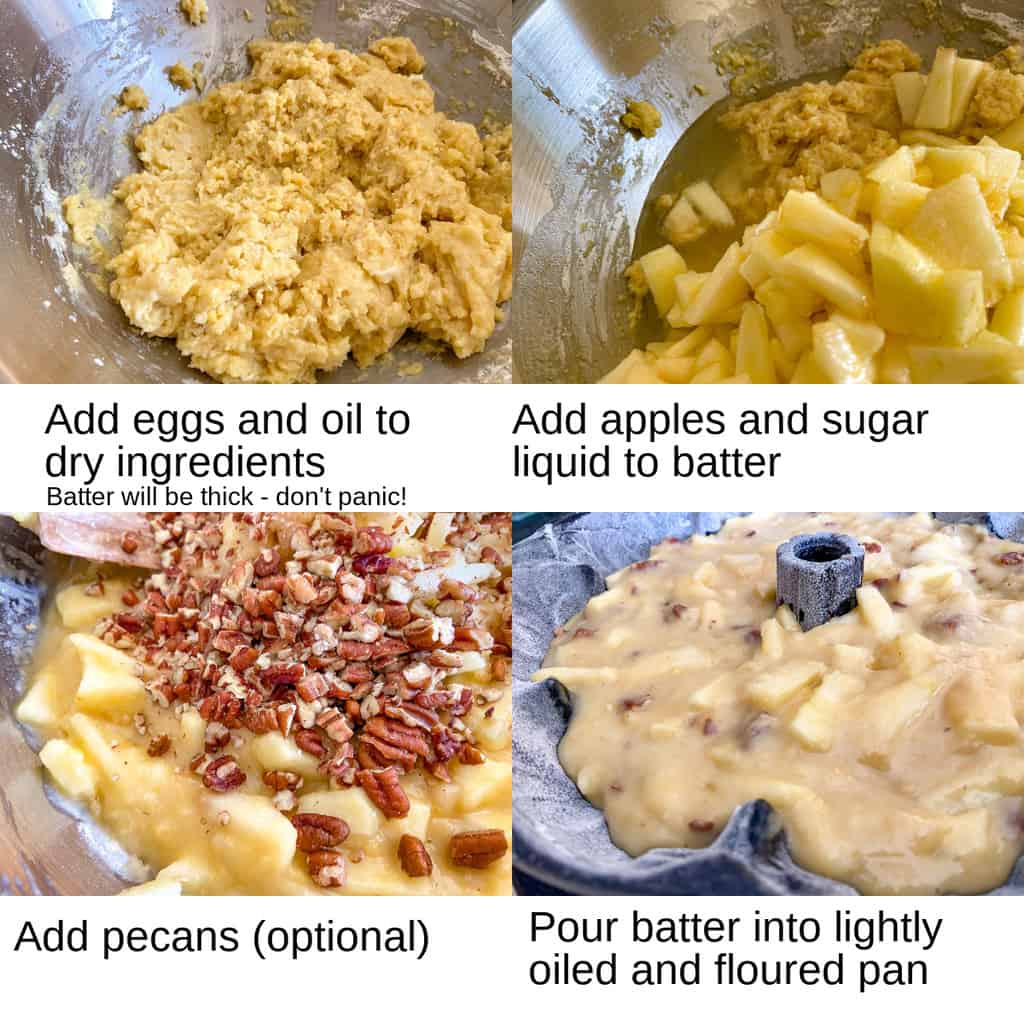 This old-fashioned fresh apple cake takes about 50-minutes to bake, depending upon your oven.
My oven is old and I had to cook mine for an additional 10 minutes...check the center with a knife or bamboo skewer to determine when it's done. The knife/skewer should come out clean.
Allow the cake to cool before turning it out on a platter; you can loosen the warm cake with a spatula first.
Make the glaze
Melt one stick of butter in a small saucepan; add brown sugar, vanilla extract, Apple Pie spice and a pinch of salt; Heat until sugar is dissolved and the glaze begins to bubble a little; remove from heat and let it sit a few minutes; drizzle over cake
The glaze recipe makes about 1 cup, which is plenty to drizzle over the cake, however, if you want additional apple butter glaze for individual cake slices, you might want to double the glaze recipe.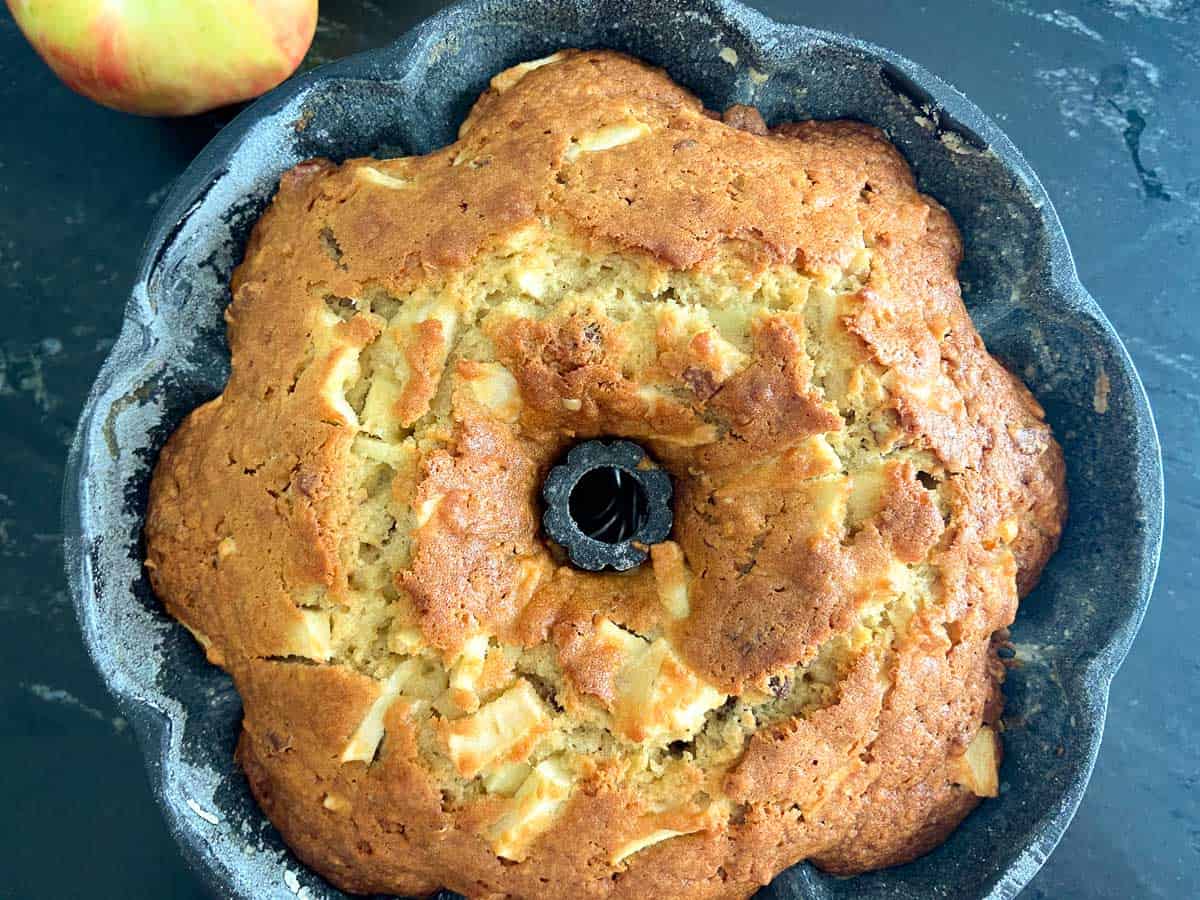 Tips
Get an apple corer
Use fresh Honeycrisp, Fuji or Gala apples- not Red Delicious...they get too grainy
Do not skip the apple/sugar marinating step...
Chop apples and pecans into very small pieces-the smaller the better, especially when you slice it
Bake in a tube or Bundt pan; lightly oil and flour pan
Allow to cool before turning cake out of pan
Cut cake slices with a serrated knife; the cake tends to crumble when cut with a normal knife due to the texture of the apples and pecans
You might wanna double the glaze recipe...this recipe makes enough to drizzle over the top, but it's so good, you might wanna make more for each slice!
My cake "puffed-up" on top after I baked it...so the bottom wasn't level on the cake plate; if this bothers you, level it out with a knife before you plate it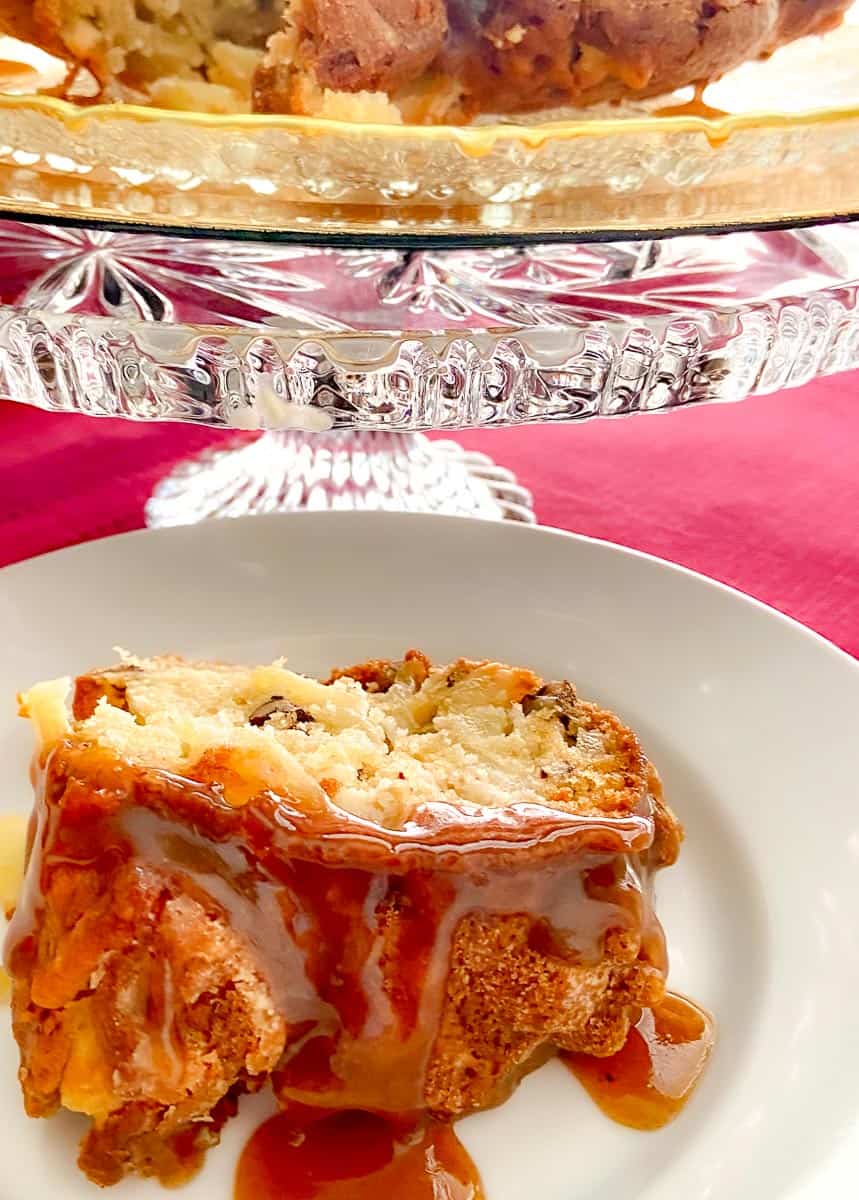 Fresh apple cake is probably one of the "healthiest desserts" you'll find. Fresh apples with all natural ingredients and no preservatives...perfect for any occasion!
Related recipes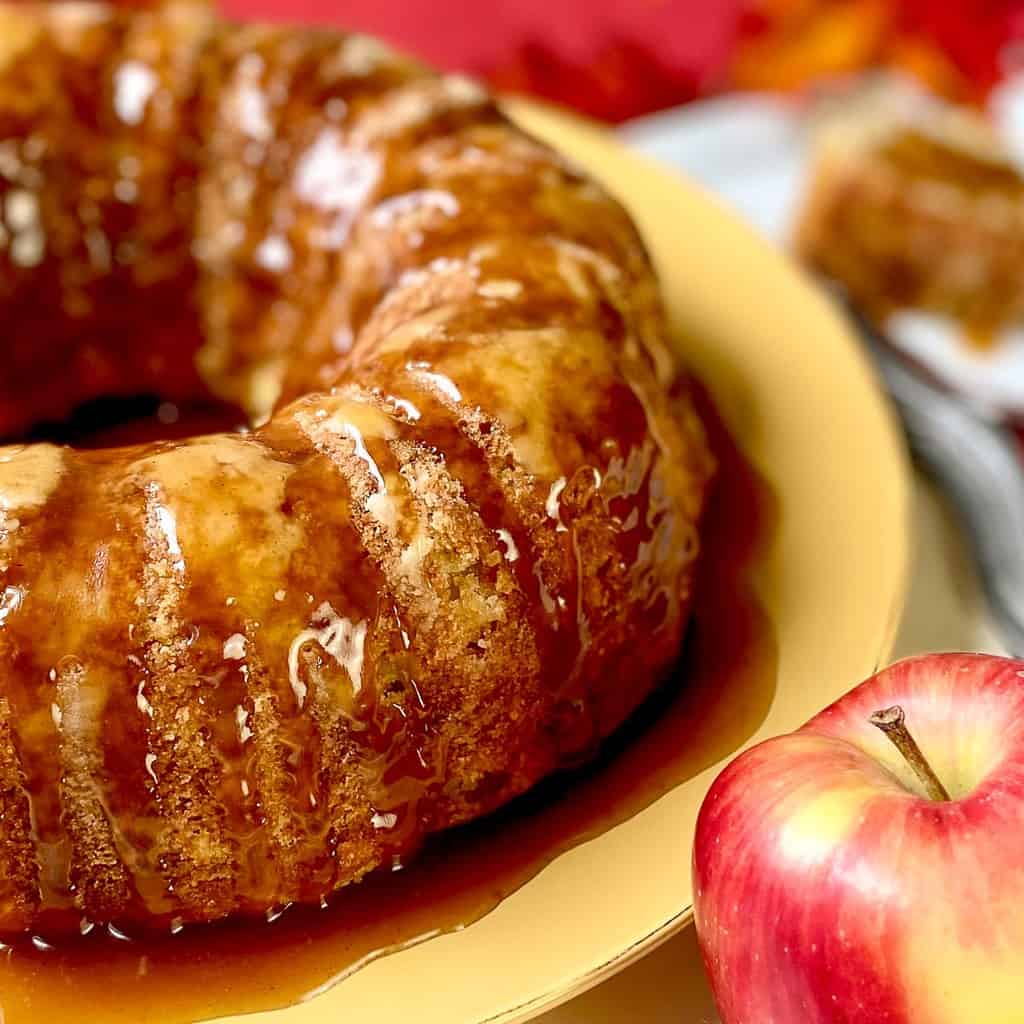 If you make this recipe, please leave a rating and comment below! I love to hear from you!
📋 Recipe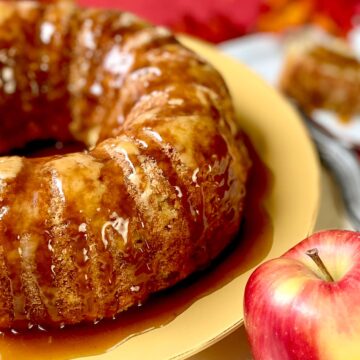 Ingredients
4

cups

apple

, cored, peeled and finely chopped, (about 3 large apples)

2

cups

sugar

. to sprinkle over apples

4

whole

eggs

.lightly beaten

1

cup

oil

.vegetable or canola; plus a teaspoon for prepping pan

2½

cups

flour

.all-purpose; plus a teaspoon for prepping pan

1

teaspoon

salt

table

2

teaspoons

baking powder

1

teaspoon

baking soda

1

teaspoon

vanilla extract

½

cup

chopped pecans (optional)

½

teaspoon

cinnamon (optional)

See recipe notes
Glaze Ingredients
1

stick

butter

, salted or unsalted

⅓

cup

brown sugar

packed

¼

teaspoon

vanilla extract

½

teaspoon

Apple Pie spice

pinch of salt

to taste (optional)
Instructions
In a medium bowl, combine peeled, cored and finely chopped apples and sugar; cover and let sit in refrigerator for one hour

4 cups apple,

2 cups sugar

Lightly oil and flour pan; set aside

In a large mixing bowl combine dry ingredients (flour, baking soda, baking powder, salt)

2½ cups flour,

2 teaspoons baking powder,

1 teaspoon baking soda,

1 teaspoon salt

Add lightly beaten eggs, oil and vanilla extract to dry ingredients; combine well

4 whole eggs,

1 cup oil,

1 teaspoon vanilla extract

Add apples and their sugar liquid and pecans (optional) to batter; stir until well combined

Pour batter into prepared pan

Bake for 50 minutes; check for doneness with a knife or skewer; allow to rest for at least 15 minutes before removing cake from pan
Glaze
Melt butter in saucepan on medium heat; add brown sugar, Apple Pie spice, vanilla extract and salt; cook until sugar is dissolved and the mixture begins to bubble a little; remove from heat and let set and thicken for a few minutes; drizzle over cake

1 stick butter,

⅓ cup brown sugar,

¼ teaspoon vanilla extract,

½ teaspoon Apple Pie spice,

pinch of salt
Notes
Make sure you finely dice (almost mince) the apples-you do not want big apple chunks in the cake
Do not panic if the batter is thick at first! Once you add the apples and their sugar liquid, it thins.
The original recipe called for a cup of pecans; you can use either finely chopped pecans or walnuts-or eliminate nuts altogether
If you use any kind of nuts in your cake, be sure to mince them finely...the cake doesn't slice very well with big chunks of nuts
Prior to removing cake from pan, run the straight edge of a knife around the perimeter of the cake to loosen
For best results, use a serrated knife to slice cake
If you want a hint of cinnamon, add ½ a teaspoon to the dry ingredients
Glaze:
This recipe makes 1 cup of glaze.
You might wanna double the glaze recipe; this makes enough to drizzle over the cake, but there's not much left to drizzle over individual slices
Key to slicing a pretty apple cake:
Make sure your apples and pecans or nuts are diced into very, very small pieces! (almost "minced")
I made this once and didn't dice the pecans enough and it didn't look so pretty when I sliced it. It was good, but didn't slice like I wanted. Tiny pieces!!!
Nutrition Estimate
Serving:
1
slice
Calories:
378
kcal
Carbohydrates:
49
g
Protein:
2
g
Fat:
20
g
Saturated Fat:
5
g
Polyunsaturated Fat:
4
g
Monounsaturated Fat:
10
g
Trans Fat:
1
g
Cholesterol:
16
mg
Sodium:
320
mg
Potassium:
64
mg
Fiber:
1
g
Sugar:
33
g
Vitamin A:
195
IU
Vitamin C:
1
mg
Calcium:
41
mg
Iron:
1
mg