Potato cakes are the quintessential product of leftover mashed potatoes! So, before you toss those leftover mashed potatoes, make a batch of these delicious taters!
With only a few simple ingredients and and 4-minutes, you can have homemade fried potato cakes that are crispy and golden brown on the outside, and creamy and fluffy on the inside!
Serve these as a snack, appetizer, or side dish with or without a dipping sauce!
Potato cakes (or potato patties) have been around forever and just about every culture calls them something different.
The Irish call them "Boxty", and in Scotland they're known as "Tattle Scones." You'll find other interesting names such as potato fritters, potato patties, potato scallop, latkes, and potato pancakes.
But no matter what you call them, they're technically a fried mashed potato patty made with leftover mashed (or grated ) potatoes, a little egg, flour and seasonings.
Why this recipe works
This easy recipe for potato cakes comes together in no time!
Quick & easy: each batch takes 4-minutes total!
Simple ingredients: use leftover mashed potatoes, an egg, a little flour, salt & pepper
Inexpensive: spuds are relatively cheap, so this dish is a great way to stretch a buck!
Versatile: add your spin to these easy potato cakes - feel free to add herbs, cayenne pepper or paprika to give a little heat to your version
I like to serve these as a side to Stewed Okra and Tomatoes and also with Vegetable Soup or with a big bowl of Purple Hull Peas!
Here's what you need
Use leftover cold mashed potatoes, a large egg, green onions, flour, salt, pepper. You can use self-rising flour or all-purpose flour - either one works in this easy recipe!
The amount of ingredients (particularly, the frying oil, flour and egg) needed for a potato cake mixture will depend upon the amount of leftover spuds you have!
This potato cake recipe uses 2 cups of leftover mashed taters. If you have more than 2 cups, you may have to add a little more all-purpose flour and/or another egg.
You want the consistency of the potato dough to be soft and somewhat "gummy", but not too mushy or they won't fry well.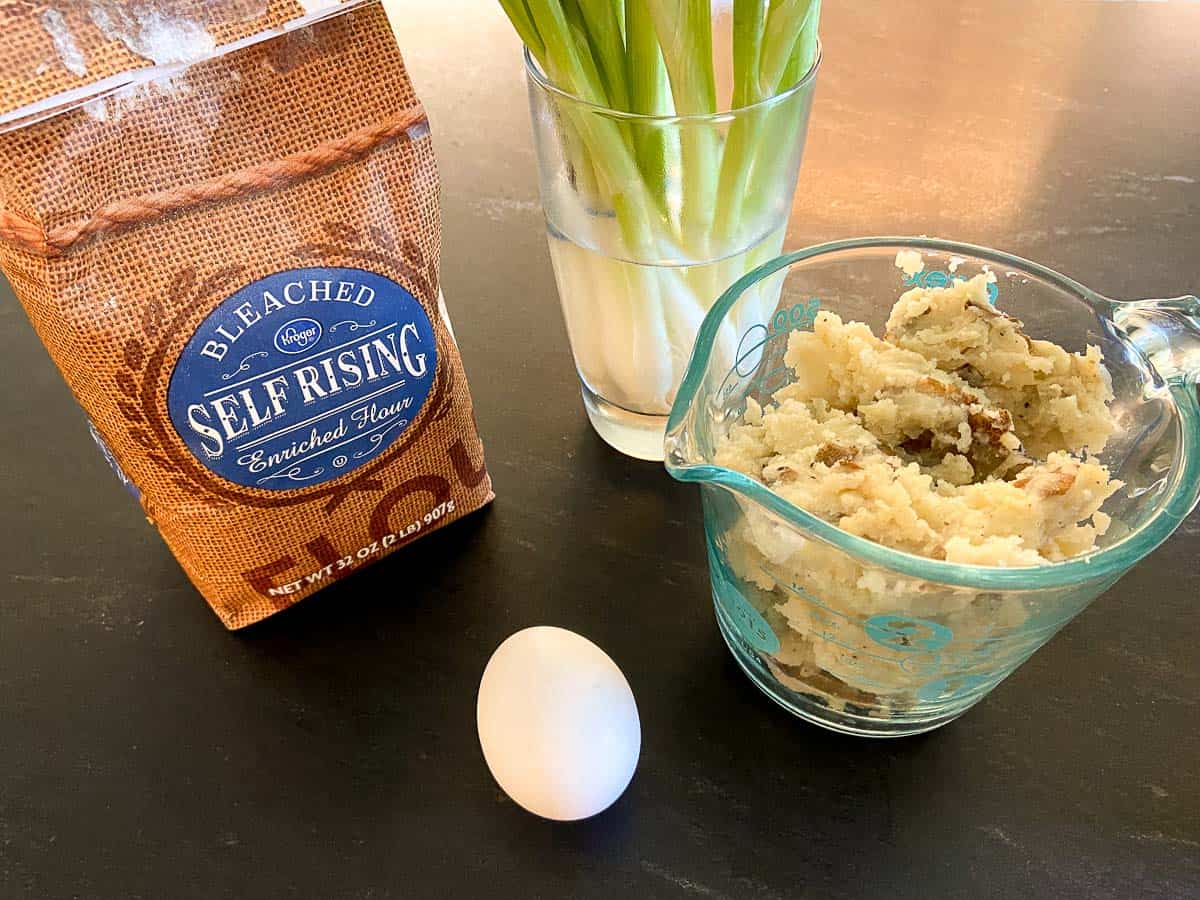 I used self-rising flour, but if you don't have any, all-purpose flour will work just as well.
How to make potato cakes
In a medium to large mixing bowl, beat a large egg; add cold leftover mashed potatoes, salt, pepper and green onions. Combine well (if you want, add a light sprinkle of onion powder and/or garlic powder - this is optional)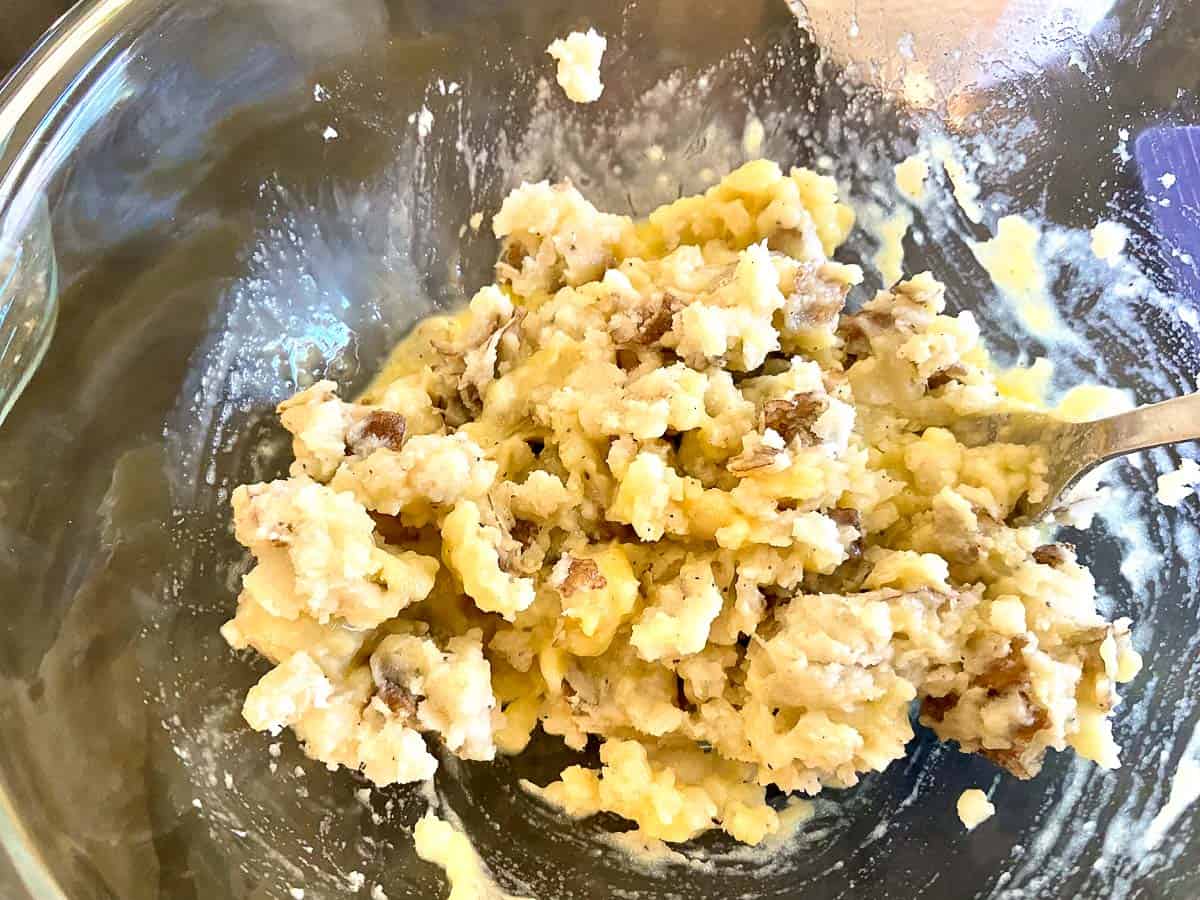 Sprinkle a little flour into the potato mixture and gently combine; don't over work this part.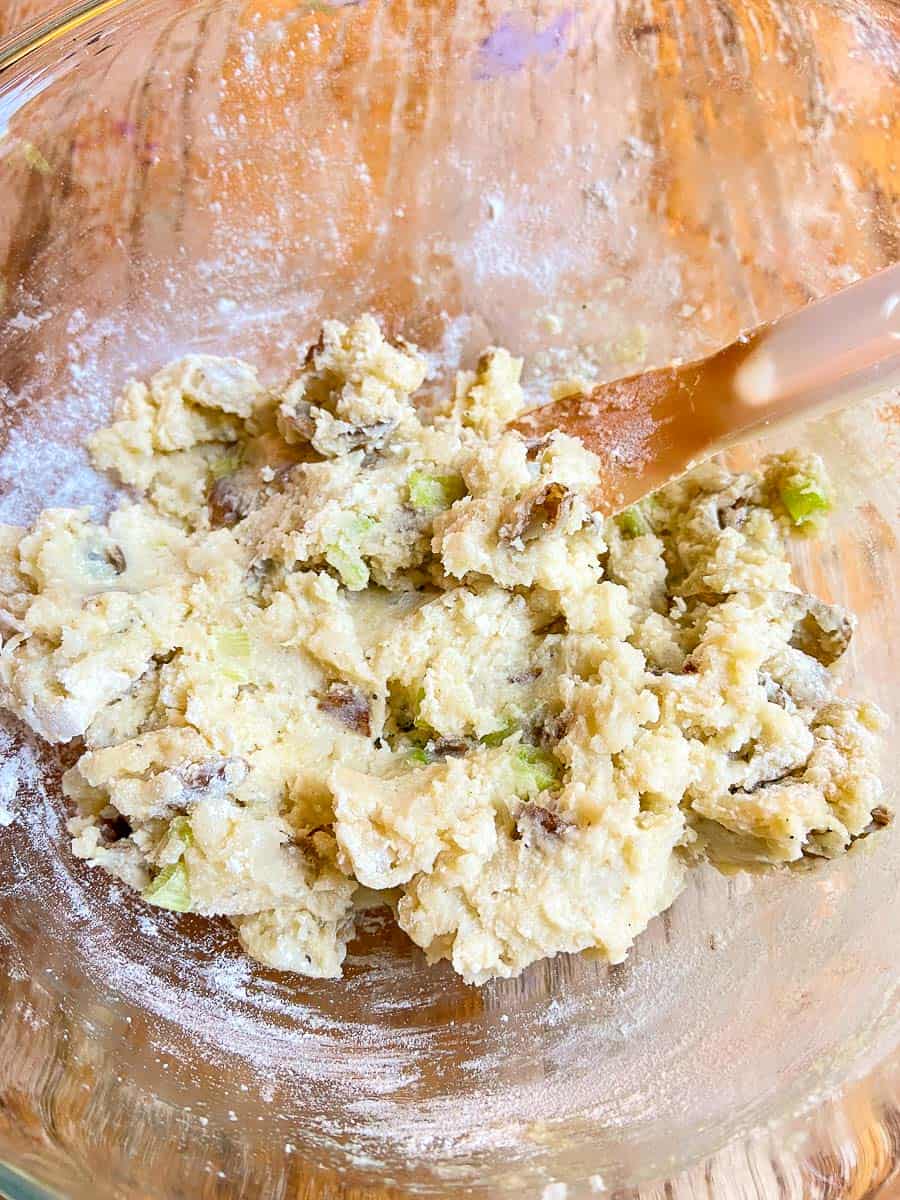 Form the mixture into equal size balls, then flatten to ½ inch thick; you can form the potato cake balls as small or big as you like!
Heat a heavy bottom skillet with vegetable oil or canola oil on medium to medium-high heat. Place the patty in hot oil and fry 2-minutes per side, or until golden brown. Drain on paper towels.
Recipe tips
Use cold leftover potatoes. If they're not cold, the batter won't stay together and you'll have a big mess in your frying pan
Heat-tolerant oil: vegetable or canola; not olive oil. Olive oil does not have high-heat properties and you need a relatively high heat to fry these potato cakes
Use enough oil to cover half of the potato cake when it's placed in the pan; the amount of frying oil will vary depending upon the size of your pan and how many potato cakes you're making
Oil temperature: use a meat thermometer and when the oil gets to about 300ºF, test it by putting a little potato dough into the hot oil. If it doesn't sizzle, wait a few minutes and test again.
Add the flour last and do not overwork the flour into the mixture! If you overwork the flour into the mixture, gluten forms and that's what causes the potato cakes to be gummy
Too wet? Add a smidgen more flour
Too dry? Add 1-2 tablespoons of milk
Fried potato cakes will get crispier as they drain on a paper towel
How to prevent gummy potato cakes
When you add the flour, do not overmix it. If you mix it too much, gluten forms and that's what makes them gummy and mushy. Just a quick mix and then form the potato patties.
Variations
Use this easy potato cake recipe to make homemade tater tots! Just form the mashed potato mixture into bite size potato balls, place in a single layer in hot oil, turn the potato rounds a few times and drain on a paper towel!
You can also use this potato cake recipe for leftover mashed sweet potatoes
Storage and reheating
Store fried potato cakes in an airtight container in the fridge for up to 5 days.When ready to reheat, place on an ungreased baking sheet, uncovered and bake @ 350ºF until warm throughout (usually about 15-minutes.) Freeze in an airtight container for up to 3 months. When ready to reheat, bring to room temperature, place the cakes in a single layer on a baking sheet and bake at 300°-325°F until warm in the center.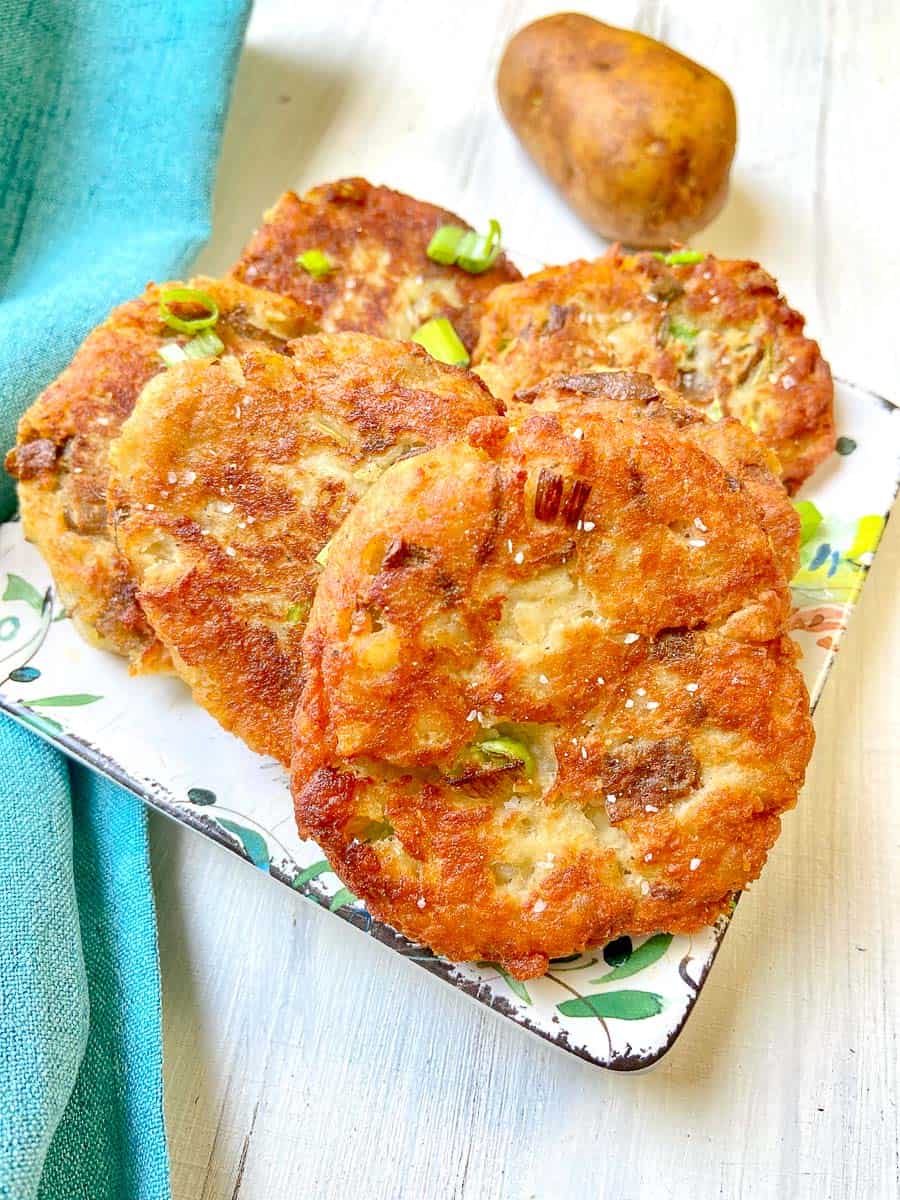 This potato cake recipe is simple, yet delicious! These also make a greaat snack! Serve these plain or use a dipping sauce like ketchup, buttermilk dill dip or a zesty remolaude sauce!
Related recipes:
If you make this potato cake recipe, please scroll down and leave a rating and comment! I love to hear from you!
📋 Recipe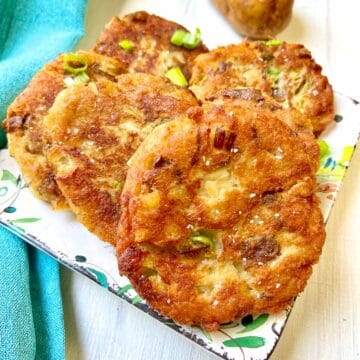 Fried Potato Cakes
Use leftover mashed potatoes to make crispy, golden brown potato cakes with a fluffy, creamy mashed potato inside!
Print
Rate
Ingredients
2

cups

mashed potatoes

, leftover; cold

1

whole

egg

, large; lightly beaten

¼

cup

flour

, self-rising or all-purpose

2

cups

oil ( SEE RECIPE NOTES)

, canola, vegetable (not olive oil)

½

teaspoon

salt

½

teaspoon

pepper

⅛

teaspoon

garlic powder (optional)

⅛

teaspoon

onion powder (optional)

¼

cup

green onions

, chopped
Instructions
In a medium bowl, lightly beat one egg

Add cold mashed potatoes, salt, pepper and chopped green onions to egg; add onion and garlic powder if desired; combine well

2 cups mashed potatoes,

½ teaspoon salt,

½ teaspoon pepper,

⅛ teaspoon onion powder (optional),

¼ cup green onions,

⅛ teaspoon garlic powder (optional)

Sprinkle in flour and lightly combine; do not overwork the flour into the mixture or they'll be gummy

Heat some of the oil in heavy bottom skillet (See Recipe Notes)

2 cups oil ( SEE RECIPE NOTES)

Measure ⅓ cup of potato mixture in measuring cup; form ball, then flatten to about ¼ inch thick

Gently place 2-3 patties in oil; cook 2 minutes per side or until golden browl; drain on paper towel
Notes
Use COLD leftover mashed potatoes
Add the flour last
Don't over mix the flour into the potatoes. Overmixing causes them to be gummy
Make sure your oil is at least 315°F
Pan Size and Oil:
I use a 10" inch cast-iron skillet and about 2 cups of oil
The amount of oil you use depends upon the size of your pan and the thickness of your potato cakes, and how many potato cakes you're making.
(Ideally, you want about ½" inch of oil in the pan; this amount should reach the middle of the uncooked potato cake)
If the oil covers half of the cake, you only need to flip it once to get both sides nice and golden brown
Nutrition Estimate
Serving:
1
cake
Calories:
752
kcal
Carbohydrates:
21
g
Protein:
2
g
Fat:
75
g
Saturated Fat:
6
g
Polyunsaturated Fat:
21
g
Monounsaturated Fat:
47
g
Trans Fat:
1
g
Cholesterol:
1
mg
Sodium:
216
mg
Potassium:
239
mg
Fiber:
2
g
Sugar:
1
g
Vitamin A:
46
IU
Vitamin C:
17
mg
Calcium:
10
mg
Iron:
1
mg