You'll love this quick and easy Sautéed Yellow Squash and Onions recipe! Tender summer squash, nestled in butter and sautéed with sweet onions, this is the perfect side dish any time of year.
Yellow squash, also known as "crookneck" or "summer squash" takes less than 15-minutes to make and is a great side dish with fried catfish, meatloaf, purple hull peas , cornbread or pot roast.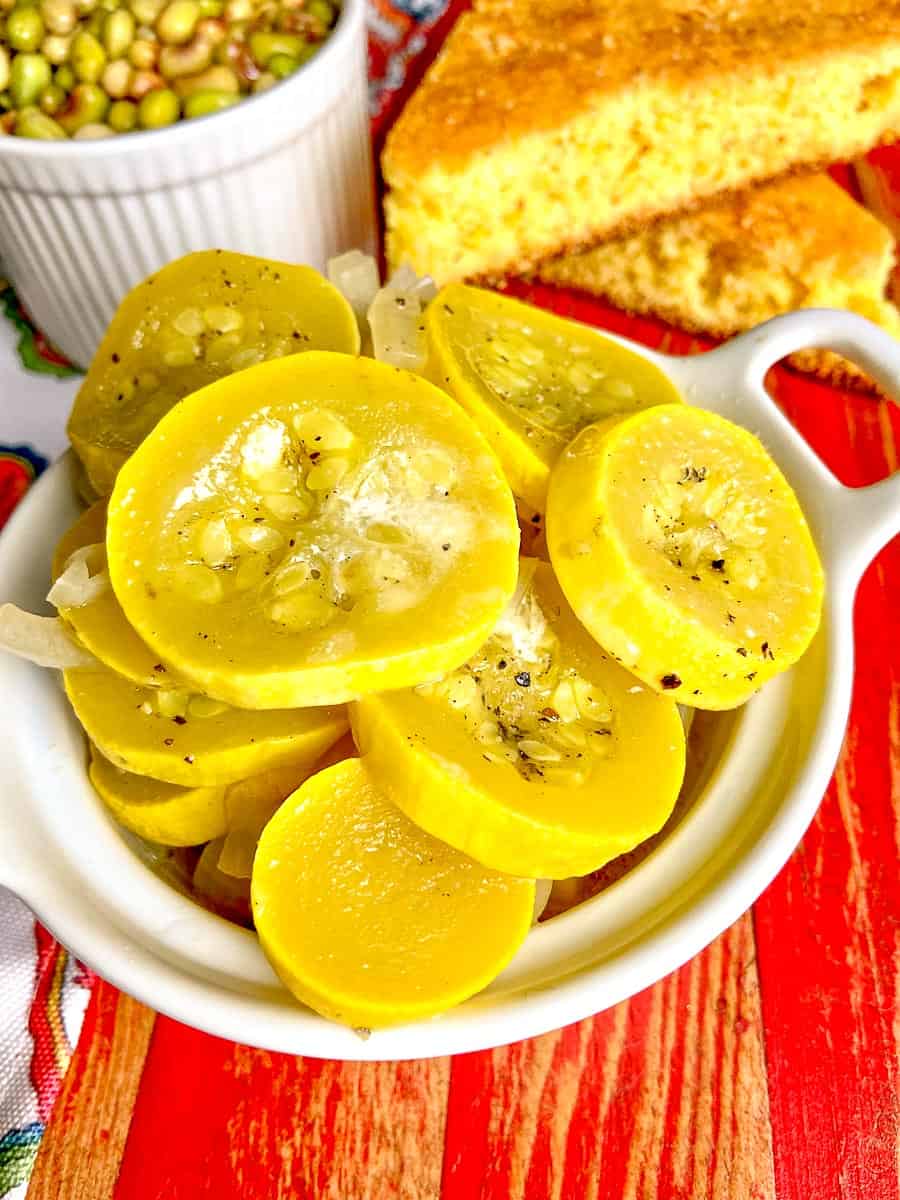 In the South, summertime calls for fresh vegetables out of the garden! Now this recipe is not "highfalutin" or gourmet by any means. There's no added fresh herbs, fancy spices or parmesan cheese...just good ole' Southern country food. Sometimes the "KISS" method is the best!
Why this recipe works
This is one of my favorite recipes, especially during the summer months when I can get garden-fresh yellow squash from my local farmer's market. You can make this recipe with zucchini squash as well, just note that yellow squash has a thinner skin and cooks faster than zucchini.
Simple ingredients - all-natural ingredients with no additives, preservatives or yucky stuff. Squash, butter, chicken broth, salt and pepper
Healthy and low-calorie - naturally high in vitamin C and B6, low carb and keto-friendly
Ready in minutes - easy side dish ready in 8-10 minutes
Perfect healthy side dish to just about any entree or main dish - or incorporate it into a veggie plate with some purple hull peas, collard greens, pinto beans and a slice of cornbread!
This easy squash recipe is probably like your Grandma's sauteed squash recipe! There's a zillion different names for this recipe - "simmered squash," "stewed squash," or "boiled squash" but no matter what you call it, it's a flavorful, healthy Southern side dish and a delicious way to get your daily values of vitamins and nutrients!
If you don't care for the texture of sauteed yellow squash, try this easy fried squash recipe!
Here's what you'll need
I'm a firm believer of keeping things simple, especially when you're dealing with fresh vegetables. This simple dish is made with minimal seasonings, this sauteed yellow squash and onions recipe really allows the sweet flavor of the squash to shine!
Yellow squash - you can use this sauteed squash recipe with zucchini squash as well, but note that zucchini has a tougher skin, so you may have to cook it a little longer than yellow squash
Sweet onion-I like sweet yellow onion; either a Noonday onion, Texas 1015 or Vidalia onions; you can use white onions as well
Chicken broth - or chicken stock (you can use water if you don't have either)
Butter-salted or unsalted - your call
Salt and black pepper
A pinch of sugar and garlic powder are optional.

How to make this yellow squash recipe
Yellow summer squash cooks pretty quickly due to its thin skin, so it's not necessary to use a slow cooker, crockpot or Instant Pot. Grab a big saute pan (or a large non stick skillet), some small to medium size yellow squash, a big sweet yellow onion (I like sweet yellow onions, but you can use any type of yellow or white onion), butter, salt, pepper and a little chicken broth.
Slice squash into ¼" inch rounds and set aside
Slice onion into half moons and set aside
In a large skillet, saute pan, or Dutch oven, melt butter on low to medium heat; add sliced onions and cook for 3-5 minutes and until slightly translucent. Add sliced yellow squash in a single layer; add salt, pepper and a pinch of sugar (optional).
If you want, you can add a little garlic powder or garlic salt, but go easy on it. The natural sweetness of the sauteed squash is the star of this delicious summer side dish!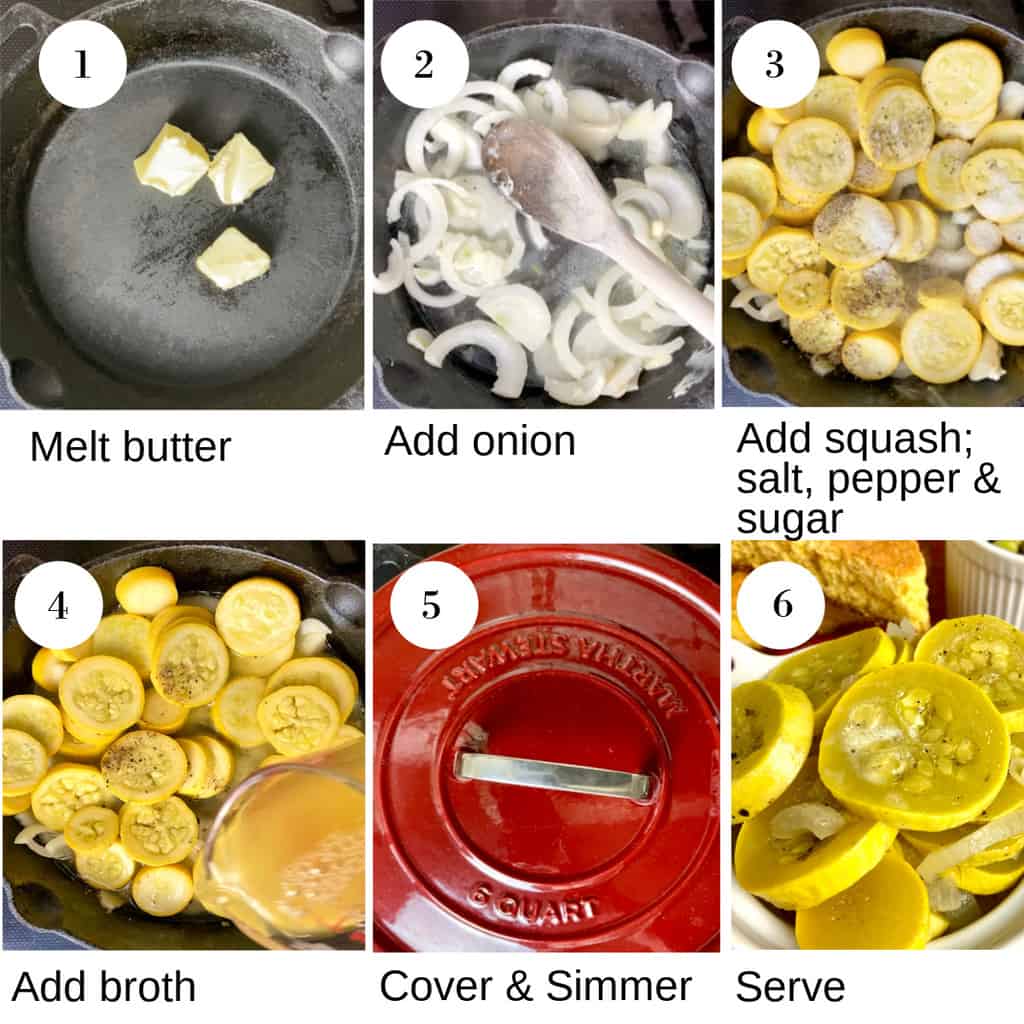 Add in chicken broth, chicken stock or water then cover with lid, reduce heat to low and cook until squash are nice and tender - usually about 10 minutes total time!
Recipe Tips
Store fresh squash in the refrigerator for up to 2 days in the vegetable bin
Do NOT rinse the squash before storing it
If you're making a lot of squash, use a big pot or Dutch oven
Slice rounds about ¼" inch thick; try to keep them all the same size so they'll cook evenly
Don't overcook it! Yellow squash tenderizes in a few minutes, so keep your eye on the stove!
Smaller squash are sweeter, more tender and have less seeds than larger ones.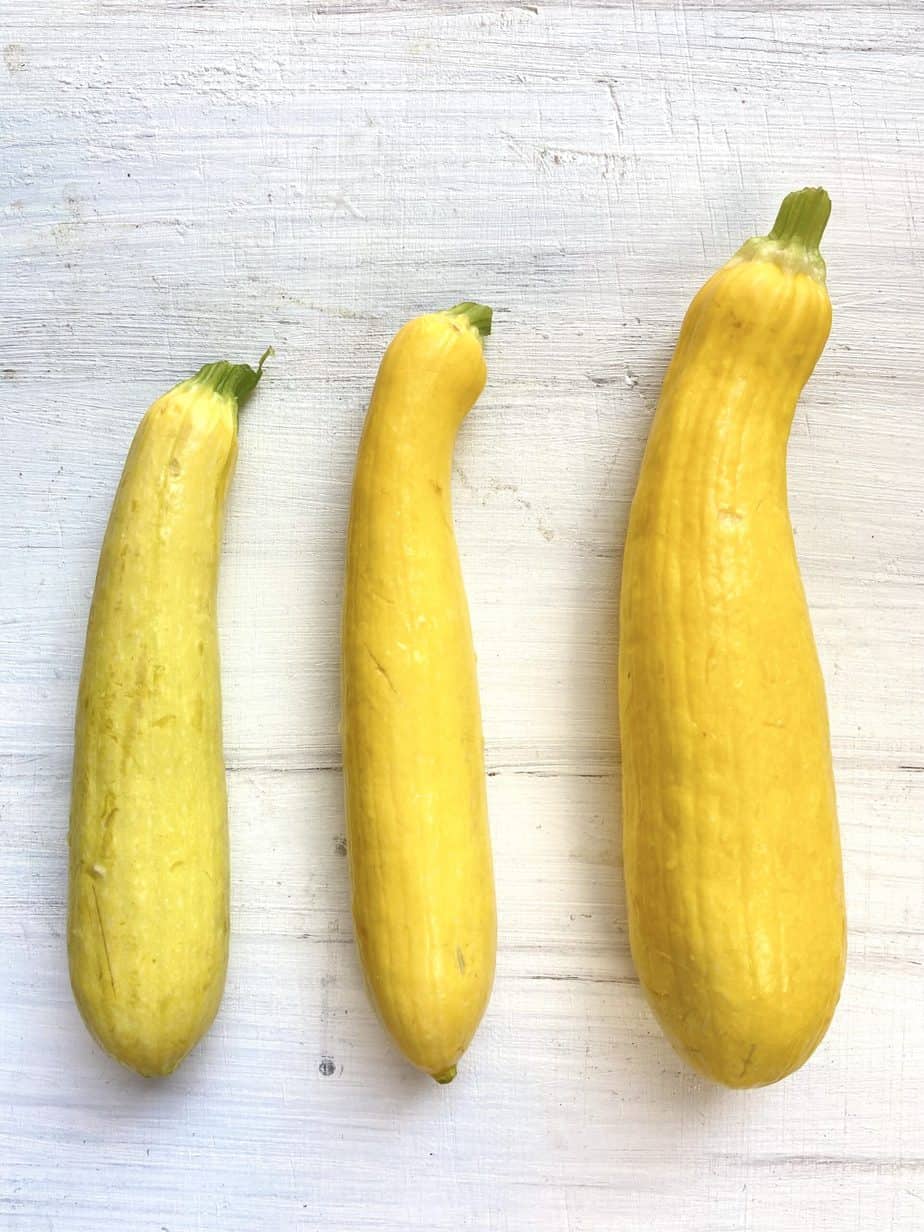 FAQ
When is yellow squash in season?
Peak season for the best, freshest yellow squash is June through late August and sometimes early September.
You'll find summer squash in the grocery store year-round, but they are best when harvested and eaten in the summer months and purchased from farmers markets or a local farmer.
There are a few varieties of summer squash: Yellow, Zucchini and Zephyr just to name a few.
How to select yellow squash
When you're selecting squash, bigger is not better. You want to choose small to medium sized yellow squash with a firm, unblemished, shiny skin.
The smaller the squash, have a more tender texture, and are more flavorful, and have less seeds than larger ones.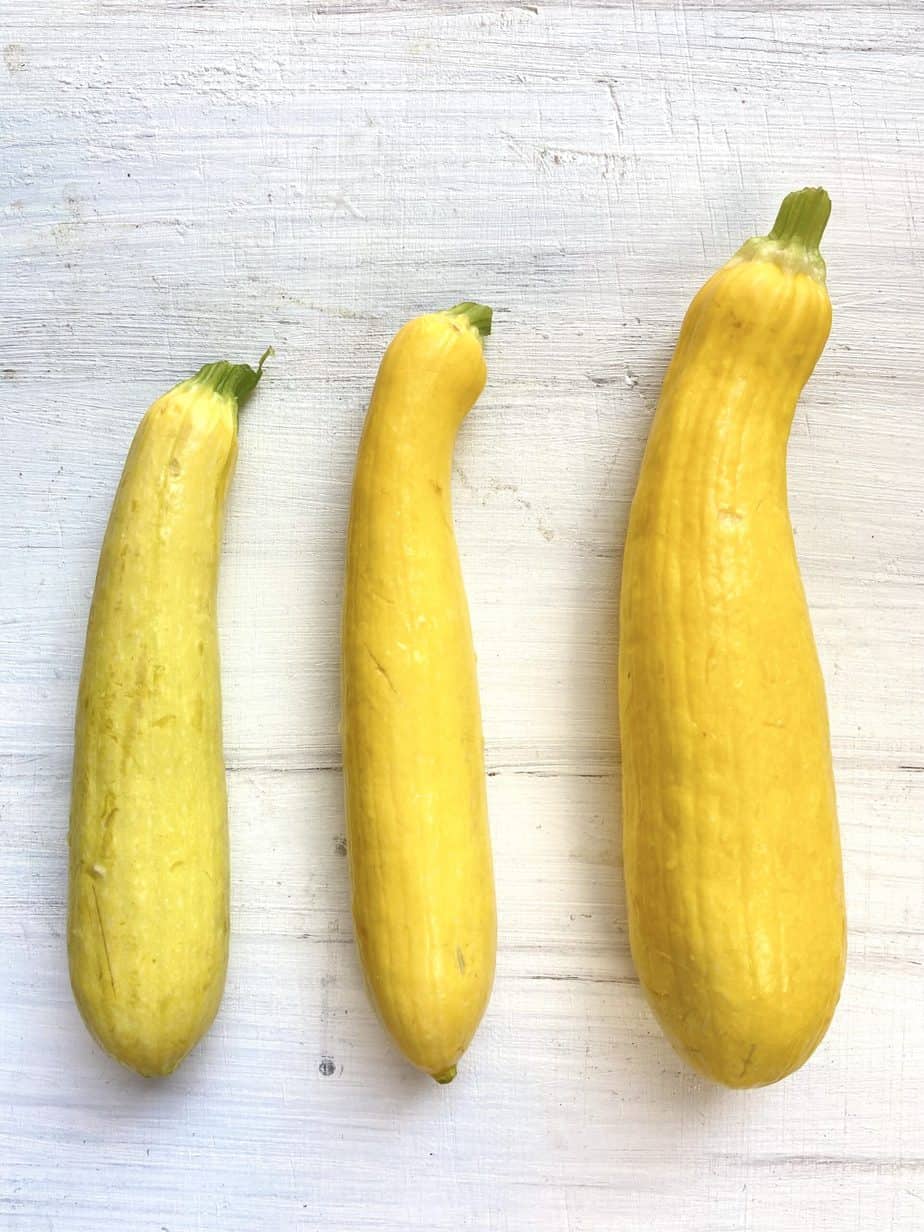 How to store fresh squash at home
Fresh yellow squash does not have a long shelf life. So, if you buy squash in advance, you can store it in the refrigerator loose for about up to 3 days. After 3 days, it may begin to turn brown and get soft; it will still taste fine, but it won't look at vibrant.
Do Not Rinse it before storing. If you rinse it, that removes some of the protective skin and it will turn brown quickly. Rinse it right before you slice it.
Storage and reheating
You can store sauteed squash and onions in the refrigerator in an airtight container for up to 3 days. Freezing is not recommended because the texture of the squash changes.
Reheat sautéed yellow squash and onions on the stovetop or in the microwave. You might need to add a little water before reheating.
I like to serve this easy recipe with purple hull peas, a sliced tomato and Southern skillet cornbread!
Sauteed yellow squash and onions is a great side dish with fried catfish, meatloaf, purple hull peas , cornbread or pot roast.
More Southern recipes
If you make this recipe, please scroll down and leave a comment and rating! I love to hear from you!
📋 Recipe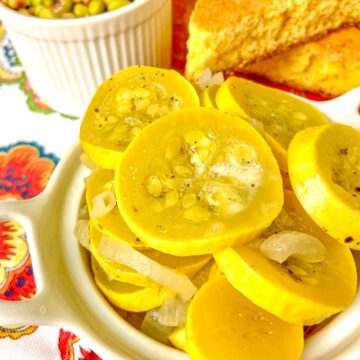 Sautéed Yellow Squash and Onions
A Southern Classic! Tender yellow squash nestled in a buttery broth with sweet onions
Print
Rate
Ingredients
2

lbs

yellow squash

1

cup

yellow onion

, sweet, sliced into half moons (medium to large onion)

6

tablespoons

butter

1

cup

chicken broth

, low-sodium

2

teaspoons

sugar (optional)

, granulated

¼

teaspoon

garlic powder (optional)

1

teaspoon

salt

, table

2

teaspoons

pepper

, black
Instructions
Prep
Cut into ¼ inch slices; do not remove the skin; set aside

Slice one medium - large onion into half moons or strips; set aside
Cook the squash
Melt butter in skillet on medium heat

Add sliced onion; cook for 2-3 minutes

Add sliced squash and add broth

2 lbs yellow squash,

1 cup chicken broth

Season with salt, pepper and sugar (optional) and garlic powder (optional) cover and cook for 8-12 minutes or until it's semi-tender

2 teaspoons sugar (optional),

1 teaspoon salt,

2 teaspoons pepper,

¼ teaspoon garlic powder (optional)
Notes
Do not remove skin ; just cut off the ends and slice into ¼" rounds
Add more salt if you prefer
Yield:
2 lbs. of small to medium squash yields about 4 cups of cooked squash and onions.
You will get about 8 ½-cup servings out of this recipe.
Nutrition Estimate
Serving:
1
cup
Calories:
108
kcal
Carbohydrates:
7
g
Protein:
2
g
Fat:
9
g
Saturated Fat:
5
g
Polyunsaturated Fat:
1
g
Monounsaturated Fat:
2
g
Trans Fat:
1
g
Cholesterol:
23
mg
Sodium:
476
mg
Potassium:
359
mg
Fiber:
2
g
Sugar:
4
g
Vitamin A:
493
IU
Vitamin C:
23
mg
Calcium:
28
mg
Iron:
1
mg