Make homemade Cream Style Corn with frozen, fresh or canned corn kernels and have it on the table in less than 30-minutes!
There's nothing better than sweet, fresh corn in the summer! It's good on the cob or creamed, but if you're looking for a good ole' Southern cream style corn recipe, look no further!
You'll be amazed how easy this Southern recipe is--nothing fancy or gourmet...and you can use this recipe and learn how to make cream style corn from canned corn!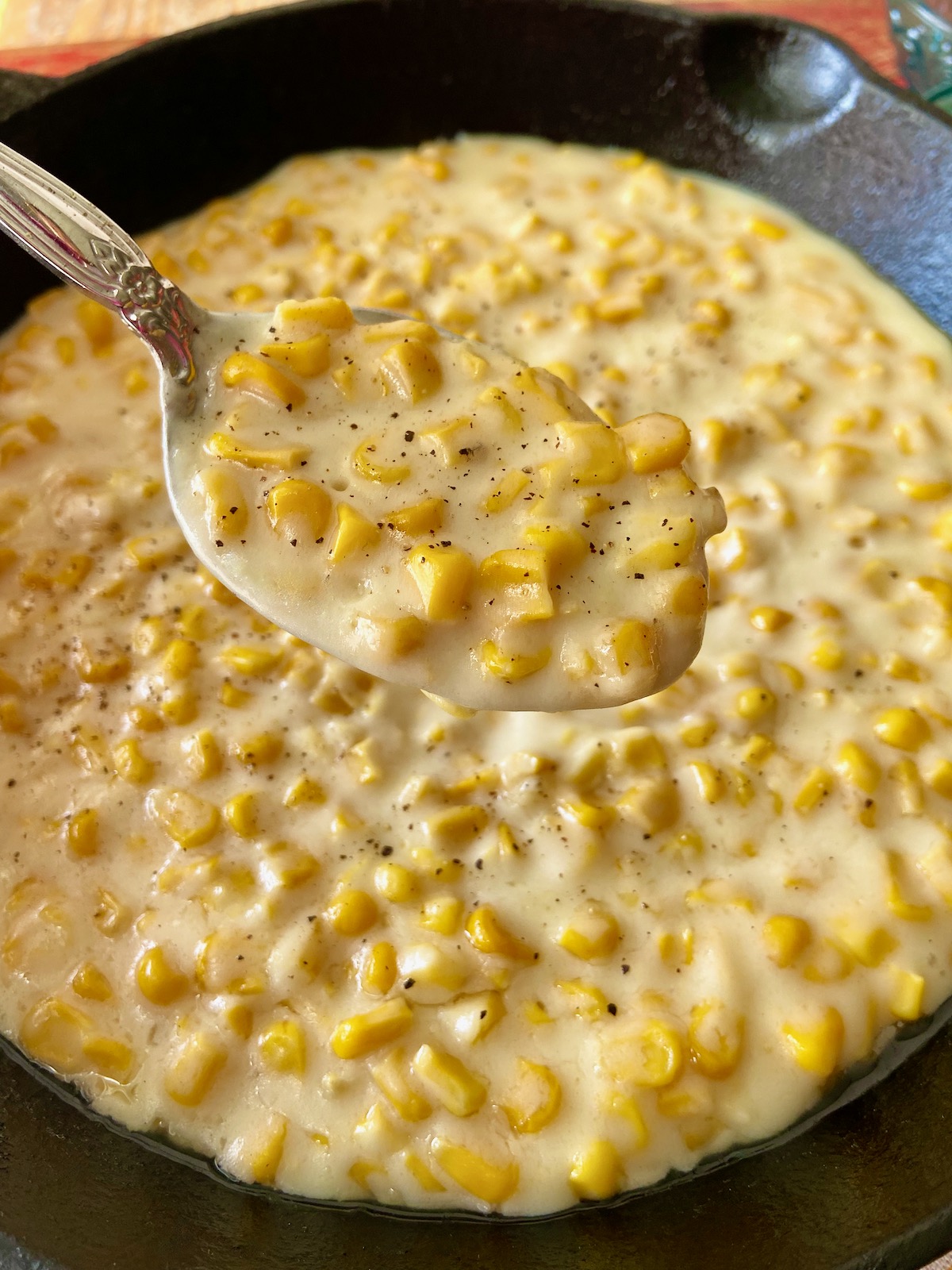 Southerners just love creamy side dishes and this one is fail-proof and delicious every time! It pairs well with just about everything from smoked barbecue to Easter ham!
Why this recipe works
The secret to making the best cream style corn is to start with a roux. A roux is a combination of equal parts of fat and starch - in this case, the fat is butter and the starch is all-purpose flour- so you'll use equal parts of butter and flour for this creamed corn recipe.
The roux forms a thickening base which makes the whole corn kernels turn into cream style corn.
The second important thing to really sweet corn is to soak the corn in milk. Yes, milk.
Even though some corn isn't as sweet as others, when you soak the corn in milk for a few minutes, the sugars from the milk permeate the corn kernel, resulting in a super sweet corn.
Affordable - you can make a big "company" size batch for your next potluck without breaking the bank
Quick and Easy - one pan cook and clean-up! This dish comes together in less than 30-minutes!
Flavorful - creamed corn recipe has a nice touch of sweetness but isn't too sweet
A family favorite--kids love this and it pairs beautifully with fried catfish or meatloaf
If you can, purchase corn from Iowa, Illinois or Nebraska. These states produce the best corn around! No need to add much to really good corn...but if you're like most of us, we have to get corn from the grocery store and let's face it, sometimes it's not as sweet as we'd like.
I like to serve this with meatloaf or salmon croquettes!
What you'll need
Sometimes, simple is better and in this case, in order to make the best cream corn, you don't need a lot of fancy ingredients.
4 cups (32 ounces) of corn, which yields 8 ½ cup (4 ounce) servings. I use canned corn but you can use fresh or frozen.
Milk-2% or whole
All-purpose flour
Butter
Heavy Whipping Cream
Sugar
Salt and Pepper to taste
To make cream style corn from canned corn, you'll need only a few basic ingredients that you probably already have in your kitchen!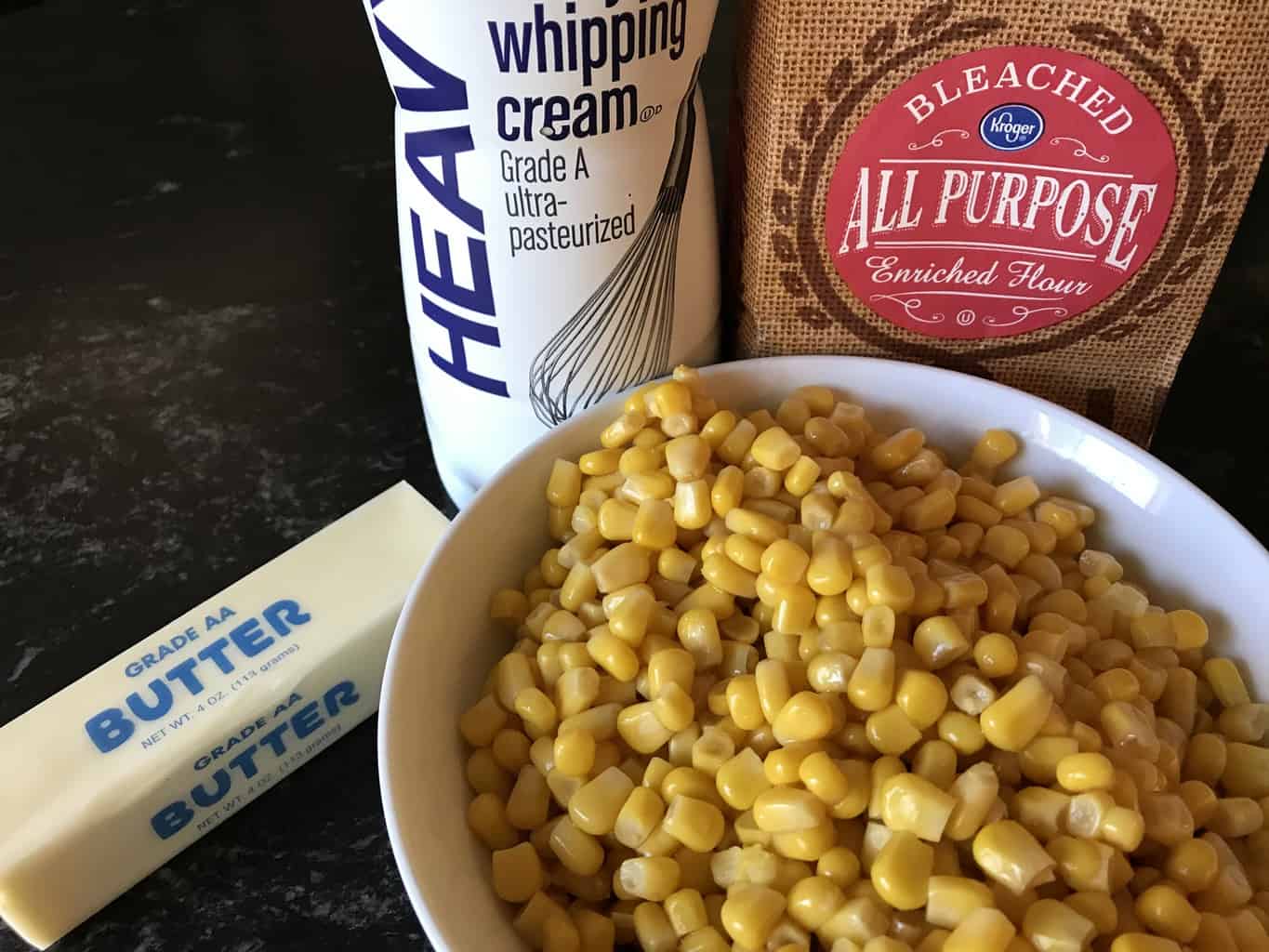 The melted butter and flour make a roux, which is a thickening agent. This is what makes the cream style corn "thick and creamy."
How to make cream style corn from canned corn
First things first, take the heavy cream out of the refrigerator and let it rest on the counter. (if you add cold cream to the hot roux, it will form clumps and make a big mess; then, you'll have to start over.)
Soak the corn first in milk (2% milk or whole milk) for about 10-15 minutes. If you're using canned corn, drain it before you soak it.
In a large skillet on low heat, melt butter; whisk in flour and continue to cook on low heat, stirring constantly. This creates a thickening roux.
Add room temperature heavy cream and corn. Bring to high heat (uncovered) for 5-8 minutes; add milk and sugar (optional) and continue to cook on high for another 15-30 minutes or so-until the corn kernels are tender and the sweet cream corn in thick to your liking; taste for salt; and pepper; serve
Tips for making sweet homemade cream style corn
Make sure the cream is room temperature first
Sometimes yellow corn and white corn aren't sweet enough, so if you want really sweet cream style corn, soak the corn in milk for about 15-minutes. (If you're using canned corn, drain it first then soak it in milk.)
The sugars from the milk permeate the corn kernels, resulting in super sweet cream corn!
If you're using fresh corn on the cob, the best way to shuck fresh corn is to cut a flat end on the corn cob, stand it up, then slide a super sharp knife down and around the cob.
Storage
Store homemade cream style corn in an airtight container in the refrigerator up to three days or in the freezer up to 3 months.
Reheating
Homemade creamed corn may thicken after being stored in the fridge or freezer. Reheat and cook the corn on the stove top or microwave; if it's too thick, stir in a little water or milk.
What type of corn?
Unfortunately, corn is one of the most genetically modified foods in our food supply. For this reason, I recommend you use Certified Organic - either frozen, fresh or canned.
If your corn isn't "sweet corn", you can sweeten it by soaking the corn in milk first, or add a little sugar to the corn mixture when it's cooking.
Variations
Make this easy Southern creamed corn dish for any ethnic cuisine! In the South, you'll often find cream style corn as a side dish to fried catfish, fried chicken, chicken fried steak or Southern fried oysters!
Mexican/Southwestern - add in diced green chiles and/or chopped jalapeno; season with ground cumin, coriander and chile powder
Italian - add in drained and diced tomatoes with Italian seasonings
Mediterranean - add chopped garlic, chopped kalamata olives and dill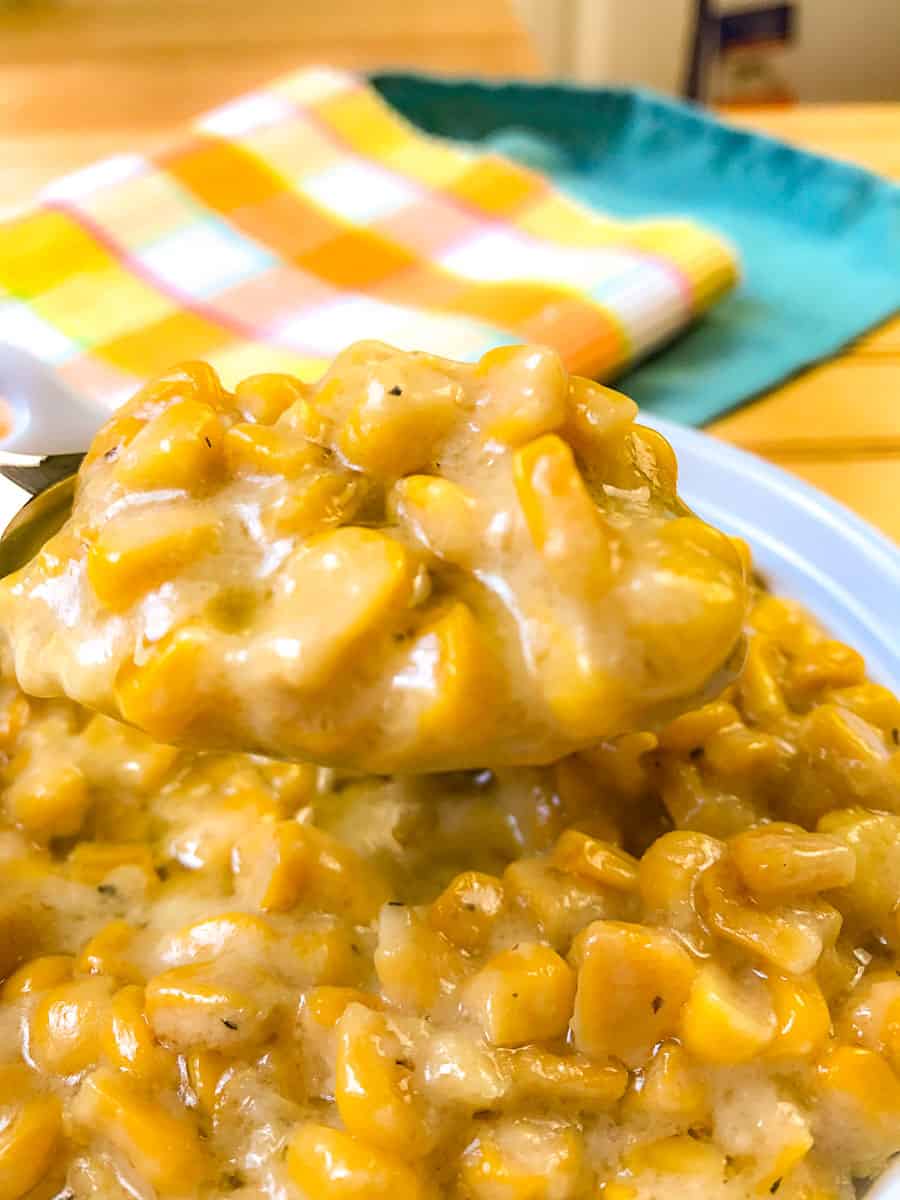 You can make homemade cream style corn in advance and just reheat on the stove when you're ready to serve!
Related recipes
♥ If you make this recipe, please scroll down and leave a rating and comment below! Thank you!
📋 Recipe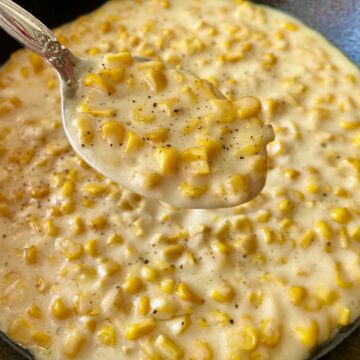 Ingredients
4

cups

corn kernels

, frozen, fresh or canned; rinsed and drained

6

tablespoons

butter

2

tablespoons

flour

, all-purpose

½

cup

heavy cream

½

cup

milk

See recipe notes

1

tablespoon

sugar

salt and pepper

, to taste

extra milk

2% or whole (to soak corn); optional
Instructions
Set heavy cream out on the counter to get to room temperature

Prep corn: rinse and drain

If you want super sweet corn, let it soak in milk for 10-15 minutes

In a large skillet on medium high heat, melt butter

Sprinkle in flour and whisk; let cook on low heat for 2 minutes; stir in milk and heavy cream and continue to whisk

2 tablespoons flour,

½ cup heavy cream,

½ cup milk

Add corn; bring to boil; stirring frequently

Turn heat to medium, stir in sugar if you want more sweetness; combine well

Allow to cook about 20-minutes until kernels are tender; stirring frequently; taste for salt and pepper
Notes
Be sure to use heavy cream that is about room temperature; otherwise, it may curdle when you add it to the hot butter
If you want to ensure sweet corn, soak it in milk for about 15 minutes, then resume recipe. (just put the corn in a big bowl and pour milk over it)
Use salted or unsalted butter; don't add salt until the very end after you taste it
If your corn isn't sweet enough, add more sugar, but keep in mind, sugar is a thickening agent so...if you add more sugar, you may have to add a little milk back into the skillet
Cook the corn until tender; add more milk if it's too thick
Corn may thicken when stored in fridge
Reheat on stove top or in microwave; if it's too thick, stir in a little water or milk
Nutrition Estimate
Serving:
1
cup
Calories:
408
kcal
Carbohydrates:
36
g
Protein:
5
g
Fat:
30
g
Saturated Fat:
18
g
Polyunsaturated Fat:
2
g
Monounsaturated Fat:
8
g
Trans Fat:
1
g
Cholesterol:
86
mg
Sodium:
319
mg
Potassium:
258
mg
Fiber:
3
g
Sugar:
8
g
Vitamin A:
1036
IU
Vitamin C:
3
mg
Calcium:
32
mg
Iron:
1
mg