Swedish Meatballs
Earlier this year, there was quite a controversy over the origin of Swedish Meatballs. Sweden Tweeted that the origin of the Swedish Meatball was actually brought to Sweden by King Charles XII from Turkey. Then, a noted Swedish food and culture expert denounced the Tweet.
Now, the history of the famous meatball is a source of contention at dinner parties where Swedes and Turks dine together. Luckily, I only had to share mine with a Finn, so the topic was off-limits, particularly since the Finns and Swedes are notoriously at each others' throats.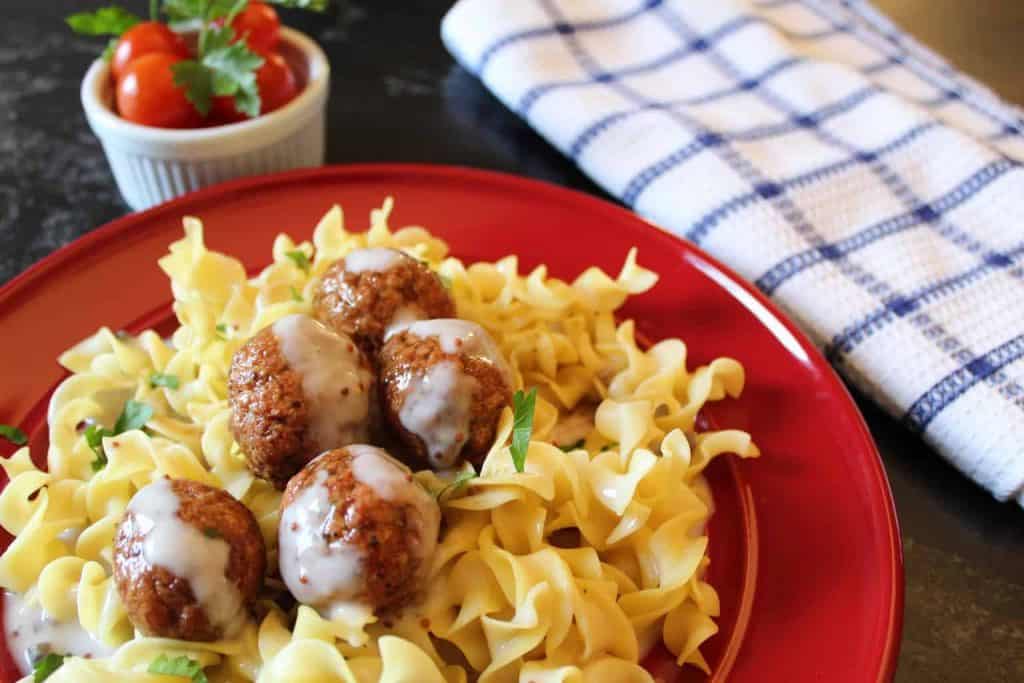 Swedish Meatballs: Popular Cocktail Food During the 1950's-60's
Swedish Meatballs were also a popular food offering at cocktail parties during the the 1950's and 60's, usually served in the ever-popular chafing dish. This party food was a precursor to the 70's Fondue (thank you Switzerland) and the 80's Beanee-Weenies, also known as Lil' Smokies (thanks America.)
Today, the Swedish Meatball is hardly a party staple, but the tasty meatballs combined with a bed of creamy egg noodles, all coated in a savory, tangy creamy sauce is a universal YES on many American dinner tables.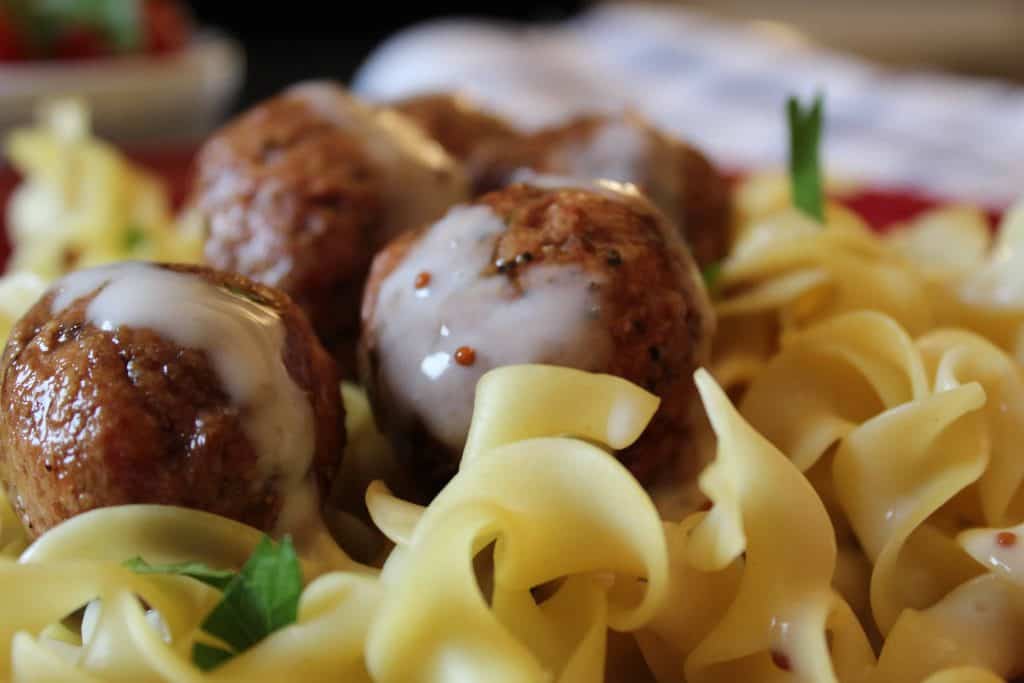 25 Meatballs Per Pound of Beef
Making meatballs isn't difficult, just time consuming. That's why I make meatballs in three-pound batches. One pound of meat yields about 25 tablespoon-size meatballs. So, I roll and cook 75 meatballs; take out what I need for dinner and freeze the rest. Since the meatballs are generically seasoned (not Italian, not Greek, not spicy, etc.), it's easy to grab what I need from the freezer and make a different sauce for each batch.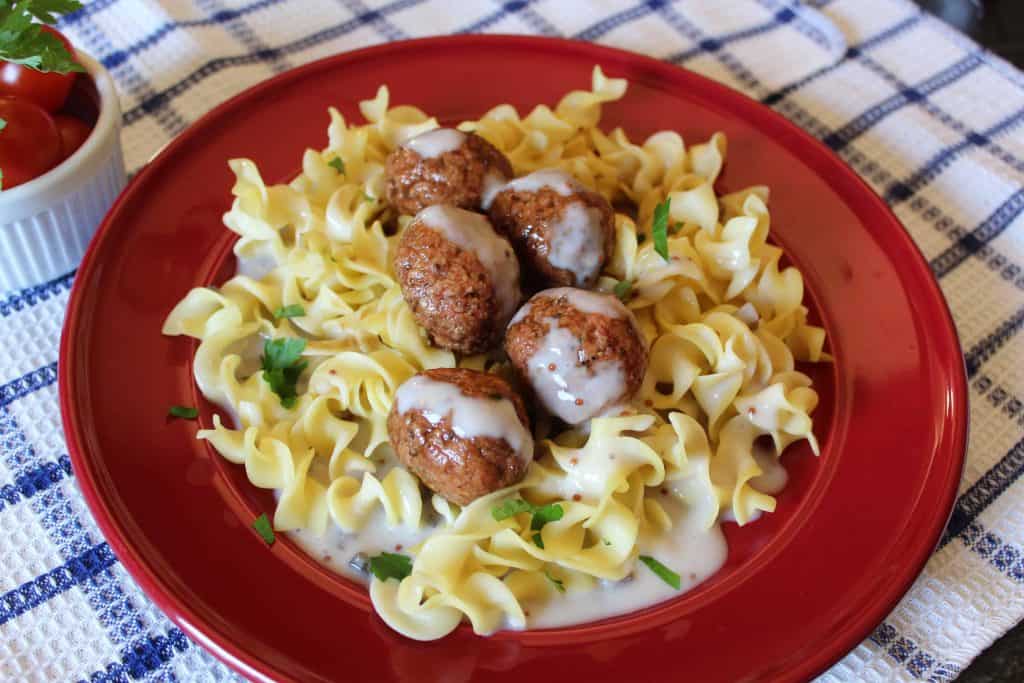 Purchasing Pre-Made Swedish Meatballs
Ikea™, the Swedish retailer, sells their Swedish Meatballs in a 2 lb. bag for about $8.99. I tried them once and well…I tried them once. Grocery stores carry pre-made meatballs, mostly Italian seasoned, which I've also tried…once.
The beauty of this meatball recipe is that it's universal. The meatballs are seasoned with just enough spices and herbs to easily fit into an Italian, Asian, Cajun or Mediterranean sauce.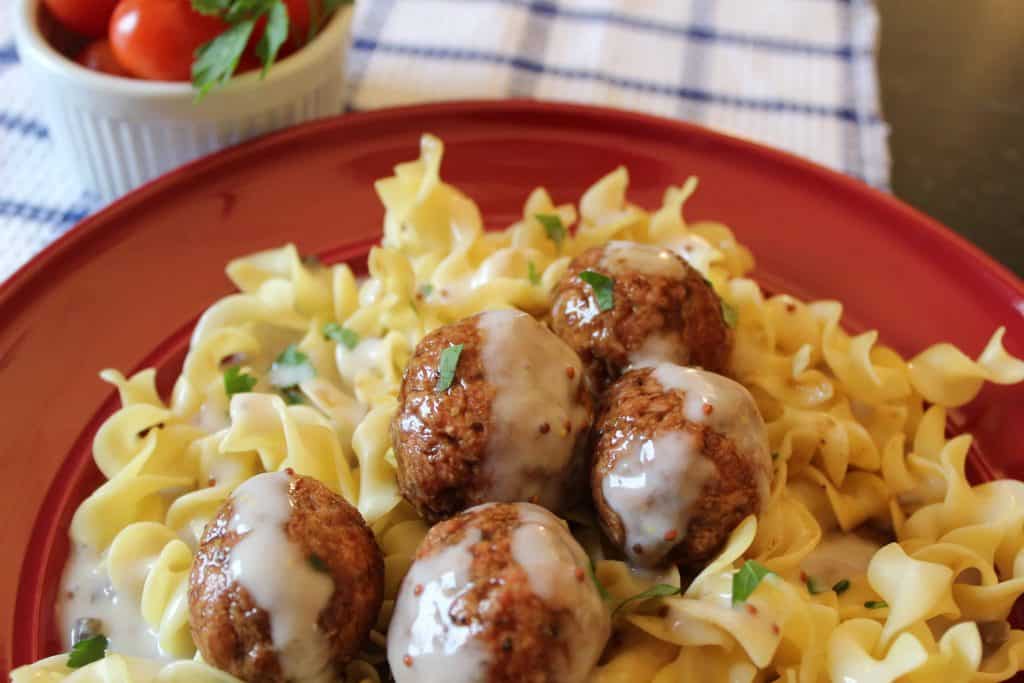 Swedish Meatball Sauce
The sauce for Swedish meatballs is a very simple broth infused cream sauce with a bit of tang from whole grain mustard. If you don't have whole grain mustard, use mustard powder or a little vinegar.
The quantities for the sauce in this recipe are ample enough to thoroughly coat, if not drown, a plate of noodles and meatballs…If you find you have too much sauce, the remainder can be frozen in an air-tight freezer container for up to two weeks.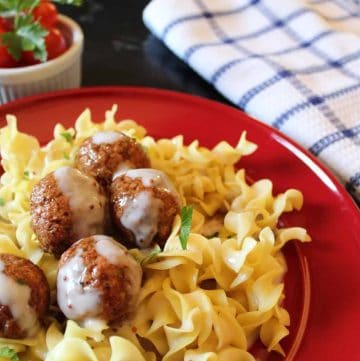 Swedish Meatballs with Sauce and Noodles
Savory, bite-sized meatballs nestled in a tangy gravy served over egg noodles. This recipe makes 70-75 meatballs per 3 lbs. of meat.
Course:
Appetizer, Entree
Cuisine:
American, International, Scandinavian
Keyword:
Swedish Meatball Gravy, Swedish Meatball Sauce, Swedish Meatballs, Swedish Meatballs and Noodles
Ingredients
Meatball Ingredients
3

lbs.

ground beef

1

cup

whole milk

2

whole

eggs

lightly beaten

½

cup

oil

vegetable or canola

2

tablespoons

Worcestershire sauce

1½

tablespoons

whole grain mustard

1

cup

breadcrumbs

plain

1

teaspoon

onion powder

1

teaspoon

garlic powder

3

tablespoons

fresh parsley

chopped

1

teaspoon

salt

1

tablespoon

black ground pepper
Meatball Sauce
3

cups

beef broth

½

cup

heavy cream

3

tablespoons

whole grain mustard

1

tablespoon

dried oregano or marjoram

2

tablespoons

cornstarch

¾

cup

water

1

teaspoon

garlic powder

1

teaspoon

onion powder

2

tablespoons

Worcestershire sauce

1

teaspoon

salt

(or to taste)

1½

teaspoons

ground black pepper
Egg Noodles
12

oz.

Egg Noodles

5

quarts

water
Instructions
Making the Meatballs: Instructions
In a large bowl, combine all ingredients except the oil; do not overwork the meat

Measure meat into a tablespoon and form a ball; place on parchment-lined baking sheet; once all meatballs are formed, place them in the freezer for 10 minutes

Meanwhile, fill a stockpot with water and bring to boil (for noodles); while the water for the noodles is heating, make the sauce
Meatball Sauce Instructions
Combine water and cornstarch; mix well and set aside

In a large skillet on medium high heat, add all ingredients except the cornstarch mixture; bring to boil

Once sauce has started to boil, stir in the cornstarch slurry; continue to stir until sauce thickens; reduce heat to low and cook the meatballs
Cooking the Meatballs: Instructions
After the meatballs have chilled in the freezer for 10 minutes; heat a heavy bottom skillet with oil on medium heat

Add 7-8 meatballs to the hot oil; allow meatballs to cook about 2 minutes, then roll them over and cook the other side another 2-3 minutes; the safe internal temperature of the meatballs should be 160ºF

Cook the meatballs in batches; after each batch is done, place the cooked meatballs on a paper towel

Add meatballs into skillet with sauce; cover, reduce heat and cook the noodles
Noodle Instructions
Bring stockpot of water to boil; add egg noodles and stir;

Cook noodles for 10-12 minutes; drain and set aside
Plating Instructions
Place drained noodles on plate or in large bowl; add meatballs; cover with sauce; garnish with chopped parsley
Recipe Notes
This recipe yields about 25 meatballs per pound of meat; since the meatballs are small, I usually allow 6-8 meatballs per plate (for men) and 4-6 meatballs for women and kids. 

I usually make this recipe using 3 lbs. of beef. If you only need a few meatballs, divide the recipe ingredients by 3.

If you make more meatballs than you need, just place the uncooked meatballs in a freezer bag and freeze them for up to 3 weeks.

If you have leftover cooked meatballs, they can be frozen as well for about 2 weeks.

This recipe makes a lot of sauce; I've found that I need more sauce to coat the noodles and meatballs. If you don't use all of the sauce, it can be frozen for up to two weeks in a freezer-proof container.

These meatballs are great for appetizers or snacks
If you like all things Scandinavian, you might like Rum Glazed Scandinavian Almond Cake!
Happily Shared at Meal Plan Monday!