Folks love this creamy Creole coleslaw! It has a little bit of "kick" to it, but not too much!
Make it as mild or spicy as you like! Ready in 30-minutes and it goes perfectly with fried catfish, barbecue, chicken wings or as a side to your favorite sandwich!
You can also make this ahead of time - just store the dressing separately from the slaw mix. About 30-minutes before you're ready to serve it, combine the dressing with the slaw and marinate it in the fridge!
How easy is that?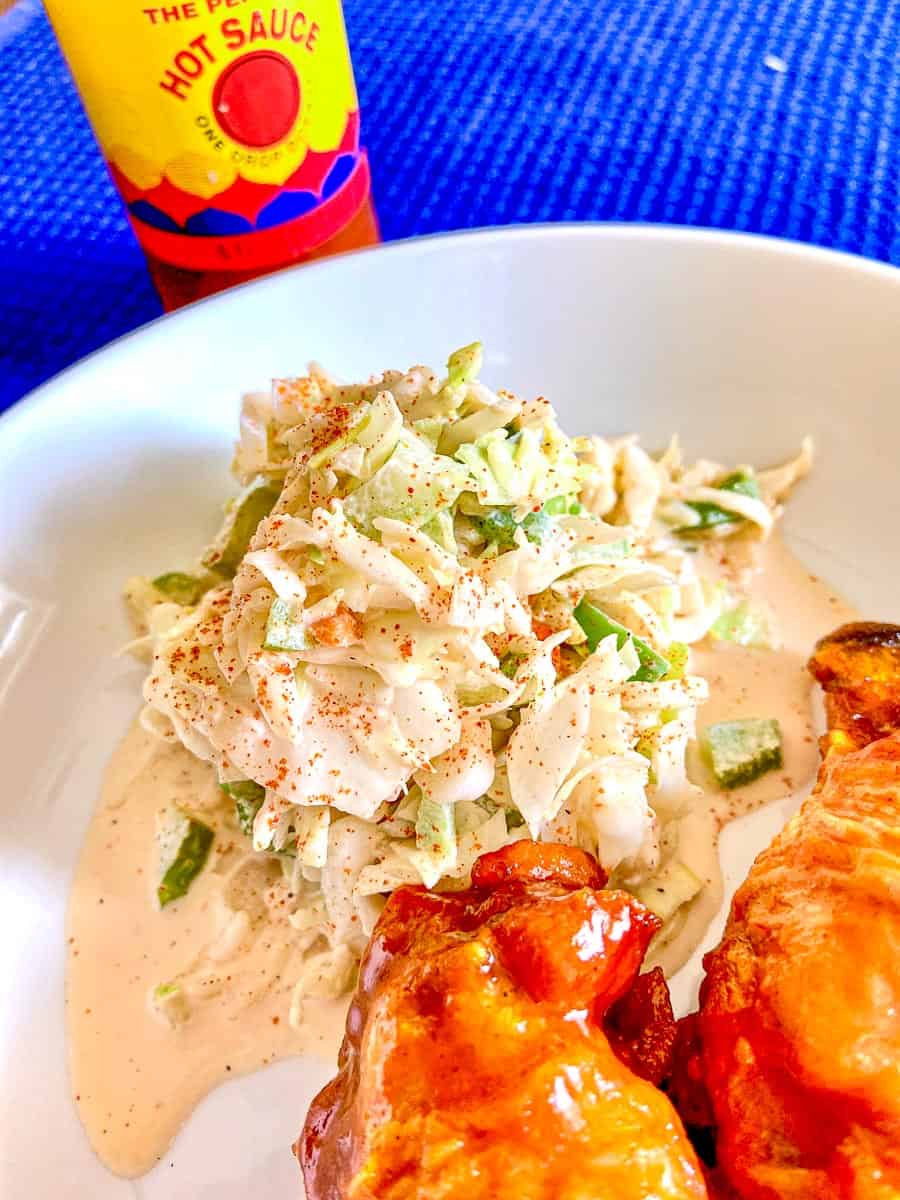 It goes perfectly with fried catfish, barbecue, chicken wings or as a side to your favorite sandwich!
Why you'll love this recipe!
5-Minute Prep - chop The Holy Trinity (onion, celery and bell pepper); whisk together the dressing and you're done!
Versatile - Creole coleslaw is a great side dish for a Pastrami sandwich, fried catfish, homemade fish and chips or a side dish with ribs, barbecue or grilled chicken!
Healthier side dish-shredded cabbage is a nice alternative to potatoes or potato chips and low carb - especially if you're watching your carb intake
Here's what you'll need:
A 14-ounce bag of coleslaw mix (avoid mixes with red cabbage; carrots are ok), onion, celery, bell pepper, mayonnaise, apple cider vinegar, Creole Seasoning, (you can use Cajun seasoning if you prefer-Creole is a bit hotter), Louisiana hot sauce (or a similar red pepper sauce) and cayenne pepper.
I use Tony Chachere's Creole Seasoning, but there are others out there that have the same properties. Any of these seasonings are fine to use for this creamy Creole Coleslaw, or, you can use a Cajun seasoning, which is not quite as spicy as Creole.
The Creole coleslaw dressing ingredients are: mayonnaise, apple cider vinegar, sugar, Creole seasoning, Louisiana hot sauce (optional), cayenne pepper and salt to taste. If you only have plain white vinegar, you can just use that, or a dash of lemon juice.
How to make it
This is a super easy coleslaw recipe! Just chop then combine with the cole slaw dressing! How easy is that?

Chop The Holy Trinity (onion, celery, bell pepper) into fine pieces
Combine The Holy Trinity with the shredded coleslaw mix in a large bowl
Mix the dressing together in a separate bowl
Pour the Creole dressing over slaw; stir; cover; refrigerate for at least 30-minutes (stir occasionally)
Remove from fridge; taste for salt; stir and serve using a slotted spoon
Recipe tips
This recipe uses HALF of a 14-ounce pre-shredded coleslaw mix, usually found in the produce section, and makes enough for about 4-6 size servings (each serving about ¼ - ½ cup)
If you're serving a large group, double the recipe and use the whole bag of coleslaw
Try not to get a coleslaw mix with red cabbage in it. It turns the dressing "pink" after its marinated...very unappealing...carrots are okay in the mix!
If you're shredding your own cabbage head, use a medium sized head and double the dressing; don't pour all of the dressing on the slaw...just a little at a time, until it's coated; you can always add more, but you don't want it to get too runny
Don't add salt until after the creole coleslaw has marinated in the fridge - the Creole seasoning has salt in it and after it marinades, the salt distributes...
Before serving, stir it up then use a slotted spoon to serve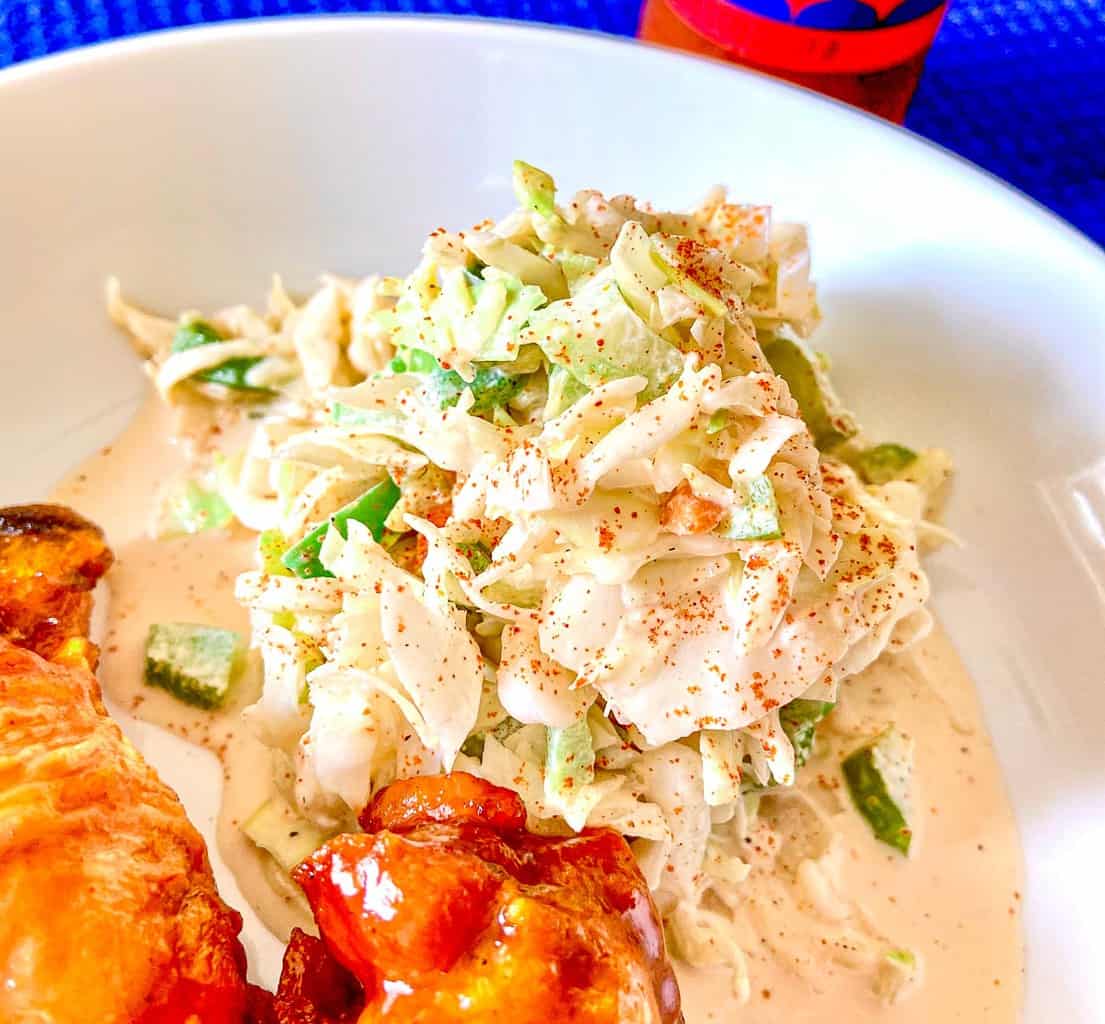 If you take this Creamy Creole Coleslaw to an outdoor event, consider placing the serving bowl on ice, as the mayonnaise won't hold up well in the heat.
Storage and Make Ahead
Store coleslaw in fridge for up to three days. Freezing is not recommended due to the eggs in the mayonnaise - they don't freeze well. If you want to make this in advance, chop the salad ingredients and put the dressing in a separate air tight container. When ready to serve, pour the dressing over the slaw and let it marinate in the fridge for about 30 minutes.
Related recipes
If you make this recipe, please scroll down and leave a rating and comment! I love to hear from you! Thank you!
📋 Recipe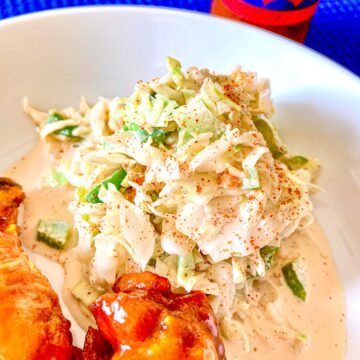 Creamy Creole Coleslaw
Creamy coleslaw with hints of The Holy Trinity and Creole seasonings!
Print
Rate
Ingredients
7

ounces

shredded cabbage

¼

cup

onion

finely chopped

¼

cup

bell pepper

finely chopped

¼

cup

celery

finely chopped

⅔

cup

mayonnaise

1

tablespoon

apple cider vinegar

1

tablespoon

sugar

1

teaspoon

creole seasoning

1

teaspoon

hot sauce

red pepper sauce (Louisiana Hot Sauce)

¼

teaspoon

cayenne pepper

salt

to taste
Instructions
Place shredded cabbage in large mixing bowl; add chopped onion, celery and bell pepper; set aside

In a medium bowl, combine mayonnaise, vinegar, sugar, creole seasoning, hot sauce and cayenne

Pour over cabbage mix; combine well

Cover and refrigerate for at least 30-minutes; stir occasionally
Notes
Note: This recipe uses ½ a bag of 14-ounce slaw mix and serves about 4-6 in ¼ - ½ cup increments; if you're serving a large group, use the whole bag of slaw and double the dressing mix
Do not add salt until the coleslaw has marinated in the fridge (Creole seasonings already have salt in them...if you add salt before its marinated, you run the risk of it being too salty and then, there's no going back...don't ask me how I know this:)
Avoid buying coleslaw mix with purple cabbage; Why? It turns the dressing a yucky "pink" color...very unappealing...carrots in the mix are okay-just no red cabbage
Use a slotted spoon to serve
Nutrition Estimate
Serving:
1
cup
Calories:
289
kcal
Carbohydrates:
8
g
Protein:
1
g
Fat:
28
g
Saturated Fat:
4
g
Cholesterol:
16
mg
Sodium:
279
mg
Potassium:
145
mg
Fiber:
2
g
Sugar:
6
g
Vitamin A:
653
IU
Vitamin C:
32
mg
Calcium:
25
mg
Iron:
1
mg