This homemade Green Bean Casserole will be the perfect side dish at your Thanksgiving table because it has no canned soup or MSG!
All-natural and much healthier than the original Campbell's™ soup recipe. It's ready in 35-minutes!
Serve this with your turkey dinner, candied sweet potatoes, homemade Cornbread dressing and cranberry sauce!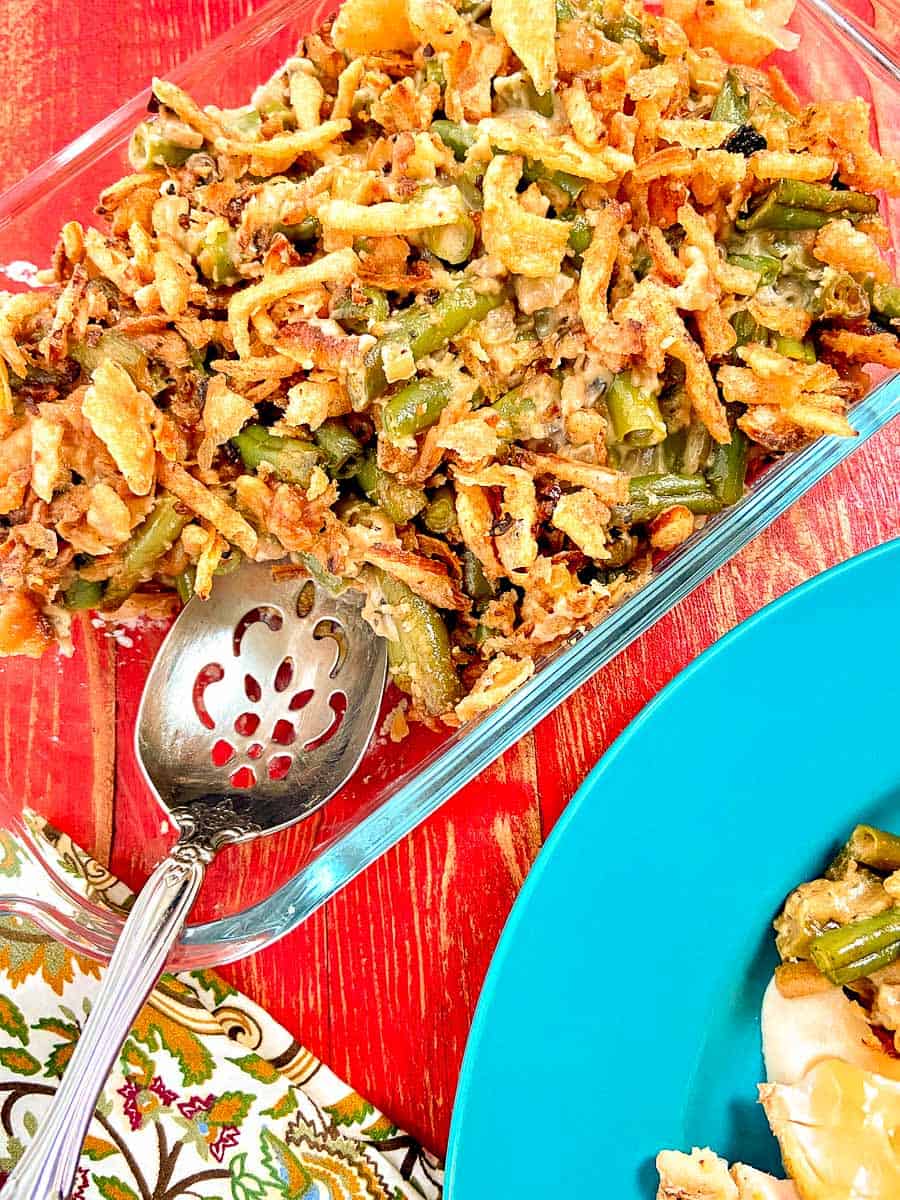 The traditional French's Green Bean Casserole™ recipe calls for Campbell's™ Cream of Mushroom soup (or Cream of Chicken soup) which contain MSG (monosodium glutamate), as well as other GMO (genetically modified organisms) ingredients.
Back in 1934, when the Campbell Soup Company™ introduced this condensed cream soup, it probably didn't contain GMO ingredients but may have contained monosodium glutamate because MSG was around even back then. It was invented in Japan in 1908.
Our grandmother's had no clue about MSG. They just knew these new "condensed soups" made casseroles quicker and creamier.
Now that we all know better, here's a healthier way to get that traditional southern style Green Bean Casserole flavor and texture without additives, preservatives or fillers and without sacrificing flavor.
Jump to:
What is MSG?
MSG, or monosodium glutamate is a common additive that manufacturers use to enhance the umami flavor of prepared foods.
Some foods inherently contain naturally occuring MSG like aged cheeses, tomatoes and soy proteins; however, MSG, when used as an additive can be problematic for some folks.
It can cause flushing, facial swelling and/or numbness, sweating, nausea and more. And even though you may not be allergic to MSG, you might have an intolerance to it and have some of these symptoms.
You'll frequently find MSG in Asian or Chinese restaurant-prepared foods. It gives these dishes a deep, savory "umami" flavor.
Most processed foods contain monosodium glutamate and the label may list this additive as a number:
HS code 29224220 and the E number E621 or CAS Number: 142-47-2; or EC Number: 205-538-1
If a product label has any of these codes listed on its packaging, it contains added MSG.
Why you'll love this recipe!
Green Bean Casserole-No Canned Soup makes a great side dish for your holiday meal and it tastes just like the classic green bean casserole recipe !
The flavors really shine when you're dealing with all-natural ingredients
Healthy - no canned soups, no condensed soups, no MSG, no additives, preservatives or colorants
Easy to make - make ahead and reheat; ready in 35-minutes
The "classic recipe" uses soy sauce, which contains MSG. This recipe uses organic Tamari sauce as a substitute for soy sauce. Organic Tamari sauce does not contain MSG and tastes just like soy sauce.
Here's what you'll need
This green bean casserole recipe uses pre-washed packaged green beans you find in the produce section. If you prefer, you can use fresh green beans, frozen cut green beans or canned. Some folks use plain cut green beans, while others use "french style" or "french cut" beans - it's really up to you.
If using canned, drain and rinse first. If using fresh or packaged, you'll want to cook them in hot salted water for 4-5 minutes (See Recipe Notes in recipe card below)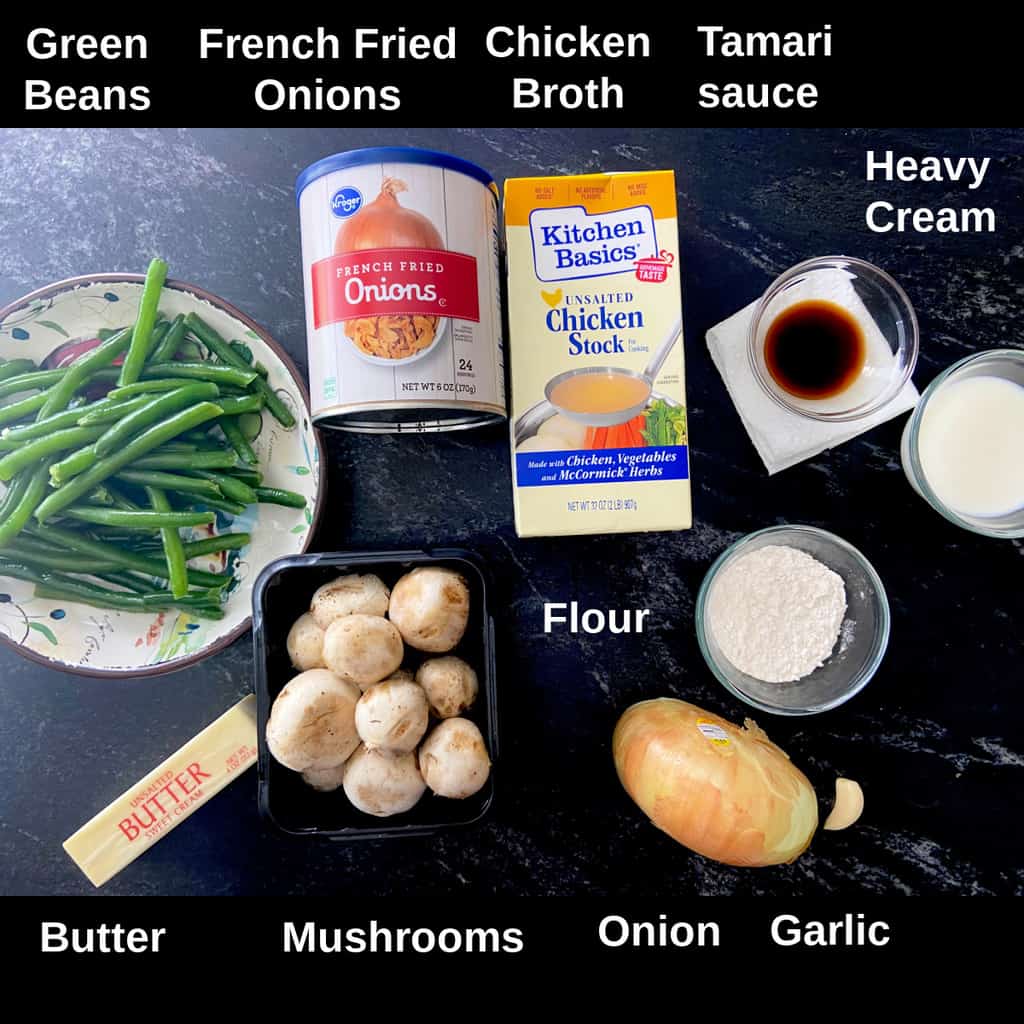 The "homemade cream of mushroom soup" gives this classic holiday side dish a great flavor without additives and high sodium.
It consists of: Chicken broth or stock, butter, flour, heavy cream, milk, garlic powder, chopped onion, fresh mushrooms, Tamari sauce, salt & fresh ground black pepper and crispy onions.
The most popular brand of crispy fried onions is French's™ Fried Onions, but you can use any brand you prefer in your green bean casserole.
How to make green bean casserole no canned soup
First things first, rinse, trim and cut fresh or frozen (thawed) green beans in 1" inch pieces. Bring a large pot of water (salted) to a rolling boil on medium-high heat; add beans and cook for 4-5 minutes or until fork tender; drain and set aside.
If you use canned green beans, drain them first and set aside - no need to cook them first.
Make the homemade cream of mushroom soup
Sure, the homemade cream of mushroom soup takes a few extra steps, but this all-natural recipe really does make the best green bean casserole! It only adds a few minutes onto the prep time and the cooking time doesn't change. This no canned soup recipe yields 4 cups of cream of mushroom soup, which is plenty for 8 cups of green beans.
In a large skillet, melt butter on medium low heat; add chopped onion and sliced fresh mushrooms and saute 3-5 minutes
Whisk in flour and cook another 2 minutes
Add heavy cream, chicken broth, garlic powder, Tamari sauce and ground black pepper; combine well; taste for salt
Transfer green beans and mushroom soup mixture to a large mixing bowl; add in half of the crispy fried onions, mix together
Bake uncovered at 350°F for 25 minutes or until warm and bubbly.
Once casserole is warmed throughout, remove from oven, add remaining fried onions to the top, place back in the oven and bake 10 minutes or until onions get golden crispy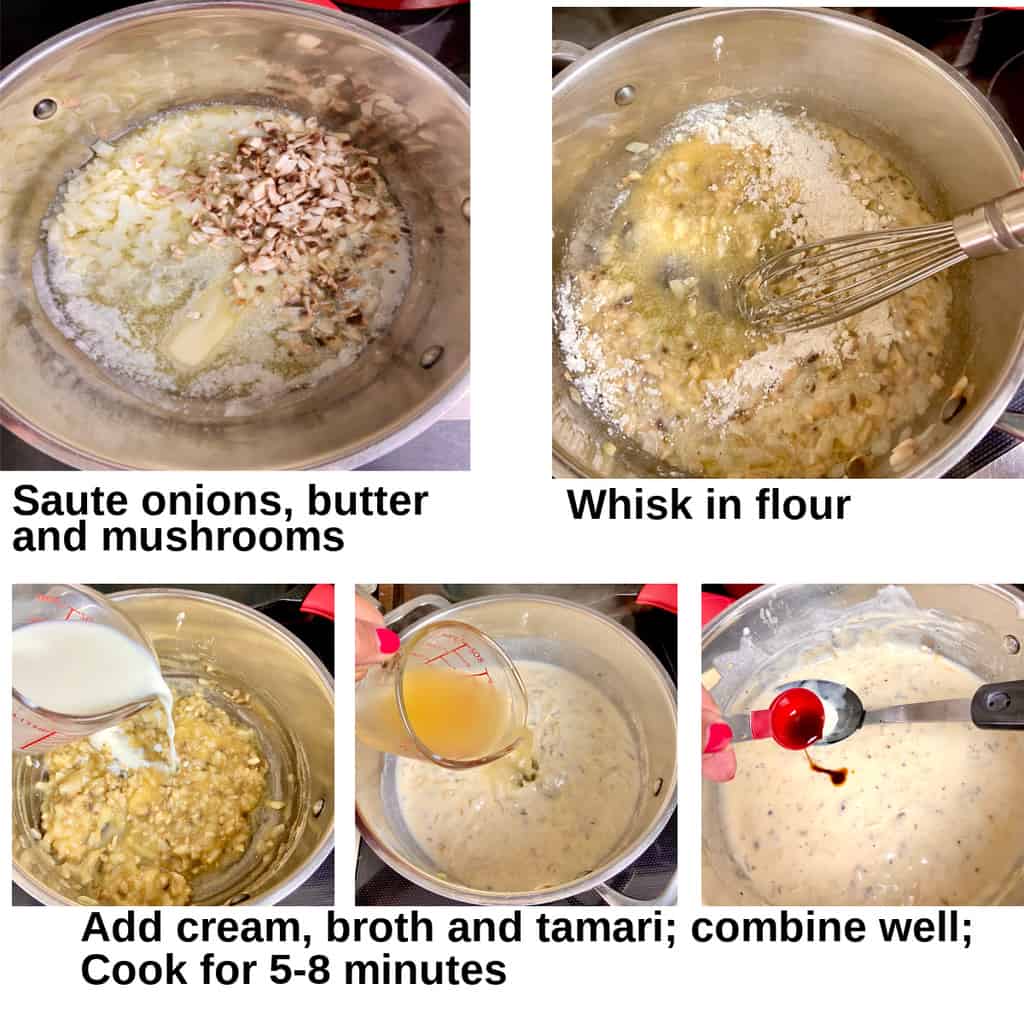 Once the green beans and condensed soup are done, add them to a large mixing bowl; add half of the Fried Onions rings and combine well; season to taste with salt and pepper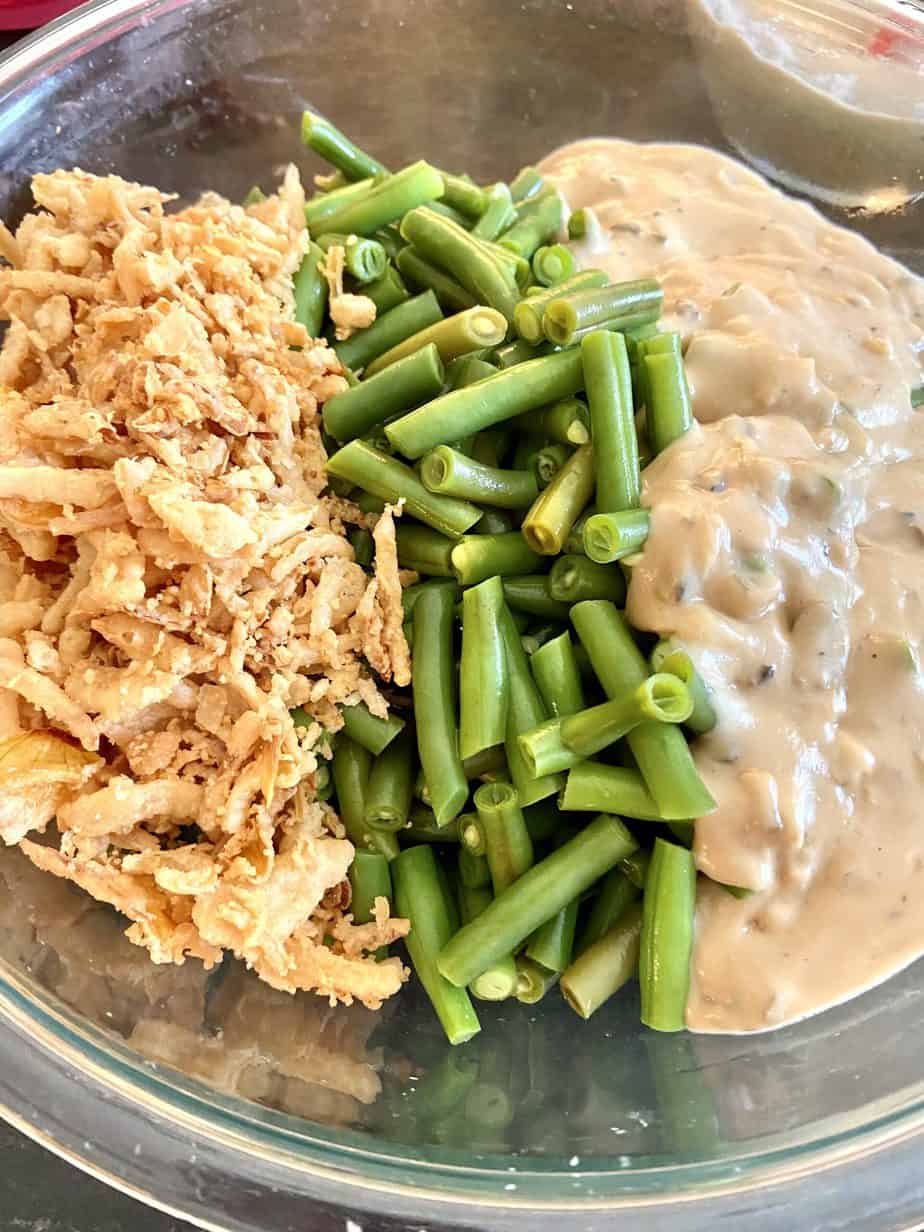 Tips
Cook fresh or frozen green beans first for tender green beans; this takes about 4-minutes or till tender; drain and set aside (See recipe card below)
Use unsalted chicken broth/stock and unsalted butter. After you've combined the ingredients, you can taste and adjust seasonings accordingly
The original recipe calls for Soy Sauce, but it inherently has MSG in it. So...the next best thing is to buy Organic, Non-GMO Tamari Sauce.
It tastes the same as Soy Sauce but doesn't have MSG. You'll find it on the Asian or International aisle in your grocer.
What size baking dish?
This recipe fills a 9 x 13 casserole dish perfectly; however, if you don't have a 9 x 13 pan, use any 3-quart casserole dish or aluminum pan.
Make ahead, storage and reheating
If you're pressed for precious oven space on Thanksgiving, make this in advance. You can store it in the refrigerator for up to 3-days either cooked or uncooked in an airtight container or covered in plastic wrap.
For an unbaked casserole, let the casserole come to room temperature then bake at 350°F, uncovered for 25 minutes; remove from oven, add remaining french fried onions on top, and place back in oven until the crunchy fried onions have browned (about 10 minutes).
We all know the leftovers are the best the next day, right? To reheat a cooked casserole, let it come to room temperature, cover with foil and reheat in 350°F oven until warmed throughout, or put some in a small bowl and reheat in the microwave.
Freezing is not recommended because the texture of the green beans changes.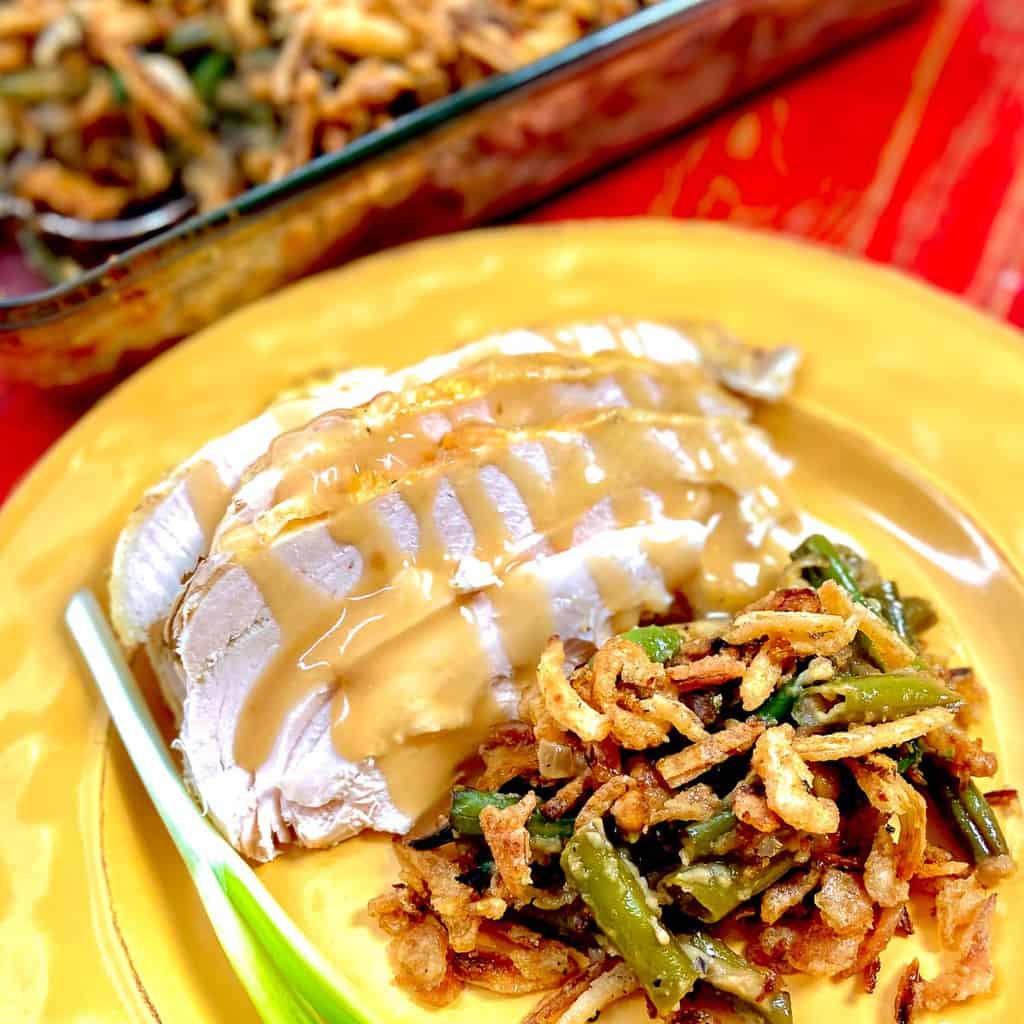 Thanksgiving and Christmas dinners aren't the same without the proverbial Green Bean Casserole and this healthier version won't disappoint!
Related recipes
If you make this recipe, please scroll down and leave a rating and comment. I love to hear from you!
📋 Recipe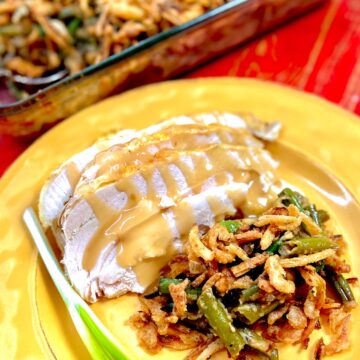 Green Bean Casserole - No Canned Soup
Green Bean Casserole with No MSG, No canned Condensed soup, No additives or preservatives all-natural, made from scratch recipe
Print
Rate
Ingredients
Ingredients for Cooking Green Beans
8

cups

green beans

, cut; fresh or frozen (thawed); about 1½-2 lbs.

4

cups

water

2

tablespoons

salt

, table salt
Condensed Cream of Mushroom Ingredients (makes 4 cups)
1

stick

butter

, unsalted

1

cup

onion

, chopped

1

cup

mushrooms

, chopped (optional)

1

tablespoon

garlic powder

½

cup

flour

, all-purpose

1

cup

heavy cream

1½

cups

chicken broth

, low sodium

2

teaspoons

Tamari sauce

½

teaspoon

salt

, kosher (optional)

1

teaspoon

black pepper

¼

cup

milk

, 2% or whole

3

cups

French Fried Onions

1½ cups goes into the casserole; the other 1½ cups is for the topping
Instructions
Prep
Bring large pot of salted water to boil;

4 cups water,

2 tablespoons salt

Add rinsed and trimmed green beans; cook for 4 -5 minutes or until tender; drain and set aside
Make the Condensed Soup (No MSG)
In a large skillet melt butter on medium heat

Add chopped onion and mushrooms; cook for 3-5 minutes

1 cup onion,

1 cup mushrooms

Whisk in flour and cook 1-2 minutes

Add cream, broth, garlic powder, Tamari sauce, and pepper; combine well then remove from heat; taste for salt and add salt if needed

2 tablespoons salt,

1 tablespoon garlic powder,

1 cup heavy cream,

1½ cups chicken broth,

2 teaspoons Tamari sauce,

1 teaspoon black pepper,

½ teaspoon salt
Assemble Casserole
In a large bowl, combine green beans, condensed soup mixture and 1½ cups of French fried onions

3 cups French Fried Onions

Place in an ungreased 9 x 13 baking dish; drizzle milk over casserole

Place remaining fried onions on top

3 cups French Fried Onions

Bake uncovered at 350º F for 25 minutes or until bubbly
Notes
Yield:
Makes bout 8 cups of green bean casserole; (makes about 16 - ½ cup servings)
Condensed soup: makes 4 cups
A 2 lb. bag of green beans has about 6 cups of green beans, but if you go through and take out the ugly ones, you end up with about 4-5 cups, so buy two 2lb. bags of green beans.
You can make this recipe with canned green beans; just drain them first. No need to cook canned green beans.
If you use frozen green beans, thaw and cook them first for best results.
Don't add any salt to the casserole until you've tasted it. The Tamari sauce is pretty salty already....
Nutrition Estimate
Serving:
1
cup
Calories:
420
kcal
Carbohydrates:
27
g
Protein:
5
g
Fat:
33
g
Saturated Fat:
19
g
Polyunsaturated Fat:
1
g
Monounsaturated Fat:
6
g
Trans Fat:
1
g
Cholesterol:
72
mg
Sodium:
4232
mg
Potassium:
398
mg
Fiber:
4
g
Sugar:
5
g
Vitamin A:
1564
IU
Vitamin C:
18
mg
Calcium:
89
mg
Iron:
2
mg