Learn how to cook Pan Roasted Corn on the stovetop and indoors! No need to fire up the grill-all you need is a seasoned cast iron skillet and some corn! Use this method for fresh corn (on or off the cob), frozen or drained canned corn.
The sweet and roasted flavor pairs well with just about everything and this skillet roasted corn recipe is great for the hot summer when it's too hot to grill outside and fresh corn is in season!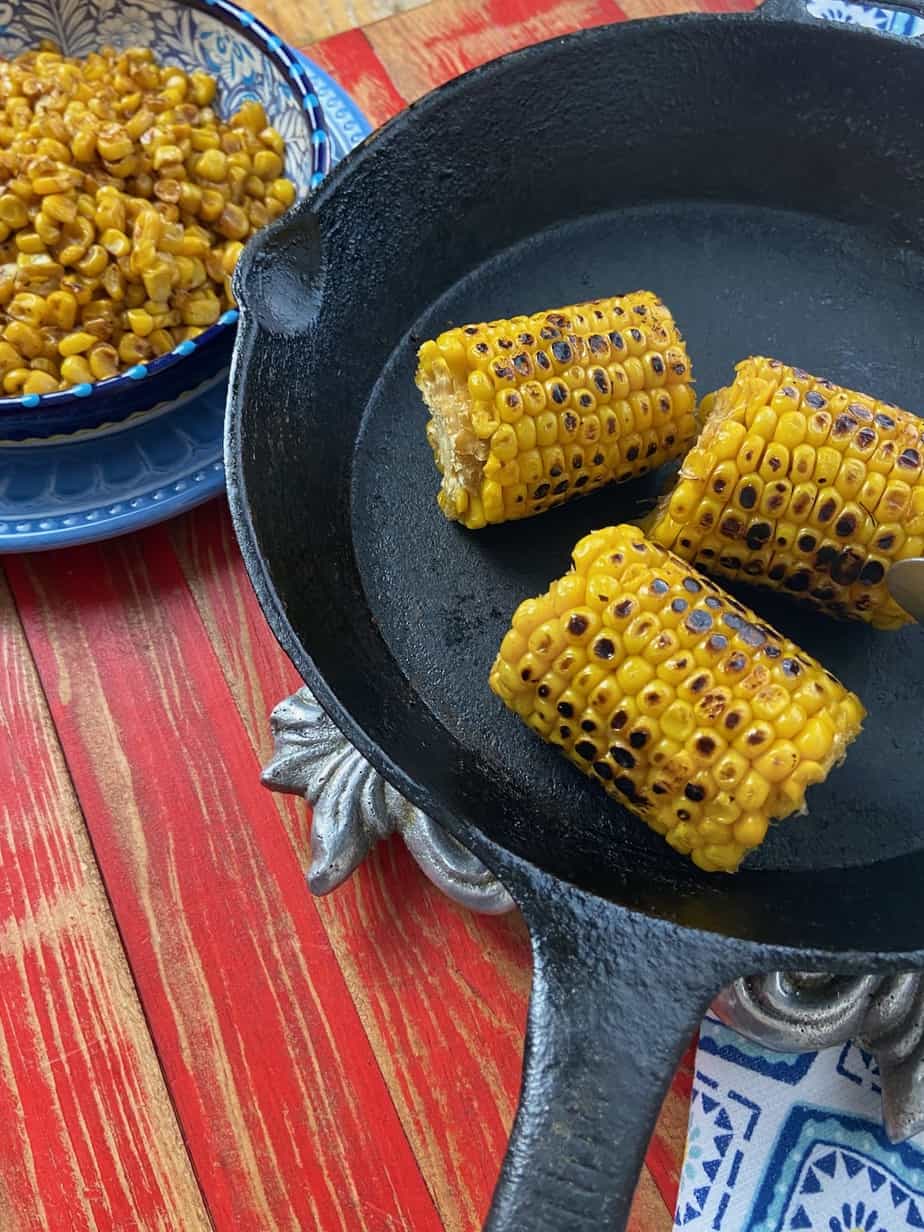 Corn is one of those foods that just tastes better when it's roasted! It has a delicious, deep flavor with a hint of sweetness!
Smoky and sweet, this roasted corn side dish pairs well with just about everything from purple hull peas to fried catfish! Here's how to pan roast corn canned, frozen or fresh corn- indoors with a cast iron skillet.
Ingredients
It doesn't take a lot to make pan fried corn (actually, it's more like pan seared corn) because there's no oil involved. The trickiest thing about making pan grilled corn is the high heat. You'll definitely need a set of tongs to rotate the corn cobs.
Corn - get whole kernel corn (not cream style corn) canned corn, fresh corn or frozen corn kernels
Milk-2% or whole
Cast iron skillet - seasoned
Tongs-long handled tongs work best
How to make roasted corn on the stove top
Roasting corn on the stove isn't hard, you must have to be careful because the roasted corn kernels pop and sizzle . Here's how to roast corn on the stove:
You can pan roast corn on the cob or loose, whole corn kernels - your call
If you use fresh, tear away husks and silks. Rinse, then break it in half
Place in a big bowl and cover it with milk. Let is soak for 15-minutes
If you're using frozen corn, place it in a colander and thaw it by running cold water over it. For canned corn, simply drain. Then soak either in a little milk.
Meanwhile, heat up a cast iron skillet over medium heat with NO OIL - no butter, no vegetable oil and no olive oil. You want a dry, seasoned cast iron skillet
Use long handled tongs or a spoon and add the corn to the hot skillet; Stand Back. It will splatter and spit because of the little bit of milk on it.
Turn on the Vent. Watch the hot skillet. If it gets too hot, turn the heat down a little. The corn will pop and sizzle while it's cooking. If you see the kernels getting too brown or smell burnt corn, remove the pan from the stove top and decrease the heat a bit.
Roast corn and rotate each cob or stir mixture frequently until all the corn kernels are deep golden brown
When making pan roasted corn indoors, you'll see the sides begin to brown after about 6-8 minutes; rotate it in the pan until most of the kernels are almost black.
Once the kernels are roasted, you can either put them in a bowl and add butter, shuck the kernels (if roasting whole corn cobs), or freeze it for later use in soups and stews.
Some folks like to season their pan roasted corn with garlic powder, smoked paprika, chili powder or top it with cheese and make Mexican street fair corn. However you season yours, add a little salt and black pepper to taste.
Recipe Tip: Foolproof way to make corn sweeter
This is one step I always apply when roasting corn -whether I roast the whole corn cob, use frozen or canned corn, I always soak it in a little milk for a few minutes-this makes the pan roasted corn even sweeter!
The sugars in the milk permeate the kernels and when that puffed up, sugar-enhanced kernel hits the hot fire, the sugars embed themselves in the core of the kernel, making the end product sweeter than before.
Be sure to dry the corn before you place it in the hot skillet!
What kind of corn should I use for pan roasting?
The sweetest corn is usually yellow corn; however, there are other options, as in white, fresh or frozen. It doesn't really matter what type or color of corn you use to pan roast, because the corn is soaked in milk prior to roasting. The sugars in the milk make the corn extra sweet!
What kind of pan do I use for pan roasted corn on the stovetop?
You'll want a heavy bottomed, preferably a cast iron skillet. Make sure it's seasoned well and is dry. For best stovetop pan roasted corn, cook the kernels on dry heat (without any oil or butter.) This gives the sweet corn that "roasted" flavor and char.
Can you pan cook corn on the cob?
Yes! You can pan roast loose corn kernels or corn on the cob; you'll just need a pair of long-handled tongs to rotate the corn cob as it roasts in the cast iron skillet.
Organic vs. Conventional corn
The highest quality is Certified Organic, non-GMO or, corn straight from a local farm. Unfortunately, if you buy "conventional", you're probably buying and eating genetically modified corn.
There's much controversy about genetically modified foods, which I won't go into now. But I prefer buying frozen Certified Organic non-GMO.
Can I use frozen or canned corn?
Use fresh, canned or frozen corn kernels or corn on the cob. If you use canned or frozen, rinse it before soaking it in the milk.
Add pan roasted corn to your favorite soup or stew, add it as a pizza topping or serve it as a side dish!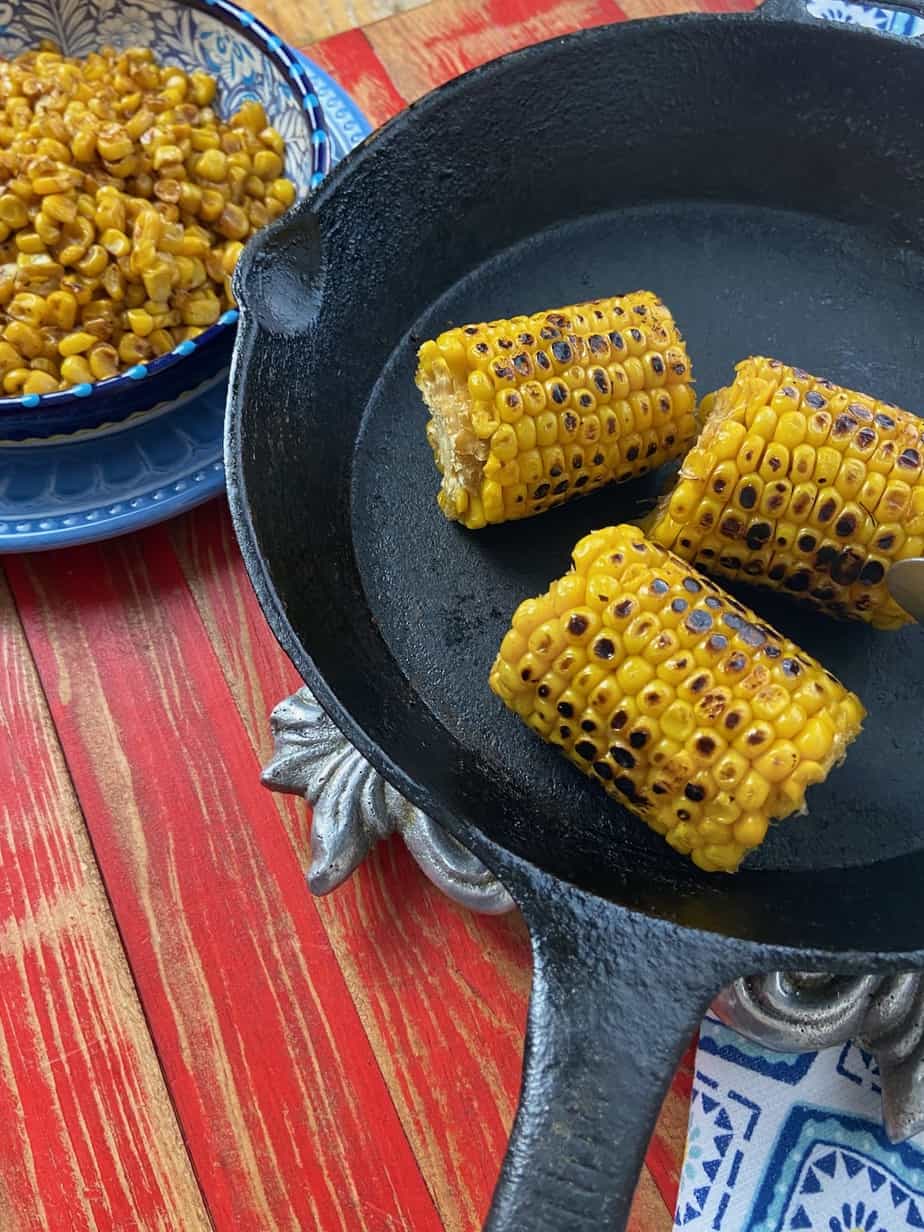 Storage and reheating
Store pan roasted corn in the refrigerator in an airtight container for up to 5 days or freeze for up to 6 months. Roasted summer corn is delicious when added to winter soups and stews!
To reheat corn, place in microwave, cover with a paper towel and cook 2-3 minutes until hot or, wrap the roasted corn cobs in foil, place on a baking tray and cook at 325°F until warmed throughout.
Related recipes:
📋 Recipe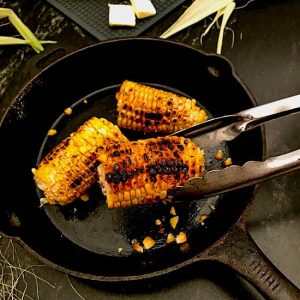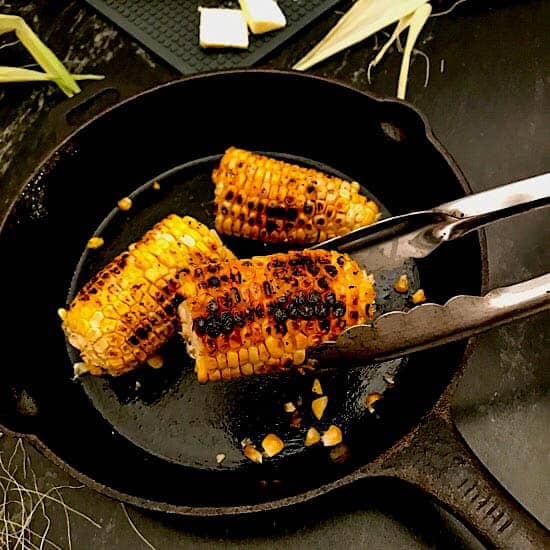 Pan Roasted Sweet Corn
Dry-heat method of pan roasting sweet corn in a cast iron skillet
Print
Rate
Equipment
Cast iron skillet

heavy-duty pot holder

long handled tongs, metal

long handled spatula, metal
Ingredients
4

ears

corn

, broken in half; if you use canned, drain it and dry on paper towel; if you use frozen, thaw it and make sure it's dry

milk, enough to cover corn

2% or whole

butter

salted or unsalted; to taste

salt and pepper

to taste
Instructions
Prep Corn:

Remove the husks off the corn and pull away silk; rinse and break corn in half; (if using corn kernels, thaw frozen and drain canned; proceed to next step)

Place corn in a big bowl and pour in enough milk to cover the corn

milk, enough to cover corn

Let corn soak in milk for about 15 minutes

Heat a cast iron skillet on medium ; Do Not Add Any Oil; turn on the oven vent now:)

Using long tongs, remove corn from milk and place it in hot skillet; stand back; it sputters and pops!!! Turn corn and move it around in the skillet until most of it begins to turn brown. If you smell burnt corn, pull your skillet off the heat and turn the heat down

Season corn with salt, pepper, butter or any other seasoning you prefer
Notes
The amount of milk you need depends upon how much corn you have. Just use enough milk to cover the corn.
Be sure to dry off the corn really well before you add it to the hot pan!
The premise behind this cooking method is High, Hot and Fast.The pan will get really hot so you'll need a heavy duty pot holder.
Turn on the vent, open the windows. And don't burn the house down
You can roast the corn and freeze it if you like; it's always nice to have around for soups and stews
Nutrition Estimate
Serving:
1
cup
Calories:
75
kcal
Carbohydrates:
6
g
Protein:
4
g
Fat:
4
g
Saturated Fat:
2
g
Polyunsaturated Fat:
1
g
Monounsaturated Fat:
1
g
Cholesterol:
12
mg
Sodium:
52
mg
Potassium:
162
mg
Fiber:
1
g
Sugar:
6
g
Vitamin A:
199
IU
Vitamin C:
1
mg
Calcium:
138
mg
Iron:
1
mg