Fried Eggplant Fritters are an excellent alternative to french fries! Granted, frying isn't the best method of cooking, but if you're family won't touch eggplant any other way, this is a sure-fire recipe to get them to try it!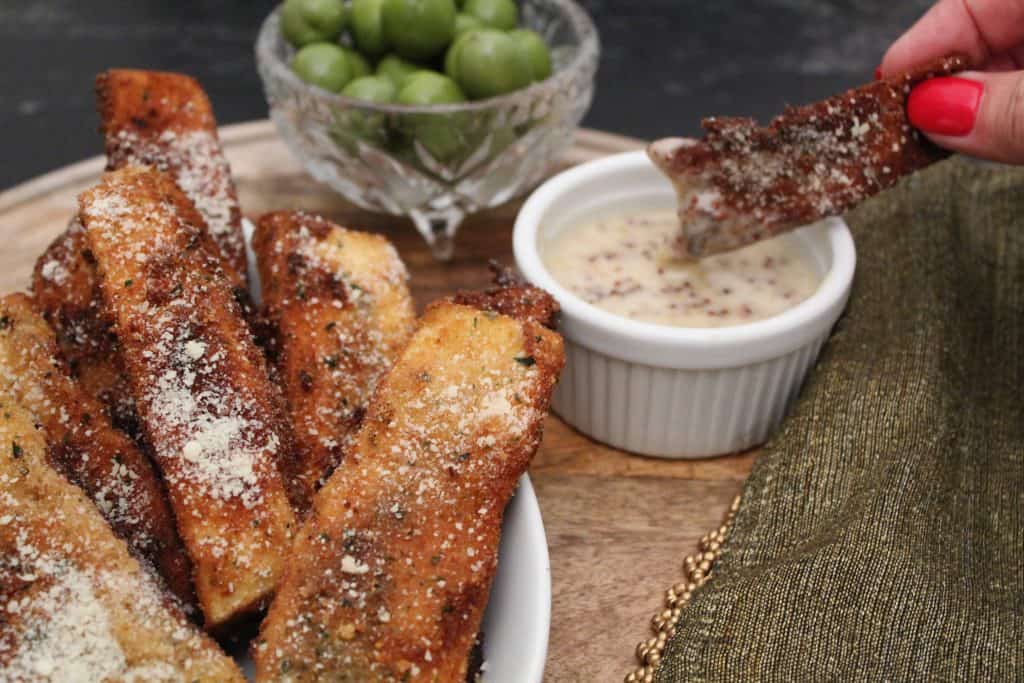 Eggplant, or aubergine, is the royalty of the garden with its rich purple, (almost black) shiny skin, and huge amounts of vitamins and nutrients. It is a member of the nightshade family and in the 15th and 16th centuries, it was referred to as "mad apples" because it was believed to make you insane after you consumed the purple fruit. Yes, it is a fruit, but we usually think of it (and serve it) as a vegetable!
This fried eggplant recipe uses Italian seasoned panko crumbs for extra crunch and flavor! The honey mustard dip really sets off the flavor!
How Do I Select Eggplant?
Choose an eggplant that is deep in color and firm to the touch. Avoid eggplant that is pale purple and soft to the touch.
How Do I Store Eggplant?
Eggplant is best stored in the refrigerator on a shelf; don't put it in a vegetable bin or it will soften too quickly. You can put an eggplant in the fridge for about 3 days.
How Do I Cut Eggplant?
First, cut off a bit of the top and bottom, making a firm base. Then, stand the eggplant on its base, and starting from the top, lightly slice right beneath the purple skin.
Once the skin is removed, place the eggplant lengthwise on a cutting board and cut it in half-lengthwise. Then, take one side and place the cut side on the board. Slice lengthwise, strips of eggplant. Repeat for the other half.
Do I Need to Soak Eggplant in Salted Water?
Much controversy here, but I say yes. I've read that soaking eggplant in salted water is an ole cook's myth, but I've personally never NOT soaked it in water and here's why. Some (if not all) eggplants are bitter, but you can't really tell by looking, touching or smelling it so, if you soak it in salted water "osmosis" occurs–the salt brings out the bitterness.
Now keep in mind that way back when, fruits and vegetables were cultivated much differently than today, and the soil was quite different then. The eggplant in the 15th century has probably been cross-bred with some other fruit or vegetable, and over the years, the bitterness of the eggplant may be only a myth. Nonetheless, I don't want to waste my time and money buying, preparing and then eating a bitter eggplant, so I submerge it in salt water first.
How Long Do I Leave Eggplant in Salted Water?
Generally speaking, about 15 – 20 minutes. I place the sliced eggplant in a baking pan of salted water, then place saucers over the eggplant to weight it down (it floats!); otherwise, the eggplant floats to the top and doesn't get the benefit of the salt water.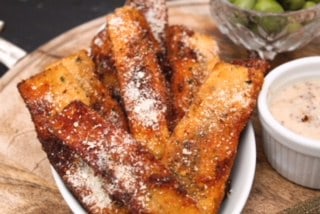 Fried Eggplant Fritters
Quick and easy fried eggplant fritters with honey mustard dipping sauce make a perfect appetizer or snack.
Print
Pin
Rate
Ingredients
Fried Eggplant
1

large

eggplant

peeled and sliced

2

whole

eggs

lightly beaten

2-2 1/2

cups

Italian seasoned panko crumbs

1

cup

oil

high heat oil: canola, vegetable, peanut or grapeseed

1/2

salt

to soak eggplant

shredded Parmesan

Optional
Honey Mustard Sauce
2

tablespoons

ground mustard

1

tablespoon

honey or agave nectar

1/3

cup

plain yogurt

can substitute with mayonnaise

1

teaspoon

white vinegar

pinch

salt
Instructions
Fried Eggplant Instructions
Using a sharp knife, remove purple skin from eggplant

Cut eggplant in half lengthwise (or rounds--see Recipe Notes)

In a large pan, place eggplant and cover with water; generously sprinkle salt over eggplant and water; place saucers on top of eggplant to prevent it from floating

Leave eggplant in salted water for about 15 minutes

Meanwhile, set up dredging station: using two pie plates, place two lightly beaten eggs in one plate; in the other place the seasoned panko crumbs

After eggplant has soaked, pat dry with a paper towel.

In a heavy-bottom skillet, add oil and bring heat to medium high

Take one eggplant strip and dip it into the egg, coating it well; then dredge it in the panko crumbs. Pat the crumbs onto the eggplant

Place coated eggplant in hot oil and allow to cook for 3 minutes

Flip eggplant and cook another minute, or until golden brown

Remove eggplant from oil and place on paper towel; lightly garnish with grated Parmesan (optional)

Repeat with remaining eggplant (I cook mine in batches of 3-4, depending upon how big the eggplant strips are--don't crowd them!)

Serve with honey mustard dipping sauce if desired
Notes
Fried eggplant can be cut into circles, or rounds, if desired; it doesn't really matter how you slice it. 

For a gluten-free version, try using corn meal instead of bread crumbs. 
If you like this recipe, you might want to try  Ratatouille !