When it's 100 degrees in the shade, you need an ice cold glass of Homemade Lemonade to cool you off! And what you don't need is to heat up the stove to make a simple syrup.
The beauty of this recipe is that it requires no heat - this "no cook simple syrup" recipe uses the acidity from the fresh lemon juice to dissolve the sugar, so there's no need to heat up the stove.
Just combine 4-simple ingredients and enjoy the best summer lemonade you've ever had!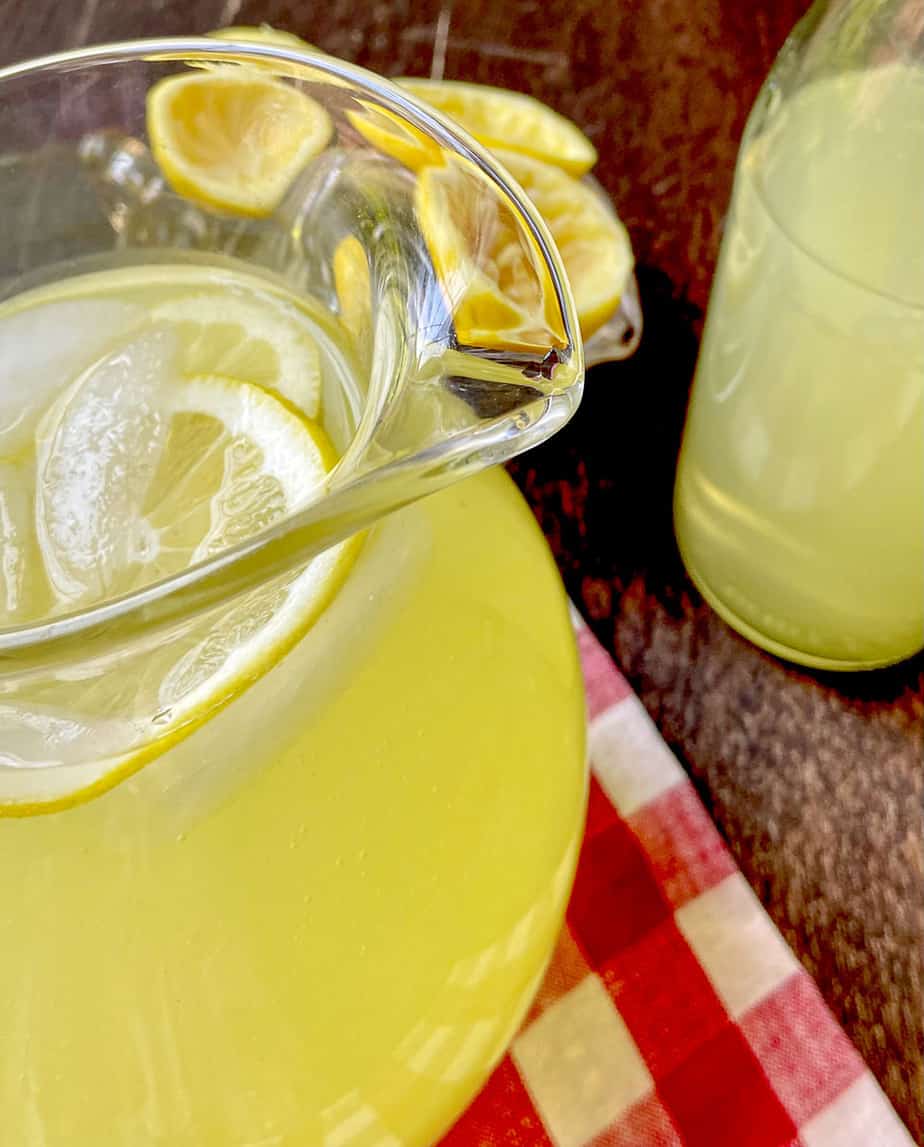 Homemade lemonade from scratch requires no heat or cooking a simple syrup
You'll love this recipe!
Quick and easy - nothing fancy or gourmet; just simple ingredients
Great flavor! Not too bitter, tart or tangy - just right!
All-natural - no additives, preservatives or colorants
Versatile - make it as sweet or tangy as you like
This recipe makes a quart of lemonade (4 cups) so, if you're hosting a large group, I recommend you double the recipe! It goes fast!
The flavor is beyond delicious! The lemon zest and natural flavorings are what truly sets this homemade summer drink apart from pre-made brands like MinuteMaid™, CountryTime™ and SimplyLemonade™.
The addition of lemon zest and a pinch of salt really balances out the flavors, resulting in the best homemade lemonade you've ever had!
Serve a big glass with Deviled Ham Spread, Classic Tuna Salad or have a glass by itself!
Here's what you'll need:
You'll need something to zest the lemons - either a cheese grater or microplane- and a lemon juicer tool.
Fresh lemons, a pinch of salt, sugar and water! That's it!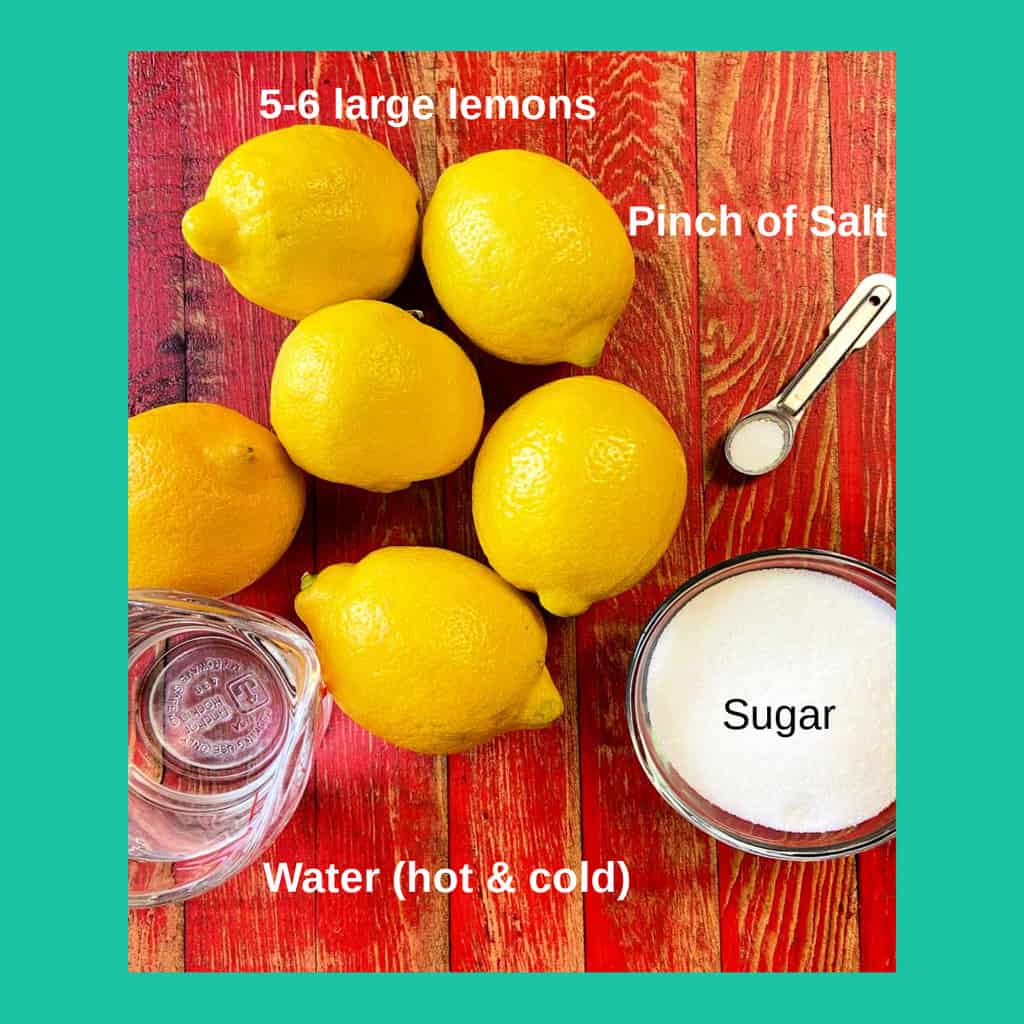 Here's how to make it:
A few simple steps and you'll have homemade lemonade in no time! The secret to this recipe is the lemon zest and a pinch of salt. I do not recommend bottled lemon juice or lemon extracts - only freshly squeezed lemons will work.
These first four steps will make a lemonade concentrate - this takes the place of a cooked simple syrup.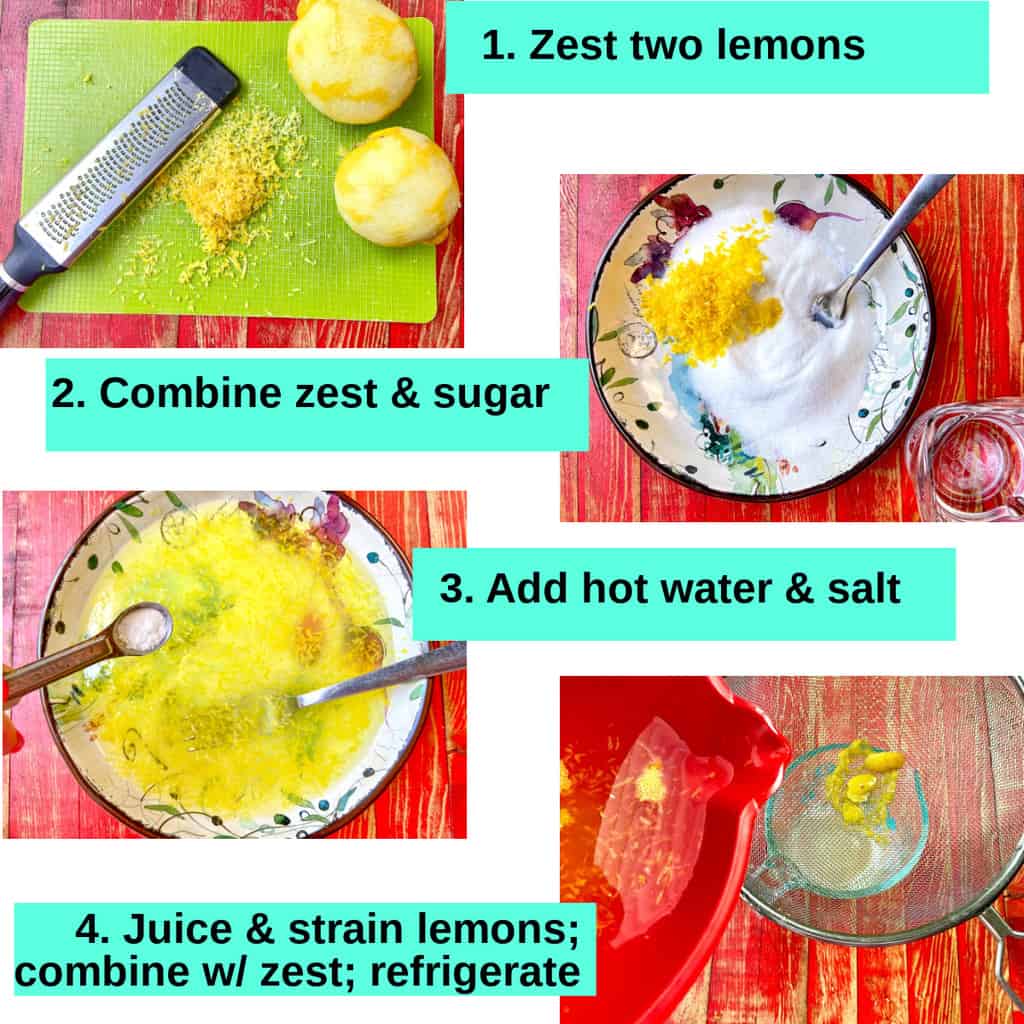 After you've juiced and strained the lemons, combine the lemon juice with the sugar mixture and refrigerate for at least 30-minutes.
This is the lemon concentrate that replaces a cooked simple syrup.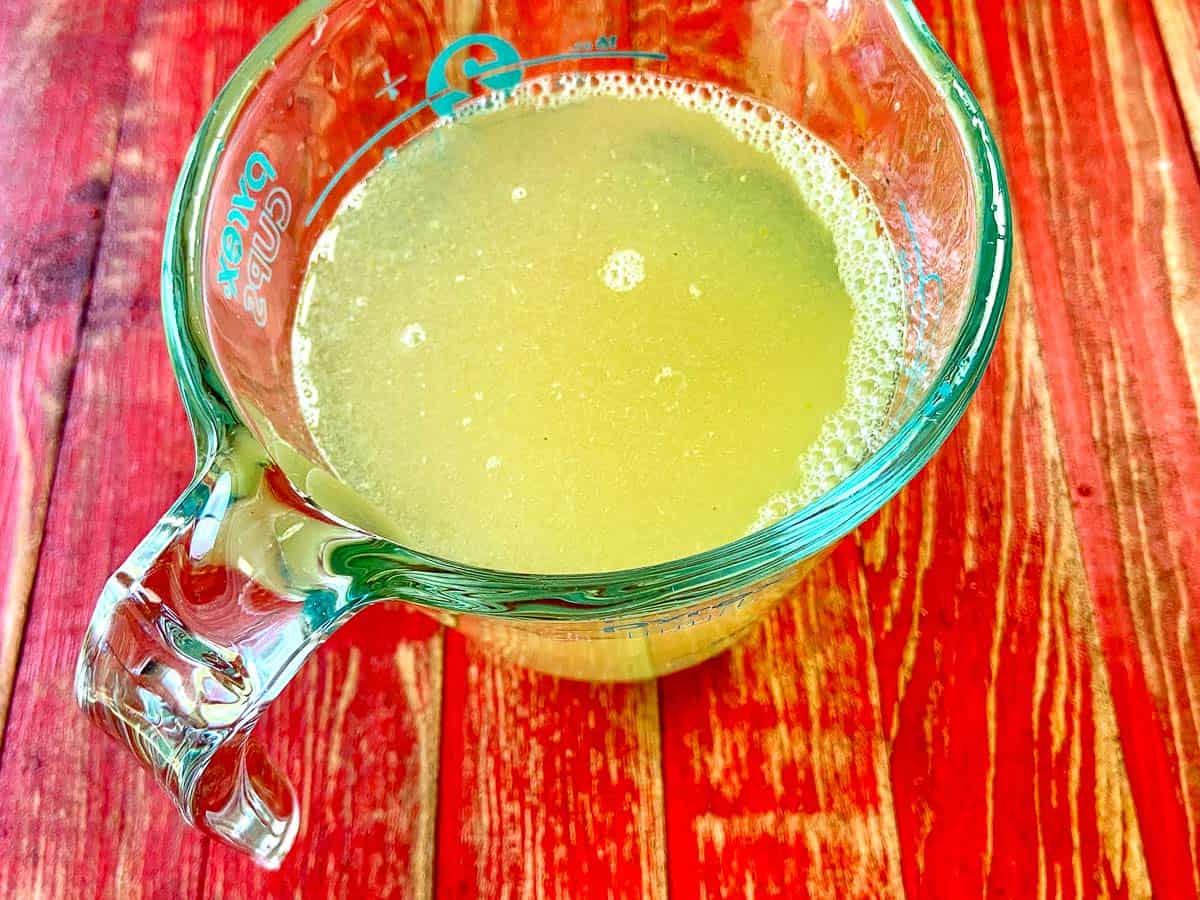 Once the lemon juice mixture is done, pour it into a pitcher and add 2 cups cold water and ice.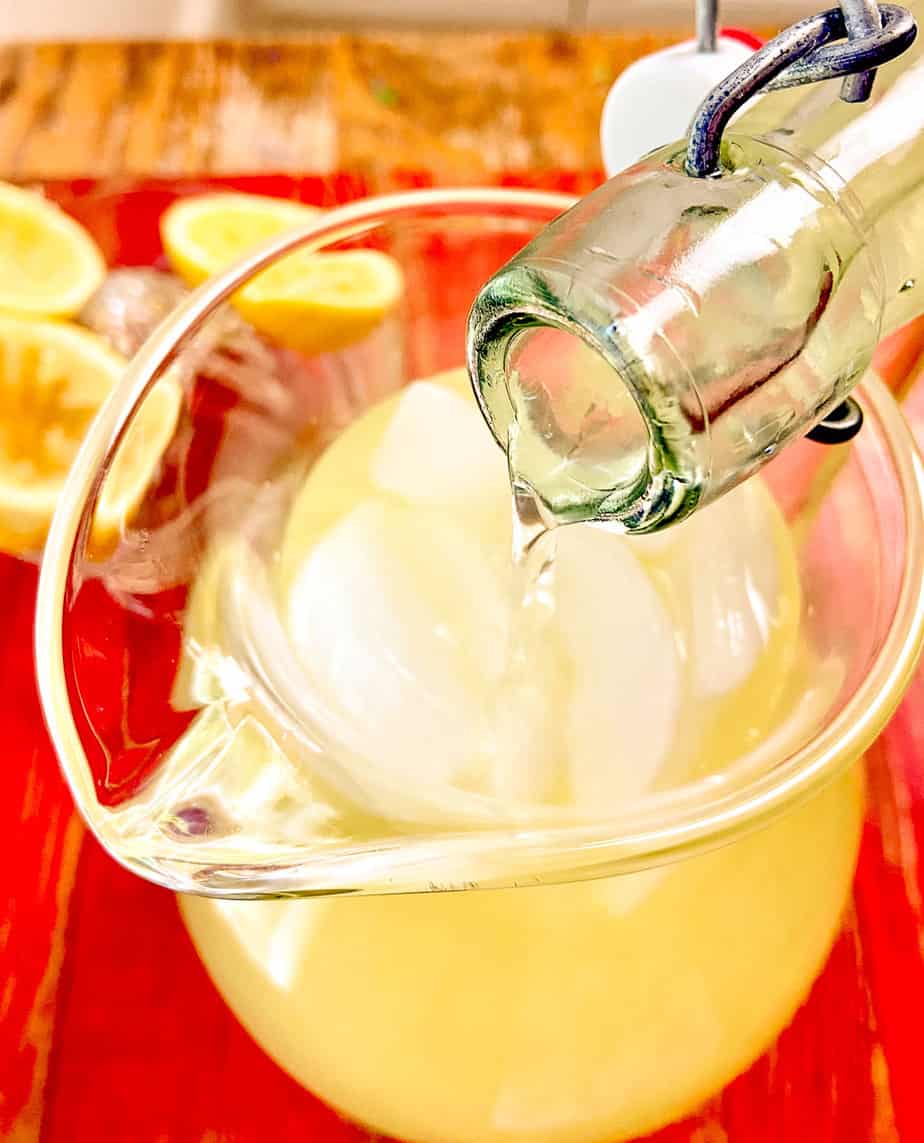 Recipe tips:
Granted, this homemade lemonade recipe is not rocket-science, but there are a few things you should know before you get started!
How much juice from one lemon?
Generally speaking, a large, juicy lemon yields about 2-3 tablespoons of fresh squeezed juice.
After you strain it, you might have a little less so it's best to buy one or two more lemons to have on hand, in the event some of the lemons aren't quite juicy enough.
Easy way to zest lemons:
Use the fine edge of a cheese grater or a microplane; you need about 3 tablespoons of lemon zest and that's about 2-large lemons
When zesting, do not get too much of the white skin, which is called "pith". It has a tendency to be a little bitter, so try to just get the yellow part of the skin
How to select the best lemons:
Look for lemons that have a smooth skin. You'll often see lemons and limes with big pores; these tend to be tougher and less juicy than smooth-skinned fruit.
Yield:
This homemade lemonade recipe makes 2 cups of concentrate, to which you'll add 2 cups of cold water, so the total yield is 4 cups, or 1 quart (32-ounces).
Pitcher sizes vary, but in the U.S. standard sizes are 32, 48 and 60-ounce pitchers. If you double the recipe, you'll have 64-ounces of lemonade, so keep that in mind.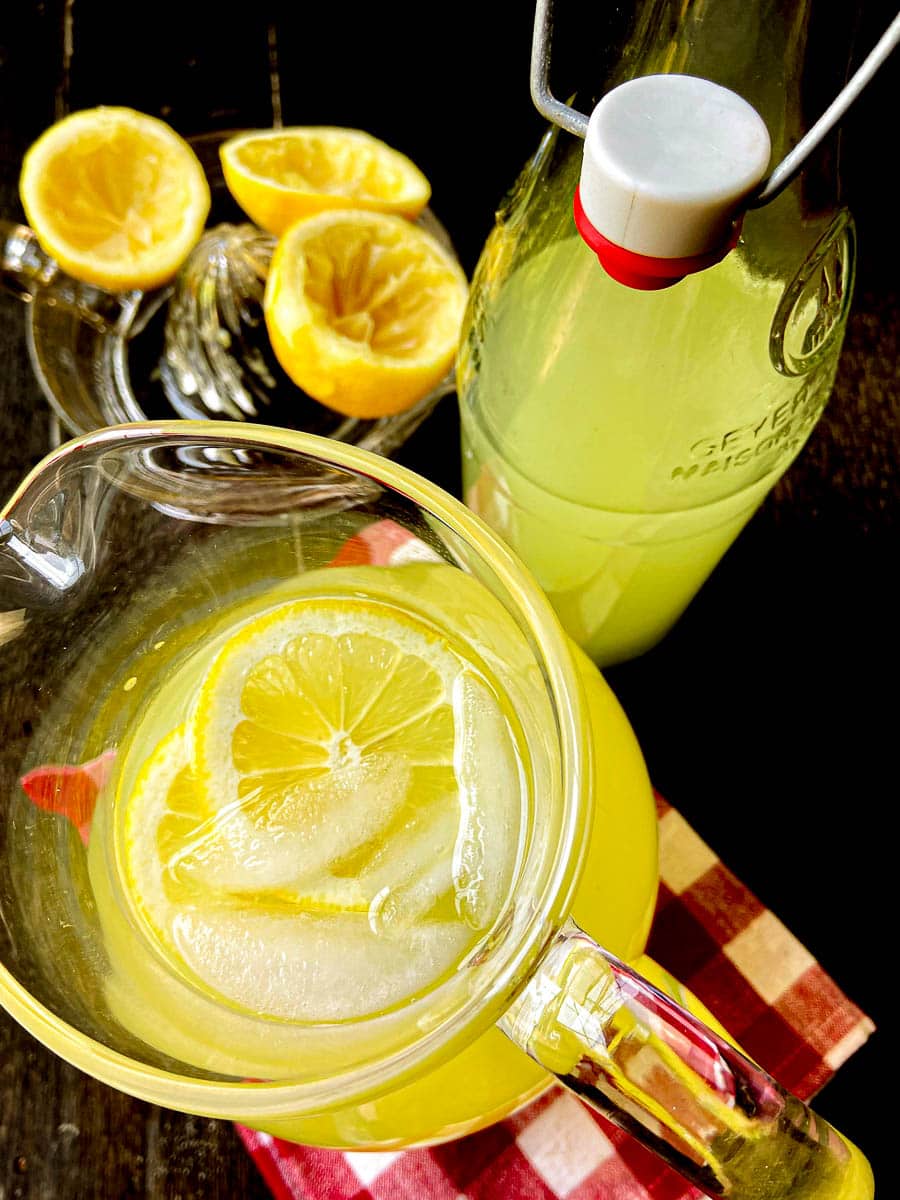 Make your lemonade as sweet, tart or tangy as you like! Add more sugar if you want it sweeter, or more lemon juice for a more tart and tangy flavor!
Storage
Store the no cook simple syrup covered in the fridge for up to 7-days
Related recipes:
Serve a glass of ice-cold lemonade with any of these Southern summer favorites!
If you make this recipe, please scroll down and leave a comment and rating! I love to hear from you!
📋 Recipe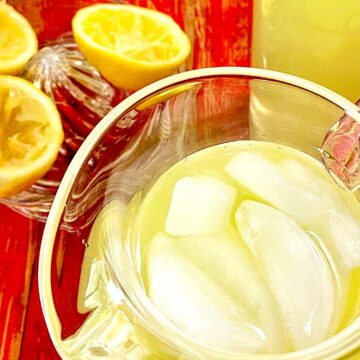 Homemade Lemonade No Cook Simple Syrup
All-natural, refreshing lemonade from scratch that doesn't require cooking a simple syrup
Print
Rate
Ingredients
¾

cup

lemon juice

, fresh; (about 5-6 large lemons juiced and strained)

3

tablespoons

lemon zest

(zest from 2 of the lemons)

¾

cup

sugar

, granulated

⅛

teaspoon

salt

, kosher

1

cup

water

, hot

2

cups

water

, cold
Instructions
Rinse and scrub 2 large lemons; zest lemons; place zest in small mixing bowl with sugar, salt and hot water; stir until sugar dissolves; allow to cool

While the sugar mixture is cooling, juice lemons and strain seeds; you'll need ¾ cup of lemon juice (about 5-6 lemons)

Add lemon juice to sugar/lemon zest mixture; stir

Strain mixture into a jar and refrigerate for at least 30-minutes

Pour lemonade mixture into a 32 quart pitcher

Add 2 cups cold water and ice; stir and serve
Notes
Get 5-6 large lemons; zest 2 of these; then, cut the lemons in half, juice and strain until you have ¾ cup of fresh squeezed lemon juice.
If you want to make this in advance, cover and refrigerate the lemon concentrate until you're ready to add more water and serve.
To make one glass of lemonade, use equal proportions of the lemon concentrate and cold water : for instance, use ½ cup of the lemon/sugar/zest mixture, which is the concentrate and add ½ cup of cold water
Nutrition Estimate
Serving:
1
cup
Calories:
157
kcal
Carbohydrates:
41
g
Protein:
1
g
Fat:
1
g
Saturated Fat:
1
g
Polyunsaturated Fat:
1
g
Monounsaturated Fat:
1
g
Sodium:
83
mg
Potassium:
55
mg
Fiber:
1
g
Sugar:
39
g
Vitamin A:
5
IU
Vitamin C:
24
mg
Calcium:
15
mg
Iron:
1
mg