If you've got an ounce of Cajun or Creole running through your blood, you're gonna absolutely love and appreciate this easy, yet delicious Louisiana Remoulade Sauce!
It's ready, literally, in 10-minutes and the depth of flavors is truly over-the-top!
This mayonnaise-based sauce has all sorts of goodies in it: garlic, chili sauce, lemon, dill and a dash of honey...just enough balance between sweet and spicy!
Use this homemade remoulade sauce with Fried Catfish, crab cakes, boiled or fried shrimp and oysters, or as a sauce on a Po' Boy sandwich. Oh heck, go ahead and use it as a salad dressing for Seafood Cobb Salad!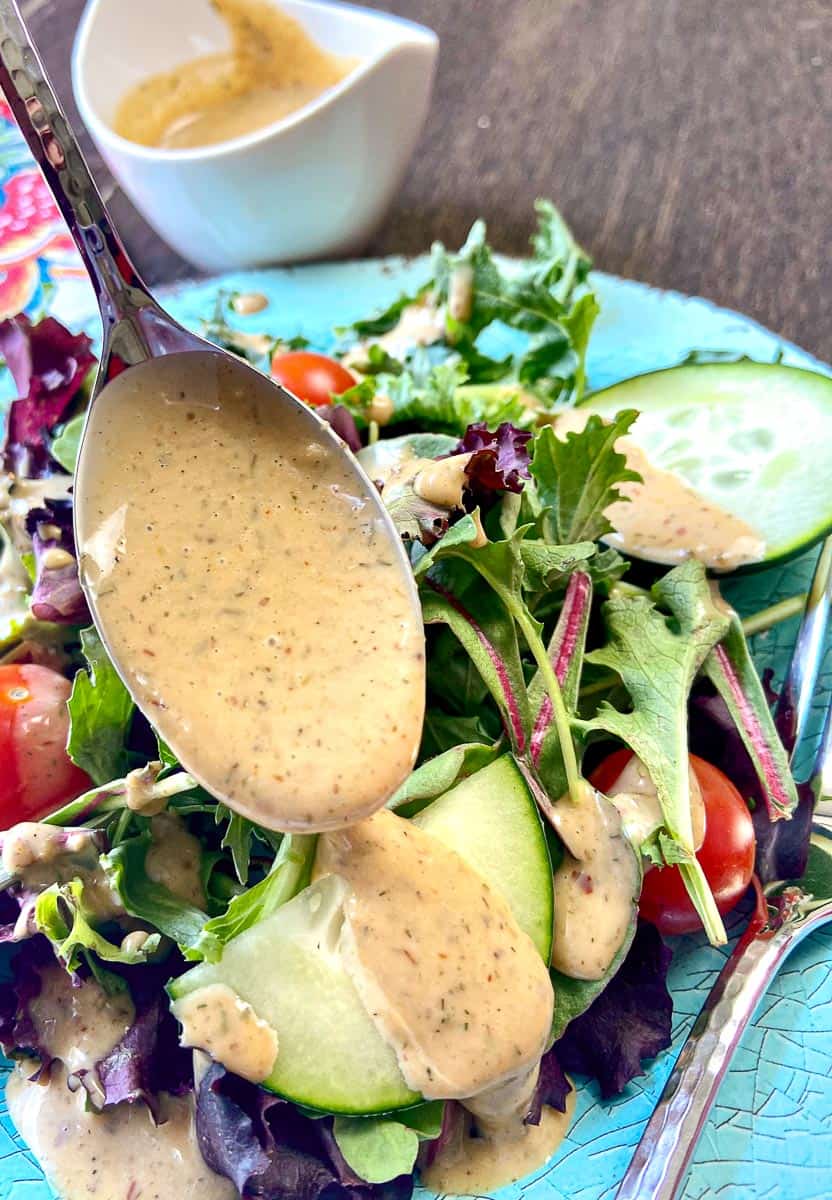 I've been making Remoulade sauce for years and up until now, Chef Warren LeRuth's mustared-based recipe was my go-to-favorite.
I think you'll like the Cajun/Creole sauce as a salad dressing, with fried catfish, boiled shrimp or scallops!
Jump to:
What is Remoulade sauce?
It's a mayonnaise-based condiment that originated in France and traveled to the states via the Cajun and Creole French folks.
Originally, it was served with meats, but over the years it has transitioned to a popular seafood condiment.
Why this recipe works!
Quick and easy - ready in 10-minutes!
Simple ingredients - nothing fancy or gourmet; all-natural with no additives or preservatives
Flavor - this Louisiana Remoulade sauce recipe has a myriad of flavors--a hint of sweet with a hint of heat
Versatile - you can make this as mild or spicy as you like and use it as a dip or dressing
The recipe yields about 3 cups of sauce and will stay fresh in the refrigerator for up to a week, if not more, provided it's covered well.
Here's what you'll need:
Here's what you need to make the Louisiana Remoulade sauce. See the recipe card below in the notes section for substitutions, etc.
Note the Chili Sauce is an Asian chili sauce that is sweet & spicy. You can use a Sweet Thai Chili sauce as well...either one works.
Also, don't forget about the honey. I forgot to put it in the picture...
The recipe calls for dried dill; however, if you want to use fresh, use three times as much of the dried (dried herbs are stronger than fresh.)
Horseradish is optional.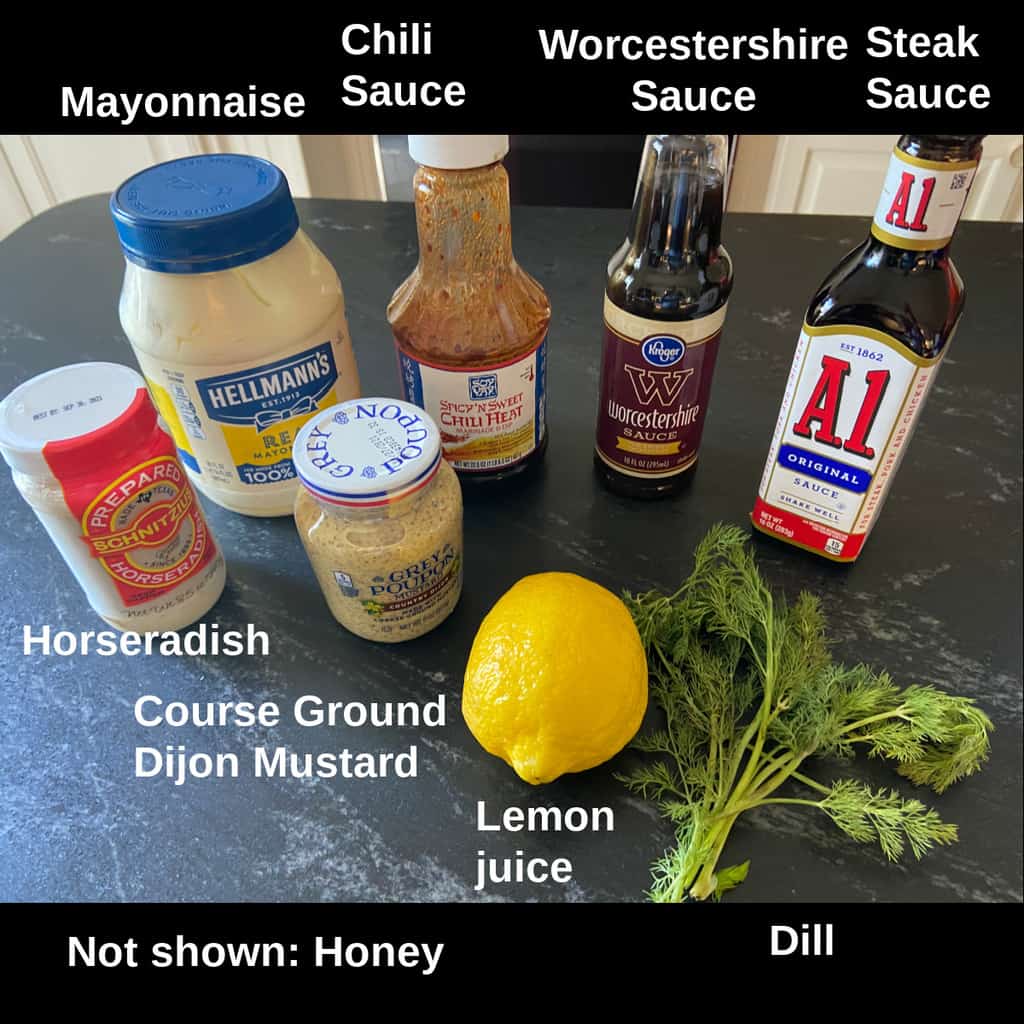 There's not a lot of preparation in making Remoulade sauce. If you want it hotter, add horseradish to taste!
Basically, put everything in a bowl, combine well, cover and refrigerate for about 20-30 minutes. Taste for salt and pepper after it has rested in the fridge.
If you want it spicier, add a little more horseradish. If you want it milder, add more honey.
A note about the mayonnaise
I recommend using Hellman's™ original mayonnaise.
Now I know many a Southern cook who swears by Duke's™ brand and it is good, but Duke's has a bit of zest added to it already, so I'm not sure how that would turn out in this recipe.
I haven't made Louisiana Remoulade sauce with Duke's mayonnaise, so if you do, be sure and let me know how it turns out?
Versions of the sauce
Just like everything else in life, there are variations...thought you'd find these variations of Remoloaude sauce interesting!
The French version is white, mayonnaise-based, and typically contains herbs, capers, pickles (cornichons) and anchovies. The French version is comparabe to American tartar sauce, for lack of a better description.
The Louisiana (Cajun or Creole) is pinkish in color and typically contains mayonnaise, ground or Creole mustard, garlic horseradish, hot sauce and often celery
The Danish make their Remoulade sauce without garlic, but add finely chopped cauliflower, cucumbers and turmeric, which gives it a yellow hue.
And I read somewhere where Icelanders put it on hot dogs! Who knew?
No matter which version, most often the zesty sauce accompanies seafood: shrimp, lobster, catfish and oysters. You'll often find it as a sauce on the infamous Po' Boy sandwich there in New Orleans.
What's the difference between an aioli and mayonnaise?
Historically, aioli is known as a sauce derived from oil and pureed garlic (garlic paste), where the pureed garlic emulsifies and holds the ingredients together.
Mayonnaise contains oil and eggs, where the egg acts as the emulsifier.
The flavor profiles of an authentic aioli and mayonnaise are quite different, but over the years, the terms have begun to be used interchangeably.
Make ahead and storage:
You can make this Louisiana remolaude sauce 3-5 days in advance; it can be stored in the refrigerator for up to 5-days.
Freezing is not recommended as the sauce breaks down due to the eggs in the mayonnaise.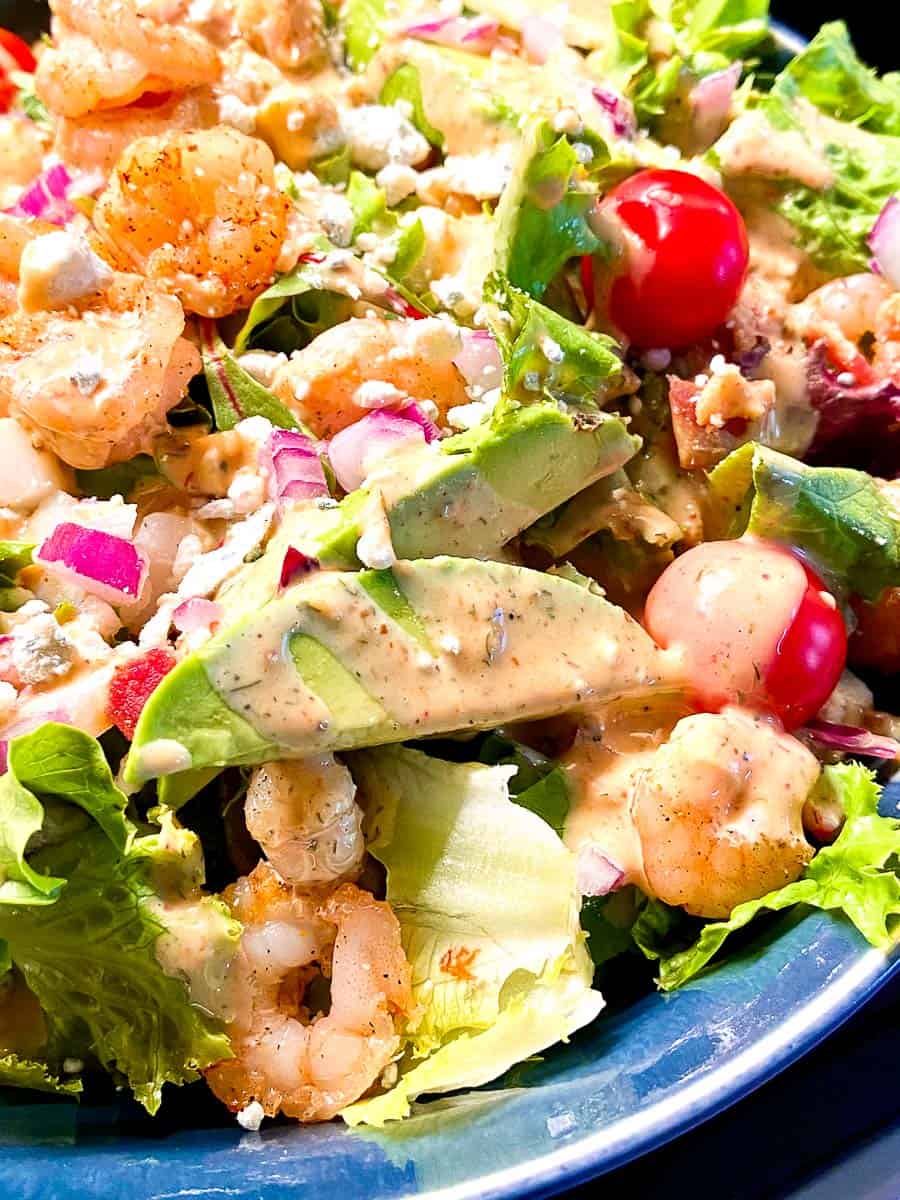 Serve Louisiana Remoulade Sauce as a salad dressing, a sauce for shrimp or oyster Po' Boys sandwiches, a dip for boiled shrimp, or a sauce for fish or scallops.
Related recipes:
If you make this recipe, please scroll down and leave a comment and rating. I love to hear from you!
📋 Recipe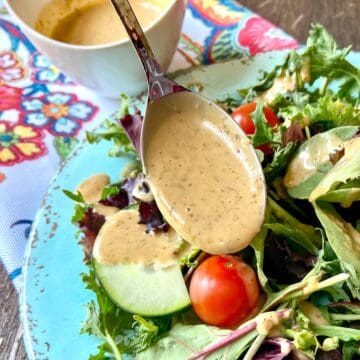 Louisiana Remoulade Sauce
Louisiana Remoulade Sauce with a hint of sweet heat! Perfect with just about any kind of seafood or as a salad dressing or dip! Ready in minutes!
Print
Rate
Ingredients
2

cups

mayonnaise

½

cup

chili sauce

(in the Asian or International section); see recipe notes

2

tablespoons

Dijon mustard

, course

2

teaspoons

Creole seasoning

, see recipe notes

¼

cup

steak sauce

, A1 or HP brand

1

teaspoon

Worcestershire sauce

¼

cup

honey

2

cloves

garlic

, minced

1

large

lemon

, juiced

2

teaspoons

dill

, dried (see recipe notes if using fresh)

salt and pepper

, to taste

horseradish, optional, to taste
Instructions
Combine all dressing ingredients into large bowl; mix well and refrigerate 15-20 minutes

2 cups mayonnaise,

½ cup chili sauce,

2 tablespoons Dijon mustard,

2 teaspoons Creole seasoning,

¼ cup steak sauce,

1 teaspoon Worcestershire sauce,

¼ cup honey,

2 cloves garlic,

1 large lemon,

2 teaspoons dill,

horseradish, optional, to taste

After sauce has rested in refrigerator, taste for salt and pepper and adjust accordingly

Serve with seafood as a dip, dressing or as a sandwich spread
Notes
About the chili sauce:
This is usually in the Asian or International section. Use "sweet n spicy" chili sauce or just plain "chili" sauce. Do not use "sweet and sour" sauce!
About the horseradish:
Use "prepared horseradish" that's kept in the cold seafood section. Do not use "horseradish sauce" that's on the condiment aisle with the ketchup and mayo.
About the dill:
If using fresh dill, use 3 times as much as dried.
About the Creole seasoning:
I use Tony Chachare's Creole Seasoning. If you don't care for a little bit of spice, leave this out. You can also substitute with Cajun seasoning.
Nutrition Estimate
Serving:
1
cup
Calories:
1189
kcal
Carbohydrates:
42
g
Protein:
4
g
Fat:
112
g
Saturated Fat:
18
g
Polyunsaturated Fat:
67
g
Monounsaturated Fat:
25
g
Trans Fat:
1
g
Cholesterol:
63
mg
Sodium:
2016
mg
Potassium:
362
mg
Fiber:
4
g
Sugar:
34
g
Vitamin A:
486
IU
Vitamin C:
29
mg
Calcium:
48
mg
Iron:
2
mg