This quick and easy Southern Fried Squash recipe is one of my favorite things in the summer when summer squash is in season! Tender squash rounds, lightly coated in a seasoned cornmeal mixture then fried!
This classic recipe is ready in minutes! Pair your fried yellow summer squash with purple hull peas, fried catfish and some stewed okra and tomatoes and you've got yourself a full-blown Southern meal!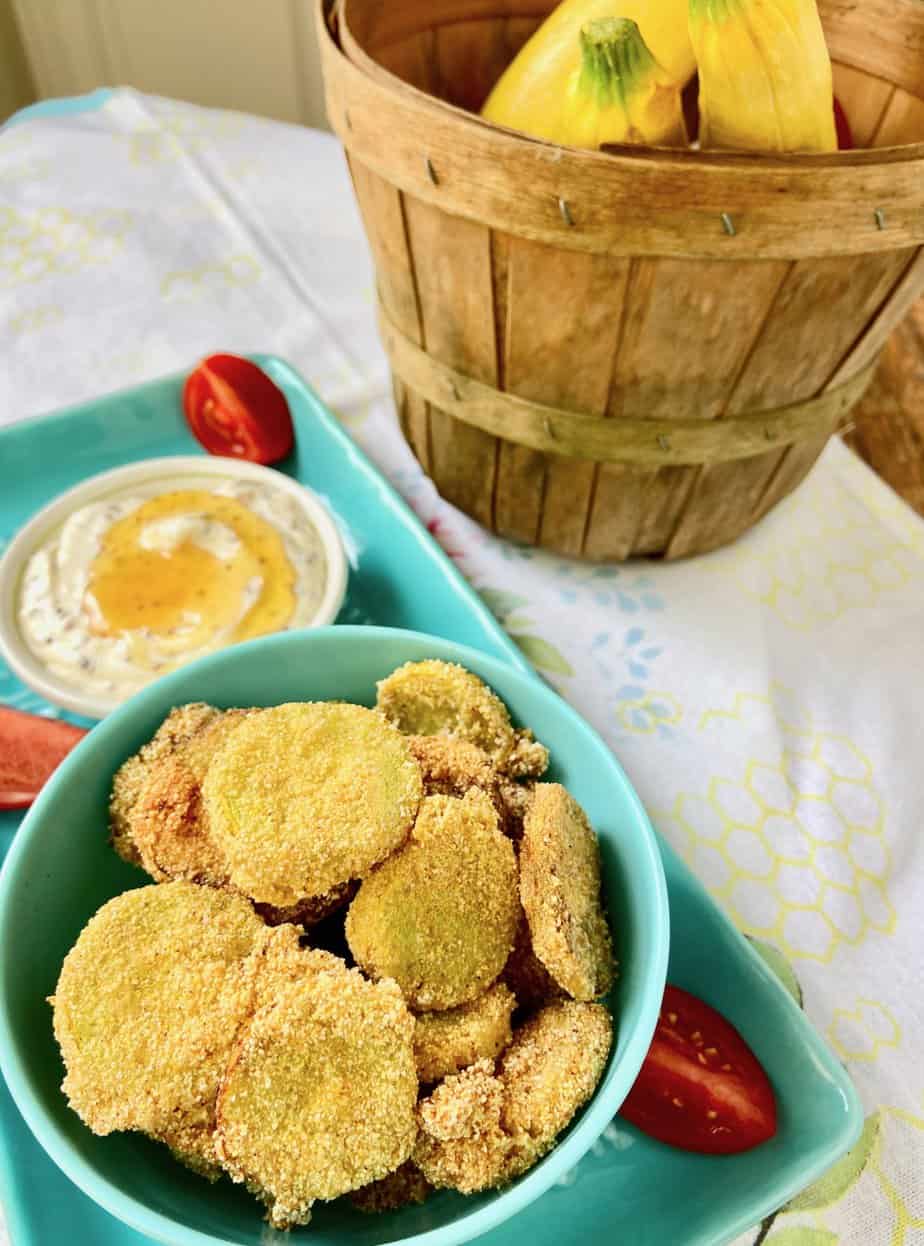 Yellow squash, also known as Summer or yellow Crookneck squash, is available year round at the grocery store, despite the name. It has a mild flavor which is slightly different from its cousin, zucchini.
This recipe works well with both kinds of squash.
You'll love this recipe!
Southern fried squash doesn't take long to make! Just a few simple ingredients. Serve as a side dish or appetizer with a dipping sauce!
Quick 'n Easy: simple ingredients! lightly batter the squash with egg, then toss in seasoned cornmeal and lightly pan fried! You can have these on the dinner table in about 10-minutes!
Semi-healthy: a healthy alternative to french fries; relatively low-fat and gluten-free (contains no flour)
Flavorful: if you get small, young squash you'll get the best flavor
Here's what you'll need
1 pound of yellow squash, 2 eggs, frying oil, plain yellow cornmeal (not self rising cornmeal), garlic and onion powder, a little salt pepper and paprika (optional).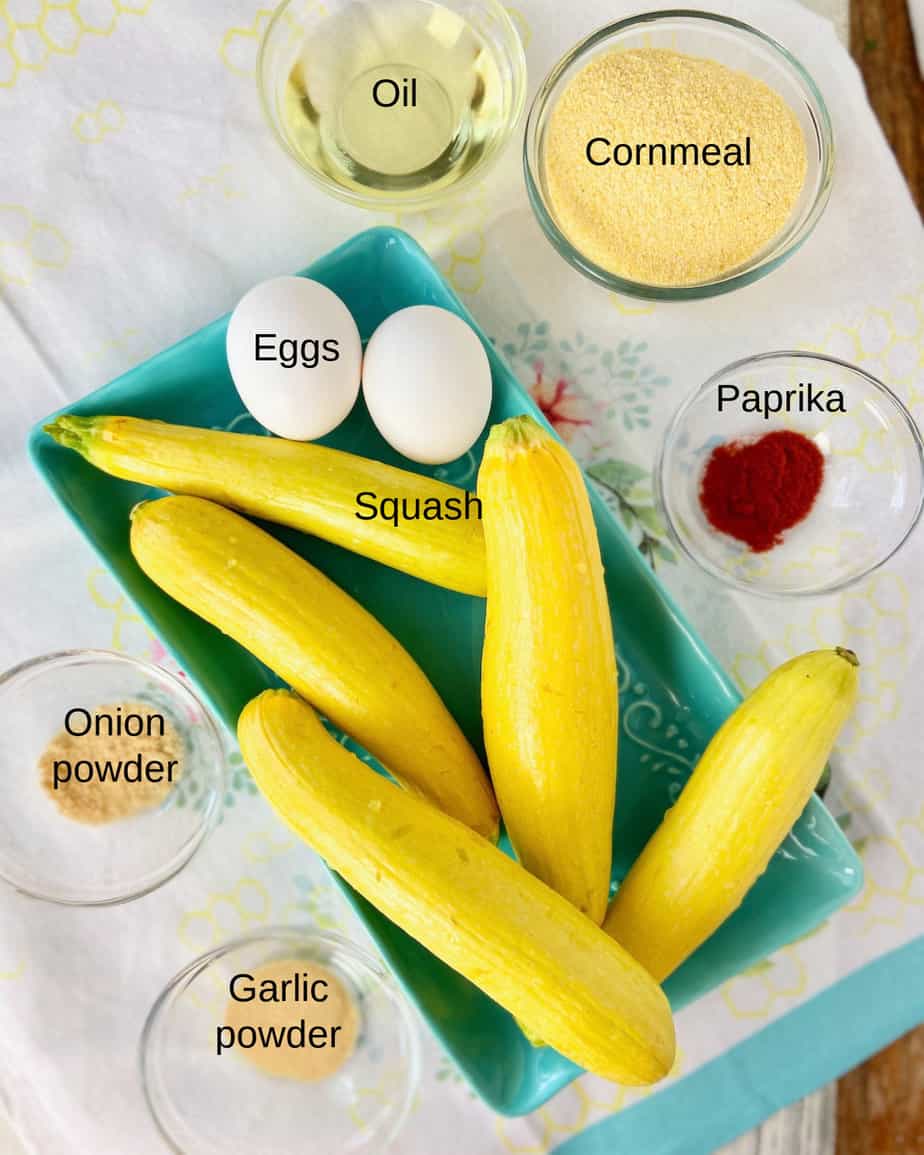 How to make it
Do the quick and easy prep work first! It makes fried squash a quick and easy recipe!
Set up dredging station with lightly beaten egg in a shallow bowl; in a second bowl, (a flat bowl or pie dish) combine the seasoned cornmeal, onion powder, garlic powder, paprika, salt and pepper. Add a dash of cayenne if you want spicy Southern fried yellow squash.
Slice the fresh squash into ¼" inch slices (do not remove the skin)
On the stove top, heat oil in heavy-bottom skillet (I use a cast iron skillet) on medium high heat. I recommend a high heat oil like canola oil or vegetable oil. Olive oil doesn't tolerate high heat very well.
(Note: the amount of frying oil you use will depend upon the size of your skillet; you want the oil to be about ½" inch in the frying pan)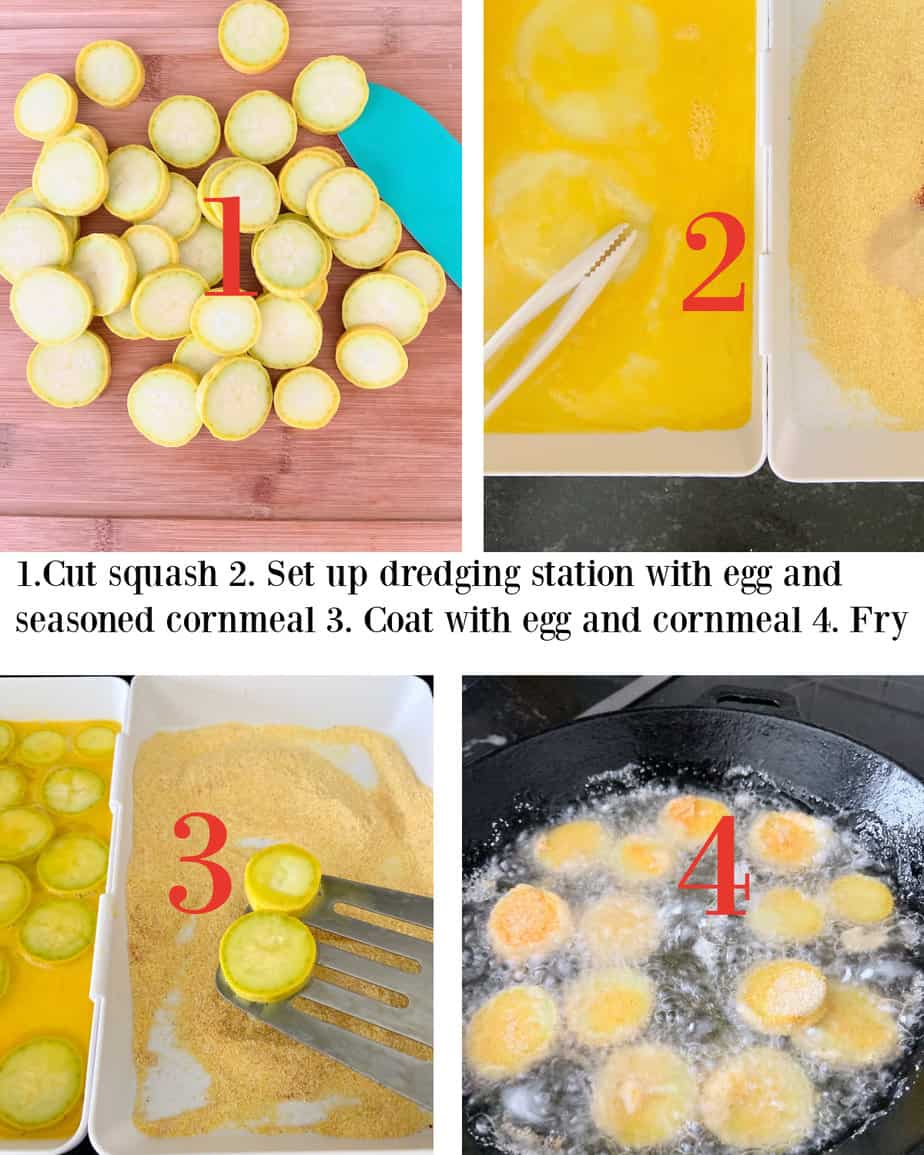 Dredge the thinly sliced squash in the lightly beaten egg, then in the seasoned cornmeal; place the cornmeal-coated squash in the hot oil in a single layer; cook 3 minutes, flip squash, cook another minute until light golden brown then drain on paper towels or a wire rack to remove any excess oil.
Tips for frying yellow squash
The best way to make this yellow squash recipe is to work in small batches. You don't want to overcrowd the large skillet.
The amount of oil depends upon the size of your skillet and the amount of squash you're cooking. You want about ½ " inch of oil in the skillet. You don't need a lot of oil in the skillet - this is not "deep frying" where the squash is submerged in the oil.
You want the oil temperature to be at least 315°F. One important thing is to make sure your oil is good and hot before placing the squash slices in it! If the oil isn't hot enough, the cornmeal coating will fall off. I recommend using an accurate thermometer to test the oil temperature.
Use a slotted spoon to remove the fried squash from the hot oil.
How to select the best yellow squash
Look for a firm flesh with few blemishes; the smaller and darker yellow squash are usually the best choice because they're super tender and flavorful. Generally, you'll find smaller squash most available in the summer months.
Crookneck squash is generally available year-round; however the smaller ones are more tender and flavorful than the larger sizes.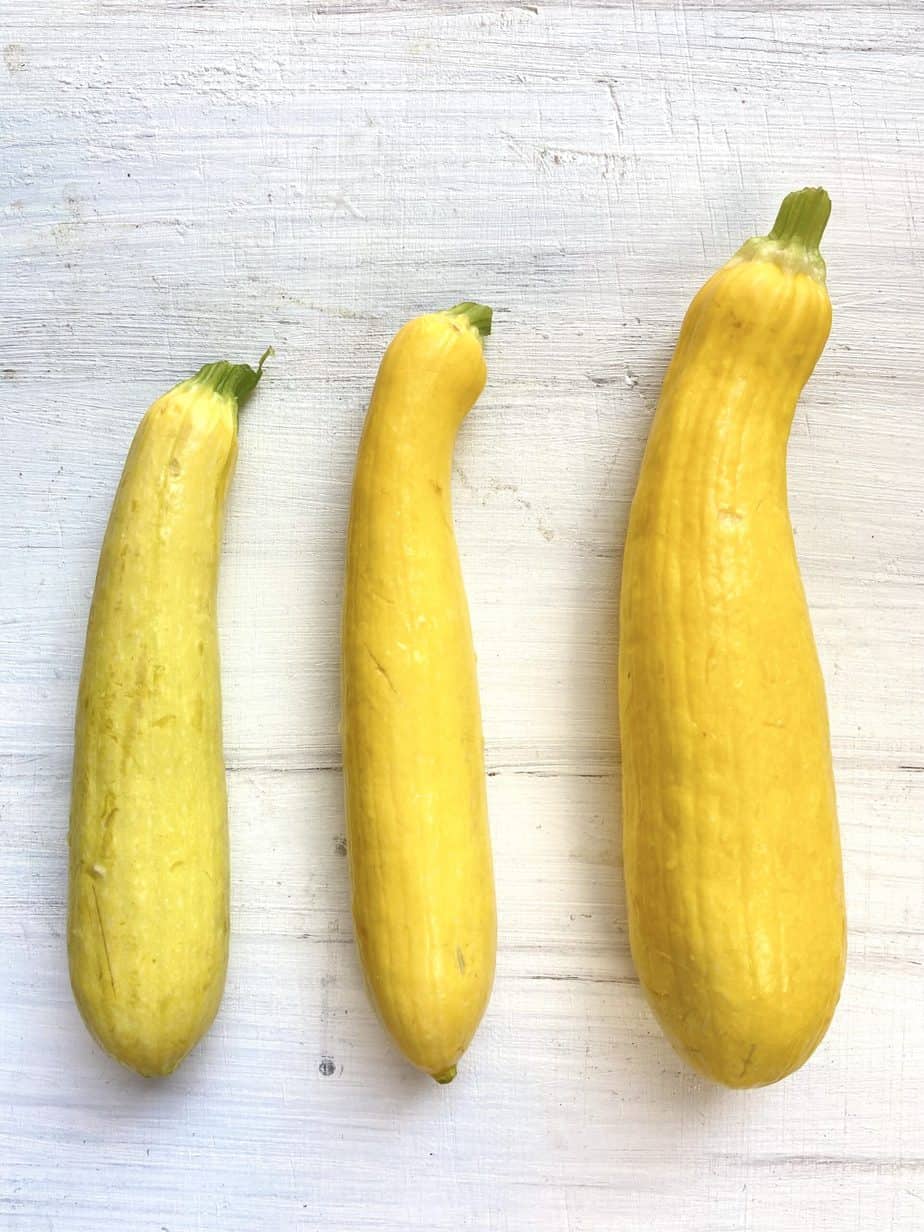 Recipe FAQ
Can I substitute zucchini squash?
You can certainly apply this Southern Fried Squash recipe to Zucchini ! Keep in mind, zucchini it is more dense than yellow squash and requires cooking a little longer than yellow squash.
How to store yellow squash and zucchini
If you buy squash in advance, store it in an open plastic bag in the vegetable bin of your fridge; do NOT wash it before storing.
Yellow squash will stay firm in the fridge for up to 3 days; zucchini will hold firm for up to 5 days.
Frying oil
Use an oil suitable for high heat--canola, corn or vegetable oil work well for high heat recipes.
Peanut oil and grapeseed oil also work well, but they are more expensive.
Get the oil good and hot - about 300-315ºF should do it and keep an eye on the vegetable while it's frying.
Cornmeal burns quickly, so if it starts to burn, turn the heat down.
Olive oil does not work well for high heat cooking due to its low smoke point.
Make ahead and storage
If you want to make fried yellow squash ahead of time, just fry it according to the recipe directions, then let it cool; store in the fridge in an airtight container until ready to serve (up to 3 days.)
To reheat, set oven to 400ºF, place cooked squash in a single layer on ungreased baking sheet, and bake 10-12 minutes uncovered, until squash are warm.
I do not recommend using the microwave for reheating, as the cornmeal breading gets soggy.
Serving Suggestions
Serve these delicious Southern fried squash patties as you would any side dish, or as an appetizer or snack.They taste even better when lightly salted or sugared, or served with a honey mustard dipping sauce.
If you want to make fried yellow squash "fancy," garnish it with a little shredded parmesan cheese right after it comes out of the pan!
This is a great Southern classic recipe and a great way to get some fresh summer vegetables in your family's diet!
Honey Mustard Dipping Sauce
Combine all ingredients in a small bowl:
2 tablespoons stone ground mustard from a jar - NOT dry mustard powder
1 tablespoon honey or agave nectar
⅓ cup plain yogurt
1 teaspoon white vinegar
pinch of salt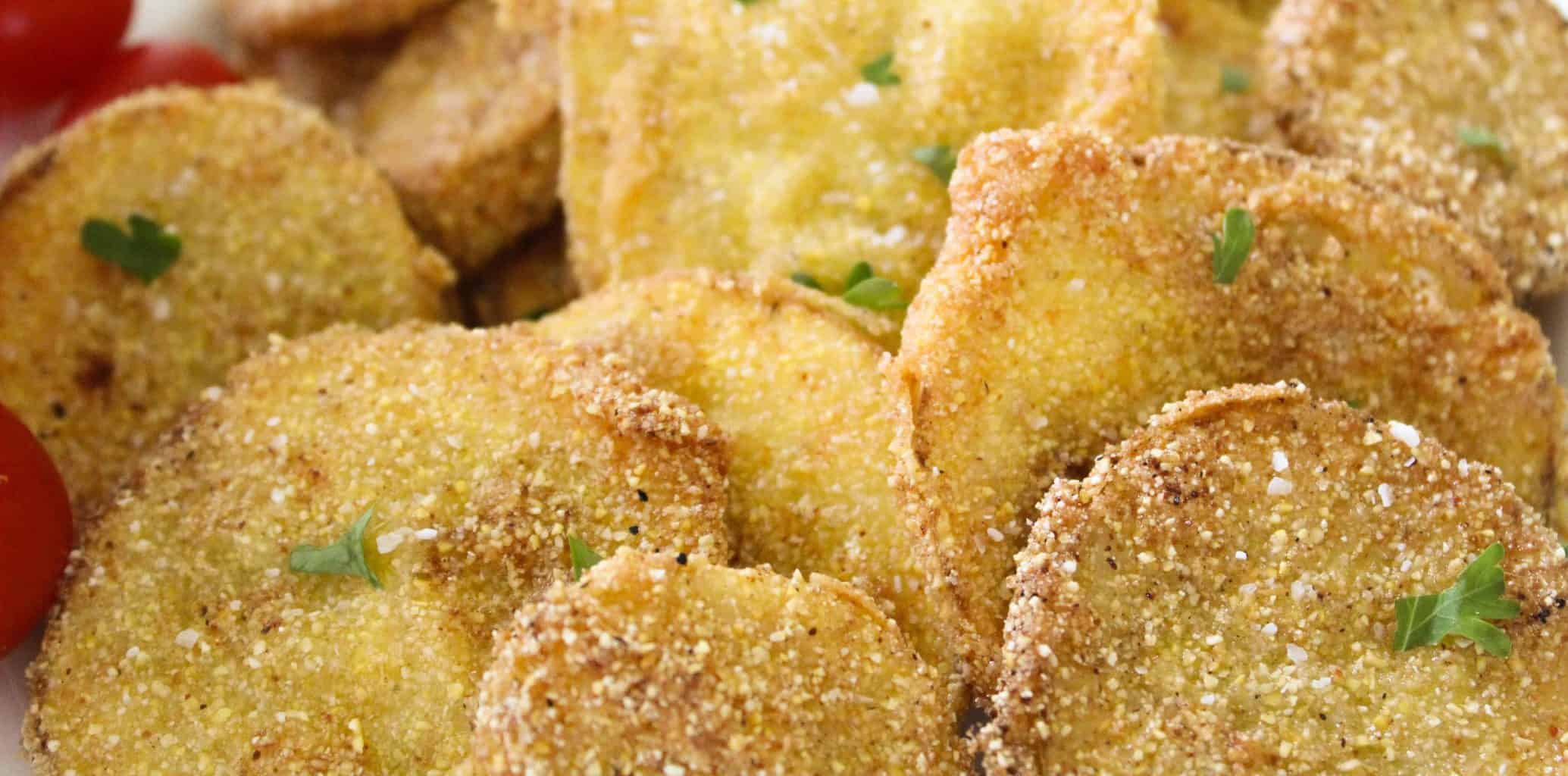 Fried yellow squash is typically served in the summer, but due to its abundant availability year-round, you can make this Southern side dish any time of year!
This Southern Fried Squash recipe is a Southern classic and a great way to get some fresh summer vegetables in your family's diet!
More Southern recipes
If you make this recipe, please scroll down and leave a rating and comment! I love to hear from you!
📋 Recipe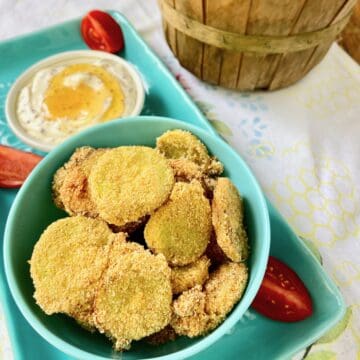 Southern Fried Squash Recipe
How to make crispy, Southern fried yellow squash!
Print
Rate
Ingredients
2

medium

yellow squash

sliced into ⅛ - ¼" inch rounds

¼

cup

oil (See Recipe Notes)

canola, corn or vegetable

2

large

eggs

lightly beaten

1

cup

cornmeal

, yellow, all-purpose

1

tablespoon

garlic powder

1

tablespoon

onion powder

1

tablespoon

paprika

(optional)

1

teaspoon

salt

½

tablespoon

black pepper
Instructions
Slice squash into thin circles (about ⅛ - ¼" inch thick)

Set up dredging station: 1 shallow plate with beaten egg and another shallow plate with dry ingredients (combine well); See Recipe Notes

1 cup cornmeal,

1 tablespoon garlic powder,

1 tablespoon onion powder,

1 tablespoon paprika,

1 teaspoon salt,

2 large eggs,

½ tablespoon black pepper

Heat heavy-bottom skillet on medium high; add oil; bring to about 300-320ºF

¼ cup oil (See Recipe Notes)

Dredge squash rounds through egg mixture, then cornmeal mixture

Working in batches, place 5-6 squash rounds into skillet with hot oil

Cook squash 2 minutes; flip and cook another 2-4 minutes until golden brown

Place cooked squash on paper towel to drain; serve and enjoy
Notes
About the oil:
The exact amount of oil depends upon the size of your skillet and the amount of squash you're frying. You want about ½ " inch of oil in the pan.
Use a high-heat oil like vegetable or canola; not olive oil
Cook squash on medium-high heat in a single layer
About dredging:
Sometimes it's easier to coat everything in a big plastic bag. First, combine your cornmeal and seasonings; then, add sliced squas to a Ziplock bag, pour in the lightly beaten egg and shake it around some. Then add in the seasoned cornmeal and shake the bag again.
Nutrition Estimate
Serving:
1
cup
Calories:
694
kcal
Carbohydrates:
73
g
Protein:
18
g
Fat:
38
g
Saturated Fat:
5
g
Polyunsaturated Fat:
11
g
Monounsaturated Fat:
21
g
Trans Fat:
1
g
Cholesterol:
186
mg
Sodium:
3574
mg
Potassium:
1021
mg
Fiber:
12
g
Sugar:
6
g
Vitamin A:
2394
IU
Vitamin C:
34
mg
Calcium:
96
mg
Iron:
5
mg