Cool off on a hot day with this refreshing Mexican Michelada Cocktail - a beer and tomato based beverage that is accented fresh lime juice, spices and seasonings! Just a few simple ingredients, this "beer cocktail" is ready in minutes! Easy recipe for one serving or for a crowd!
The Michelada is a prepared beer, "cerveza preparada" based on the simple "chelada" - which is Mexican lager with lime juice and salt. The Michelada adds a hint of tomato flavor, either in the form of tomato juice and/or Clamato juice, a few spices and seasonings (which are optional) and served over ice!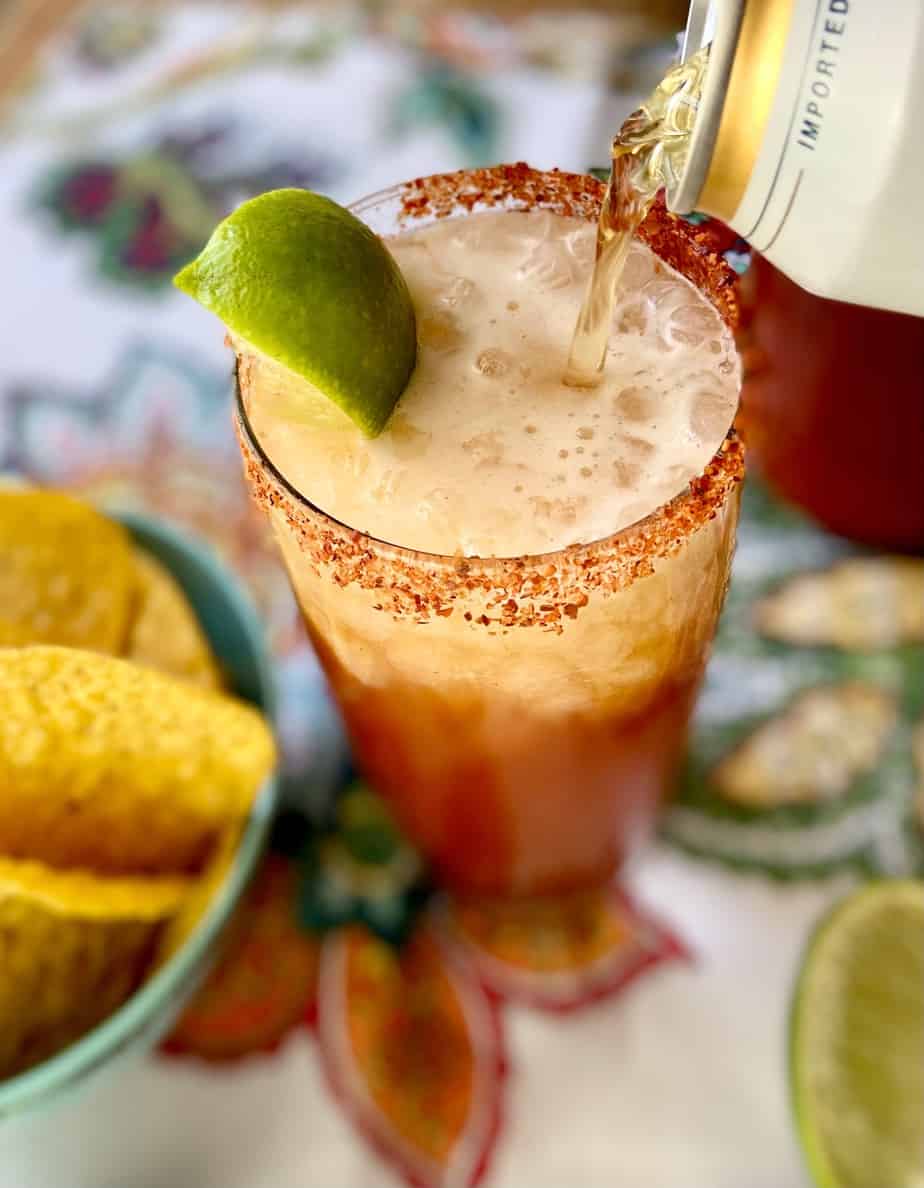 There are a million recipes for Michelada out there- some include an assortment of sauces to provide a more "umami" flavor: soy sauce, a dash Worcestershire sauce, Maggi sauce, hot sauce, celery salt, chili powder, Tajin seasoning, chili pepper, kosher salt and more.
Why this recipe works
This simple, classic Michelada recipe will give you the perfect proportions of the main ingredients: beer, tomato juice and lime. You'll find this simple beer cocktail at any Mexican restaurant or street fair in Mexico City - definitely the easiest and best michelada recipe!
You can dress this up with any of the above mentioned spices and make it as mild or spicy as you like.
Outside of the margarita, the Michelada is probably the most popular drink on Cinco de Mayo. This is one of the most popular beer recipes you'll find! It's premise is simple, yet flavorful: a perfectly balanced concoction of beer, fresh lime juice and a tomato juice of some kind.
I like to serve this at brunch with either Jalapeno fudge, my low-carb breakfast casserole, and/or foolproof quiche!
Like the margarita, this mexican beer cocktail starts out with a chilled glass with a little salt and/or seasoning blend on the glass. The tomato or Clamato™ and lime juices and seasonings are added to a tall glass filled with ice and topped off with a stream of bubbly cold beer and a hearty wedge of lime! How simple is that?
Is this basically a Mexican Bloody Mary?
Even though the two contain a tomato juice product, it's the ratio of tomato juice, type of booze and the alcohol content that differentiates the two. A good Bloody Mary has ¾ juice and ¼ vodka, and is therefore thicker than the Michelada.
The authentic Michelada recipe is Clamato and beer with lime; it has ¼ Clamato juice and ¾ Mexican beer - typically, Modelo™ or Corona™ or other dark Mexican beers. You determine the type of beer or use a light beer if you prefer. It's not necessary to use a fancy craft beer, but you can if you want!
You'll find other tomato based alcoholic drinks out there - the Bloody Bull and Bullshot are just a few that come to mind, and each of these features a different alcohol other than beer.
The tomato base
The classic Michelada recipe features Clamato juice, which is a mixture of tomato and a bit of clam juice. It is lighter and a bit saltier than straight tomato juice. You can use any tomato product you prefer: plain tomato juice, V8 juice, or even a Bloody Mary mix like Zing Zang brand; just remember, you'll only use about 4 ounces of this for your happy hour Mexican cocktail!
Michelada seasonings
The first thing is to season the rim of your glass with either straight salt, or a combination of spices (dry spices) like: Tajin™, chili powder, black pepper, habanero pepper or cayenne pepper. Tajin is a red chili powder mixture, usually found in the produce section near the lemons and limes. The hot sauce typically used is a Mexican hot sauce, like Valentina™, Cholula™ and Tapatio™ brand.
After you've combined the tomato, lime and beer, feel free to add a dash or two of soy sauce, Maggi sauce, or Worcestershire. Any of these seasoned sauces will add a savory or umami flavor to the cocktail.
The best beer for Michelada
Mexican Micheladas usually use a crisp lager or Mexican lager or amber ale, like Modelo or Corona. If you have an acquired taste for dark beer, by all means feel free to use Negro Modelo or another dark ale or, if your counting calories, use your favorite light beer!
Ingredients for a classic Michelada
This is the ingredient breakdown for 1 serving: 12 ounces of beer, 4 ounces Clamato ( or other tomato product )and 2 ounces of lime juice. You'll need a tall glass, ice and any additional spices or sauces you like. I recommend adding hot sauce last so you can control the heat of your spicy Michelada to your taste.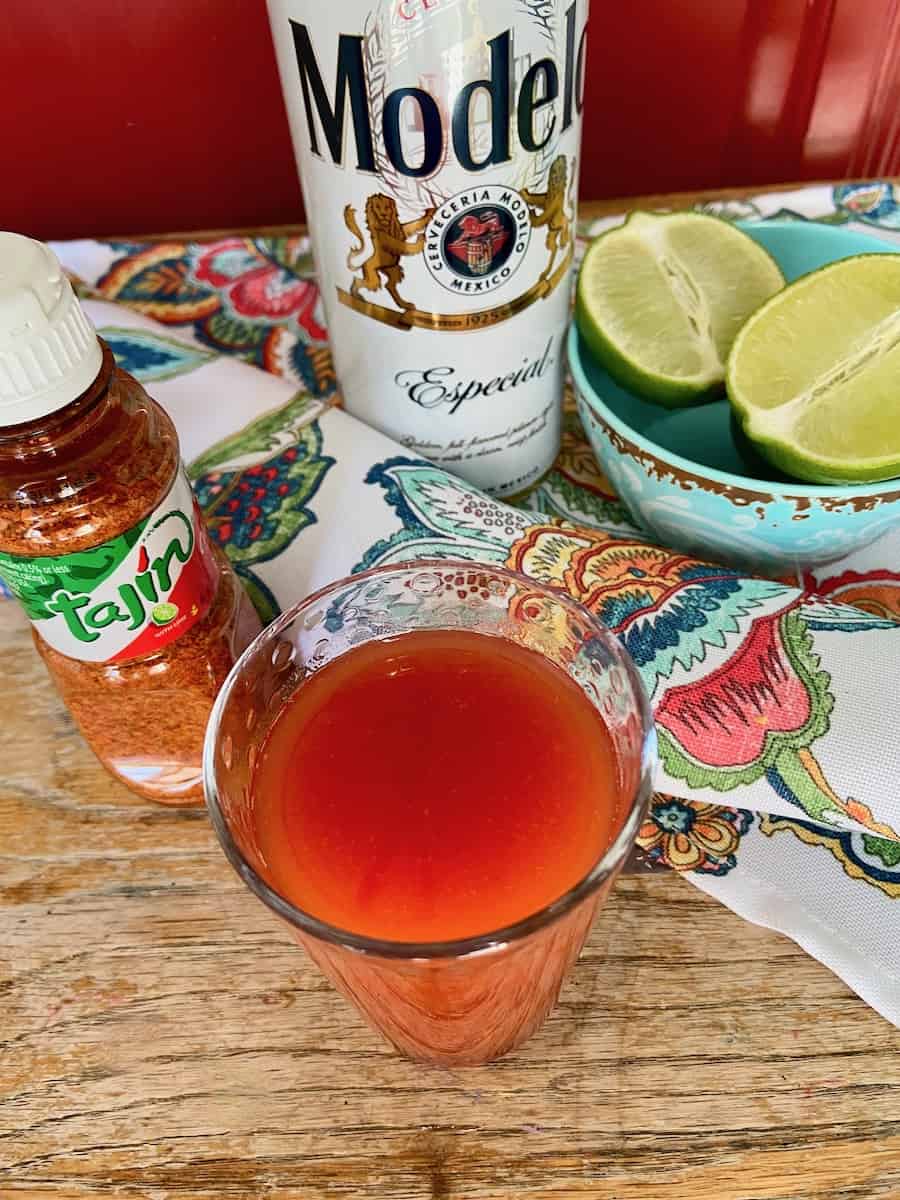 How to make it
There are numerous variations for making the perfect Michelada, but for starters, you'll need dry seasonings for the rim. of the glass, ice and cold beer.
Salt and season the beer glass first. The best way to do this is to pour the salt and dry seasonings onto a small plate or saucer. ( I use a combination of Tajin chili powder and kosher salt.) Run the edge of the beer glass under running water or, run a cut lime around the top of the glass; then dip rim of glass onto the saucer and gently roll the edge of the glass in the spice combination.
Next, fill the glass with ice; pour in 4 ounces of Clamato, add lime juice, stir gently and top with your beer of choice! Add your preferred combination of spices and seasonings or a dash of sauce if you like, garnish with a fresh lime wedge or lime wheel and enjoy the good times!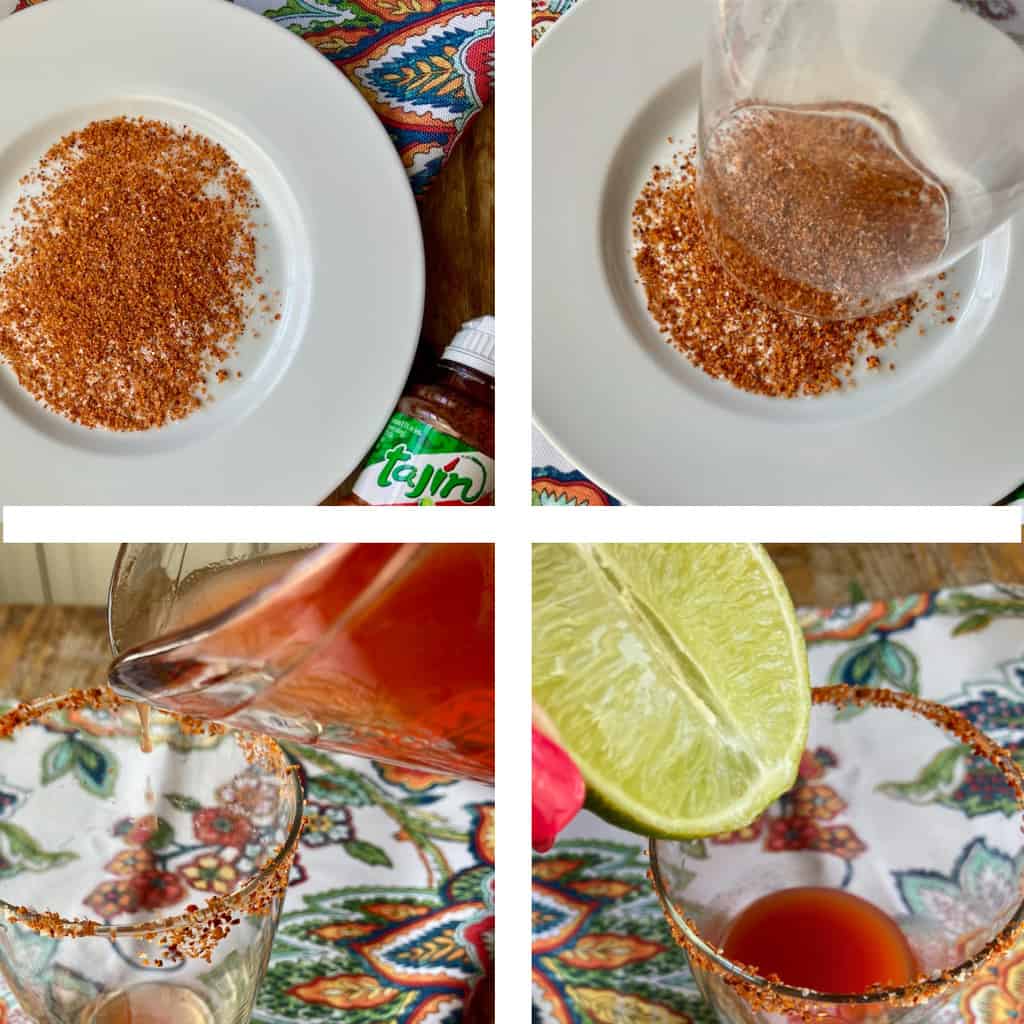 Tips
If you're watching your sodium intake, go easy on the salt rim and umami sauces (soy, Maggi, Worcestershire) - even a dash of these adds more than enough salt to this mexican cocktail.
If you want less clam flavor in your drink, use 2 ounces of plain tomato juice and 2 ounces of Clamato (mix Clamato and tomato juice together first)
You can use lemon juice but for a perfect Michelada, use limes
Mexican Michelada Cocktail Recipe for a group
There's nothing more fun than having a Michelada bar at brunch! Let your guests make their own Micheladas! There are so many different ways to make one! Offer an array of tomato juices: plain, spicy, low-sodium, V8, Zing Zang Bloody Mary Mix; a variety of dry spices and a host of sauces!
Let folks make their own, just pre-measure and make the tomato base and lime juice, and let the rest of the ingredients be "self-serve"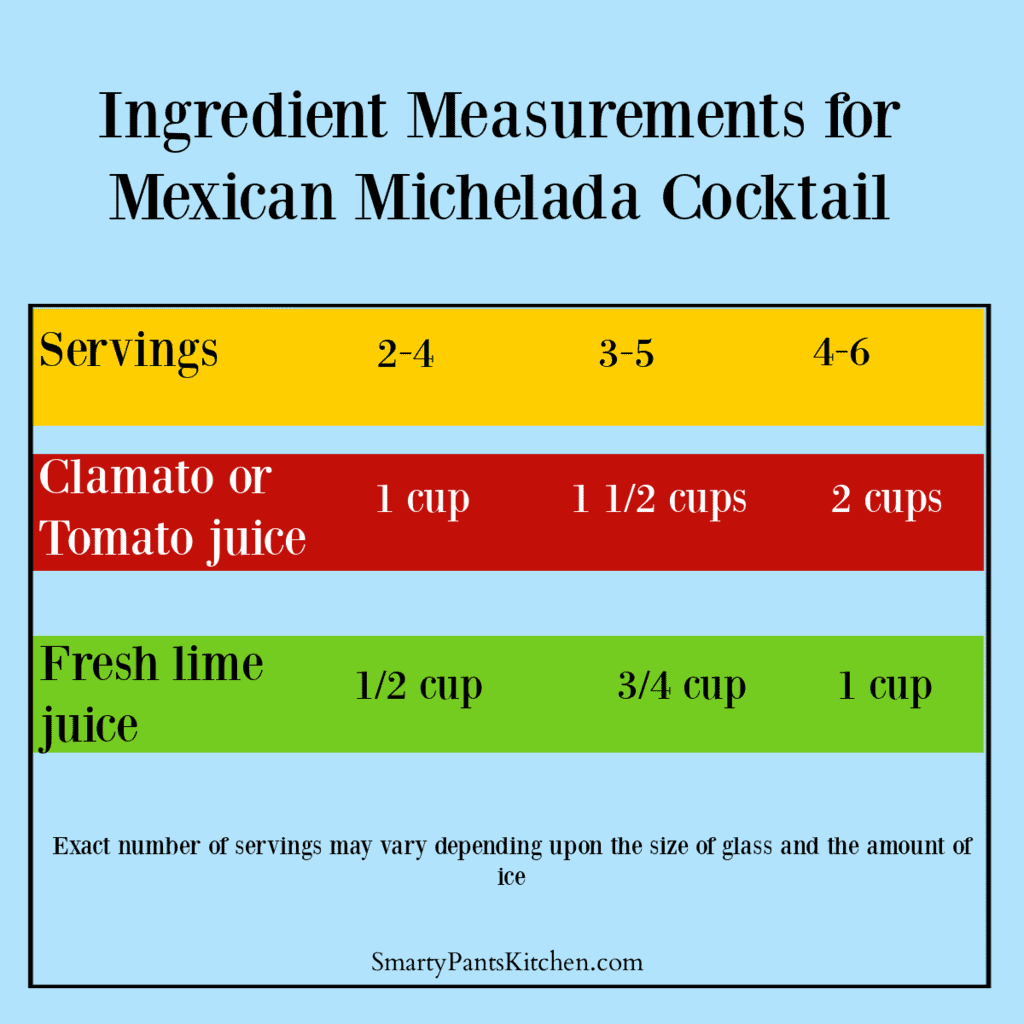 If you're making Micheladas for a group, make the primary ingredients in a carafe. Place chilled glasses nearby on ice. Place any seasonings and sauces nearby as well. Allow guests to rim their own glass, pour the base ingredients into their ice filled beer glass, and top with a cold beer!
If you want to get fancy, have a bowl of cooked shrimp on ice to add as a garnish! This isn't typical for the classic Mexican Michelada Cocktail, but it does taste terrific! I also like to serve these with fried oysters and fried catfish!
More Mexican recipes
If you make this recipe, please scroll down and leave a rating and comment! I love to hear from you! Thank you!
📋 Recipe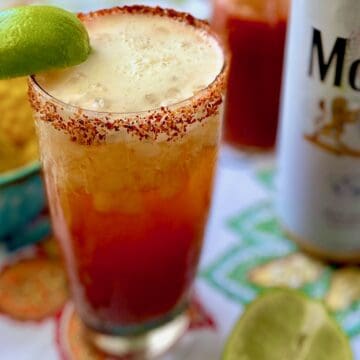 Mexican Michelada Cocktail
Refreshing Mexican Cocktail - a beer and tomato based beverage that is accented fresh lime juice, spices and seasonings!
Print
Rate
Ingredients
Cocktail Ingredients
½

cup

Clamato or tomato juice

(see recipe notes about Yield)

6

large

limes

(see recipe notes)

¼

cup

fresh lime juice

12

ounces

beer (1½ cups)

dash

hot sauce, soy sauce, Worcestershire sauce, Maggi sauce (optional)

ice

lime wedges for garnish (optional)
Seasonings for Rim of Glass
1

tablespoon

Tajin chili powder

½

teaspoon

Kosher salt (optional)
Instructions
Combine Tajin and salt and place on a plate or saucer

1 tablespoon Tajin chili powder,

½ teaspoon Kosher salt (optional)

Juice enough limes to equal ¼ cup (4 tablespoons)

Slice a lime into wedges and run it around the rim of a tall glass (12-16 ounce glass); run the edge of the glass in the Tajin mix; add ice to glass

Add Clamato and lime juice; gently stir; add ice; pour in beer; taste for spice and seasonings, adding some if you prefer; garnish with lemon wedge and serve

½ cup Clamato or tomato juice,

¼ cup fresh lime juice,

12 ounces beer (1½ cups),

dash hot sauce, soy sauce, Worcestershire sauce, Maggi sauce (optional),

ice,

lime wedges for garnish (optional)
Notes
Yield
The ingredient ratio is per 16 ounces.
This recipe makes 1-2 servings, (12 - 16 oz. glass) depending upon how much beer you add to your glass. Typically, I find I make the first Michelada and, once it's gone, I have half a beer left and need more tomato mixture.
For this reason, I recommend you DOUBLE the Tomato/Lime Juice mixture and have extra limes.
If you're making these for a group
Keep the tomato juice: lime juice ratio the same. 2:1
Two parts tomato or Clamato juice and one part lime juice.
Limes
You'll need enough limes to have ¼ cup of lime juice per serving plus some extra lime wedges for garnish
Nutrition Estimate
Serving:
1
cup
Calories:
292
kcal
Carbohydrates:
62
g
Protein:
5
g
Fat:
1
g
Saturated Fat:
1
g
Polyunsaturated Fat:
1
g
Monounsaturated Fat:
1
g
Sodium:
29
mg
Potassium:
711
mg
Fiber:
12
g
Sugar:
10
g
Vitamin A:
504
IU
Vitamin C:
146
mg
Calcium:
161
mg
Iron:
3
mg