If you want to learn how to season and cook Southern greens like a true Southerner, look no further!
Here you'll find the seasonings and cooking methods Southern cooks use for making delicious southern mixed greens - collard, mustard, turnip or kale- apply these techniques to any type of green and enjoy with a slice of cornbread!
How to buy, store and cut greens, when to buy fresh greens, making Southern greens for a crowd and more!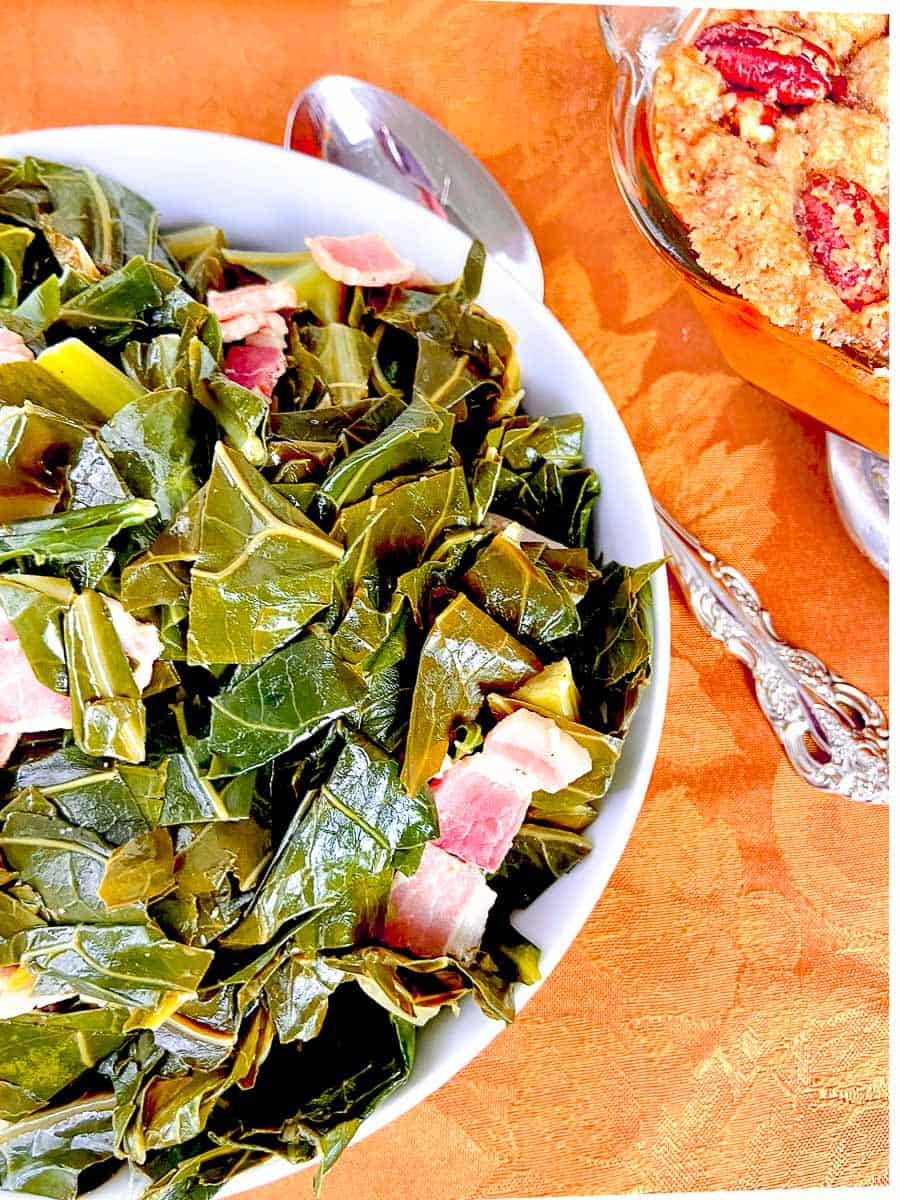 Jump to:
Why this recipe works
No bitterness - Most greens (collard, mustard, turnip) are inherently bitter. The savory and meaty broth (pot liquor) and a smidgen of sugar and vinegar override this bitter flavor, resulting in a savory and flavorful green.
Tender - but not over cooked; the addition of a little white vinegar and pepper vinegar increases the acidity of the water which helps tenderize the greens as they cook
Seasonings - simple, yet versatile! Add onions, garlic powder, red pepper flakes, pepper sauce to your liking!
Healthy - collard greens, in particular, are one of the more nutrient dense foods on the planet (kale is #1)! They're considered a "superfood" and are high in fiber, as well as vitamin C, A, and B and they're off the charts with vitamin K.
Here's what you'll need
Sometimes, simple ingredients are the best way to fix delicious, fresh collards!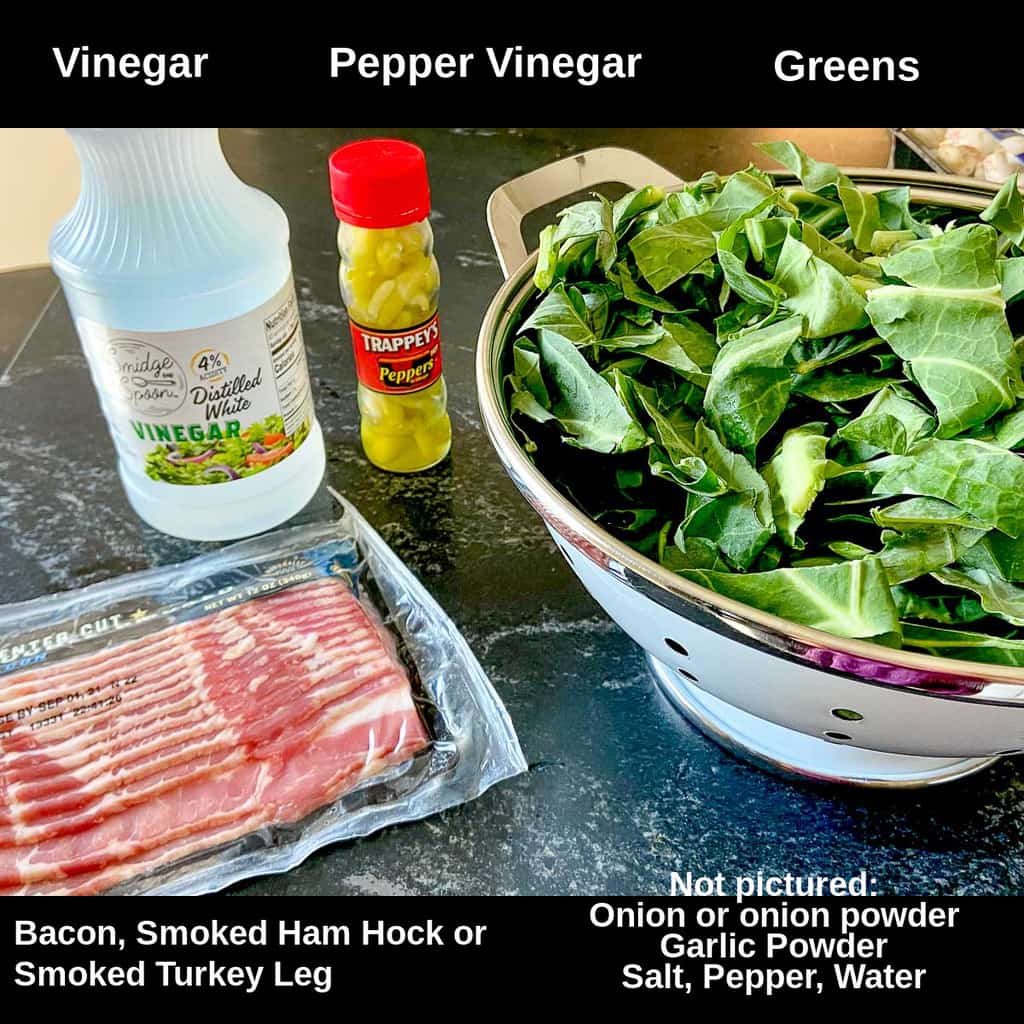 Greens - fresh collard greens, mustard greens, turnip greens or kale; use pre-washed packaged greens or fresh; you can use mixed greens, too!
Water or broth start with 3-4 cups of water per pound of greens; if you need to add more, do so; you may have to add more seasonings if you add more water (you can also use chicken broth or chicken stock, or even vegetable stock)
Protein - smoked ham hock, smoked turkey leg, fat back, bacon or salt pork
Seasonings - onion or onion powder (optional), garlic powder, white vinegar, salt, pepper, pepper vinegar, crushed red pepper (optional).
The ingredients for making a good pot of greens are actually pretty simple. Start with a piece of meat, usually a smoked ham hock, smoked turkey leg, fatback or bacon and cook it in liquid until tender along with seasonings.
How to season and cook Southern greens
Most greens are inherently bitter and tough. Southerner's typically use a "fatty protein" like bacon fat, ham, smoked ham hocks, smoked turkey legs or bacon pieces to season their greens. If you don't have any meat handy, you can always add a few tablespoons of bacon grease to the stockpot.
The fat from the protein is released into the bitter greens and this creates a delicious juice called "pot likker" or "pot liquor" -this is the secret to a really good pot of Southern greens!
Start with a big pot of water (or Dutch oven ) and some protein; you can use smoked ham hock, smoked turkey leg, turkey neck bones or bacon-any of these will give the greens a nice smoky flavor.
Place water or chicken broth (I recommend using a high quality chicken stock) and the protein in a big pot, along with a little onion powder and garlic powder.
Bring the water to a rolling boil, then turn to low heat or simmer, cover and allow to cook for about 1 hour. Cook the pot liquor (water, protein, seasonings) covered
After 1 hour, add prepped greens (wash, remove stems and chop greens) and a little white distilled vinegar and a pinch of sugar to the pot.
Once you add the raw greens to the stockpot, leave the lid off for about the first 5-8 minutes while stirring the greens into the broth. This lets the gases escape; then cover and simmer till tender.
This initial phase of cooking the greens uncovered allows the natural gases in the vegetable to escape. Once all the greens have soaked in the broth for a few minutes, place the lid on the stockpot and cook on low.
Season to taste with salt, pepper and Trappey's Louisiana white pepper sauce.
If you want spicy collard greens feel free to add a little hot sauce or red pepper flakes to this southern collard greens recipe.

What is pot likker (pot liquor)?
There's no "liquor" involved here. This is an old term used for the juice of the cooked greens!
Pot liquor is non -alcoholic. It is the juice you get from braising a salty meat in liquid that develops when you cook cook the greens slowly.
This savory, meaty broth gives collard greens (well, all greens) their rich flavor. It is essential to making true Southern greens and is loaded with flavor. It's what makes Southern greens so delicious! The actual greens themselves don't take that long to cook, it's the broth or pot liquor that takes the most time to develop.
The smoky and salty flavor that develops in the braising liquid helps to overcome any bitterness from the collard or mustard greens.
Collard greens and mustard greens are inherently bitter, so this is the first step to take when making Southern style greens that don't have a bitter taste.
By the way, collard greens are the official vegetable of South Carolina!
How to select the best greens
Now days, you can buy pre-washed cut greens in a bag! What a great convenience and time saver. However, if you want to buy fresh greens look for small bunches with smaller leaves. These are more tender than the larger ones.
How to store fresh greens
Look for deep, dark green leaves and avoid any light green or yellow leaves or leaves with holes in them. Avoid leafy greens with dark black spots, too.
If you buy a few bunches of fresh greens and don't plan on cooking them immediately, place UNWASHED greens in a sealed storage bag or airtight container in the vegetable or crisper bin for up to 3-5 days.
How to clean greens
The wrinkled leaves of greens harbor dirt so it is necessary to wash greens at least three times to ensure all the debris is removed.
Place whole green leaves in a large bowl and fill with cold water. Manually swish the water to loosen any dirt. Remove greens from bowl, pour out the water and repeat this process at least three times.
Believe it or not, you can get sick from consuming greens that aren't truly free of debris.
How to cut collard or turnip greens
Once you've cleaned the greens, you can remove the woody stem and chop or tear the leaves. Collard greens are tough so use a sharp knife. First, remove the stem and place the leaves on top of one another.
Cut lengthwise first, then go back and cut horizontally until they're cut to bite size.
Another way is to just tear the leaves into small pieces - my Grandmother just tore 'em, but it's really your call!
The easiest way to remove the stem is to fold the green in half and slide the tip of a sharp knife down the stem membrane. Then, stack the greens on top of one another and cut into bite sized cubes.
Some cooks cook their mixed greens (collard, mustard and turnip greens) for a long time (like hours), just like their Mother and Grandmother did.
Collard greens are in the cruciferous vegetable group, along with cabbage, broccoli and cauliflower which means they emit a sulfurous odor when cooked.
FAQ
When are fresh greens in season?
Most leafy greens are cool weather vegetables and grow during the cooler months. In the South, they are usually harvested in the fall, winter or early spring as they do not tolerate heat well.
Thankfully, the grocery stores now sell the pre-washed, pre-packaged greens so you can enjoy them year round.
How much does one pound of raw collard greens yield?
Greens, like onions tend to really cook down when they cook! Keep this general rule of thumb in mind when buying greens: one pound of pre-washed, chopped greens yields about 4 cups of cooked greens.

Cooking greens for a group
If you're cooking for a crowd, I recommend cooking the greens in one huge stockpot or use a few 5-quart stockpots.
In the image above is a 5-quart stockpot with one pound of raw greens. After it cooks down, you get about 4 cups of cooked greens per 5 quart stockpot.
A typical serving size is about ½ cup per person, so one pound of raw collard greens yields about 8 half-cup servings.
You'll typically find a side of collard greens with bacon next to the black-eyed peas and cornbread on New Year's Day! The greens are said to represent "dollars" for prosperity in the New Year!

Southern greens of all types are typically cooked in a rich, meaty broth (called "pot likker") and served as a side dish to just about anything from meatloaf, fried catfish and chicken fried steak.
What's the difference between Soul Food and Southern Food?
These terms are often used interchangeably across the southern United States, however, there is a difference. Not all Southern food is "soul food" but all "soul food" is Southern. Slow cooked greens are considered "Soul Food."
The term "soul food" refers to ethnic recipes developed and prepared by African Americans in the Southern United States and dates back to the 60's. Some common soul food recipes are collard greens, cornbread, chitlins, black eyed, peas, candied yams and more.
As a native Texan, I personally refer to common Southern dishes as both, as these recipes are rich in heritage and culture.
Make ahead and storage
If you need to make Southern greens in advance, I recommend cooking them no more than 3 days in advance and, cook them twice.
Make the pot liquor first then add the greens and seasonings. Cook the greens only halfway at this point - don't cook them all the way. Store greens and liquid in the refrigerator until you're ready to serve.
On the day your serving the southern greens, pour them and the liquid back into a large stockpot and resume cooking. This ensures your greens won't get soggy or overdone.
Reheating
Reheat refrigerated greens on the stovetop or in the microwave. If reheating frozen greens, allow them to thaw first, then reheat on the stove or microwave.
Serving suggestions
Serve your leafy green vegetable with a slotted spoon or tongs. I always put a second serving spoon in the bowl in case anyone wants to get a little of that savory broth for their serving!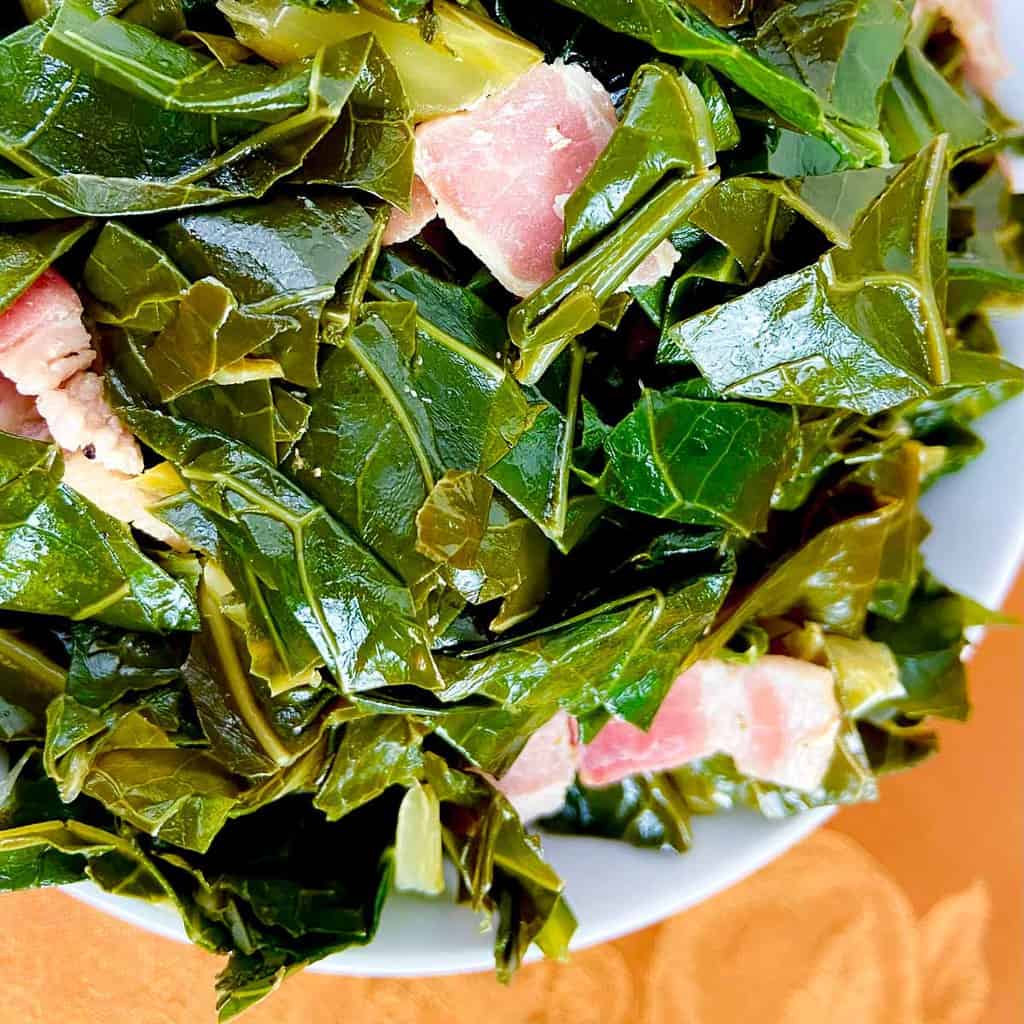 Once you learn how to season and cook Southern greens, you'll be happy to serve them with any of these Southern favorites, but cornbread is a must!
If you make this recipe, please scroll down and leave a comment and rating! I love to hear from you!
📋 Recipe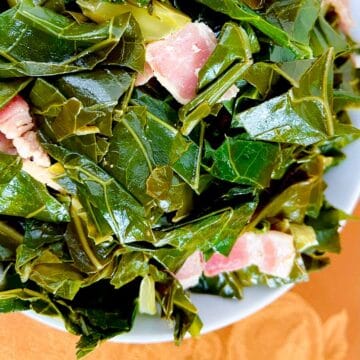 Southern Greens (Collard, Mustard, Turnip) Recipe
How to Season and Cook Southern Greens
Print
Rate
Ingredients
1

lbs

greens

, mixed, turnip, collard -See Recipe Notes

1

smoked ham hock

1 large smoked ham hock, smoked turkey leg or bacon strips (6) See Recipe Notes

water

start with 3-4 cups water per pound of raw greens; See Recipe Notes ;

1

tablespoon

garlic powder

1

tablespoon

onion powder

, or ½ cup chopped onion

1

tablespoon

white vinegar

pepper sauce

, white pepper vinegar; to taste

salt and pepper

,to taste
Instructions
Wash greens thoroughly. At least 3 times (disregard if using pre-washed greens)

Cut away core stalk; chop or tear into small bite size pieces

In a large stockpot, add protein, (and chopped onion - optional), water and seasonings to pot; cover and allow to simmer for 1 hour; See Recipe Notes

1 smoked ham hock,

water,

1 tablespoon onion powder,

1 tablespoon garlic powder

Add greens and white vinegar; stir well; allow to cook 5-8 minutes with the lid off

1 lbs greens,

1 tablespoon white vinegar

Place lid on stockpot and allow to simmer until greens are tender

Add salt, pepper and pepper vinegar to taste

salt and pepper,

pepper sauce
Notes
Greens:
If you use pre-cut/pre-washed greens, still rinse them again in a colander just to be safe.
Water:
Start with 3-4 cups per pound of raw greens; if you find you need to add more during the cooking process, then add more. You do not want the greens covered by water. If you add more water, you might want to add more seasonings.
Protein:
If you use bacon, I recommend cutting it into tiny pieces and cooking it in the stockpot until crispy. Then, add a little water (stand back - it will splatter) and begin scraping the bacon residue from the bottom of the pan with a wooden spoon.
Add the rest of the water and seasonings and let that simmer for 1 hour. Then resume recipe.
Onion:
If you want to add diced onion to the greens, I recommend cooking the onion in a little oil first, (use the same big stockpot you're using for the greens) then add the protein and water.
Or, if you're adding onion AND bacon, cook them at the same time before adding the water.
Nutrition Estimate
Serving:
1
cup
Calories:
189
kcal
Carbohydrates:
9
g
Protein:
16
g
Fat:
11
g
Saturated Fat:
4
g
Polyunsaturated Fat:
1
g
Monounsaturated Fat:
4
g
Cholesterol:
46
mg
Sodium:
128
mg
Potassium:
439
mg
Fiber:
5
g
Sugar:
1
g
Vitamin A:
5691
IU
Vitamin C:
40
mg
Calcium:
280
mg
Iron:
1
mg