If you've never made Coconut Shrimp before, let me tell you...it's actually quick and easy!
Once the shrimp are prepped, it comes together in less than 8-minutes and you'll love this sassy yogurt-based dipping sauce!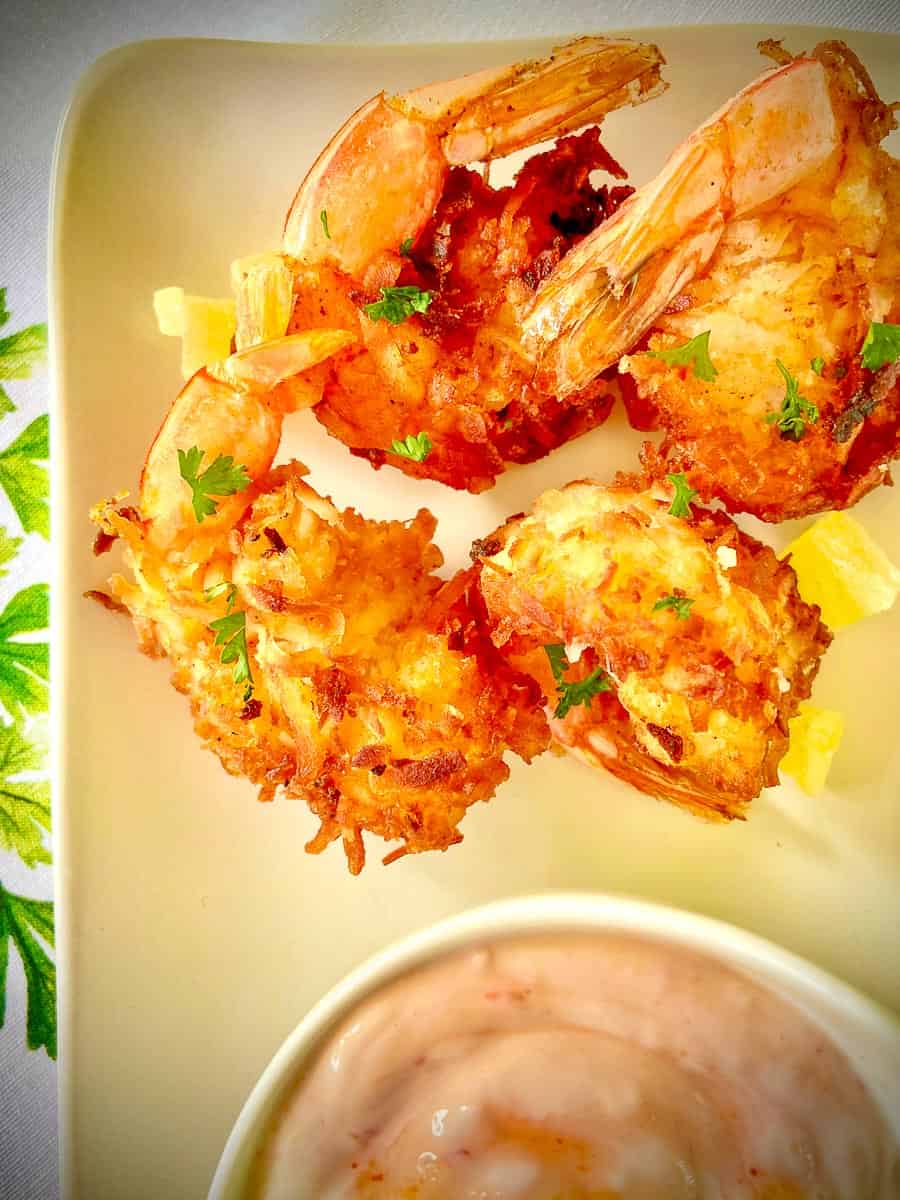 Why you'll love this recipe!
Restaurant quality - flavorful fried coconut shrimp with dipping sauce that's got a touch of "sweet heat"
Foolproof recipe - this works every time!
Simple ingredients - use fresh or frozen
No-cook dipping sauce - just combine a few ingredients and you're good to go!
Jump to:
This recipe makes about 18 large shrimp. I serve 6 per person as an entree. If you're serving this as an appetizer, allow 3 per person.
Here's what you'll need:
A few simple ingredients for the batter and frying...

Here's what you'll need for the dipping sauce: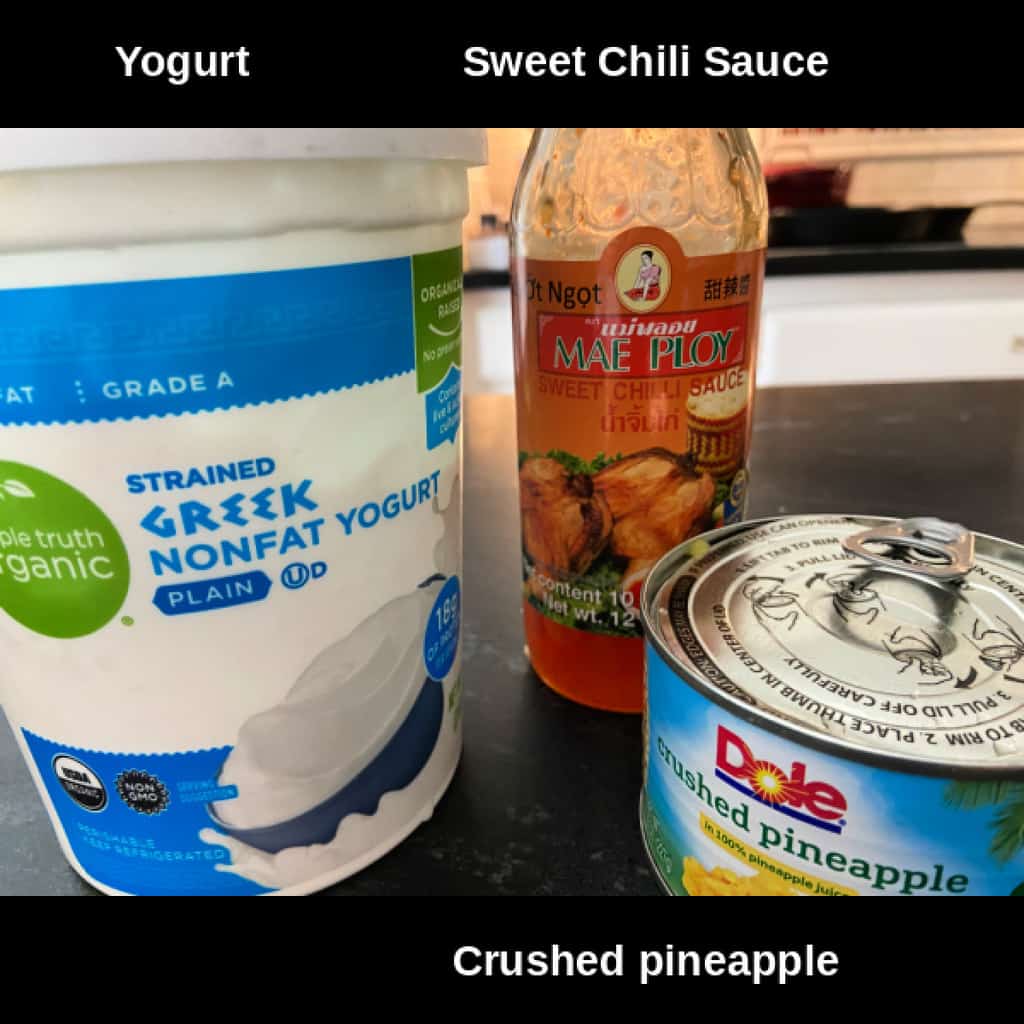 How to make it:
First, devein and butterfly the shrimp. Slide a sharp knife along the top of the shrimp, making sure not to cut all the way through; remove any debris; rinse; pat dry on paper towel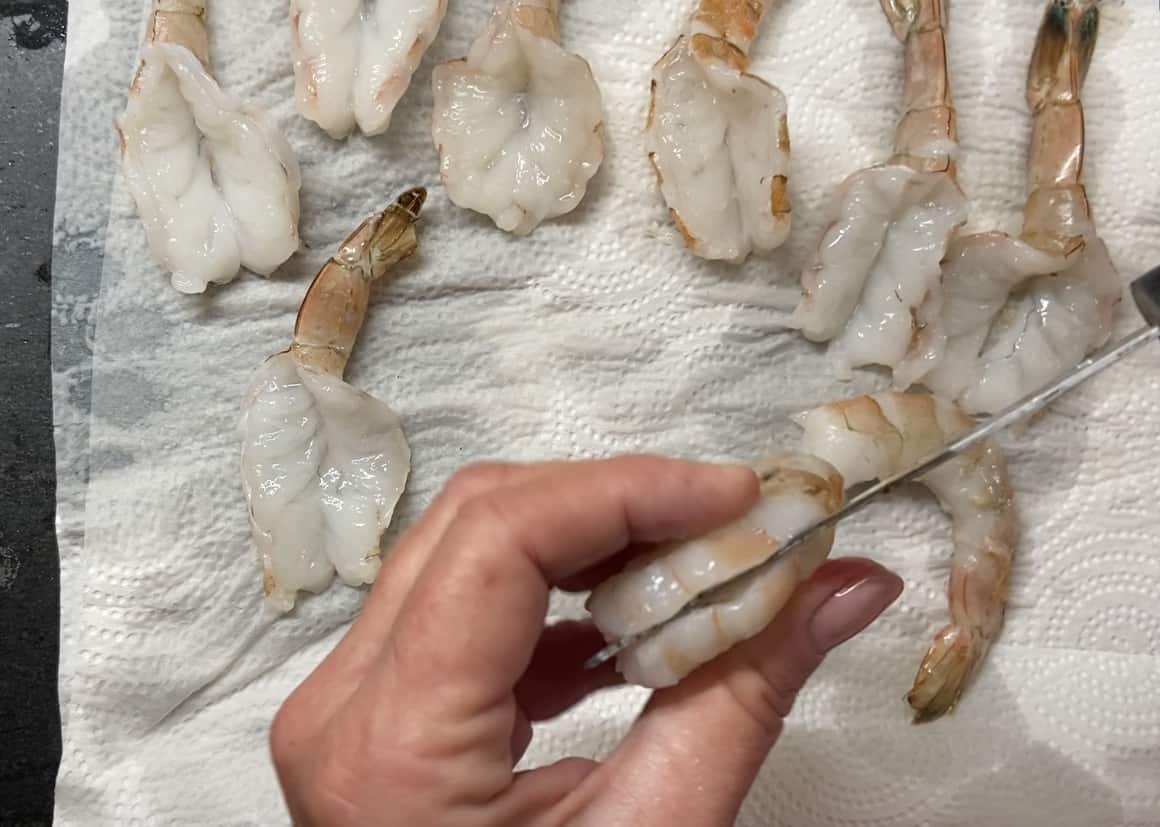 Next, dip the shrimp in the batter...
While shrimp are in the freezer, make the dipping sauce and heat the oil.
The batter - be sure to read this
This recipe makes enough batter for 24 large shrimp, however, you may need to make a little more of the coconut mixture...Why?
...I found the coconut/flour mixture got clumpy after coating about 12 shrimp. If this happens to you, dump out the clumpy coconut mixture and make a second batch to dip the rest.
The recipe calls for 4 cups of coconut...divide it in half; use 2 cups with a ¼ cup flour first; then, dump it and use the other 2 cups of coconut and the other ¼ cup flour
Beer: use any kind; light, dark, ale...it's really all about the carbonation. Don't want beer? No problem! Substitute with sparkling water OR 2 teaspoons of baking soda.
The shrimp
Use fresh or frozen; thaw frozen under water first
Leave the tail on- this serves as a "handle" when dipping the shrimp in the batter
Butterfly - use a sharp knife and slice along the backside. This gives more surface volume to coat with coconut and it allows them to cook faster! This is not required, but it does make a difference:)
Pat dry - if the shrimp is wet, the batter won't stick
Frying
Do not eliminate the freezing step; otherwise, the coconut falls off in the hot oil and makes a mess
Use long handled tongs - the first shrimp will POP and splatter; stand back!
Use a high-heat frying oil - canola, vegetable, grapeseed or walnut; not olive oil
Get your oil hot: about 350ºF; use a thermometer for accuracy
Work in batches - about 5 shrimp per batch; they cook quickly (about 1-2 minutes) so don't walk away from the stove!
The 2nd and 3rd batches of coconut shrimp will be darker than the first, due to the hot oil being re-used. If this bothers you, change the oil between batches; if it doesn't, turn the heat down just a little on the 2nd and 3rd batches so the coconut flakes won't burn.
Substitutions
No beer? No problem! Beer provides carbonation to the batter so if you don't have beer, use sparkling water or club soda.
No sparkling water? No problem. Add 2-teaspoons of baking soda to the batter. This gives the same carbonation effect of beer or sparkling water.
Use sweetened coconut - I've made this before with unsweetened and it wasn't as flavorful
Dipping Sauce
This is hardly a recipe, but it goes great with these sweet coconut shrimp! If you are allergic to, or don't like pineapple, substitute with orange marmalade.
Sweet Chili Sauce is usually found in the international or Asian aisle of your grocer.
There's 2 tablespoons of Sweet Chili sauce in the recipe. This gives just a "little" heat...if you want a spicier sauce, then add more!
Reheating
If you are lucky enough to have any of these leftover, heat the oven to 325º, place shrimp on baking sheet uncovered, and heat 15-20 minutes. If you reheat them in foil, they get soggy.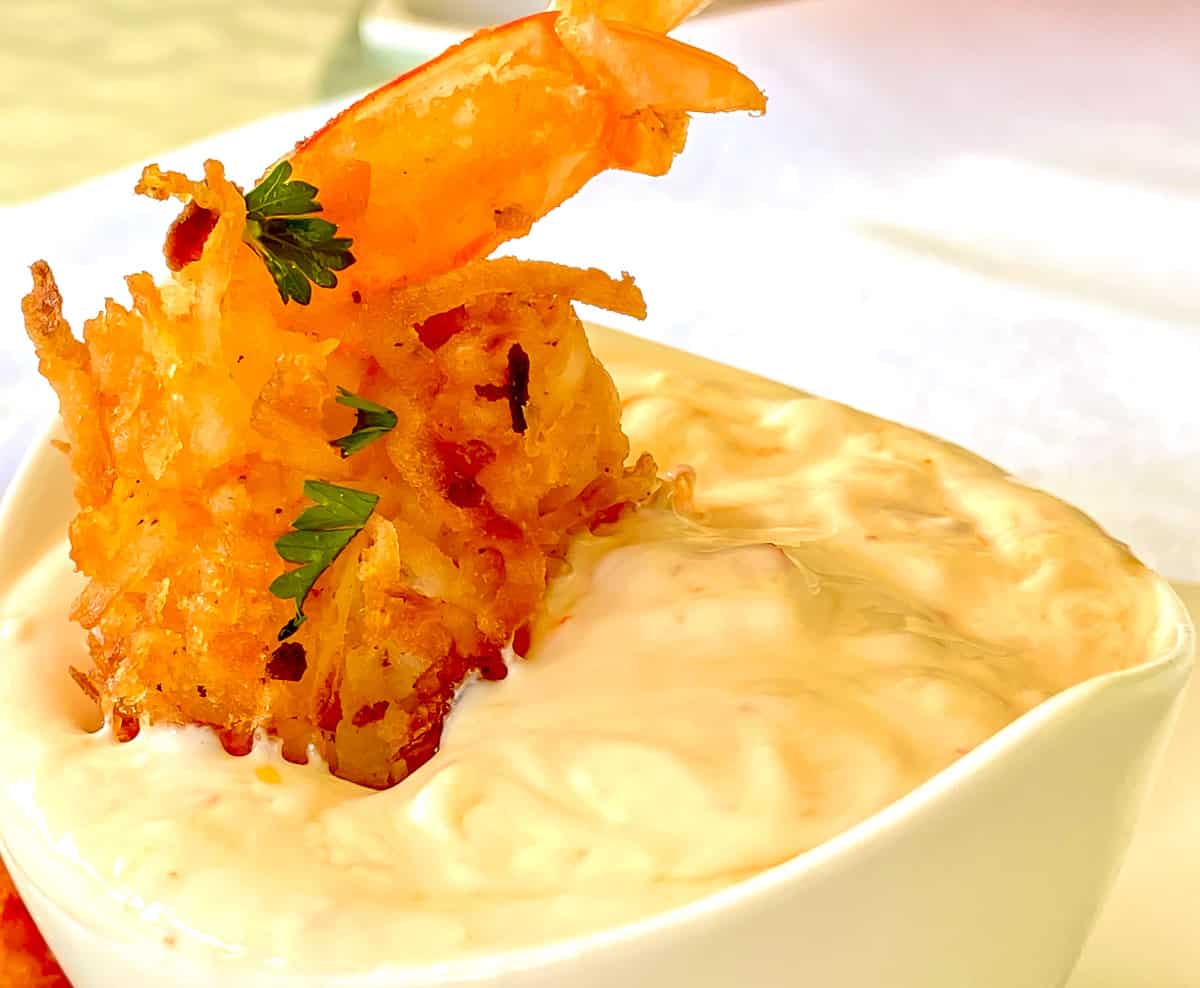 Related recipes:
If you make this recipe, please leave a rating and comment below! I love to hear from you!
📋 Recipe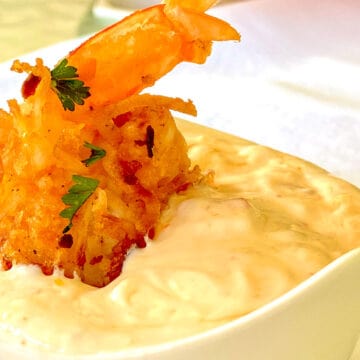 Coconut Shrimp with Dipping Sauce
Restaurant-quality Coconut Fried Shrimp with a yogurt based "sweet heat" dipping sauce
Print
Rate
Equipment
Thermometer

Long-handled tongs
Ingredients
Shrimp & Batter Ingredients
1½

pounds

shrimp

large (about 18 shrimp)

1

whole

egg

lightly beaten

½

cup

flour

all-purpose; (for batter)

⅔

cup

beer

(any kind)

1½

teaspoons

baking powder

⅛

teaspoon

salt

⅛

teaspoon

cayenne pepper

(optional)

2

cups

oil (SEE RECIPE NOTES)

high heat (for frying; not for the batter)

4

cups

coconut

sweetened, divided (SEE RECIPE NOTES)
Dipping Sauce Ingredients
⅔

cup

Greek yogurt

, plain

2

tablespoons

Sweet Chili Sauce

2

teaspoons

pineapple

, crushed

⅛

teaspoon

salt
Instructions
In a medium bowl, combine 2 cups coconut, ⅛ teaspoon of salt and ¼ cup flour (SEE RECIPE NOTES); set aside

½ cup flour,

4 cups coconut,

⅛ teaspoon salt

Peel, devein and butterfly shrimp; leave tails on; pat dry

In a large bowl, whisk together: ½ cup flour, beer, egg, baking powder and salt (include cayenne if using)

1 whole egg,

½ cup flour,

⅔ cup beer,

1½ teaspoons baking powder,

⅛ teaspoon salt,

⅛ teaspoon cayenne pepper

Dip shrimp in batter, then in coconut mixture; place on parchment lined baking sheet; freeze for 15-20 minutes; (make the sauce now)

Heat oil to 350º; place 5 shrimp in hot oil; fry for about 1-minute; flip and fry another minute; repeat until they're golden brown

2 cups oil (SEE RECIPE NOTES)

Place on paper towel and drain

Repeat process until all shrimp are fried

Garnish with parsley and serve with dipping sauce
Dipping Sauce Instructions
Drain yogurt and place in large bowl

Add remaining ingredients; combine well

2 tablespoons Sweet Chili Sauce,

2 teaspoons pineapple,

⅛ teaspoon salt
Notes
Coconut/Flour mixture:
Start with 2 cups coconut and ¼ cup of flour
the coconut/flour mixture gets clumpy after you've coated about 12 shrimp; when this happens, throw out the clumpy and mix together a second batch using the remainder of coconut and flour
Be sure to pat the shrimp dry with a paper towel; otherwise, the batter doesn't stick
Oil:
The exact amount of oil will depend upon the size of your skillet and the number of shrimp
Use enough oil to almost cover the shrimp
(I used a 10" inch skillet for 18 shrimp and 2 cups of oil was enough)
Nutrition Estimate
Serving:
18
shrimp
Calories:
324
kcal
Carbohydrates:
7
g
Protein:
7
g
Fat:
31
g
Saturated Fat:
25
g
Polyunsaturated Fat:
1
g
Monounsaturated Fat:
3
g
Trans Fat:
1
g
Cholesterol:
48
mg
Sodium:
307
mg
Potassium:
124
mg
Fiber:
2
g
Sugar:
2
g
Vitamin A:
75
IU
Vitamin C:
1
mg
Calcium:
52
mg
Iron:
1
mg