You'll love this quick and easy Southern combination of Blackened Shrimp and Gouda Grits (grits with smoked Gouda cheese!) All-natural ingredients and a quick weeknight dinner that's ready in minutes!
The combination of Shrimp and Grits has been a Southern favorite for years right up there with purple hull peas, skillet cornbread and chicken fried steak! One might consider this zesty meal a "Cajun" shrimp and grits recipe or a New Orleans style due to the spicy blackened seasonings.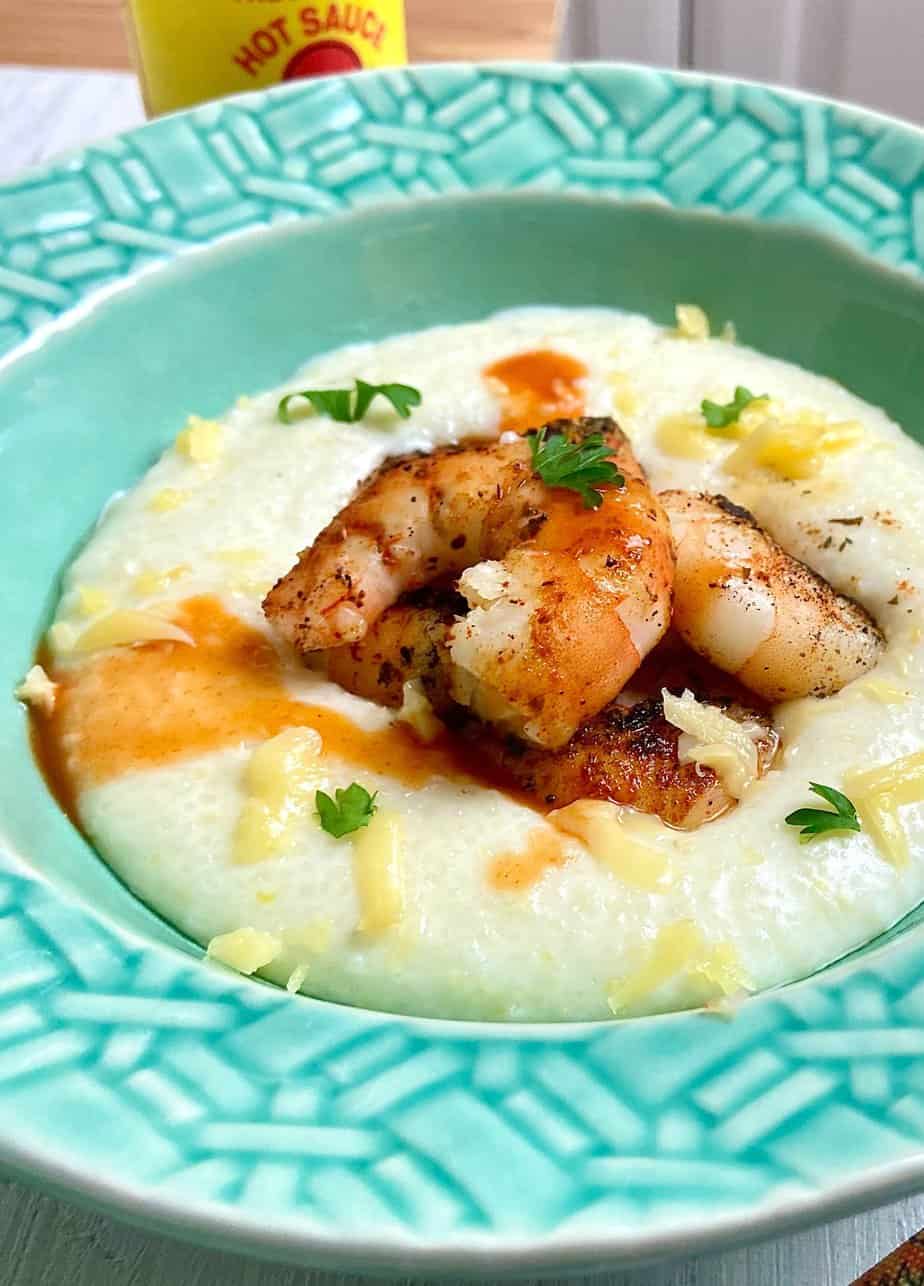 This easy shrimp and grits recipe adds a little smoke-flavored spin on the traditional dish with the addition of creamy smoked Gouda cheese!
Shrimp and grits are about as Classic Southern as you can get, (thank you South Carolina)!
You'll find this combination in just about every restaurant south of the Mason-Dixon line! Most Southerner's serve this as a main dish, but if you want a side dish, consider a green salad or some good ole' collard greens!
Why this recipe works
This is one of the easiest shrimp recipes you'll come across!
The blackening technique of cooking is quick and easy and lightening-fast-about 2-3 minutes per side. I use quick-cooking grits, so those take about 5-minutes, or you can use regular "slow cooking" grits that take about 25 minutes to cook. Your call.
Great texture and flavor: the blackened shrimp are somewhat crunchy and pair well with the creamy, cheesey smoked-flavored grits
Easy to reheat: if you're lucky enough to have any leftover, just re-heat in the mirowave and you're done!
Ingredients for blackened shrimp and grits
The ingredients for this classic Southern shrimp and grits recipe is pretty simple. You can cook the grits in water or chicken broth.
Shrimp- you can use fresh Gulf shrimp or frozen shrimp; for best results, get the freshest you can find- get medium or large size, not the tiny salad shrimp
Blackened seasoning- this is a prepared combination of dried spices: smoked paprika, garlic powder, onion powder, cayenne pepper and more. You'll find it on the spice aisle at your grocery store
Grits- you can use traditional grits (they take a little longer) or quick grits; you can cook them in water or use chicken broth for added flavor!
Heavy cream- the inclusion of heavy cream gives the grits a bit of sweetness; it's in the dairy section labeled as "heavy cream" or "heavy whipping cream"
Aged smoked Gouda cheese-for best results, get a block of smoked Gouda from the delicatessen and shred it yourself with a cheese grater or food processor. Block cheeses melt better than pre-shredded cheese, which are coated with an anti-coagulant that doesn't lend itself to melting very well
Garlic powder
Smoked paprika- optional, but I highly recommend adding a pinch of smokey paprika (not sweet paprika)
Salt and fresh ground black pepper to taste
How to make it
Blackened shrimp and grits is ready in minutes, so the first thing you want to do is take the heavy cream out of the refrigerator and let it sit at room temperature. (If you add cold cream to the hot grits, it turns into lumpy grits)
This cooks up really fast, so prep and season the shrimp first, then cook grits. If you buy fresh or frozen shrimp in the shell, you'll want to remove the shell and devein it. Rinse them, pat dry and generously sprinkle them with the blackened seasoning.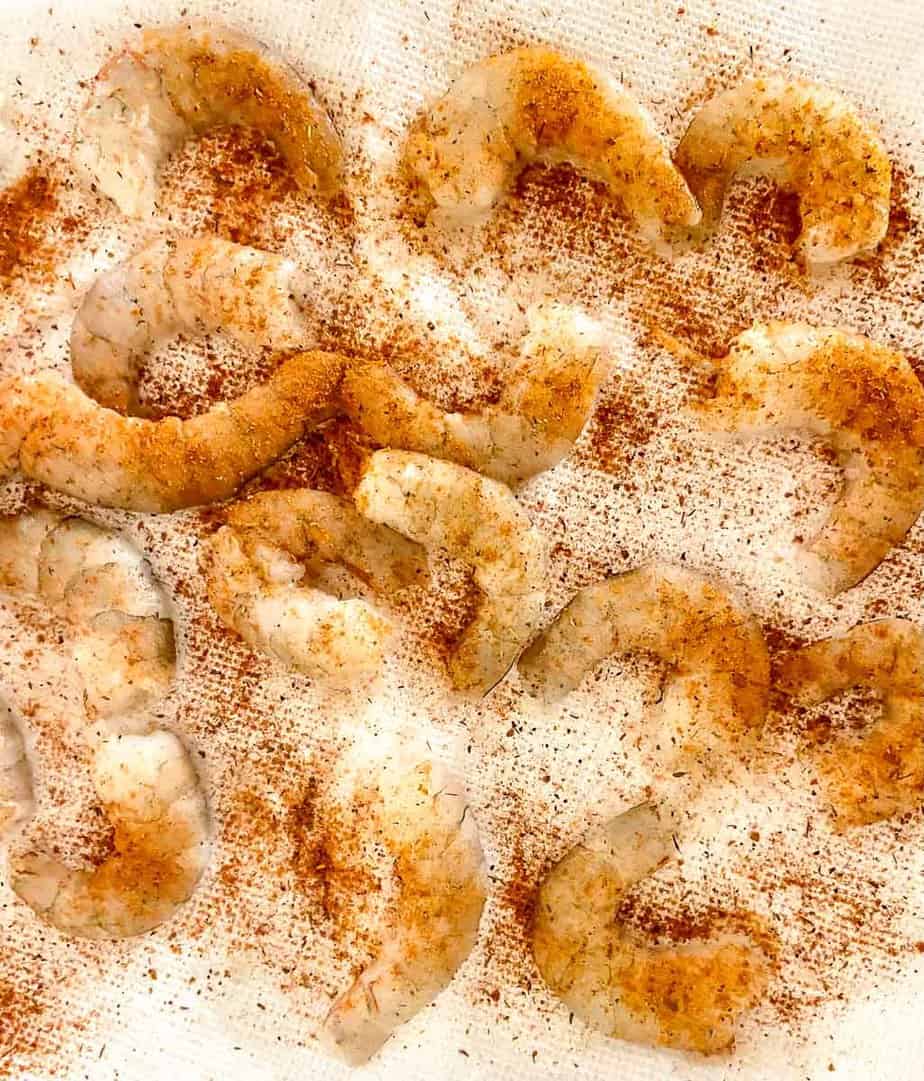 Meanwhile, prepare the grits. Whether you're using fast-cooking grits or traditional grits, you'll want to follow the cooking instructions on the package. Bring water (or chicken broth) to boil, then reduce heat to medium heat and stir in grits. Cook the grits over medium heat until they are tender, then add in the heavy cream.
Stir and combine the grits and cream until its formed a smooth mixture, then add in the shredded smoked Gouda cheese.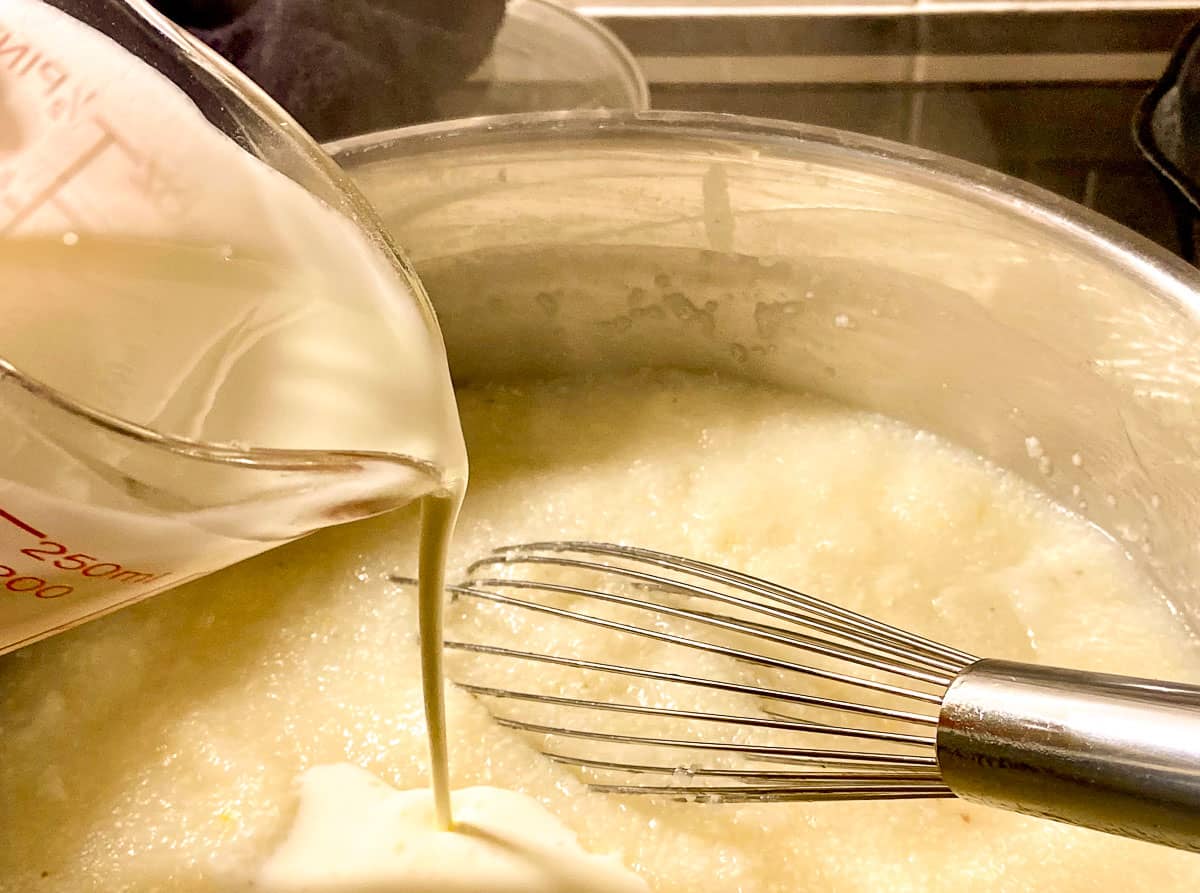 Use a spoon or spatula to stir the smoked Gouda cheese into the grits on low heat; cook until the cheese is melted, then add in the garlic powder and smokey paprika. Taste the grits to see if they need a little teaspoon of salt.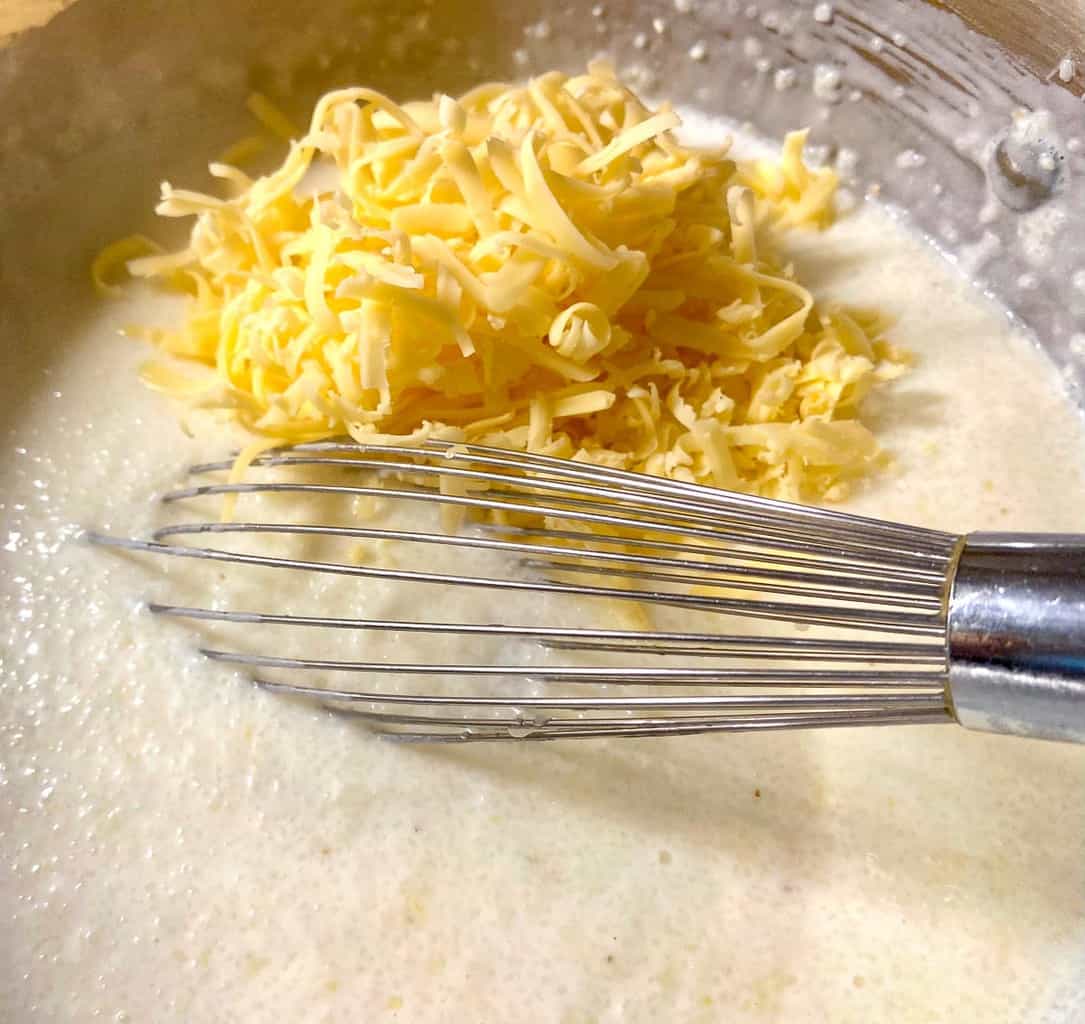 How to blacken shrimp
The secret to a really good blackened shrimp is zesty seasonings and a hot, dry skillet - preferably a well-seasoned, dry cast-iron skillet.
After you season the shrimp, on the stovetop, heat a dry, seasoned cast-iron skillet on medium high heat. Do not add any vegetable oil, olive oil or butter. Place them in the hot skillet in a single layer for 2-3 minutes.
Use long handled tongs to flip them and cook another 2-3 minutes. Remove the hot shrimp from the skillet immediately and place on a plate.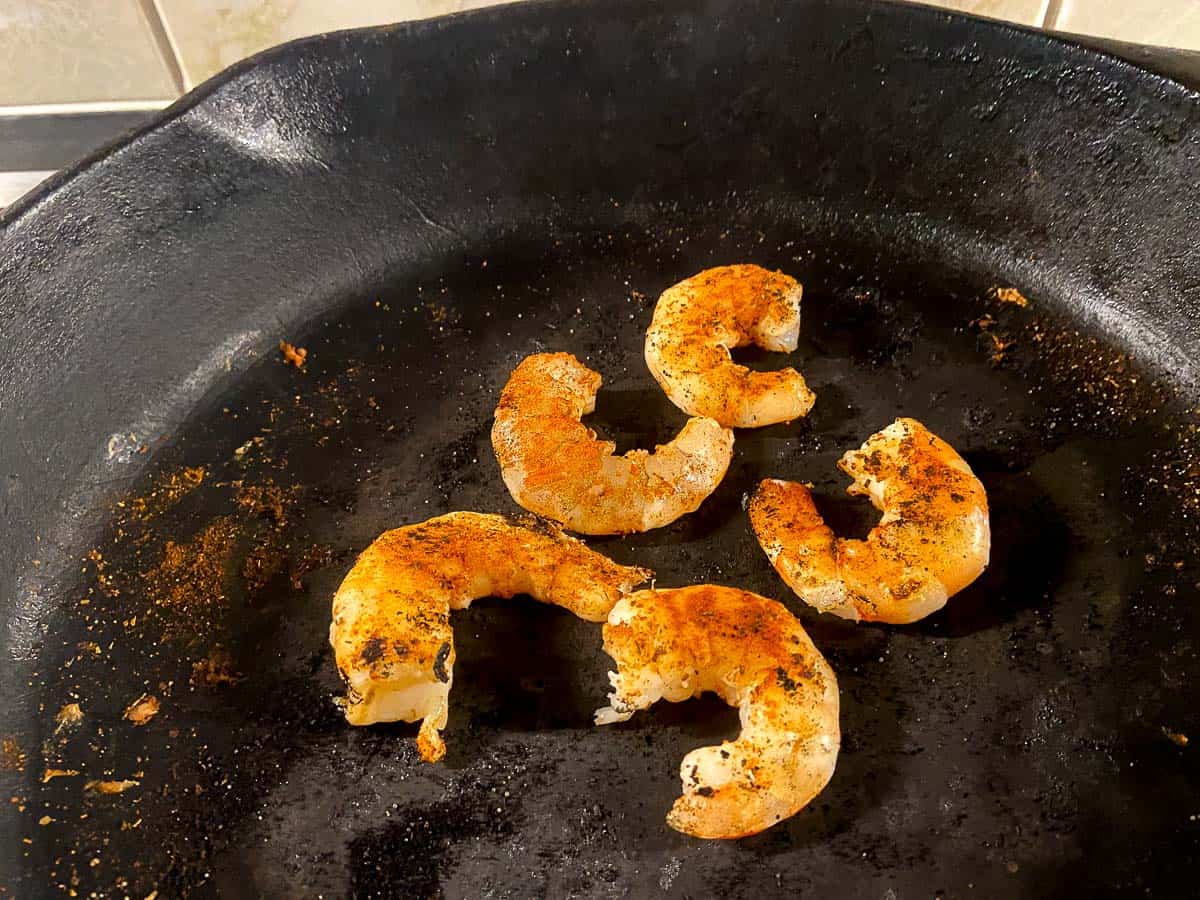 Once the blackened shrimp are done, transfer to a plate; Serve the creamy smoked Gouda grits in a bowl and top with the blackened shrimp. Garnish the cheesy grits with chopped bacon, chopped green onion or fresh parsley and enjoy!
FAQ
What does "blackened" mean?
he term "blackened" in culinary circles refers to a protein (typically fish or shrimp) that has been seasoned with a mixture of spices.
The term also refers to the method of cooking, which is in a dry, hot cast-iron skillet. No oil or liquid is added; this hot and fast method of cooking most resembles grilling.
You'll find "blackened" seafood in Cajun and Creole recipes, as the dry-heat method was developed by Louisiana's own legendary Chef Paul Prudhomme.
He applied his technique to this Cajun shrimp recipe, which was originally known in South Carolina as "shrimp and hominy."
What are "blackened seasonings"?
Blackening seasonings typically consist of cayenne pepper, chili powder, onion and garlic powder, salt and pepper. They do have a little heat to them so if you're not a fan of spicy, use cautiously.
Note: this recipe uses Kroger brand Blackened seasonings because the Zatarains' brand contains MSG.
If you're allergic to MSG, be sure and check the ingredient label first.
What size shrimp should I use?
Shrimp is generally packaged and sold by the pound and there are usually two numbers on the package. These numbers indicate about how many shrimp you'll get per pound.
Large shrimp are typically 31-40, medium are 41-60 and small are 51-60 per pound.
I recommend buying medium to large size for this recipe.
What is smoked Gouda cheese and where do I find it at the grocery store?
Gouda cheese is a semi-hard cheese made from cow's milk. It's a product of the Netherlands so you'll most likely find it in the "fancy" or "imported cheese" part of your grocery store or in the delicatessen area.

If you can't find aged smoked Gouda, you can use plain or regular Gouda cheese. Gouda cheese has a sweet, nutty flavor and the flavors intensify as the cheese ages, so I recommend aged Gouda if you can't find aged smoked Gouda cheese.
Recipe Tips
Buy the biggest, freshest shrimp you can find; frozen is okay to use as well
Use an aged Gouda or Smoked Gouda cheese; aged cheeses have a more intense flavor than non-aged
If you substitute with pre-shredded or block Cheddar cheese, the result will NOT be the same; cheddar is sharper and more oily; this will affect the flavor and texture of your grits
This cooks quickly! Make the grits first
Use a dry, seasoned cast-iron skillet to quickly cook the blackened shrimp;
Do NOT add oil or butter to the cast-iron skillet; you want to sear the shellfish in a dry skillet
Use tongs to flip the hot blackened shrimp
Storage and Reheating
If you're lucky enough to have leftovers, store and reheat the smoked Gouda grits separately from the blackened shrimp. The grits will thicken upoon refrigeration, so add a little water to them and reheat them in the microwave or on the stovetop.
As for the shrimp, they can be reheated in the microwave but make sure they're covered; if reheated uncovered, they get rubbery.
Serving suggestions
Blackened shrimp and Gouda grits is a meal in itself, however, if you want to serve it with something else, you can never go wrong with a crisp green salad, a bowl of collard greens, a cup of Louisiana Gumbo or crab puffs.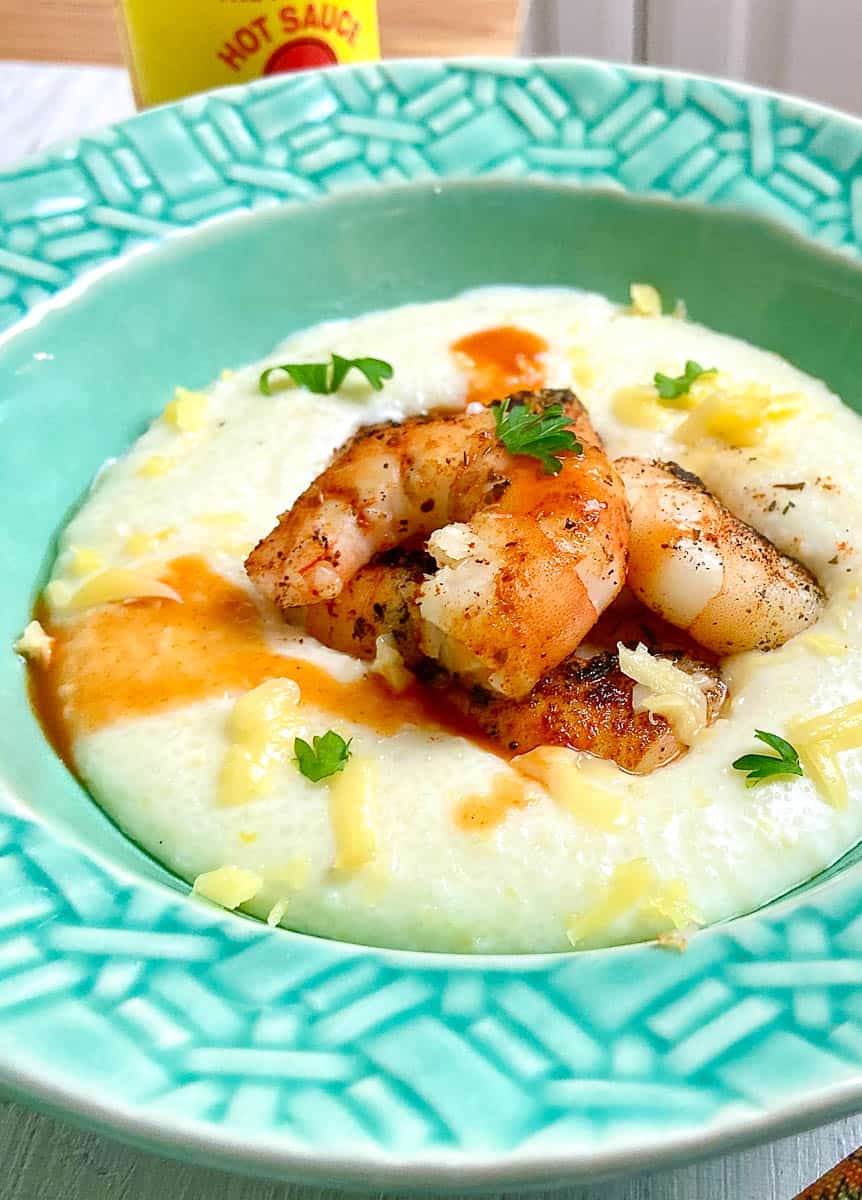 Blackened Shrimp and Gouda Grits is a quick and easy weeknight meal, perfect for when you're too tired to cook!
Related recipes
If you make this recipe, please scroll down and leave a rating and comment! I love to hear from you!
📋 Recipe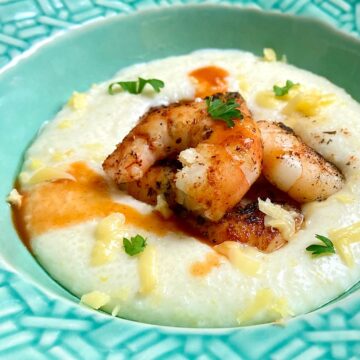 Blackened Shrimp and Gouda Grits
Classic Southern Blackened Shrimp and Grits recipe featuring Smoked Gouda Cheese
Print
Rate
Ingredients
1

pound

shrimp

, large; peeled and deveined

2

tablespoons

blackened seasoning

Louisiana Hot Sauce

, optional; as garnish
Ingredients for Grits
1

cup

grits

, quick cooking

4

cups

water

, or chicken broth

1

teaspoon

garlic powder

1

cup

heavy cream

1½

cups

smoked Gouda cheese, shredded

(buy about an 8 ounce block)

smoked paprika (optional)

to taste

salt and pepper to taste
Instructions
Prep
Peel and devein shrimp; pat dry and place on paper towel; lightly season with blackened seasonings; set aside

1 pound shrimp,

2 tablespoons blackened seasoning

Shred smoked Gouda cheese; set aside
Prepare the Grits
Bring 4 cups of water (or chicken broth) to boil in large stockpot

Add grits; reduce heat to medium-low; cook 5-minutes or more, until grits are creamy

Add garlic powder, heavy cream and shredded cheese; combine well; taste for salt; add smoked paprika (optional); turn heat to simmer and make the blackened shrimp

1 teaspoon garlic powder,

1 cup heavy cream,

smoked paprika (optional),

1½ cups smoked Gouda cheese, shredded
Make the Shrimp
Heat a seasoned cast-iron skillet on medium-high heat; do not add any oil or butter

Once skillet is super hot; add seasoned shrimp in a single layer (you may have to turn on the overhead vent now)

Cook 2-3 minutes then, use tongs to flip shrimp; cook another 2-minutes; remove shrimp from skillet; season to taste

Plate cooked grits in bowl; top with blackened shrimp; garnish with Louisiana Hot Sauce, green onions or parsley
Notes
Prep time:
Allows for peeling and deveining shrimp; if you purchase shrimp already peeled, the recipe goes even faster!
Cook the grits first
Prepare the shrimp:
Place shrimp in single layer in pan; if your skillet isn't big enough, work in batches
A note about the cheese:
This recipe uses aged Smoked Gouda; if you substitute with pre-shredded or block-style Cheddar cheese, the result will NOT be the same
Cheddar is more oily and has a sharper taste; the texture and flavor of the grits will be completely different.
If you want to use a Cheddar cheese instead of Gouda, get a high-quality, aged cheddar in a block and shred it yourself; do not use pre-shredded cheese of any kind
This recipe makes about four cups of grits; if you don't need that much, follow the directions on the side of the grit box (they have it broken down into one or four servings)
I allow about 8 large shrimp per person, but if you have big eaters, you might want to plan for 10 shrimp per person
Note the nutrition information doesn't take into account how many shrimp per person; it just calculates one pound of shrimp divided by 4.....
Nutrition Estimate
Serving:
1
cup
Calories:
466
kcal
Carbohydrates:
33
g
Protein:
28
g
Fat:
24
g
Saturated Fat:
14
g
Cholesterol:
367
mg
Sodium:
1440
mg
Potassium:
198
mg
Fiber:
1
g
Sugar:
1
g
Vitamin A:
958
IU
Vitamin C:
5
mg
Calcium:
206
mg
Iron:
3
mg