Natchitoches Meat Pie
Natchitoches Meat Pies hail from Natchitoches, Louisiana which is about halfway between Shreveport and Lafayette. The town is the original French colony, the oldest Parish in the Louisiana Purchase, and home to the filming of the Southern classic movie "Steel Magnolias."
Due to it's French heritage, it is pronounced "Nack-a-tish."  The lady on YouTube pronounced it "Nack-a-tosh" but that's wrong, according to Ann and Kelly at the Official Natchitoches Convention and Visitor's Bureau.
The origin of Natchitoches Meat Pie is somewhat vague. It is believed to be adapted from the Spanish and French Canadians (Natchitoches was founded by French Canadian Louis Juchereau de St. Denis.)
I found a recipe of my Grandmother's for these beautiful meat pies and started to explore and compare to other recipes. I tried to stay true to the Official Natchitoches Meat Pie Recipe as possible; it turns out, my Grandmother's was the same as the published original!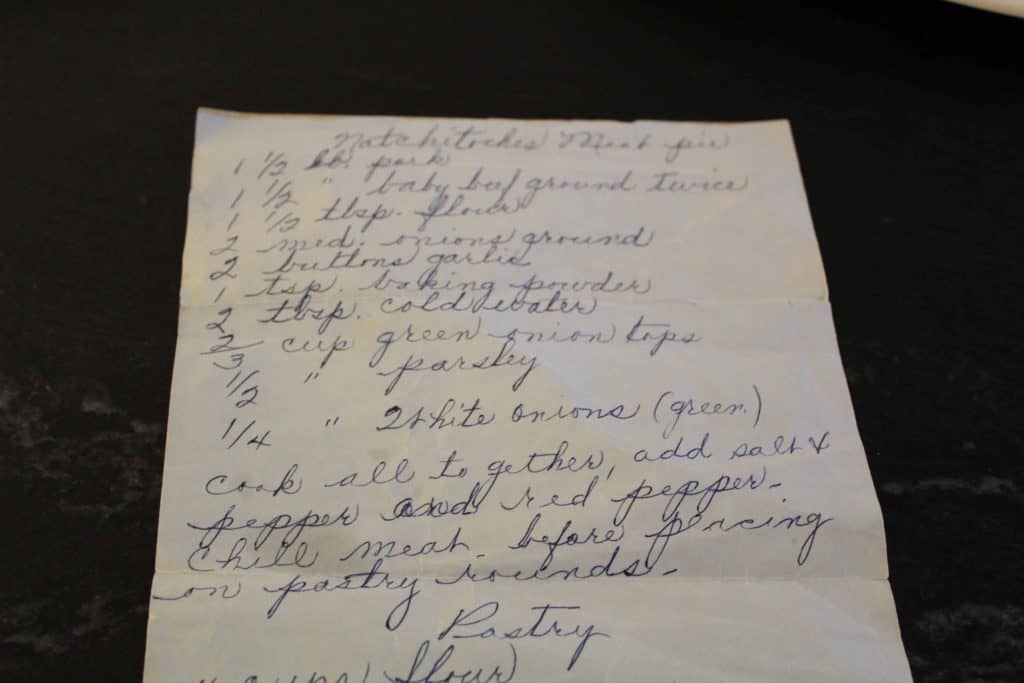 I initially made the original recipe for the meat filling and while it tasted good, it wasn't very flavorful, so I added some seasonings. Other than the additional seasonings, this is pretty much the original recipe. Ann confirmed that in Natchitoches, meat pies are made a million different ways with different seasonings, but the most popular pies were those from Lasyone's.
I spoke with Angela, owner of Lasyone's, and while she wouldn't reveal her secret seasonings, she did confirm they seasoned their famous pies more than the original recipe. They must be pie-making all night and day because she said they hand make 400-1600 meat pies a day! My poor back couldn't imagine that. Heck, I made just one batch and had a backache…I'm a wimp.
Lasyone's doesn't ship their famous Natchitoches Meat Pies because of federal regulations, but, if you know someone nearby, have them pick you up a dozen, freeze them, and ship them to you!
Every Culture Has Their Own Version of a Meat Pie
I suppose every culture has some version of a meat pie. In the Upper Peninsula and surrounding areas, meat pies are knows as "pasties", the Spanish have "empanadas", Cornwall has the Cornish Pastry, the Filipino's have the Buka Pie, the Finnish have the Lihapiirakka and the non-cooks have "Hot Pockets®"! Ingredients and seasonings may vary, but a fried meat pie is absolutely one of the best dishes to serve to friends and family.
Can I Omit Pork From the Meat Pie Recipe?
Yes. Just substitute the pork with ground beef or turkey.
Can I Make Natchitoches Meat Pies in Advance?
Yes, simply form the pies, then freeze them in a sealed container. On the day of serving, allow pies to thaw on baking sheet in the refrigerator; heat oil and fry. I do not recommend thawing them at room temperature on the counter because of the meat…it needs to stay out of the danger zone which is 41-135° F. Let them thaw in the fridge at 40°F.
How Many Meat Pies Will This Recipe Make?
I got 12-14 out of this batch and used a 4″ diameter to start; I did have leftover meat. This recipe will yield more pies if you start out with a smaller diameter, but the pies will be more "bite size" than entree size. If you're worried you won't have enough dough, double the recipe.
Natchitoches Meat Pie
Dough Prep is Included in Cook Time
Savory, seasoned ground beef and pork, tucked inside a crispy crust.
Cuisine:
Cajun, Creole, French-American, Louisiana
Servings
:
12
about 12 pies
Ingredients
Meat Filling Ingredients
1

lb.

ground beef

1

lb.

ground pork

2

tablespoons

oil

3

tablespoons

flour

1/2

large

onion

diced finely

1

green

bell pepper

diced finely

1

bunch

green onions

chopped finely

2

cloves

garlic

minced

2

tablespoons

Worcestershire sauce

2

teaspoons

ground sage

1

teaspoon

cayenne pepper

1 teaspoon = mild

2

bay leaves

salt & pepper to taste
Crust Ingredients
4

cups

flour

2

teaspoons

salt

1

teaspoon

baking powder

2

whole

eggs

1

stick

butter

unsalted, cut into tiny cubes,

1

cup

milk
Instructions
Meat Preparation
In a heavy skillet, add beef and pork; cook thoroughly until no pink is visible; drain and set aside

In same skillet, add onions, green onions, bell peppers; saute until green bell peppers are tender; add garlic

Add cooked meat into onion mixture; add seasonings and allow to cook for 15 minutes on medium; taste for salt and pepper

In one a measuring cup, add 2 tablespoons flour and fill cup with warm water; mix with fork until smooth; pour flour/water mixture into beef; combine well

Add water/flour mixture to meat and allow to cook for a few more minutes, then turn heat off (the meat will need to be somewhat cool when placing it onto the dough); remove bay leaves; taste for salt & pepper
Crust Instruction
Heat a heavy bottomed stock pot with oil; bring to 300ºF; if oil begins to smoke, remove pot from burner and reduce heat immediately

Get out two bowls: one large, one small

In the large bowl, add dry crust ingredients

In the small bowl, add egg and milk; slightly beat together until combined

Slice butter into small (tiny) cubes

Add the tiny cubes of butter to the flour; "cut it in"-using a fork, combine the butter into the dry flour mixture until it looks grainy

Once the flour mixture looks grainy, gradually fold in the egg mixture; you will want to use a spatula as much as possible (you can use your hands at the very end; using your hands will warm the butter and increase the gluten in the dough which will create a limp, soggy dough)

Once the dry and wet ingredients are combined, throw some flour onto a clean, lightly floured surface; place the dough on the counter and roll it out
Cut dough into circle about 4 inches in diameter
Place cooled meat mixture into center of dough; fold top over to bottom, and using a fork "cinch" the ends together

Place formed pies into hot oil in batches; usually 3 at a time; remove cooked pies and place on paper towel; repeat until all pies are done
Recipe Notes
A good idea: make the dough ahead of time, like a day before, and refrigerate it, otherwise, this recipe takes a long time.

Use a heavy duty stock pot to fry the pies. An all-purpose aluminum stock pot doesn't hold up well to the high heat required for this recipe; consider a LeCreuset-type

If you make 4" rounds, expect to have about 12 pies and some leftover meat

Use the leftover meat to make a faux Shepherd's Pie later in the week!

If you prefer not to fry the pies, you can bake them; place them on lightly oiled parchment paper and spray the tops of the pies with oil or, use an egg/water wash on the tops; bake at 400ºF for 20 minutes, or until the tops are golden brown
While you're making these delicious meat pies, you might wanna cook a big pot of Rice and Beans to go with your masterpiece!
0