If you can't get to Louisiana fast enough, make these authentic Natchitoches Meat Pies in your own kitchen- baked or fried!
Once you make these savory French meat pies, you'll understand why they're so popular in Louisiana!
When developing this recipe, I consulted the owner of Lasyone's, the famous Natchitoches meat pie company and restaurant, and they confirmed that my Grandmother's recipe was true to the original.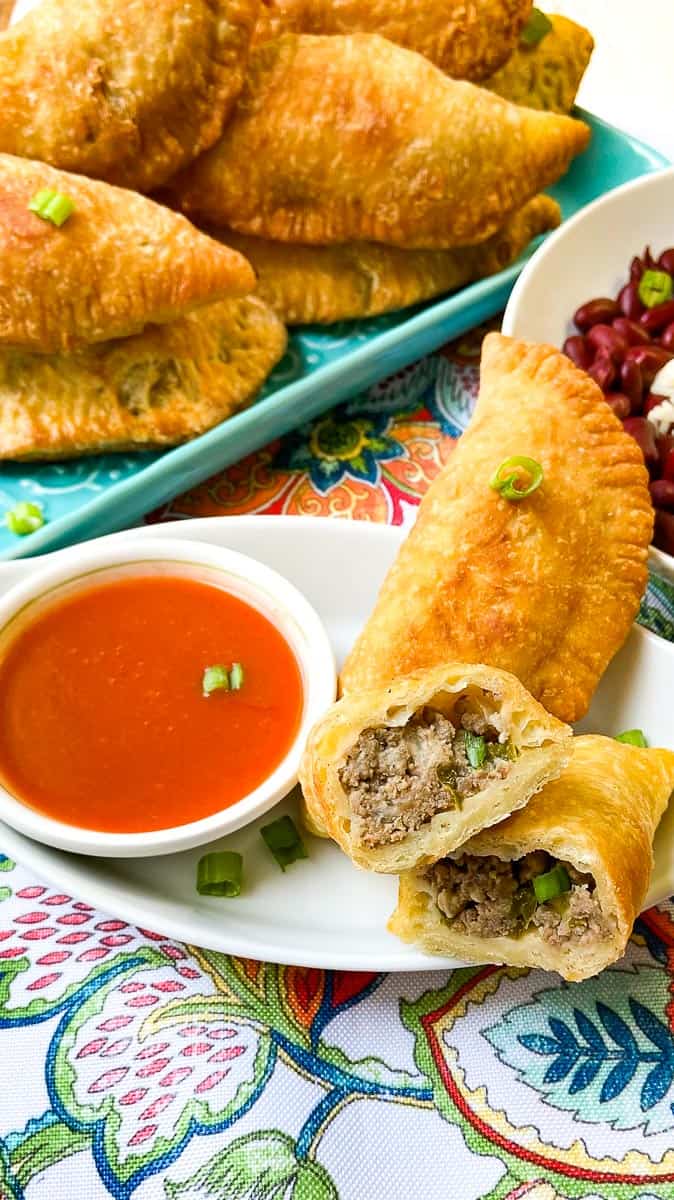 The town of Natchitoches is the original French colony, the oldest Parish in the Louisiana Purchase, home to the famous Natchitoches Hand Pies, and where the Southern classic movie "Steel Magnolias" was filmed!
Due to its French heritage, it is pronounced "Nack'-a-tish." The lady on YouTube pronounces it "Nack-a-tosh" but that's wrong, according to Ann and Kelly at the Official Natchitoches Convention and Visitors Bureau.
Jump to:
Why you'll love this meat pie recipe
Easy meat pie recipe with and easy homemade pastry, ground beef, pork and Cajun seasonings! Make it as mild or spicy as you like!
Another thing, you can bake or fry these meat pies - either way, they're delicious.
It's authentic-if you can't get to Louisiana, this is the next best thing
All-natural-no additives, preservatives or fillers
Easy to make ahead of time - cook the filling and make the pastry dough the day before!
Easy to reheat and have as a snack
This meat pie recipe can be used for baked meat pies or fried - your call!
If you love New Orleans or any part of Louisiana, then you'll love these meat pies! I like to serve them with smothered okra and tomatoes, or sometimes with collard greens, purple hull peas, sauteed yellow squash and onions or just by themselves as a snack!
Authenticity
Almost every culture has a meat pie, and this authentic Natchitoches Meat Pie recipe is native to Louisiana, via French immigrants, both Cajun and Creole.
In the northern United States, meat-filled pies are called "pasties," which were a typical lunch for coal miner's way back in the day.
The Spanish have "empanadas," which are basically the same concept, but with different seasonings.
There's a lot of recipes for meat pies out there, but I tried to stay true to the Official Natchitoches Meat Pie Recipe as possible; it turns out, my Grandmother's handwritten recipes is the same as the published original! My recipe is an adaptation of the original (I added a few seasonings.)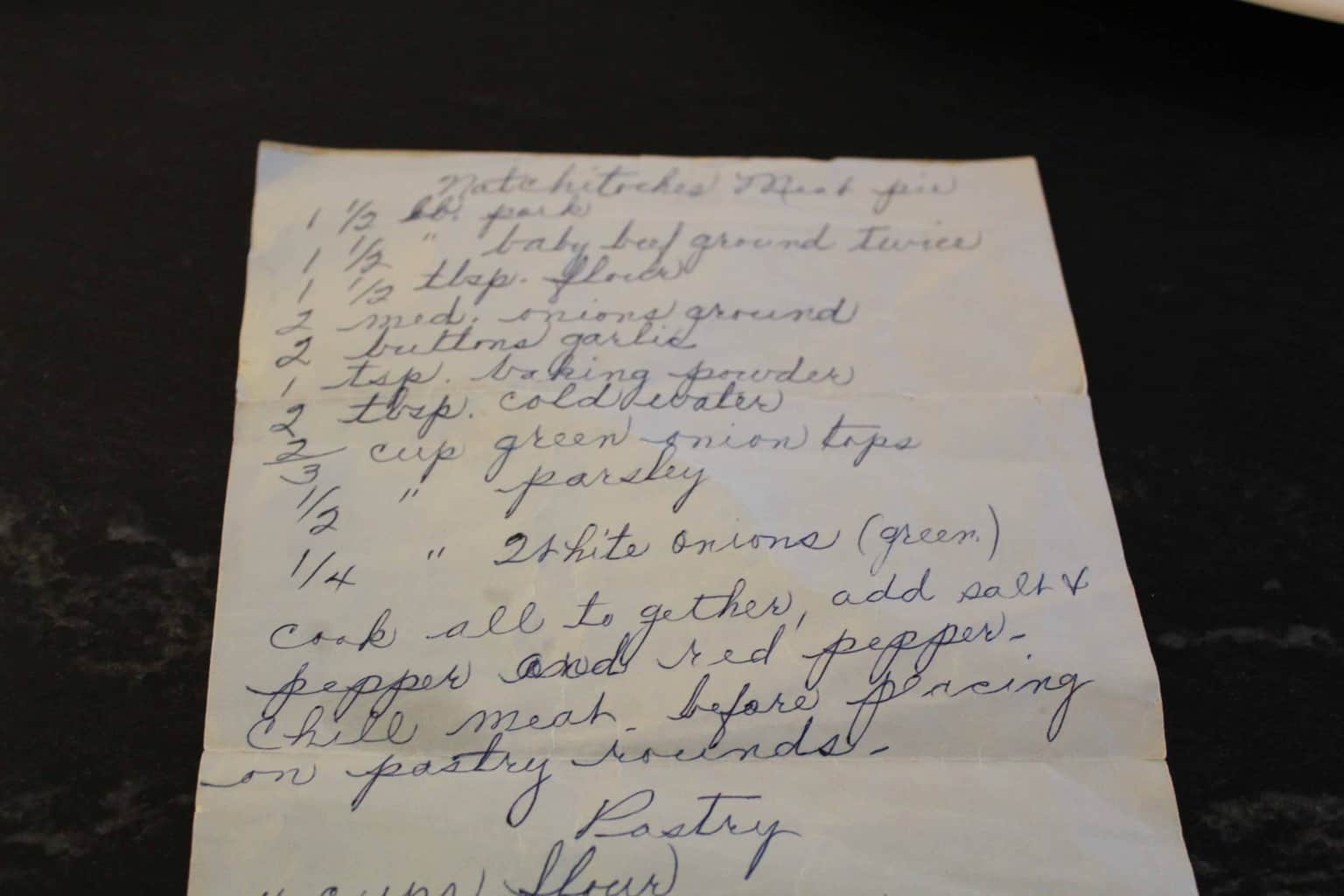 Here's what you'll need
This meat pie recipe uses simple ingredients and offers great flavor! Make these as mild or spicy as you like!
Filling ingredients: Ground beef, ground sausage, onion, green bell pepper, bay leaves, cayenne powder, ground sage, milk, flour, salt and pepper
Pastry ingredients: flour, baking soda, butter, salt
I forgot to get out the ground sage for this picture:(
How to make Natchitoches meat pies
At first glance, this meat pie recipe looks difficult, but it's easy if you break it down into 4 -easy steps:
Make the filling
Make the pastry dough
Assemble the pies; refrigerate for 15 minutes
Cook (bake or fry)
Note
Before you get started, read the recipe and notes 3 times.
Brown the beef and sausage; drain and set aside; saute onion and bell pepper
Add cooked meats back into the skillet with the cooked onion and bell pepper
Add remaining ingredients and slurry; cook 5-7 minutes, or until mixture thickens; remove from heat; set aside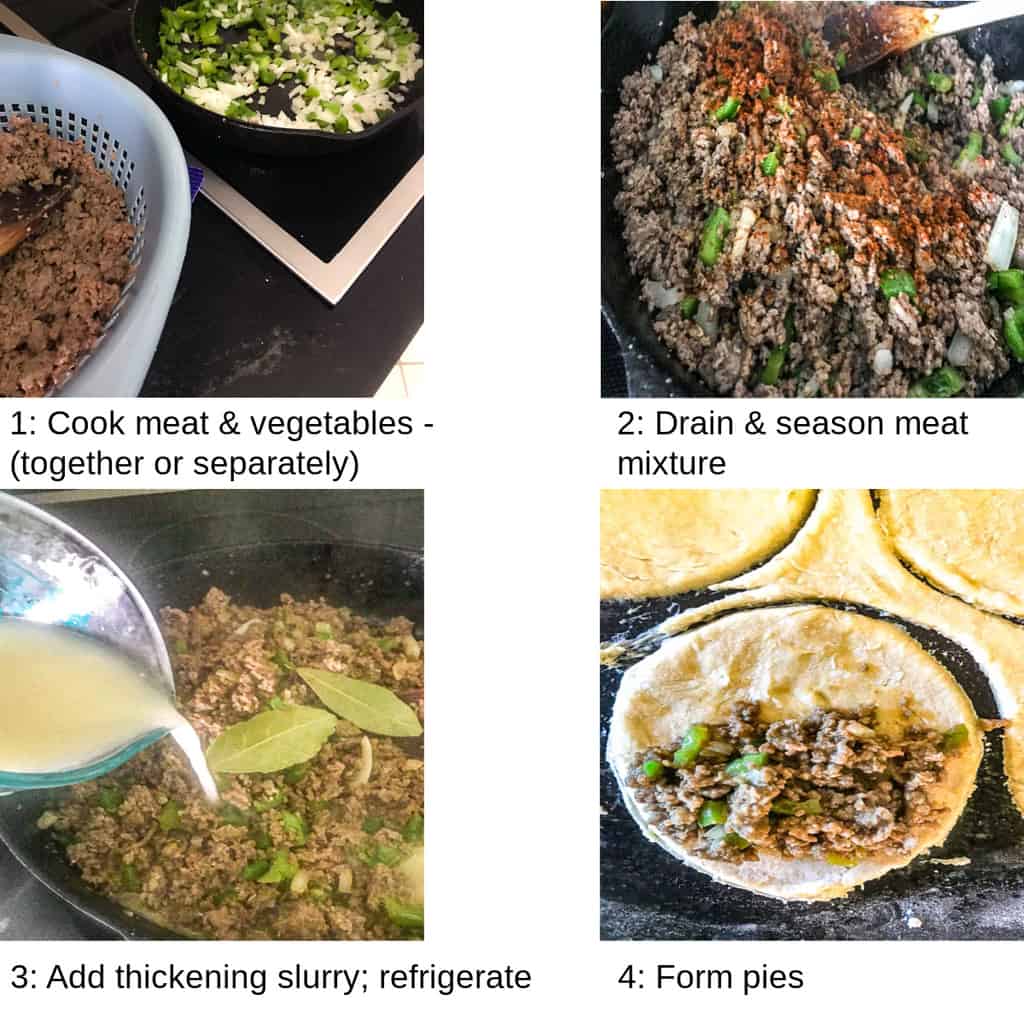 A note about making the pastry
When you add the cold bits of butter to the pastry, you can combine it by hand or give it a quick pulse in the food processor.
I always combine it by hand because the food processor isn't big enough to mix the entire amount of flour and butter together at once and I'm afraid if I pulse it in batches, it won't combine properly.
The dough should be grainy, but after you knead it a few times, it begins to stick together. Do Not Overwork the Dough.
While this mixture is cooling, make the pastry; place dough on lightly floured surface and roll out to ¼" thickness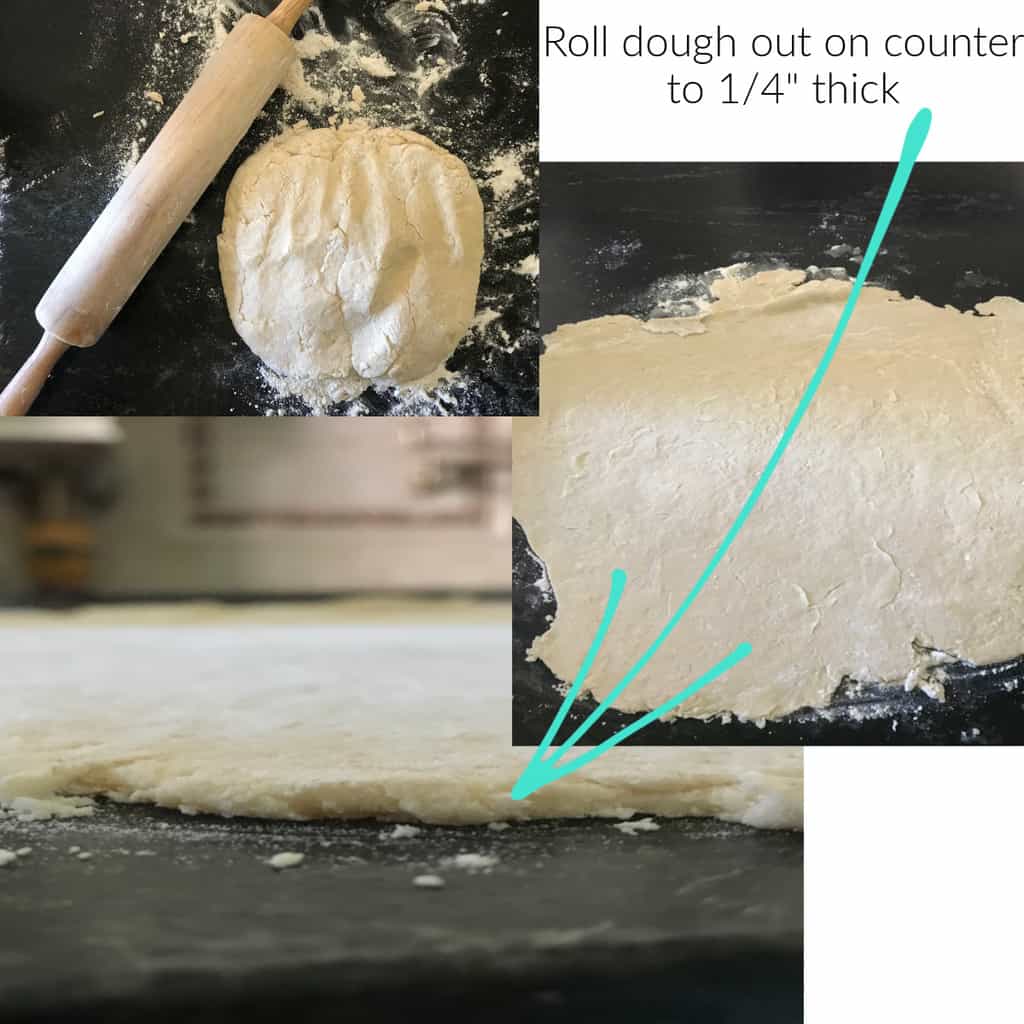 Once the dough is rolled out, cut out circles ( I use a small salad plate as a template).
Place about ⅓ cup of cold meat onto the cold pastry disc. Fold top over meat, forming a half-moon. Press edges together with a drop of water on your fingertip.
Score edges with fork; trim with pizza cutter or knife and cook.
How to fry meat pies
Get a large, heavy-bottom stock pot and add 4 cups of oil; NOTE: the amount of oil will vary; it depends upon the size of the skillet and the number of pies you're making. Pour enough oil into the skillet to barely cover the hand pies.
Heat oil to 312ºF; gently place pie in oil
Cook 3-minutes; flip and cook other side 3-5 minutes
Drain on paper towel; repeat
How to bake meat pies
Preheat oven to 400ºF
Lightly oil baking pan
Combine egg and water to make an egg-wash; brush egg wash over meat pies
Bake 25-30 minutes or until golden brown
How many pies does this recipe yield?
This recipe for Natchitoches Meat Pie yields about 6 pies that are 7" in diameter. You can make meat pies larger or smaller - your call!
How to make in advance
The best way to make this ahead of time is to cook the meat pie filling and prepare the pastry dough and store them separately in the fridge. Cover dough securely with plastic wrap.
When you're ready to assemble them, roll out the dough to ¼ " inch thickness and form the discs.
Place about ⅓ cup of cold meat on pastry and cook
If you want to assemble the meat pies in advance, follow the instructions above and place covered hand pies in the refrigerator until ready to cook.
Freezing and reheating meat pies
You can freeze the meat pies before OR after you cook them.
Put the uncooked meat pies in an airtight container and freeze for up to three months. When ready to cook, allow pies to come to room temperature, then fry or bake. (If baking, don't forget the egg wash!)
For pies that you've already cooked, allow pies to thaw a bit, then reheat in a 350ºF oven, uncovered, until the center is warm (about 15-25 minutes)
How to reheat Natchitoches Meat Pie
Preheat oven to 350ºF; place thawed meat pies on lightly oiled baking dish, uncovered
Bake 10-15 minutes, until the internal temperature is 160ºF
Dipping sauce
Some folks in Louisiana like a dipping sauce with their meat pie. I make a sauce with mayonnaise, Louisiana Hot Sauce and a little salt. Just combine it together and season to your liking. Or you can just sprinkle a little of the sauce over the pie. Or, serve these meat pies with a remolaude sauce!
What to serve with it
If you want to serve the meat pie as an entree, consider these side dish: rice and beans, creamed new potatoes, cabbage, collard greens, smothered okra and tomatoes or gumbo.
Recipe tips
Read the entire recipe (including Recipe Notes) three times before you start
Don't worry if the edges of your meat pies are raggedy; trim them with a pizza cutter
Refrigerate the assembled meat pies 15-20 minutes before cooking (or freeze them for 10-12 minutes)
Use a thermometer to ensure the frying oil is around 312ºF before you place the meat pies in it
Once you place the pies in the oil, use a spatula to splash a little oil over them (this ensures they won't fall apart)
Use leftover dough to make extra pie rounds; just gather up dough remnants (from your circles), form them into a ball; flatted, roll and make another pie
If you have leftover meat, save it and make a "faux" Shepherd's Pie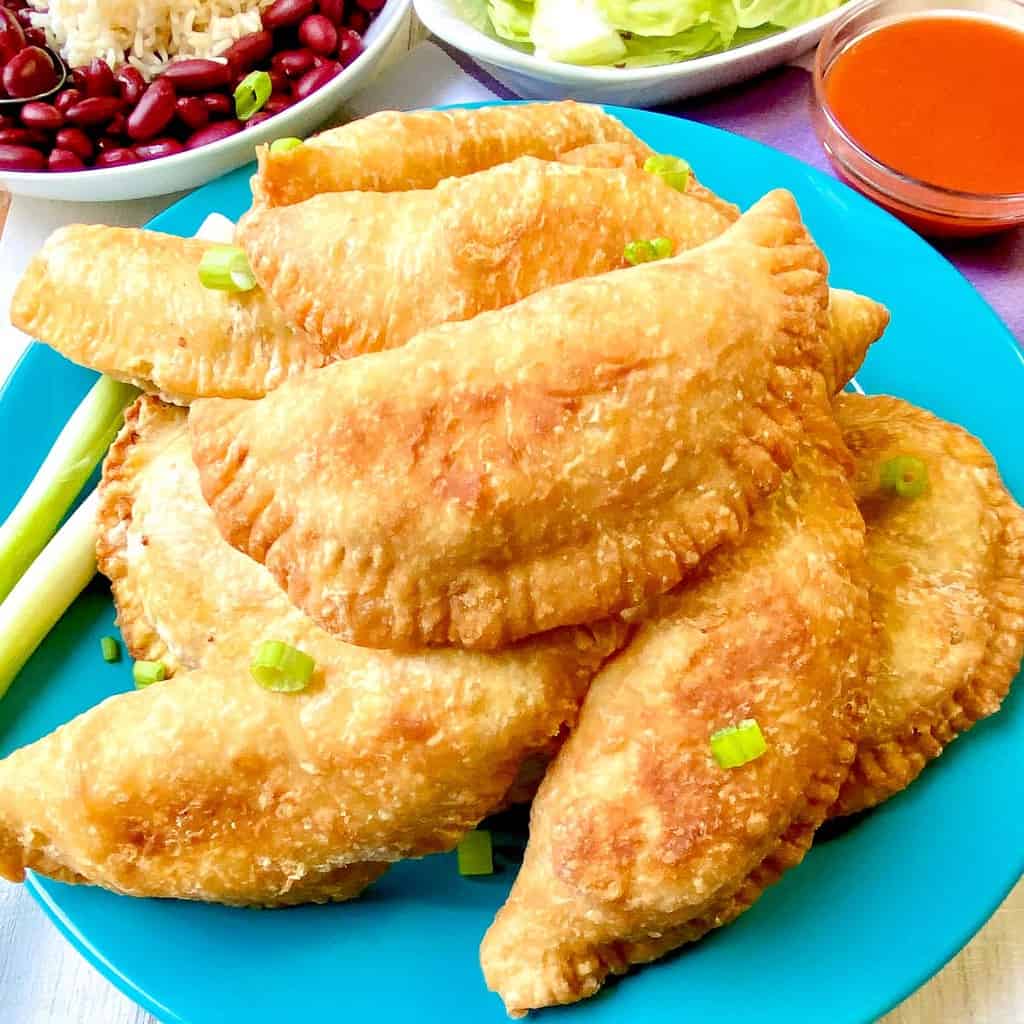 This vintage, authentic Natchitoches meat pie recipe is as authentic as it gets! If you can't get to Natchitoches, Louisiana, this is definitely the next best thing!
Related recipes
♥ If you make this recipe, leave a comment and rating below! Thank you!
📋 Recipe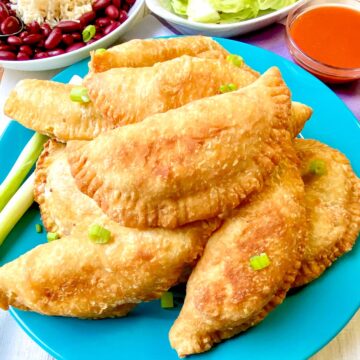 Authentic Natchitoches Meat Pie
Savory, seasoned ground beef and pork, tucked inside a crispy pastry.

Print Rate

Yield: 6 hand pies
Equipment
Dutch oven or tall stock pot (for frying); baking sheet needed for baking

Long handled slotted spoon (for frying)

Skillet

Meat thermometer

Rolling pin

Two mixing bowls: one large, one small

Paper towels and plate to drain pies on (if frying)

Baking sheet and parchment paper (if baking)

Pastry brush (if baking)
Ingredients
Meat Filling Ingredients
1 lb. ground beef
1 lb. ground pork , with or without sage
1 cup finely chopped onion , yellow, sweet yellow or white onion
1 cup finely chopped green bell pepper
2 cloves garlic minced, or 1 tablespoon prepared minced garlic
4 cups oil (See Recipe Notes) , canola or vegetable
¼ cup flour ,all-purpose
2 teaspoons ground sage , (if your pork doesn't contain sage); (See Recipe Notes)
1 teaspoon cayenne pepper 1 teaspoon = mild; if you like spice, add more cayenne
2 bay leaves
2 tablespoons Worcestershire sauce
1¾ cups milk , 2% or whole
salt & pepper to taste
Pastry Ingredients
8 cups flour ,plus a handful for rolling out dough; all-purpose
4 teaspoons salt , kosher
2 teaspoon baking powder
4 whole eggs , cold
2 sticks butter cold, unsalted, cut into tiny cubes,
1¾ cups milk , cold
Egg Wash (if baking)
1 whole egg lightly beaten
1 teaspoon water
Instructions
Meat Preparation
In a heavy skillet, add beef and pork; cook thoroughly until no pink is visible; drain and return to skillet

1 lb. ground beef, 1 lb. ground pork

In same skillet, add onions, bell peppers; saute 3 minutes on medium high or until green bell peppers are tender; add garlic; stir

1 cup finely chopped onion, 1 cup finely chopped green bell pepper, 2 cloves garlic

Add cayenne, Worcestershire sauce, bay leaves and sage (if your pork doesn't already have sage in it); allow to cook for 15 minutes on medium; (See Recipe Notes)

1 teaspoon cayenne pepper, 2 bay leaves, 2 tablespoons Worcestershire sauce, 2 teaspoons ground sage

While meat is simmering, make a slurry: In a two-cup measuring cup, add 4 tablespoons flour (¼cup) and fill the measuring cup with milk; mix with fork until smooth; pour this mixture (slurry) into the skillet with the beef; combine well. (The "slurry" will thicken the meat mixture.)

¼ cup flour, 1¾ cups milk

Allow this to cook for about 5-8 more minutes, or until the beef mixture begins to thicken; once the mixture thickens a little, turn off the heat; remove bay leaves; taste for salt & pepper; cover and refrigerate; now make the pastry dough

salt & pepper to taste
Pastry Instruction
Get out two bowls: one large, one small

In the large bowl, combine flour, salt, baking powder

8 cups flour, 4 teaspoons salt, 2 teaspoon baking powder

In the small bowl, add cold eggs and cold milk; slightly beat together until combined

4 whole eggs, 1¾ cups milk

Slice cold butter into small (tiny) cubes

2 sticks butter

Add the tiny cubes of cold butter to the dry ingredients; "cut it in"using your fingers; (crumble the butter pieces and combine with the flour until butter until the mixture looks grainy)

Once the flour mixture looks grainy, gradually fold in the cold egg/milk mixture; combine with a spatula; form into a ball; cover with plastic wrap and refrigerate for 20 minutes ( See Recipe Notes)

Sprinkle some flour onto a clean surface; place the dough on the counter and roll it out till it's about ¼" thick

Cut dough circles out of the dough that are approximately 7" in diameter; use a saucer or the bottom of a 9" salad plate as a guide--doesn't have to be perfect! (see recipe notes)
Meat Pie Assembly
Spoon ⅓ cup of the cold meat mixture onto the center of dough disc; fold one side of the dough over the meat so the edges of the circle form a half moon; press the edges together using your finger and a little water

Use a fork to "cinch" the dough together; trim with a pizza cutter or sharp knife; repeat process for the remaining meat and dough rounds; set aside

Refrigerate pies for 15-20 minutes
Frying Instructions
Heat a heavy bottomed stock pot with oil; bring to 312-325ºF; if oil begins to smoke, remove pot from burner and reduce heat immediately

4 cups oil (See Recipe Notes)

Use a long handled, slotted spoon and place formed pies into hot oil; work in batches; usually 3 at a time; remove cooked pies and place on paper towel; repeat until all pies are done; each pie takes 2-4 minutes
Baking Instructions
Preheat oven to 400ºF

In a small bowl, make an egg wash. Add one whole egg and a teaspoon of water to the bowl; combine well

1 whole egg, 1 teaspoon water

Use a pastry brush and coat the top of each pie with the egg wash

Place pies on a parchment covered baking sheet

Bake pies for 20-30 minutes, or until the internal temperature reaches 160ºF
Notes
Steps for Making Natchitoches Meat Pies
Cook the beef, pork and onion mixture; refrigerate or allow to cool
Make the pastry dough; cut out 7" rounds (cut out 4" inch rounds if you want a smaller meat pie); refrigerate covered in plastic wrap for about 20 minutes
Assemble the meat pies; refrigerate for 15-20 minutes
Bake or Fry until internal temperature reaches 160ºF
The Pastry Dough
It should be grainy after you've added and combined the cold butter
Put it on a lightly floured surface and gently knead it gently until it begins to stick together. DO NOT OVER WORK THE DOUGH. (If you knead the pastry dough too much, gluten will develop and the pastry won't be "fluffy")
If you make the dough ahead of time; cover and refrigerate it
Use a small salad plate or saucer as a template to form the circles of dough
If you're in a hurry, cook the meat, sausage and onions all together in the same skillet; then drain
After you form the meat pie, it may stick to the counter; just gently slide the back edge of a butcher knife under the pie to loosen it
These can be baked or fried; frying is quicker
Use a heavy duty stock pot for frying
Expect to have about 6 pies and some leftover meat filling
Use the leftover meat to make a faux Shepherd's Pie later in the week!
About the Sage

If your pork already has sage flavoring in it, go easy on adding ground sage; I've found it's best to cook the filling, taste it, then decide if you want more sage and, if you want a spicier filling, add a little more cayenne pepper

Can I Make Natchitoches Meat Pies in Advance?

Yes. You can refrigerate or freeze cooked and uncooked pies in an airtight, sealed container. Refrigerate up to 3 days; freeze up to 3 months. On the day of serving, thaw to room temperature before cooking or reheating.

Baking Instructions:

Place on a parchment-lined or lightly oiled baking sheet; brush on egg wash; bake at 400ºF 20-25 minutes, or until crispy brown on the outside and internal temperature reaches 160ºF.

Oil:

The amount of oil you'll use will depend upon the size of the skillet and the number of pies you're frying. Put just enough oil in a skillet to cover the pie dough.

Frying Instructions:

Use a tall stock pot or Dutch oven and heat oil to 312-325ºF. Once oil is hot, use a long-handled, slotted spoon and slowly lower raw, thawed pies in the oil; work in batches; fry 2-4 minutes each; drain on paper towel

How Many Servings Will This Recipe Make?
This recipe for Natchitoches Meat Pie yields about 6 pies that are 7" wide.
Make these any size you like
I always have leftover meat. This recipe will yield more if you start out with a smaller diameter, but they will be more "bite size" than entree size.
Nutrition Estimate
Serving: 1cupCalories: 2682kcalCarbohydrates: 144gProtein: 50gFat: 213gSaturated Fat: 30gPolyunsaturated Fat: 54gMonounsaturated Fat: 123gTrans Fat: 1gCholesterol: 119mgSodium: 2703mgPotassium: 961mgFiber: 6gSugar: 10gVitamin A: 1834IUVitamin C: 24mgCalcium: 314mgIron: 11mg