Louisiana Shrimp Etoufee is a delicious Southern medley of tender Gulf shrimp, in a medium-bodied blonde roux accented with onion, celery and bell peppers–all served with a bed of white rice!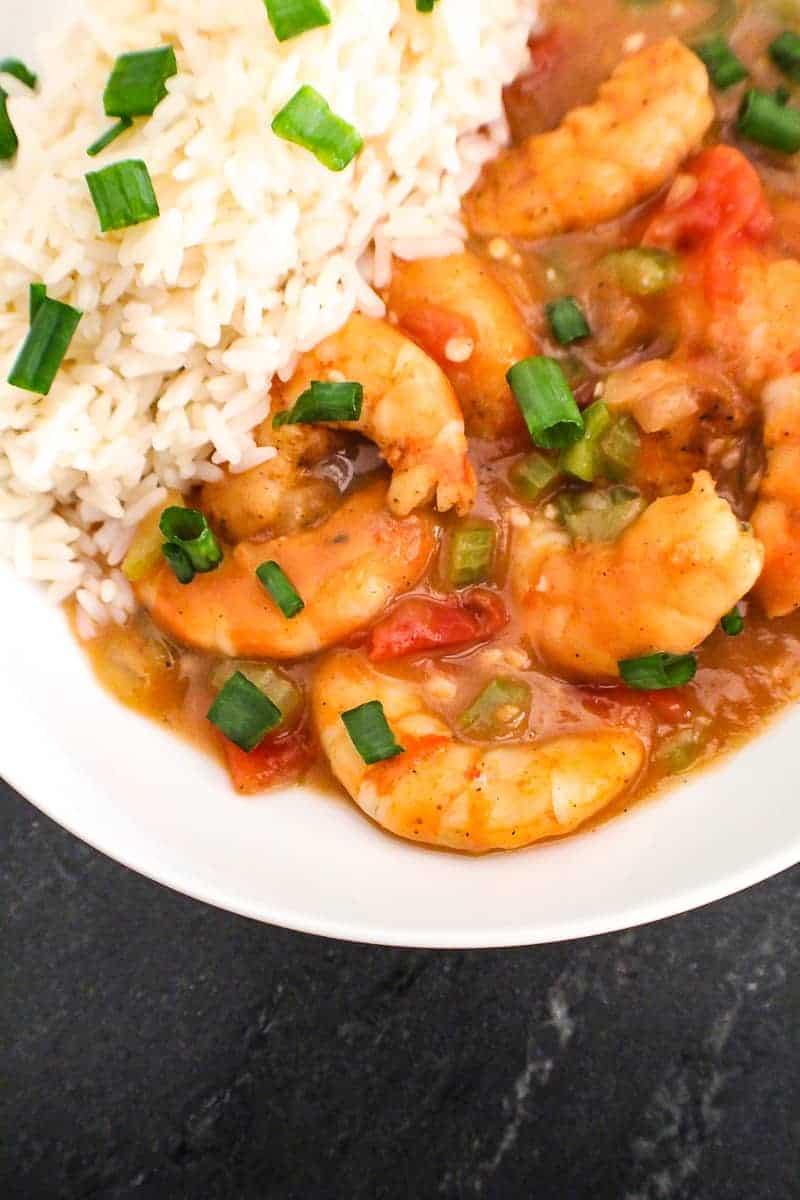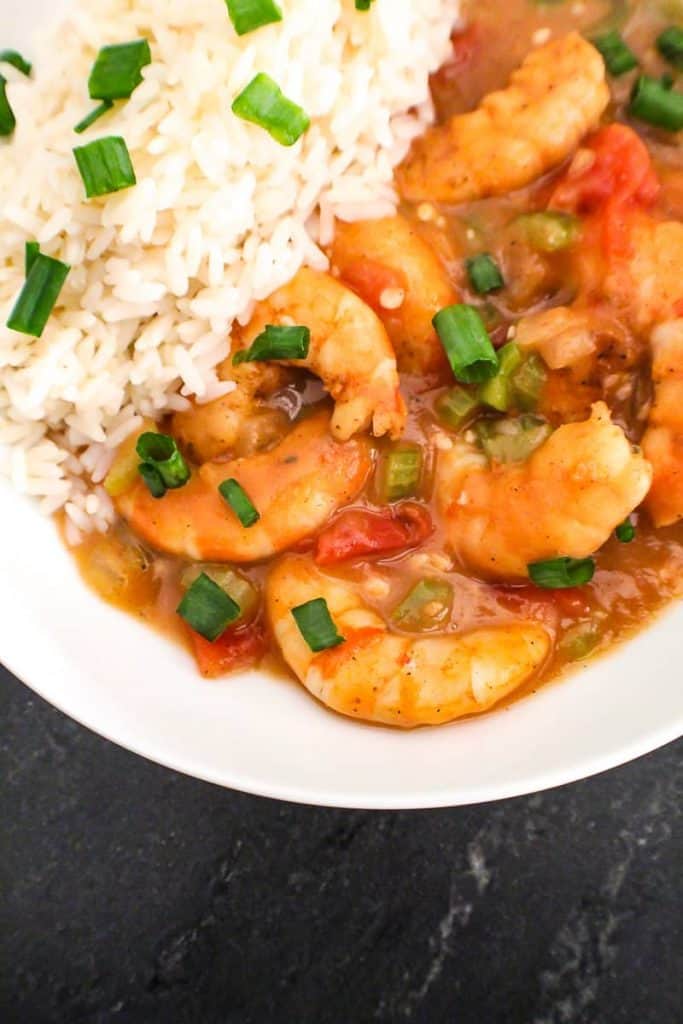 If you go to Louisiana you're gonna find etoufee on the menu at almost every restaurant. The most popular version is crawfish etoufee, but you'll find plenty of other varieties, including shrimp etoufee. This delicious Southern seafood dish is easy, affordable and ready in minutes!
What is Etoufee?
Etoufee, means "smothered" in French, and is a popular Southern dish where seafood or chicken is cooked in a blonde roux and served with rice. It is a quite popular French dish in and around all of Louisiana, including New Orleans, and is second to the famous Louisiana Seafood Gumbo.
What's the Difference Between Gumbo and Etoufee?
Gumbo is a hearty Southern stew based on a dark roux and is served with white rice. The protein in this Louisiana classic might be seafood, chicken or sausage-but true gumbo always includes okra and The Holy Trinity.
Etoufee, on the other hand, is a somewhat lighter Southern favorite because it is cooked with a blonde roux. (Blonde roux's typically do not take as long to make as dark rouxs). Classic etoufee consists of protein (such as crawfish or shrimp) that is "smothered" or simmered in a blonde roux that is seasoned with The Holy Trinity. It is not common to find okra in etoufee.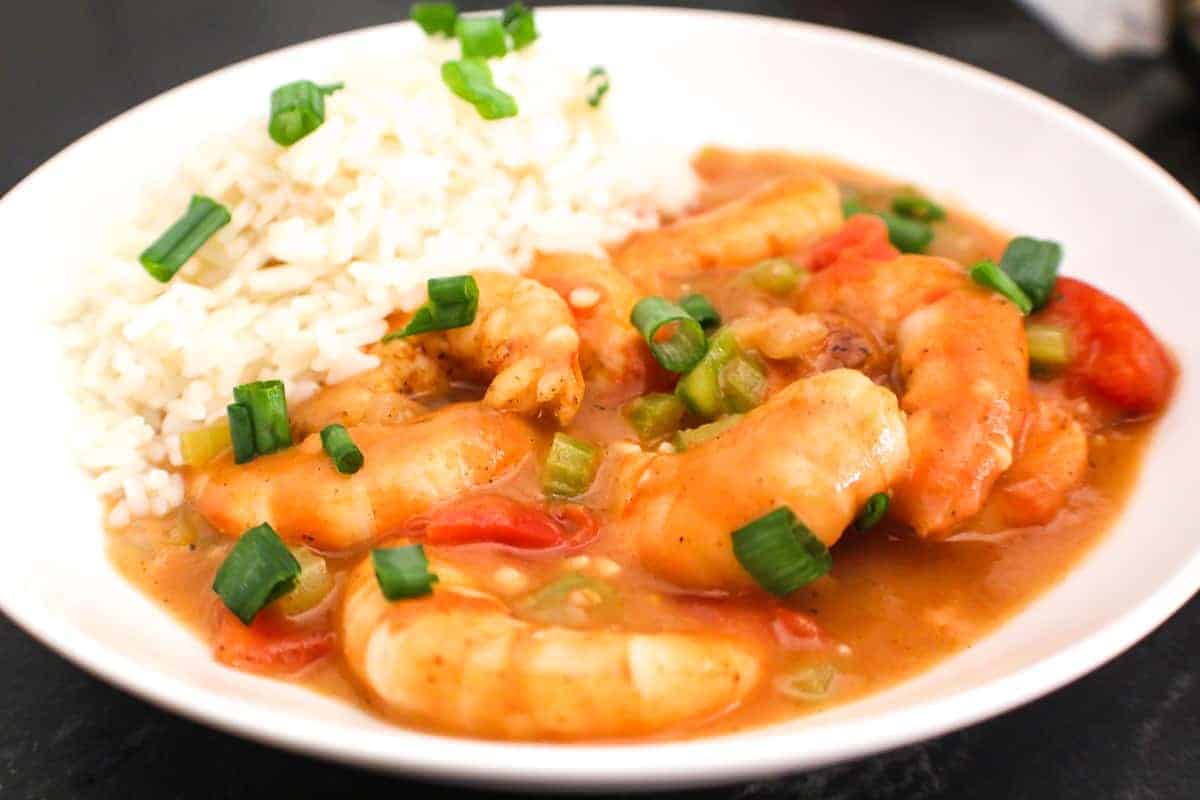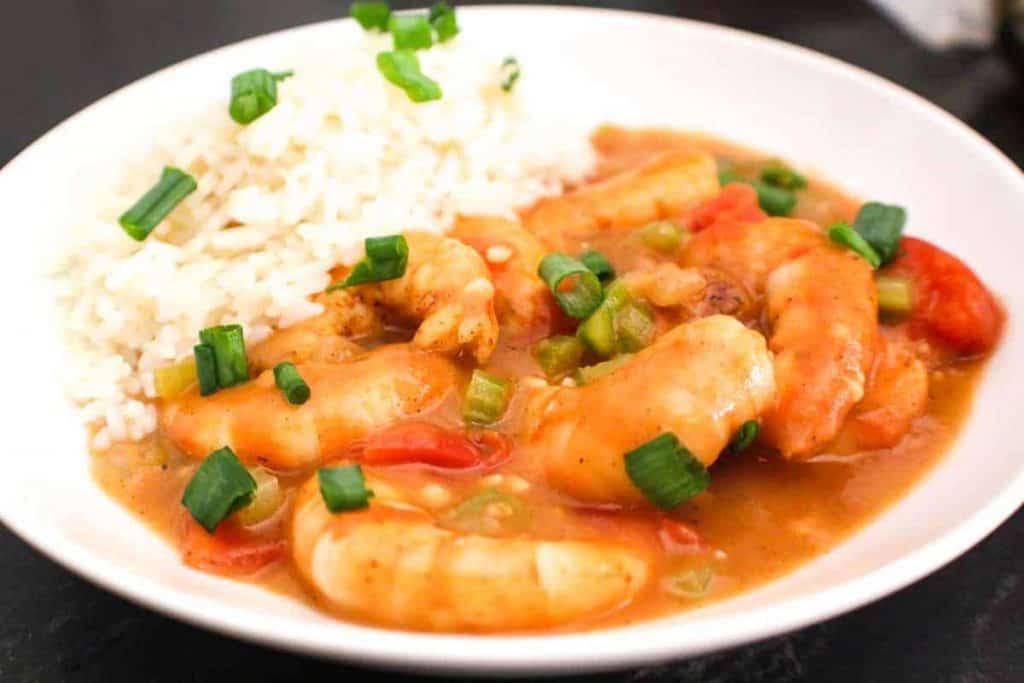 How to Make Shrimp Etoufee
Shrimp or crawfish etoufee is pretty easy to make. For a rich, authentic flavor, you'll want to first make a Shrimp stock, which takes about 45 minutes to cook.
Prepare shrimp stock
Lightly season shrimp; set aside
Make roux
Add celery, onion, bell pepper to roux; cook 10 minutes
Add shrimp stock to roux; combine well
Add seasoned shrimp; allow to simmer 20 minutes
Serve etoufee over prepared white rice; garnish with green onions
Ingredients for Shrimp Stock
Homemade Shrimp stock is the secret to awesome Shrimp Etoufee. You'll need the shells and tails from one pound of shrimp plus: chopped onion, celery, garlic, bay leaves, thyme, peppercorns, lemon and 4 cups of water.
How to Make Shrimp Stock for Etoufee
Combine all ingredients into a large stockpot and bring to boil; turn heat to simmer, cover and allow to cook for 45 minutes
Drain vegetables and aromatics; reserve liquid
What Can I Substitute for Homemade Shrimp Stock?
If you do not have time to make homemade shrimp stock, I recommend a high-quality brand canned seafood stock, like Bar Harbor. Kitchen Basic's (a McCormick brand) makes an okay seafood stock, but I prefer the Bar Harbor brand.
How Long Does Shrimp Etoufee Take to Cook?
The preparation time for Louisiana Shrimp Etoufee varies, depending upon whether you make homemade seafood stock or not. If you choose to make your own stock, allow 45 minutes for the stock to cook. After that, the shrimp etoufee recipe is generally ready within 30 minutes.
Craving More Louisiana food? Try Natchitoches Meat Pie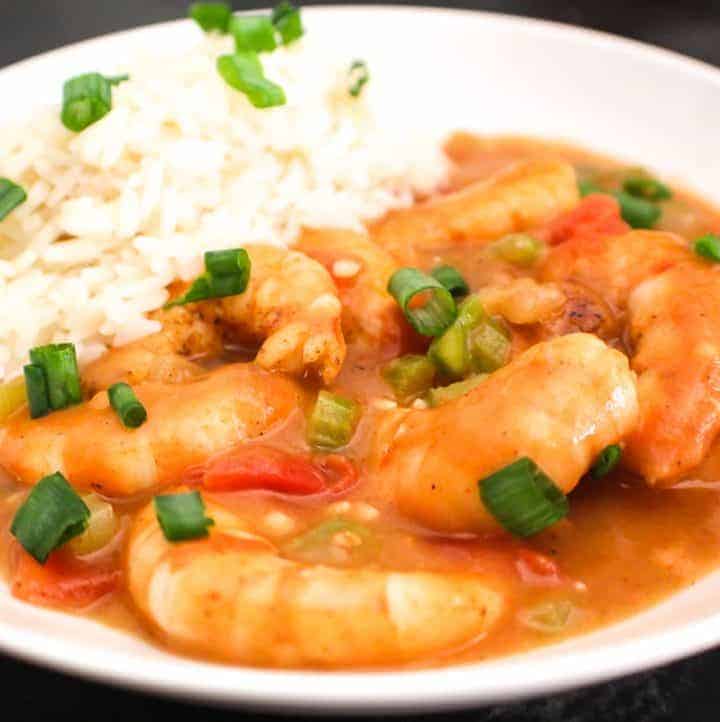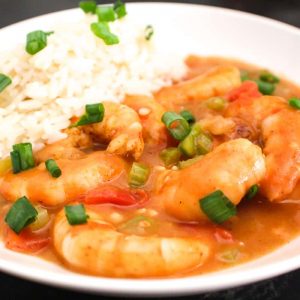 Louisiana Shrimp Etoufee
A delicious Southern medley of tender Gulf shrimp, in a medium-bodied blonde roux accented with onion, celery and bell peppers--all served with a bed of white rice!
Print
Pin
Rate
Cooking time for Shrimp Stock:
45
minutes
Total Time:
1
hour
25
minutes
Ingredients
Shrimp Stock (See Notes: No Time to Make Stock)
1

lb

Gulf shrimp shells and tails

¼

cup

yellow onion

chopped

¼

cup

celery

chopped

¼

cup

green bell pepper

chopped

2

whole

garlic cloves

2

dried

bay leaves

1

teaspoon

dried thyme

1

½ inch

slice of lemon

4

cups

water
Etoufee Ingredients
1

lb

Gulf shrimp

shelled and deveined

4

tablespoons

butter

½

cup

flour

½

cup

celery

chopped

½

cup

yellow onion

chopped

½

cup

green bell pepper

chopped

1½

cups

Shrimp stock

2

tablespoons

Tony Chachere's

Creole Seasoning (divided)

1

14.5 oz. can

stewed tomatoes

chopped

2

tablespoons

Worcestershire sauce

1

teaspoon

Louisiana Hot Sauce

4

cups

prepared white rice

1

bunch

green onions

, for garnish
Instructions
Shrimp Stock Instructions
Add all ingredients in a large stockpot; bring to boil

Reduce heat and allow to simmer 45 minutes

Drain liquid and set aside
Make the Etoufee
Season shelled, raw shrimp with 1 tablespoon of Tony Chachere's Creole Seasoning; set aside

In a heavy bottom skillet, melt butter; sprinkle in flour; combine well

Add chopped onion, celery and green bell peppers to butter/flour mixture; cook 5 minutes

Gradually add in shrimp stock, stirring with whisk to remove any lumps

Add Worcestershire sauce, remaining tablespoon of Tony Chachere's Creole Seasoning, stewed tomatoes and Louisiana hot sauce; combine well (use wooden spoon to break apart tomatoes)

Allow mixture to cook on low for 10 minutes; taste for salt

Add seasoned shrimp to mixture; allow to cook for 10 minutes

Plate rice onto plates or bowls and ladle shrimp and roux over rice; garnish with chopped green onions
Notes
No Time to Make Shrimp Stock?
No problem. You'll need at least 1 1/2 cups of shrimp stock. Use a high-quality seafood stock, such as Bay Harbor brand (it's in a can, not a box). Another option is Kitchen Basics Seafood Stock, which comes in a box.
Did you make this recipe? Be sure to leave a rating!