New Mexico Green Chile Chicken Soup is a flavorful chicken soup featuring roasted Hatch chile peppers blended with savory chicken and white beans in a warm, Southwestern-flavored spiced chicken broth.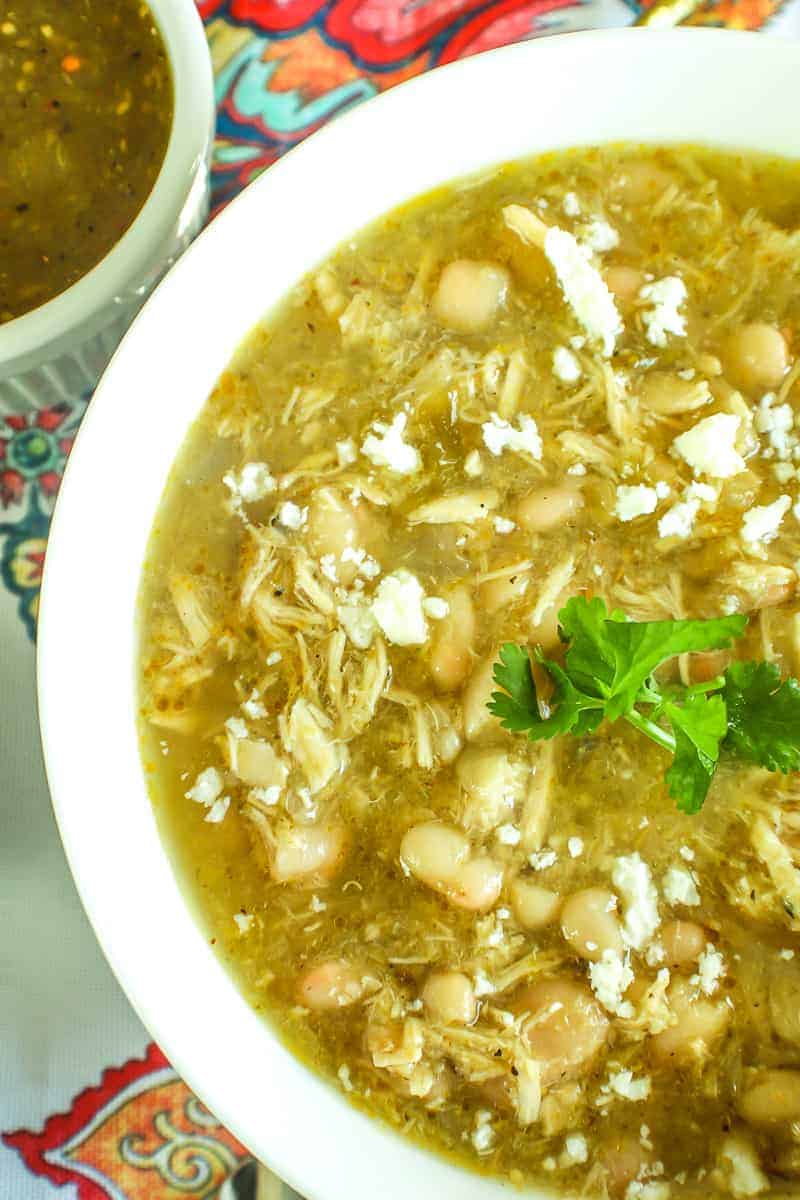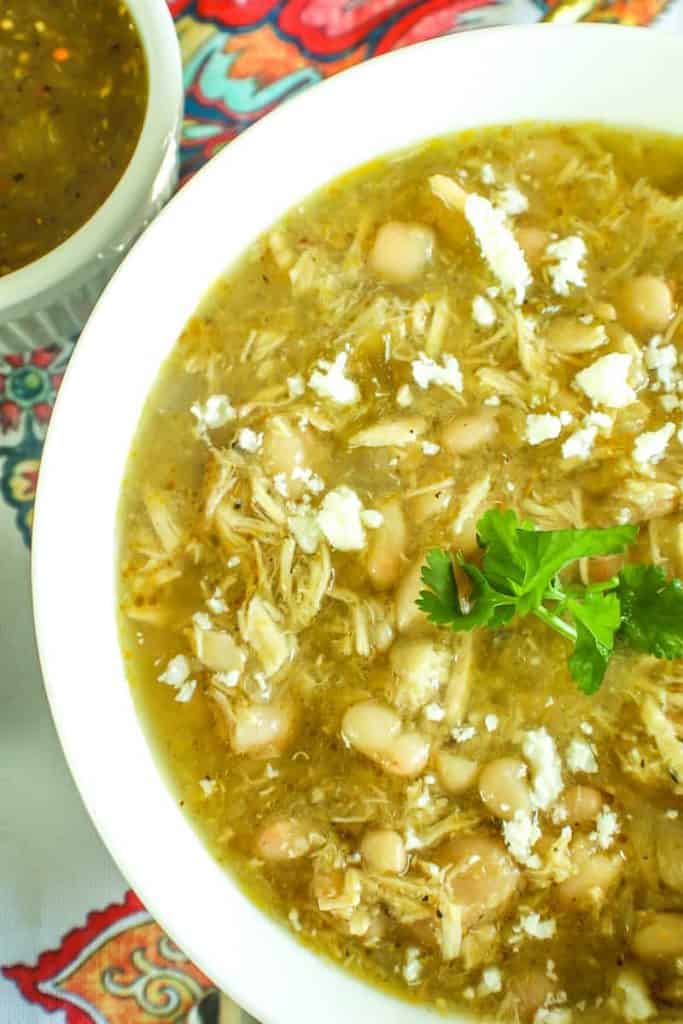 If you've ever been to New Mexico, then you understand the popularity (and almost snobbery) of The Hatch Chile Pepper. You'll find it on every restaurant menu in some form–hatch chile stew (often with pork), hatch chile sauce and hatch chile dips and dressings.
Authentic Hatch peppers are native to New Mexico and grown in the southern-most region called Hatch Valley, which is just north of Las Cruces and way south of Albequerque. The climate and soil there produce delicious green chile peppers that are available in August – October each year. Since the harvest time is so short, it's best to stock up on these peppers and freeze them for recipes throughout the year.
Authentic Hatch peppers are trademarked and certified by The Hatch Chile Association. The ivy-league of peppers got tired of "copycat" peppers claiming to be "Hatch" and sought legal trademark protection. As a result, no manufacturer of "hatch-style" chile peppers can legally include on their label "Hatch chile peppers" as an ingredient.
Even the yellow and green Hatch brand cannot claim its diced and whole green peppers are "Hatch." That's how serious the New Mexican Hatch growers are about their precious peppers, and rightfully so.
What is a Hatch Chile Pepper?
A Hatch pepper is an elongated green pepper that resembles an Anaheim pepper.  Authentic Hatch peppers are relatively mild on the Scoville Index, but ever once in awhile, you might get one that's hotter than the others.
As with any other pepper, roasting really brings out the flavor. This recipe uses jarred roasted Hatch peppers and Roasted Salsa Verde–two smoky ingredients that work magic on your palate!
Green Chile Chicken Ingredients
There are two key ingredients to this roasted chile soup: Roasted Hatch Peppers and Roasted Salsa Verde.
I like the Santa Fe Ole brand of roasted green chiles. You can buy them on-line or at The Fresh Market and Whole Foods Markets in just about every state.
As for the Roasted Salsa Verde (also known as tomatillo sauce), I like the Herdez brand. You can find this salsa brand at most retailers like Walmart and Target; however, some stores may not carry the "roasted salsa verde" which you can order on-line.
The remaining ingredients are: chicken (white or dark), canned white beans (Great White Northern, Cannellini or White Kidney beans), ground cumin, ground coriander, smoky paprika, minced garlic, onion, lime, chicken broth. Garnish with chopped cilantro and Cotija cheese (a white Mexican crumbling cheese) and a slice of avocado.
This recipe uses 2 cans of white beans but if you're not wild about beans, you can eliminate them or, add one can and see if you like the texture.
Substitutions for Roasted Hatch Chiles and Roasted Salsa Verde
If you cannot find either of these key ingredients, substitute the roasted chile peppers with diced green chiles and use the regular salsa verde. The chicken soup flavor will not taste as "roasty" but it will still be delicious!
If you find the roasted chile peppers a bit too spicy for you, add a dollop of sour cream to the soup. Dairy always reduces the heat in spicy dishes.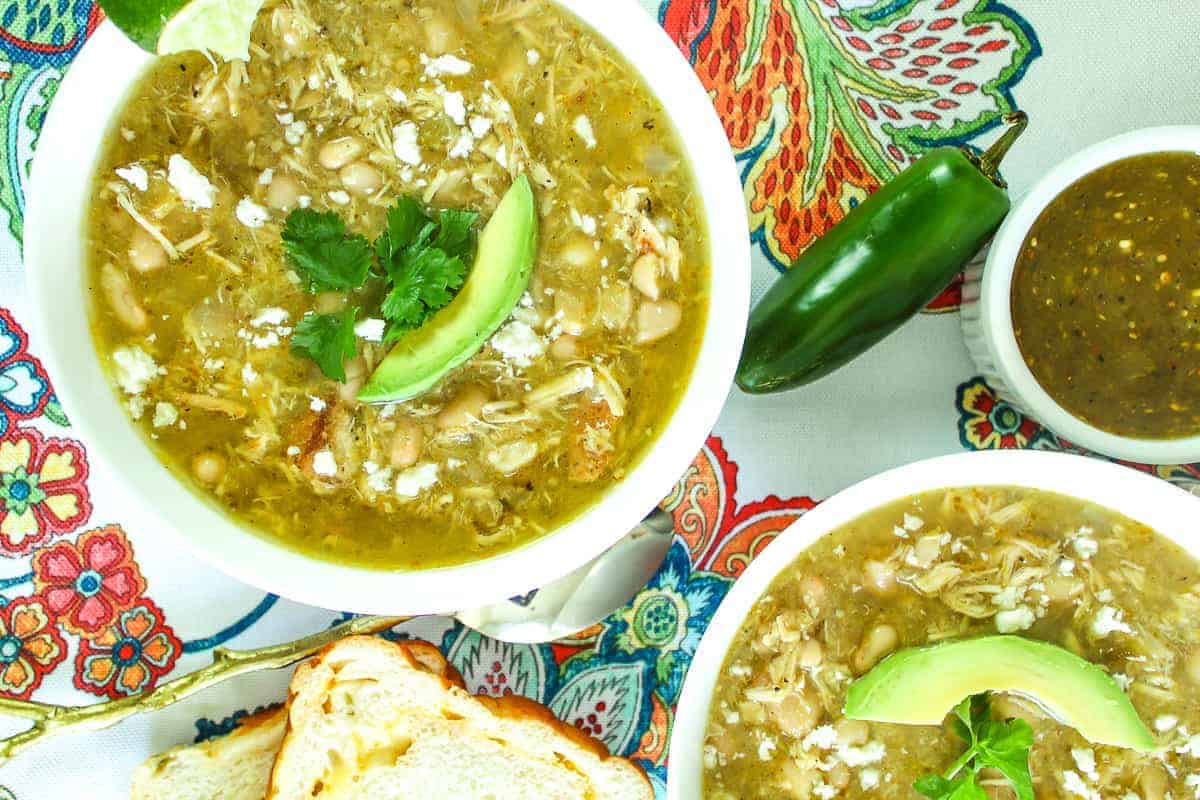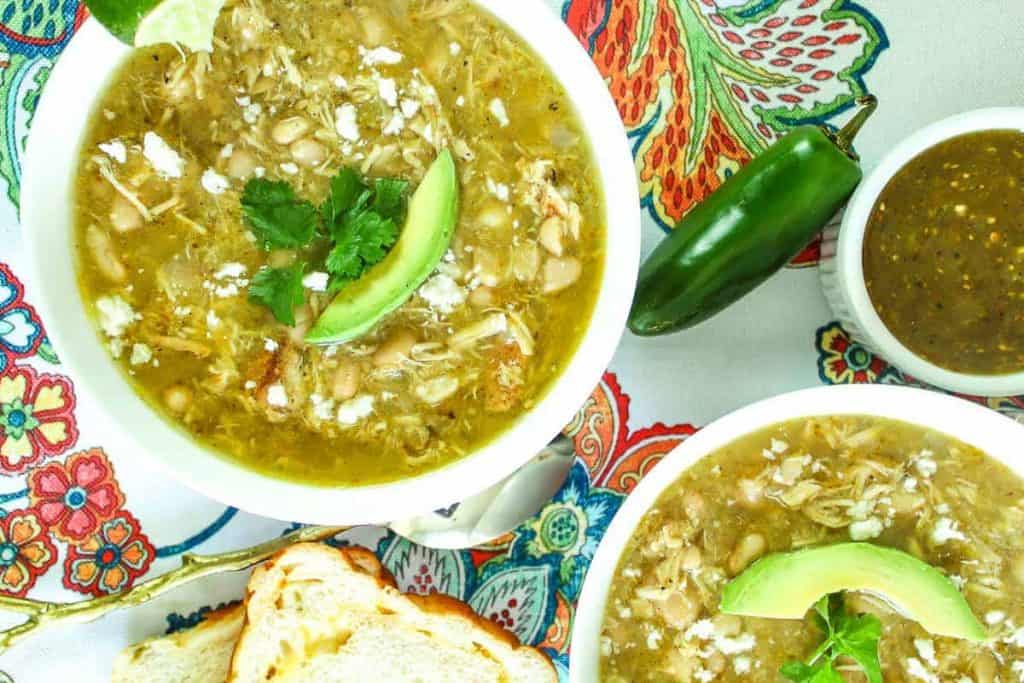 How to Make New Mexico Green Chile Soup
This recipe uses 2 seasoned baked chicken breasts, (you can use a combination of breasts and thighs if you prefer), and yields about 6 cups of soup. Once the chicken is done, the soup itself is ready in 30 minutes.
Lightly season the chicken with; salt, pepper, ground cumin, ground coriander and smoky paprika, then cover and bake at 350ºF until the internal temperature of the chicken in 165ºF. Meanwhile, prepare the soup: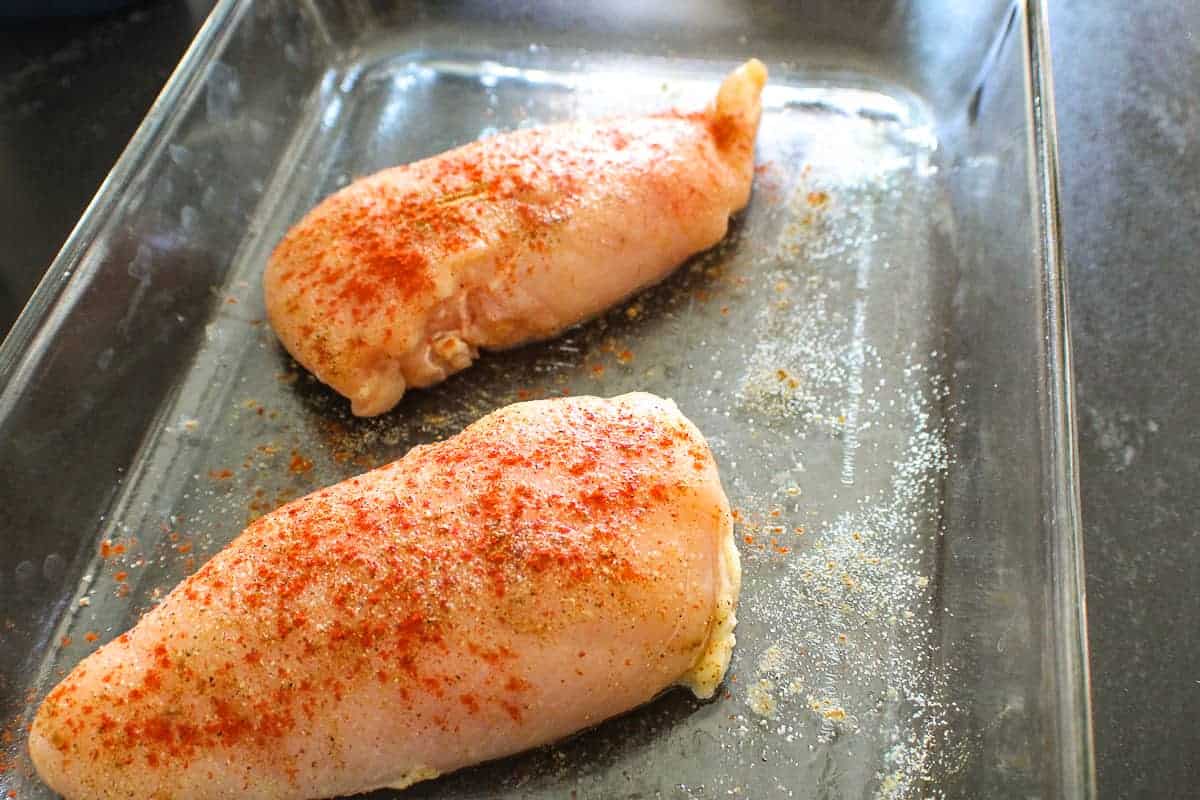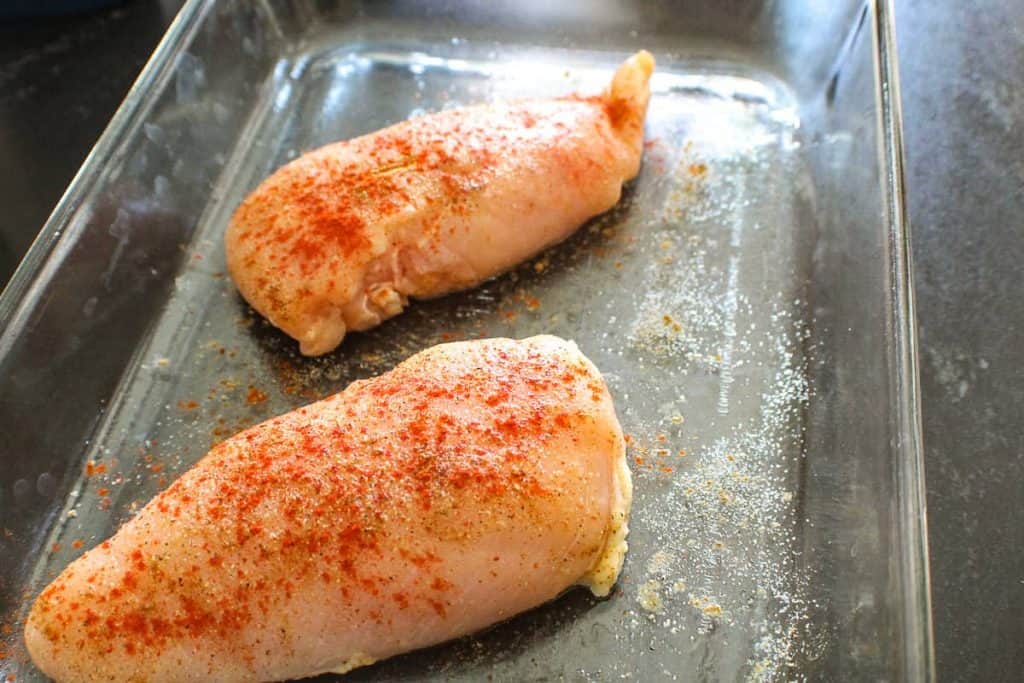 Pulse roasted green chiles and chopped onion in food processor
In a large stockpot, add oil and the onion-roasted pepper puree and cumin seeds; cook on medium high heat until onions are soft (about 5 minutes)
Add garlic, salsa verde and chicken broth; combine well
Add seasonings (ground cumin, coriander, salt, pepper) to liquid
Shred the chicken and add to the liquid; cook 15 minutes
Add white beans with their juice to stockpot
Add bay leaves and turn heat to simmer; allow to simmer for an additional 15 minutes; remove bay leaves, add a squeeze of fresh lime juice to the soup; garnish with cilantro, Cotija cheese and/or avocado/chopped jalapeno/sour cream and serve
Options for Vegetarian Green Chile Soup
This Southwestern chicken soup can easily be formulated for vegans and vegetarians.
Substitute vegetable broth for chicken broth
Instead of chicken, add corn, black beans or a cup of prepared rice to the broth.
I usually serve warm jalapeno bread with New Mexico Green Chile Chicken soup because the soup itself is filling; however, if you want to offer complimentary sides, serve a cup of this with chips and homemade guacamole or a crisp taco salad! For other ideas, check out these Mexican food favorites!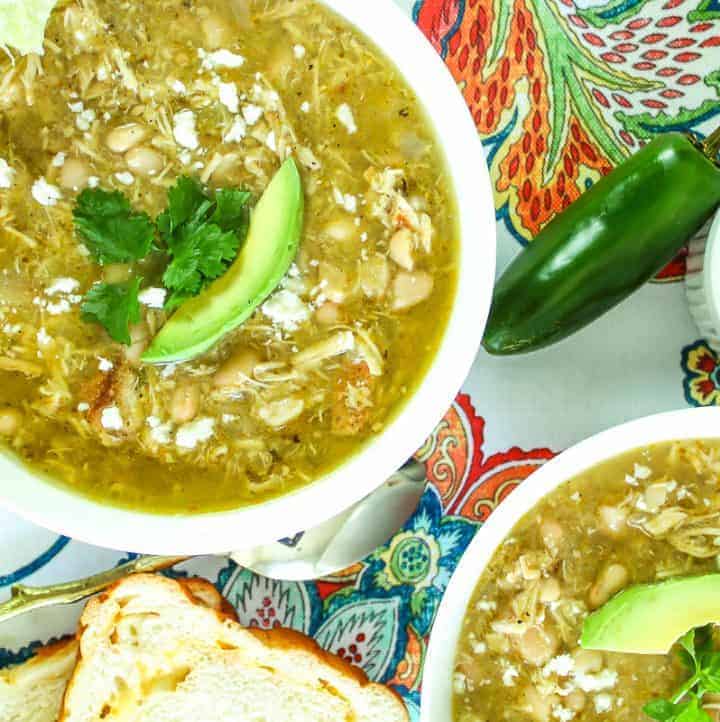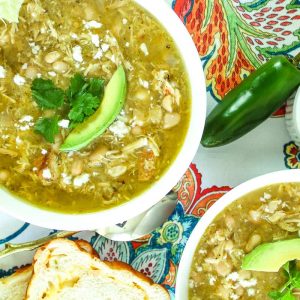 New Mexico Green Chile Chicken Soup
Flavorful chicken soup featuring roasted Hatch chile peppers blended with savory chicken and white beans in a warm, Southwestern-flavored spiced chicken broth.


Print
Pin
Rate
Bake the chicken:
50
minutes
Total Time:
1
hour
30
minutes
Ingredients
Soup Ingredients
2

large

chicken breasts

1

tablespoon

oil

½

cup

chopped sweet yellow onion

4

cups

chicken broth

1½

cups

Roasted Green Chiles

(I like Santa Fe Ole brand of roasted Hatch chiles)

1

cup

Roasted Salsa Verde

(Herdez brand or other)

2

15.8 oz.

canned white beans with juice

(Great White Northern, White Kidney or Cannellini beans)

1

teaspoon

cumin seed

1

teaspoon

ground cumin

1

teaspoon

ground coriander

1

teaspoon

minced garlic

juice from one small lime

salt and pepper to taste

garnish

Cotija cheese, cilantro, avocado, sour cream

(optional)
Seasoning Blend for Chicken
1

tablespoon of each:

ground cumin, ground coriander, smoky paprika, salt

Divide seasoning blend

(½ tablespoon per breast)

Sprinke ½ tablespoon of seasoning over both sides of breast

(¼ tablespoon per each side of breast)
Instructions
Prepare the Chicken
Lightly oil baking dish; preheat oven to 350ºF

Combine seasoning blend for the chicken in a small bowl and sprinkle over chicken breasts

Place chicken in a lightly oiled baking dish; cover with foil and bake until chicken reaches an internal temperature of 165º F (this usually takes about 45 minutes--depending upon your oven)

Once chicken is done; shred and set aside
Prepare the Soup Broth
Add chopped onions and roasted Hatch peppers to food processor; pulse and set aside

Heat stockpot with oil; add onions, hatch peppers, cumin seed and cook on medium high heat for about 5 minutes

Reduce heat to medium and add garlic, ground cumin, ground coriander, chicken broth and salsa verde; cook for 5 minutes

Add shredded chicken and bay leaves to broth; reduce heat to low and allow to cook for 15 minutes

After 15 minutes, add canned white beans and their juice; cook additional 15 minutes; remove bay leaves; add salt and pepper for taste

Garnish with a squeeze of fresh lime juice, cilantro and Cotija cheese
Notes
Slow Cooker Method:
Place chicken and all ingredients into slow cooker. Make sure there is enough water or broth to cover the chicken completely.
Cook on low 5-6 hours; remove chicken from broth; shred or cut and place back into slow cooker