Hot Cajun Crab Dip nestled on a warm puff pastry! These Louisiana Crab Puffs are outrageously delicious, easy-to-make and make an impressive appetizer that's ready in about 30-minutes!
Use prepared puff pastry dough and top it with the savory no-mayonnaise lump crab meat mixture!
You'll love these two-bite appetizers on game day, during the holidays or on any day!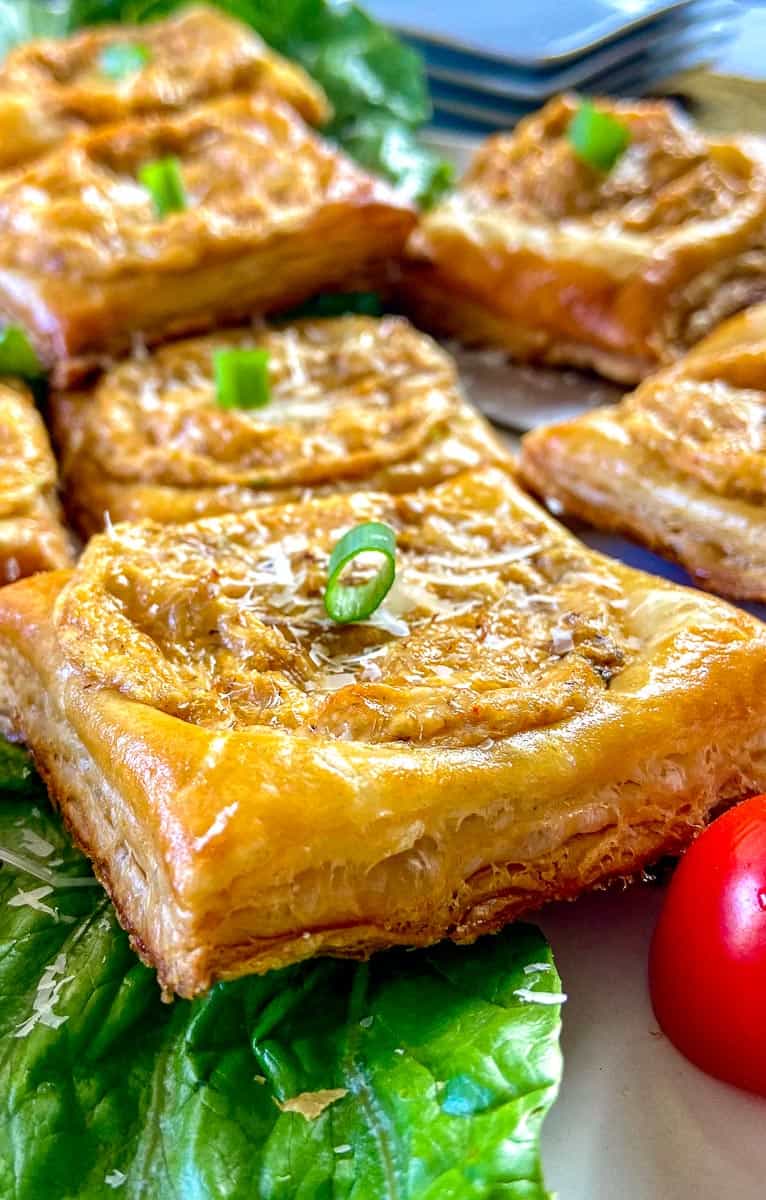 I usually serve these crab puff appetizers around Christmas and New Year's, but you can serve them any time you want!
The topping is a bit like Louisiana Cajun Hot Crab dip, but there's no mayonnaise or sour cream in this recipe...and the warm crust is fluffy and delicious!
Jump to:
Why you'll love these!
Perfect for a special occasions - crab meat is expensive, so if you're entertaining for a special occasion, this is the perfect appetizer because you don't need a lot of crab meat
Easy to make - the prepared puff pastry is a huge time saver; just slice it into squares and top it with the crab mixture then bake
Impressive - these look really elegant when served on a pretty platter with a few garnishes...cherry tomatoes, chives, Parmesan cheese or sprinkle with a pinch of paprika
Great party food - serve a warm baking dish of just the Cajun Crab Dip topping as a spread or dip with some Ritz crackers!
I use fresh blue lump crab meat from Lake Pontchartrain, Louisiana. You can usually find it at the grocery store in the seafood section over by the fresh oysters.
I haven't ever made this with canned or imitation crab meat, so I can't comment on how it would taste.
Next, you'll need : cream cheese, Fontina or Mozzarella cheese, green onions, garlic powder, paprika, cayenne powder, (or Creole or Cajun seasonings), Worcestershire sauce, fresh lemon juice, Louisiana or Crystal hot sauce, an egg, a little flour and a dab of water.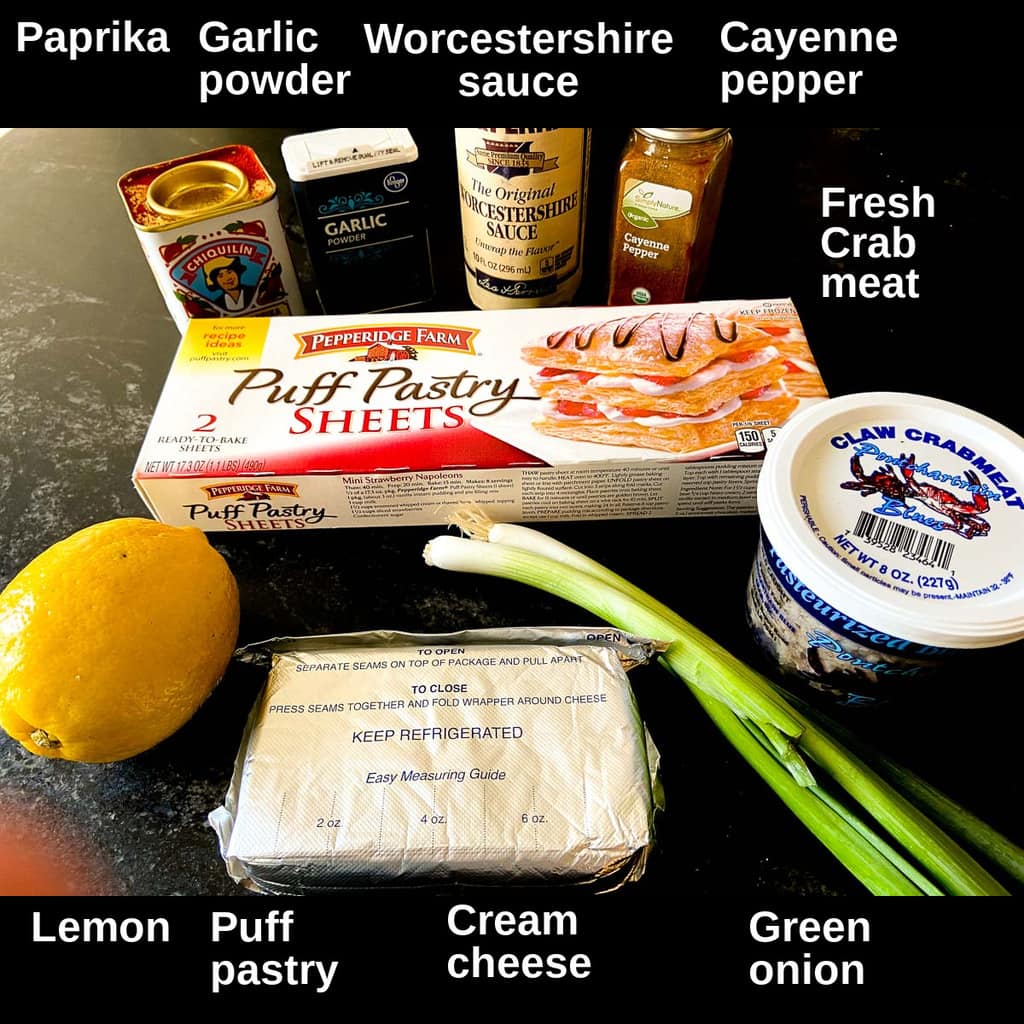 How to make it
Roll out two sheets of pastry dough to 12" x 12" inches; make 3 horizontal cuts and 3 vertical cuts; combine egg and a little water for an egg wash for the pastry; set aside
Each pastry sheet yields 16 squares; cut both sheets - one for the top, one for the bottom; chill squares in a single layer on baking pan in the refrigerator for about 15-minutes
Make the crab puff topping - combine all the ingredients in a food processor and pulse 2-3 times until the crab mixture is well-combined; taste for salt and seasonings- add a dash of ground black pepper if you like, then put a small dollop on each dough square, lightly brush the pastry with an egg wash and bake
Note: if you don't want to fool with the puff pastry, just place the Cajun crab spread in an oven safe baking dish and bake uncovered at 350°F until warm and bubbly!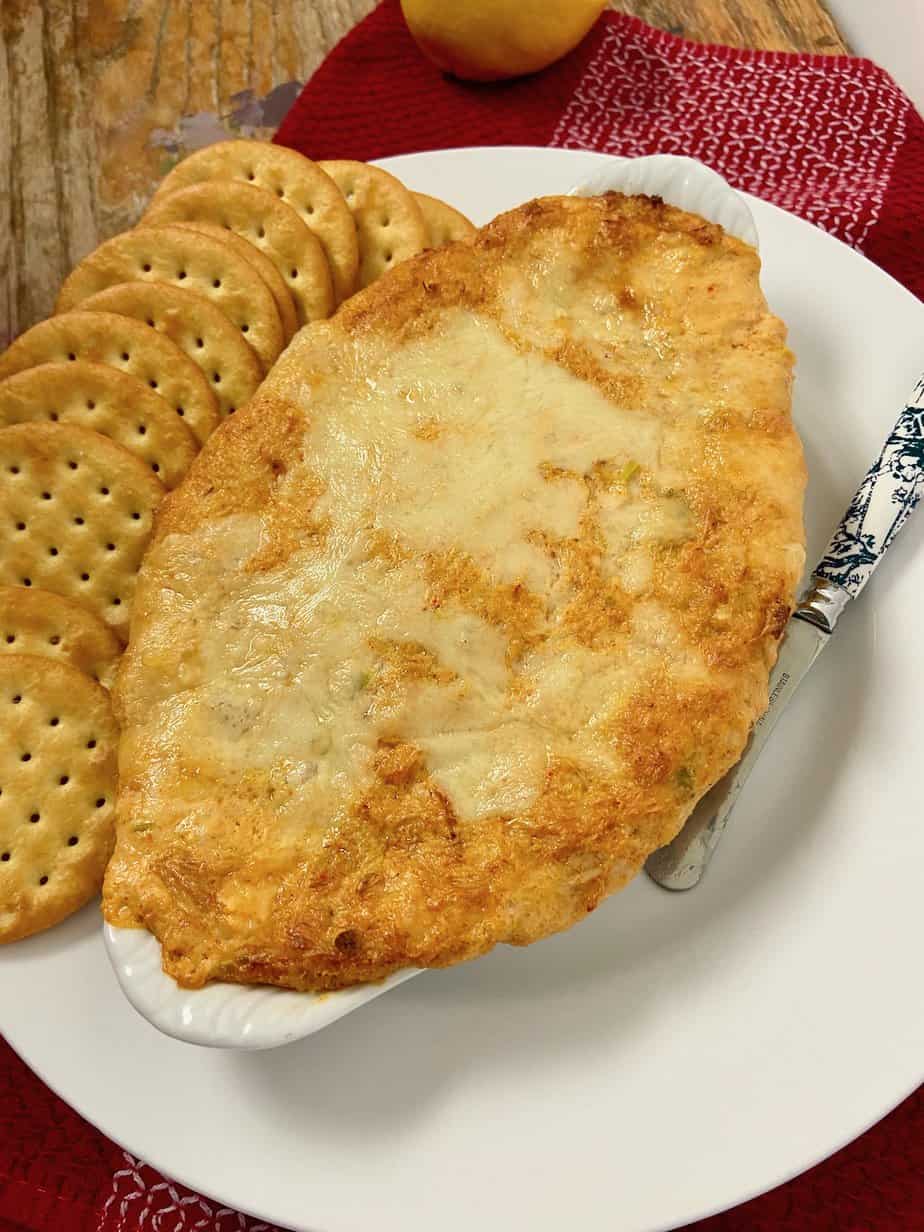 Here's how to make the crab puffs: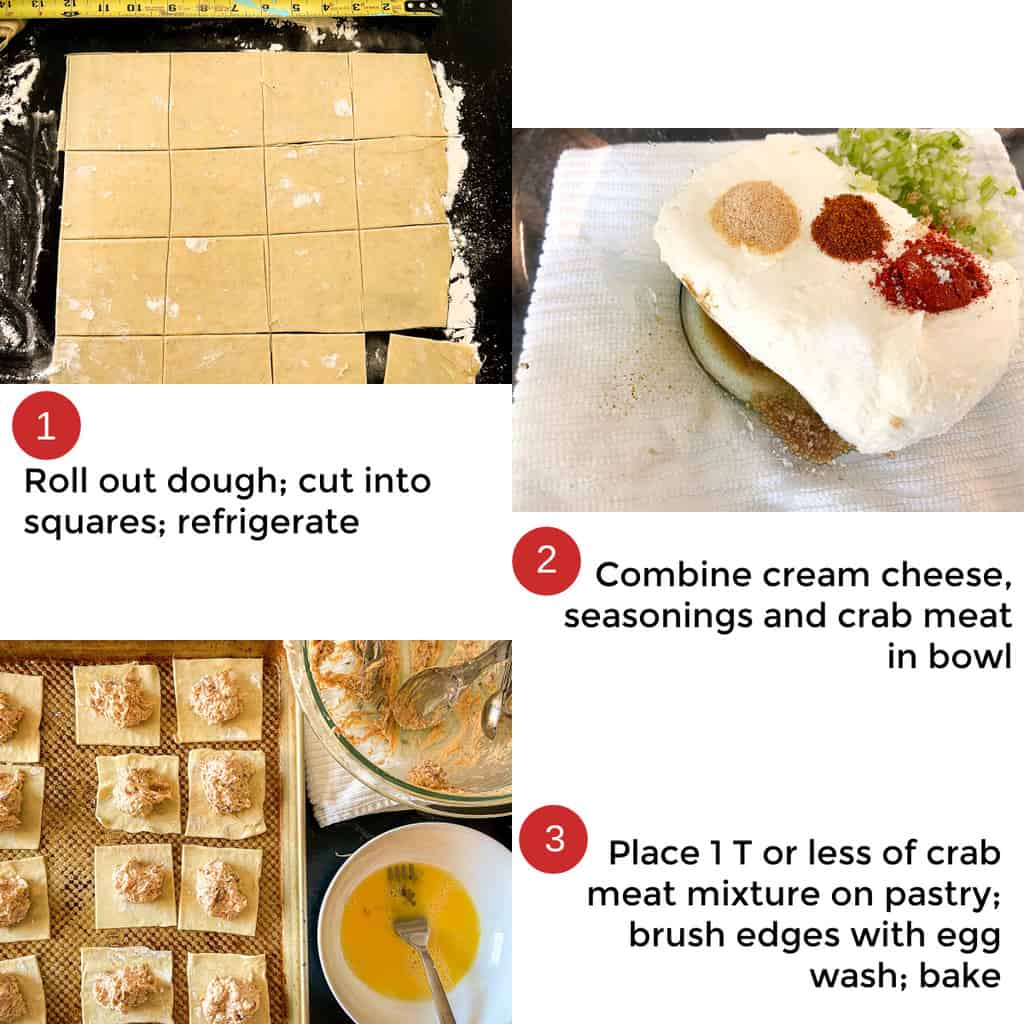 Tips
This recipe makes 16 Louisiana Cajun crab dip puffs- each has about a tablespoon of the mixture; you might have a little leftover
I used 1 tablespoon per 3" x 3" pastry square. Some of the topping ran over the edges of the dough as it baked.
If this bothers you, use a little less than 1 tablespoon per square.
Puff pastry "puffs" best when it's slightly chilled and placed in a hot oven, so make sure the pastry dough is chilled and the oven is hot!
About the seasonings: if you don't have garlic powder, paprika or cayenne, substitute these three seasonings with 1 ½ teaspoons of Cajun seasoning, Creole seasoning or Old Bay seasoning. (I used Tony Chachere Cajun and Creole seasonings; Creole is hotter than Cajun, so if you don't want a spicy cajun crab dip on your pastry, use the Cajun or Old Bay seasoning.)
Don't skip the step about refrigerating the pastry squares; cold pastry puffs up better than room temperature Once you remove the Louisiana Crab Puffs from the oven, immediately remove them from the baking pan with a spatula...just set them on a plate to cool off a bit before you plate and garnish them
Serve these warm or at room temperature - again, there's no mayonnaise or sour cream, so they will hold up well
I don't use a lot of salt in my recipes, so...if you find this needs a little salt, you can either sprinkle a little Kosher salt, Parmesan and add a few drops of lemon juice to the finished crab puff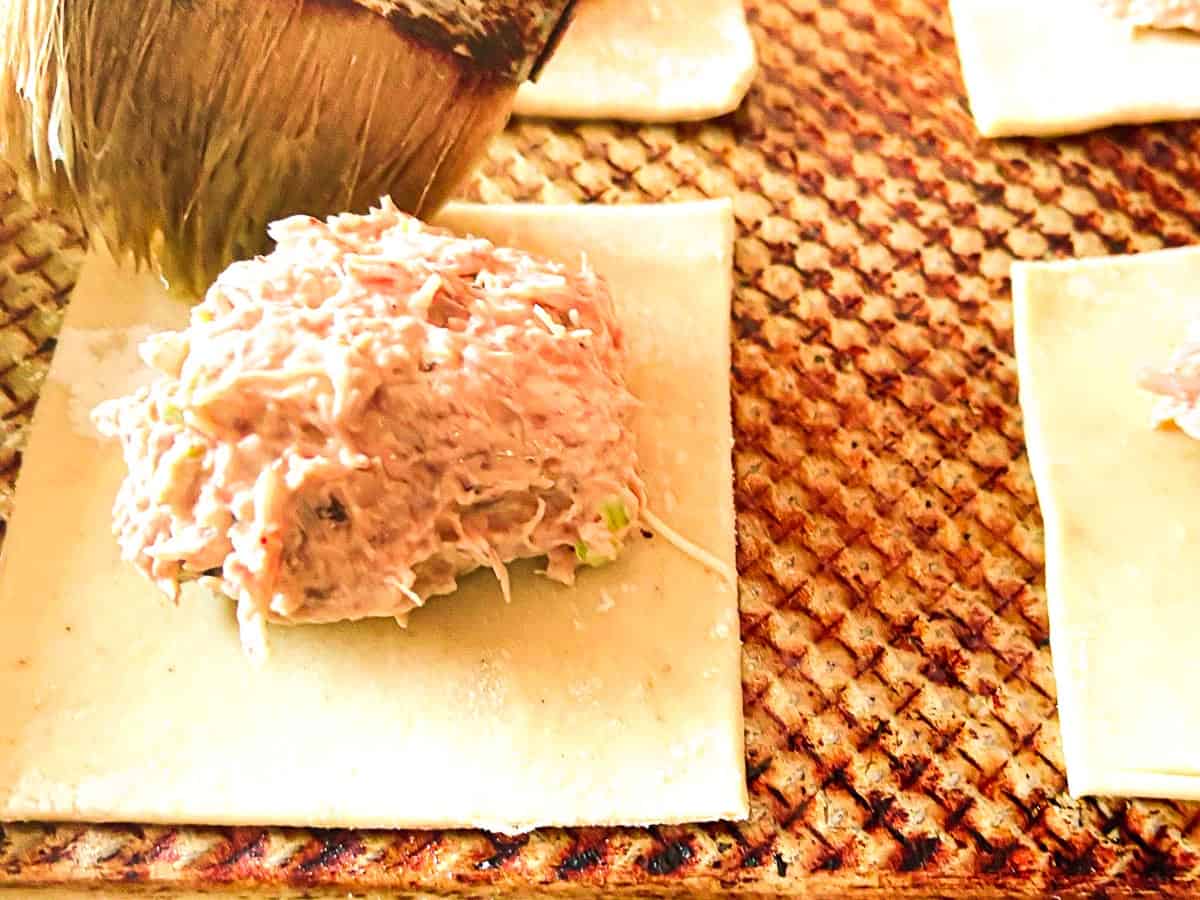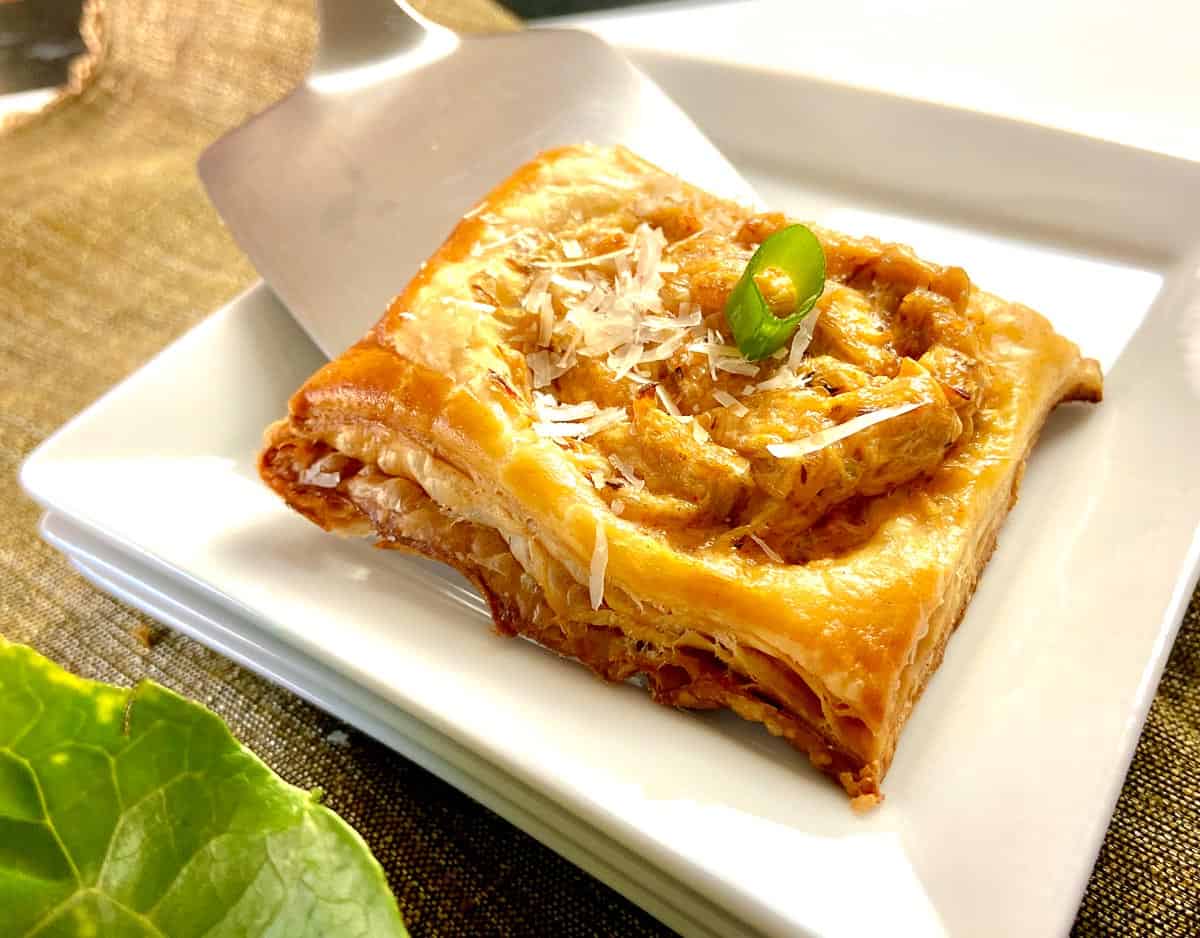 Make ahead
If you're short on time, make the no-mayo hot cajun crab meat mixture up to 3 days in advance. When ready to serve, warm the crab dip in the microwave, then simply assemble the puff pastry and bake!
Serving suggestions and reheating
If you're hosting a party, you might want to go ahead and double the hot Cajun crab dip ingredients and use two pastry sheets. Serve with your favorite crackers, pita chips, Naan bread or warm french bread!
I usually include a dip spreader if I don't serve this on the puff pastry, simply because it's a thick dip
Garnish with green spring onions or fresh parsley, a hint of Louisiana hot sauce and you're good to go!
These reheat best when popped in the microwave for just a few minutes...like 2-3 minutes...any longer and the dough gets rubbery...
Related recipes
If you make this recipe, please scroll down and leave a comment and rating! I love hearing from you! Thank you!
📋 Recipe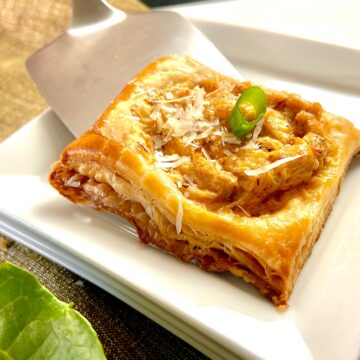 Hot Cajun Crab Puffs
Seasoned blue crab meat served on a warm puff pastry-the perfect appetizer!
Print
Rate
Ingredients
1

puff pastry

, 1 sheet; they usually come 2 to a box

8

ounces

crab meat

, fresh; drained

8

ounces

cream cheese

, room temperature

4

ounces

shredded Fontina cheese

2

tablespoons

green onions

, minced very fine

½

teaspoon

garlic powder

½

teaspoon

paprika

, smoked

½

teaspoon

cayenne pepper

½

teaspoon

salt

, kosher

2

teaspoons

Worcestershire sauce

1

tablespoon

lemon juice

2-3

drops

Louisiana Hot Pepper Sauce

(optional)

1

whole

egg

, for egg wash

3

tablespoons

flour

, for rolling out puff pastry dough

1

tablespoon

water

, for egg wash
Instructions
Prep
Allow puff pastry to soften at room temperature for about 15 minutes

Drain crab meat in colander; set aside (do not rinse it)

Chop green onions very finely; set aside

2 tablespoons green onions

In a small bowl, lightly beat egg and add water; this is the egg wash; combine well; set aside

1 whole egg,

1 tablespoon water
Prepare Puff Pastry
Scatter flour on level surface (countertop) and unfold pastry sheets

Unfold each pastry sheet and, use a rolling pin to roll the pastry dough to about 12" x 12" inches

Use a sharp knife or pizza cutter; make three horizontal cuts every 3 inches; then, make three vertical cuts every 3 inches (you're cutting 3" x 3" squares of dough)

Place dough squares on ungreased, clean baking sheet and refrigerate for about 15 minutes while you're making the crab meat topping
Prepare Crab Meat Topping
In a large mixing bowl, combine drained crab meat, room temperature cream cheese, shredded Fontina cheese, green onion, garlic powder, paprika, salt, Worcestershire sauce, lemon juice and cayenne (optional) and Louisiana hot sauce (optional) See Recipe Notes

8 ounces cream cheese,

2 tablespoons green onions,

½ teaspoon garlic powder,

½ teaspoon paprika,

½ teaspoon cayenne pepper,

½ teaspoon salt,

2 teaspoons Worcestershire sauce,

1 tablespoon lemon juice,

2-3 drops Louisiana Hot Pepper Sauce,

4 ounces shredded Fontina cheese

Remove pastry squares from refrigerator and place on prepared baking pan

Top each square with about 1 tablespoon of crab meat mixture (See Recipe Notes)

Place another pastry square on top of the filling; brush a little of the egg wash around the edges of the pastry the press the top to the bottom to seal

1 whole egg,

1 tablespoon water

Place baking sheet on middle rack in oven; lightly coat with egg wash; bake for 15-20 minutes, or until dough is golden brown

Remove and plate; garnish with shredded parmesan and chives
Notes
Draining the fresh lump crab meat
Use a fine-meshed strainer and use the back of a spoon to push juice out
Topping
1 tablespoon of the topping is plenty; however on some of mine, the topping melted over the pastry
If you want "pretty" pastries, use a little less than 1 tablespoon per 3 x 3 square and try to shape the topping into a ball...that way, it won't spread as much
Puff Pastry
Puff pastry "puffs" best when it's slightly chilled and the oven is HOT. Be sure to refrigerate the pastry squares before you top them so they'll be cool when they go into the oven
Cheese:
If you don't have Fontina cheese, substitute with shredded Mozzarella cheese.
If you want to serve this as a dip, don't put it on puff pastry; put in in an oven-safe baking dish and bake at 350°F, uncovered, for 15-20 minutes; allow to rest before serving; serve as a hot dip or use a spreader knife.
Nutrition Estimate
Serving:
1
cup
Calories:
152
kcal
Carbohydrates:
9
g
Protein:
5
g
Fat:
11
g
Saturated Fat:
4
g
Polyunsaturated Fat:
1
g
Monounsaturated Fat:
5
g
Cholesterol:
22
mg
Sodium:
286
mg
Potassium:
72
mg
Fiber:
1
g
Sugar:
1
g
Vitamin A:
259
IU
Vitamin C:
2
mg
Calcium:
24
mg
Iron:
1
mg