Classic crispy Eggplant Parmesan is a delicious way to satisfy your craving for Italian food without all the carbs from pasta!
Lightly breaded and fried, then topped with marinara or pasta sauce, fresh Mozzarella and Parmesan cheese!
This recipe works well with a rich homemade pasta sauce or you can use your favorite jarred sauce to speed things up!
For the most authentic flavor, use fresh Mozzarella and Parmesan cheese, not the shredded packaged version.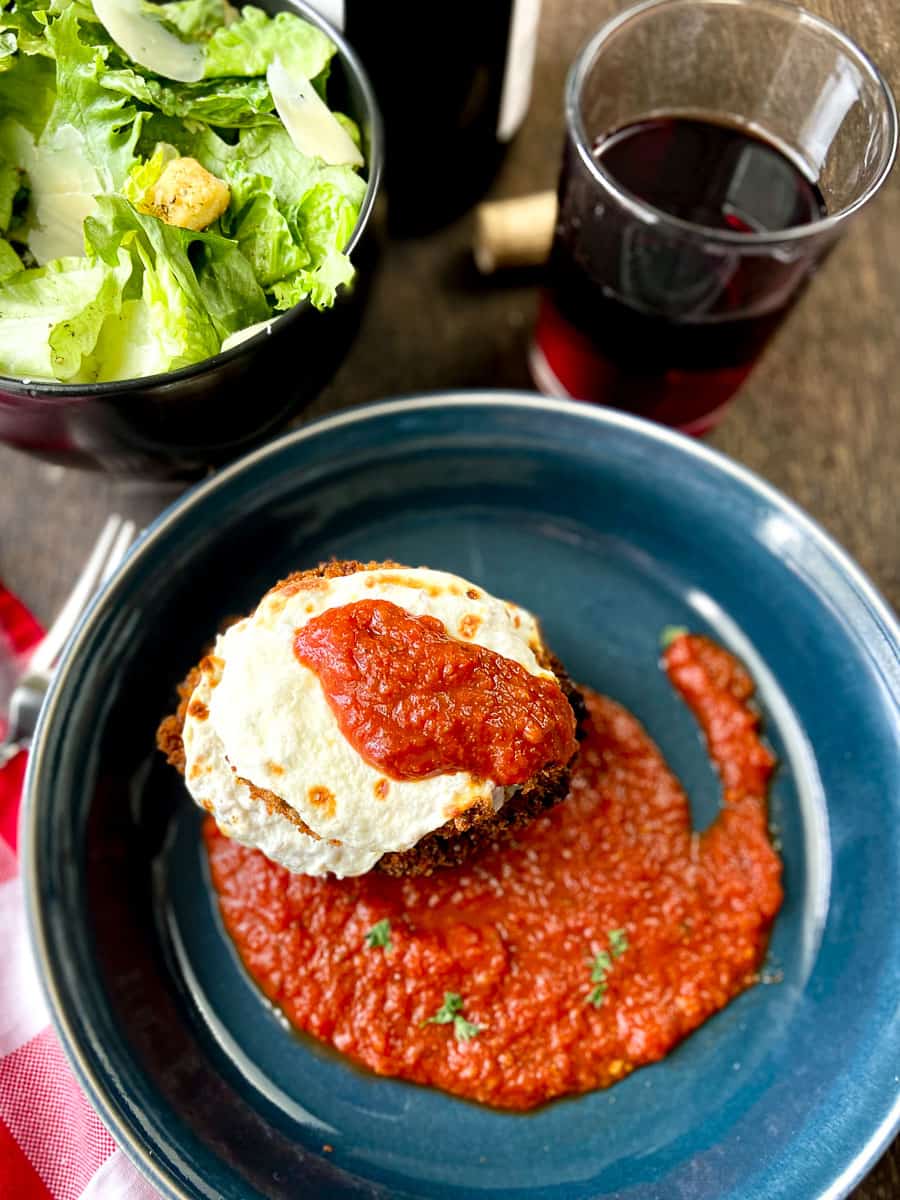 Why this recipe works:
It stays crispy- the rounds are fried, then topped with cheese and baked in the oven
Use homemade or jarred pasta or marinara sauce
Easy to reheat-if you're lucky enough to have leftovers, just top them with cheese and put in the oven until it is warmed throughly and the cheese melts
Here's what you'll need: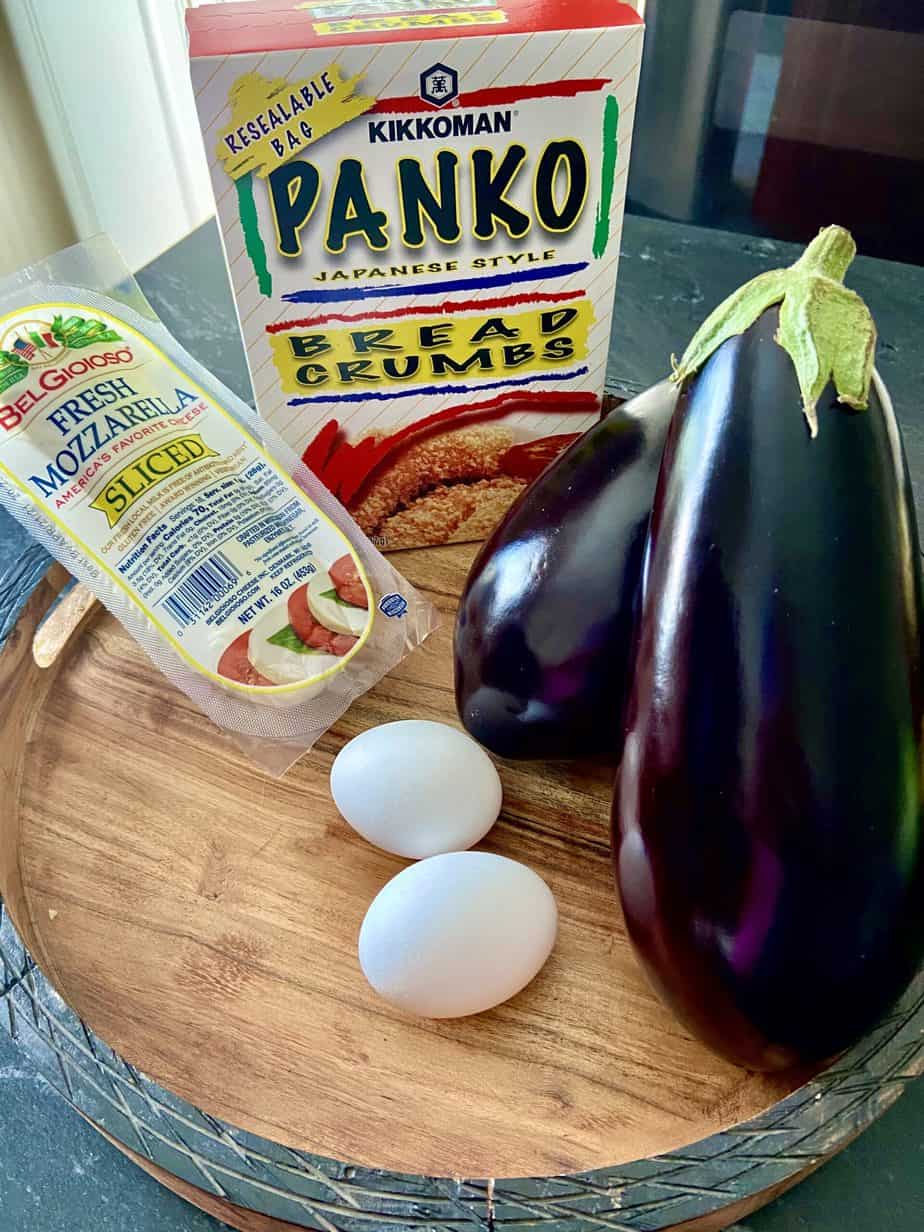 Ingredients for this classic Italian favorite include: eggplant, egg, bread crumbs, Italian seasonings, Parmesan and fresh Mozzarella cheese.
How to make it
The process looks lengthy, but it's really not. If you're making homemade sauce, get it started first. If using jarred pasta sauce, put it in a saucepan on simmer. Then, remove the skin from the eggplant.
How to remove the eggplant skin
Cut off the ends then stand it on one end and slide a sharp knife down the sides to remove the purple skin.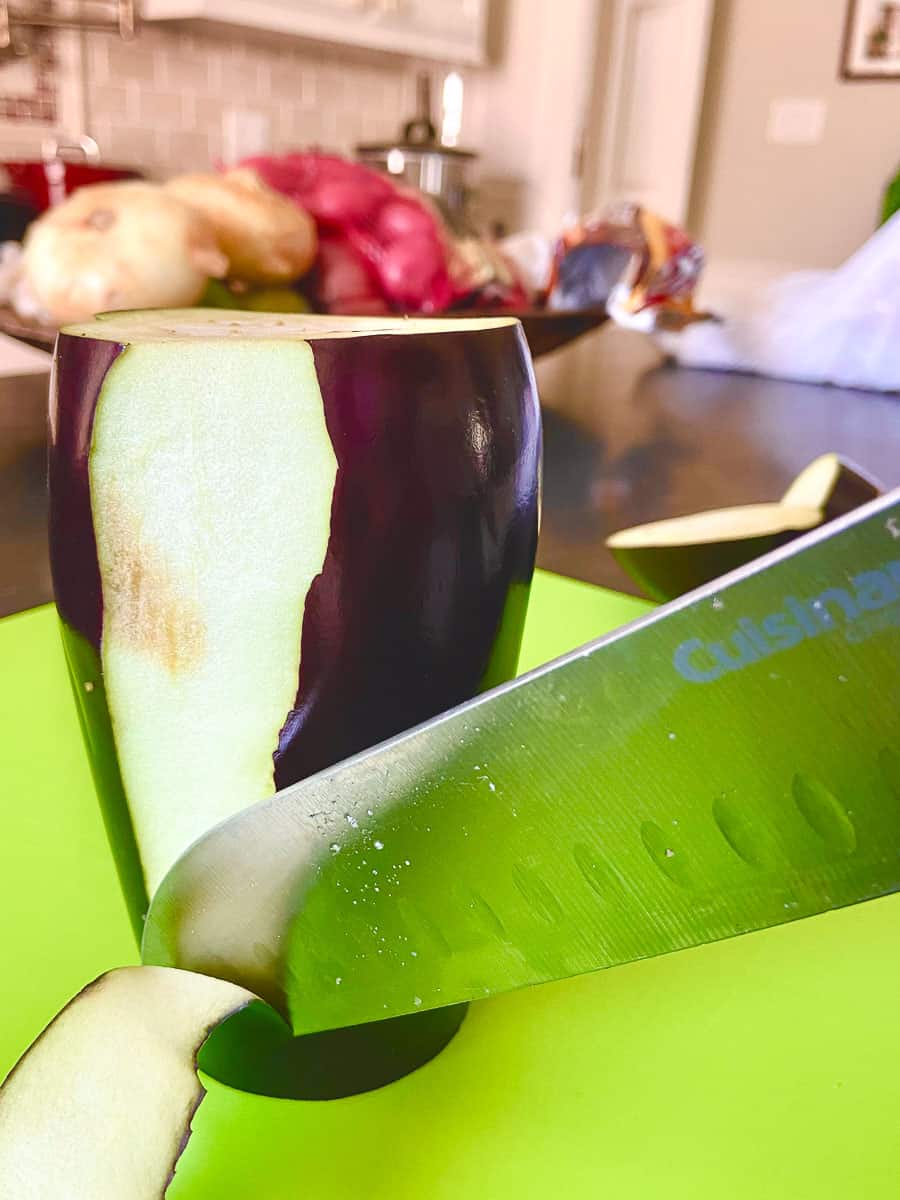 Cut into ¼-½"inch rounds, place on paper towel and salt generously
Allow to sit for at least 15-30 minutes minutes (the longer it sits in salt, more moisture is drawn out and the eggplant is firm.) After it's sat for a while, wipe away excess salt and moisture and resume instructions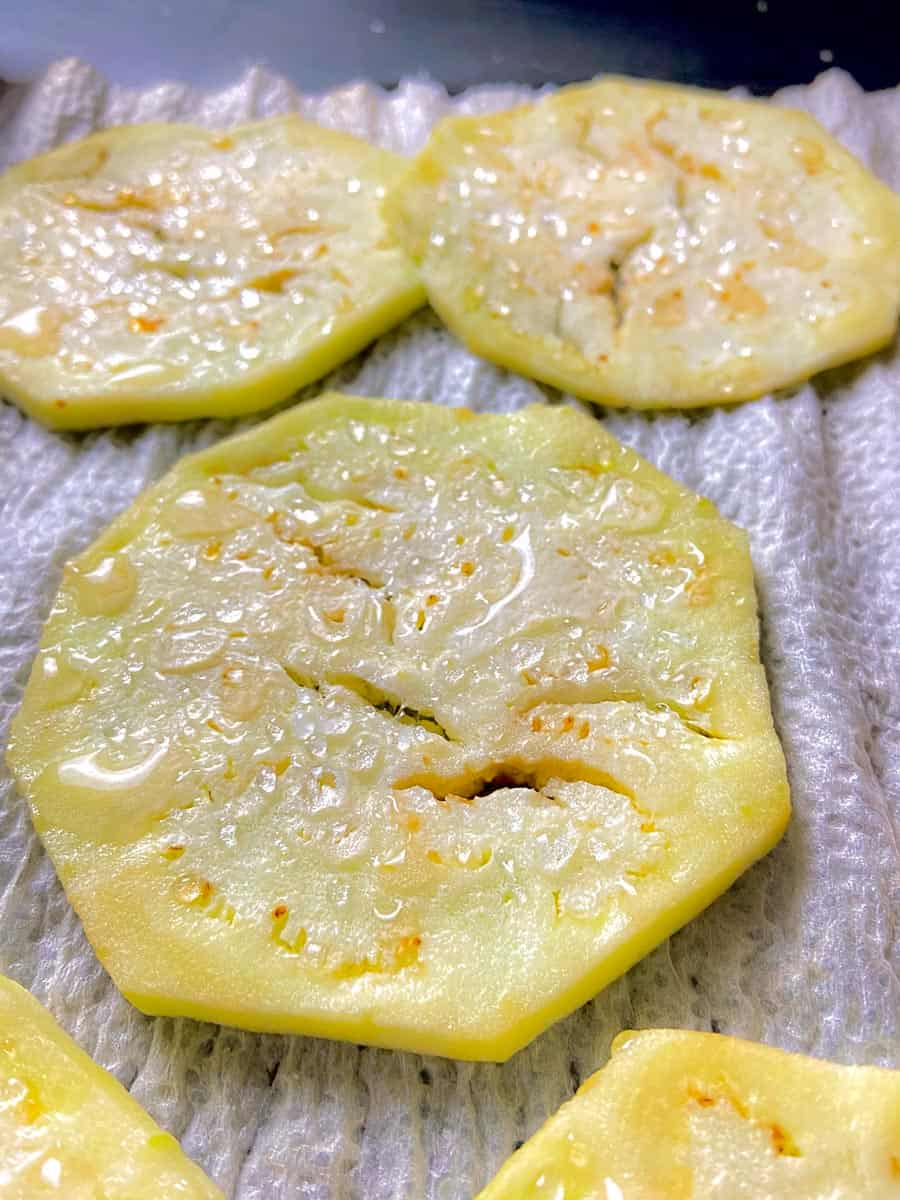 Set up a dredging station: 1 flat bowl with lightly beaten eggs and a second flat bowl with seasoned breadcrumbs (I use pie plates)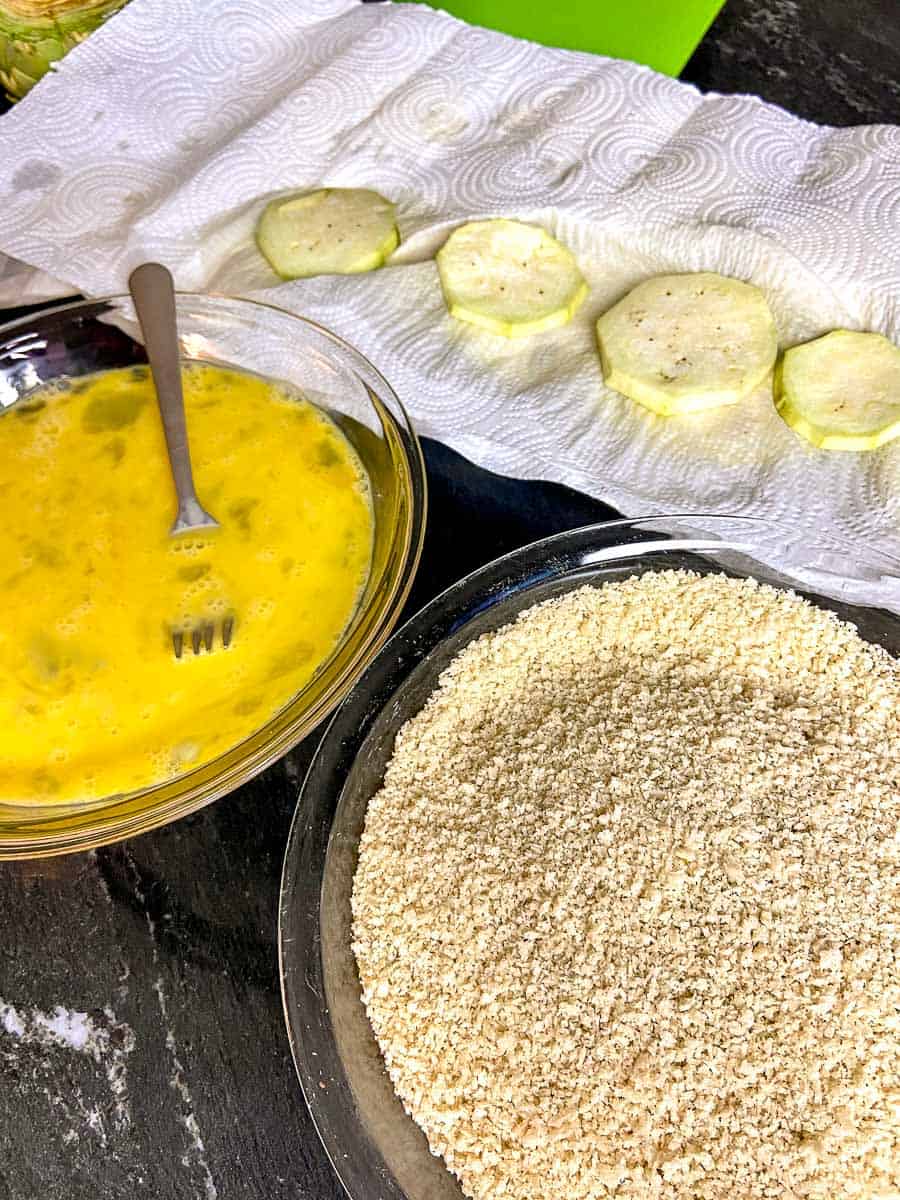 Dredge each eggplant slice in the egg first, then in the seasoned bread crumbs.
Once all rounds are coated, place a single layer in a large skillet with hot oil.
Cook on the stovetop 3-5 minutes on each side or until golden brown. Place on paper towel to drain.
Place cooked crispy eggplant parmesan rounds in lightly oiled baking dish; top with fresh Mozzarella
Place under broiler until cheese melts then serve with warm pasta sauce; garnish with shredded Parmesan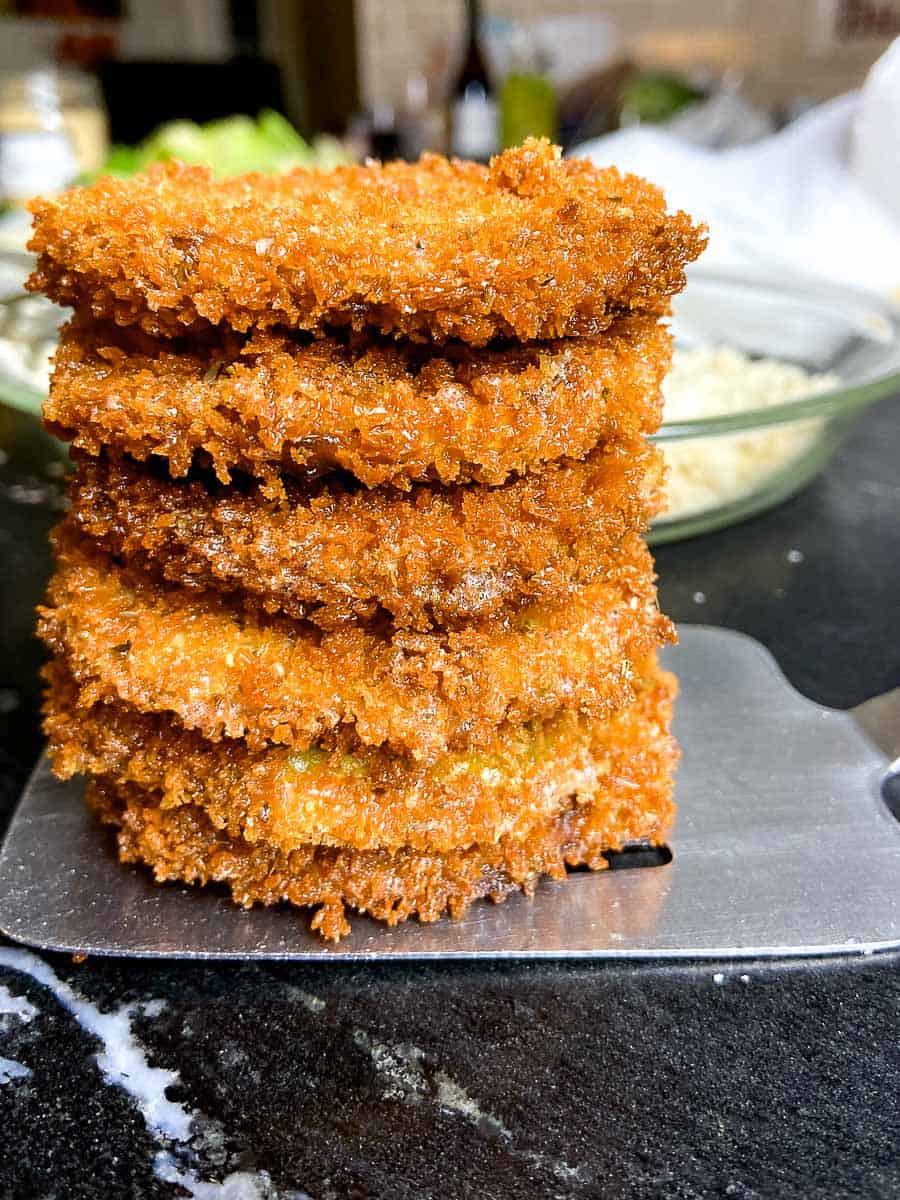 How long does it take to make classic eggplant parmesan?
After the eggplant rounds have rested in salt, the process goes pretty quickly and is ready in about 20-minutes! Cook the crispy eggplant parmesan in batches, usually 5 slices per batch for about 3-4 minutes per side.
How thick do I slice the eggplant?
Thin slices cook faster, but it's really up to you. I usually slice mine between ¼ and ½" inch thick. This yields about 8-12 slices per large eggplant.
Why do I need to salt it?
This purple vegetable is inherently often bitter and full of water. The salt helps remove excess moisture and reduce bitterness. This results in a firmer slice of eggplant.
Do I need to remove the purple skin?
The skin is often what gives it a bitter taste and makes it tough. I prefer the flavor and texture without the skin, so my recommendation is "yes"- remove the skin first.
Tips
Use canola or vegetable oil; not olive oil. Olive oil is not high-heat tolerant
Use enough oil to fill a skillet about 1" inch of oil; I use a 10" inch skillet and use 1 cup of oil
Put your dredging station near the stove; as you take one round out, add another
If you make more than two batches, you'll probably want to change the oil after the 2nd batch because some of the bread crumbs fall off and start to burn; this makes it taste burnt.
If you don't have seasoned breadcrumbs or Panko crumbs, add 1 tablespoon of dried Italian seasonings per 2 cups of breadcrumbs.
If you only have Panko crumbs, but don't like the texture of them, put them in the food processor and pulse them a few times
If you want a "casserole" version of this dish, place the crispy eggplant in a lightly oiled baking dish, drizzle some pasta sauce over and finish with fresh Mozzarella; broil until cheese melts
What to serve with Eggplant Parmesan
Start with a Caesar salad or a steamed artichoke! I often serve this crispy eggplant parmesan over spaghetti or fettuccine noodles. If you want to add a vegetable, ratatouille is a nice addition as well!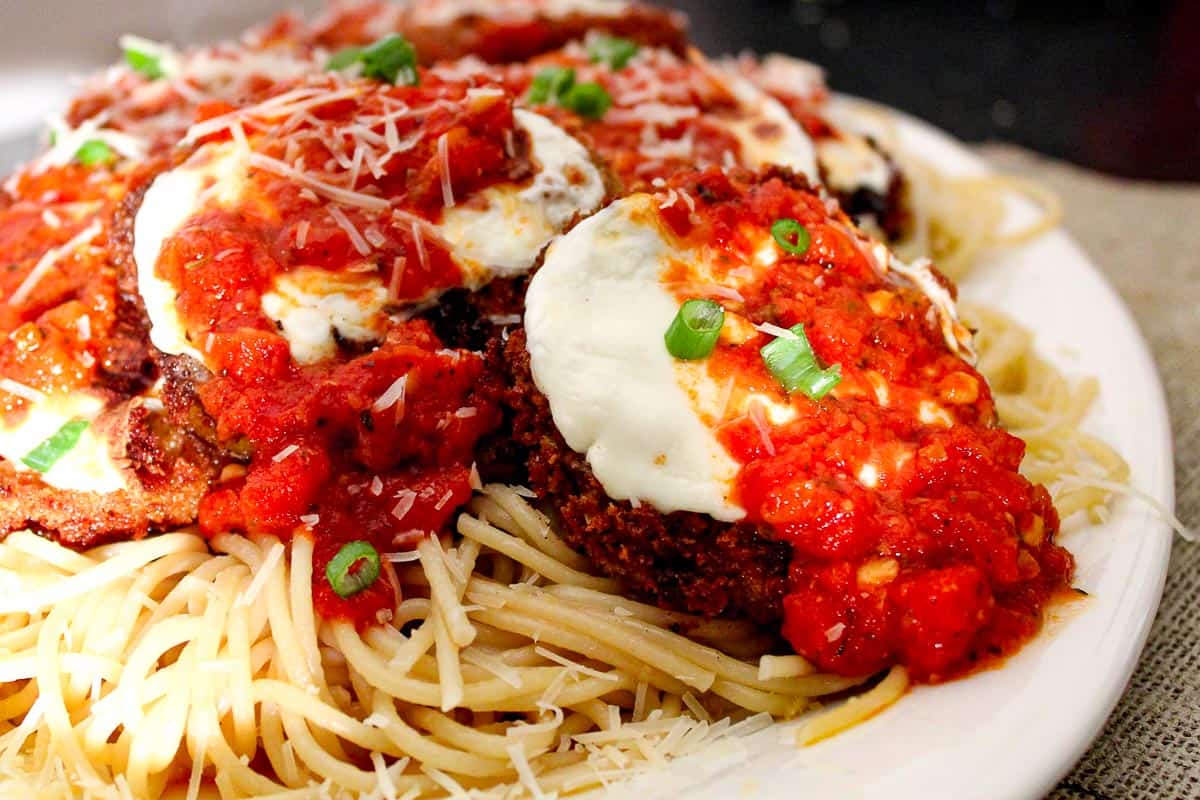 Related recipes:
📋 Recipe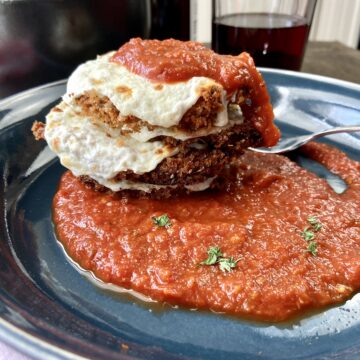 Classic Crispy Eggplant Parmesan
Crispy fried eggplant topped with marinara sauce and fresh Mozzarella!
Print
Rate
Yield:
14
eggplant rounds
Ingredients
2

large

eggplants

(this is about 2 pounds total)

1

cup

oil

vegetable or canola

4

whole

eggs

lightly beaten

4

cups

bread crumbs

, or panko crumbs; plain or Italian (see recipe notes)

1

pound

fresh mozzarella cheese

, sliced or crumbled

½

cup

shredded fresh Parmesan

24

ounces

pasta sauce

see recipe notes

1

tablespoon

Italian seasonings

, dried (see recipe notes); optional

½

teaspoon

salt

kosher

½

teaspoon

pepper

, black, ground
Instructions
Prep
Wash, peel and slice eggplant into ¼" inch rounds; place on paper towel and salt generously; allow to sit 15-30 minutes; after, wipe away excess salt and moisture and set aside

Lightly beat eggs and place in pie pan or shallow dish

In a second shallow dish, place bread (or panko) crumbs; season with salt, pepper and Italian seasonings

Pour oil into heavy bottom skillet on medium high heat

Heat or prepare tomato sauce; allow to cook on low until ready to serve
Cook the Eggplant
Working in batches, dredge eggplant in egg then in bread crumbs; coat well

Place bread-coated eggplant into hot oil; cook 3-5 minutes per side, or until the breading is light, golden brown (see recipe notes)

Remove eggplant from skillet and drain on a rack or paper towel

Place cooked eggplant in lightly oiled baking dish; drizzle pasta sauce over eggplant; top with fresh Mozzarella cheese

Turn oven to "broil" setting, or 500ºF

Broil eggplant until mozzarella cheese begins to melt; remove from oven

Serve with warm pasta or marinara sauce; garnish with shredded Parmesan cheese
Notes
The oil should be around 312-315ºF and fill about 1"inch in the skillet (the amount of oil will depend upon the size of your skillet.)

If you use plain breadcrumbs, add 1 tablespoon of dried Italian seasonings per 2 cups of breadcrurmbs

After the second batch, you may need change the oil; (the breadcrumbs start to burn after the 2nd batch); allow the oil to heat up before adding more eggplant

If you want a "casserole" version of this dish, place the crispy eggplant in a lightly oiled baking dish, drizzle some pasta sauce over and finish with fresh Mozzarella; broil until cheese melts
Nutrition Estimate
Serving:
1
cup
Calories:
465
kcal
Carbohydrates:
29
g
Protein:
20
g
Fat:
30
g
Saturated Fat:
10
g
Trans Fat:
1
g
Cholesterol:
52
mg
Sodium:
1242
mg
Potassium:
527
mg
Fiber:
5
g
Sugar:
8
g
Vitamin A:
832
IU
Vitamin C:
7
mg
Calcium:
432
mg
Iron:
3
mg