You'll love this savory Louisiana Seafood Gumbo recipe! If you can't get to New Orleans fast enough, this will take you there!
I've made this recipe a million times, with both homemade and jarred roux. Use either of these in this gumbo recipe and enjoy!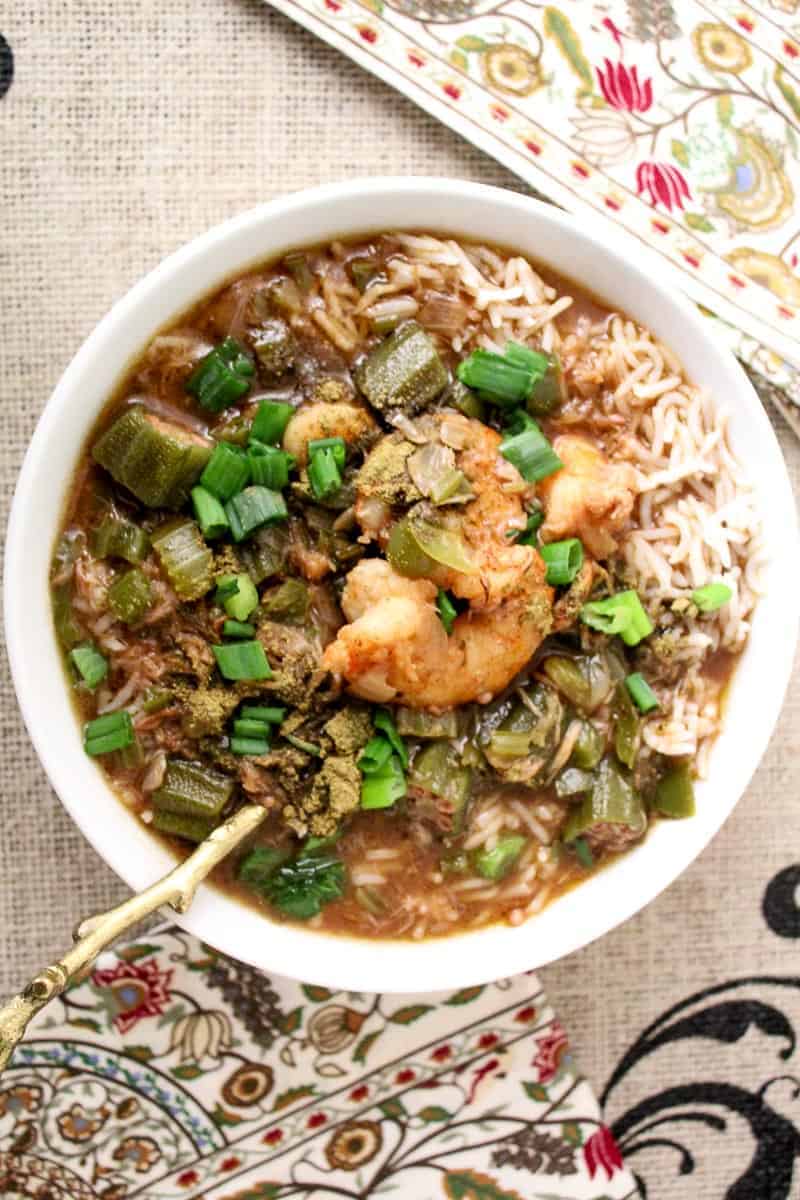 Why this recipe works
Louisiana seafood gumbo makes a hearty entree or side dish; serve with a side of warm French bread and you've got a mouth-watering dinner on the table for the whole family
This recipe makes a big pot of seafood gumbo and everyone agrees that it actually tastes better the second day, so hang on to any leftover gumbo
The dark rich roux, seasoned with The Holy Trinity (celery, onions and green bell pepper) is easy to make
Garnish your Louisiana seafood gumbo with a little chopped green onion, a sprinkle of gumbo file and a side of french bread and call it dinner!
Make a homemade dark roux or used a high-quality jarred roux
Jump to:
WAIT A MINUTE! If you've got negative thoughts about using a jarred roux, please bear with me. I've been making gumbo for years the old fashioned way....these Louisiana brands of roux bring it to the table... trust me...I'm a Gumbo Snob.
Here's what you'll need
If you want to make authentic Louisiana seafood gumbo, then you'll need a dark roux. To make homemade roux from scratch, use equal parts of oil (vegetable or canola oil) and all-purpose flour. You'll also need a heavy bottom skillet or stockpot and a wooden spoon.
A dark roux takes about 30-45 minutes to make.If you're short on time, use a high quality prepared roux. I recommend Kary's™ or Bootsie's™ roux - both are from Louisiana and work as a great shortcut for homemade roux. You'll find these in a jar on the "international" aisle or Louisiana section of your grocer.
Other ingredients include: The Holy Trinity (onion, bell pepper, celery), seafood stock, chicken stock, shrimp (I like fresh Gulf shrimp), fresh lump crab meat, crawfish meat, cayenne pepper, garlic, bay leaves, okra, prepared white rice, green onions, gumbo file, salt and black pepper. Note: this is a Cajun seafood gumbo recipe - not Creole - that's why you won't find any tomatoes in this recipe
Seafood broth / stock: you can usually find seafood stock on the bottom shelf at the grocery store. If you can't find any, and you're using fresh shrimp, then make your own seafood stock. Here's how to make seafood stock: Peel and devein shrimp; Bring 2-3 cups of water to a boil and toss in the shrimp shells; season with ½ teaspoon of salt, pepper and garlic powder each. Let this boil for 15 minutes, then cover the pot, turn the heat off and let it sit for 30 minutes.If you don't want to make seafood stock, just omit it.
Chicken stock: I use low sodium chicken broth, but you can use regular; just don't salt the gumbo while it's cooking
Seasonings: if you don't have garlic powder or cayenne pepper, use a teaspoon of Tony Chachere's Cajun Seasoning Mix (see recipe notes below)
Crab meat: For the most authentic, freshest flavor, I recommend investing in a pound or so of fresh lump crab meat. You'll find this in the cold seafood section. When you add it to the gumbo, include the juice, too.
Shrimp: Fresh shrimp is best, but if you can only find frozen, that will work; just thaw the frozen shrimp under cold running water first.
Crawfish: If you want to include crawfish, use fresh if you can find it; if not, use frozen; just thaw it under cold running water first.
Okra: use fresh chopped okra or cut frozen okra- either one. keep in mind that okra is a thickening agent, so you don't want to put in too much!
Note: I forgot to include the garlic powder and seafood stock in the picture. You need one can of seafood stock- about 15 ounces- and a teaspoon or two of garlic powder.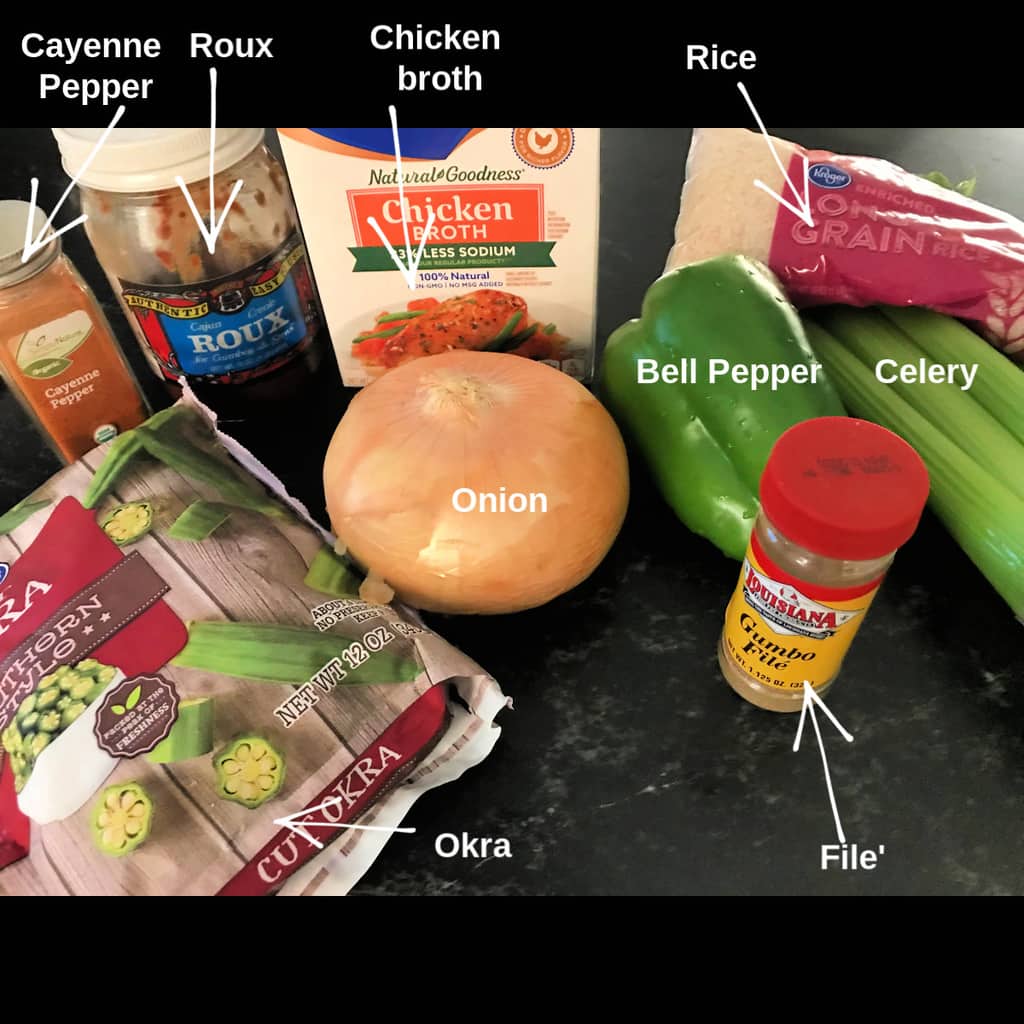 How to make gumbo roux from scratch
Louisiana seafood gumbo tastes best when it's made with a deep, dark brown roux. Here's how to make this savory gumbo base:
In a large stockpot on low heat, heat oil: (vegetable oil or canola oil - not olive oil); once the oil gets hot, sprinkle in an equal amount of flour and stir continuously with a wooden spoon. Continue stirring the mixture on low heat until it turns a dark brown - darker than peanut butter.
Keep the heat on low, no matter how tempting it is to turn up the heat! Homemade roux made from scratch takes about 30 minutes, so be patient and keep stirring.
How to make gumbo using a prepared roux
I discovered these high-quality Louisiana pre-made roux's and they work just as good as making roux from scratch. Trust me...I would not lie to you.I have no vested interest in promoting these products other than they work and they're a huge time saver. There's no difference in the flavor or in the texture. The only difference is time...and these jarred roux's are a timesaver!
Now you can make Louisiana Seafood Gumbo much quicker than before.I have tried making gumbo with dried roux mixes and I do not recommend them. The flavor didn't come through like a roux made from scratch.
Stir the jarred roux with a knife until it's well blended. Spoon 4-8 ounces of the roux to a stockpot;(about half of the jar); heat on low heat until well blended, stirring constantly with a wooden spoon; add the Holy Trinity, saute for 5 minutes and resume recipe.
How to make gumbo
Once you've got the roux just right, toss in the Holy Trinity and saute for 5-7 minutes on low heat. Then put in the broth(s), garlic, cayenne pepper, bay leaves, a little salt and ground black pepper.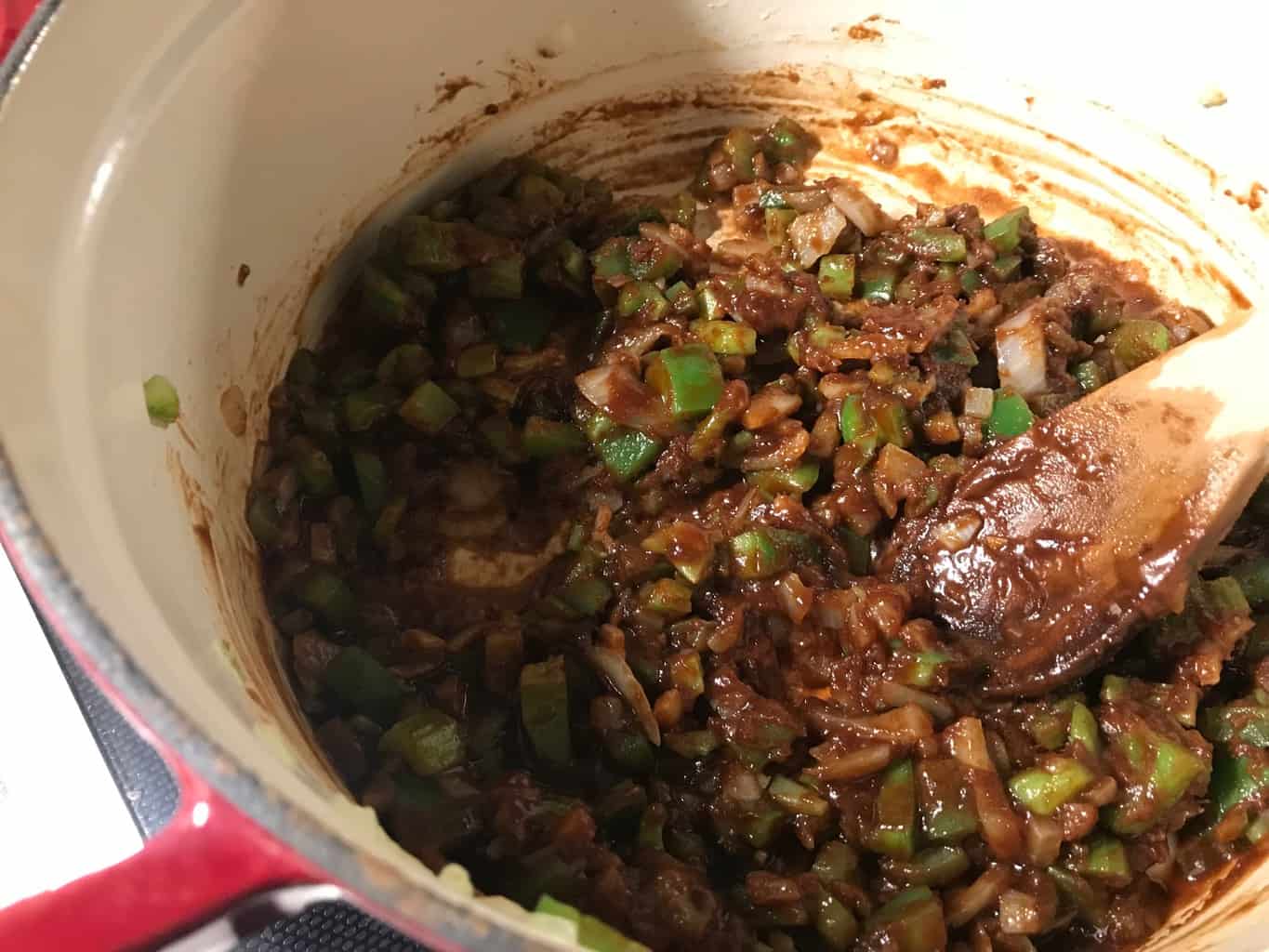 Let this cook on low, covered, for at least 30 minutes. (For best results, I highly recommend allowing the gumbo broth to cook for an hour on a low heat; this lets those Cajun and Creole spices develop! The rich flavor naturally develops from simmering the dark roux with The Holy Trinity.
Once the broth is done, add in the okra. Let that cook for 5 minutes, then fresh shrimp (peeled and deveined) and fresh lump crab meat. Let that simmer for another 10 minutes, then your gumbo is ready!
Remove bay leaves and taste for seasonings. Adjust seasonings to your taste ( more salt, black pepper or cayenne pepper). Serve over prepared white rice, garnish with chopped green onions and a sprinkle of gumbo file!
Tips
Whether you plan on making roux from scratch or using a jarred roux, gumbo takes time for the flavors to develop. Be patient - this takes a little time
If you make a roux and it's not dark enough, start over. The roux will not deepen in color once you incorporate a liquid into it.
If you burn the roux, start over
Fresh seafood is best
Gumbo always tastes better the next day, so if you're serving this for guests, I recommend making it a day in advance.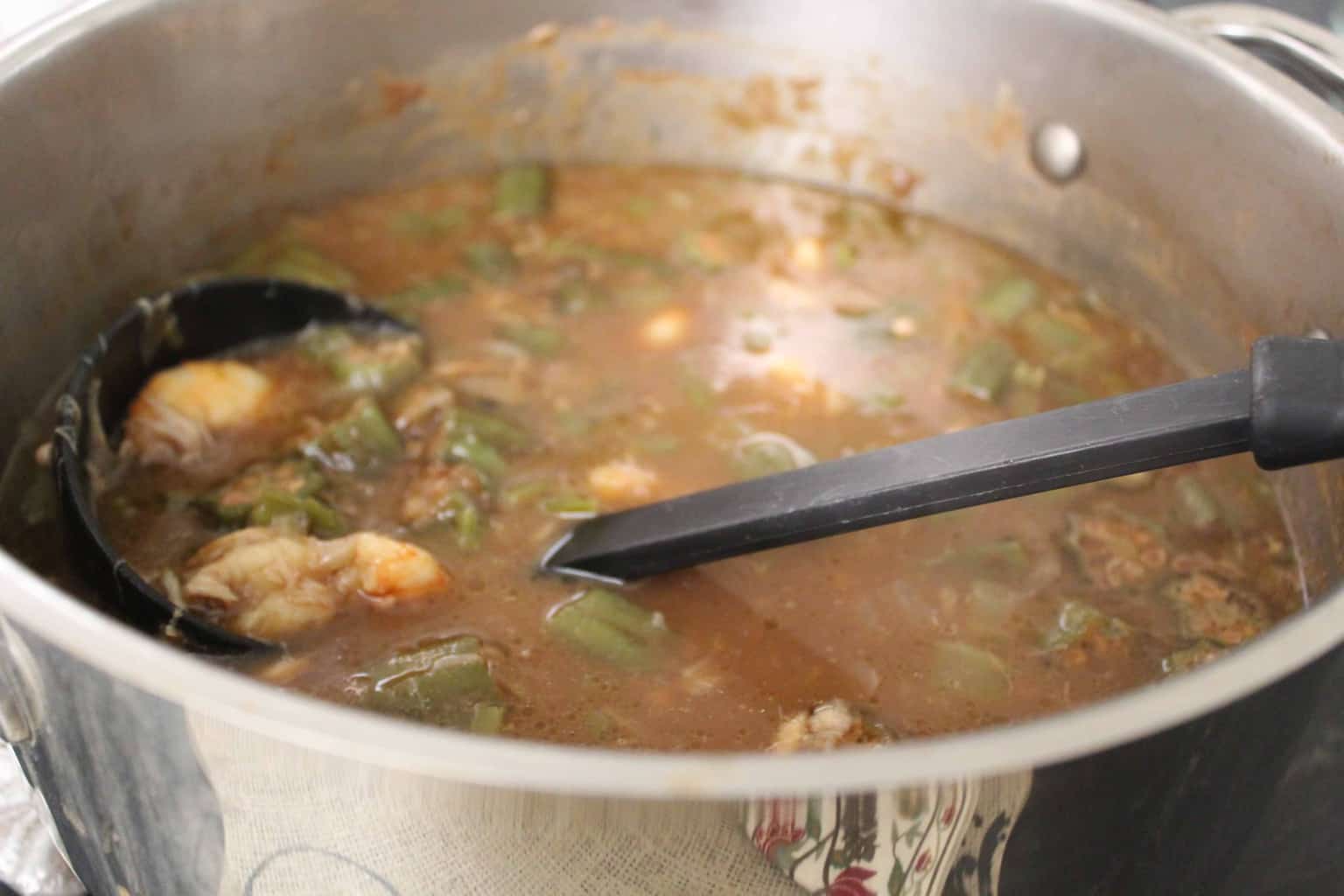 Recipe FAQ
What is roux?
Roux, pronounced "roo", is a French term and refers to the combination of equal parts of fat and flour that are cooked to form a thickening agent.
It is the base of most sauces and gravies. The fat can be butter, oil, pan or bacon drippings and the flour is basic all-purpose white flour.
What's the Holy Trinity?
The Holy Trinity is a French-American, or in Louisiana term that refers to chopped onions, celery and green bell peppers. These vegetables serve as the base of many Louisiana recipes, thus, "The Holy Trinity."
Does gumbo have tomatoes in it?
Typically, Cajun gumbo does not contain tomatoes, as opposed to Creole cuisine, which often contains tomatoes. It's one of the differences between Cajun and Creole in culinary circles.
What is gumbo filé and when do I add it?
Ground Gumbo filé, pronounced "fee-lay," is dried sassafras leaves which offer a truly unique flavor to the gumbo and serves as an additional thickener, as well as flavorant.
NEVER add ground gumbo filé directly to the Gumbo while it's on the stove.
Gumbo filé is sprinkled on the finished, plated bowl of gumbo.
When do I add the seafood?
About 5-8 minutes before you want to serve this delicious Louisiana gumbo! Overcooking the seafood will cause it to be rubbery.
Can I use frozen okra?
Frozen or fresh, either way. I use frozen because I usually make Gumbo in the winter when okra isn't in season.
Just rinse and thaw it out before putting it into the Gumbo. In fact, add it right before the shrimp, crab or crawfish to the Louisiana gumbo.
I Hate Okra. Can I Leave It Out?
Well.....you can... but it won't be authentic Cajun Gumbo. The okra is included in the dish as a thickening agent.
Good Gumbo is supposed to be thick and savory, not thin.
If you hate okra, just pick it out of your bowl, but you probably should include it in the recipe for texture, not to mention flavor.
Serving suggestions
Gumbo is traditionally served over white rice and garnished with filé and a little green onion. Some folks in Louisiana add potato salad to theirs - I've never done that so...
Generally, this hearty stew is served as an appetizer or main dish with a slice of warm French bread. If serving as an appetizer, you might consider pairing this with fried catfish, Natchitoches meat pie or crab puffs.
If you're serving buffet style, include both a ladle and slotted spoon for serving! This allows guests to get an ample amount of seafood and then ladle a little of the broth over the rice.
Make ahead
You can make Louisiana Seafood Gumbo in advance, just don't add the okra and seafood until about 30 minutes before you're ready to serve.
Keep in mind, it will thicken upon refrigeration and you might have to incorporate a little more water or broth upon reheating.
Variations
If seafood isn't your thing, you can make a delicious Louisiana Cajun Gumbo with andouille sausage or chicken.
In France, I had "soupe de poisson" that was made with redfish...it was delicious, but redfish is expensive and hard to fine.
Storage and reheating
Store homemade Louisiana Seafood Gumbo in the fridge for up to 3 days or freeze for up to 3 months in an airtight container.
The gumbo thickens when refrigerated or frozen, so it's best to reheat it on the stove and add a little water or broth to loosen or thin it.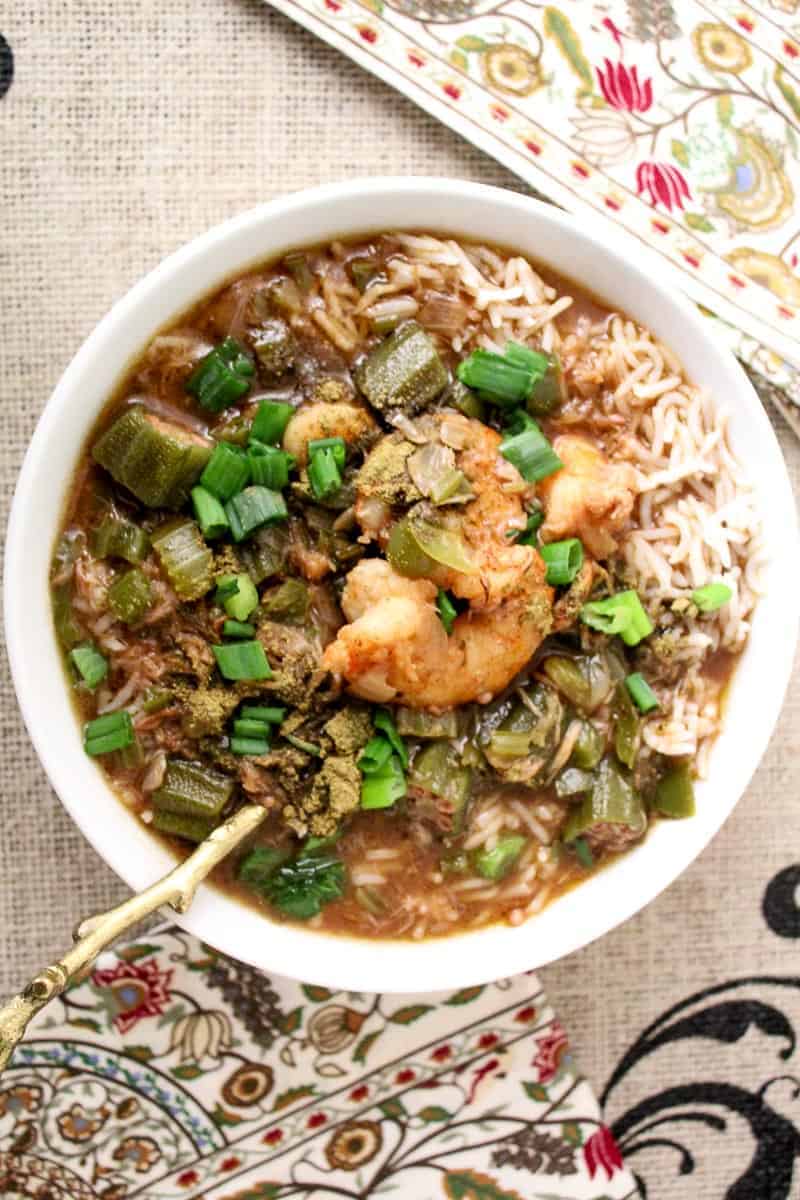 Serve homemade Louisiana Seafood Gumbo as an appetizer or main dish!
More Louisiana recipes
If you make this recipe, please scroll down and leave a comment and rating. I love to hear from you! Thank you!
📋 Recipe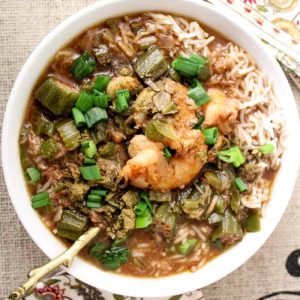 Louisiana Seafood Gumbo
Louisiana gumbo done right! Shrimp, crab meat and/or crawfish with okra in a savory blend of spices, served over white rice.
Print
Rate
Ingredients
2

lbs

shrimp

, peeled and deveined

15

ounces

fresh crab meat and/or crawfish

, do not drain

½

cup

roux

see Recipe Notes

1

cup

chopped yellow onion

½

cup

chopped celery

1

cup

chopped green bell pepper

32

oz.

chicken broth

, low-sodium

15

ounces

seafood stock

, low-sodium

2

dried

bay leaves or 1 teaspoon of ground bay leaves

1

teaspoon

cayenne pepper (see recipe notes)

, or to taste

1

teaspoon

garlic powder (see recipe notes)

1

pound

okra

, chopped; (fresh or frozen)

salt and pepper

, to taste

6

cups

prepared long grain white rice

1

bunch

green onions

chopped (for garnish)

ground gumbo file

, to taste and as garnish
Homemade Roux
oil (vegetable or canola oil)

flour (all-purpose)
Instructions
First Things First
Get your shrimp prepped: buy fresh, raw shrimp, peel, devein, and season with a sprinkle of cayenne pepper; set aside

Next, chop the vegetables and set aside (this is The Holy Trinity)

1 cup chopped yellow onion,

½ cup chopped celery,

1 cup chopped green bell pepper
Now We're Cooking!
If you're making roux from scratch, get a large stockpot and add 1 cup of oil; heat on medium; sprinkle in 1 cup of flour and stir continuously with a wooden spoon; turn heat to low and continue stirring the mixture until it is is darker than peanut butter. (45-60 minutes)

If you're using a prepared roux, add ½ cup of prepared roux to In a large stockpot on medium low heat; allow it to warm and soften a bit, stir it with a wooden spoon until it looks "melted"

Add The Holy Trinity to roux and cook until vegetables have softened (about 5 minutes); the mixture will be clumpy at this point, but that's okay

1 cup chopped yellow onion,

½ cup chopped celery,

1 cup chopped green bell pepper

Add chicken broth, seafood stock, cayenne pepper, garlic and bay leaves to stockpot; allow to cook and combine until all lumps of roux are dissolved; cook on low, uncovered for at least 30 minutes

32 oz. chicken broth,

15 ounces seafood stock,

1 teaspoon cayenne pepper (see recipe notes),

1 teaspoon garlic powder (see recipe notes),

2 dried bay leaves or 1 teaspoon of ground bay leaves

Add okra and cook for 10 minutes

1 teaspoon cayenne pepper (see recipe notes),

salt and pepper,

1 pound okra

Add seafood (shrimp, crawfish and crab meat) - include the crab meat juice; place lid on stockpot ; allow to simmer for 15-20 minutes, until all the seasonings have married and the shrimp is pink

2 lbs shrimp,

15 ounces fresh crab meat and/or crawfish

Now it's time to make the rice. Place 4 cups white rice in large saucepan; add 6 cups of water; bring to boil, then reduce heat to simmer and place lid on rice; let rice steam for about 9 minutes

Once rice is done, place a heaping scoop of rice in a bowl, remove the bay leaves from the gumbo; top the rice with gumbo, garnish with green onions and sprinkle a little ground gumbo filé on top

salt and pepper,

6 cups prepared long grain white rice,

1 bunch green onions,

ground gumbo file
Notes
Roux
Dark brown roux is the base of the gumbo. You can make your own or buy a jar pre-made. I use either Kary's or Bootsie's Roux--both from Louisiana. This cuts down on the preparation time immensely. However, if you choose to make your own roux, you'll need equal parts of oil and flour. Start with ½ cup each and increase if needed.

Homemade dark roux takes about 40-minutes to make, so if time isn't on your side, get the jarred version.
Seasonings
If you don't have cayenne pepper or garlic powder, substitute with Tony Chachere's (or any brand) of Cajun seasoning mix. Start with 1 teaspoon and add more if you like. If you want a spicy gumbo, use Creole seasoning (Creole seasoning has more cayenne pepper than Cajun seasoning.)
Fresh crab meat is usually in the seafood section in a plastic container. If there's any liquid in the container, don't drain it. Add it to the gumbo, too!

Do not add gumbo filé powder until after you've poured the gumbo in a bowl

Gumbo tastes best after it has rested awhile:) Have a glass of wine and let it simmer on the stove before serving; add more seasonings if you prefer
Season the shrimp: optional
I sprinkle a few teaspoons of Cajun or Creole seasoning over the shrimp for extra flavor. This is optional.
Nutrition Estimate
Serving:
1
cup
Calories:
356
kcal
Carbohydrates:
45
g
Protein:
34
g
Fat:
4
g
Saturated Fat:
1
g
Polyunsaturated Fat:
1
g
Monounsaturated Fat:
1
g
Trans Fat:
1
g
Cholesterol:
165
mg
Sodium:
1740
mg
Potassium:
819
mg
Fiber:
5
g
Sugar:
4
g
Vitamin A:
2083
IU
Vitamin C:
38
mg
Calcium:
202
mg
Iron:
2
mg