This authentic New Orleans Cajun Chicken gumbo recipe comes from my Grandaddy's French mother who migrated from France to New Orleans via Ellis Island. In the Crescent City, you'll find various types of gumbo including seafood, andouille sausage and chicken gumbo, but no matter what crustacean or protein is in this bowl of heaven, there is always The Holy Trinity and a dark roux.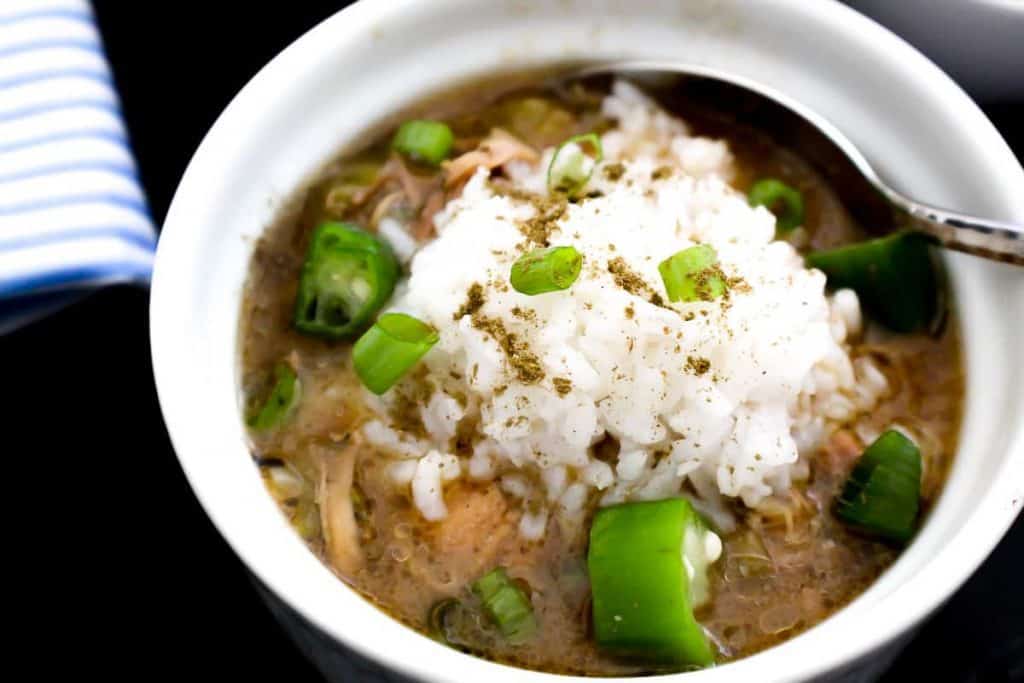 As soon as the weather turns cooler here in Texas, I start thinking about gumbo. I guess it's just in my genes..this gumbo features chicken, but keep in mind you can put anything you want in gumbo- shrimp, crab, andouille sausage–you name it! Enjoy a big bowl of New Orleans gumbo with white rice!
What Is Gumbo?
Gumbo is a thick and savory French soup with a consistency more like a stew than a soup. The gumbo base is a dark roux, which is equal parts of fat and flour, and ingredients include:  a stock or broth, seafood, sausage or chicken, okra and The Holy Trinity. The thick Louisiana soup is cooked until thickened to the right consistency and served over white rice.
What is The Holy Trinity?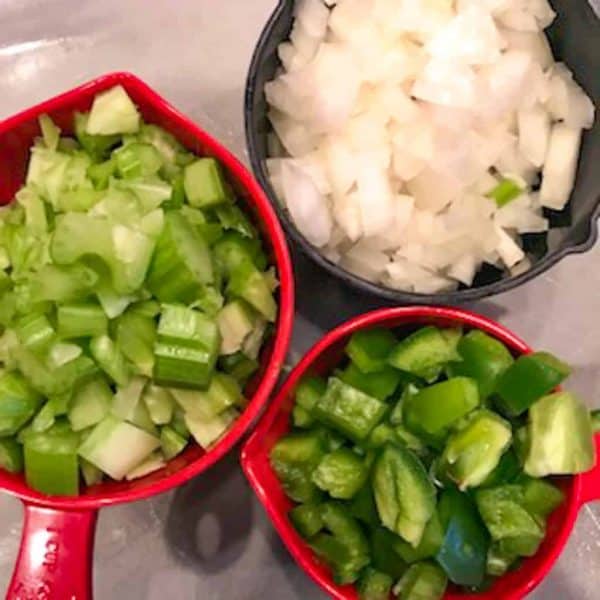 The Holy Trinity and Mirepoix (pronounced "meer'-pwah") both refer to diced, sauteed vegetables which serve as the flavor base of a dish. While both are derived from French cooking methods, the terms "Holy Trinity" and "Mirepoix"  are often incorrectly used interchangeably, which causes confusion, as they are different from one another and produce very different flavor profiles.
In classic French cooking, mirepoix consists of onion, celery and carrots. The carrots offer a slight sweetness to the base of a dish. Conversely, The Holy Trinity consists of onion, celery and green bell peppers and is often found in Cajun and Creole dishes.  The bell peppers in the Trinity offer a slightly sweet and spicy flavor and added texture.
 What is Roux?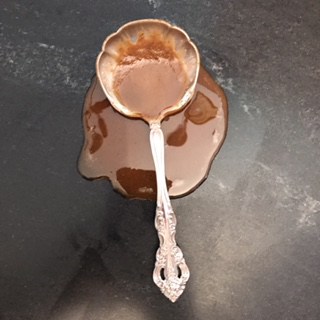 Roux, pronounced "roo," is another French cooking term! It refers to equal parts of fat and flour that, when cooked, gel together to form a thick base for sauces, stews,soups and gumbo. There are three primary types of roux: light, blonde and dark. Traditional gumbo requires a dark roux, which takes at least 30 minutes to cook, but is the secret to any traditional seafood or chicken gumbo.
If you don't have time to make a homemade roux, I highly recommend Kary's Roux. Kary LaFleur and team make this delicious roux straight out of Villa Platte, Louisiana and it is probably the best Certified Cajun roux on the market. No additives or preservatives, just flour and oil, already cooked to the right color–a huge time-saver for gumbo, stews and etouffées!
Gumbo vs. Jambalaya vs. Etoufee: What's The Difference?
Without getting too technical, these three popular Louisiana Cajun and Creole dishes are slightly different from one another. Gumbo is a thick stew based on a dark roux, with okra, seafood, sausage or chicken added and served over white rice. Jambalaya is a rice-based dish, almost like a paella, where the protein (usually sausage or chicken) is cooked with the rice and based on a light brown roux. Etoufee is a dish that typically consists of shrimp, crawfish or chicken that is cooked in a blonde roux and served with rice. Etoufee and Jambalaya recipes often include tomato paste, whereas Cajun Gumbo does not include tomatoes, paste or sauce.
Cajun vs. Creole: Cultures and Food
In short, the terms Cajun and Creole refer to cultures of people that immigrated to the United States with mixed colonial ancestry including French, Native American and African American. While both are French, the Creole folks settled in the city (New Orleans) and the Cajun folks settled outside the city.
In regards to food, generally, Creole dishes include tomatoes and multiple spices (rosemary, oregano, basil) where Cajun dishes (as this chicken gumbo recipe) typically do not include tomatoes and make use of seasonings like cayenne peppers and paprika.
You'll find these terms used interchangeably throughout Louisiana, but think of it this way: the Creole folks were "city folk," with access to fine ingredients, whereas the Cajun folks were more "country-folk" with limited access to seasonings and ingredients.
Make New Orleans Cajun Chicken Gumbo 
Ingredients for this delicious New Orleans dish are: boneless, skinless chicken thighs, celery, white or yellow onion, green bell pepper, chicken broth/stock, roux (homemade or Kary's), okra (frozen is okay), cayenne pepper, salt and black pepper, filé powder, white rice and green onions.
Bake the chicken thighs
Cook The Holy Trinity: saute onion, bell pepper, celery in roux (if using homemade roux, make the roux first, then add Holy Trinity)
Add broth and cooked shredded chicken
Add okra, cayenne pepper; salt and pepper to taste
Allow to simmer 30 minutes
Serve over white rice; sprinkle with filé powder; garnish with green onion
Can I Reheat Chicken Gumbo?
Gumbo, like many other dishes, is actually better the second day! After refrigeration, the gumbo thickens, so you might add a little more broth or water to thin it. Reheat gumbo on the stovetop or in the microwave (covered)–it splatters in the micro!
Pin It For Later!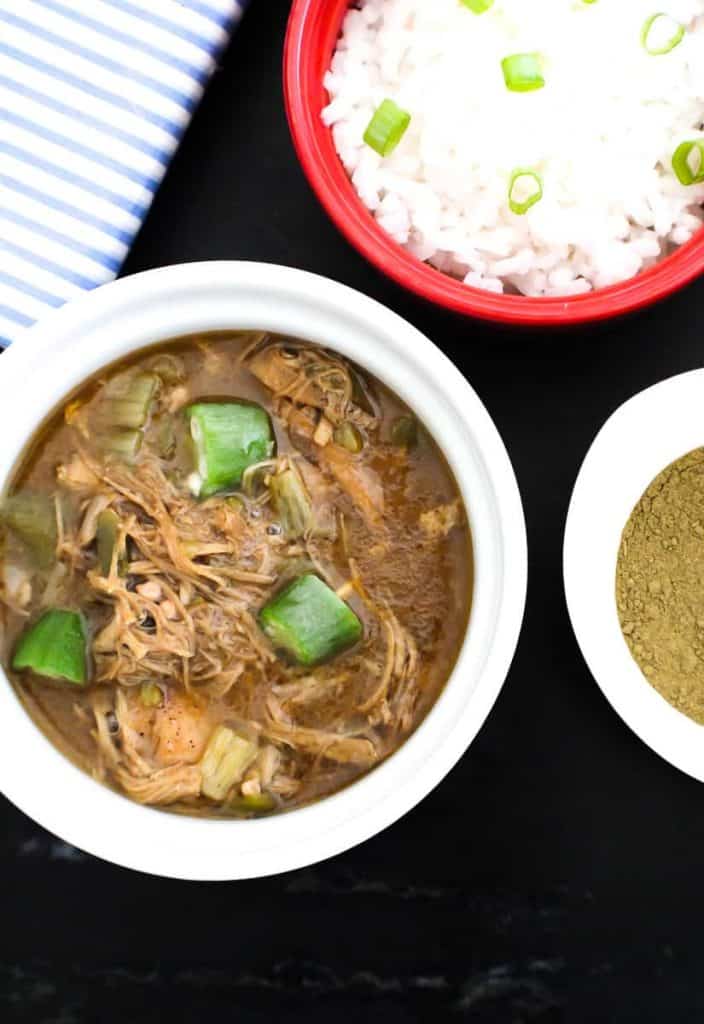 Craving more? Try French Onion Soup or Indian Butter Chicken!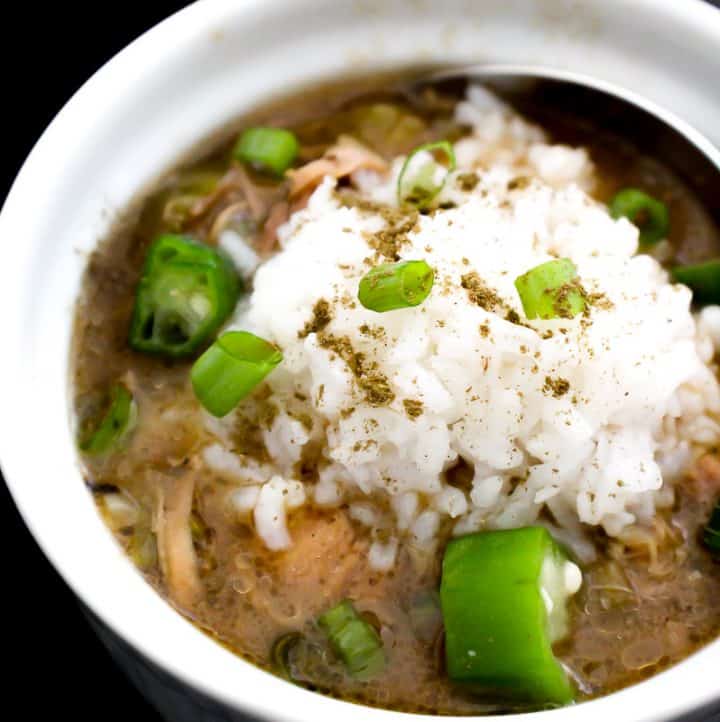 New Orleans Cajun Chicken Gumbo
Easy, authentic New Orleans Chicken Gumbo with shredded chicken, okra, onions, celery, bell peppers served over white rice
Print
Pin
Rate
Ingredients
2½

lbs.

chicken thighs

, boneless, skinless

2

tablespoons

oil

, canola or vegetable

1

medium

yellow onion

, chopped (about 1 cup chopped)

1

medium

green bell pepper

, chopped (about 1 cup chopped)

2

large

celery stalks

, chopped (about 1 cup chopped)

8

oz.

Kary's Roux

(half a jar)

32-48

oz.

chicken stock

, or chicken broth

12

oz.

frozen chopped okra

1

jar

ground gumbo file

1-2

tablespoons

cayenne pepper

green onions

chopped (for garnish)

4-6

cups

prepared white rice

salt and pepper to taste
Instructions
Prep
Lightly oil oven-safe baking dish

Dice onion, celery and bell pepper

Rinse chopped frozen okra in colander; set aside

Cook white rice according to package directions; set aside
Cook the Chicken
Place chicken thighs in baking dish; lightly salt and pepper; cover with foil and bake until internal temperature reaches 165ºF
Cook the Holy Trinity (Onion, bell pepper, celery) and Roux
In a large stockpot, add oil and Holy Trinity; cook 5 minutes

Add Kary's prepared roux to vegetables and mix well; you want the vegetables coated in the roux (See Recipe Notes: Roux)
Assemble the Gumbo
Add 32 oz. chicken broth to the vegetables and roux; combine well (See Recipe Notes: Broth)

Shred cooked chicken thighs and add to stockpot; add cayenne pepper (in 1 teaspoon increments)

Allow gumbo to cook on medium high heat for 5 minutes: add okra; cook on medium heat for 20 minutes uncovered

Check consistency of gumbo; if it is too thick, add more chicken broth (See Recipe Notes: Gumbo Too Thin?)

Plate rice, pour gumbo over rice, sprinkle a little gumbo file powder over dish; garnish with green onions

Serve with warm French bread
Notes
Roux: Kary's Roux is a big timesaver! It comes in a 16 oz. jar and you'll use about 1/2 of the jar. The roux is hard to get out of the jar. I use a knife and slice a big X into the roux, then scoop it out with a spoon. Also, use a wooden spoon to break apart the roux once you've added it to the pan. It will begin to liquify as it heats, but I use the spoon to make sure there are no clumps of roux in the gumbo. Broth: Add chicken broth/stock in two cup increments; after you add the okra, the gumbo will thicken. If you find it too thick, add more broth. Gumbo Too Thin? If your gumbo turns out too thin, either add more of Kary's roux, or make a water/flour slurry (3 tablespoons flour in 1 cup of warm water); add the slurry to the gumbo to thicken it.
Craving More Louisiana ? Try Creole Shrimp Pasta or Louisiana Seafood Gumbo!