Wild Rice and Oyster Dressing is a popular dish from Louisiana. It consists of herb-infused, savory wild rice with oysters and chicken broth.
This pairs beautifully with turkey, beef or pork anytime of the year and it's ready in less than 40-minutes from start to finish! I usually make this at Thanksgiving and Christmas as a savory side dish!
This recipe comes to me from my great-great Grandmother on my Grandad's Cajun side of the family.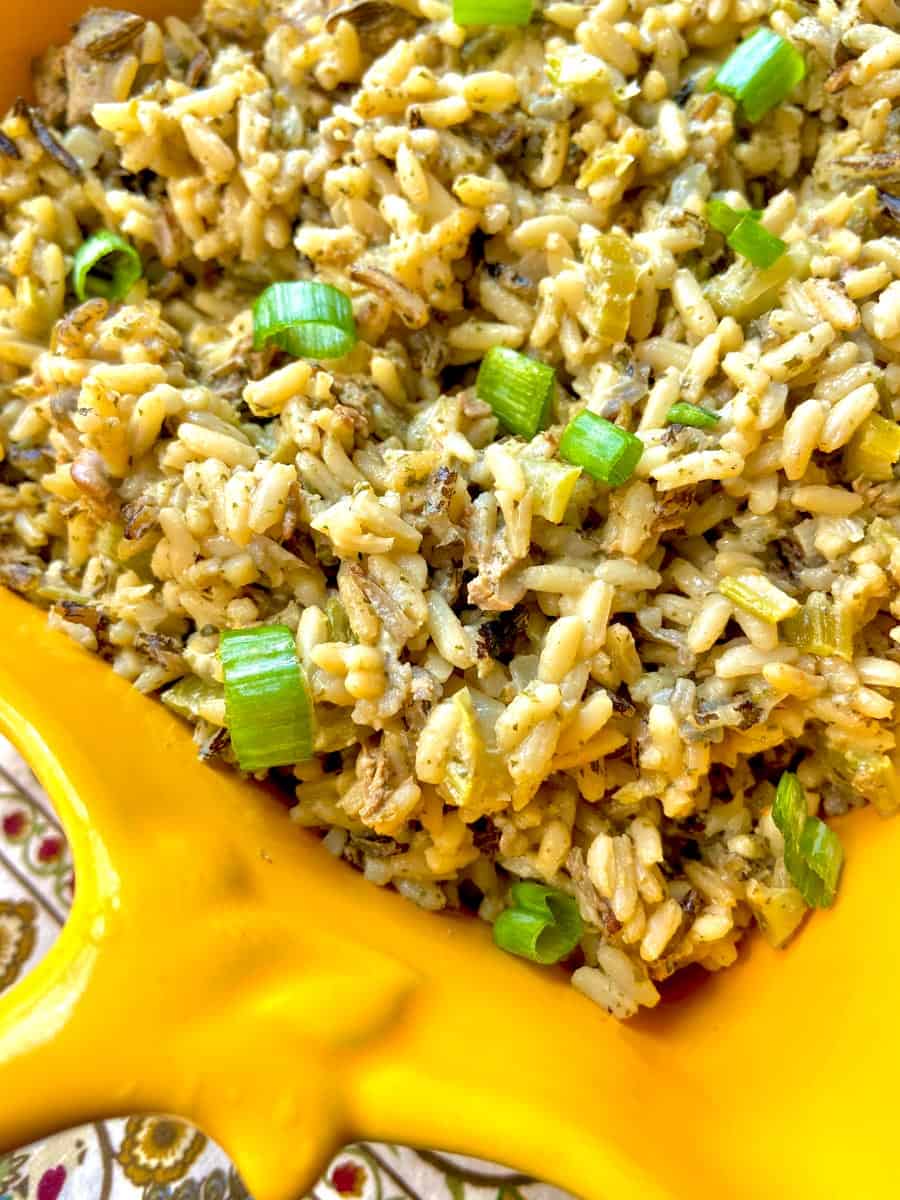 Traditional "oyster dressing recipes" use French bread in them, but this recipe came from my Cajun Grandad's side of the family. I suspect my grandmother made it once with wild rice because she didn't have any French bread.
Anyway, it turned out delicious and has been a Thanksgiving and Christmas side dish in our family for many, many years! It pairs beautifully with turkey, ham or beef tenderloin!
Jump to:
You'll love this recipe!
If your family is like mine, they'll turn their noses up when they learn it has oysters and chicken livers in it...so just don't tell 'em (unless there's an allergy issue)--trust me...they'll love it!
Savory and flavorful - not too strong on the oysters or chicken livers...just a mild flavor
I use Uncle Ben's™ Long Grain and Wild Rice mix because of the savory herbs
Gluten-free and pairs beautifully with beef, turkey or chicken - we serve it at Christmas with Beef Tenderloin!
Quick and easy - use a few simple ingredients and this dish is ready in under 40-minutes from start to finish!
Make ahead - you can make and bake it beforehand, or just prep everything in advance; when you're ready to serve it, just combine it all in a pan and bake it for 15-20 minutes!
Here's what you'll need
This Cajun wild rice "dressing" isn't really a so-called "dressing" because it doesn't contain any bread or cornbread, like most Southern dressings do...so it's inherently gluten-free and a delicious side dish to turkey, beef, chicken or pork!

Some folks call this "Cajun Oyster Dressing" or "Cajun Rice Dressing" - it's actually a delicious combination of the two! It's basically a savory, herb-infused, baked rice dressing with celery, onion, chicken livers and fresh oysters.
Here's how to make it
While the wild rice is cooking, boil the chicken livers in water with a little salt and pepper; this takes about 15-minutes.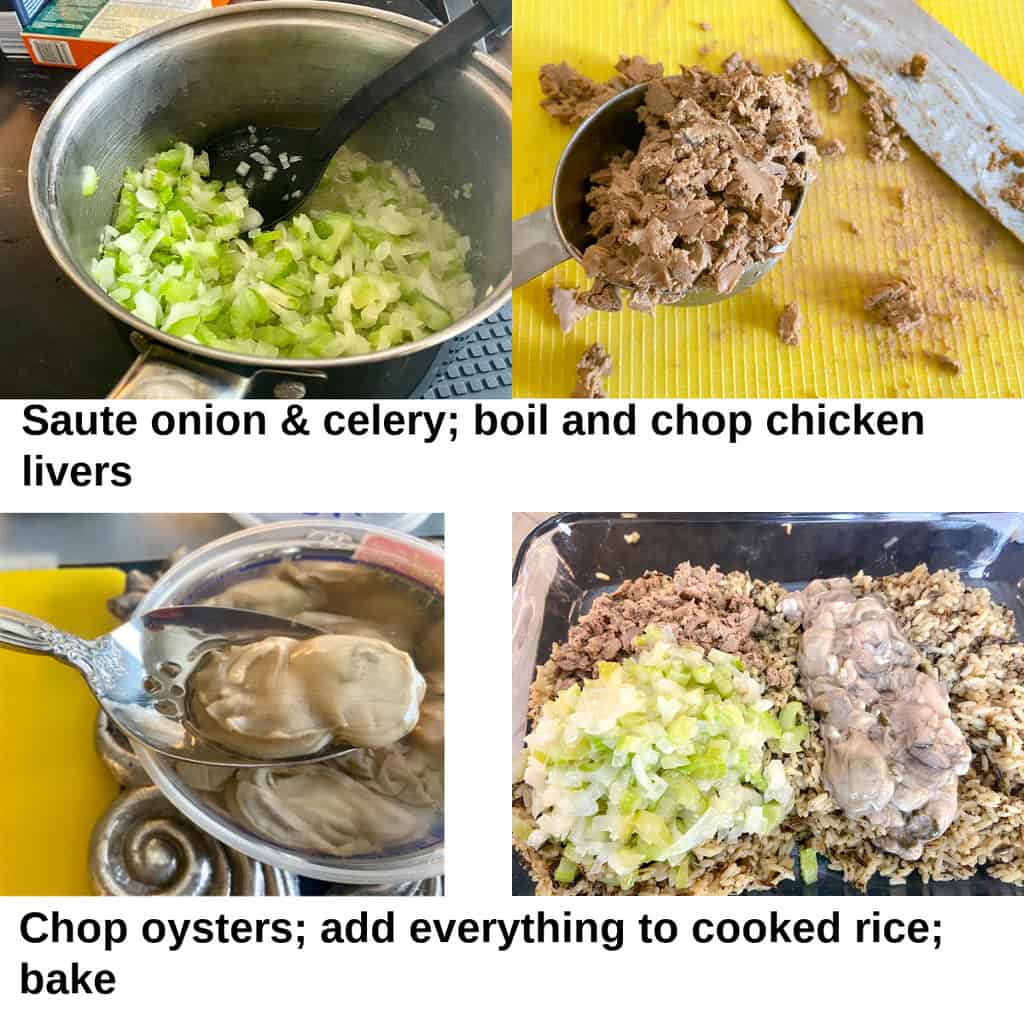 Here's what Wild Rice and Oyster dressing looks like before it's baked. At this point, lightly season with garlic powder and cayenne (optional.)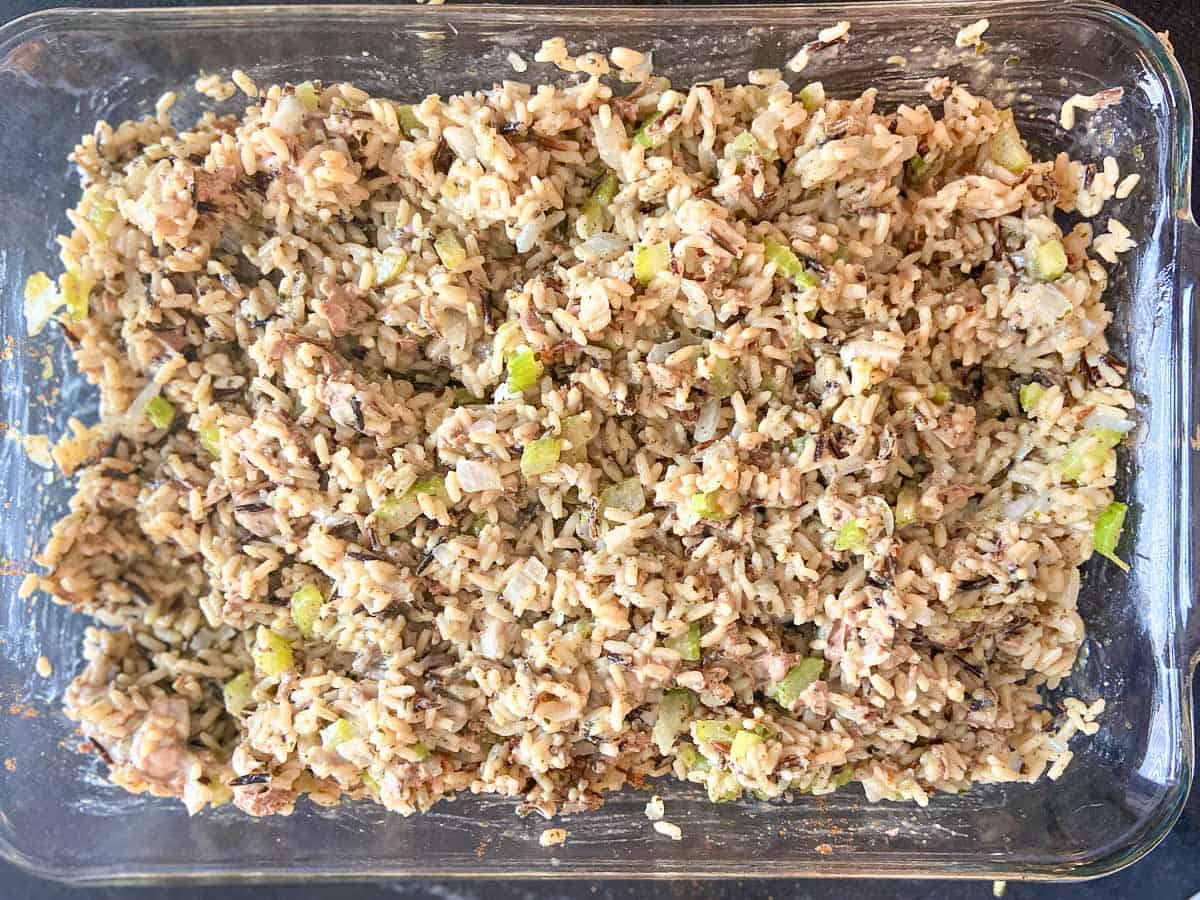 Make ahead
If you want to make this Southern oyster dressing ahead of time, assemble everything BUT the oysters and refrigerate. Add the oysters right before you bake it.
Why? If you put the oysters and juice in and then refrigerate it, it gets soggy and the oyster flavor is too strong...it intensifies...add 'em last!
Expert tips
Don't announce what's in it to your guests...many of them will turn up their noses...just serve it and watch them devour it!
This recipe yields a total of 8 cups. If you're serving this as a side with other items, allow ½ cup to ¾ cups per person. If this is your only side, allow 1 cup per person.
If you're serving a big group, double the recipe
Use fresh oysters in a plastic tub (these are usually in the seafood/meat market); check the date and get the freshest ones; keep the juice, you're gonna use it in the recipe
Reserve the oyster liquor (the juice that the oysters are in), as well as any juice from dicing the oysters
Chicken livers usually come in a one-pound tub; you're only gonna use ½ of these (about ½ a cup)
Use a super sharp knife for dicing the livers and oysters; you want tiny, tiny pieces of each-nobody wants to get a big bite of oyster or chicken liver...tiny tiny tiny pieces
When you dice the livers, if you come across a part that sinewy or won't slice easily, throw it away (give the remaining pieces to your dog as a special treat or fry 'em!)
I don't cover wild rice and oyster dressing with foil because I like a little crunch on top; if you prefer no crunch, put foil over the top
Don't over bake it! Everything's basically already cooked, all we're doing is baking the oysters a little in the oven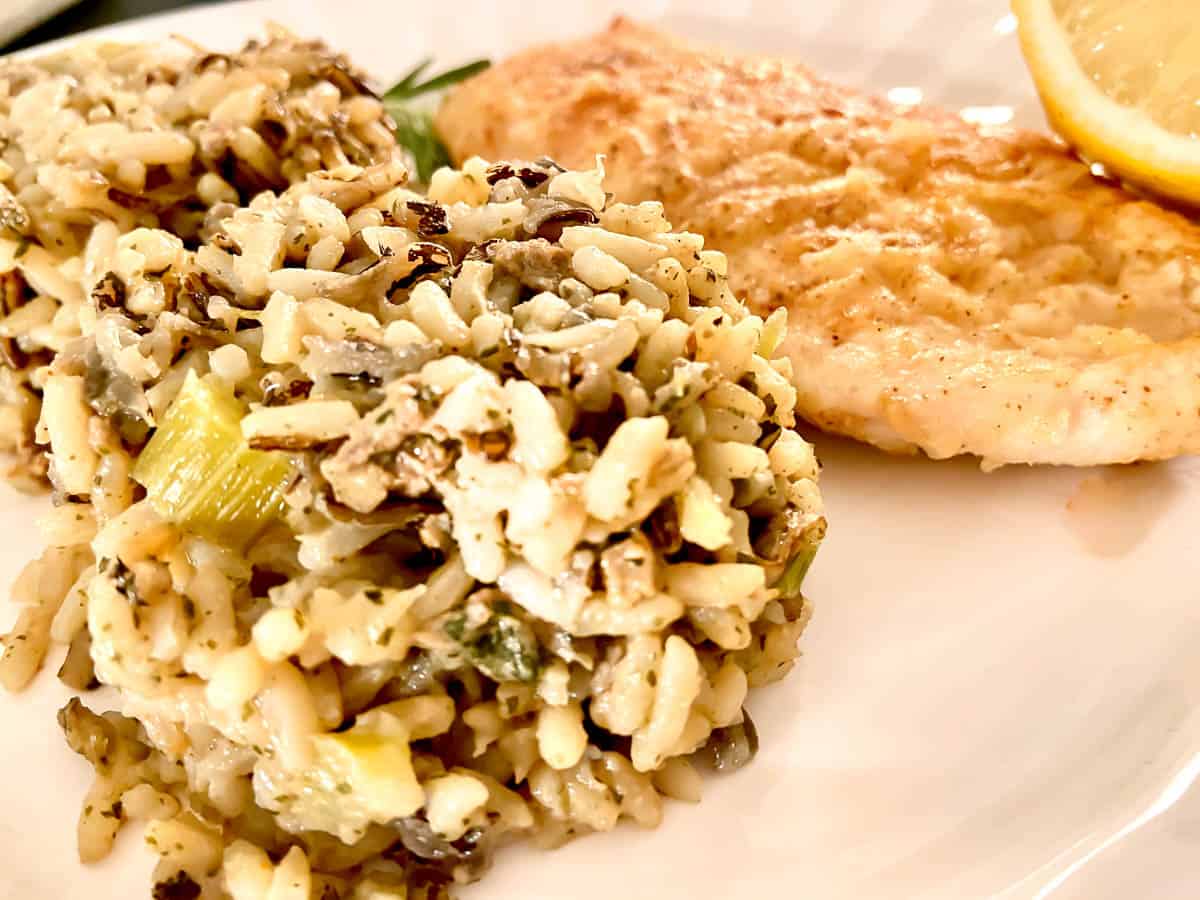 Wild rice and oyster dressing is a savory side dish that pairs beautifully with turkey, beef tenderloin or roasted chicken!
Related recipes
If you make this recipe, please leave a rating and comment below! I love to hear from you! Thank you!
📋 Recipe
Ingredients
2

boxes

wild rice with seasoning

(I use Uncle Ben's Original Recipe)

¾

cup

celery

,chopped

¾

cup

onion

,chopped

½

pound

chicken livers

,cooked, chopped very fine; See Recipe Notes

8

ounces

fresh oysters

,with liquor (juice), chopped very fine

4

cups

chicken broth

, unsalted

¾

stick

butter

, unsalted, ½ stick for onions/celery; 2 tablespoons for rice

½

teaspoon

cayenne pepper

½

teaspoon

garlic powder

salt

to taste

green onions

garnish, optional
Instructions
Prepare two boxes of wild rice with seasonings in 4 cups of chicken broth and 2 tablespoons of butter; set aside

2 boxes wild rice with seasoning,

4 cups chicken broth

Drain and rinse chicken livers; place in medium saucepan and cover with water; lightly season with salt and pepper; cook on medium heat till livers reach internal temperature of 165ºF

In a medium saucepan, add ½ stick butter, chopped onions and celery; cook till tender

¾ cup celery,

¾ stick butter,

¾ cup onion

Using a slotted spoon, remove oysters from container; chop finely; DO NOT THROW AWAY the oyster liquor (juice); put chopped oysters and their liquor aside½

Remove half of the chicken livers from the saucepan and dice finely; set aside; See Recipe Notes

In a 9 x 13 baking dish, add cooked rice, sauteed onion and celery, chopped chicken livers, chopped oysters, cayenne pepper and garlic powder; combine well

2 boxes wild rice with seasoning,

¾ cup celery,

¾ cup onion,

½ pound chicken livers,

8 ounces fresh oysters,

½ teaspoon cayenne pepper,

½ teaspoon garlic powder

Drizzle remaining oyster liquor (juice) over rice mixture; combine well

Bake uncovered at 325ºF for 15-20 minutes

Season with salt and garnish with chopped green onions
Notes
This recipe yields 8 cups total; if you're serving this with other sides, allow about a half a cup (to three-fourths cup) per person
When chopping the oysters a lot of juice will come out on the cutting board; add this juice to the rice, as well as the juice the oysters came in
Chicken livers
Chicken livers typically come in a one pound plastic container. You're only gonna use half of these (about ½ a cup) unless you double the recipe.
Don't add salt until after you've added the oysters; their juice is already pretty salty
Nutrition Estimate
Serving:
1
cup
Calories:
109
kcal
Carbohydrates:
3
g
Protein:
4
g
Fat:
10
g
Saturated Fat:
6
g
Polyunsaturated Fat:
1
g
Monounsaturated Fat:
2
g
Trans Fat:
1
g
Cholesterol:
75
mg
Sodium:
527
mg
Potassium:
183
mg
Fiber:
1
g
Sugar:
1
g
Vitamin A:
1949
IU
Vitamin C:
12
mg
Calcium:
20
mg
Iron:
2
mg