This Classic French Onion Soup Recipe is inspired by the infamous Julia Child. It consists of a rich, savory beef broth accented with sweet caramelized onions, a hint of seasonings and a decadent layer of Gruyere cheese melted over toasted French bread.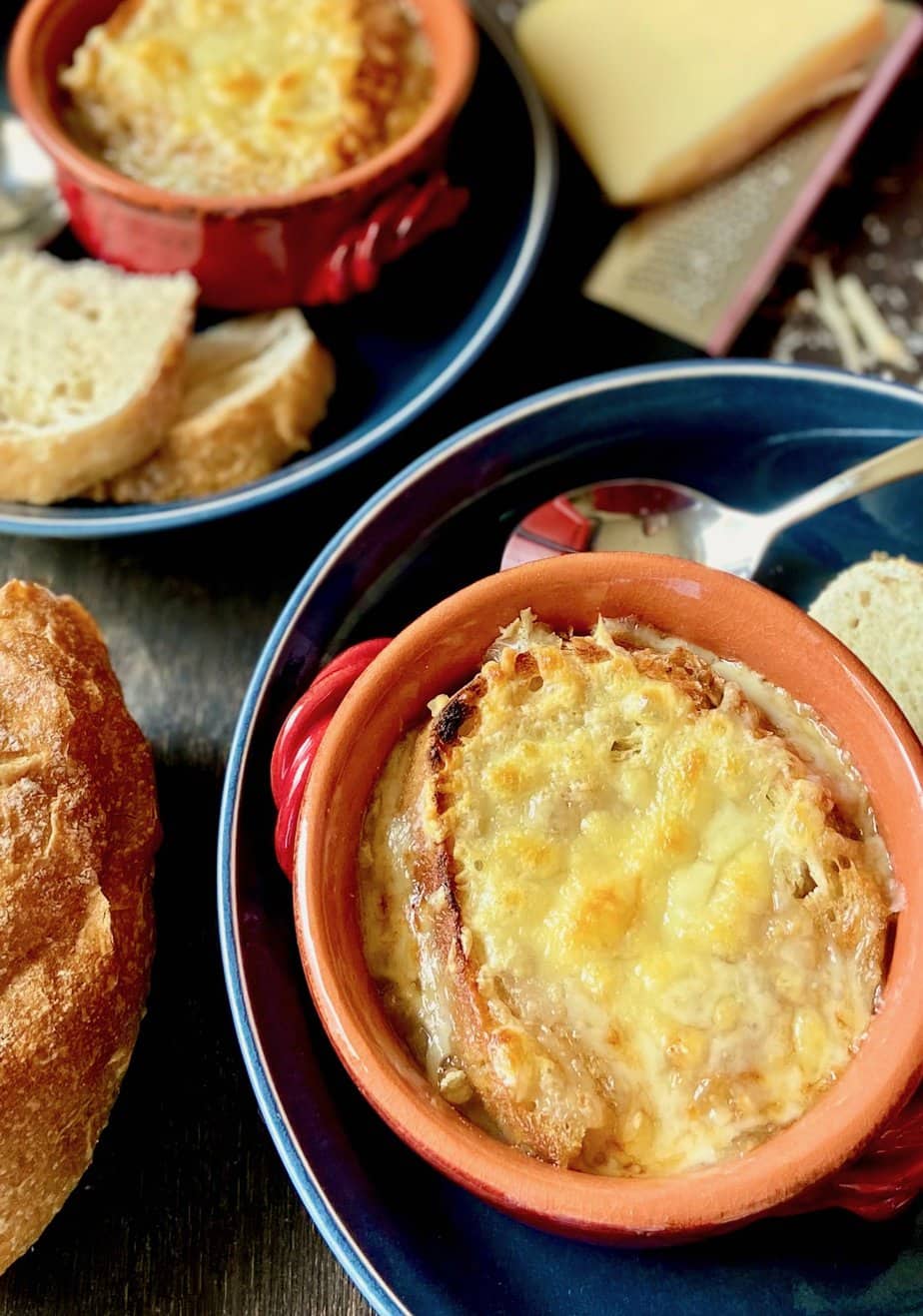 This version is much better than La Madeleine's French Onion Soup. Once you make it, I think you'll agree!
Easy to make, this recipe requires a bit of patience when cooking the onions after all, the sweet, caramelized onions are the star of this fabulous and impressive soup!
Serve as an appetizer with beef tenderloin, Brussels sprouts with horseradish cream and a crisp green salad!
Why this recipe works
Some French recipes are pretty simple, just as this classic onion soup recipe is- a few simple ingredients and you've got a heart-warming, delicious soup in no time!
Authentic and foolproof - the seasonings are spot on and the carmelized onions are perfect
Easy - the hardest part about this recipe is cooking the onions...which requires patience...
Leftovers are delicious-if you have any soup leftover it will be as good, if not better than the first time around
What is carmelization?
Carmelization is the process of slow cooking and browning foods. This occurs when sugar is in the presence of heat.
Onions are sweet because they inherently contain sugar, so when you slow cook them for a long time, they begin to turn brown, releasing their natural sugars-this is what makes this easy French onion soup so delicious!
Ingredients for French Onion Soup
The ingredients and seasonings are simple: 5-6 large yellow onions (not sweet yellow onions), beef broth or beef stock, butter, all-purpose flour, granulated sugar, ground thyme, Worcestershire sauce, dried bay leave, dry white wine (optional), French bread, Gruyere cheese. Season to taste with salt and ground black pepper.
How to make it
Classic French Onions soup isn't hard to make, but it does require patience when you're cooking, or caramelizing the onions on the stovetop.
The carmelized onions take anywhere from 30-50 minutes. The most important thing about this recipe is the carmelized onions, afterall, they're the main ingredient-so don't get in a hurry on this part.
One thing is certain- you will need a mandolin or a sharp knife to slice the onions to about ¼"inch thick
First, use a mandolin or a super sharp knife and thinly slice the onions into thin strips about ⅛" inch strips. Set the thin onions aside and melt butter in a large stockpot or Dutch oven on low to medium-low heat.
Add thinly sliced onions and sugar; cover and cook on medium low heat, stirring frequently using a wooden spoon, for about 40 minutes, or until the sliced onions turn a nice golden brown. Stir onions frequently to prevent burning and scrape up any browned bits from the stockpot.
Once the onions are a nice brown color, sprinkle in the flour and combine well. The purpose of the flour is to absorb some of the residue from the melted butter so your Classic French onion soup isn't oily, but silky smooth.
Add beef stock, bay leaf, thyme, Worcestershire sauce and a pinch of white vinegar or dry white wine (optional.) For best results, allow to simmer on low heat on the stovetop for at least 30 minutes
Taste for seasonings; add salt and pepper to your preference
Once the onion soup is done, it's time to assemble it. Use ovenproof ramekins for best results.
How to assemble French onion soup
Place the oven proof ramekins or oven proof soup bowls on a baking sheet (or cookie sheet) and turn the oven to the broil setting which is about 450° - 500°F. Ladel the onion soup into the ramkins, filling each about ½ - ¾ of the way.
Place a slice of toasted French bread on top of the French onion soup, then sprinkle shredded Gruyere (or Swiss) cheese over the bread.
Place on middle rack of the oven and broil for 5-8 minutes. Keep an eye on it! The cheese topping can burn quickly!
Remove baking sheet from oven and allow the ramekins to cool a little before serving.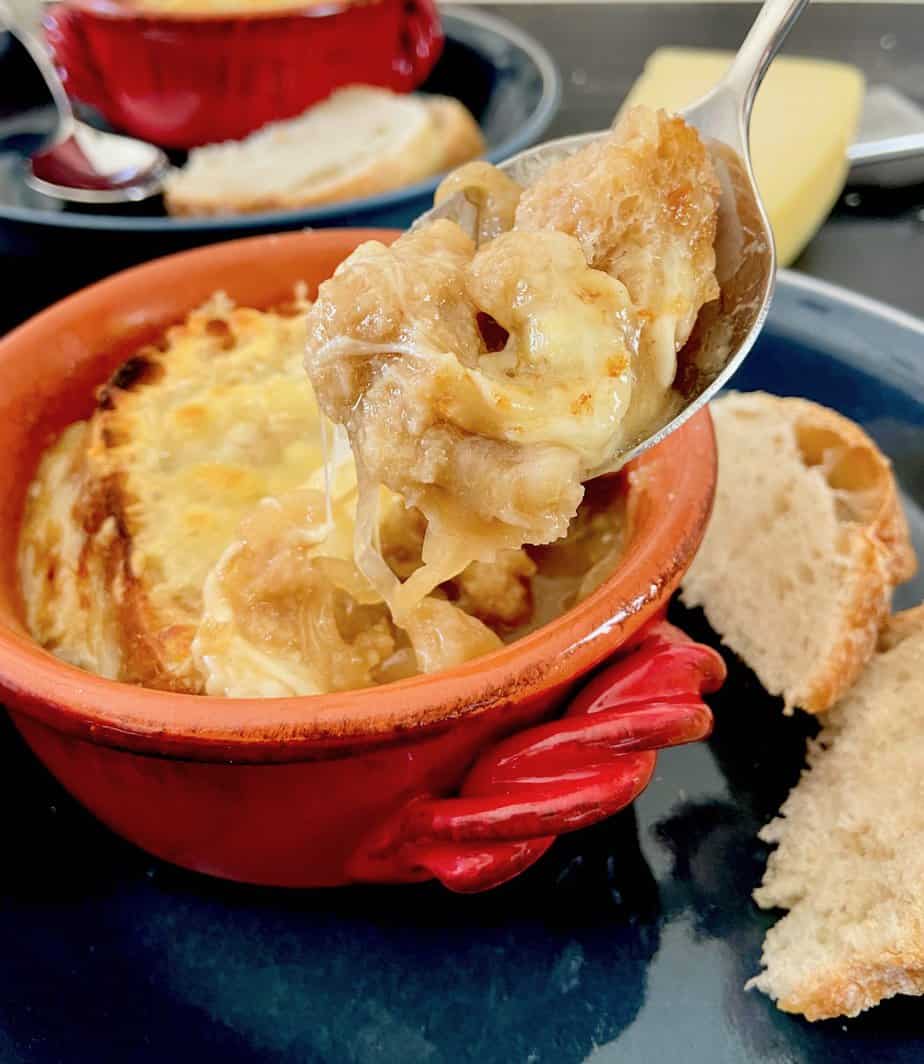 Recipe
Tips
Classic French Onions soup requires a few simple ingredients, but thin-sliced onions are a must!
Use a sharp knife or mandolin for slicing onions ¼ " -⅛" inch thick and be patient when carmelizing the onions
Serve soup in oven-safe ramekins-use a hot mitt to remove ramekins from oven - they get HOT!
Wait a few minutes before serving the soup
When serving, place ramekins on a small salad plate or serving platter
Recipe FAQ
What kind of onions are best for French onion soup?
Julia Child's original recipe calls for yellow onions- note, these are not sweet yellow onions, but plain yellow onions! I once made the mistake of using sweet onions and the flavor of the soup was definitely "off" a bit.
You can make this comforting onion soup with white onions, as well.
Best cheese for French onion soup
Traditional, classic or authentic French onion soup recipes generally use Gruyere cheese because of it's nutty flavor and excellent melting properties. Gruyere is expensive, so if you want, substitute the Gruyere cheese with high-quality Comte or Swiss cheese.

Whichever cheese you use, make sure that's in a block-not one that's pre-shredded. Those are coated with an anti-caking ingredient and they don't melt as well as the block cheese.
Best wine for French onion soup
Most French onion soup recipes call for a little bit of alcohol, like brandy, cognac, sherry or wine. This adds a bit of acidity to the onion soup, developing the rich flavor even further.

Use a dry white wine like a Chardonnay or Pinot Grigio. If you want, you can use a little dry red wine instead, or make this delicious French onion soup with no wine- it's up to you!

The wine (or any alcohol) adds a bit of acid to the flavor profile of the soup. If you're not a fan of wine, you can omit it or substitute with ½ teaspoon of white distilled vinegar.
Serving suggestions
This full-bodied French onion soup can stand on it's own or serve as a first course to a delicious entree Chicken Friccasse, a delicious Caesar salad and a side of Ratatouille. Since the soup uses beef broth, it pairs nicely with beef tenderloin and a glass of red or white wine.
Make ahead, storage and reheating
Classic French onion soup can be made in advance; make the soup and store in an airtight container in the fridge for up to 3-days or frozen for up to 2 months.
Prior to serving, reheat the soup on the stove or microwave, ladle into ramekins, add bread, cheese and broil!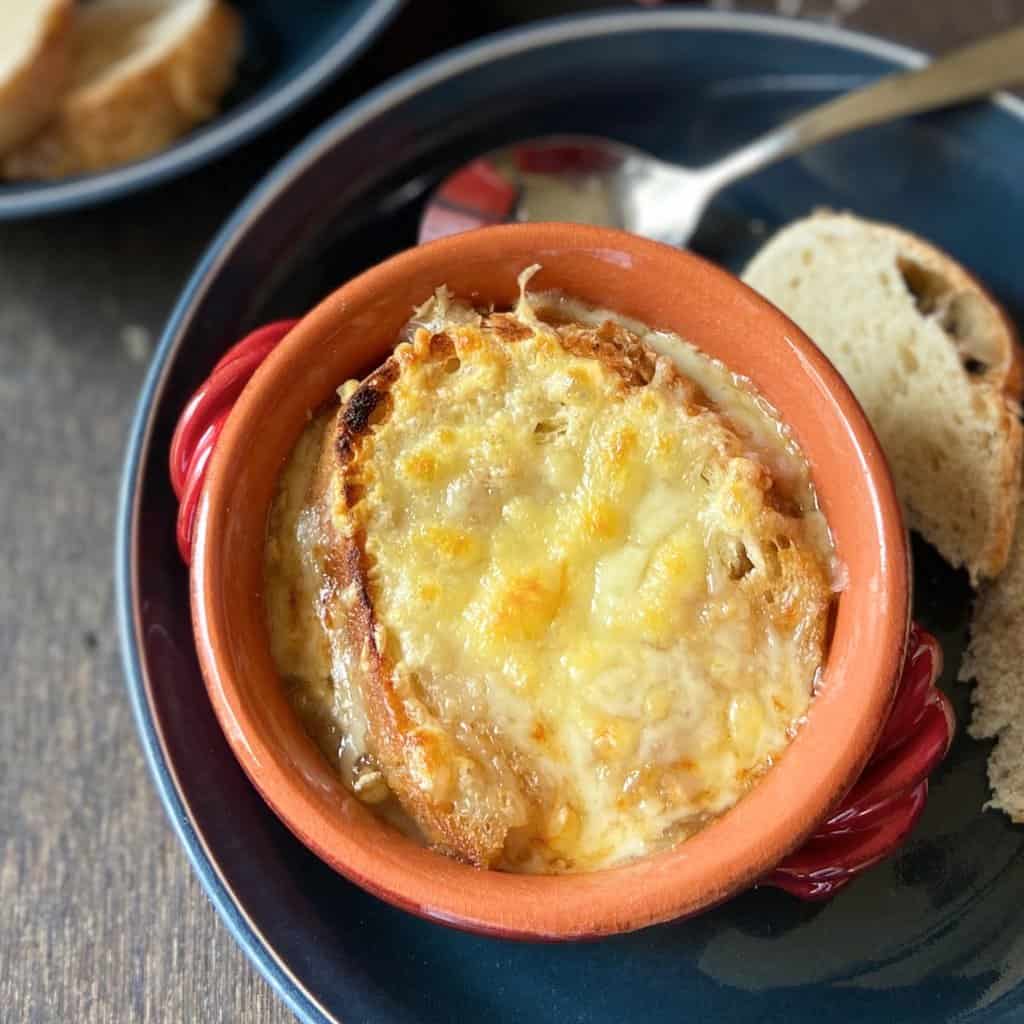 You can never go wrong with a Classic French Onion Soup! Bon Appétit!
Related recipes
If you make this recipe, please scroll down and leave a comment and rating. I love to hear from you! Thank you!
📋 Recipe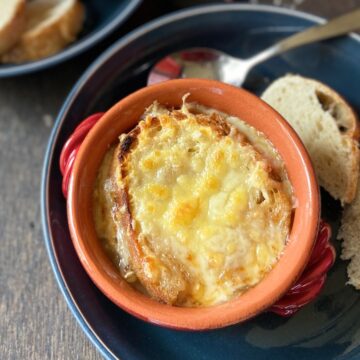 Classic French Onion Soup
Easy, delicious, comforting French Onion Soup inspired by Julia Child's famous recipe!
Print
Rate
Equipment
Mandolin slicer is recommended

Oven-safe ramekins

Pot holder or oven-mitt - the ramekins get HOT
Ingredients
1½-2

pounds

onions, yellow or white

sliced ¼"-inch; "plain" yellow; not "sweet yellow onions" See Recipe Notes

1

stick

butter

, salted or unsalted

64

oz.

beef broth

2

tablespoons

granulated sugar

3

tablespoons

all-purpose flour

2

tablespoons

Worcestershire sauce

½

teaspoon

thyme

, ground

1

whole

bay leaf

½

cup

dry white wine (optional); (see recipe notes)

½

teaspoon

white vinegar (see recipe notes)

salt & pepper

to taste

1

loaf

French bread

sliced

12

ounces

Swiss, Gruyere, or Comte cheese

,shredded
Instructions
Make the Soup
Thinly slice onions; set aside

1½-2 pounds onions, yellow or white

Melt butter in a large stock pot on medium heat

Add sliced onions and sugar to melted butter and allow to cook on low to medium-low heat until onions are brown; be patient...this takes a while

1½-2 pounds onions, yellow or white,

2 tablespoons granulated sugar

Once onions are browned, sprinkle in flour and cook 2-3 minutes until mixture becomes thick; add beef stock and, using a wooden spoon, scrape up any browned bits from the bottom of the pan;

3 tablespoons all-purpose flour,

64 oz. beef broth

Add wine (optional) or vinegar (See Recipe Notes), Worcestershire sauce, thyme and bay leaf; bring to boil for 5 minutes, then reduce heat to medium low and cover; salt and pepper to taste; remove the bay leaf before serving

2 tablespoons Worcestershire sauce,

½ teaspoon thyme,

1 whole bay leaf,

½ cup dry white wine (optional); (see recipe notes),

salt & pepper,

½ teaspoon white vinegar (see recipe notes)
Make the Bread Topping
Slice French Bread into ¼ inch pieces

Lightly coat bread slices with olive oil and place on oiled baking sheet

Place baking sheet in oven and bake for 15 minutes; then turn bread slices and bake another 15 minutes, or until golden brown

Remove from oven and set aside
Soup Assembly
Turn oven temperature to broil; remove bay leaf from soup

Ladle onion soup ⅔ of the way into oven-safe ramekins; ; add toasted French bread; top with shredded cheese

12 ounces Swiss, Gruyere, or Comte cheese

Place ramekins on baking sheet and place under broiler until cheese is nicely browned

Remove baking sheet from oven; using a paper towel, dip the ends of the paper towel onto the residual oil from the baked cheese

Ramekins will be extremely hot; allow to sit for about 8 minutes prior to serving
Notes
Do not substitute "Sweet" Yellow onions for the onions in this recipe. Use plain yellow onions, or white onions, but do not buy "sweet" yellow onions...don't ask me how I know this:)
Wine/Vinegar
Wine adds a slight element of acidity to the soup, which really raises the bar in flavor! If you don't want to add wine, substitute with ½ teaspoon of white distilled vinegar. Add this at the end, before you season the soup with salt and pepper.
Nutrition Estimate
Serving:
1
cup
Calories:
562
kcal
Carbohydrates:
42
g
Protein:
23
g
Fat:
32
g
Saturated Fat:
17
g
Cholesterol:
77
mg
Sodium:
1349
mg
Potassium:
379
mg
Fiber:
3
g
Sugar:
7
g
Vitamin A:
764
IU
Vitamin C:
7
mg
Calcium:
493
mg
Iron:
3
mg