If you're attempting healthy eating and a low sodium diet, you'll want to keep this low sodium White Balsamic Vinaigrette recipe handy because it's delicious and easy to make! Keep a few mason jars of this homemade dressing on hand for a quick salad or a light sauce for fish or chicken!
For years, I've tried a thousand healthy homemade salad dressings. The problem was, the dressing separated because oil and vinegar don't really like each other.
I finally found the secret to making a silky smooth vinaigrette with a low sodium content and one that actually emulsifies and keeps well in the refrigerator!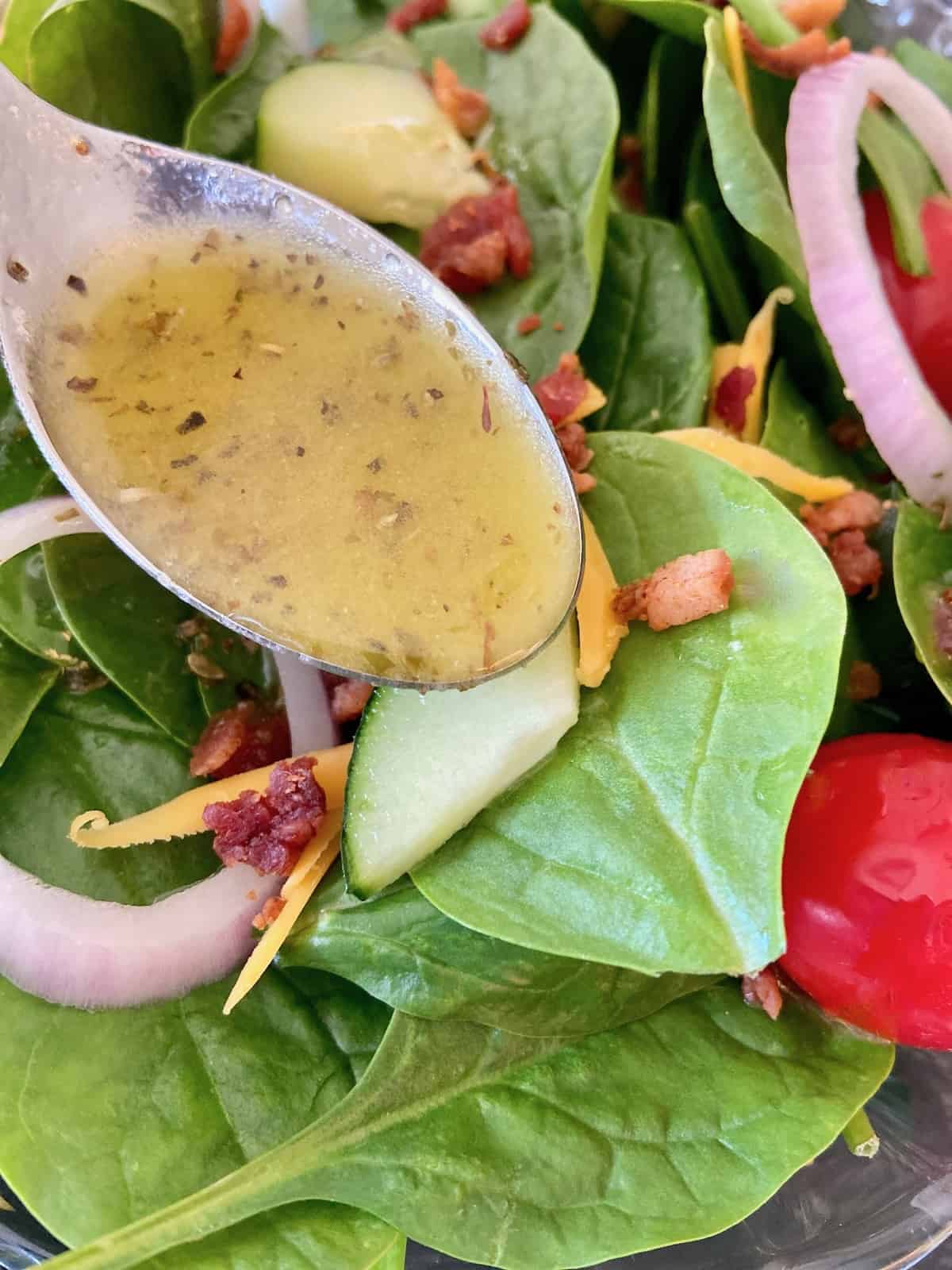 Why you'll love this recipe!
Just say "no" to store-bought dressings and whip this light vinaigrette up in no time!
Low-sodium/Healthy/fresh ingredients-most bottled vinaigrettes contain a plethora of ingredients including emulsifiers and sodium. A typical oil and vinegar dressing contains 270- 320 mg per 2 tablespoons; this recipe contains 1 mg of sodium per 2 tablespoons, which naturally occurs in dried mustard.
Versatile: satisfy your taste buds by putting your own spin on this basic vinaigrette recipe by adding different herbs and spices, italian seasoning, garlic powder, black pepper or, for a zesty flavor, throw in some ground red pepper flakes! Watch out for adding parmesan cheese, though...it is high in sodium.
Stores well: due to the specific ratios of ingredients in my low sodium vinaigrette recipe, the dressing doesn't separate as much as other traditional combinations; one quick shake of it and it's smooth!
Ingredients
White Balsamic Vinegar, Extra Virgin Olive oil, dried Italian seasonings, dried ground mustard, lemon juice concentrate (you can use fresh lemon juice) and sugar (optional.) Do NOT substitute plain distilled white vinegar for the white balsamic vinegar.
How to make low sodium vinaigrette
This recipe uses simple ingredients, has minimal prep time and there's nothing better or easier than a homemade salad dressing! Grab a small bowl just mix the oil and balsamic vinegar in a bowl; whisk; add remaining ingredients; whisk again and you're done! Drizzle it over a fresh bed of greens or use as a dipping sauce for raw vegetables.
No need for a food processor-the easiest way (and best way) is to whisk this together the old fashioned way...with a wire whisk or a fork:)
Why this recipe works
Contains no dairy products - no greek yogurt, sour cream or mayonnaise. Keto friendly, healthy salad dressing recipe plain and simple.
The balsamic vinegar keeps the salad dressing emulsified
No added salt but still has great flavor! You'll be surprised how good a low sodium salad dresssing tastes!
Combines well - Without going into a dissertation on food chemistry, let's just note that fats and oils are non-polar and hydrophobic-meaning they don't like water. Vinegar, on the other hand is just the opposite - polar and hydrophilic- which means vinegar likes water.
So, you can see that these two ingredients are at opposite ends of the spectrum when it comes to mixing well and getting along.
What they need is something to bring them together...a catalyst. In this instance, the "secret somethings" are white Balsamic Vinegar and dry mustard.
Balsamic vinegars, both dark and white, are made from cooked grapes. As the grapes cook and brown, they produce polymers called melanoidins. Melanoidins have emulsifying properties which help bind the oil and vinegar.
Dry mustard also has emulsifying properties. So, the inclusion of these two ingredients in this easy vinaigrette recipe allows the two opposite ingredients to combine and produce a nice, smooth vinaigrette.
Now that I've bored you with the details of WHY...(you can only imagine how popular I am at cocktail parties:)...let's whip up a batch of this low-sodium vinaigrette.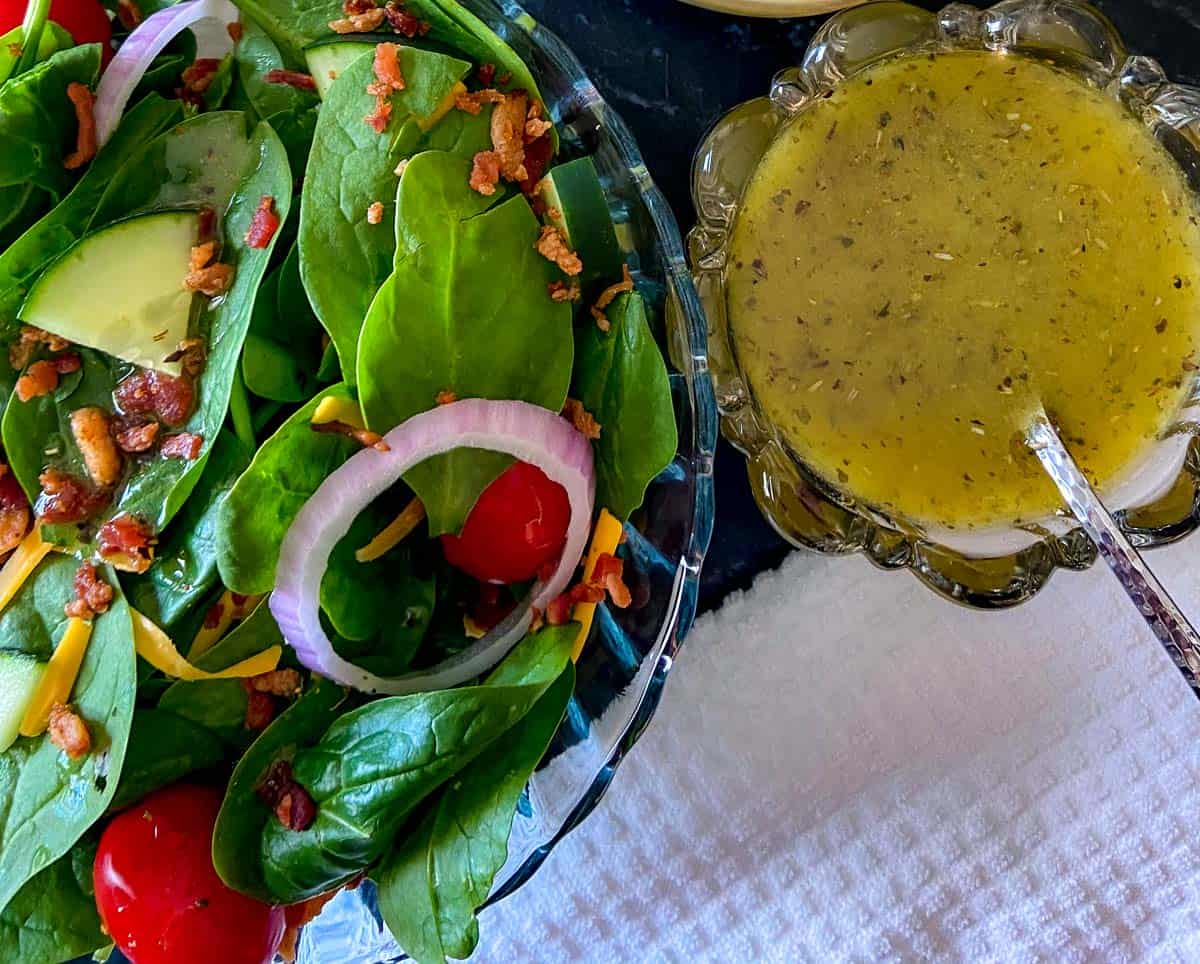 This low sodium vinaigrette is ideal for any salad greens and much more flavorful and healthy than what you find at the grocery store.
Tips
Do not substitute the balsamic vinegar with distilled or apple cider vinegar
Use a high-quality olive oil
1 tablespoon of lemon juice from concentrate is equivalent to the juice from half of a large lemon
Sugar is optional
Switch out the herbs if you prefer; if using fresh herbs, you'll want to use twice as much of the fresh, because dried herbs are stronger than fresh
Storage
Store this low sodium vinaigrette in a well-sealed jar (I use mason jars) or any airtight container in the refrigerator for up to three weeks. Some separation and solidification may occur, so be sure to give it a good shake before serving.
If the low-sodium salad dressing solidifies in the refrigerator, allow it to come to room temperature first, then shake it up to combine the ingredients or make it using ⅔ cup olive oil and ⅓ cup vegetable oil.
Serve over crisp greens or warm it up and drizzle it over asparagus, broccoli or Brussels sprouts! This is also a great dressing to serve with fish or chicken breasts.
Related recipes:
📋 Recipe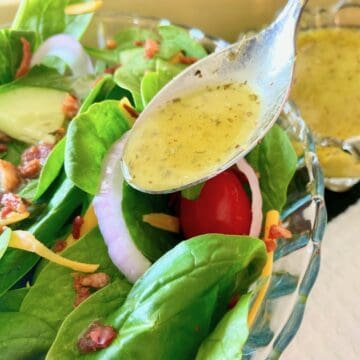 Low Sodium White Balsamic Vinaigrette
All-natural oil and vinegar salad dressing with herbs, lemon and garlic. No added sodium.
Print
Rate
Ingredients
1

cup

olive oil

Extra Virgin See recipe notes about OIL

½

cup

White Balsamic Vinegar

1

tablespoon

Italian herbs

dried

1

tablespoon

lemon juice concentrate

¼

teaspoon

garlic powder

½

teaspoon

dried mustard

½

teaspoon

sugar

(optional)
Instructions
Combine olive oil and white balsamic vinegar in mixing bowl; whisk

1 cup olive oil,

½ cup White Balsamic Vinegar

Add remaining ingredients; whisk together and serve

1 tablespoon Italian herbs,

1 tablespoon lemon juice concentrate,

¼ teaspoon garlic powder,

½ teaspoon dried mustard,

½ teaspoon sugar
Notes
You may substitute dark balsamic vinaigrette for white, but the flavor profile of the salad dressing will change a bit
Do not substitute white distilled or apple cider vinegar for the white balsamic vinegar; the oil and vinegar won't emulsify as well
Lemon juice: use 1 tablespoon of lemon juice from concentrate or the juice from half of a lemon
ABOUT THE OIL
This dressing may solidify a little upon refrigeration but will easily emulsify once it's at room temperature.
If you want a dressing that will not solidify at all upon refrigeration, replace the 1 cup of olive oil with ⅔ cup olive oil and ⅓ cup vegetable oil. The vegetable oil helps stabilize the dressing without affecting the flavor.
Nutrition Estimate
Serving:
2
tablespoons
Calories:
85
kcal
Carbohydrates:
1
g
Protein:
1
g
Fat:
9
g
Saturated Fat:
1
g
Sodium:
1
mg
Potassium:
9
mg
Fiber:
1
g
Sugar:
1
g
Vitamin A:
4
IU
Vitamin C:
1
mg
Calcium:
5
mg
Iron:
1
mg