Some entrees just sound "fancy," like this easy Chicken Cordon Bleu recipe. Maybe it's because of the fancy spelling of "bleu" or because it reminds us of the famous French cooking school, Le Cordon Bleu. No matter what, you'll love this easy chicken dish- stuffed with creamy Swiss cheese, tasty ham and the delicious cordon bleu Dijon sauce!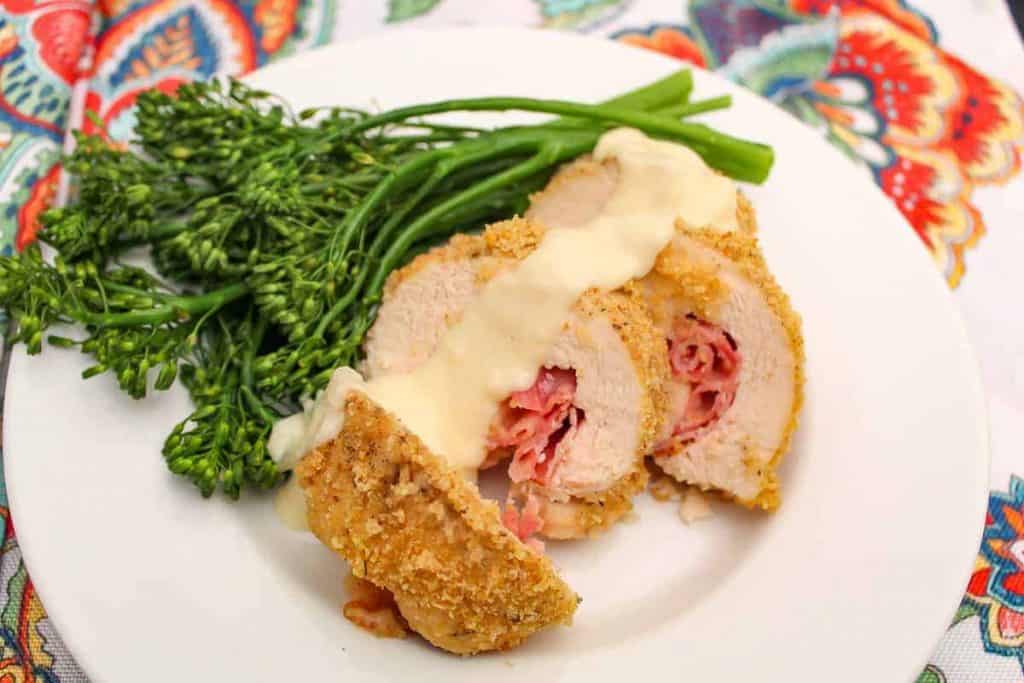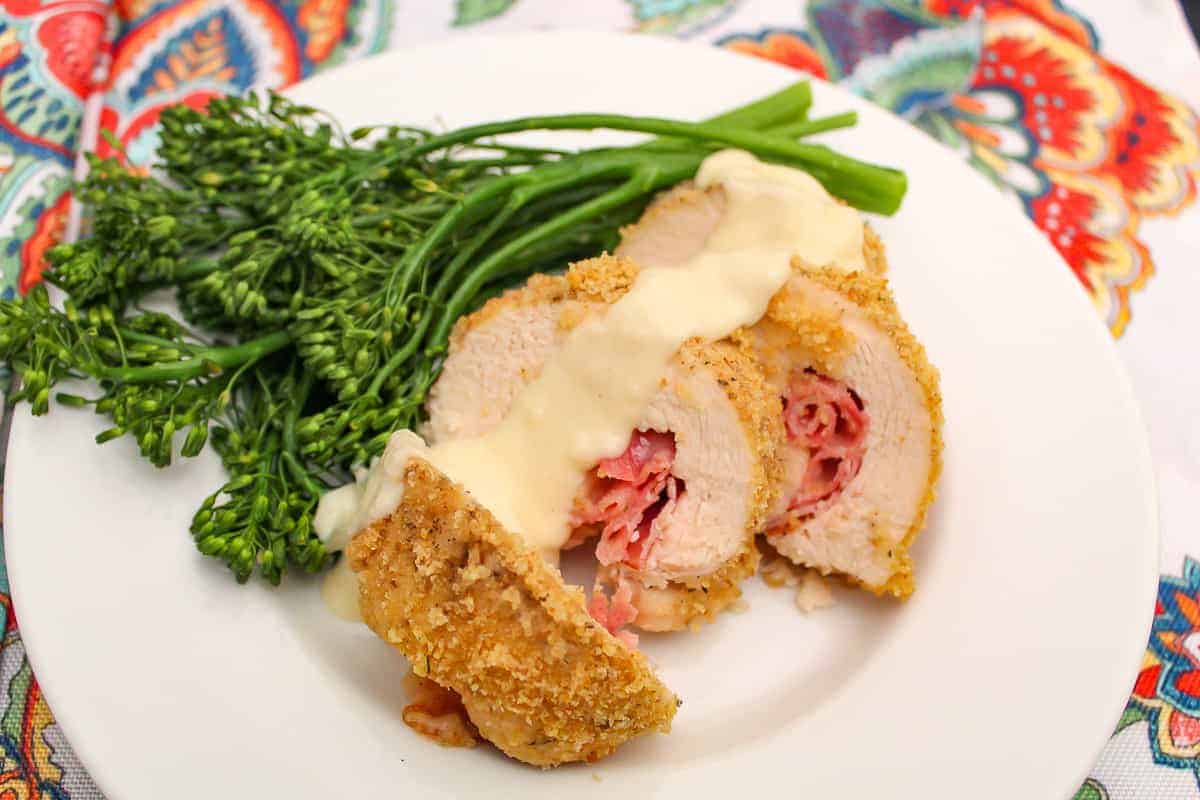 Easy Chicken Cordon Bleu
What is Chicken Cordon Bleu?
Chicken Cordon Bleu is a dish of Swiss origin where a thin chicken breast is flattened then layered with Swiss cheese and ham. The chicken breast, ham and cheese are then rolled, breaded and baked. It is seemingly complex, but in actuality, quite an easy and impressive dish to serve.
How Long Does it Take to Prep Chicken Cordon Bleu?
The prep time takes about 15 minutes, and that includes the time it takes to pound the chicken breast. If you have an unusually thick chicken breast, I recommend slicing it in half lengthwise first, then pound it out to about 1/4 inch thickness. The thinner the chicken breast, the easier it is to roll it up!
Ingredients for Cordon Bleu Sauce
The creamy sauce that accompanies this Swiss chicken "schnitzel" starts with a basic roux of flour and butter. Add milk, Dijon mustard and parmesan cheese to the roux and the sauce is done! Drizzle the sauce over the chicken and enjoy!
What Can I Substitute for the Ham and Swiss Cheese?
Traditional Cordon Bleu consists of ham and Swiss cheese; however, you can substitute the ham with other cured meats such as Proscuitto or Pancetta, which have a similar in flavor to ham. As for the Swiss cheese, feel free to use any white cheese such as Gruyere or Provolone.
How to Assemble Cordon Bleu
Four easy steps to putting together chicken cordon bleu. Once you roll the chicken, cheese and ham, dredge the chicken through the egg and then in the breadcrumbs. Place on lightly oiled baking dish and bake for 30 minutes or until internal temperature reaches 165ºF.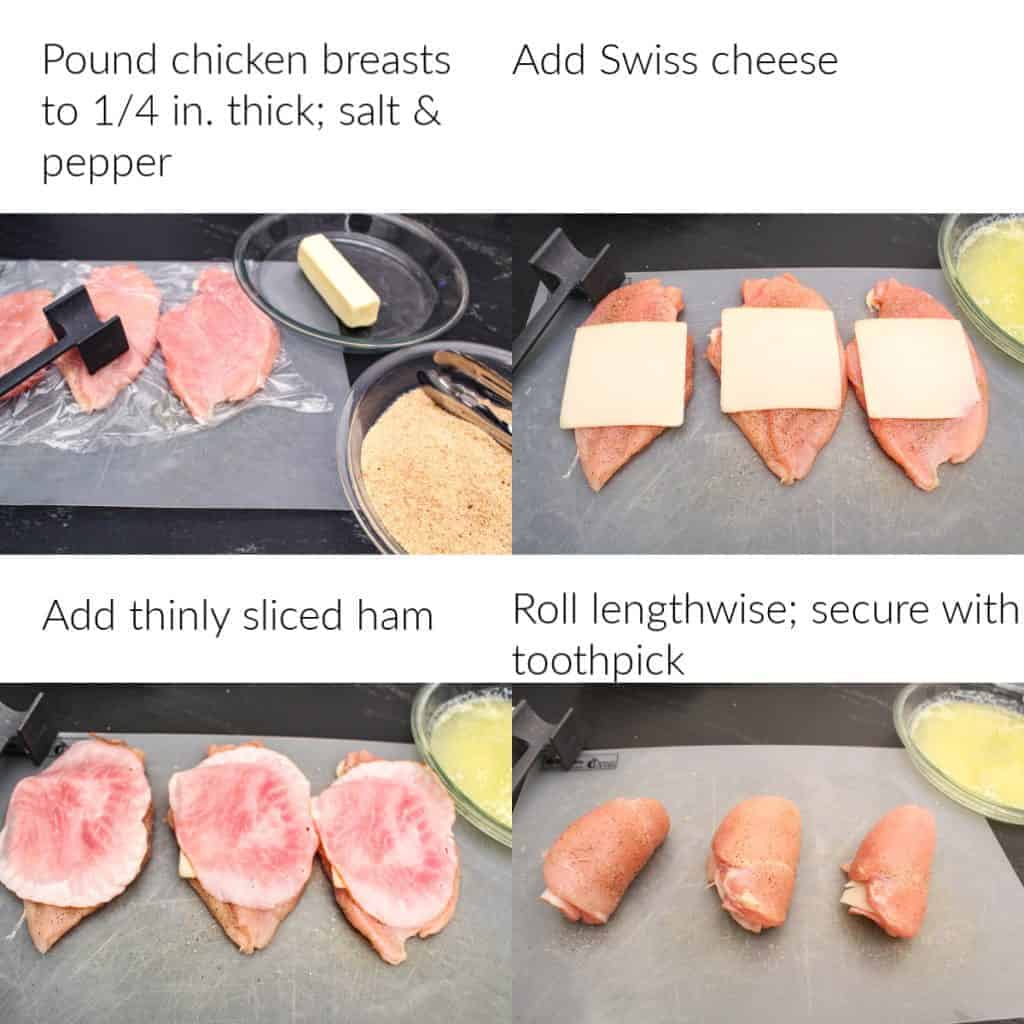 Recommended Side Dishes for Cordon Bleu
The basic flavor palate we start with is: chicken, ham, Swiss cheese and the Dijon sauce-a nice savory flavor profile. Pair this dish with a nice green vegetable such as steamed broccoli, or sauteed asparagus! Other options include ratatouille, broccoli rabe or sauteed kale.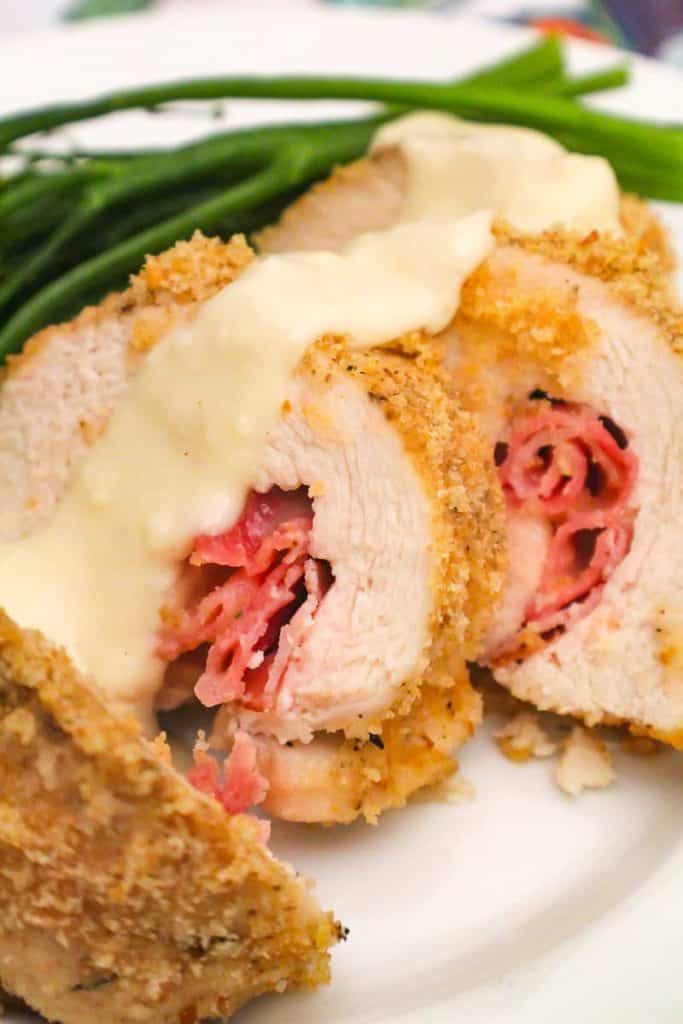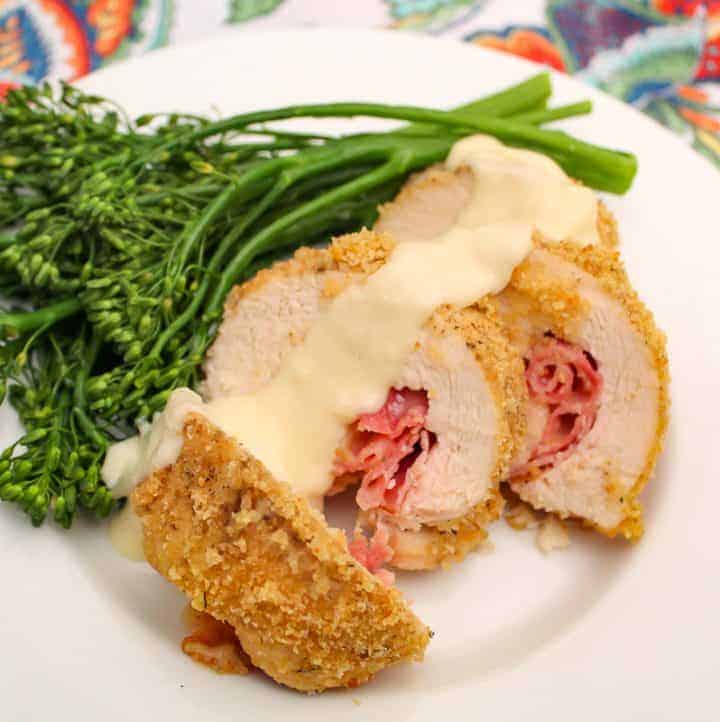 Easy Chicken Cordon Bleu Recipe
Thin chicken breast stuffed with ham and Swiss cheese; breaded and baked; serve with Dijon Parmesan sauce
Print
Pin
Rate
Servings:
1
breast per person
Equipment
Toothpicks to secure the chicken roll

Meat mallet
Ingredients
Chicken Stuffing and Coating
3

chicken breasts

trimmed, boneless, skinless

3

thin slices

ham

3

thin slices

Swiss cheese

1½

cups

breadcrumbs

1

stick

butter

melted

½

teaspoon

garlic powder

½

teaspoon

ground thyme

½

teaspoon

salt

½

teaspoon

pepper
Dijon Sauce
1

stick

butter

½

cup

flour

1

cup

milk

3

tablespoons

Dijon mustard

¾

cup

grated Parmesan cheese

1

teaspoon

white vinegar
Instructions
Prep
Soak 8-12 toothpicks in a small glass of water

Melt butter in pie pan or flat pan with an edge

Pour breadcrumbs into a separate flat pan; add thyme and garlic powder; combine well
Assemble the Chicken
Pound chicken breasts to 1/4 inch thick (See Recipe Notes - Prep the Chicken)

Lightly salt and pepper chicken breasts

Place cheese on breast; then, place ham on breast

Roll the chicken and secure with a few toothpicks

Using tongs, dredge the rolled chicken in the melted butter then in the bread crumbs

Place breaded chicken roll in a lightly oiled baking dish
Make the Sauce
In a medium pan, melt the butter

Gradually sprinkle in the flour, stirring constantly with a whisk

Gradually add the milk, stirring constantly

Add Dijon mustard, vinegar and Parmesan cheese (See Recipe Notes - Make the Sauce)

Drizzle sauce over chicken cordon bleu and serve
Notes
Prep the Chicken
This recipe allows one chicken breast per person. If you cannot pound the chicken breast to 1/4 inch thick, slice the breast in half lengthwise first, then pound it.
If you slice the breasts in half lengthwise, you might consider serving two halves per person.
Make the Sauce
This simple roux-based sauce takes about 5 minutes to make. At first, it will be semi-thin--don't add anything yet. The sauce will thicken upon standing

(so you don't want to make it in advance)

and it will thicken if the heat is too low. On the other hand, the parmesan cheese will burn if you turn the fire up too high.
The best way to make the sauce is to make it right after the chicken is done. Look at the consistency of the sauce right after its combined and keep the heat on a medium temperature.
If you need to thin the sauce, add a little more milk and turn the heat up a little on the stove. Then, drizzle a little over the chicken and enjoy!