Traditional French Ratatouille is an easy French side dish that consists of stewed vegetables: eggplant, zucchini, onions, yellow squash, bell peppers garlic, fresh tomatoes and herbs.
It's an absolutely divine addition to any entree and is easy on the wallet and waistline.
So bring a little bit of France into your kitchen with this delectable, yet simple vegan side dish!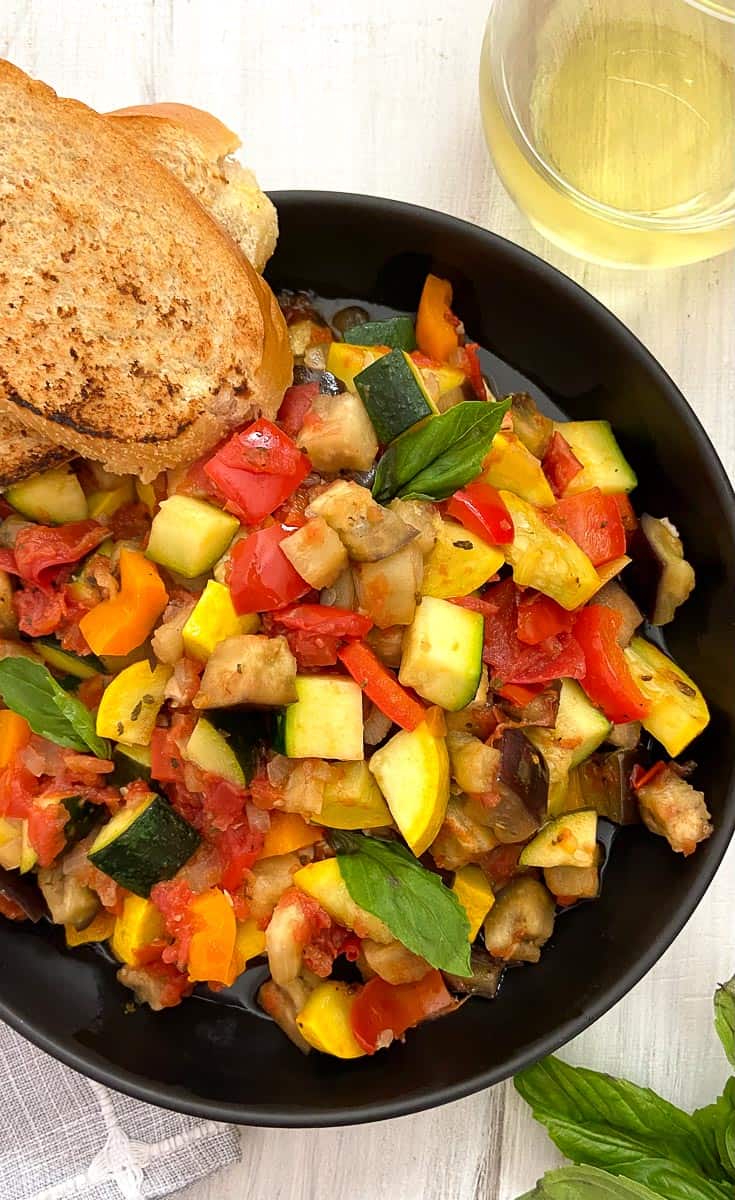 Years ago I went to France and was fortunate to dine in some pretty swanky restaurants! Interestingly, ratatouille was by far the predominant side-dish du jour, listed simply as "aubergine" on the French menus.
I saw this eggplant dish at high-end restaurants, as well as bistros!
The French serve Ratatouille with beef tenderloin, roasted chicken and fish. In fact, they serve it as a side dish with soups, too!
Jump to:
What is Ratatouille?
Ratatouille is, for lack of a better description, a French vegetable stew that is comprised of eggplant, squash, onion, bell peppers, garlic and tomatoes.
In Provence, the Southernmost region of France, ratatouille is a standard and traditional side dish on most restaurant menus and there are many versions of this classic French side dish.
"Niçoise Ratatouille," originally hails from Nice, where peasant farmers created this easy, yet delicious dish from the abundance of summer vegetable crops.
Even though this is a delicious summer vegetable dish, it's also nice to have on chilly evenings served over a warm slice of French bread!
Unfortunately, here in the States, most people know "Ratatouille" as a popular Disney™ movie!
You'll love this recipe!
Simple ingredients - simmered yellow squash, zucchini and eggplant in a savory tomato broth.
Healthy - all-natural ingredients, no additives, preservatives or fillers
Affordable - simple produce ingredients; easy on the wallet
Vegan-friendly and low-fat- lightly sauteed vegetables are an excellent source of vitamins and minerals
I've seen many versions of Ratatouille from hearty and thick, to light and thin. This recipe is balanced with just enough liquid, but not too much!
Here's what you'll need
First and foremost, you're gonna need a good sharp knife. You'll definitely sharpen your knife skills with this recipe (no pun intended!)
Three Roma tomatoes, canned crushed tomatoes, eggplant, bay leaf, yellow summer squash, zucchini squash, fresh basil, garlic, onion, red bell pepper, fresh basil, salt and ground black pepper.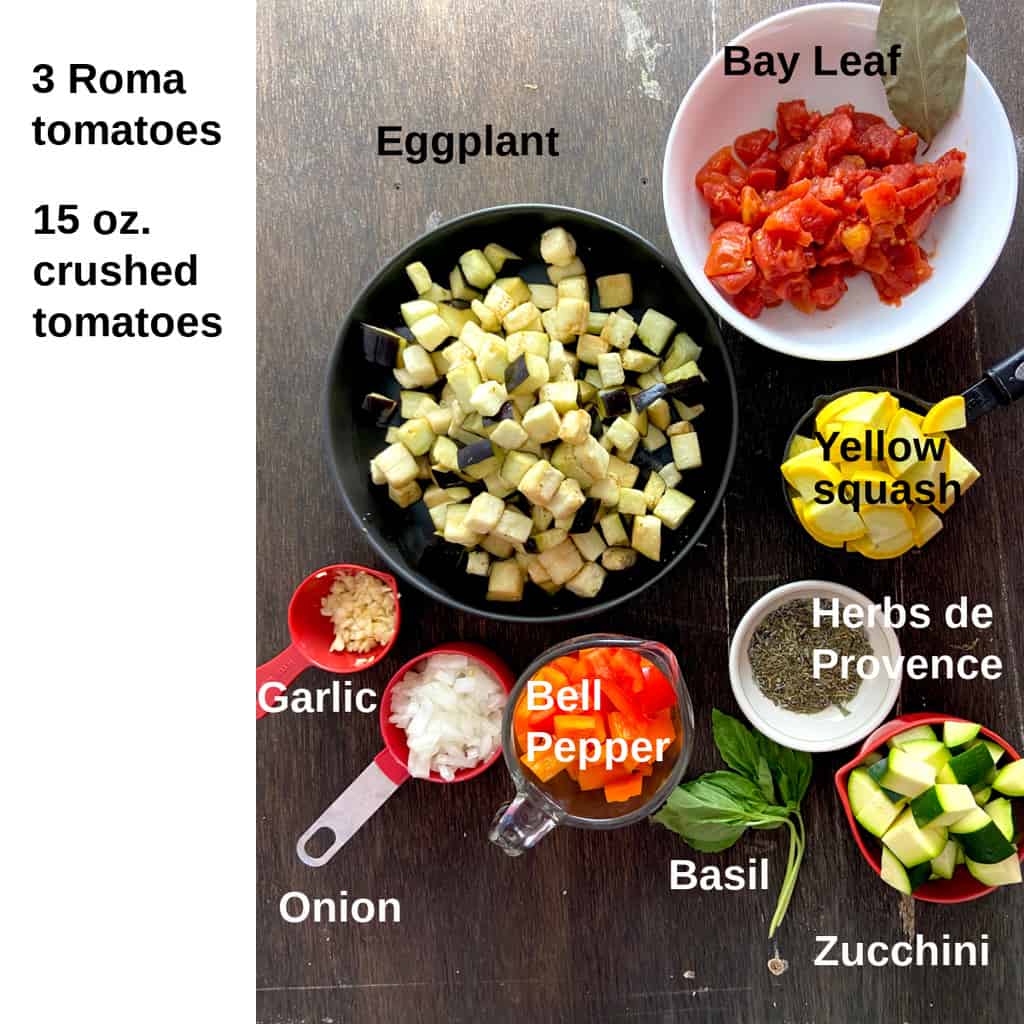 Why this recipe works
The traditional French method for cooking the vegetables for Ratatouille is to lightly saute the vegetables separately. Then make the broth, add the veggies back in and simmer till tender.
The reason you cook the vegetables in increments is, if you put them all in the stockpot at once, it would be a mushy mess and not look very appealing.
You want the squash to be tender, but not over-cooked; same with the eggplant. Once they've been lightly cooked, they hold up well when simmered with the other Ratatouille ingredients.
Prep the eggplant
The eggplant needs to be salted and rest for awhile. Eggplant is inherently full of water; in order to extract some of the water, you'll need to cut it into cubes, with or without the skin, and place in a paper towel-lined collander.
Salt generously and toss. Cover with a dish towel to minimize oxyidation- this is what causes it to turn brown.
Then you're going to cut the remaining vegetables.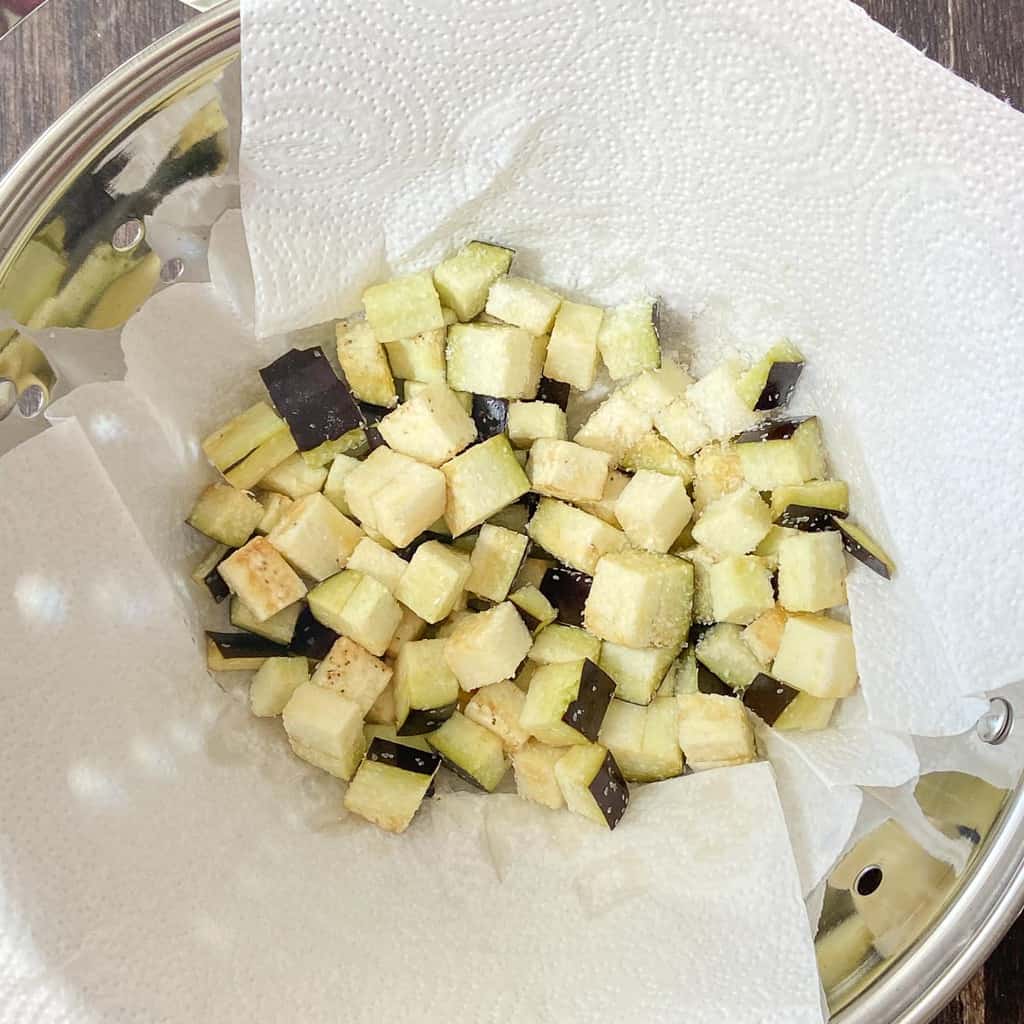 How to make it
After you've prepped the eggplant; give the eggplant, squash, onions and peppers a quick saute, individually, then add all the sauteed vegetables back into the Dutch oven; add tomatoes, bay leaf and seasonings; cover and simmer
Garnish with fresh basil and serve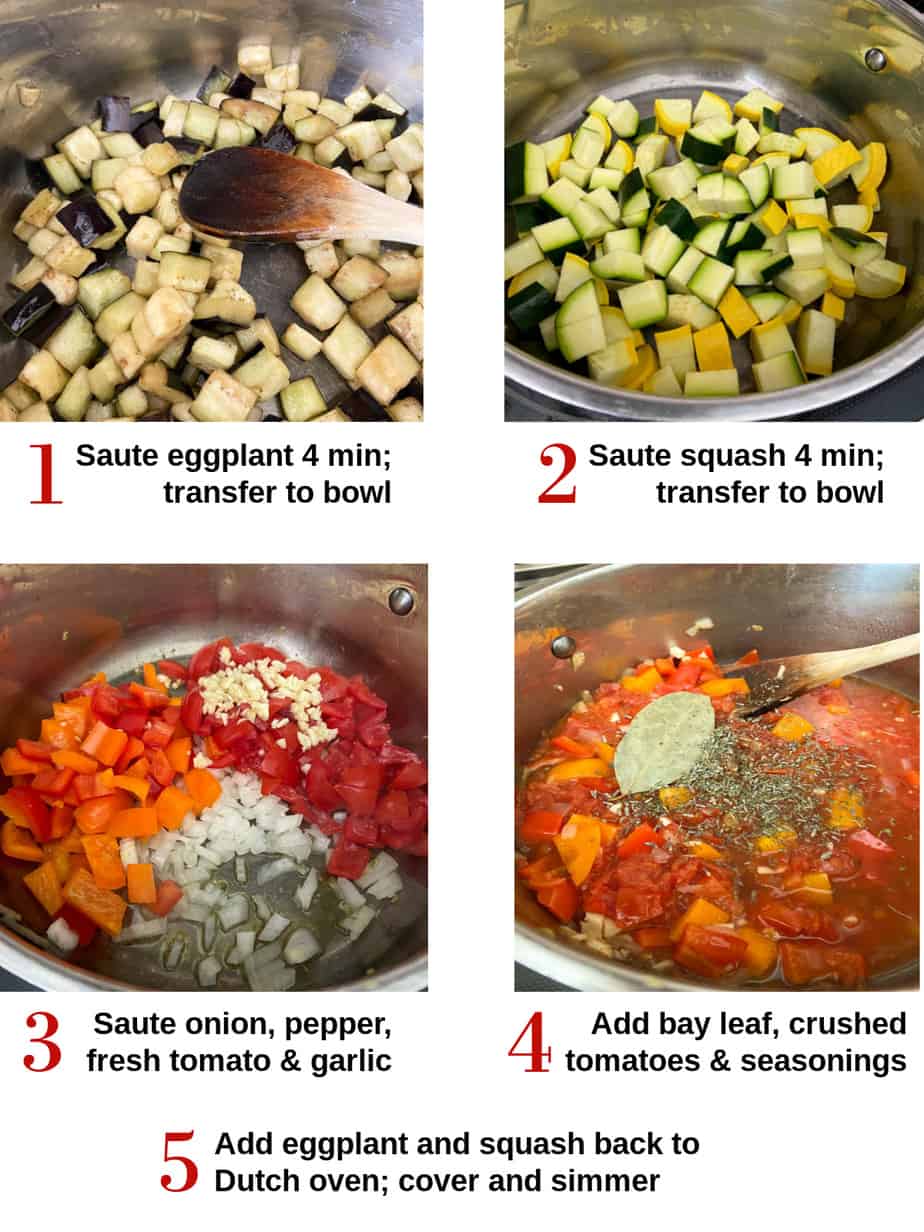 How to select the best vegetables for Ratatouille
Here are some handy tips for selecting the best eggplant and squash:
Eggplant: you want a dark purple, medium-sized, firm eggplant with few blemishes on the skin.
Squash: choose the smaller, pale colored yellow squash and the smaller, firmer green zucchini. If the squash are small, you might want to buy two of each. The measurements don't have to be perfect.
This recipe calls for "medium" sized vegetables, but that is somewhat hard to judge when you're at the store. The recipe card provides the exact measurements after the vegetables are chopped.
If you have more of one vegetable than the other, that's okay.
Recipe tips
The correct type of cookware is critical to producing a beautiful plate of ratatouille!
Eggplant turns brown if you use cast-iron, copper or aluminum, so make sure to use ceramic, non-stick or stainless steel cookware.
A ceramic or aluminum Dutch oven works best for this dish
Salting the eggplant is essential. Eggplant is inherently full of water so by generously salting it, some of the moisture is removed and the eggplant cooks to a semi-firm texture.
If you skip salting the eggplant, chances are you're gonna end up with a mushy mess.
Recipe FAQ
Why and how do I salt the eggplant?
Eggplant is full of water. When it sits salted for awhile, the moisture is extracted, resulting in a firmer eggplant.

Cut the ends of the eggplant away. (You can either peel it or not; some say the skin is bitter, but I haven't found this to be true.) Slice into rounds; then cut into ¼" inch cubes

Place a paper towel in a collander; add eggplant, season generously with salt; lightly toss then cover with a dish towel. (This is to reduce oxygenization, which causes the eggplant to turn brown.)

Let it sit while you prep the other vegetables. When it's time to saute the eggplant, pour it onto a dry paper towel and pat gently. Some of the salt will come off and that's okay.
Make ahead and storage
In my experience, this is not a "make-ahead" dish. It just doesn't hold up well in the freezer and doesn't look pretty upon re-heating.
If that's of no concern to you, then store it in the fridge for up to 3 days and reheat in the microwave.
Serving Suggestions
Serve traditional French ratatouille as a side dish with your favorite entree, in an omelet or over eggs. The savory flavor of the dish complements beef, poultry, fish and pasta.
It's also good served over French bread! Kind of comparable to an Italian Bruschetta, but with squash and eggplant.
Conversely, create a one-dish dinner with ratatouille and serve over pasta, rice or quinoa.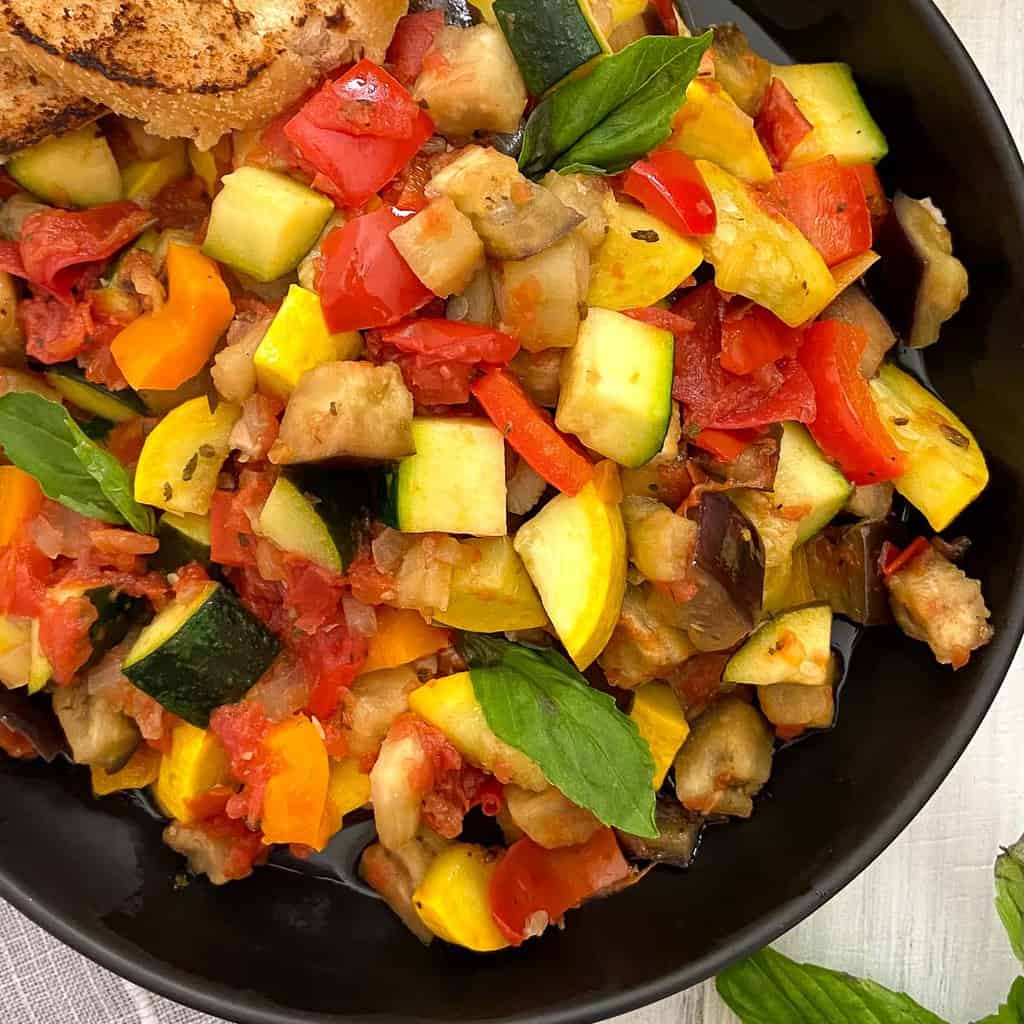 Traditional French Ratatouille is a French classic that is a flavorful and healthy side dish!
Related recipes
If you make this recipe, please scroll down and leave a rating and comment. I love to hear from you!
📋 Recipe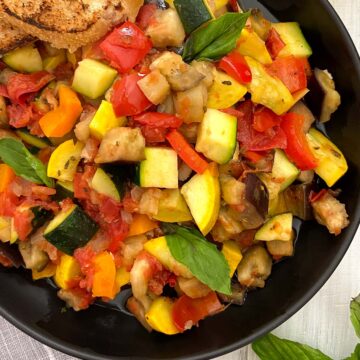 Traditional French Ratatouille
Tender eggplant, zucchini, yellow squash and onion stewed in fresh tomatoes and herbs de Provence.
Print
Rate
Ingredients
1

medium to large

eggplant

, cut into ¼"inch cubes (about 2 ½ cups chopped)

3

tablespoons

high quality olive oil

(See Recipe Notes)

1

cup

chopped yellow squash

(one medium to medium large squash); ¼" inch cubes

1

cup

chopped zucchini

(one medium to medium-large zucchini); ¼" inch cubes

1

cup

diced bell pepper

, red, yellow or orange in ¼" inch pieces

1

cup

chopped onion

3

tablespoons

garlic

minced

1

cup

diced fresh tomatoes

(about 3 Roma tomatoes); seeded and chopped into ¼ "inch pieces (See Recipe Notes)

15

ounces

crushed tomatoes

, or diced tomatoes drained (See Recipe)

2

teaspoons

Herbs de Provence

, in the spice section of your grocer

1

dried

bay leaf

½

cup

dry white wine (or water)

fresh basil

, chopped as garnish
Instructions
Prep
Cut eggplant into ¼"inch cubes (you can leave the skin on or remove it); place it in a colander with a paper towel and salt generously; cover with dishtowel and set aside (See Recipe Notes)

1 medium to large eggplant

Cut yellow squash, zucchini, bell peppers onions, garlic; set aside (put them in separate bowls because you won't add them all at once)

1 cup chopped yellow squash,

1 cup chopped zucchini,

1 cup diced bell pepper,

1 cup chopped onion,

3 tablespoons garlic

Cut roma tomatoes in half; remove seeds and cut into pieces; set aside

1 cup diced fresh tomatoes
Make the Ratatouille
On medium heat 1 teaspoon of oil in dutch oven; add eggplant; cook for 4 minutes and transfer to bowl

1 medium to large eggplant,

3 tablespoons high quality olive oil

Add yellow squash and zucchini to stockpot; cook 4 minutes (if you need a little more oil, add it in 1 teaspoon increments); after squash has cooked 4 minutes, transfer to the bowl with the eggplant

1 cup chopped yellow squash,

1 cup chopped zucchini

Add onion, fresh tomatoes, bell peppers and garlic to the stockpot; cook 3 minutes

1 cup chopped onion,

1 cup diced fresh tomatoes,

3 tablespoons garlic

Add crushed tomatoes, white wine (or water), a bay leaf and Herbs de Provence; stir well

15 ounces crushed tomatoes,

1 dried bay leaf,

½ cup dry white wine (or water),

2 teaspoons Herbs de Provence

Add sauteed eggplant and squash to stockpot

1 medium to large eggplant,

1 cup chopped yellow squash,

1 cup chopped zucchini

Turn heat to medium low; cover and cook for 25 minutes or until squash is tender; remove bay leaf, season with salt and pepper to taste

Garnish with chopped basil and serve
Notes
Make sure to use ceramic, non-stick or stainless steel cookware; anything else and the eggplant turns brownish/gray. Do not use a cast-iron skillet.
Prep the Eggplant:
You can remove the skin or not; either way, cut it into ¼ "inch cubes. Place a paper towel in a colander, add the eggplant and season generously with salt; cover with dishtowel.
When it's time to add the eggplant, lightly pat it dry with a paper towel (some of the salt will fall off and that's okay)
Yellow squash and Zucchini
It is not necessary to remove the skins; just dice into ¼ " inch cubes
Olive oil
Add 1 teaspoon or so to the dutch oven and saute the eggplant. After you transfer the eggplant to a bowl, if you need a little more oil for the squash, add it. Do the same when it's time to add the onions.
Tomatoes
If you don't have fresh tomatoes, use canned diced tomatoes; just drain them first
A note about stirring ratatouille
While ratatouille is cooking on the stove, stir it occasionally very gently - if you stir too often and too hard, it turns to mush.
Nutrition Estimate
Serving:
1
cup
Calories:
164
kcal
Carbohydrates:
22
g
Protein:
5
g
Fat:
8
g
Saturated Fat:
1
g
Sodium:
197
mg
Potassium:
1139
mg
Fiber:
6
g
Sugar:
13
g
Vitamin A:
2440
IU
Vitamin C:
61
mg
Calcium:
100
mg
Iron:
4
mg