Homemade Caesar Salad Dressing (no anchovies) is quick and easy to make! If you love a good Caesar salad but don't like anchovies, this Caesar salad dressing recipe is for you! It's a spin-off of an award-winning recipe minus the little fish and it's ready in 15-minutes!
Made with simple, all-natural ingredients, this keto-friendly, low-carb, gluten-free dressing will be a keeper in your fridge from now on!
You'll love the tangy and savory flavor of homemade Caesar dressing with no anchovies, fillers, preservatives or additives!
The original Caesar dressing was not white and creamy and did not have anchovies.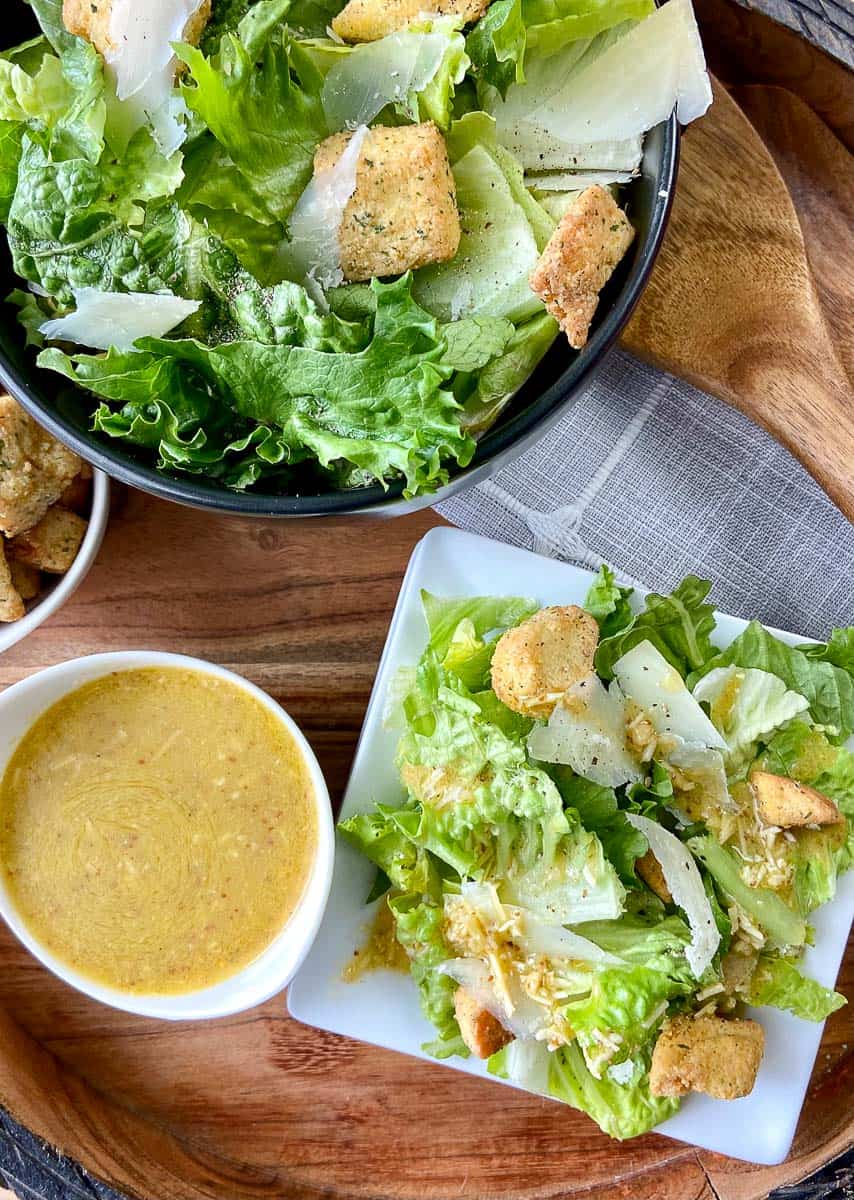 During the 50's and 60's, the Caesar salad and dressing were prepared tableside at some of the finer restaurants in America--kind of like tableside guacamole is done, now...but the servers would make the tangy dressing and serve it right at the table!
Why this recipe works
Sometimes, simple is best. This original Caesar dressing features clean, simple ingredients with no additives, fillers or preservatives
The ease of making this is beginner-level and the texture and flavor are clean and distinct
Natural golden-hue; no added colorants to make it "white"
Better than store-bought, gluten-free and relatively inexpensive
Who invented Caesar salad dressing?
Common sense would have us to believe this famous salad and its dressing were named after the Roman leader Julius Caesar, but this is not the case.
The original Caesar Salad and its infamous dressing was developed on a whim by Italian-American restaurateur Caeser Cardini in July of 1924 in Tijuana, Mexico.
Interestingly, Cardini's original Caesar salad recipe did not include anchovies, but did contain garlic, croutons, Parmesan cheese, olive oil, raw eggs and Worcestershire sauce.
Rumor has it his brother, Alex, later added anchovies to the original recipe.
What you'll need
This easy Caesar dressing (with no anchovies) comes together in no time with just a few simple ingredients: Red wine vinegar, olive oil, Worcestershire sauce, Dijon mustard, minced garlic, lemon juice and egg yolks.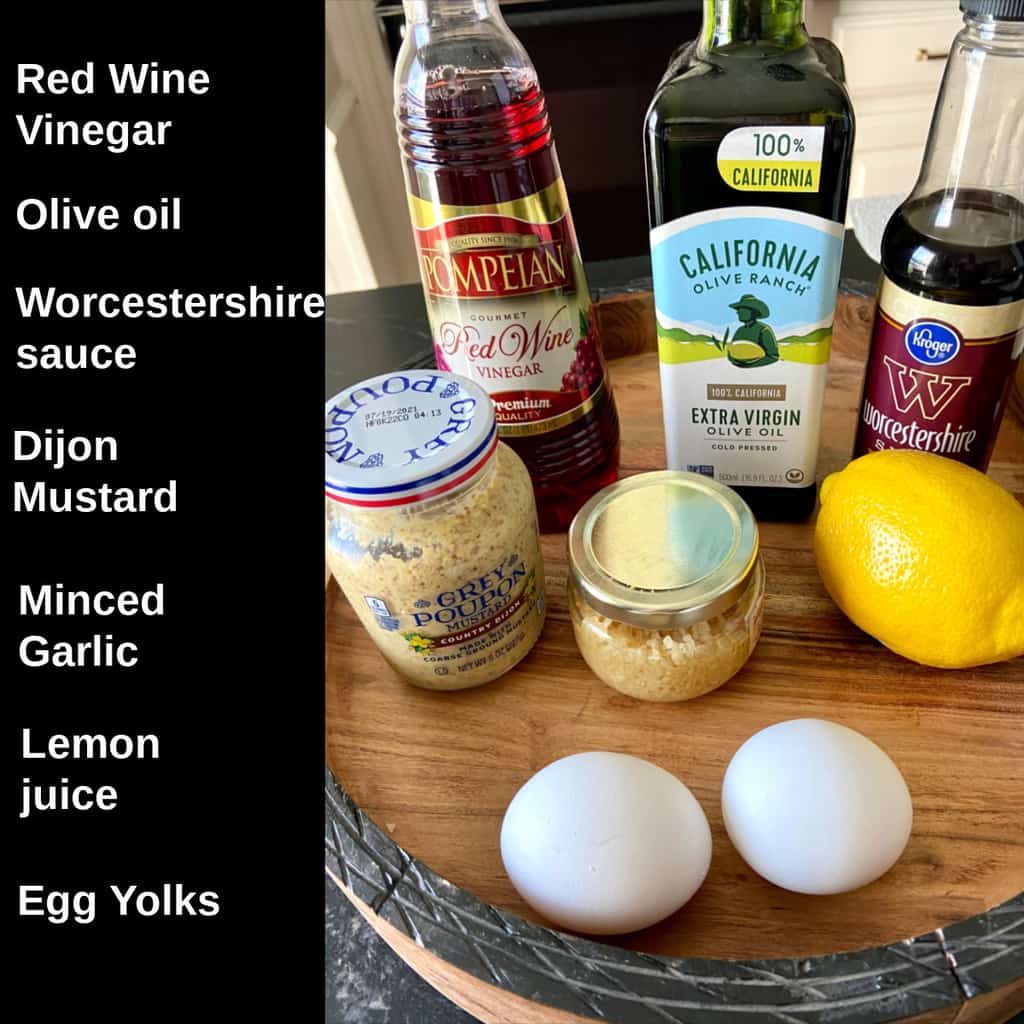 This recipe features the original dressing ingredients with no anchovies. This is not a vegan caesar dressing recipe due to the egg and Worcestershire sauce.
The Worcestershire sauce is critical as it provides that tangy, salty, savory umami flavor.
A note about the Worcestershire sauce: The Lea and Perrin's brand does contain anchovies; however, some store brands do not say they contain anchovies, but it might be included in the ingredient listing as "natural flavors."
If you're looking for a vegan Worcestershire sauce that definitely contains no anchovies, try Edward & Son's Wizard's sauce.
How to make it
Separate the eggs; reserve yolks
Combine all ingredients (except Parmesan)in a large mixng bowl; whisk together until fully incorporated
Drizzle over salad greens, toss well, garnish with fresh Parmesan and croutons
I've made this dressing many times and even though you can serve it immediately, I think it tastes better and the flavors develop more if you let it sit in the fridge for about an hour.
Once the salad dressing has rested in the refrigerator, taste it and add salt and fresh ground black pepper to your liking.
Why isn't homemade Caesar salad dressing white?
Bottled Caesar dressings are white due to an additive called titanium dioxide, which is a colorant used to brighten and whiten foods.
Since this recipe is all-natural, the final product isn't "white" like bottled Caesar dressings, but rather a golden hue due to the egg yolks, Dijon mustard and Worcestershire sauce.
Does it have anchovies?
Cardini's original Caesar dressing had no anchovies, nor does this recipe. I use Worcestershire sauce as the vehicle to deliver a slightly salty, umami flavor. Rumor has it Cardini's brother, Alex, is responsible for adding anchovies to the recipe.
Does it contain mayonnaise?
Caesar salad dressing does not contain mayonnaise, but it does contain egg yolks, which act as a binding agent for the oil and vinegar.
Is it gluten-free?
Caesar salad dressing is inherently gluten-free and keto-friendly! There is no wheat or flour in this salad dressing recipe.
Consuming raw eggs
Some eggs may contain salmonella, but it's impossible to determine which do or do not just by looking at the egg.
If raw eggs are a concern, either substitute with a pasteurized egg yolks (these are hard to find) or, pasteurize your eggs at home in the microwave. The inclusion of an acid, lemon juice in this case, will get rid of any possible contaminants.
Note that most egg products (think EggBeaters™) contain both the egg yolk AND egg white. Do NOT substitute raw egg yolks with these egg products. The dressing won't turn out the same because it only uses yolks, not egg whites.
The best way to ensure egg safety is to pasteurize them in the microwave.
If you're seriously looking for an alternative to Ranch™ Caesar Salad dressing or La Madeleine's Caesar dressing, this is a great choice! The primary difference these retail salad dressings and homemade Caesar is that the former contain colorants, additives and preservatives. Homemade Caesar salad dressing does not contain additives, fillers or preservatives.
Storage and make ahead tips
If using raw eggs, this delicious Caesar dressing will last up to 3-days in the refrigerator, when stored properly in an airtight container. Freezing is not recommended because egg yolks don't freeze well.
If you want to make this in advance, keep in mind the 3-day window and make it one or two days prior to serving.
If using pasteurized egg yolks, the Caesar dressing will last up to a week in the fridge.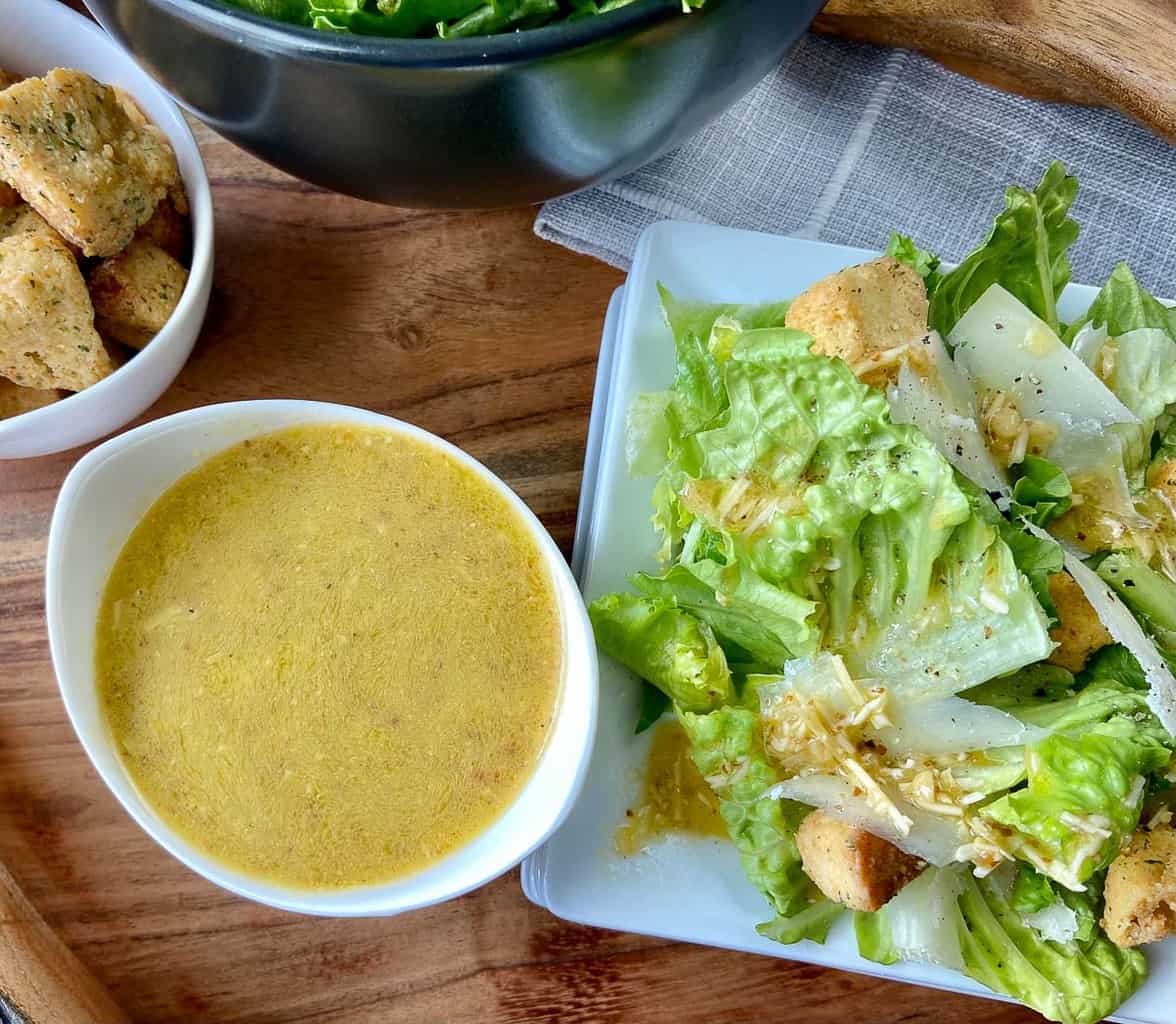 There's nothing easier or better than homemade original Caesar salad dressing over a crisp bed of romaine and garnished with fresh parmesan cheese and crispy croutons! Your family will love this no anchovy Caesar dressing, so keep the recipe on hand!
Related recipes:
♥ If you make this recipe, please leave a comment and rating! I love to hear from you!
📋 Recipe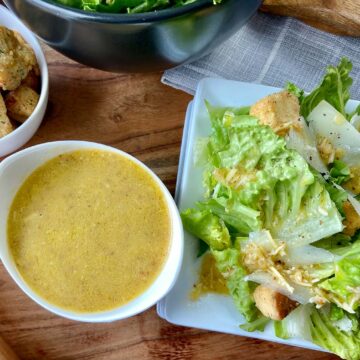 Caesar Salad Dressing-No Anchovies
Homemade Caesar salad dressing without anchovies, preservatives, fillers or additives!
Print
Rate
Ingredients
⅔

cup

olive oil

1½

tablespoons

red wine vinegar

(or apple cider vinegar)

2

egg yolks

½

tablespoon

garlic

, finely minced or pureed

1

tablespoon

Dijon mustard

2

tablespoons

Worcestershire sauce

2

tablespoons

lemon juice

parmesan

, shredded (optional) See Recipe Notes

salt and pepper to taste
Instructions
Separate eggs; reserve yolks; set aside

In a large glass bowl, combine and whisk all ingredients

Allow dressing to chill for 10 minutes, covered in refrigerator

Drizzle over romaine lettuce and toss to coat evenly; garnish with Parmesan cheese and croutons
Notes
Store in the fridge up to one week
If you're worried about consuming raw egg yolks, substitute with pasteurized yolks (just the yolks; do not substitute with EggBeaters™ or another brand of "egg product"-those contain egg whites and the dressing won't work -or-
Apple cider vinegar can be used instead of red wine vinegar
The original recipe does not have shredded Parmesan in the dressing, but you can add some if you prefer (1 tablespoon should be enough)
I've made this dressing many times and even though you can serve it immediately, I think it tastes better and the flavors develop more if you let it sit in the fridge for about an hour.
Nutrition Estimate
Serving:
1
cup
Calories:
1441
kcal
Carbohydrates:
12
g
Protein:
7
g
Fat:
154
g
Saturated Fat:
23
g
Polyunsaturated Fat:
17
g
Monounsaturated Fat:
110
g
Cholesterol:
389
mg
Sodium:
630
mg
Potassium:
391
mg
Fiber:
1
g
Sugar:
5
g
Vitamin A:
559
IU
Vitamin C:
17
mg
Calcium:
104
mg
Iron:
4
mg