You'll love this easy recipe for chewy Texas Pecan Pralines! These are creamy and gooey, just like the one's you'll get at Lamme's Candies™ in Austin, Texas.
If you've never had one of these nutty, buttery, sugary concoctions, you're in for a real treat!
And if candy making seems intimidating to you, this is one candy recipe you'll be able to master...it's all about the time and temperature!
And there's no baking involved.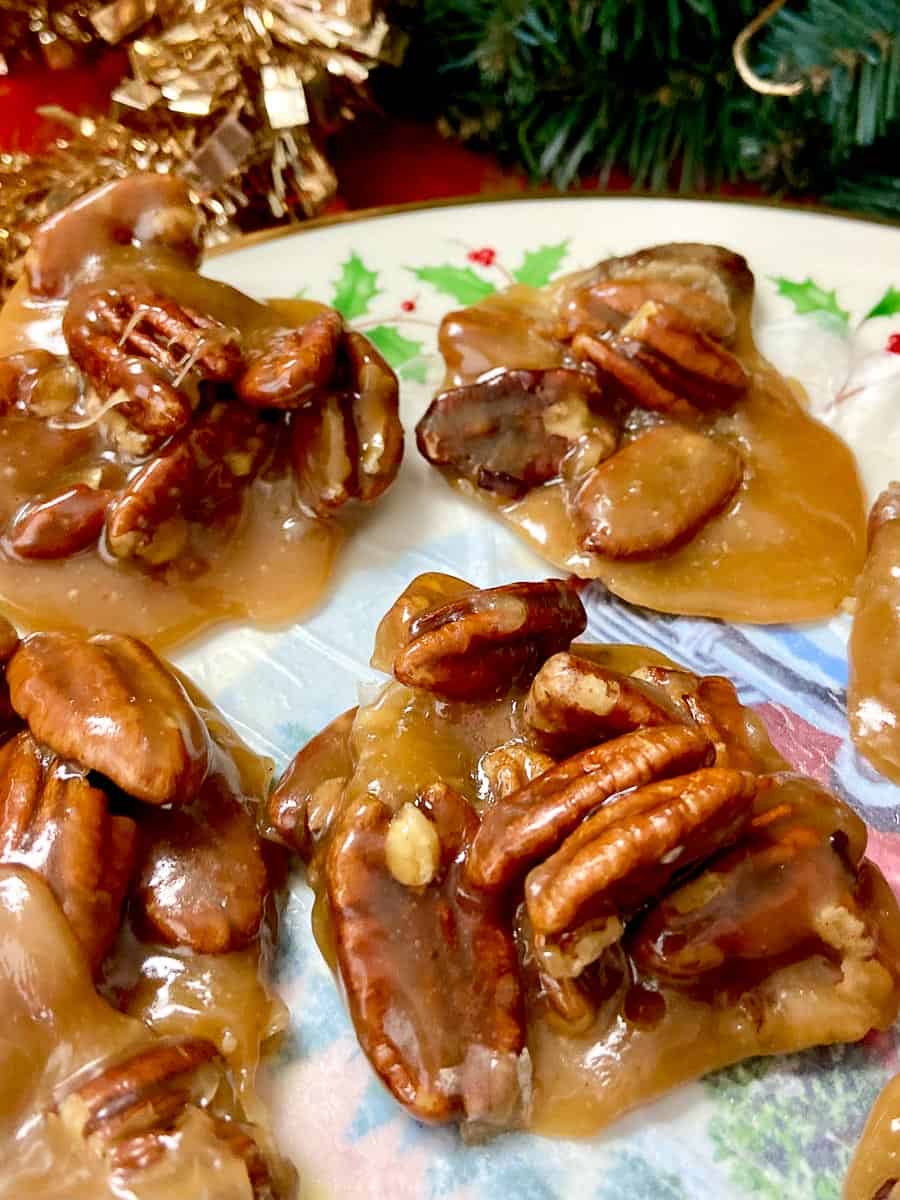 Making homemade pecan pralines is easy as making microwave peanut brittle or homemade marshmallows!
Jump to:
What is a praline?
In the South, a praline is typically a caramel-type pecan candy. Some are chewy and some are more brittle, but the essence of the praline is that it's a cluster of pecans candy coated in a sugary, buttery concoction which generally doesn't include chocolate.
Since the pecan tree is the State Tree of Texas, it only makes sense that there are many variations of this throughout the state.
Pecan pralines are usually served at state-wide Mexican restaurants at check-out, like El Fenix™ and El Chico™.
At these restaurants, you'll find individually wrapped pecan candies and they're usually a little brittle - not chewy.
Why this pecan candy recipe works
I've researched many praline recipes and generally, the ingredients and proportions are about the same; however, this recipe is timed EXACTLY, with detailed-instruction regarding the two key elements in making chewy Texas pecan pralines - time and temperature.
Note: these are ooey, gooey pralines. If you want a crisper praline, let the sugar mixture cook for an additional minute.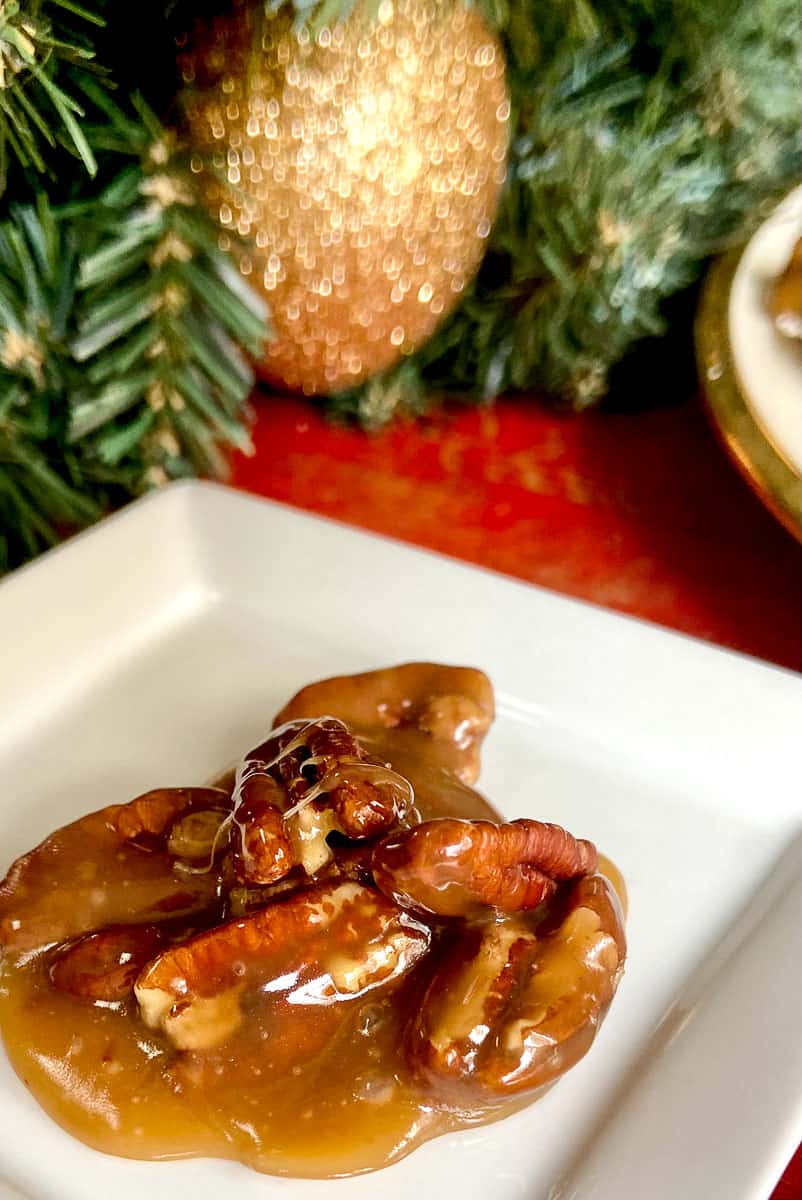 Pecan pralines are a wonderful "small dessert" - I usually make them around the Fall or at Christmas when Texas pecans are in season.
Minimal Sugar Crystallization
Excessive stirring and agitation increases sugar crystallization. Crystallization is what causes some pecan pralines to be harder than others.
When the sugar mixture is minimally stirred, the sugar forms millions of tiny crystals, which ensures the caramel-like candy will be smooth and creamy.
Using a wooden spoon also helps minimize sugar crystallization, as well as using a low heat (low heat relative to candy-making.)
Corn Syrup
The inclusion of corn syrup (light or dark) into the pecan praline recipe ensures chewiness and body, and helps prevent sugar crystallization. Corn syrup helps give the candy a "caramel" texture.
Texture
The texture of the pecan praline is determined by how the sugar molecules settle and cool. The more stirring and agitating results in larger sugar crystals which in turn, harden upon cooling.
With minimal stirring, this recipe results in a chewy pecan praline. If you want a firmer praline, let the mixture sit one additional minute.
Time
It doesn't take long for this concoction to get to the boiling point of 212ºF, but it does take a little while to reach 246ºF. Keep the heat on medium and allow the mixture to increase in temperature on its own.
If you turn the heat up, you run the risk of reaching the hard-boil stage (250ºF) and then, your pralines will be hard - not chewy.
Temperature
The temperature is critical in the praline recipe. You want to keep the mixture in between the soft ball and firm ball stage for at least 3-minutes. The soft ball stage is 235ºF - 240ºF and the firm ball stage is 245ºF - 250ºF.
Do not let the mixture get to 250ºF at any point. I did and the pralines turned out hard as a rock - like a hard candy.
What you'll need
You will need a candy thermometer for sure; make sure it's an accurate one, too.
Other than that, you'll need light brown sugar, granulated sugar, light corn syrup, butter, a pinch of salt, vanilla extract and pecan halves.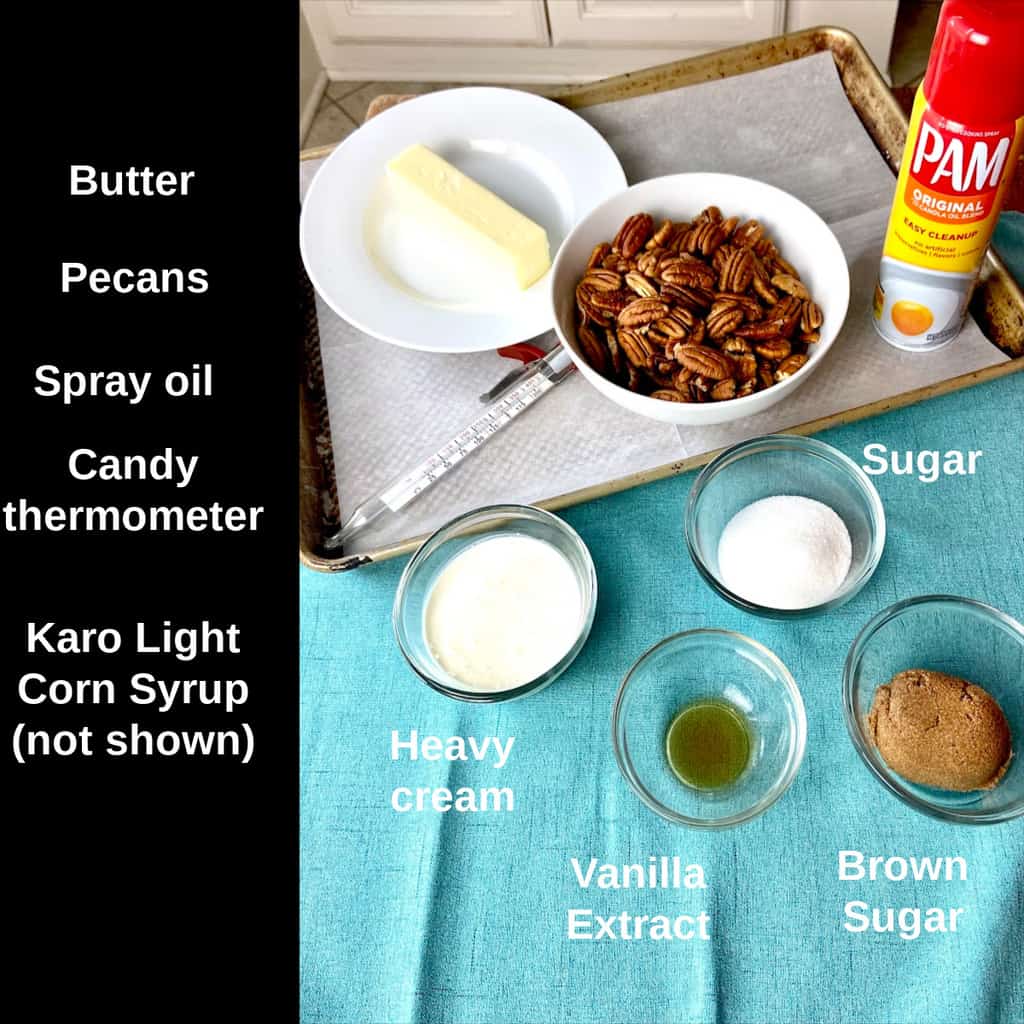 Yield
This recipe makes 12 - 14 pecan pralines, depending upon how big you scoop them out. If you're making pralines for a big group, use 12 servings as a rough estimate per this recipe.
You'll probably have one or two before you serve them:)
How to make chewy pecan pralines
Put all the ingredients except the vanilla and pecans in a large dutch oven. Make sure to use a heavy-bottomed pan because we're gonna heat the pecan candy mixture to 246ºF.
Attach the candy thermometer to the dutch oven (make sure it's not touching the bottom of the pan.)
Bring the mixture to 246ºF for 3-minutes. Stir only 1-2 times.
Remove from heat and let rest for 4-minutes. Do not stir during this time.
At the 4-minute mark, add vanilla and pecans; mix with wooden spoon; oil tablespoon and scoop out onto a lightly oiled baking pan, oiled parchment paper, wax paper or a silicone baking mat.
Where did praline candy originate?
Pralines originated from the French. The initial candy was more like an almond brittle, but when the French immigrants arrived in Louisiana, almonds were not as plentiful as pecans, so the recipe changed a bit.
What's the difference between a praline and a brittle?
A praline is a dense, caramel-like candy where a brittle is lighter and crunchier.
Brittle recipes do not include corn syrup (because that increases the moisture content) but they do include baking soda.
Baking soda is used in a peanut brittle to increase the alkalinity of the sugar mixture, resulting in a more porous and harder product.
Pralines, on the other hand, most always include corn syrup and no baking soda. The light corn syrup creates a creamy and smooth texture versus a brittle texture.
What's the difference between Louisiana pralines and Texas pralines?
Depends on who you ask! First of all, folks in Louisiana call 'em "praw-leens" and folks in Texas call 'em "pray-leens." Second, you'll find a discrepancy among Southerner's in general on how to pronounce "pecan."
Some say "pee-can," some say "puh-kahn" but no matter how you pronounce either of these,you'll find both chewy and not-so-chewy pecan pralines in both states.
Generally speaking, Louisiana pralines are more crisp and brittle than Texas pralines, which are chewy, creamy and gooey, but you'll find both crispy and chewy pralines across both states.
In Texas, most Tex-Mex or Mexican restaurants have a big bowl of individually wrapped pecan pralines at the checkout.
There's some famous candy makers in both states - in New Orleans, you'll find Aunt Sally's™ pecan pralines as a top seller and in Austin, Texas, you'll find Lamme's™ Candies as one of the favorites!
Cooking Tips
Use an accurate candy thermometer
Read the instructions 3 times; read the recipe notes 3 times
Do not let the sugar mixture get to 250ºF; keep it steady at 246ºF
If you're cooking on an electric stove, you may have to lift the dutch oven up off the heat occasionally - be sure and have some heavy duty hot pad because that pot gets hot!
Storage
Store your pecan pralines in a dry container; place a piece of parchment or wax paper between layers
Do not serve chewy pralines on a paper doily - and don't ask me how I know this:)
Pecan pralines will last for up to 10-days if properly stored.
Freezing
When stored in a freezer, air-tight container, pecan candies or pecan pralines will last up to 2 months in the freezer.
Variations
Use any nut you like: walnuts, macadamia, Texas pecans or a combination
If you thought candy-making was only for chefs and fancy folks, you're wrong!
These chewy Southern pecan pralines come together in no time and make a lovely hostess gift, dessert or just a sugary surprise!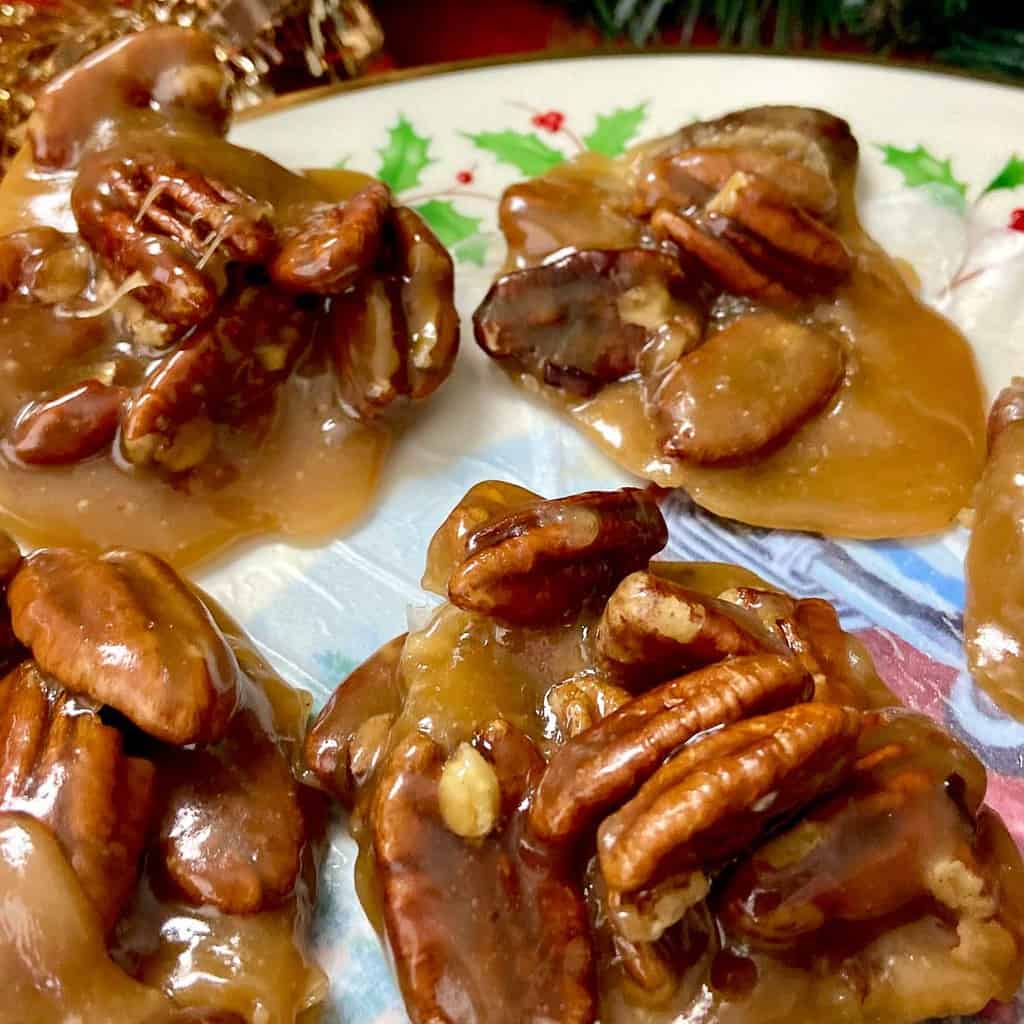 Once you learn how to make these chewy Texas pecan pralines, you'll be making these often! They make a great hostess gift, too!
Related recipes
If you make this recipe, please scroll down and leave a comment and rating! I love to hear from you!
📋 Recipe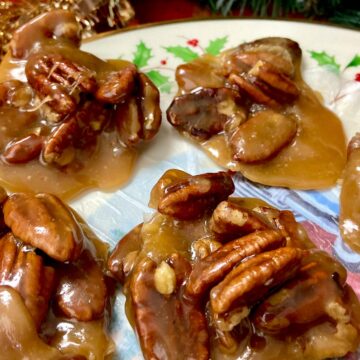 Chewy Texas Pecan Pralines
Chewy, gooey Southern pecan candies that melt in your mouth!
Print
Rate
Equipment
Large heavy bottom pan

Candy thermometer

Timer

Wooden spoon

Baking Sheet

Parchment or wax paper -or-

Silicone mat
Ingredients
1

cup

pecan halves

4

tablespoons

butter

1

cup

light brown sugar

1

cup

granulated sugar

½

cup

heavy cream

2

tablespoons

light corn syrup

1

teaspoon

vanilla extract

spray oil for pan

spray oil for spoon
Instructions
Place large dutch oven on medium high heat; add butter, brown sugar, granulated sugar, heavy cream, corn syrup and salt; stir gently until sugars dissolve; USE A WOODEN SPOON AND DON'T STIR TOO MUCH

4 tablespoons butter,

1 cup light brown sugar,

1 cup granulated sugar,

½ cup heavy cream,

2 tablespoons light corn syrup

Place candy thermometer in mixture (make sure it's not touching the bottom of the pot); bring the mixture to a boil; allow the mixture to continue to cook until it reaches 246ºF; DO NOT STIR THE MIXTURE WHILE IT'S COOKING

Once the mixture reaches 246ºF; cook it for 3 minutes; DO NOT LET THE MIXTURE GO ABOVE 246ºF; See Recipe Notes

After 3-minutes, remove the dutch oven from the heat and let praline mixture sit, undisturbed for exactly 4 minutes. (during this time, spray oil on a big tablespoon and spray pan with parchment if necessary)

At the 4-minute mark, add the vanilla and pecans; stir gently once or twice with a big wooden spoon; DO NOT OVERMIX

1 teaspoon vanilla extract,

1 cup pecan halves

Working quickly, spray oil on large tablespoon; scoop a tablespoon of the pecan mixture onto oiled sheet; repeat until all the mixture is gone (you may have to spray the spoon more than a few times)

spray oil for pan,

spray oil for spoon
Notes
Note:
These are gooey, stick-to-your-fingers pralines. If you want a slightly firmer praline, let it sit for 5-minutes undisturbed instead of 4-minutes.
Using a wooden spoon inhibits crystallization, which results in a harder candy.
You want to maintain the mixture at 246ºF for 3-minutes. DO NOT STIR THE MIXTURE DURING THESE 3 MINUTES.
If you're using an electric stove and the burner keeps going up and down, lift the dutch oven off the stove and turn the heat down a little.
If you let the mixture go above 246ºF at any time, the pralines will not be chewy; they will be hard.
During the 4-minute resting period, DO NOT STIR THE MIXTURE. As noted above, if you don't want a gooey candy, let it sit for an additional minute undisturbed. Then add the vanilla and pecans.
Nutrition Estimate
Serving:
1
praline
Calories:
232
kcal
Carbohydrates:
33
g
Protein:
1
g
Fat:
11
g
Saturated Fat:
3
g
Polyunsaturated Fat:
2
g
Monounsaturated Fat:
5
g
Cholesterol:
12
mg
Sodium:
47
mg
Potassium:
59
mg
Fiber:
1
g
Sugar:
32
g
Vitamin A:
272
IU
Vitamin C:
1
mg
Calcium:
25
mg
Iron:
1
mg